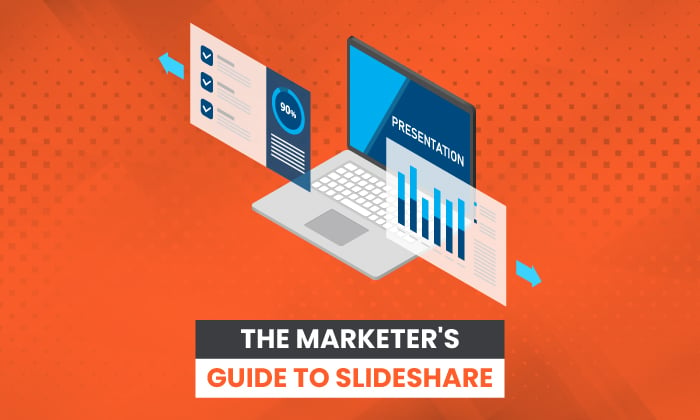 The internet is a visual place. With the absence of body language, social cues, and audible tone, the best way to communicate with your users is through visual content.
Now and then, an online platform comes along that makes it easier than ever to showcase your visual content on the internet.
SlideShare is one such example.
The presentation-sharing platform has created a simple and seamless way to promote visual content while also encouraging user interaction.
In this post, we'll teach you all about SlideShare, how to use it, why it matters to marketers, and how you can use it to create amazing content for your business.
Let's get started.
What Is SlideShare?
SlideShare is a content-sharing platform that allows you to upload media presentations and share them on your website or social media profile. Content compatible with the platform includes presentations, infographics, videos, and documents.
While SlideShare is not a tool for building content, it does work with existing content formats such as Google Slides, Adobe PDF, OpenDocument, and Microsoft PowerPoint.
SlideShare is best known for being a comprehensive educational resource that makes it easy to display presentations and webinars online. 
Here are some of the most popular ways to use SlideShare:
to share online webinars or training materials
as a visualization tool for presentations
to promote products or services
to display newsletters and attract new signups
to showcase visual materials such as guides or brochures
Acquired by LinkedIn in 2012, the company was later bought by the audiobook subscription platform Scribd.
SlideShare remains free to use and allows anyone to create a presentation to share privately or publicly.
Why Should You Use SlideShare for Marketing?
For marketers, using SlideShare offers a unique and interactive way to display content online. By adding a presentation to your blog posts, web pages, and social media feeds, you create a completely new content type to engage your users.
SlideShare also allows you to display longer, more complex content in a simple way. Webinars or presentations can be easily uploaded and displayed for users to click through on their own time.
You can think of these presentations as an infographic with more interactivity.
It's also important to note SlideShare boasts a user base of 80 million. Most of its user base are business professionals, and its most searched tags are:
#market
#business
#statistics
#socialmedia
SlideShare also receives 500 percent more traffic from business owners than Twitter, LinkedIn, Facebook, and YouTube. This offers a huge benefit to B2B marketers looking to connect with relevant audiences.
5 Strategies to Use SlideShare for Marketing
Now that you understand what SlideShare is and why it's important for marketers, it's time to learn how to create an effective and successful presentation.
Here are five steps to follow when using SlideShare for marketing.
1. Use Visual Content
Anyone who's made a PowerPoint presentation knows they shouldn't be text-heavy. When formatting your presentation for SlideShare, this is especially important, as online readers tend to lose focus on text-heavy content.
A general rule to follow when creating any type of presentation is the 5/5/5 rule:
5 words per line of text
5 lines of text per slide
5 text-heavy slides in a row
Keep your readers interested and engaged in your SlideShare presentation by using mostly visual content and keeping your text short and succinct.
Visual metaphors can also be used to further cement the messaging of your presentation. You can see an example of a visual metaphor in the image below.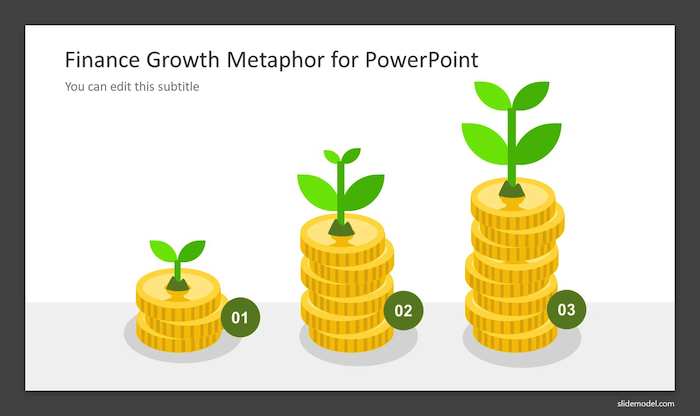 2. Add a Call-to-Action (CTA)
Your SlideShare presentation should work as part of your sales funnel, moving customers through the education, nurture, and convincing phases. In order to effectively move your customers through these phases, you'll need to integrate calls to action (CTAs) throughout your content.
A CTA can be a request to contact your business or even a link to start a free trial. You could also ask your customer to sign up for your email list or visit your website.
Whatever you choose, place it strategically at a place where you know your customer will see it. As well, use a benefit-forward statement that shows your customer how they'll see value from their click.
3. Keep Your Presentation Short and Sweet
Keeping online reader attention spans in mind, it's important to keep your presentation short to ensure your users stay engaged.
Presentations that are too long or too bulky will lose reader interest and result in lost leads for your business. Shorter presentations are easier to digest and offer a better chance of a reader seeing your final CTA.
SlideShare itself has noted that shorter visual content is most effective on its platform.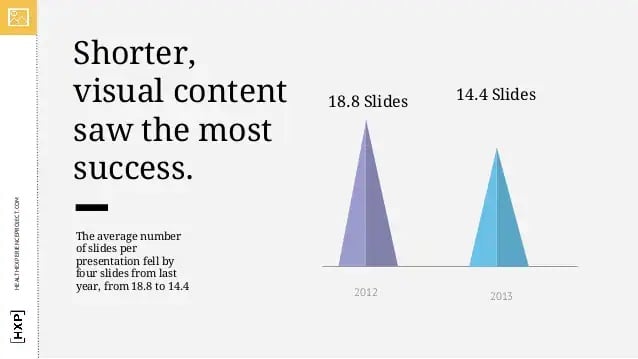 4. Use Customer Pain Points to Inform Content Decisions
The first step in determining the kind of content you should publish in your SlideShare is to understand your customer pain points:
What do your customers want to see from your brand?
What kind of content do they enjoy?
How can you strengthen your relationship with them through SlideShare content?
Before you publish your content, conduct customer research to find out what your leads are looking for and why.
Once you know what they're after, give it to them. It's really that easy.
5. Use Keywords in Descriptions and Tags
SlideShare comes equipped with presentation descriptions and tags. Be sure to make use of these features when uploading your content.
Adding keywords to your SlideShare descriptions and tags will help your SEO efforts and ensure your presentation is being seen by the right people. If you're looking for a keyword research tool, try Ubersuggest.
SlideShare for Marketing Tips and Best Practices
SlideShare can be a marketer's best friend when used correctly. Here are a few SlideShare best practices to guide your process:
Source quality images and fonts: Because it is such a visual platform, it's important your presentation looks professional and high-quality. Using grainy or low-quality images, hard-to-read fonts, or bad design will turn users away from your content.
Make your presentation simple and clear: As discussed above, don't overdo it on text, slides, or images. Your users want quick and clear information they can easily digest. The sooner you give them what they want, the better your chances are of converting them.
Start strong: Think of your presentation as an essay. You want to set up your thesis at the beginning and continuously reaffirm your message throughout your slides. If it isn't clear what you're trying to say early on, users will likely click away and lose interest. Start your presentation off with your main idea and strongest imagery to hook your reader immediately.
Measure your results: Like anything in marketing, it all comes down to the numbers. Leverage any analytical powers at your disposal and continuously A/B test and optimize your SlideShare content.
Examples of Great Marketing SlideShares
You're almost ready to start taking the SlideShare world by storm! Here are a few success stories to help you get started.
The Brand Gap by Neutron LLC
The Brand Gap by Neutron LLC is a beautifully designed SlideShare that explores the makings of some of the world's most iconic brands.
This presentation is successful because it harnesses strong visual design with simple copy to deliver a clear, concise message. The conversational tone of the copy invites readers to continue moving through the presentation, ending with a clear CTA at the finish.
While this presentation is longer than we recommend, Neutron LLC gets away with it because of its masterful design work and messaging.
How Google Works by Google
How Google Works by Google is a creative and effective presentation that explains how Google operates as an innovative company.
Google used completely original and unique illustrations to provide clear visual metaphors throughout the presentation. Google's brand colors are present in every slide, cementing their brand in the minds of the readers.
You Suck At Powerpoint by Jesse Desjardins
You Suck At Powerpoint by Jesse Desjardins is a humor design presentation that tells you everything you've done wrong in your past presentations.
Leaning on visual metaphor, this example is funny, concise, and clear in its messaging.
Not only does Jesse tell you what you've been doing wrong, but he tells you how to fix it. If you can't do it yourself, his information is on the last slide.
SlideShare Resources
How to Create and Share a SlideShare Presentation
Ready to create your first presentation? Follow these steps!
Create a SlideShare Account

The first step in creating and sharing your first SlideShare presentation is to sign up for an account. If you have a LinkedIn profile, you can use your LinkedIn account to sign in. If you don't already have a LinkedIn profile, you'll need to create one in order to use the platform.

Create Your Presentation

When creating your presentation, be consistent in your use of fonts and colors.
It's always a good idea to use your own branding assets when creating your presentation to ensure cohesion across your content.
Create an intro and outro slide at the start and end of your presentation, and remember to add a CTA so your customers stay active after the presentation. 

Upload Your Presentation

Once you've finished creating your presentation, it's time to upload it to the site. You can upload your presentation as a Google Slide, Microsoft PowerPoint, or PDF. 
SlideShare allows you to schedule your presentation if you'd like it to go live at a specific time. Once it's live, be sure to promote it widely and share it across your social channels to ensure a wide reach.
SlideShare Frequently Asked Questions
How much does it cost to use SlideShare?
It is free to use for anyone.
Can you earn money from SlideShare?
Not directly, no. SlideShare does not pay users for ads, and there is no direct way to make money from its platform. That said, by strategically including CTAs and actionable points, you can get an ROI from the presentations you upload.
What are the disadvantages of SlideShare?
It does not offer any direct monetization processes for its users, and it also does not include a built-in way to measure analytics. 
What's the difference between SlideShare and PowerPoint?
SlideShare is an online platform that allows you to share your presentations across the internet. PowerPoint is simply a tool for creating presentations. 
SlideShare for Marketing Conclusion
SlideShare is a visual content tool that helps you share educational presentations across the internet.
Because online readers want fast and efficient information, it is a great way to engage your audience and move your customers through your sales funnel.
Have you found success using SlideShare?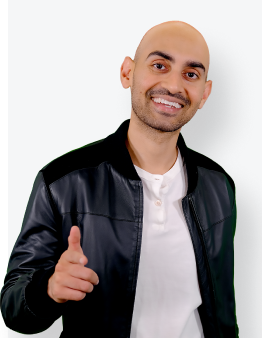 See How My Agency Can Drive More Traffic to Your Website
SEO - unlock more SEO traffic. See real results.
Content Marketing - our team creates epic content that will get shared, get links, and attract traffic.
Paid Media - effective paid strategies with clear ROI.
Are You Using Google Ads? Try Our FREE Ads Grader!
Stop wasting money and unlock the hidden potential of your advertising.
Discover the power of intentional advertising.
Reach your ideal target audience.
Maximize ad spend efficiency.