I want to show you a big opportunity that leads to other big opportunities. This "opportunity" gets 60 millions visitors per month and has an Alexa Rank of 174. You don't want to miss out on it, do you?
The good news is that you can handle this. I'm not talking about writing an article for the New York Times. And, so far, there isn't very much competition to face while taking advantage of this opportunity.
I'm talking about "The Quiet Giant of Content Marketing," also known as SlideShare (a social media website where you can upload your presentations and show them to the world). SlideShare's features make it the ideal tool to grow your business. It's a crowded site with a highly targeted audience and low competition.
You can use SlideShare for many purposes. For instance, you can:
Get traffic
Rank better on Google
Grow your followers
Get email subscribers
Build your brand
Create your own uses
If you use SlideShare in the right way, you'll find it's a very powerful tool. Let's into how you can take full advantage of this amazing website…
The Foundation: How to Make an Astonishing Presentation
The most important rule of SlideShare: if your presentations aren't good enough, you won't get anything from SlideShare.
People are just one click away from another page. So if you don't get their attention quickly, you won't get a second chance. Your presentations have to be magnets. They have to grab people's attention from the start to the end.
I don't want to teach you how to make a good presentation. I want to teach you how to make a phenomenal presentation. The kind of presentation that people can't stop watching.
To make a phenomenal presentation, follow these three steps:
1. Work on Your Content
The content will make the difference between good results and great results. Insert something worth talking about in your slides.
You have three main options:
Show something shocking
Explain useful information
Evoke emotions
These are the three kinds of content that perform the best on SlideShare.
The following is an example of a shocking presentation by Empowered Presentations:
This is a great example of useful information by Illya:
To have a sense of how you can evoke emotions, take a look at this example by Chiara Ojeda:
Once you choose your topic, think about a great title. Your title has to seduce people to watch your presentation, or they'll shift their attention to something else. A great example is the title of Jesse Desjardins' presentation "You Suck at PowerPoint":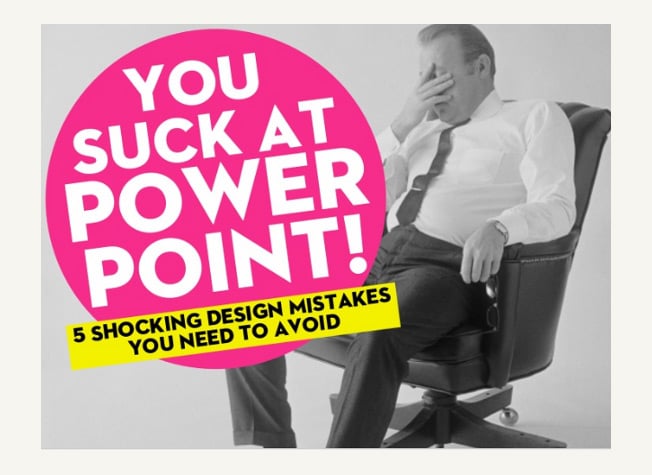 Not only is the title great, but it's also designed in a fantastic way.
Now that you have the title and the topic, you can start brainstorming.
Take a piece of paper (or open a Microsoft Word document) and list all the things that you can think of concerning the chosen topic.
Remember that you are making a presentation, so you'll choose only the best information from your list. Get rid of all the unworthy stuff.
You can integrate your information with searches (Google will be extremely helpful).
2. Construct a Clear and Linear Structure
It's of vital importance that you construct a clear and linear structure for your presentation. Think of your presentation like an engine: if one piece is broken, the engine won't work properly…or won't work at all!
Forget about complex structures. People don't remember the slides that they have seen already. They are feeling your presentation. They focus only on the slide that they are viewing at a given moment.
The ideal structures for presentations are lists and stories. Think of a way to present your content like a list or a story. They are the best ways to deliver your message.
Here is an example of a list from one of my presentations:
The following is an example of a story by Slides that Rock:
3. Create Marvelous Slides
Your presentation is like a cake: it could be delicious; but if it's not visually appealing, no one will eat it.
Most people don't spend enough attention on design when they make their presentations. This is the reason you'll see many ugly presentations on SlideShare.
Think about a black and white slide, full of text, and with a horrible spatial disposition. You want to make the opposite.
In my opinion, the following presentation is the best guide for making a marvelous slideshow:
Follow the concepts in that slideshow, and you'll make a spectacular presentation. These are the links to the free sources mentioned in the presentation:
How To Increase Your Reach on SlideShare
Once you have your presentation, you have to upload it on SlideShare and promote it. You want to do a good job of promoting it because you want to increase the number of people you can reach with your presentation.
Here are some suggestions for promoting it:
1. Share it on Facebook
You have a good reason to share your presentation on Facebook: if you get enough views on it, your presentation will be shown in the "Hot on Facebook" box (it's on SlideShare's homepage).

You want your presentation to appear here: it will get many additional views.
2. Share it on Twitter
With about 15-30 tweets (the number varies from day to day), your presentation will be inserted in the "Hot on Twitter" box (on SlideShare's homepage under the "Hot on Facebook" box). This is a great incentive to share your presentation on Twitter.

You want your presentation to appear here: it will get many additional views.
3. Share it on LinkedIn
Again, if you get enough views on LinkedIn, your presentation will be inserted in the "Hot on LinkedIn" box (under the "Hot on Twitter" box).

You want your presentation to appear here: it will get many additional views.
4. Share it on Pinterest
Pinterest is great for promoting images, videos and presentations.
If your presentation is excellent, share it on Pinterest, and it will get a big increase in views.
5. Share it on Your Blog
You want to insert your presentation in your blog to increase the number of views it gets.
If your presentation happens to be the one that gets the highest number of views on a given day, you'll be featured on SlideShare's homepage.
That means that you'll get lots of views.
How to Get Real Results
Now you have a great presentation, and you know how to increase its exposure. You have to decide what results you want to accomplish with SlideShare.
You have to focus on just one goal, or you'll waste time and energy. Think wisely about your priority.
SlideShare doesn't allow live links in the description of the presentation. That's bad. It's like playing baseball with an injured arm.
You have one way to bypass this problem: you can insert a live link inside your presentation.
You can bet on it: that is a live link!
Given that people are engaged when they watch a great presentation, you have just one place in which you can insert your link and still keep getting clicks. That place is your last slide.
If your presentation resonates with people, many of them will click on your link.
Notice that many people don't know about the presence of live links in the presentations. You can solve this problem with two simple tricks.
1. Insert a URL
Insert a URL in your call to action. Avoid "Click here" links and such.
If you insert your URL, people who are interested (but don't realize that there is a live link in the presentation) can insert that URL in their navigation browser.
Many people are lazy, so insert a small URL on your call to action.
I inserted the URL so people who don't recognize the live link can type the URL in their browser.
2. Insert an Arrow Toward the Link
Even if someone doesn't know about the live links inside the presentation, he'll start wondering what the arrow is all about. Due to this, the magic will happen: he will move his mouse over the link and the cursor will magically change from normal to link cursor. The click is very close now!
These arrows bring more clicks!
How to Get Traffic from SlideShare
If you want to get traffic from SlideShare to your blog, you can insert the URL of your homepage on your call to action. The homepage is the shortest link for a domain, so it's easy to remember; and even lazy people can type it in the navigation browser.
You may want to make people visit one of your posts or one specific page instead of your homepage. In that case, you have two options.
1. Insert the URL of Your Homepage
You can write the URL of your homepage on your presentation, but it will be linked to one of your posts or pages.
In that way, people who don't recognize the live link, have a short url to insert in their browser. Lazy people are more likely to insert a short URL than a long URL. Even if they don't land on your page/post, they will arrive on your blog.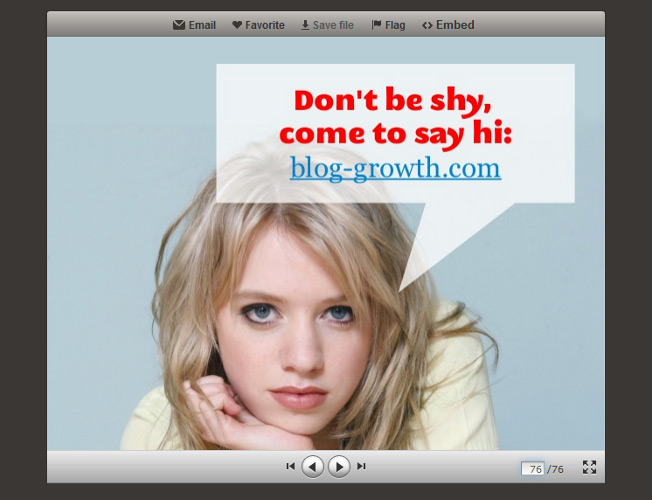 I wrote my homepage URL, but its live link points to one of my pages.
2. Insert a Shortened URL that Points to Your Page
With a shortened URL, you will bypass the problem about the length of the URL. However, there will be another problem: a shortened URL often isn't appealing. When a person doesn't recognize a clear domain, he's likely to hold back from clicking…let's be honest, a shortened URL doesn't communicate trust.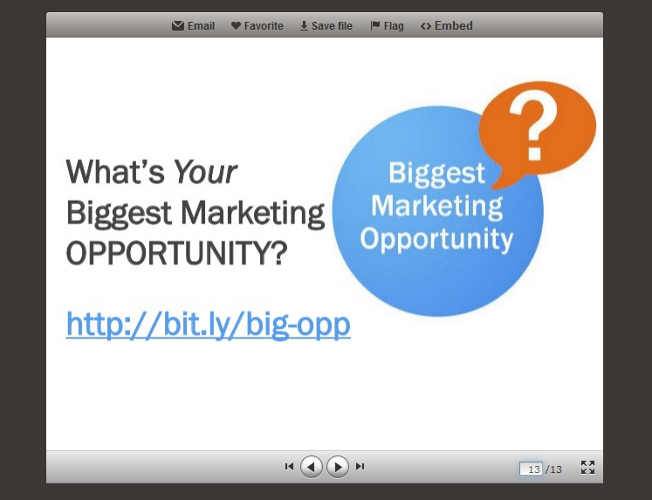 This is a clear use of a shortened URL.
Think about which is your favorite strategy and use it.
The call to action toward your blog/post/page works great when you can offer something related to the topic of your slides. For example, if your presentation is about social media and you have a great post about social media on your blog, say it. People will be more likely to click that link.
How to Use SlideShare to Rank Better on Google
SlideShare is an authority website. It ranks much better on Google than most of the sites online.
You can take advantage of that to bring your content to the top ranking of Google.
Let's say that you want a high ranking for the keyword "landing page optimization." It's pretty tough to rank at first place for that keyword. If you make a presentation on SlideShare that is called "10 Easy Steps to Landing Page Optimization," you will have an easier task.

For the keyword "how to build your brand," my presentation ranks on the 4th page of Google. With a brand new blog, I wouldn't ever accomplish that. Notice that with some additional backlinks, I can climb Google's ranking.
Notice that SlideShare works very well for long tail keywords. Usually there is low competition for long tail keywords, and you can be sure that SlideShare has a higher power than most of the competitors. By using long tail keywords in the title of your presentations, you can easily reach the first place on the SERP.
For example, many people search "How to get traffic from Facebook" on Google. That would be a good long tail keyword. Remember that the more specific your keyword is, the less competition there will be (but your presentation will get less traffic from Google if it reaches the first rank).
To increase the ranking of your presentation, you can point backlinks to it. There are many ways to do so. I'll explain the most effective here:
1. Embed Your Presentation on Your Blog
Embed your presentation on your blog, especially if you have a quality blog. Your presentation will get benefits from that.
You can build backlinks toward the blog post in which you embedded your presentation, and you'll hit two birds with one stone: your blog post will rank higher and your presentation will rank higher, too.
2. Increase the Reach of Your Presentation
Grow the reach of your presentation to get better results. When many people watch your presentation, chances are that someone will find it interesting for his audience. That leads to embeds by people who watched your presentation.
3. Embed/Link Your Presentation on Guest Posts
When you write a guest post for an authority blog, you have the chance to embed your presentation or to insert a link back to it. That doesn't mean that you can be spammy. Insert your presentation only if it adds value to the post.
How to Grow Your Followers with SlideShare
Do you wish to grow your Twitter followers? Do you wish to get more likes on your Facebook Fan Page? Do you wish to enlarge your Google Plus circles?
You can do all of them (and many more!) with SlideShare.
The only thing you have to do is insert the right call to action at the end of your presentation. Just ask people to follow you on Twitter.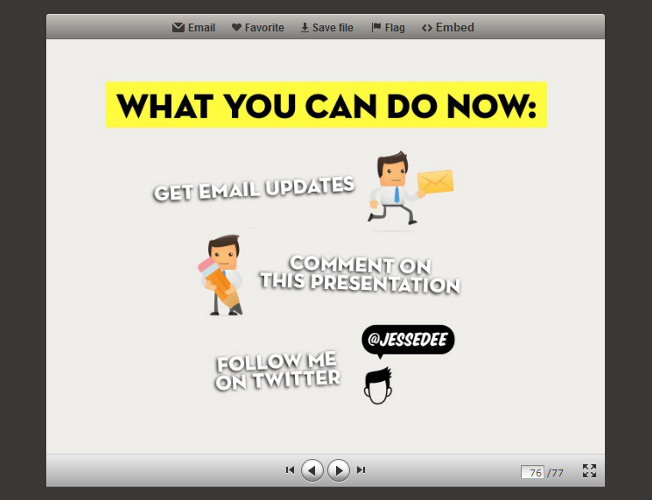 An example of how to get more Twitter followers: ask them.
In the same way, you can ask people to like your Facebook Page, to add you to their circles on Google Plus, to follow you on Pinterest, and so on.
Notice that you can integrate SlideShare with Facebook, Twitter, and LinkedIn. The most useful integration is between Twitter and SlideShare: when you link them, the tweet button on your presentations will add "by @YourUsername" to every tweet.
The integration between SlideShare and Twitter does a great job. People who tweet our presentation will mention us.
The integration with Facebook and LinkedIn will just help you to easily share your presentations on these social networks (nothing worth talking about).
How to Grow Your List with SlideShare
You probably have thought about this already. You can make a specific call to action to get email subscribers.
You can do it in a "ninja way": make a normal call to action, but point the live link to your landing page.
That is a ninja link! People who click that link will land on my landing page.
Or you can make an explicit call to action: tell people that they can get your lead magnet if they visit your site.
An example of an explicit call to action: explain what you offer.
You can even think about making a specific landing page for people who come from SlideShare.
How to Build Brand Awareness
Do you care about your brand?
You can use SlideShare to make sure people know your brand.
Mars Dorian gives us a great example of how to use presentations to build brand awareness. He has a unique drawing style that he uses on his blog. He applied his style to his presentation to increase his brand awareness.
As you know, one of the key points to build a brand is to tell your story. Each person has a unique story. Your story is one of the most powerful ways to be remembered by people and to be perceived as different from the masses. Here is a unique story example by Kaili of Empowered Presentations:
You can make people start associating your company with some specific colors. This was the purpose of my presentation about building a brand: I wanted people to start associating the light blue color with the Blog Growth brand.
How to Make Anything with SlideShare
You can accomplish many other interesting tasks with SlideShare. The following are some examples:
I used my SlideShare presentations to land a few guest posts…like this one on the Neil Patel blog!
Ethos3 used its presentation to sell its book. Really good idea!
Ethos3 used its call to action to sell its book.
Emiland used his presentation to get a job. He reached his goal, and other people followed his strategy later.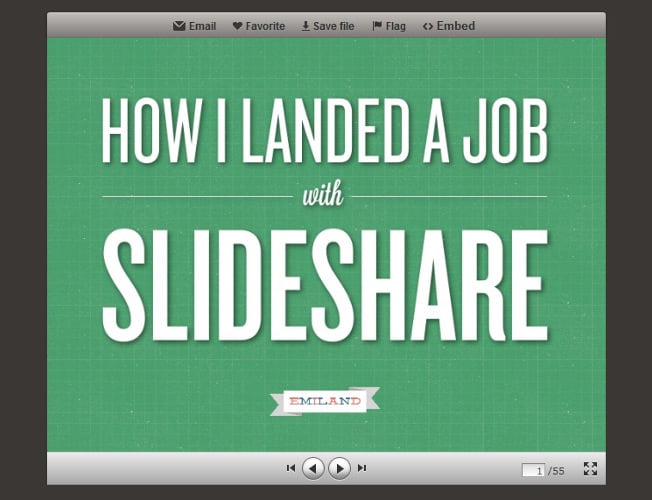 Congratulations Emiland! His idea to search for a job using SlideShare was great and effective.
Empowered Presentations uses its presentations to drive people to its other slideshows.
Empowered Presentations is right: once you watch one of its presentations, you may want to watch others.
Some Final Words
SlideShare offers many interesting opportunities. There isn't much competition yet, but this won't last long. My advice is to get on board as soon as you can.
Your Turn
These were my suggestions, now let me hear your opinion. Do you have some other ideas about the goals you can accomplish with SlideShare? Do you have some tips about SlideShare?
Let's talk in the comment! 😉
About the Author: Mauro D'Andrea is the founder of Blog Growth, the blog where he helps people to reach their internet marketing goals. If you want to succeed online, take his 12-part course "Online Income from A to Z" for FREE.