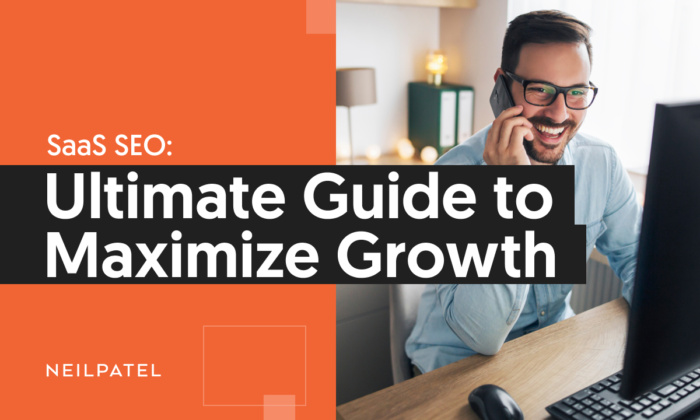 As a SaaS (software-as-a-service) marketer, you know that your business needs to be found online.
But how can you make sure that your website shows dominates the SERPs?
And once it does, how can you make sure that visitors stay on your site and become customers?
The thing is, you can't treat SaaS like, say, a bakery. These users have their own needs, pain points, and intent that you need to build around for success.
In this article, we'll discuss the benefits of SEO for SaaS businesses, why SaaS SEO is so important, and provide some tips for enhancing your strategy in this unique vertical.
The SaaS Industry and What Makes It Unique For SEO
The SaaS industry has its own specific quirks and needs, and it's important to be aware of these nuances when optimizing your SEO strategy.
For one, competition is fierce — there are a lot of businesses offering similar services. Additionally, the customer journey can be lengthy due to research and decision-making processes that may take weeks or months.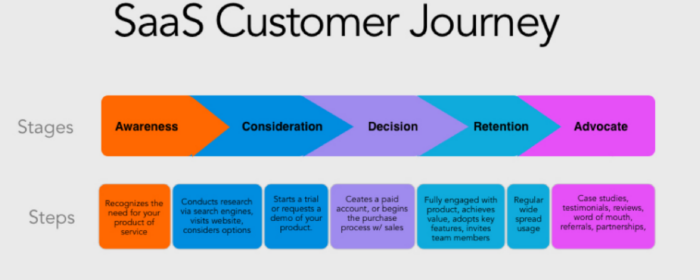 Source: SaaSPLG
This means that it's important to focus on long-term SEO strategies, such as content marketing and technical optimization, rather than a "quick fix" approach.
It's much less likely that you will get a conversion the first time someone visits your site, so you need to design your SEO plans to build sustained authority in your space over time. That way, your website will continuously be visible in search engine results, and you can determine how to best attract potential customers to your site.
Additionally, putting more effort into your SEO reduces your dependence on paid marketing. And as an industry with high ad costs, anything to alleviate some of that spend will be helpful for SaaS companies.
In a world full of marketing channels and acquisition strategies, inbound marketing and SEO for SaaS are among the most scalable and predictable approaches to growth and deserve some time and attention.
Benefits of SEO for SaaS Businesses
When done well, SEO can have a huge impact on your SaaS marketing efforts. It helps you get found by potential customers who are actively seeking out the services that you provide. And in a world where it seems there are a million software solutions out there, SEO matters more than ever.
Here are some benefits of SEO for SaaS:
Increased brand visibility and credibility
Higher ranking against SaaS competitors in SERPs, also helping increase authority
Increased engagement from customers looking for your solution
Lower-cost acquisition through organic search
Increased product awareness as your SaaS brand will show up in more searches
SEO can help you stay ahead of the competition, as search engine algorithms are constantly changing. Be sure to regularly update your content and follow this SEO checklist to keep your SEO game on point.
Why SEO Is Important For SaaS
SEO is essential to staying competitive in today's digital landscape. Many SaaS companies are already investing in SEO, so you'll need to jump on the bandwagon just to stay relevant. It's when you give the appropriate time and effort to your SaaS SEO strategy that you can truly stand out from the competition. Focusing on SEO also gives you access to a larger pool of potential customers, and it helps you build a strong online presence.
Additionally, SEO helps you reach customers who are already interested in your products and services or have similar interests as existing customers. This helps you build trust and credibility with potential buyers and ultimately leads to more conversions.
Standing out from the crowd is more important than ever in the SaaS space, and focusing on your SEO efforts can help you differentiate your brand and gain more customers. The SaaS market is at $157 billion dollars, with no signs of slowing down. This will only put more fish in the sea for consumers to choose from. Investing in your SaaS SEO efforts is a must to ensure future success and growth.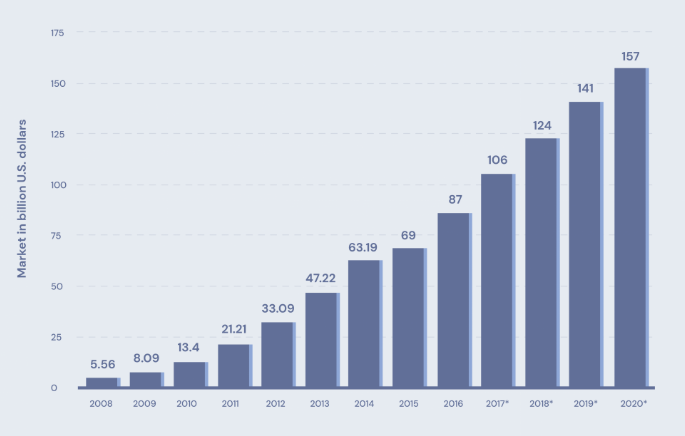 Total size of SaaS market (in billion USD) Source: Statista
SEO for SaaS can also help you increase website traffic and improve user experience by optimizing for speed, navigation, and readability. This helps ensure that potential customers stay on your website longer and are more likely to convert.
Tips For Improving Your SaaS SEO Strategy
Improving your SaaS SEO strategy is more than just updating content and hoping for the best. Here are a few tips to ensure you see results from your SEO efforts:
Research keywords that your target audience is using to find products and services like yours.
Utilize on-page SEO techniques such as title tags, meta descriptions, and header tags to help search engines understand the content of your website.
Produce high-quality content that provides value for your readers and features keywords related to your services.
Build high-quality backlinks from authoritative websites.
Optimize your website for speed, as search engines factor loading times into their rankings.
Take advantage of local SEO to increase visibility in geographic areas where you do business.
By following these tips and focusing on long-term strategies, you can maximize the growth potential of your SaaS business. With the right combination of keyword research, content creation, and technical optimization, you can build a successful SEO strategy for your company.
How To Do Keyword Research for SaaS SEO
Before you can begin optimizing your website for SEO, it's important to do keyword research in order to understand what terms and phrases potential customers are using when searching for services like yours.
Start by creating a list of relevant keywords related to your SaaS business and the products or services that you offer. This can include words and phrases related to the features of your software, as well as general topics that are related to your industry.
Once you've created a list of possible keywords, use tools like Ubersuggest to research their search volume and competition to determine which terms are worth targeting.
For example, if you search for the term 'customer data management platform', you'll see where that keyword ranks and can use this information to dive deeper into keyword research.

Additionally, use Google's autocomplete function to get ideas for long-tail keywords that may be easier to rank for. What's autocomplete? Start typing into the Google search bar. As you type, Google will start suggesting terms related to what you've already typed. These are known as autocomplete keywords.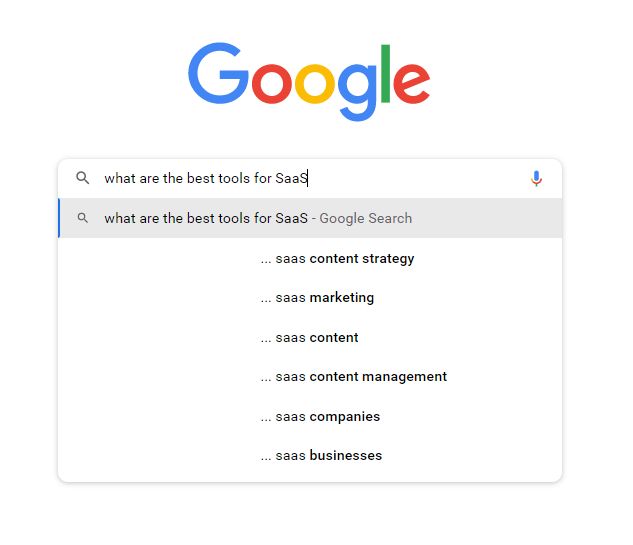 By doing keyword research and optimizing your website accordingly, you can greatly increase your chances of ranking in SERPs and driving more organic traffic to your website. This ultimately leads to more conversions and a higher ROI for your SEO efforts.
Goal-Setting For SaaS SEO
Once you've implemented an SEO strategy for your SaaS business, it's important to set tangible goals that will help you measure the success of your efforts.
Start by setting short-term goals, such as determining what keywords your competitors are ranking for and ensuring all of your blogs have relevant metadata. You should also set long-term goals such as increasing organic search visibility or improving the overall user experience of your website.
Goals for SaaS SEO differ in that they are typically focused on attracting prospective buyers, driving traffic to free demos and converting them to paid users, and helping educate and retain your current users.
Once you've established your goals, track the progress of your SEO efforts by monitoring performance metrics such as organic search visibility, keyword rankings, website traffic, lead generation rate, and other KPIs. This will help you determine whether or not you're on the right path to achieving your goals.
By setting realistic and achievable goals, tracking performance metrics, and making necessary adjustments to your SEO strategy, you can ensure that your efforts are successful in helping you reach your long-term objectives.

Source: First Principles
Best Practices For On-Page SaaS SEO
On-page SEO is an important part of any successful SaaS SEO strategy. On-page optimization involves making changes to the content and structure of your website so that it is optimized for both search engines and users.
To improve on-page SEO, start by optimizing page titles, headings, meta descriptions, images, and other page elements. Use keywords in these elements to ensure that search engines understand the relevance of your content and can accurately crawl and index it.
In addition, make sure to include internal links to other pages on your website so visitors can easily navigate around the site. The more relevant information you provide on a single page, the better chance you have of ranking in the SERPs.
Finally, ensure that your content is well-structured and easy to read. Break up text with headings, lists, images, and other elements to make it easier for users to scan and digest information quickly. Focusing on SEO in the long run can help you achieve success without compromising quality.
Lattice, an employee engagement platform, known for its product, customer service, and blog content, has capitalized on its SEO efforts, focusing on brand authority and awareness.
The company has a robust collection of helpful articles for everyone, both customers and casual readers. They've become a go-to source for all things employment-related, which helps to drive traffic to their website and increase overall leads and conversions.
Best Practices For Technical SaaS SEO
Technical SEO involves making changes to the back end of your website that are not visible to users but can still have a major impact on search engine visibility.
To optimize technical SEO, start by optimizing site speed and ensuring that your pages load quickly. Next, create an XML sitemap and submit it to search engines so they can easily crawl and index your pages.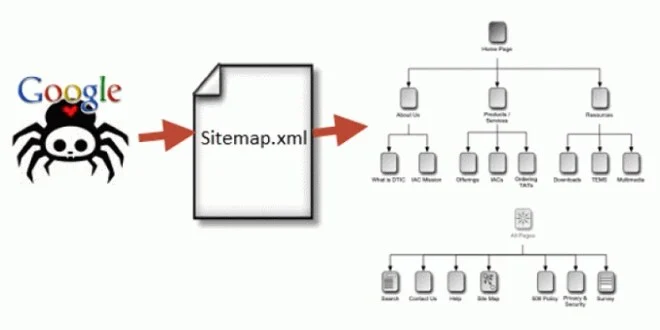 Make sure to also set up structured data such as schema markup to better understand the content on your page and help with improving Google rankings. This helps search engines determine what each page is about, which in turn helps them return more relevant results for user queries.
It's also important that your website is mobile-friendly and works properly on all devices. This will help to improve user experience and enhance your chances of ranking in SERPs.
Best Practices For Off-Page SaaS SEO: Content and Backlinks
Off-page SEO involves activities outside of your website that can help you increase search engine visibility and rankings.
Start by building links to your website from other high-quality, authoritative websites. Search engines use these links as a signal of trust and credibility and can help boost your rankings in the SERPs. Backlinks should be natural and come from relevant websites in your niche. FYI: Ubersuggest can also help you in the backlink department.
Below is an example of Segment including a backlink to SpotHero in their article.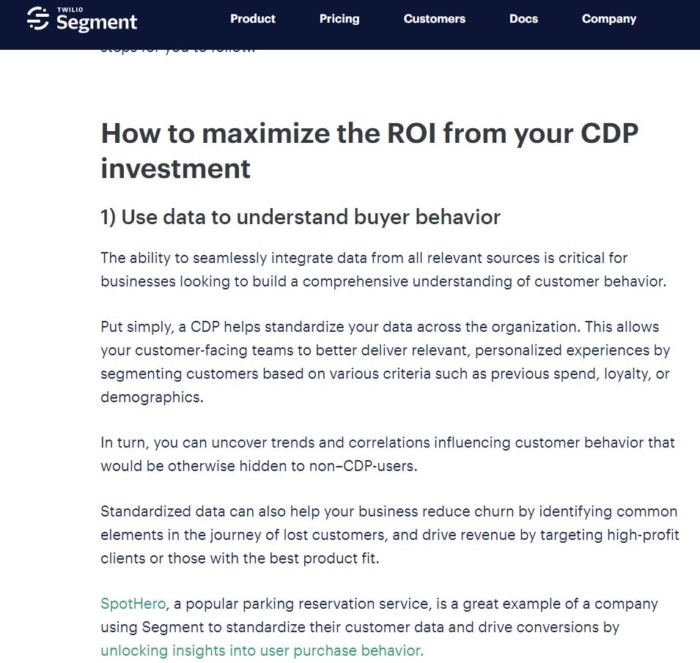 In addition, build relationships with influencers in your industry and collaborate on content that will help you reach new audiences. You can also take advantage of social media to increase brand awareness and engage with potential customers. This is important for backlinking because it enables you to get your link on content that is already influential in the space.
Above all else, create engaging content that stands out from the competition. Focus on creating content that is useful, informative, and attractive to both search engines and users. This will help you drive more website traffic, leads, and conversions in the long run. In addition, more effective and prominent content is more likely to earn backlinks.
Creating Your SaaS Content Strategy
Creating a content strategy for your SaaS business is essential to improve organic search visibility, increase website traffic, generate leads, and build authority in your industry.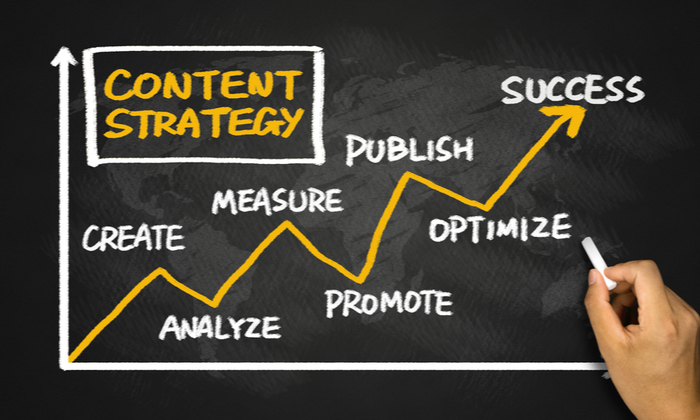 This process can be broken down into 7 steps:
Identify your target audience
Identify their pain points
Analyze best-fitting keywords
Set campaign goals and tracking abilities
Produce content
Distribute content
Monitor results and optimize based on findings
Start by determining who your target audience is. Are they engineers? Marketing operations leaders? Business owners? Knowing who you are targeting will help you create content tailored to their needs.
Next up, you must understand the needs of your target audience and what kind of content they are looking for. Identify topics that are relevant to them and create content that offers value, solves their problems, and answers their questions.
Once you have identified relevant topics, research the best-fitting keywords and create content around them. Make sure to include those keywords in your titles, headings, body text, and URLs so search engines can easily identify what your page is about.
In the example below, I searched for 'customer data management platform'. You can see that Segment used that keyword in the title, URL, and meta description—a surefire way to show up high on the SERPs.
Before you start creating content, set measurable goals for each campaign so you can track performance. You should also establish a tracking system to measure the success of each piece of content you produce and make changes accordingly.
When creating content, focus on producing high-quality pieces that are useful and engaging for users. Break up large chunks of text with visuals such as photos, videos, GIFs, and infographics to make it easier to read.
Once you have created the content, distribute it through your website, social media channels, newsletters, etc. Monitor how well each piece of content performs and adjust accordingly to maximize performance.
By following these steps and regularly optimizing your content based on analytics data, you can significantly improve your organic search visibility and get closer to achieving your SaaS SEO goals.
FAQs
Why is SEO important for SaaS companies?
SEO is an important factor for all businesses, especially for SaaS companies, since it helps to bring in organic search traffic and leads. SEO will help you increase your visibility in SERPs, drive more website traffic, generate leads, improve user experience, and ultimately boost sales, which is a driving factor of SaaS success.
Why is SaaS SEO different?
SaaS SEO is different from traditional SEO because it requires a more specialized approach. SaaS companies need to focus on content tailored to their audience and keywords that are relevant to their product or service in order to rank high in SERPs. Google ranking factors can be much more competitive in the SaaS world, so it's important to focus on SEO as much as possible.
How can I optimize my SaaS website for SEO?
The best way to optimize your SaaS website for SEO is by creating a content strategy that focuses on user experience, researching relevant keywords, and creating high-quality content that appeals to both search engines and users. Your website should also be optimized for mobile devices, as well as have a fast loading speed and secure connection.
What is one of the basics of a SaaS SEO strategy?
One of the basics of a SaaS SEO strategy is targeting relevant keywords. Research and find out which keywords are most relevant to your product or service and use them in your titles, headings, body content, and URLs so that search engines can easily identify it. Additionally, include those same keywords in your social media posts to boost visibility.
Conclusion
SEO is an important factor for all businesses, especially SaaS companies looking to increase visibility in search engine rankings and drive more website traffic.
To optimize your SaaS website for SEO successfully, you should create a content strategy tailored to your target audience, research relevant keywords, and create high-quality content that appeals to both users and search engines.
While your industry may be more technical than others, creating valuable content coupled with following the basics of SEO and regularly optimizing your content should help you achieve better organic search visibility and get closer to achieving your goals.
Are you a digital marketer in the SaaS field? What do you think makes the industry unique for marketers?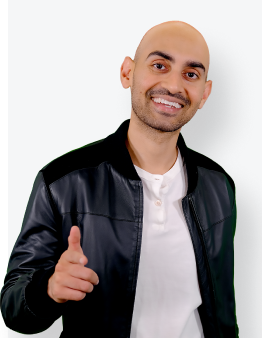 See How My Agency Can Drive More Traffic to Your Website
SEO - unlock more SEO traffic. See real results.
Content Marketing - our team creates epic content that will get shared, get links, and attract traffic.
Paid Media - effective paid strategies with clear ROI.
Are You Using Google Ads? Try Our FREE Ads Grader!
Stop wasting money and unlock the hidden potential of your advertising.
Discover the power of intentional advertising.
Reach your ideal target audience.
Maximize ad spend efficiency.