Are you struggling to master the SEO basics? If you are, there's no better time to get up to speed.
Organic search makes up over 50% of overall traffic to company websites.
It accounts for more than paid and social put together!
What does that tell us?
SEO is as relevant as ever.
If you work in marketing, write a blog, or have your own business, it's vital that you at least know the basics of SEO.
However, that's where some of you might hit a stumbling block.
Successful SEO requires extensive knowledge of how search engines work. It takes time and practice to get right.
Plus, it's like a moving target. SEO best practices are ever-changing and developing. That's because the search engine algorithms are constantly updated. I'm talking 500 to 600 times a year.
That's not all.
There may be 200+ ranking factors that Google looks at when analyzing your site (though it feels like 1,000 sometimes).
I know what you're thinking: Cheers, Google.
If you get the SEO basics down, though, you'll be off to a winning start. You can look at the more mind-boggling metrics later, and you don't need advanced SEO experience.
Does that sound encouraging? Good. Let's go.
SEO Basic #1: Keyword Research
Keyword research is important for digital marketing and SEO. It helps businesses understand what potential customers are searching for online, improve online visibility, and uncover new ranking opportunities.
Ahrefs analyzed how many SEO keywords a page should target for optimal SEO results.
Here's a summary of what it discovered: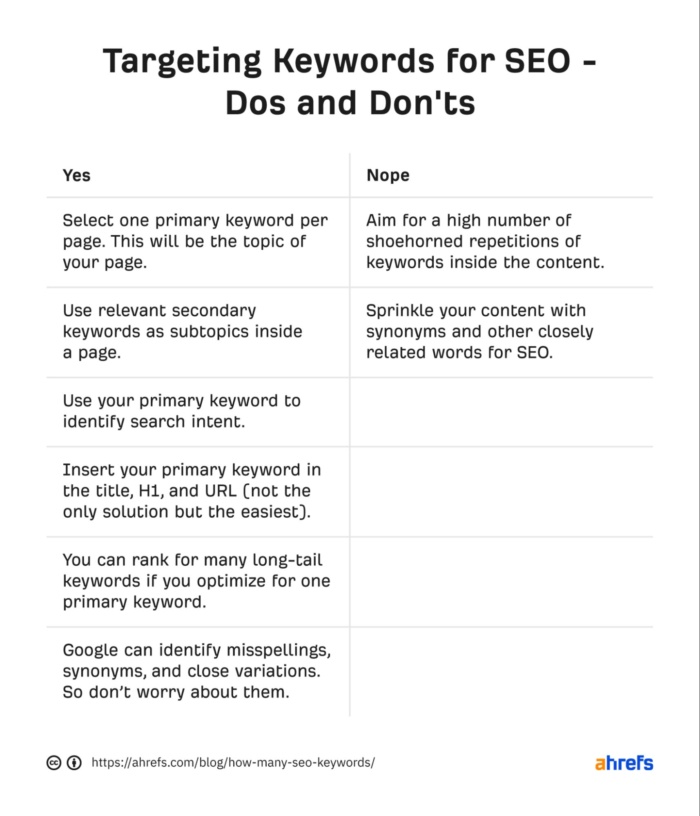 Simple, huh?
To effectively use keyword research, follow these steps:
Brainstorm relevant topics for your business/website
Use a keyword tool like Ubersuggest, Google Keyword Planner, Ahrefs, or SEMrush
Identify long-tail keywords with lower search volume but easier to rank for
Use the keywords in your content
Monitor and adjust your strategy regularly
For example, a vegan restaurant could use keywords like "vegan restaurant near me" and "best vegan burgers" in its website copy and blog posts to improve its online visibility.
However, there's more to keyword research than just inserting keywords into your articles.
1. Know Your Audience's Search Intent
The term "search intent" basically means what ideal buyers are looking for online. There are three types of search intent: informational, navigational, and transactional.
Informational intent is when someone wants to learn something
Navigational intent is when they're already familiar with the website and want to navigate to a specific page
Transactional intent is when someone wants to buy or sign up
Knowing your audience's search intent allows you to create content that meets their needs.
For example, if you're targeting the keyword "best vegan burgers," you can assume that people are looking for recommendations on where to find the best vegan burgers near them.
By highlighting the top vegan burger restaurants in their area, you can increase traffic to your website, enhance content engagement, and ultimately lead to more conversions.
2. Target Keywords You Know You Can Compete For
How do you know which keywords to compete for? Conduct a competitive analysis and see what others in your niche are doing.
Ubersuggest makes this task easy to do. Simply run a competitive analysis to find keyword gaps (keywords that your competitors are ranking for).
Aside from Ubersuggest, you can use SEO tools like Answer The Public, Google Keyword Planner, SEMrush, or Ahrefs. Or take a look at this list of Chrome extensions.
Once you've identified some keywords to target, create content around them and monitor your ranking. If the competition is higher than expected, consider refining your strategy and targeting less competitive long-tail keywords that are still relevant to your audience.
Long-tail keywords are longer and more specific phrases that typically have lower search volume but are easier to rank for. They also tend to attract more qualified traffic, making them valuable to target, especially for small businesses or those just starting.
3. Don't Cannibalize
If you have too many blogs competing for the same searches, that's keyword cannibalization. For instance, you may have too many articles built around the same topic, or you may be targeting the exact keywords in multiple posts, like this:
Simply put, it's like an intense game of tug-of-war where all your pages are fighting for the same top spot on search engine result pages (SERPs).
Why is this a bad thing? For starters, it can confuse search engines and make it harder for them to figure out which page is the best match for a particular search query. As a result, your pages might end up competing against each other instead of working together to improve your overall ranking.
To prevent this:
Map out keywords and have a content strategy.
Ensure each page has a different focus so search engines know what each one is about.
Decide which page should rank higher and ensure it has the right tags and links.
When you create new content, check to see if you've already used those keywords.
SEO Basic #2: Content
Content is another ranking factor that's way up there at the top of the list. It's just chillin' with its pal backlinks, and it's not going anywhere.
If you neglect your site's content, you're doing yourself a huge disservice. Creating regular, optimized content is one of the easiest ways to get organic traffic to your website.
The reason why content is so vital to SEO is common sense, really.
Google wants you to consistently produce fresh content so it knows you're still active.
Content keeps people on your site. This signals to the search engines that you're providing relevant and useful information. Another thing about content? It's where your keywords go! If you want organic traffic, you can't ignore keywords.
Here are some tips for crafting compelling content.
1. Create Long-form Content
Do you want more social shares and links? Or want to show your expertise and engage your audience? Then you need to write long-form content.
Sure, it takes effort. However, it's worthwhile as it offers your readers value and captures their attention for longer.
Longer content also gives you space to target more keywords, and it helps you win in the SEO game.
2. Try Different Types of Content
Variety is the spice of content marketing. Different types of content or blog posts can serve different purposes.
For instance, infographics can engage and entertain, while a case study or an expertly written blog inspires confidence and give you credibility. Here's a great example of an infographic from Semrush:
Another great idea is to produce your own video content.
If you're in a blog-post rut, video tutorials are a great way to provide value for your audience and spice up your content.
For example, take this video on how to track your marketing campaigns:
Google Analytics Tutorial – Campaign tracking
Or Neil Patel:
Videos make highly shareable and linkable content, which makes them beneficial for traffic and SEO. With video, you can still benefit from written blog posts (keywords, etc.) Simply post the video on your blog with a transcription.
3. Repurpose and Refresh Old Content
Repurposing your content is one of the best ways to get the most value from it. For instance, the long-form content we mentioned earlier could become an eBook or a series in a newsletter.
Alternatively, you could turn your written articles into visual content.
Check out how Hootsuite switched up a blog into a YouTube video: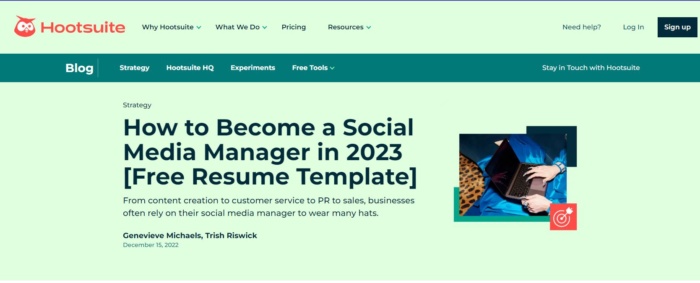 The blog generates 12k natural visits per month, and the video Hootsuite created by repurposing content from their blog achieved over 4.5k views. Not too shabby, I'm sure you'll agree.
That's not the only reason to repurpose content, though.
Sometimes, content needs repurposing to keep it fresh. In the SEO world, for instance, trends and developments move swiftly.
This means content on SEO topics made a few years ago doesn't contain the most up-to-date advice.
SEO Basic #3:Meta Descriptions and Headlines
To improve your SEO rankings, master meta descriptions and headlines.
Including well-written headlines and meta descriptions is fundamental to SEO copywriting and can improve your website's search engine rankings, drive more traffic, and achieve your marketing goals.
Optimizing your headlines and meta descriptions can also increase your click-through rates (CTR).
CTR has become a hotly contested topic in the SEO community. Some experts suggest that click-through rates are a ranking factor, while others say they aren't. Search Engine Journal concluded that they "definitely aren't."
Regardless, CTRs are still vital as they help you understand what's resonating with your audience. As Hotjar explains, a low click-through could be a sign that you're messaging isn't connecting or you're targeting the wrong demographic.
If you see a drop in CTR, write a better headline. They should be your bread and butter when improving your organic click-through rate. It doesn't take much tweaking to significantly improve your conversions, either.
For instance, research from Anyword found that 70 percent of Facebook ads tested had an increased CTR just by adding a number to the headline. Numbers work well for listicles, and other types of content, too.
Here's how to write clickable meta descriptions and headlines.
1. Place Keywords Close to the Beginning
Placing keywords close to the beginning of a sentence is important for SEO because it helps search engines understand your content.
This is vital because search engines want to display the most relevant content. When you put your keywords at the start of your sentence, Google gets your signal loud and clear.
Here's an example from Yoast:

Putting your keywords close to the start also stops them from being cut off in mobile SERPs.
However, keyword placing isn't just important to bots. People naturally read from left to right. By putting your keywords at the front of your sentences, your listing will more likely capture searchers' attention.
2. Make It Catchy and Clickable
You've probably seen a viral headline.
You know the Buzzfeed-type headlines, "This Avocado Stone Will Change Your Life" and "What Happens When You Balance an Avocado Stone on Your Forehead (The Results May Surprise You)."
Although these types of headlines may seem a little intense, it turns out there's a formula for producing a successful headline in this way.
Buzzsumo analyzed 100 million headlines to work out what makes a popular headline.
They found that headlines containing certain phrases got more engagement on Facebook.
Emotional headlines also make for more engagement. Curiosity, too.
There are even phrases to end your headlines with so that they perform better.
However, if you want attention online, your best bet is to pop your keyword into a headline formula.
Using proven headline formats, such as listicles and headlines with numbers, can significantly improve your conversions.
For example, I finally developed the formula for the perfect headline a few years ago. This system is almost guaranteed to give yours an instant upgrade.
One of my favorite techniques for producing great headlines is using a specific, actionable rationale, like:
7 Tips to Write Headlines Like a Pro
12 Headline Tips to Increase CTR Fast
A "rationale" aims to explain why something should be done.
Adding a specific, actionable rationale can also help improve your headlines, explaining why someone should care and click on your content.
Check out an example from my blog post: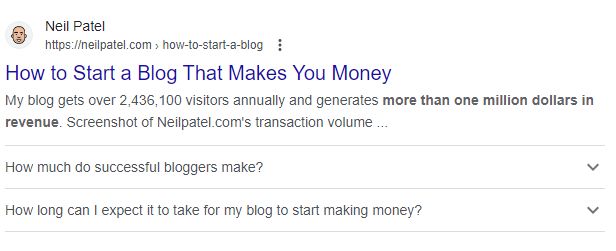 Coschedule has some additional tips for optimizing your headlines: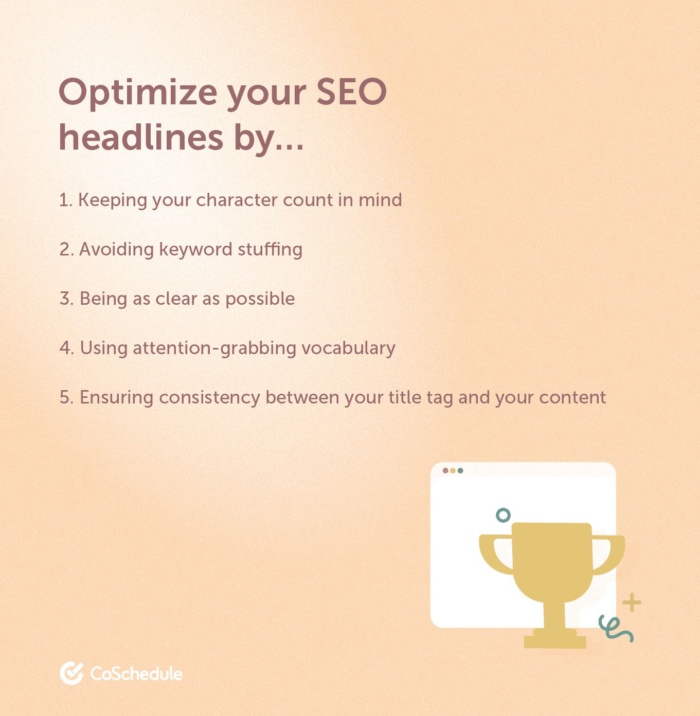 SEO Basics: Crafting Meta Descriptions
When creating your meta description, ensure it accurately represents your content to avoid the pogo-sticking effect (when a user enters a website from a search engine result page (SERP) but immediately returns to the SERP to click on a different result).
A meta description optimized for SEO isn't necessarily the most appealing. That means you need to find the sweet spot where your headline is good for the search engines and clickable.
That means:
Incorporating your focus keyword
Giving readers a brief summary of your page and how it can benefit them.
Using strong calls-to-action (CTAs) to encourage people to click through to your page.
Checking out what your competitors are doing with their meta descriptions to get some ideas for your own
Previewing your meta description to see how it will look in search results. Tools like Text Magic or Popupsmart can help with this.
7. SEO Basic #4: User Experience
If you've limited technical experience, how do you improve your site for SEO? You focus on user experience (UX).
Simply put, UX means working with the user in mind.
There are things people care about and things they don't.
The design of your website may be the Sistine Chapel of websites. But let's be honest…
A user is coming to your site to find a product or information. They don't care about your cutting-edge design. They just want the whole experience to be easy.
Financeonline proved this.
They found that what consumers value the most about web design is website performance: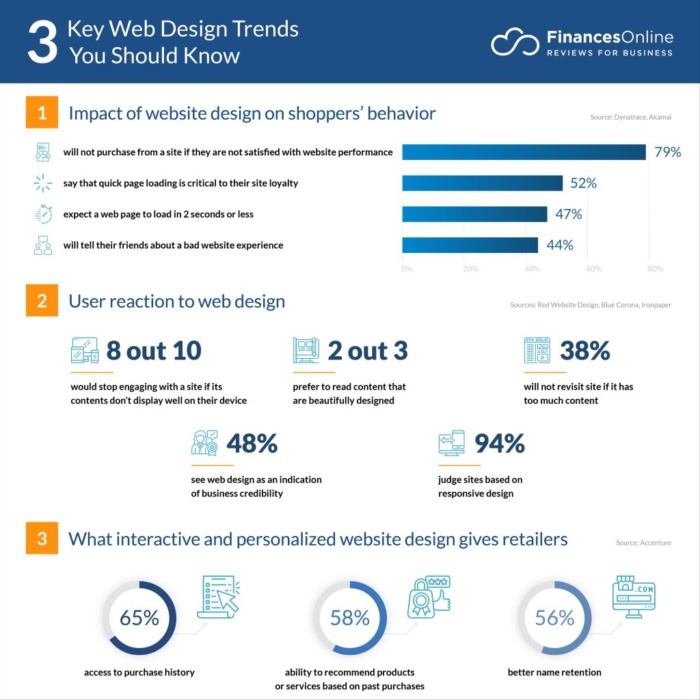 1. Increase Site Speed
Page speed might not be the first thing to enter your mind when considering search engine optimization.
However, I'm here to tell you: Page speed is one of the most important ranking factors.
People don't want to wait 10-15 seconds for your site to load. That's why Google prides itself on delivering results almost faster than you can blink.
It's not afraid to put that on display, either:
The top-ranked pages almost always get the majority of clicks on a given organic search: it makes sense that Google doesn't want top-ranking pages to be slow.
Google's goal is the same as ours. It wants to solve the user's problem as fast as possible. The goal is to provide the best experience for each searcher.
How do you fix slow-loading sites? Follow these tips:
Crop images to be the right size and compress them using a tool like Tiny JPG or ImageOptim (Mac only). This means they don't take ages to load on your site.
Delete plugins you don't use because they might slow down your site.
Compress images to help reduce the file size without sacrificing quality, which can beneficially impact the loading speed of your website.
Minimize HTTP requests to reduce the number of files that must be loaded to display your website. Combining multiple CSS and JavaScript files into one can help reduce the number of HTTP requests.
Use a content delivery network (CDN) to help reduce page load time by distributing content across multiple servers worldwide. This way, it's delivered to users from the server closest to them.
Reduce the use of pop-ups and third-party widgets that slow down your website by requiring additional resources to load.
Use Google's PageSpeed Insights.
Another awesome Google helper that works specifically for mobile is their Test My Site tool. This is one of my favorite ways to test client websites and adjust their speed fast. Go to Test My Site and enter your URL to get started.
The report helps you assess your current page speed and how it's impacting your SEO and visitor retention.
2. Keep It Clean, Clear, and Simple
Users don't want to visit a site and see an image slider on every single one of your services.
It's overwhelming.
You need a simple message and clear sections so users can find what they want.
Users shouldn't need a map to find secret passageways to different areas of your site.
3. Limit Ads
Too many ads will put users off, too, particularly on mobile.
According to The Coalition for Better Ads, ads should not take up more than 30 percent of the vertical space based on user experience.
Pop-ups are terrible for mobile UX; you should avoid them like the plague. Often they don't resize correctly to fit mobile.
Also, it's not as easy to get rid of them as it is on a desktop. You have to locate and jab the little x with your fat finger. I don't need to tell you how annoying that is.
4. Look to Pass Core Web Vitals
It's essential to measure Core Web Vitals to to improve the user experience of your website. These metrics examine loading speed, interactivity, and visual stability.
To enhance these factors, consider optimizing your website's images by compressing them and improving your server response time by hosting your website on a high-performance server.
Additionally, minimizing resource-blocking scripts and styles can speed up website interaction time.
Finally, optimize all content and web elements to load quickly and maintain a stable layout, even as additional content loads.
SEO Basic #5 Mobile
Mobile SEO is more important than ever.
Google has also adopted a mobile-first approach to indexing, and with good reason.
With over 67 percent of online searches from mobile these days, catering for mobile users is now more critical than ever if you want your content to rank in the SERPs.
How do you optimize for mobile? It's easier than you think.
First, check if your site is mobile-friendly with Google's mobile-friendly test.
All you need to do is copy and paste your URL. It takes seconds to come up with the results.
It will tell you if your site is mobile-friendly on a screen like this:
If your site fails the test, Google tells you where the errors are. For example, it might say, 'Text is too small to read' or 'Content is wider than screen.'
To fix those errors, create a responsive website.
Here are some additional tips for mobile SEO:
1. Compress images: Compressing images can help reduce the file size without sacrificing quality, which can significantly impact the loading speed of your website.
2. Minimize HTTP requests: This means reducing the number of files that need to be loaded to display your website. Combining multiple CSS and JavaScript files into one can help reduce the number of HTTP requests.
3. Use a content delivery network (CDN): A CDN can help reduce page load time by distributing content across multiple servers around the world.
Finally, reduce the use of pop-ups and third-party widgets, as they can slow down your website by requiring additional resources to load.
1. Optimize for Local SEO
Think about how you search on your smartphone.
For example, I bet you're often out and about and need to find a local shop or restaurant.
You're not alone. 76 percent of people use voice search to find local businesses once a week, 28 percent of which result in a purchase.
That means it's time to improve your local SEO to get the best results on mobile.
2. Optimize for Voice Search
Lots of people use voice search on their mobile now.
In fact, 27% of mobile queries use voice search.
The importance of voice search is growing.
What does that mean for you? Well, it means you need to get back to SEO basics. Start thinking about how people use natural language when performing a voice search. Then, add your discoveries to your keyword list.
Because even though you might type "weather Seattle," you won't use that with Siri or Alexa.
You're probably just going to ask, "Hey, what's the weather like in Seattle?"
Your content needs to reflect that.
3. Don't Hide Content
Don't play hide-and-seek or display content differently on the mobile version of your site.
In other words, don't hide content behind expandable sections, menus, or buttons.
As Google focuses on mobile-first, it needs to be able to see all your content on mobile.
SEO Basics #6 Links
Google loves links, and so should you.
They're like that old friend who has stuck with you through thick and thin. They're so reliable. You really can't forget about them.
Why are links so important?
Because linking to relevant content is one of the simplest ways to improve your visitor's experience, that's what SEO basics are about.
Links from high-authority sites also send a trust signal to Google. It's like having somebody vouch for you. The more people that vouch for you, the more trustworthy you are.
Here are some more ways to build links:
1. Publish An Original Study or Case Study
This is one of the most natural ways to get people to link back to your site. All you need to do is publish an interesting set of data from an original study carried out by your company.
If it's something that makes others in your industry go, 'Wow!' they won't be able to help themselves.
They'll want to mention your study or results in their blog posts and link to you as the source.
If you don't have data or the resources to work with, then a case study also attracts links. A case study might focus on one fantastic result (and how you came by it).
Take a look at this excellent example from Lean Labs: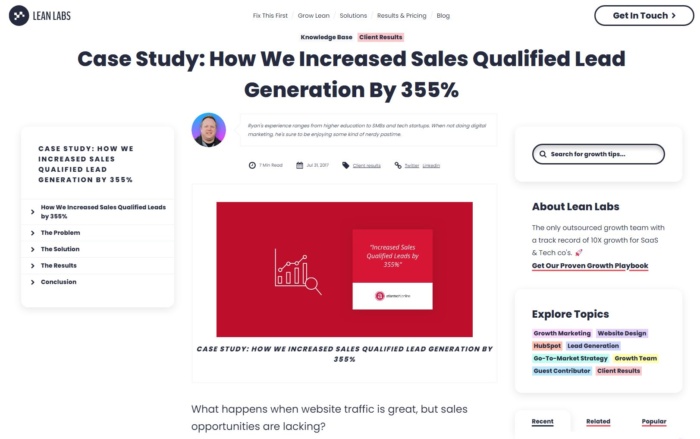 Tell me you wouldn't want to link to that case study in your article about increasing leads.
2. Write Testimonials for Other Companies You've Worked With
This is a simple yet underrated technique for gaining links.
You've probably seen testimonials everywhere and may even have them on your own site. You'll often also see an image, name, position, and a link to their site with the testimonial.
This could be you!
Simply compile a list of companies you have worked with over the last year. Then send them an email thanking them for their outstanding services.
Mention that you would like to offer a testimonial for their site if they'd like one.
There's a strong chance they'll accept. Because who wouldn't want a glowing reference for their company?
Oh, and don't forget to politely ask for a link if they don't give you one automatically.
Follow these tips and…links for you. You GO, Glen Coco!
3. Link To Relevant Content And Encourage Others To Link To You
Linking out to relevant content can seem scary, but I always do it in my blog posts.
It works because it saves the user from searching for that information. If I provide them with the information they need, they will likely have a good experience on my site and return for more.
Additionally, if you want to get any links from other popular, authoritative sites, you must be willing to link to them.
If you don't link to relevant content, you can't expect people to want to link to you.
This may sound a bit complicated. However, building links is one of those SEO basics that you must master. Fortunately, you can use plenty of proactive methods to get backlinks, like:
Linking to similar content.
Creating a valuable resource that will benefit readers.
Writing about something that no one else has written about.
Creating infographics.
Publishing a roundup post filled with information from top influencers.
Create better content. The more valuable your content is, the more likely others will link to it. For example, I create huge guides on QuickSprout because they help users and generate links. This specific content marketing piece generated nearly 900 links.
One final tip for link building:
Reach out for links. After you've created content that people in your niche will link to, you need to conduct some basic outreach.
One of my favorite ways to build links is by offering value to sites with broken links.
Start by collecting URLs from your industry target blogs from which you'd like to get a link.
Next, use a free tool like Dead Link Checker to search each URL for broken links.
Once you run the report, it will instantly give you the broken links on that specific blog post.
This is extremely helpful because it lets you see where links are broken and how you can work your content into their site.
For example, let's say you've got a new huge guide on local SEO link building. It's a niche topic; your guide is longer and more actionable than the competition.
7. Measuring Results
The ultimate goal of implementing SEO basics is to drive more organic traffic to your website. By monitoring your SEO strategy's performance, you can make data-driven decisions to improve it and boost your website's rankings in search engines.
Regularly tracking and analyzing your SEO results can help you adjust your strategy to ensure you're targeting the right audience, using the most effective keywords, and providing relevant content, ultimately leading to higher organic traffic and better business outcomes.
Below are some more SEO basics you can apply.
1. Choose Your KPIs
What should you focus on with KPIs? After all, there are plenty to choose from. Semrush suggests your focus on these.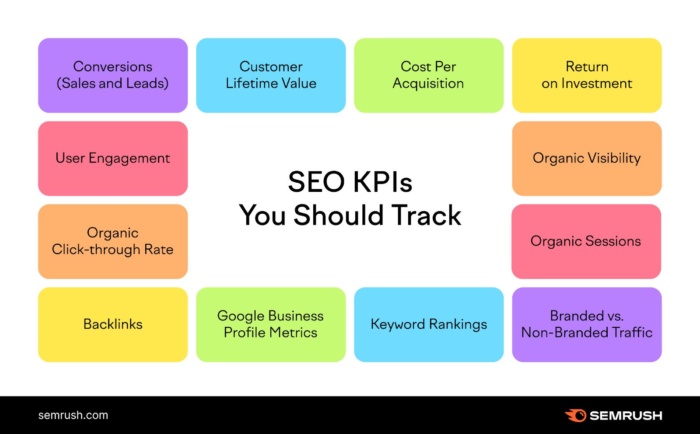 Let's look at some of them in more detail:
Organic visibility measures how often your website or content appears on search engine results pages (SERPs) without paid promotion. High organic visibility indicates that your website ranks well and reaches a broad audience.
Conversions refer to the number of users who take a desired action on your website, such as filling out a lead form, making a purchase, or subscribing to your newsletter.
Customer lifetime value is the total revenue a customer can generate for your business over their lifetime.
Backlinks mean other websites linking to your website. They're a crucial ranking factor for search engines and can help increase your website's credibility and domain authority.
User engagement is the level of involvement and interaction users have with your website or content. This includes metrics such as time spent on a page, bounce rate, and social media shares.
ROI stands for return on investment and measures the revenue you earn from your marketing campaigns compared to the amount you invest in them.
Keyword rankings show how well your website or content ranks for specific keywords on search engine results pages.
Cost per acquisition (CPA) measures the cost of acquiring a customer. It's an important KPI for overall marketing and sales strategy since it helps you understand the cost-effectiveness of your marketing tactics.
2. Create A Regular Tracking Cadence
If you want to succeed with SEO, tracking your progress and monitoring your KPIs and metrics regularly is crucial. By doing so, you can identify changes in performance, spot issues or threats, and uncover new opportunities to optimize your strategy.
However, tracking sporadically or inconsistently can lead to missed opportunities or delayed reactions. That's why creating a regular tracking cadence is critical. By scheduling regular intervals for tracking and analysis, you have a detailed understanding of your website's SEO performance over time.
Depending on your business model, you can measure your weekly, monthly, quarterly, or yearly tracking.
While many organizations track their KPIs daily, how often you should check depends on various factors, including:
Changing algorithms
Who will be reading the SEO dashboard and reports? Are you working with an agency, or is it employee responsibility?
The reason why you're tracking them (looking for trends or conversions, measuring advertising campaigns, etc.)
You can use tools like Ubersuggest, Dashthis, or Google Analytics 4 to monitor your results.
3. Be Ready To Act On Your Results
Tracking your KPIs is one thing. It's all part of SEO 101 that every online marketer should be doing. However, there's no point to it if you don't act on your results.
Refer to your content strategy and defined aims to see if you're heading in the right direction.
This means analyzing your data and spotting patterns. Is there anything you can improve on? For example, are you getting enough backlinks? If not, you need to do more outreach and guest posts. Or perhaps you're click-throughs are lower than you'd like. Then you need to start with A/B testing to see which ad works best.
4. Building Up Your SEO Experience
From online courses to forums and communities, there are plenty of opportunities to grow your skills and stay up-to-date on the latest trends and best practices. However, what do you do if you want to go beyond the SEO basics?
Well, you can't do much better than getting some hands-on experience. Applying the tips you've learned and monitoring the results is the best way to see if the techniques work for you.
If you are seeing significant results and moving closer to your goals, do more of the same.
Beyond that, many courses teach the more technical side of SEO, including this one from the Direct Marketing Institute, which I help teach.
You could also work with an SEO mentor or an agency to further build your skills.
What are the SEO basics?
Some key SEO basics include keyword research, on-page optimization, link building, and content creation. 
On-page SEO focuses on optimizing individual pages on your website to make them more search-engine friendly, 
Link building involves developing relationships with other websites to increase the number and quality of backlinks pointing to your site. 
Finally, content creation involves creating high-quality, original content that is useful, informative, and engaging for your target audience. You'll also want to include relevant keywords and phrases to boost your content's visibility and relevance to search engines.
What SEO experience do I need to know the basics?
You don't need much experience to master many of the SEO basics. For example, you can use keyword research tools to find keywords. Once you've done that, you can include the keywords naturally into your content, headings, and meta descriptions.
Link building may seem more complex, but you can start by building links through social media sharing. Aside from that, you can use blog commenting and forums if sharing links is acceptable.
Can a beginner do SEO?
Yes. Just start with the SEO basics, like keywords. However, you may prefer to work with an agency for the technical side and for developing a sound SEO strategy.
How can I get SEO experience?
Practice! 
Don't try too much too soon, or you won't always know what's working and what isn't. Apply the SEO basics that make the most sense for your site and what you're trying to achieve. For example, if you want more visibility, you'd focus on keywords and building backlinks.
Build some SEO experience with the basics you consider essential to your online growth. Then, track your results to see what is working.
Conclusion
Yes, SEO is like trying to hit a moving target.
However, putting the skills behind the SEO basics into practice helps you make several hits.
A key takeaway from this article is that there are proactive methods you can use to improve SEO, even if you have no technical skills.
Go after the important metrics, such as links or content, with simple methods and tricks.
Think of your audience and the search engines when working on your site.
Finally, don't forget to get ahead of the trends by optimizing for mobile.
That's SEO 101; With enough practice, anyone can do these things.
What are your go-to SEO basics?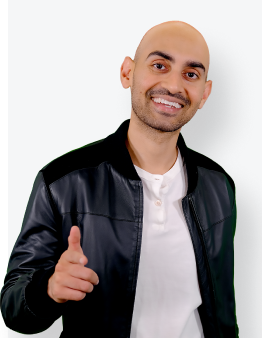 See How My Agency Can Drive More Traffic to Your Website
SEO - unlock more SEO traffic. See real results.
Content Marketing - our team creates epic content that will get shared, get links, and attract traffic.
Paid Media - effective paid strategies with clear ROI.
Are You Using Google Ads? Try Our FREE Ads Grader!
Stop wasting money and unlock the hidden potential of your advertising.
Discover the power of intentional advertising.
Reach your ideal target audience.
Maximize ad spend efficiency.