Organic search makes up around one-third of traffic to company websites.
It accounts for more traffic than paid and social put together!
What does that tell us?
SEO is as relevant as ever.
If you work in marketing, write a blog, or have your own business, it is vital that you at least know the basics of SEO.
But here's where you might hit a stumbling block.
Successful SEO requires extensive knowledge of how search engines work. It takes time and practice to get right.
Plus, it's like a moving target. SEO best practices are ever-changing and developing. That's because the search engine algorithms are updated all the time.
I'm talking 500 to 600 times a year.
Cheers Google.
And there may be 200+ ranking factors that Google looks at when analyzing your site (though it feels like 1,000 sometimes).
If you get the basics down, though, you'll be off to a winning start. You can look at the more mind-boggling metrics later.
SEO Basic #1: Links
Without links, your search result is going to remain at the bottom of the pack.
The thing is, links have been one of Google's key ranking factors for years. And they're still hanging on at the top of the list.
They're like that old friend who has stuck with you through thick-and-thin. They're so reliable, you really can't forget about them.
If it's proof you want…
Not too long ago, Brian Dean and his team at Backlinko analyzed one million Google search results to see which factors correlate with first-page rankings.
Here's what they found out about backlinks: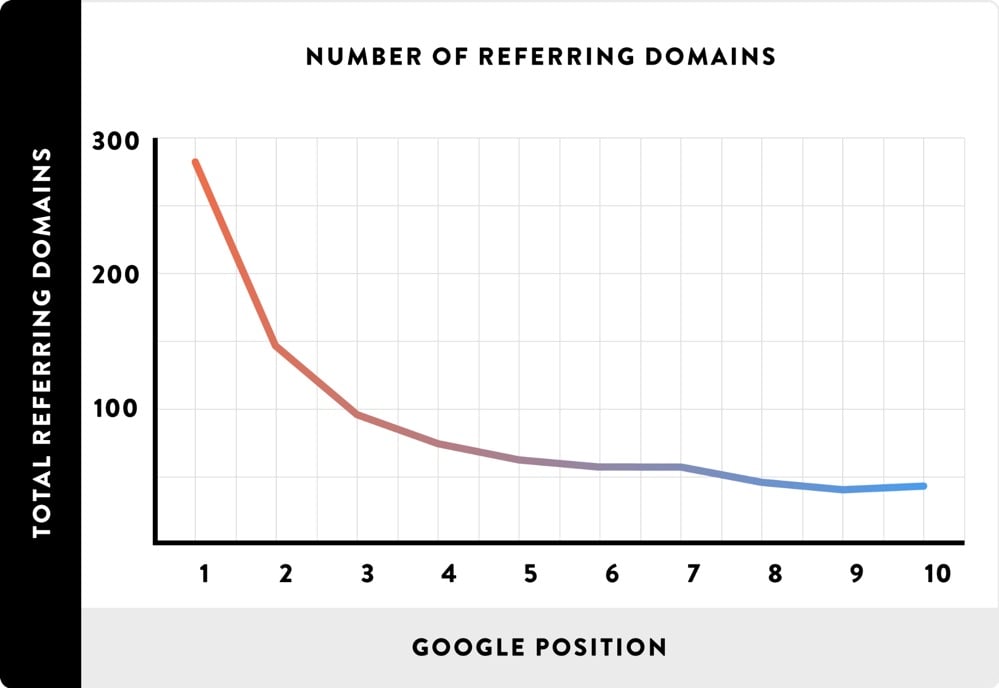 Evidently, they found that as the number of links a site has decreases so does their rank.
But, why are links so important?
Links from high-authority sites send a trust signal to Google. It's like having somebody vouch for you. The more people that vouch for you, the more trustworthy you are.
Now the question is:
How do you go about getting these magical seals of trust that Google holds in such high esteem?
Links can be difficult to come by, especially if you aren't well-versed in link building tactics.
At times you might feel like Gretchen Wieners in Mean Girls, waiting for a candy cane while Glen Coco gets four.
But there are proactive methods you can use to get backlinks. And you don't need any special technical skills to use them either.
1. Publish an original study or case study.
This is one of the most natural ways to get people to link back to your site. All you need to do is publish an interesting set of data from an original study carried out by your company.
If it's something that makes others in your industry go 'Wow!' then they won't be able to help themselves.
They'll actually want to mention your study or results in their own blog posts and link to you as the source.
If you don't have data or the resources to work with, then a case study will also attract links. A case study might focus on one fantastic result (and how you came by it).
Take a look at this nice example from Lean Labs:
Now, tell me you wouldn't want to link to that case study in your own article about increasing leads.
2. Write testimonials for other companies you've worked with.
This is a simple yet underrated technique for gaining links.
You've probably seen testimonials all over the place and may even have them on your own site. In many cases, you'll also see an image, name, position and a link to their site with the testimonial.
This could be you!
Simply compile a list of companies you have worked with over the last year. Then send each of them an email, thanking them for their outstanding services.
Mention that you would like to offer a testimonial for their site if they'd like one.
There's a strong chance they'll accept. Because who wouldn't want a glowing reference for their company?
Oh, and don't forget to politely ask for a link if they don't give you one automatically.
Follow these tips and… Links for you. You GO Glen Coco!
SEO Basic #2: Content
If you neglect content on your site, then you're doing it wrong.
Content is another ranking factor that's way up there at the top of the list. It's just chillin' with its pal backlinks and it's not going anywhere.
The reason why content is so vital to SEO is common sense really…
Google wants you to produce fresh content consistently so it knows that you're still active.
Content keeps people on your site. This is a signal to the search engines that you're providing relevant and useful information.
And let's just go ahead and state the obvious here… It's where your keywords go!
Google's updates obviously changed the way we use keywords in content.
What was it again? Something about keywords and stuffed Pandas?
But that doesn't mean that sites don't still rank for keywords. In fact, sites rank for a lot of keywords.
Ahrefs analyzed three million random search terms to see how many other keywords the top 20 pages also rank for.
Take a look: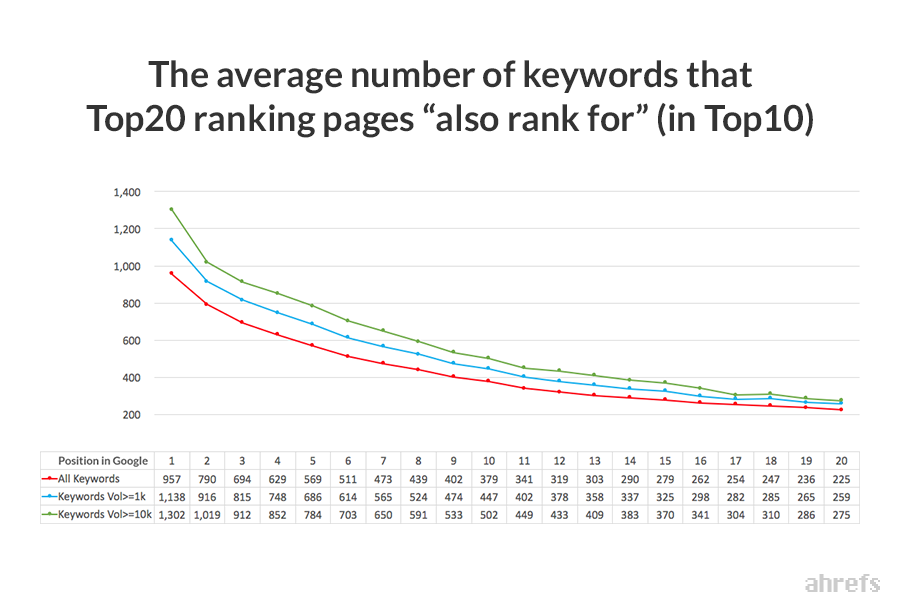 The number one page ranks for 1,000 other keywords, too.
You just can't miss out on an opportunity like that.
So, here are some top tips for producing SEO-friendly content.
1. Create long-form content.
According to Brian Dean's research, the average first-page result on Google is 1890 words. If that sounds like a lot of work…
That's because it is.
Your content needs to be as long as possible to give it depth. Longer content provides more utility to your site's visitors.
It also gives you space to target as many keywords as possible – whether intentionally or unintentionally.
2. Try different types of content.
Variety is the spice of content marketing. Different types of content or blog posts can serve different purposes.
A great idea is to produce your own video content.
If you're in a blog-post rut, video tutorials are a great way to provide value for your audience and spice up your content.
For example, take this video on how to track your marketing campaigns:
Videos are highly shareable and linkable content, which makes them beneficial for traffic and SEO.
And you can still get the benefits of written blog posts (keywords etc.) Simply post the video on your blog with a transcription.
3. Repurpose old content.
It's your content, and you can do what you want.
That's not the only reason to repurpose content though.
Sometimes, content needs repurposing to keep it fresh. In the SEO world, for instance, trends and developments move swiftly.
This means content on SEO topics made a few years ago don't contain the most up-to-date advice.
Or you could repurpose it by turning it into a different medium like an infographic, e-book or slideshare.
Check out how Copyblogger adapted one of their strongest pieces of content to Slideshare:
Repurposing content lets you unbury old content and get more eyes on it.
Plus, Google likes fresh and up-to-date content.
SEO Basic #3: Meta Descriptions and Headlines
The headline and meta description of your post or page is displayed in the search results. It's probably the first thing a person sees.
It looks like this:
This is your first impression. So you want to make it a good one.
And while the meta description isn't a direct ranking signal for search engines, it does carry some importance.
Because it helps people decide whether to click on your result or not.
The way people engage at this point is called the click-through rate (CTR). It compares the number of people who click on a result and how many people see it.
And CTR is an important ranking factor. So you can and should optimize your headline and meta description to improve the click-through rate.
Because if people aren't clicking on your link, Google will notice and drop your ranking.
And your headline is a big factor in your CTR.
For instance, a study by Contently (see how we're linking to them for their original research?) showed that longer titles (up to 90-99 characters) have a better click-through rate.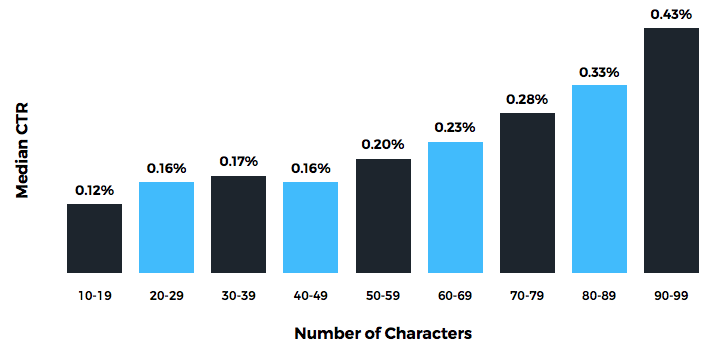 Make sure your headline contains your focus keyword.
If Google wants to know what your article is about, your headline is the answer.
But keep in mind:
A headline optimized for SEO isn't necessarily going to be the most appealing.
So you need to find the sweet spot where your headline is good for the search engines and your audience. (People want to click on it and share it.)
Here are some tips to do just that.
1. Place keywords close to the beginning.
Place them in a natural position, but as close to the beginning as possible. That way Google will receive your signal loud and clear.
2. Make it catchy and clickable.
You've probably seen a viral headline.
You know the Buzzfeed-type headlines, "This Avocado Stone Will Change Your Life" and "What Happens When You Balance an Avocado Stone on Your Forehead (The Results May Surprise You)."
Although, these types of headlines may seem a little intense. It turns out there's a formula for producing a successful headline in this way.
Buzzsumo analyzed 100 million headlines to work out what makes a popular headline.
They found that headlines containing certain phrases got more engagement on Facebook.
And there was more. Emotional headlines also make for more engagement. Curiosity, too.
There are even phrases to end your headlines with so that they perform better.
So your best bet is to pop your keyword into a headline formula.
Take this LinkedIn post for example:
The keyword is 'blogging mistakes,' and it contains the number one popular phrase 'will make you.'
So you may want to use a viral-style headline.
But be warned…
It's important that your title and meta description genuinely represent the content you have created.
Otherwise, you'll create a pogo-sticking effect.
That's when somebody searches for something, clicks the first result, and it doesn't contain the information they're looking for they go back and click on the next result.
It isn't what they're looking for, so they go back and click on the next result and so on until they find what they're actually looking for and stay on that page.
The page they stay on will go up in the rankings, and if your page is part of the pogo-sticking effect, it will go down.
SEO Basic #4: User Experience
Search engines value user experience (UX). Google collects data on the way users behave when they get to your site.
If the user experience of your site is not up to par, then it will negatively affect SEO.
Which makes sense because it's Google's job to supply the searcher with the best result they can.
And that's all well and good if you have an outstanding piece of content that's relevant to the search term and provides value to the visitor.
But if your page doesn't load quickly enough, a user is going to smash up their laptop in frustration.
Or more likely they'll just bounce.
As more people up and leave, it's going to send a signal to Google that your user experience is not good enough.
People expect your site to load quicker than The Flash.
Maile Ohye, former Developer Programs Tech Lead at Google, explained:
"2 seconds is the threshold for e-commerce website acceptability. At Google, we aim for under a half second."
Half a second!
But the time it takes for your site to load is just one of many metrics that Google analyzes to assess user experience. UX is such an intricate discipline with many aspects that it has its own field of experts.
So how do you, someone with little technical experience, especially in UX, improve your site for SEO?
User experience is simply working with the user in mind.
There are things people care about, and things they don't.
The design of your website may be the Sistine Chapel of websites. But let's be honest…
A user is coming to your site to find a product or information. They don't care about your cutting-edge design.
They just want the whole experience to be easy.
I mean, we're all basically sloths these days. We may be cute, but we're lazy.
Hubspot proved this. Not that we're actually sloths in human clothing, of course.
They found that what consumers value the most about web design is the level of ease:
So what can you do to give users an easy experience?
1. Increase site speed.
I've mentioned site speed and its impact. But how do you actually go about improving it?
Well, there are some methods that require tech skills and some that don't.
One thing you can do easily is crop images so they're the right size and compress them using a tool like Tiny JPG or ImageOptim (Mac only). This means they don't take ages to load on your site.
You can also delete plugins that you don't use because those might be slowing your site down.
2. Keep it clean, clear and simple.
Users don't want to visit a site and be confronted with an image slider or every single one of your services.
It's overwhelming.
You need a simple message and clear sections so users can find what they're looking for.
Users shouldn't need the Marauder's Map to find secret passageways to different areas of your site.
3. Limit ads.
Too many ads are going to put users off, too. Particularly on mobile.
According to The Coalition for Better Ads, ads should not take up more than 30 percent of the vertical space based on user experience.
Pop-ups are particularly terrible for mobile UX and should be avoided like the plague. Often they don't resize correctly to fit mobile.
And it's not as easy to get rid of them as it is on a desktop. You have to locate and jab the little x with your fat finger.
SEO Basic #5: Mobile
Mobile SEO is actually more important than ever.
Google will soon be using page speed as a mobile ranking factor, which they announced on their Webmaster Central Blog:
"The "Speed Update," as we're calling it, will only affect pages that deliver the slowest experience to users and will only affect a small percentage of queries. It applies the same standard to all pages, regardless of the technology used to build the page. The intent of the search query is still a very strong signal, so a slow page may still rank highly if it has great, relevant content."
Currently, Google's algorithms analyze the desktop version of your site first.
But mobile-first indexing is here.
And you need to get ready.
Most people search on mobile these days and the change is coming.
Google has stated in the past that over 50 percent of searches come from mobile.
Hitwise estimates the figure to be around 58 percent, based on analysis of hundreds of millions of search queries in key categories across PCs, tablets, and smartphones.
Here's what they found:
If your niche is in one of the higher percentage categories, you need to pay extra attention to mobile SEO.
So how do you optimize for mobile?
The simplest way is to check if your site is mobile-friendly with Google's mobile-friendly test.
All you need to do is copy and paste your URL. It takes seconds to come up with the results.
It will tell you if your site is mobile-friendly or not on a screen like this:
If your site fails the test, Google will tell you where the errors are on your mobile site. For example, it might say 'Text is too small to read' or 'Content is wider than screen.'
To fix those errors, you'll need to create a responsive website. This is Google's preferred design.
So basically, you'd be silly if you didn't choose their preferred design option.
Here are some additional tips for mobile SEO.
1. Optimize for local SEO.
Think about how you search on your smartphone.
I bet a lot of the time, you're out and about and need to find a local shop or restaurant, for instance.
You're not alone. 89% of people search for a local business on their phone once a week and 58 percent do it daily.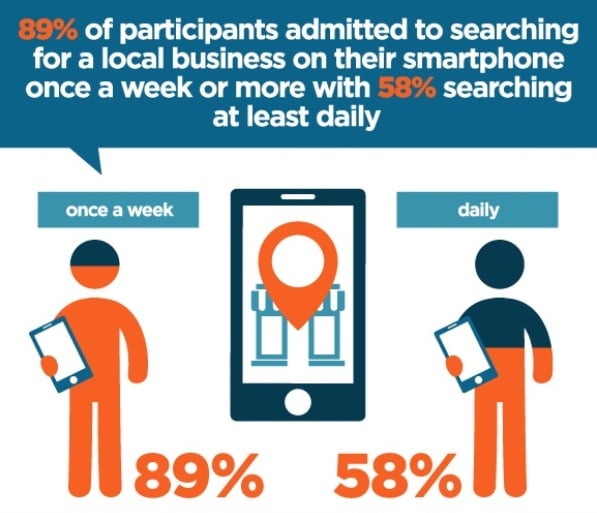 That means it's time to improve your local SEO to get the best results on mobile.
2. Optimize for voice search
Lots of people use voice search on their mobile now.
In fact, 20% of mobile queries are voice search.
The importance of voice search is growing.
So you need to start thinking about the kind of natural language people will use when performing a voice search. And add your discoveries to your keyword list.
Because even though you might type "weather Seattle," you're not going to use that with Siri or Alexa.
You're probably just going to ask, "Hey, what's the weather like in Seattle?"
Your content will need to reflect that.
3. Don't hide content.
Don't play hide-and-seek or display content differently on the mobile version of your site.
In other words, there should be no content hidden behind expandable sections, menus, or buttons.
If Google is going to look at mobile first in the near future, then it needs to be able to see all of your content on mobile.
Conclusion
Yes, SEO is like trying to hit a moving target.
But putting the skills behind these basics into practice will ensure you make several hits.
A key takeaway from this article is that there are proactive methods you can use to improve SEO, even if you have no technical skills.
Go after the important metrics such as links or content with simple methods and tricks.
Think of your audience as well as the search engines when working on your site.
And don't forget to get ahead of the trends by optimizing for mobile.
Anyone can do these things.
What are your go-to SEO basics?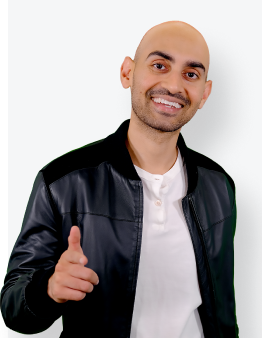 See How My Agency Can Drive More Traffic to Your Website
SEO - unlock more SEO traffic. See real results.
Content Marketing - our team creates epic content that will get shared, get links, and attract traffic.
Paid Media - effective paid strategies with clear ROI.
Are You Using Google Ads? Try Our FREE Ads Grader!
Stop wasting money and unlock the hidden potential of your advertising.
Discover the power of intentional advertising.
Reach your ideal target audience.
Maximize ad spend efficiency.