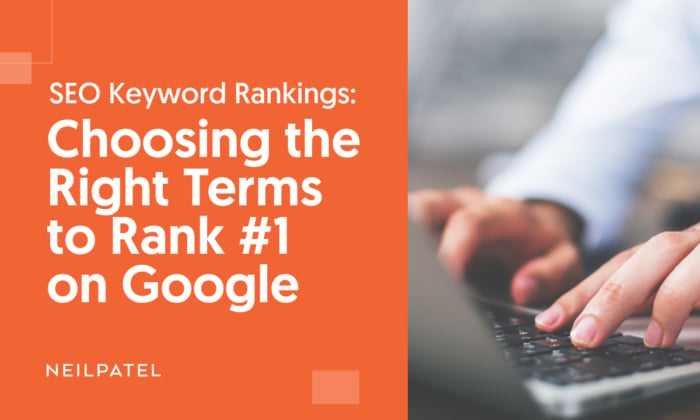 Chances are, you want more website traffic. After all, more traffic means more business revenue, right?
Not necessarily.
More traffic's all well and good, but there's no guarantee it'll increase revenue. In fact, if you draw the wrong kind of traffic, your revenue could stall since you're not getting your content in front of the right people.
Instead, focus on getting better-quality traffic. One way to do this is to prioritize ranking well for high-intent keywords.
Why? Consider this: The No. 1 Google search result for a given query has an average click-through rate (CTR) of 27.6 percent. It gets 10 times more clicks than the page in spot No. 10.
Where would you rather be if you're trying to grow your business: the top spot or 10th spot?
I think we all know the answer.
With this in mind, let's dive into how keyword ranking for SEO works, how to choose the right keywords for your content, and how to improve SEO keyword ranking for the results you already have.
What Is Keyword Ranking in SEO?
A "keyword" in SEO refers to a word or phrase someone enters into a search engine like Google or Bing. Ideally, the search engine will show results that match what the user is looking for. Your "keyword ranking" refers to your position in the search results for a given search query.
Here are some basics about keywords:
The average keyword gets roughly 989 searches per month.
Around 14.1 percent of keyword searches involve a question.
Keywords vary in length, but the average is 1.9 words long.
Say you sell electric hand mixers and write a product category page for your products. Think about what keywords people enter into Google to find your product. For example, they might search for something like "buy electric hand mixer."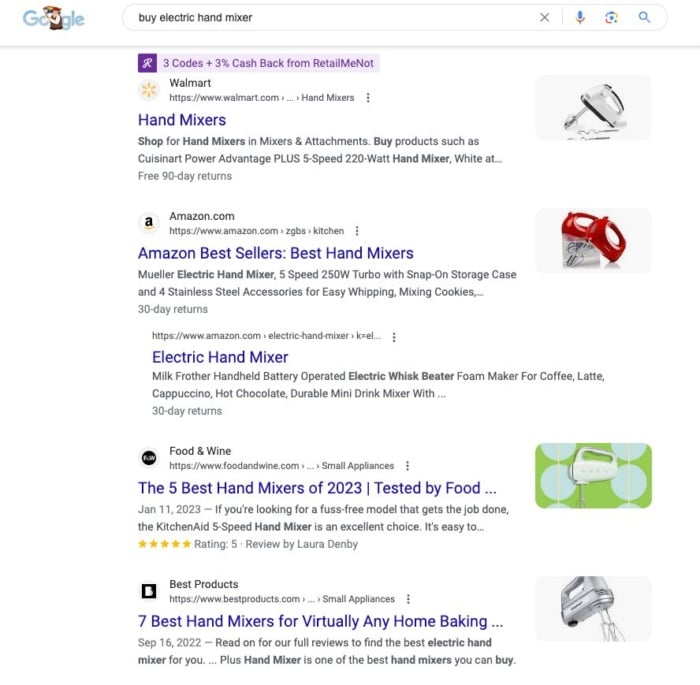 As I mentioned, your SEO keyword ranking is the spot your page occupies in the list of Google search results. In this case, Food & Wine ranks above Best Products.
SEO, or search engine optimization, involves optimizing your content using the right keywords to improve your page ranking. Let's check out why this is important.
Why Are SEO Keyword Rankings Important?
Organic searches drive traffic—in fact, recent data suggests that at least 53 percent of traffic comes from organic search queries.
If you want to capture this traffic, then you need to elevate your SEO keyword rankings.
However, as I've already mentioned, you're not trying to draw just any traffic. If you want to grow your brand, you need traffic that converts.
You want that coveted No. 1 spot for the keywords most likely to boost your business. To snag it, you need to be strategic about the keywords you choose and how you use them in your digital marketing campaign. Let me walk you through the process.
Ranking for Multiple Keywords
Ranking for multiple keywords is about nailing not just one but several keywords with your content. Think of it as SEO multitasking—hitting several targets with one shot.
It's all about making your content work smarter, not harder. Get more traffic, more visibility, and, yes, more conversions.
What Do Sites Ranking for Multiple Keywords Have in Common?
An Ahrefs study finds that 64.4% of pages that rank first in Google for at least one keyword with a monthly search volume (MSV) of 1,000 also rank for at least one other 1,000+ MSV keyword.
What do they have in common that the other ones don't?
Anything that helps you rank first for one keyword also generally helps you rank first for multiple keywords.
What does this mean? Well, articles with more words, better URL ratings, and more backlinks have better odds of ranking well for multiple keywords.
However, the big takeaway is what the multiple keywords have in common. When conducting keyword research, this is an important factor to pay attention to—as the majority of them shared at least one word.
In order words, it's important to pick related keywords and not try to fit too many unrelated topics into one post.
You can use a keyword clustering tool like SerpStat to help you understand how well keywords fit together.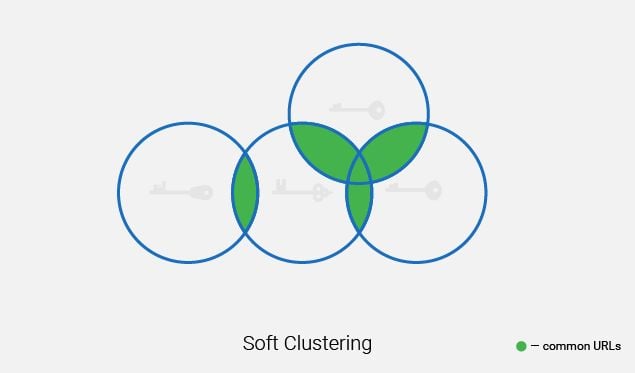 You can opt for keywords that are softly related, as illustrated in the diagram above, or ones that have a hard relationship.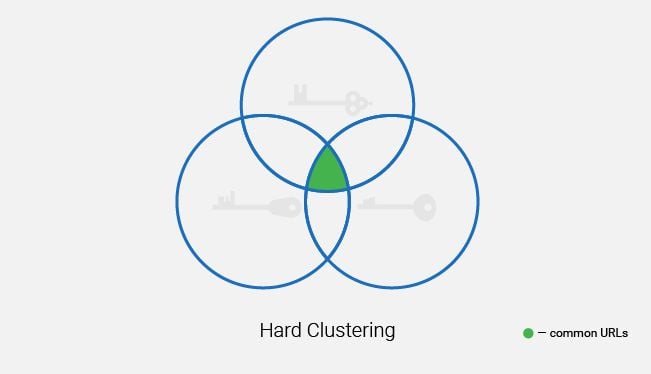 If you think about the way we target audiences, this intuitively makes sense. Trying to offer too much to too many different people in one post won't work for anyone.
The best way to have multiple keywords in one is to group ones that naturally fit together.
Data Points to Consider When Selecting SEO Keywords
Choosing the right keywords to grow your SEO keyword rankings isn't easy, I know. To make the process easier, here are some general data points to consider as you choose your keywords.
Search Volume
Search volume is the number of times users search for a given keyword within a certain time period. The search volume reveals a keyword's popularity and competitiveness.
The higher the search volume, the greater the risk of receiving low-quality traffic.
On the flip side, focusing only on very low-volume keywords could mean you don't receive enough traffic to drive conversions. Keep in mind that even the top three Google search engine results page (SERP) results get only 54.4% of clicks.
CPC
Cost-per-click (CPC) measures how much you pay every time someone clicks on a paid ad. You can calculate CPC by dividing your advertising cost by the number of clicks the advertisement produces.
You choose keywords to bid on and decide the maximum amount you'll pay to bid for clicks. Even if you're not using paid ads, this can highlight opportunities.
If a keyword's CPC is high, it's more likely to convert (since brands are willing to spend more to show up in the SERPs for those terms.)
If CPC is low, it might mean organic traffic converts are low or that it's not as competitive.
Average CPC varies by industry. For example, keywords related to the travel industry have an average CPC of $1.63. Attorney and legal services keywords have an average CPC of $9.21. Check out your industry's CPC benchmarks to help you determine what CPC rate is considered high and low for your industry.
If you plan to invest in paid ads, keep this in mind:
High bids might not see a great return on investment (ROI).
Low bids might not get enough exposure for your ads.
SEO Difficulty
SEO difficulty scores reflect how challenging it is to rank for a particular keyword.
The lower the difficulty, the easier it is to rank for the keyword, but it could mean there's a low search volume.
A high SEO difficulty score means there's heavy competition for the keyword, so you might struggle to rank against large competitors. However, creating higher-quality content can help you outrank your competitors.
Paid Difficulty
Paid difficulty refers to how easy or hard it is to rank for a keyword in paid search results.
A high difficulty means you'll pay more to rank for the keyword.
Low-difficulty keywords are easier to rank for but may not be worth paying for.
How to Choose Keywords That Can Get You the Top Spot in Google Keyword Rankings
Now that we've covered the basics, here's how to proceed if you're hunting for high-quality keywords to reach your digital marketing goals.
1. Research and Compile a List of Topics to Cover
First, you need content ideas, so find out what matters to your audience. Research what type of questions they're asking and what they need help with so you can deliver the answers they need.
Check out online platforms like Reddit, Quora, and my tool AnswerThePublic. Reddit, for example, has over 55 million active daily users, so it's a good starting point for researching questions. AnswerThePublic is also a great place to start, as it gives insight into real queries that users are typing into search engines.
Look for common questions across a few platforms. Common questions suggest it's an "in-demand" topic that your audience cares about.
Make a list of topics to cover based on your findings. Note the questions themselves, because they might make good keywords later.
2. Plug Your Target Topics Into a Tool Like Ubersuggest
Once you have some topics in mind, you need some keyword ideas. That's where tools like Ubersuggest come in handy.
Ubersuggest shows you the most profitable keywords for your topics so you'll know where to focus your efforts. You can see which keywords your competitors rank for and learn from their strategies in your attempt to outrank them.
Once you have content up and running, you can perform regular SEO audits to identify performance issues.
With over 50,000 users, Ubersuggest is a widely trusted keyword research tool. Plus, it's super easy to use. Say you want to write about inbound marketing. Type the phrase into Ubersuggest and click Search:

From the main screen, you can then see how popular this keyword is and view some related keywords. You can also check out the Content Ideas section to help you craft an article based on popular competitors' content: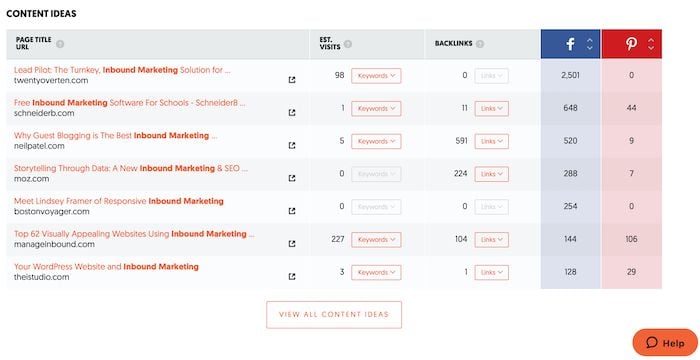 3. Drill Down Into the Data to Find the Best Keywords for Your Topics
Now you have keyword ideas and maybe even some content inspiration. How do you find the right keywords for your topics?
Again, Ubersuggest can help. The Keyword Overview section reveals your chosen keyword's CPC, search volume, and difficulty score:

You can add this keyword to your research list by clicking Add to List and choosing Add to Keyword List. Then, scroll down to Keyword Ideas to view related keywords:

There are no "right" keywords to choose from. However, you might opt for a mixture of keyword types like questions, comparisons, and short phrases to boost variety and, in turn, your chances of ranking No. 1 for a keyword.
Add a variety of keywords to your list and compare the data. Once you're happy with your keywords, you can get started on your content.
Bonus: Keyword Ranking SEO Tips and Best Practices
If you want to maximize your shot at a No. 1 ranking, here are five practical tips for boosting your SEO keyword rankings.
1. Optimize for Featured Snippets
Featured snippets are answer boxes that appear at the top of a SERP. Here's an example: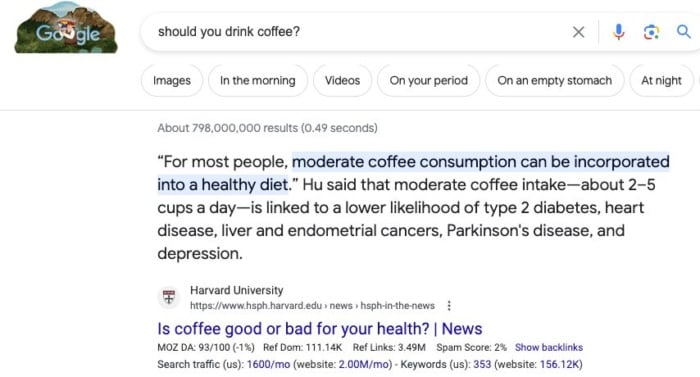 According to research by Semrush and Brado, at least 19 percent of keywords have a featured snippet, and they take the No. 1 spot almost 100 percent of the time. As featured snippets have become more popular, they're transforming SERPs … and you should know how to make them work for you.
From an SEO keyword ranking perspective, featured snippets are more common for question-based keywords (like the example above). Choosing a long-tail or question-based keyword and writing an authoritative answer for it will boost your chances of landing a featured snippet. Tools like Ubersuggest can help you select the right keyword.
2. Use the Primary Keyword Strategically
To get the most from your primary keyword, use it strategically throughout your website.
Always use the primary keyword in your page title to help Google understand what your page is about. You should also try to include your primary keyword and some keyword variations in subheadings.
It's also best practice to work the primary keyword into the first paragraph.
Finally, don't overuse your keywords. It could be considered keyword stuffing, which can damage your SEO keyword rankings.
3. Optimize Meta Descriptions
A meta description summarizes a page's content. When optimized, it explains what your page is about, which can help generate better-targeted traffic.
For example, Google "Neil Patel." My homepage appears. The meta description tells people what my website will help them do so they know what to expect when they visit: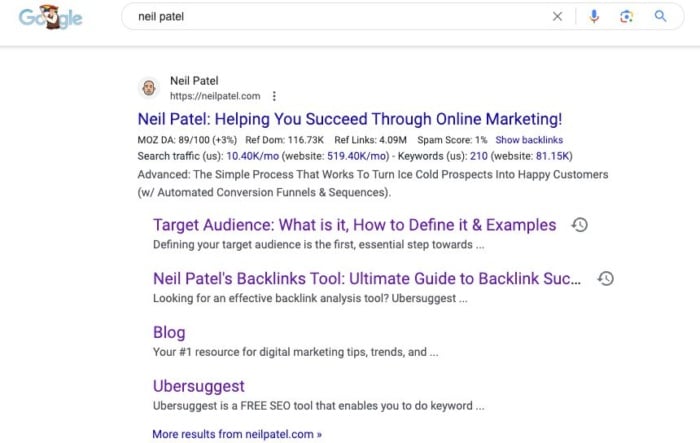 Here's how to optimize your own meta descriptions:
Use your primary keyword in the meta.
Include a call to action (CTA) when you're trying to sell the contents of the linked page (e.g., it's for a training course).
Keep meta descriptions under 160 characters.
4. Use Heading Tags
To help Google index your other keywords, you can build them into the outline of your content as subheadings.
Each one should have its own H2 or H3 tag.
This will help Google's bots and readers understand the intent of your content.
It also breaks up your long-form content for easier skimming and reading.
5. Streamline Your Page Speed
For the best conversion rates, your page should load in four seconds or under, according to Portent's research. The digital agency discovered that e-commerce conversion rates drop by an average of 0.3 percent for every additional second it takes a site to load, and 82% of websites (i.e., your competitors) now have a load time of five seconds or less.
A slow loading time could increase your bounce rates, damaging your SEO keyword rankings, so streamline page performance where possible.
You can use page speed testing tools, like PageSpeed Insights, to analyze current page speeds. Just input your URL and click Analyze to get started:

Then, make adjustments, such as compressing images, deleting unnecessary plugins, and caching pages to reduce load time. Check your page speeds again and compare the results.
6. Use Anchor Text With Keywords
Anchor text is clickable text that takes a reader from one page to another. It should provide some context for what the linked page is about.
Google recommends using no more than a few words for anchor text. What text should you use? According to research by The HOTH, about 50 percent of your inner page anchor text should contain keyword variations.
Try to use different keyword variations for anchor text throughout your inner pages to avoid keyword stuffing, and don't compromise readability by forcing your keywords to match exactly. Keep any URL anchors concise.
Frequently Asked Questions
What is the difference between paid and organic SEO keyword rankings?
Strategies to improve your organic SEO keyword rankings involve using SEO effectively to naturally improve your Google search page positioning. With paid search, you pay for placement of your ads in search engine results. 
How do I check my SEO keyword ranking?
You can use various SEO tools to check your keyword ranking, including Google Search Console or Ubersuggest.
What are the top Google keyword ranking factors for SEO keywords?
The main Google keyword ranking factors include search intent, search volume, quality of the content, number of backlinks, domain authority, and page loading speed.
What tools should I use to find SEO keywords for my website?
There are many tools you can use, including Ubersuggest, Google Trends, and Ahrefs Keywords Explorer. You might find it helpful to try a few tools for the most comprehensive analysis.
What is a good SEO keyword difficulty score?
Start with keywords with relatively low SEO keyword difficulty scores, but you don't want to ignore more competitive keywords completely. On average, a score in the 20-to-35 range is considered low, 36-50 in the middle, 51-65 is difficult, and 66-80 is seen as very difficult.
Conclusion
If you want to rank No. 1 in a Google search, your SEO keyword ranking matters. Otherwise, while you might gain traffic, you won't draw the visitors most likely to convert to paying customers.
No one wants to lose revenue just because they choose the wrong keywords or their content is stuck way down page. Give the SEO keyword tools I've suggested a try, and if you need any extra help, don't hesitate to contact my agency for help.
Did these keyword ranking SEO tips help you? Let me know!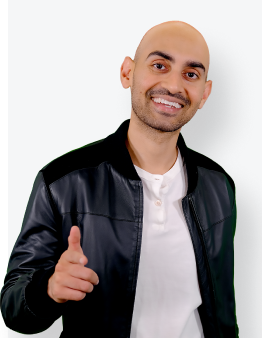 See How My Agency Can Drive More Traffic to Your Website
SEO - unlock more SEO traffic. See real results.
Content Marketing - our team creates epic content that will get shared, get links, and attract traffic.
Paid Media - effective paid strategies with clear ROI.
Are You Using Google Ads? Try Our FREE Ads Grader!
Stop wasting money and unlock the hidden potential of your advertising.
Discover the power of intentional advertising.
Reach your ideal target audience.
Maximize ad spend efficiency.