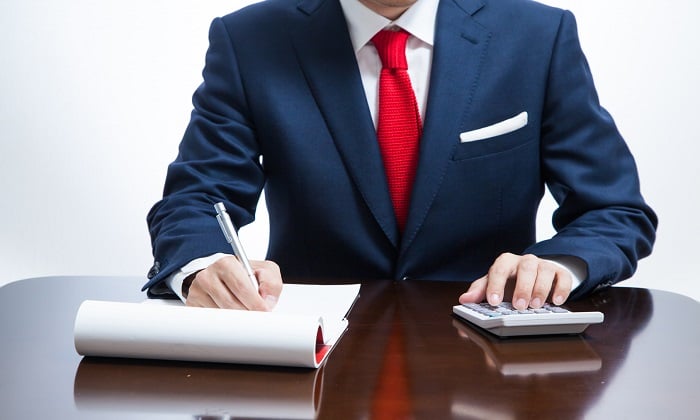 Let's face it: driving qualified leads using pay per click (PPC) advertising is a great way to generate more leads.
However, PPC ads aren't exactly cheap so make sure your search meets a broad match and that you include the right ad extension to get the results you want.
There are so many factors that you can't control, yet that impact how targeted and profitable your campaigns are. Master these Google Ads hacks.
If you can get more from your investment, you'll increase your ROI and your qualified leads, whether your budget is $50 per month or $20,000.
Essentially, you can hack your way to more qualified leads with online ad campaigns.
In this article, I'll show you seven simple PPC hacks that you can use to drive more qualified leads to your business based on search term phrases.
No matter what industry you're in, you can target and reach an audience motivated to buy from you on a daily basis based on understanding consumer search query patterns. 
Hack #1: Optimize Quality Score
What is the Ads quality score and what impact does it have on your CPC and ad rankings?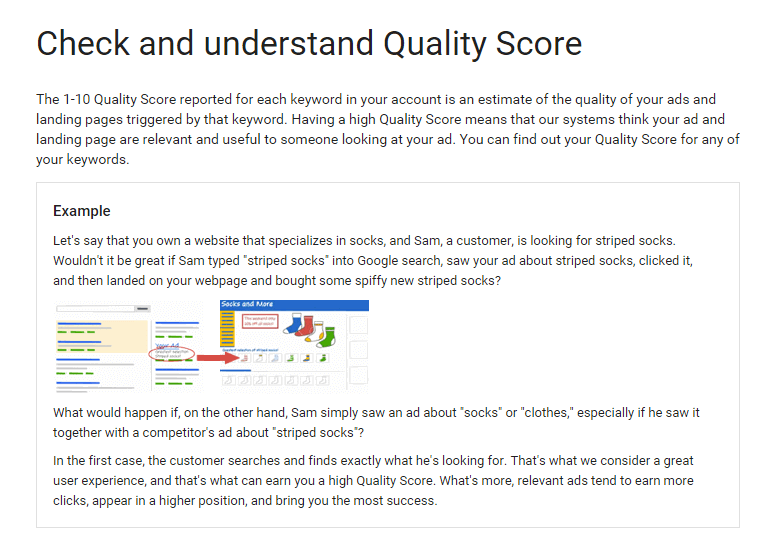 Your quality score is important for a number of reasons. According to Wordstream, "Google rewards high-quality score advertisers with lower CPC and higher ad positions."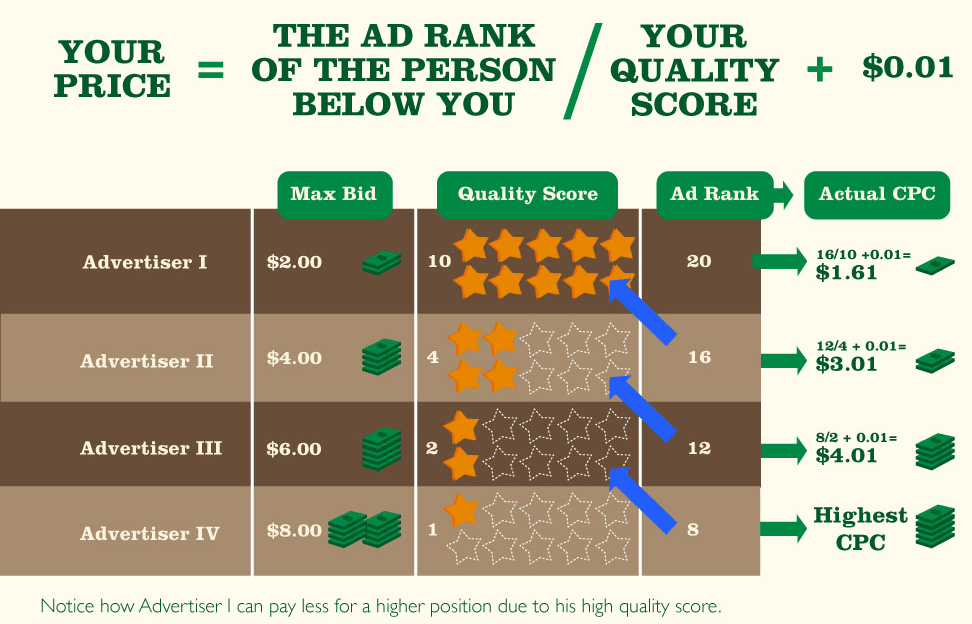 In the chart above, Advertiser 1 has a maximum bid of $2 and a quality score of 10. Using various measurements, Google was able to lower the actual CPC (cost per click) to $1.61 for Advertiser 1.
On the other hand, Advertiser 2 has a higher bid of $4, but a significantly lower quality score of 4. As a result, Advertiser 2's CPC is higher, at $3.01.
As you can see, when your QS is higher for your AdWord campaign than that of your competitors, you'll end up paying less to acquire clicks and leads. Any one online ad is cheaper and you increase your chance of a conversion.
Before you can improve your quality score, you need to know what your current score is. Here's how to find out:
Log in to your Ads account, then click the Campaigns tab at the top. Next, select the Keywords tab. Click the white speech bubble next to any keyword's status to see details about that keyword's Quality Score. You'll see ratings for expected click through rate, ad relevance, and landing page experience.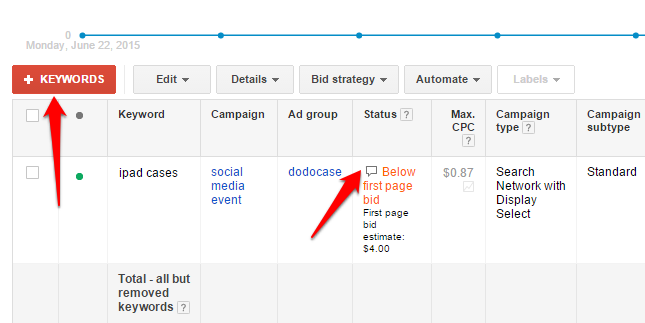 Here's the QS result: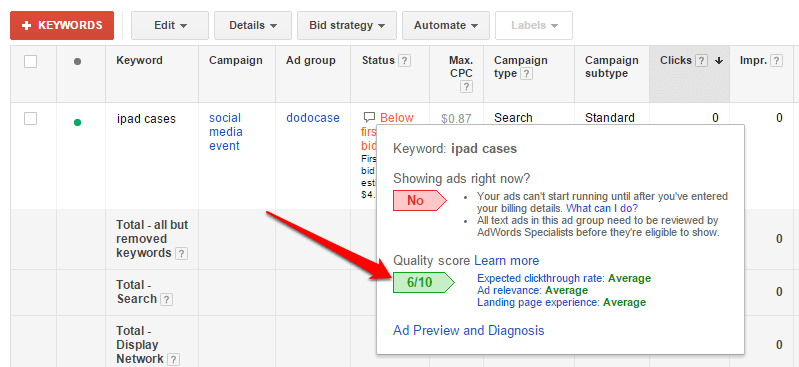 If you want to improve your quality score, stop targeting junk keywords and try to increase your bid with match keyword phrases. Your ad group should focus on this match type.
Larry Kim, the founder of WordStream, also suggests targeting more branded keywords, up to about 10%.
Doing this will increase your average click rate and boost your QS.
Remarketing can also help you to increase your Quality Score because you'll be targeting people who have previously shown some level of interest in your ad from an initial search query. So, give it more attention.
Hack #2: Outsmart your Competitors' Ads
In every industry, there are competitors. An AdWord campaign is no different. If your competitors' Google ads are ranking highly, analyzing their secrets helps your ads to perform better.
You can use SpyFu to check out your competitor's best performing keywords, for both organic listings and paid ads:
Go to SpyFu.com. In the search box, type your competitor's URL. Click the search icon.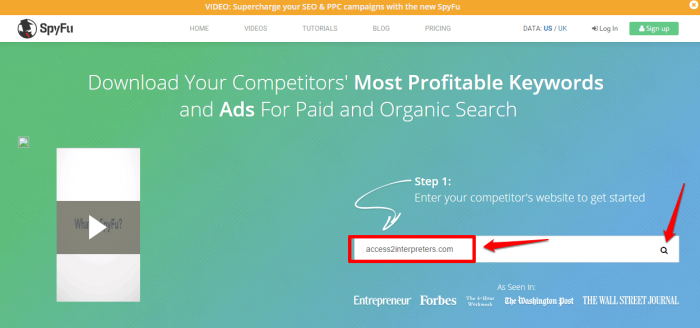 Next, you'll see an overview of your competitor's match keyword performance. You'll also see the estimated monthly PPC clicks and more.
Click "Paid Keywords" to see the broad match keywords generating the most clicks for your competitor: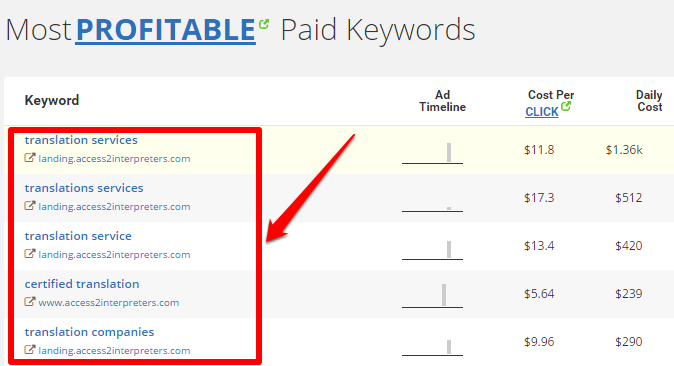 Now, you know a lot about your competitor. You can bid on the same keywords that they're targeting or choose a different set of keywords.  Both options can give you the upper hand. Analyzing their ad copy can also help you create even more effective ads that'll compel and convert your target audience by clicking on the text ad or ad extension.
If you need more PPC tools for spying on your competitors and other Google PPC advertisers, see the resource link below:
9 Pay Per Click Tools That Will Help You Do Keyword, Ad Copy and Profit Analysis
Hack #3: Creatively Optimize for Mobile Platforms
More searches are being conducted on mobile devices these days. To generate more leads, you need to utilize all of the available platforms that Google Ads provides.  That includes setting up Google Ads for mobile.
It's important to recognize the impact of mobile on PPC advertising so that you can optimize accordingly. When you're running a Google Ads campaign, you may be tempted to focus on just PCs, but mobile already has the upper hand in total search volume for a keyword match.
It's a lot easier to convert mobile users who click your Google ads, whether on the search networks or display networks, because of the level of intimacy that a mobile device (e.g., a smartphone) provides.
Additionally, the click-to-call feature that's available in mobile browsers is a game-changer. Take a look at the difference between desktop and mobile conversion funnels: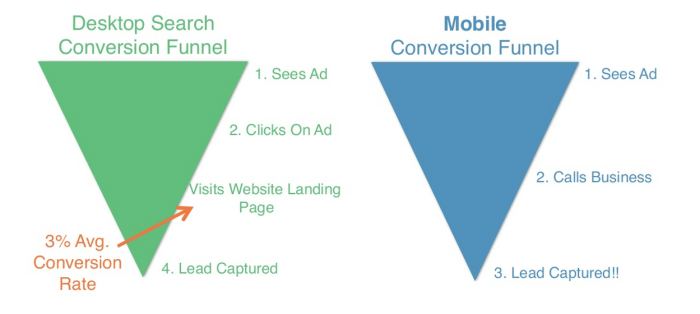 You can use the WordStream Ads Grader Plus, which contains a section for analyzing Google Mobile Advertising Performance. Of course, it has to be done through a Mobile Readiness Score.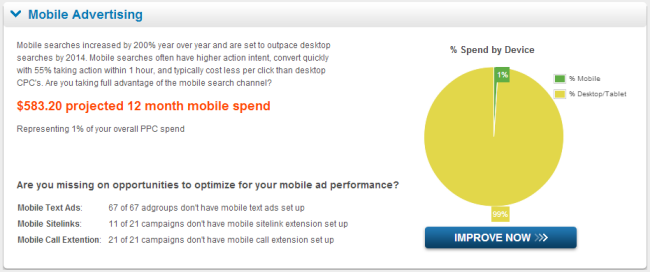 Google mobile targeting is a great way to reach a different set of targeted customers that can grow your business.
You may have mastered mobile landing page optimization, mobile SEO and the correlation between a responsive site and branding, but, in today's competitive age, you need to bring the same mindset to your Google Ads campaign.
As Jason Wells noted, you should decide whether you want to drive clicks or drive calls. That choice will inform your headline, ad copy, and design.
You also need to decide whether to set up a new mobile PPC campaign or to optimize your existing campaigns for mobile platforms.
However, be aware that there are restrictions for mobile PPC that you won't find with desktop PPC. These Google Ads hacks improve search query results on more frequently used devices.
Consider these factors, when setting up a mobile Google Ads campaign:
Short and clearly written: This is important. With desktop PPC, you've got more space to write your ad text.  But, for mobile PPC, you have to keep your headline and ad copy as concise as possible.
Segmentation:

Jason Wells recommends that you separate your desktop PPC online ad campaigns from your mobile campaigns. Ideally, you should segment based on the device. Your campaigns may not see significant differences in conversion rates, but that type of data is exactly what you're after when running any PPC ad campaign.

Mobile-friendly landing pages:

You can't afford to send your PPC leads to a landing page designed for desktop leads. Take a look at the transition from a traditional landing page to a 

mobile-friendly landing page

 that is ideal for mobile PPC.
You're not going to see good results if you adopt a "one-size-fits-all" landing page mindset. Optimize your landing pages, so that users can quickly find the information that they need or the action that you want them to take next.
Asking for an email address on your mobile responsive landing page is important (because you need to nurture the leads).
But, asking for too much information – such as a residential address, date of birth, state of origin, phone number and more, will hurt your conversion rate. Above all, make sure that your phone number is right on the page, so people can click and call you.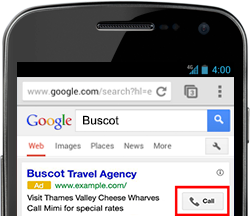 Day-Parting: Don't let the fancy word confuse you. Day-parting simply means deactivating off-hours (or certain hours) for desktop PPC and activating on-hours for mobile PPC.
People don't use their desktop PCs every time they're on the web. That's what differentiates handheld devices, such as smartphones and tablets, from desktops.
Countless research studies and even our daily experiences tell us that people use their mobile phones everywhere, at all times potentially looking at your online ad. A Mobile Mindset Study, by Lookout, reported that 58% of smartphone users don't go a single hour without checking their phones.
You can easily deactivate an online ad from running on desktop platforms for some specified range of hours, maybe during a significant world event (if you're targeting the whole world).
At those times, your target audience isn't likely to be using their desktop computers. But, you can rest assured that their mobile phones are right there with them.
So, how do you set up day-parting on your Google Ads campaign?
Follow these simple steps:
Log in to your Ads account and select a campaign:
Next, navigate to the Dimensions tab and click it. Then, click the View: Time button and select Time: Hour of Day, from the drop-down menu.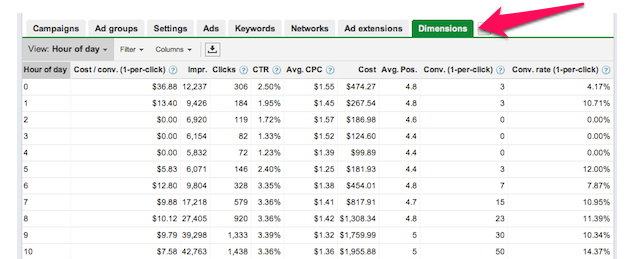 Hour 0 means midnight (12.00 – 1AM), Hour 6 means 6 – 7AM and so on.
If you notice that your campaign gets a lot of clicks with 6 – 7AM, as an example, but the clicks aren't converting as they should, shut off those hours to avoid wasting your text ad budget.
To shut off those off-hours, navigate to the campaign settings page. Scroll down to "Advanced Settings." Then, click the "Schedule: Start date, end date, ad scheduling" link, to expand its section.
Once you click the "Edit" link, you'll see the scheduling chart:
If you're not satisfied with the current "Running Times" for your Ads, you can add another time period where your match type might be Googling your search term. To activate that, as an example, click "Running all day" in the Monday row above. You'll see this box:
Bid lower and optimize for higher conversions: PPC for mobile can get complex and that's why many PPC advertisers haven't fully embraced it yet.
There is a bid competition for desktop PPC because everyone is targeting the same keywords. But, for mobile, the competition isn't as intense in an AdWord campaign.
This means that you can bid lower and optimize for higher conversions, by studying the psychology of online content consumption. In other words, understand how mobile users (your prospects) consume information online.
You can also bid based on broad match action keywords, locations, and devices, giving you the advantage of getting a higher ROI for your ad spends on mobile.
Learn from Google's mobile-friendly update: On April 21, 2015, Google officially added mobile-friendliness as one of their ranking factors.
This primarily applies to search engine optimization, but it plays a major role in mobile PPC, as well.
In fact, mobile PPC became really popular with the launch of mobile-friendly tags, a feature that appears in your ad extension and tells the users that the web page they'll click to is mobile-friendly.
Google hasn't officially declared the mobile-friendliness update as a major factor for mobile PPC advertisers, but looking at the on-going PPC trends, it seems to me that we're probably headed there.
User optimization isn't limited to landing pages, but also applies to the ad copy, headline and design. The better the experience you give users, when they click your mobile ads, the greater your conversion rate will be.
Success story: Here's how Access 2 Interpreters, an interpretation and translation company, adjusted their mobile PPC to suit their users. They had all of the elements that make up a high-converting landing page.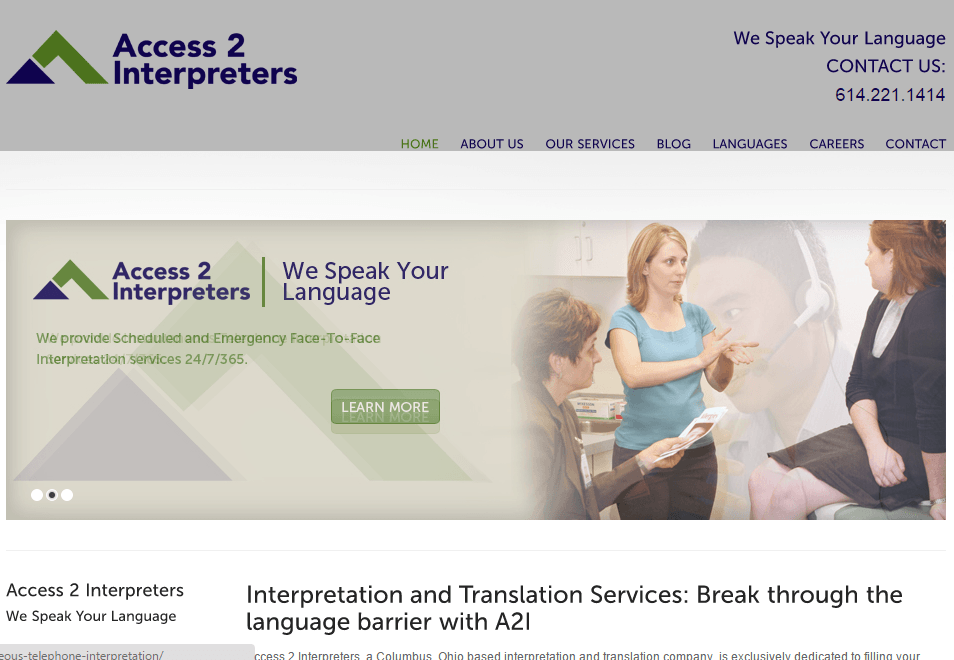 Their content was useful and well-formatted based on the focus of their ad group. They consistently saw a high conversion rate from desktop users, but their broad match mobile results weren't stellar.
The reason was that mobile users generally don't like filling out contact forms. They're more likely to do that on a desktop platform.
Access 2 Interpreters didn't settle for mediocre results. They adjusted their mobile ads and wrote compelling copy.
They optimized their Google ads for the main keyword "Legal Translation Document." This keyword was a very specific ad extension for mobile users because they have to call and request a quote from the company, before leaving the landing page.
Hack #4: Turbocharge Your Conversion With Remarketing
Imagine for a moment that your landing page doesn't have an opt-in box and that all you do is send clicks from your Google Ads to that page. Are you going to expect any significant result with that ad extension? Of course not.
What an email opt-in box is to a landing page, remarketing is to visitors. Remarketing is a marketing technique that lets you show ads to prospects, customers, and people who have visited your web page before but didn't take further action. It's important to follow your Ads campaign with a remarketing match type.
Or, better yet, they've used your applications before, but didn't complete a particular event, such as email sign up, confirmation, complete a survey or purchase your product. In a nutshell, this is the summary of how remarketing works: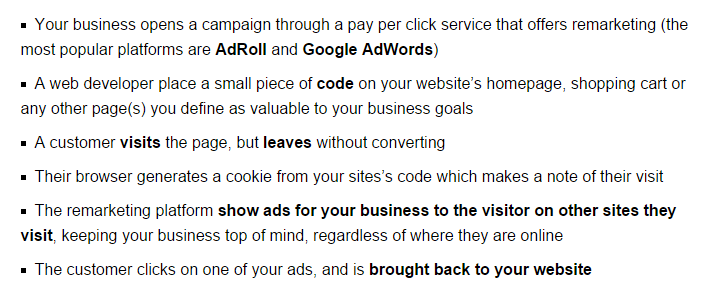 According to Think With Google, remarketing gives you a chance to bring back site users who are indecisive on what they really want.
Out to the 7 types of retargeting that SmartInsights shared, site retargeting is worth a look here, since it concerns Google Display Networks.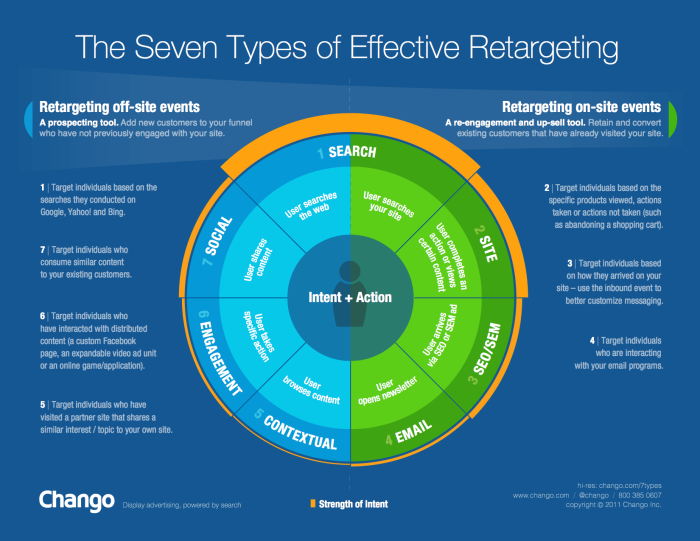 If you're targeting Google Display Networks, remarketing will be very useful for you.
And, if you're an PPC advertiser who's still not leveraging remarketing to boost your conversion rates, it's time to change that. You can't just pay for an Ads campaign and hope search query results improve.
For example, while writing this article, I visited Frank and Oak, an online store, to see their latest offers. But, I didn't add any clothes to the cart, nor did I take any real action while on the site. All they had was my search query with no conversion.
Two hours later, I decided to check out the latest news on Mashable and there, in the top left, I saw an online ad from the same store.  But, this time, they were giving me a discount. This is remarketing at work.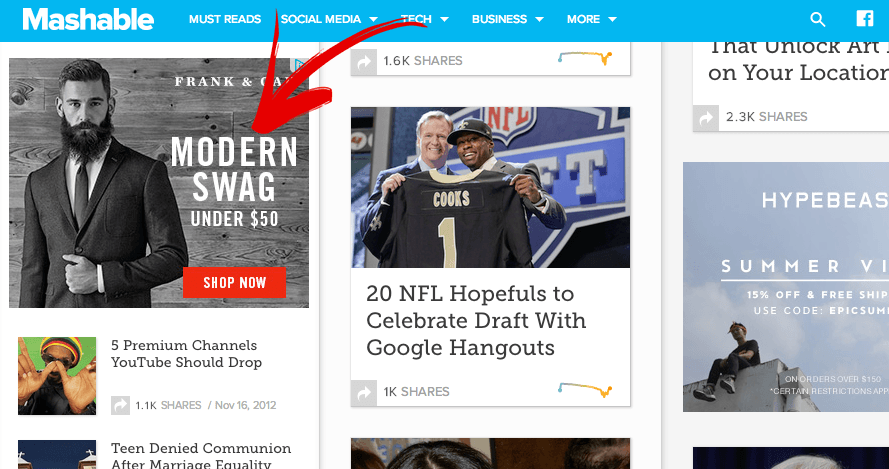 Through my PC's history and a generated cookie (a computer file containing user information), Google Ads developers were able to track which sites that I visit, using a simple piece of code that runs on the site homepage. As soon as I visit those sites, a relevant text ad will be shown to me soon after.
And, this time, the chances of persuading me to subscribe to the list or place an order are high, because I've been exposed to the same site or information before. A lot of companies and marketers have seen huge success with retargeting, especially when paired with segmentation of the match type.
For example, Chris Dowsett shared a case study on how he increased his client's conversion rate.
Initially, he saw a 3% increase in conversions, when he was only retargeting all site visitors. But, as soon as he segmented and sent the right display ads to a group of people who'd shown strong interest while on the site, conversion rates increased to 16%.
Remarketing List for Search Ads (RLSA): The beauty of Google Ads PPC is that you've got some great advantages over advertisers on Bing and other third-party PPC networks. One of those advantages is remarketing lists for search ads. See how it works: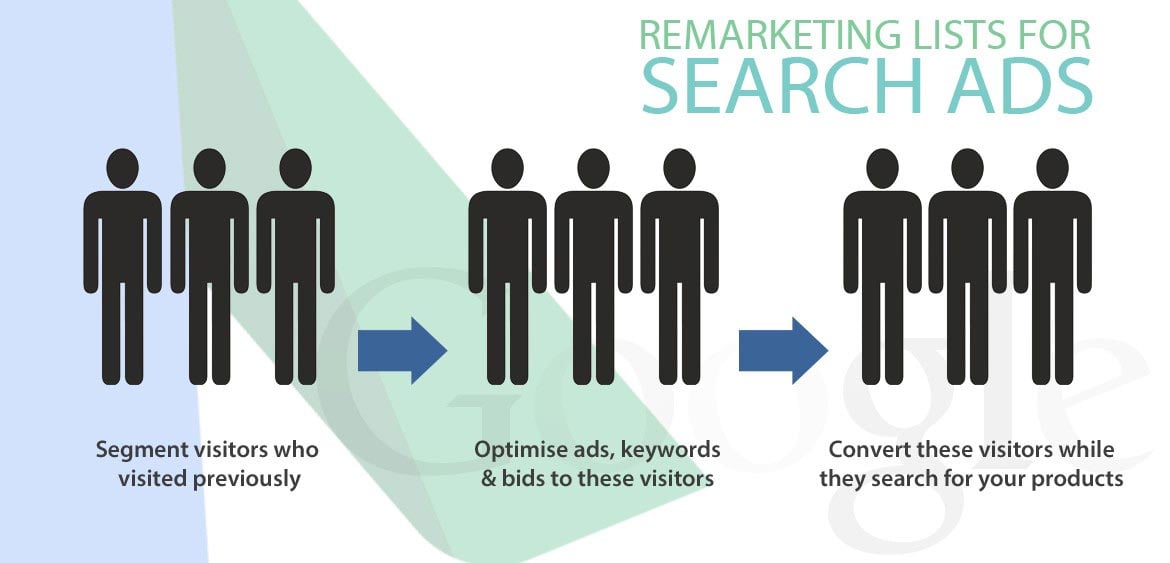 Often, you may want to target a particular keyword.  But, because of the number of advertisers targeting the same keyword, the CPC will be high.
But, what if your competitors (also advertisers) have built a strong brand? People now recognize their brand and could search for their specific brand names, when looking to buy relevant products that the company offers.  And, maybe you also offer some of those products. You could match keyword phrases to some degree to generate more juice for your online ad.
That's where Remarketing Lists for Search Ads come in. According to Google Ads Help, RLSA is a feature that allows you to customize your search ads to target those who have visited your site.
Then, you align your bids and ads so that when these people are conducting a search in Google, your ads will show up.
Of course, with remarketing, you're simply bringing back the same visitors who didn't initially carry out your desired action on a text ad.
With retargeting lists for search ads, you're also bringing these people to your site, but from the search engine, instead of another site (or Google Display Network). It's more like you're personalizing a customer experience, not just in your Ads campaign, but also for the search query.
Note that a remarketing list for Google search network ads needs a minimum number of 1,000 cookies before your search ads can directly sync with the list. This is a great way to safeguard the privacy of those on your list.
It's all about giving customers the right product based on the match type and the best experience when they visit your site or search for a particular keyword.

To set up your retargeting list for your ad group, follow these simple steps:
Step #1: From your Google Ads dashboard, create a new "Search Network only" campaign or select an existing search campaign and ad group.
Step #2: Click the Audiences tab, next to the Keywords tab.

Note: If you didn't see the "Audience" tab, you can easily enable it, by clicking the drop-down arrow at the end of the tab bar and selecting "Audiences":
Step #3: Click the "+Remarketing" tab.
Next…
Click the "Add targeting" drop-down menu and select "Remarketing."
Click the Select categories drop-down menu and select Remarketing lists. You'll find the "All visitors" list and any other rules-based lists that you've created for your different groups of site visitors. Add the remarketing list to your ad group.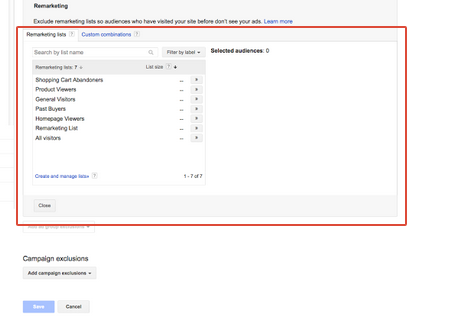 Having set up your RLSAs, you also have to consider your strategy and structure.
See also: Everything You Need to Know With Retargeting List for Search Ads
Run Gmail Ads that looks like real emails: One of the proven Google Display Networks hacks that you can implement today is running Gmail ads.
The beauty of this is that your text ad will look exactly like email. So, the click-through rate is going to be high with this type of ad extension. The Gmail Ads (also known as Gmail Sponsored Promotions) will appear at the top or right side of the user's account.
So, what exactly is Gmail Sponsored Promotions?
It's a unique ad type that is shown to Gmail personal users right in their inboxes. At the moment, it doesn't show up in Google business apps email inboxes. It usually appears in the promotions tab – when it's turned on.
A typical Gmail ad usually consists of two creative elements: a teaser and an expanded text ad unit. The teaser ad has a 25-character limit for the headline and a 100 character limit for the body text. There is also a 50×50 image that appears in the ad and the "Company Name" that you provide.
If you run a Gmail Sponsored Promotion, you'll be charged on a CPC basis when the Gmail users click the teaser ad. GSP is currently managed in a standalone platform, outside of Ads, but Google is testing it with the AdWord campaign platform – it's just not available to advertisers yet.
Once approved, you can easily run Gmail Sponsored Promotions. Just follow these three steps:
Step #1: Create a Display Network Only campaign.
Make sure to use remarketing to optimize results for all features. But, if you have an existing campaign, you can skip this step.
Step #2: Create a new AdGroup. Make sure that you select "use a different targeting method."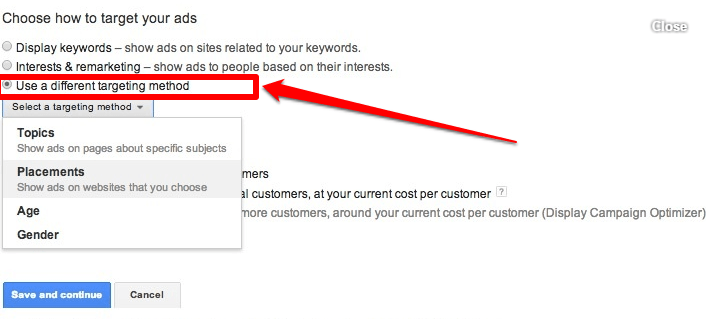 Step #3: Make sure that you click "Add multiple placements at once"
Then, select the following placements:
mail.google.com
mail.google.com::Inbox,Top center
Click Add and Save (exclude Page on google.com from your other Display Network campaigns).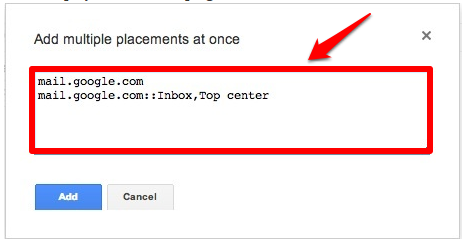 Note: When setting this up, be careful not to use gmail.com. Instead, use mail.google.com – that's the correct format.
A handful of Google Ads advertisers are already seeing results with GSP. For example, Andrew Breen, of Outside Online Marketing, set up a Gmail Ads campaign that ran for just 10 days. Already, he's generated 3 high-quality leads, for less than $100 in ad spend.
Hack #5: Use In-Market Segments
When you're running a Google Ads campaign, there are 3 focal points that you need to get right, because they can determine your conversion results based on the search query. They're often referred to as the STP of Google Ads Campaigns:
Segmentation
Targeting
Positioning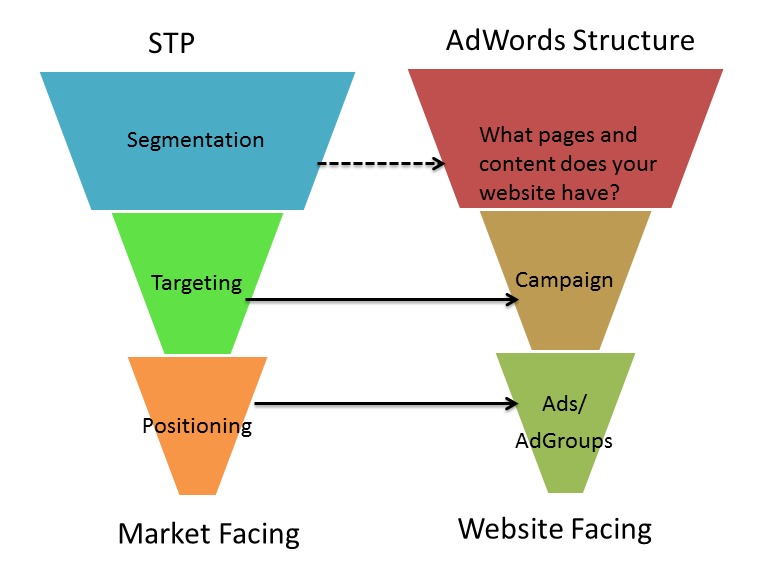 You've seen the immense benefits of retargeting your site visitors. But, if you're just starting out, the challenge with remarketing is that you may not be able to use it to generate leads, because you don't yet have an audience to remarket to.
This is a real challenge for small business owners who have come to embrace Google Ads PPC advertising.
I've also discussed remarketing list for search ads and how you can instruct search engines to display your Google Ads when specific keywords in your list are typed into the search engine box.
With RLSA, though, you need to have at least 1,000 generated cookies for it to work. A fairly new site or start up business would struggle to meet that requirement.
That's where in-market segments come in.
In-market segments help you to target people who are already in your market. Imagine that you've got access to thousands of people who are ready to buy your product, even though no one knows your personal brand yet. That's possible if your online ad campaigns are shown to in-market audiences.
Think With Google noted that targeting an in-market audience will result in higher conversions because you'll reach potential customers while they're actively browsing, researching or comparing the types of products that you sell by clicking your ad extension.
You can run your Google Ads to a structured segment within a larger group based on search query keyword results. For example, let's say that you sell online courses that help marketers get their first 2,000 email addresses.
If you run your online or text ad to target marketers who already have huge lists, you'll grossly lower your conversion rate.
But, imagine targeting a group of site owners who are still struggling to build their list past a few hundred subscribers. Both beginners with no list and those with small lists would be interested in your course.
In-market segmenting is one easy way that Google displays how much they know about their users.  And, in turn, the big G gives you a platform to reach a motivated audience of people who are willing, ready and able to act on your offer.
Hack #6: Run Ads Through Google Display Networks for Cheaper LinkedIn Ads
LinkedIn is the king of B2B marketing. It's the world's largest professional social network.
As a B2B marketer, I know how difficult it is to acquire leads using Google Ads PPC. It's a lot easier for B2C marketers because their target market is large. If you want to greatly reduce your Google Ads spending, you could run your online or text ad through Google Display Networks and specifically target the LinkedIn platform.
This might surprise you if you've never heard of this before, but it's true. LinkedIn is a part of the Google Display Network and offers a clear advantage to B2B advertisers. This social media platform is much more relevant for networking with like minds in your industry.
Using this hack, you place your display ads (text and image) strategically on LinkedIn with a LinkedIn ad extension. This reduces your involvement in the bidding war for top placements between you and other Ads advertisers.
When you target LinkedIn in your Google Display Network, you must make sure that your content is relevant and useful to B2B marketers. Remember your online ad is the initial contact that will enhance lead nurturing.
You can set up a Google Ads campaign to target LinkedIn directly, with text or image display ads. You'll reduce your cost per click (CPC) and attract a much more targeted audience, clicking through the ad extension or buy button.
Of course, when you advertise through LinkedIn, you're exposed to a lot more features. The question is, do you really need them? Here's what Melissa Mackey has to say:
Yes, LinkedIn is part of the [Google Display Network]. And you can craft a GDN campaign to show ads on LinkedIn for a lower cost than going through LinkedIn directly. You can even get image display ads onto LinkedIn this way – something that costs 5 figures when working directly with LinkedIn.
What matters most, in any PPC campaign, is that your ads are clicked, so that you can convert leads to customers and continually reduce the cost of acquiring leads while increasing the value per lead.
Hack #7: Hack Your Google Ads Campaigns Into Bing Ads
According to HubSpot, bids on Bing tend to be lower and competition for a set of keywords is less intense, as compared to Google Ads.
There are thousands of PPC managers who aren't even aware that they can leverage their Google Ads campaign on Bing Ads. You could easily reach a new audience, generate more leads and keep your CPC low.
Bing PPC advertising is a great way to generate more leads. If you're familiar with Google Ads campaigns and how to write compelling ads, you don't have to reinvent the wheel to write Bing ads.
The steps involved are similar, but to save time and enjoy the same conversion rate as you get on Google Ads, you can import ad information directly into Bing Ads during set up.
Google provides a step-by-step guide:
Remember that the major reason to import your Google Ads directly into Bing Ads is to maximize click rate, increase conversions and boost your ROI.
Focus is usually the best approach.  Don't get caught up in one or the other. Run your ads for the purpose of increasing your bottom line and always measure your progress.
Conclusion
Google Ads PPC is a formidable force in lead generation. But, you need to know how to bid wisely and to launch a campaign that will lower your cost per click.
You've seen the seven hacks for driving more qualified leads. But, if your landing page is not well optimized for the user, then all of your investment in Google Ads could end up wasted. So, take the time to get your landing page ready for prospects who click your display ads.
Did I miss any hack for generating high-quality leads with Google Ads PPC? Share your opinion.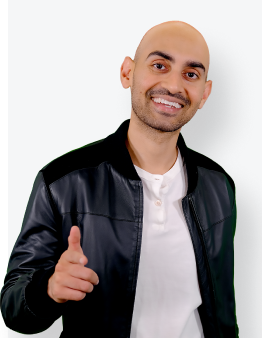 See How My Agency Can Drive More Traffic to Your Website
SEO - unlock more SEO traffic. See real results.
Content Marketing - our team creates epic content that will get shared, get links, and attract traffic.
Paid Media - effective paid strategies with clear ROI.
Are You Using Google Ads? Try Our FREE Ads Grader!
Stop wasting money and unlock the hidden potential of your advertising.
Discover the power of intentional advertising.
Reach your ideal target audience.
Maximize ad spend efficiency.