Social media is more than just a way to waste time online.
Social media is a big business.
Over 2.7 billion people are active on social networks, which accounts for approximately 37% of the global population.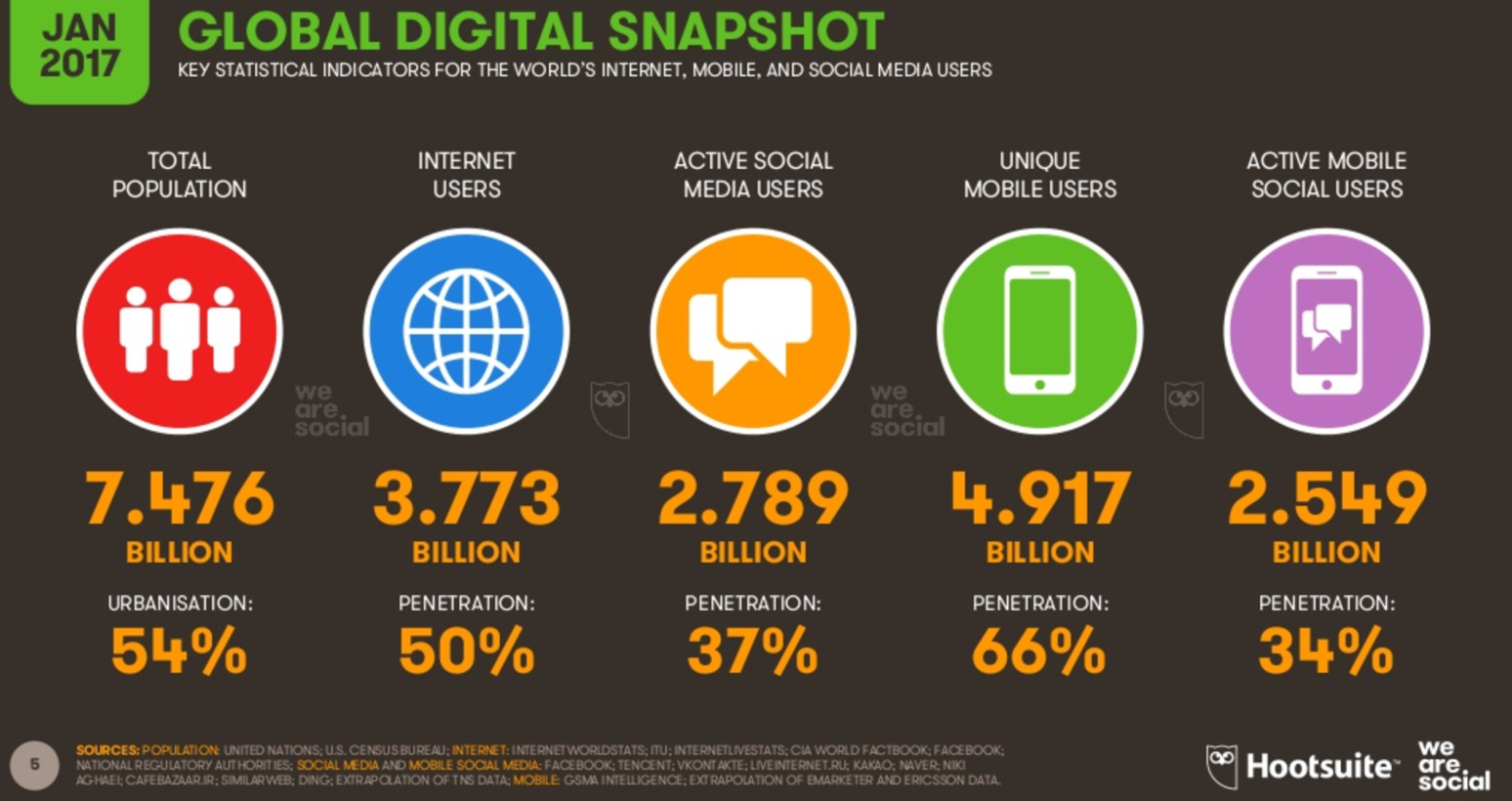 Here's how that user base breaks down among the top 7 social networks.
Facebook is by far the biggest.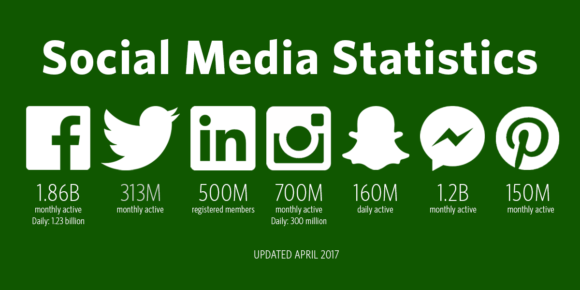 That's why I recently made a video about how to grow your Facebook brand.
Facebook isn't the only channel, though. They're all vital.
Marketing on social media is important, but we'll also need to track data to quantify our efforts.
This post is a listing of the most powerful tools to organize, track, and quantify your social media efforts.
We'll start with the free tools.
Free tools
I'm a big fan of free tools.
The freemium business model is alive and well in social media marketing tools.
While many of these tools have premium plans and features, the free versions are still useful.
I don't like to spend a lot of money on digital marketing, so I try using the free tools first.
So should you.
Here are the best I've come across (in no particular order).
1. Social Mention
Social Mention is a free, web-based app that can track brand mentions across blogs, microblogs, your bookmarks, social media, and more.
Here's how my website, NeilPatel.com, looks.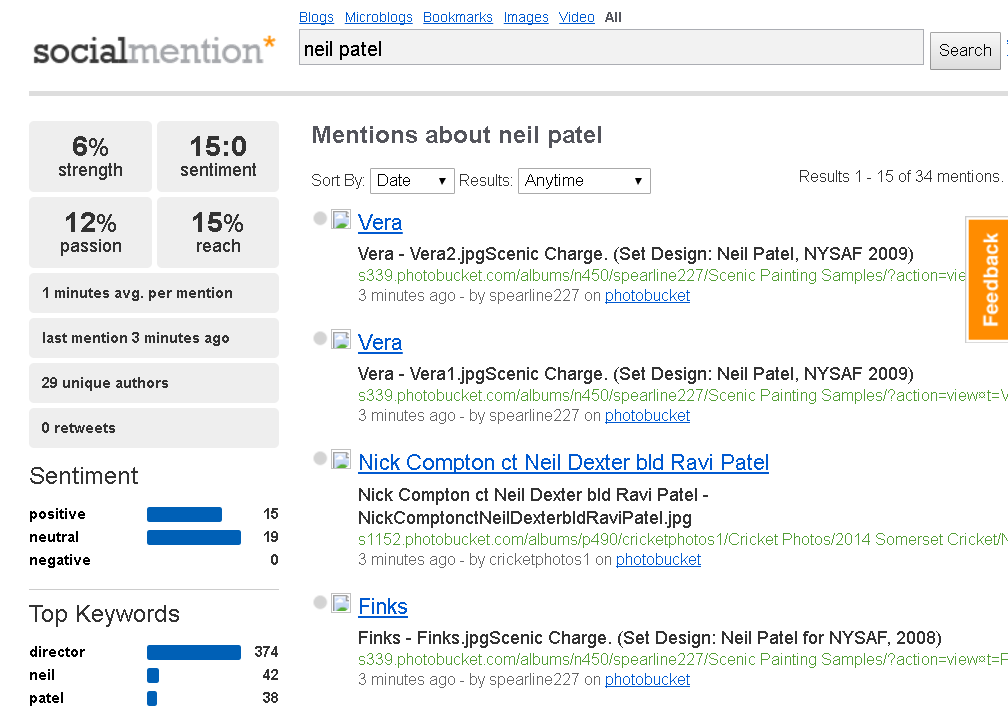 Sentiment is a great measurement tool you don't get by default on social platforms.
My mentions are almost entirely neutral and positive, which is what marketers tend to be interested in.
Negative reviews have a place too, though. Understanding the context of mentions is just one Social Mention stat.
Learn keywords, mention frequency and reach, and more through the API or a custom RSS feed.
2. Hootsuite
Hootsuite is one of the best social media automation tools on the market.
Not only that, but this tool also allows you to customize streams to monitor and search for brand mentions across channels.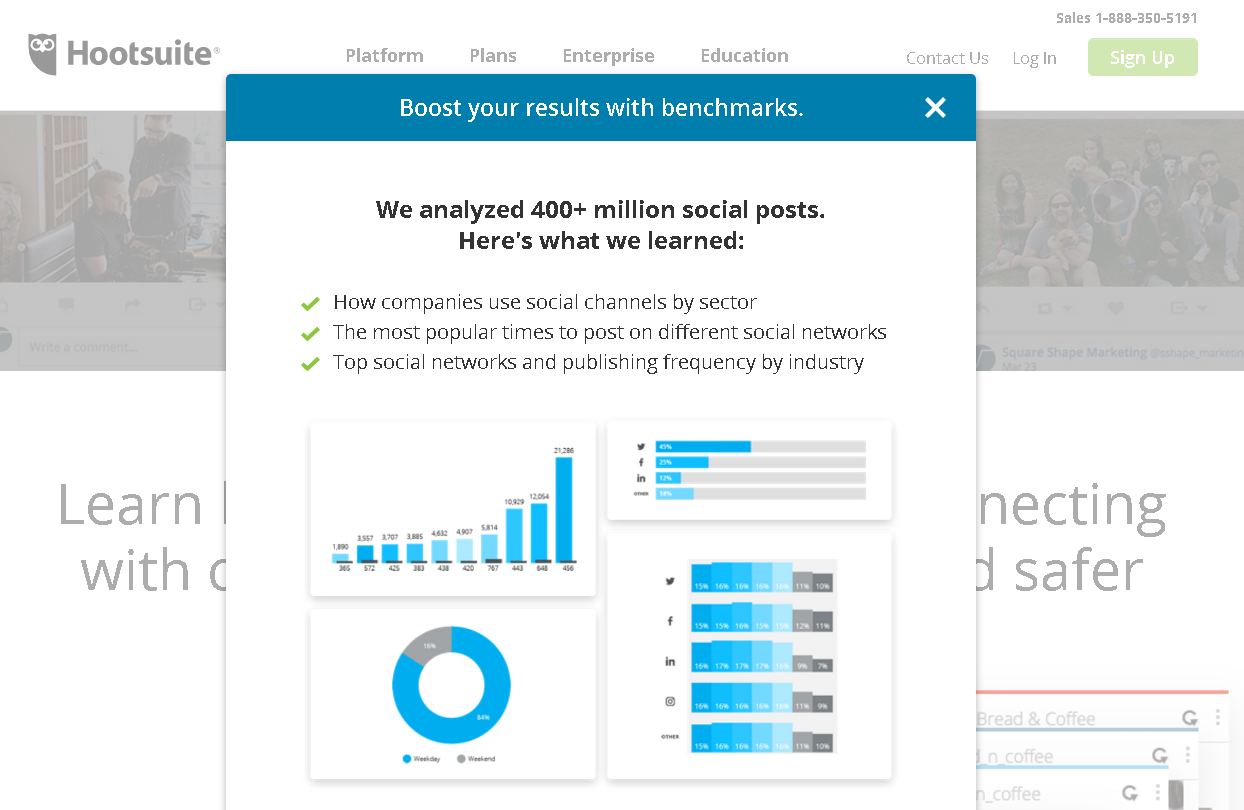 This is done by typing the keyword you wish to monitor into the stream or streams you want to monitor it on.
I regularly use Hootsuite to automate social media for clients.
It's an all-in-one tool for managing and analyzing your social media initiatives.
3. TweetDeck
Twitter has definitely gotten better about data analysis over the years.
You can see your Tweet impressions and interactions relatively easily in the default API.
Still, Twitter acquired TweetDeck in 2011 to provide a separate interface option.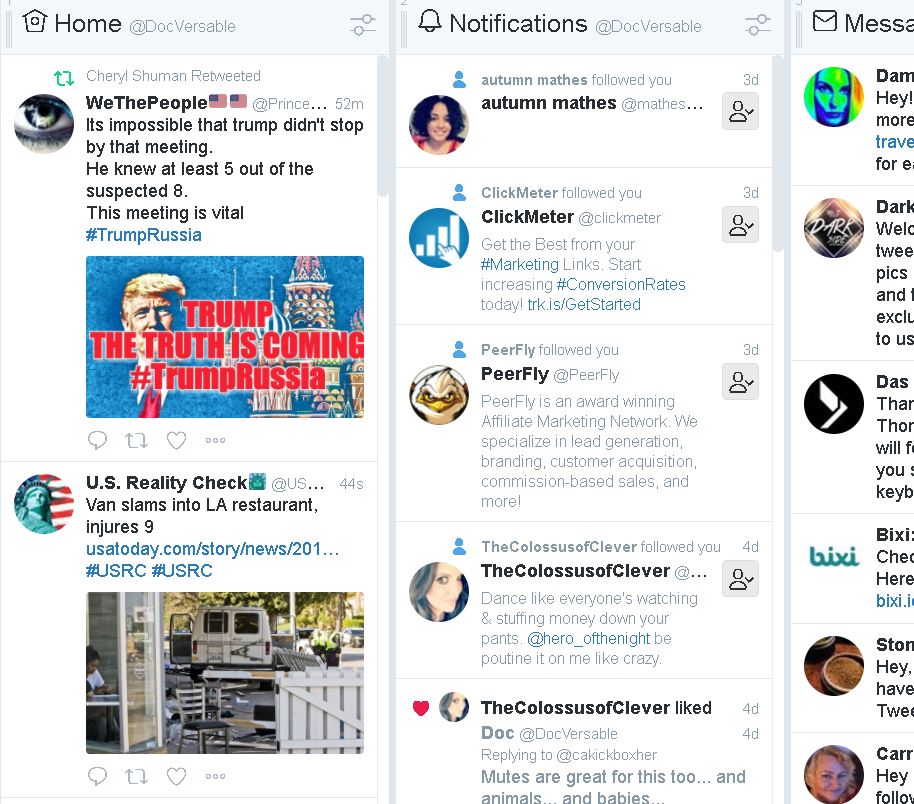 Using TweetDeck, you can monitor and administrate multiple accounts from one place.
It also includes power-user features like the ability to sort by and search for hashtags, keywords, trends, favorites, and more.
TweetDeck is the perfect app for agencies or companies that work with multiple Twitter accounts.
It's exclusive to Twitter, however, and it no longer supports other social networks like Facebook.
4. SumAll
SumAll is one of the most comprehensive cross-platform reporting tools.
The amount of data reporting available is astounding, and you'll receive regular email digests that track trends automatically.
View your Twitter, LinkedIn, Instagram, and Facebook engagement, reach, audience quality, and more with this handy tool.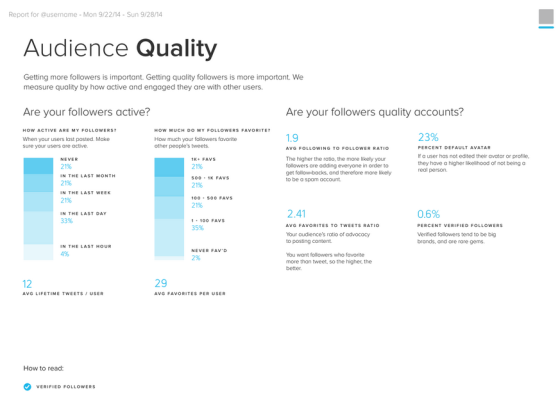 This is one of my favorite features.
What's the point of having a large following if most of them are fake?
SumAll helps you find that out and more.
With daily and weekly email updates, you'll always know exactly where you stand on social media.
You'll also be able to track that information historically.
5. Followerwonk
Another tool that focuses entirely on Twitter, Followerwonk, is a tool by Moz to provide deep insights.
The free version can monitor one account, analyze up to 25,000 followers, and compare your account to accounts with up to 150,000 followers.
You'll have to pay for pro features to download reports, but the free version still provides plenty of power.
With Followerwonk, you can search through Twitter bios, connect with influencers, and more.
It's best used to help plan, research, and implement social influencer and micro influencer programs.
6. HowSociable
The best feature of HowSociable is the ability to see, at a glance, how you're doing on each social network.
The visual interface for the free version shows mentions across 12 sites, including Tumblr, YouTube, LinkedIn, Google Plus, Reddit, WordPress, Blogger, and Foursquare.
With a premium account, you'll be able to view up to 36 platforms.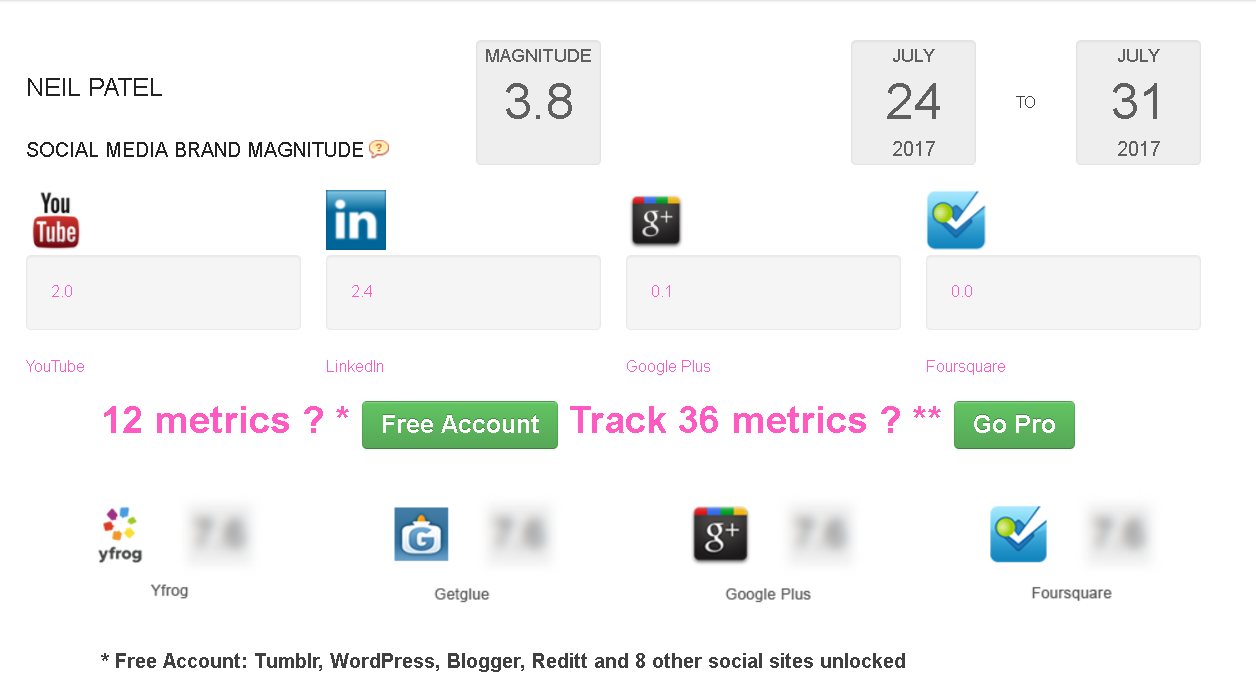 You're given a score based on several metrics, and you can check out competitors, too!
I'm clearly lagging most in my Google Plus, LinkedIn, and YouTube accounts. Now I know where to dedicate my resources.
If you need a big-picture social scoreboard, look no further than HowSociable.
7. Klout
Klout is another platform that provides a simple score to show your social media reach.
It also shows what subjects you're influential in.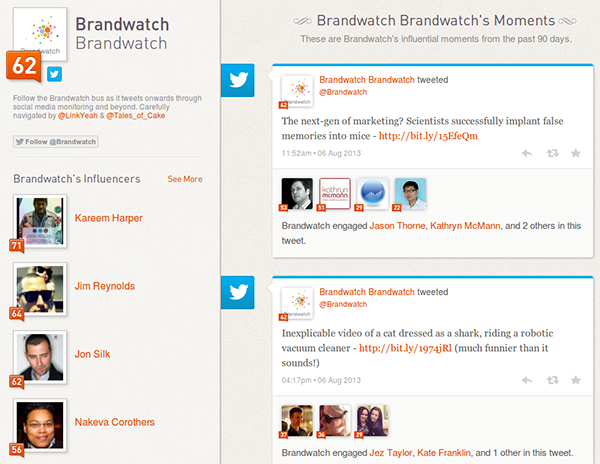 Simply log in and connect your Twitter, Facebook, LinkedIn, WordPress, Blogger, and YouTube accounts.
You'll then be presented with cross-channel measurements of your reach and engagement.
Brands also use Klout to connect to micro-influencers and to schedule social posts.
It's not the final word in your social reach, but it's a great barometer.
8. TweetReach
TweetReach is another Twitter-exclusive tool that's useful for finding out more about your followers and brand mentions.
Check out how my username, @NeilPatel, stacks up.
I reach 481,939 people, nearly twice my actual follower count.
This is useful information to determine how influential your followers are.
You can use this data to guide your influencer programs and to determine who to follow.
It's a great tool to scout the competition, as well.
9. Crowdfire
Crowdfire is a powerful tool for growing your Twitter and Instagram followings.
Whether online through the web app or on a mobile device, you can analyze your accounts and engage in real time.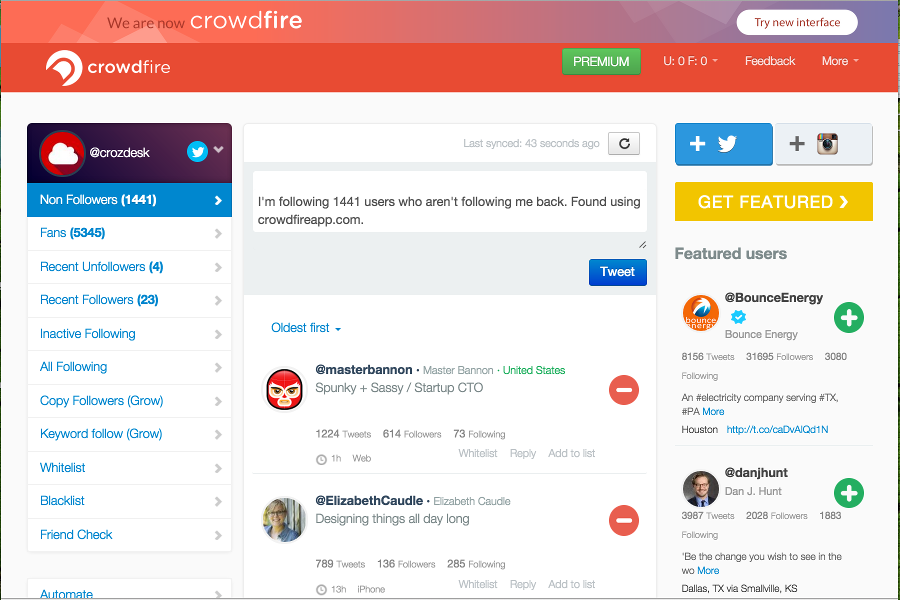 Learn what your friends talk about, blacklist or whitelist followers, automate posts, and more.
This robust tool has a simple UI and can be used as your go-to social media reader.
On top of these features, it helps you share relevant content as you browse the web. It even provides suggestions.
Crowdfire is like having your own social media assistant.
10. SocialPilot.co
SocialPilot rivals Hootsuite and Buffer as one of the top social media automation tools around.
The free version lets you connect up to 5 social media profiles. From each of these, you can post up to 10 times per day.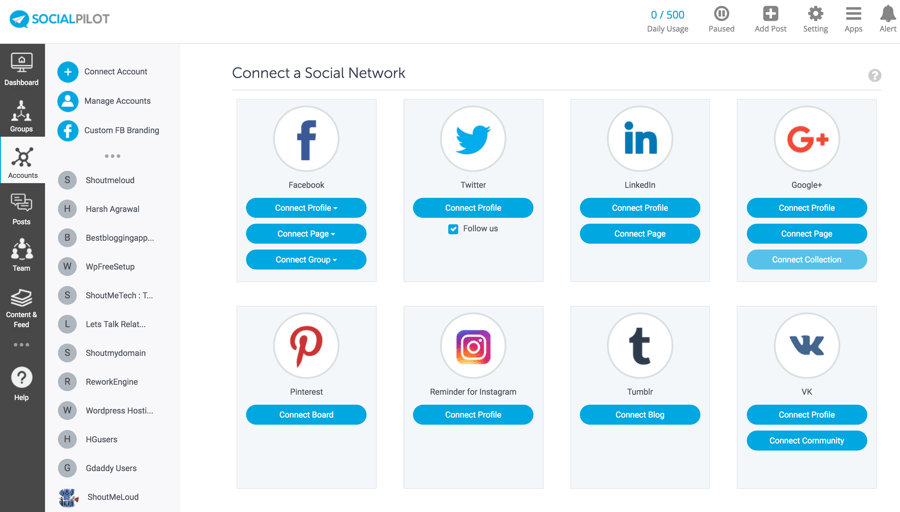 Using one app to post while you're on the go frees up a lot of space on your mobile device.
Facebook, Twitter, LinkedIn, Google+, Pinterest, Instagram, and Tumblr are supported.
You can also access Pages and Groups on Facebook, LinkedIn, and Google+ — a feature that Hootsuite lacks.
The app team is great about fixing bugs and engaging with the community across social media and the app stores.
Great support makes for a better user experience.
11. Buffer
There are a ton of debates online that compare Buffer versus Hootsuite, and I prefer Buffer simply for its ability to schedule Instagram posts.
It's also as good as SocialPilot at accessing Facebook, LinkedIn, and Google+ Pages and Groups.
Here's an interactive guide to connect a Pinterest account to Buffer.
Buffer runs all links through its servers to shorten the URLs. This is an awesome feature for those who don't like Bit.ly.
It's an all-in-one social media tool that's available on desktop and mobile devices.
While it's more a matter of preference than anything, I prefer Buffer over SocialPilot, as well, in my own personal use.
That's not to say they don't both have comparable features.
12. BuzzSumo
BuzzSumo has become my preferred tool for checking out how my blogs (and my competitors' blogs) perform across the Internet.
It includes a great breakdown of social shares, too.
You'll need to pay for the premium service to see a deeper breakdown of Twitter users.
It can be invaluable information if you're not able to scrape it yourself from Twitter's API or gather it from other free apps.
You can find your page and domain authority, locate your followers, reply to other users, retweet content, and even follow users directly from the UI.
Since blogging fuels a lot of my social content, BuzzSumo has proven invaluable to me.
13. Cyfe
Everyone who knows me knows that I love data. Cyfe has one of the best data-analytics dashboards this side of Google.
It's even better than Google Analytics because it goes where Google can't.
Cyfe scans social media for its demographic data.
Customized dashboards show how visitors are coming in from all around the world.
You can track revenue, your marketing funnel, social media, and more.
This business-intelligence dashboard is a game changer for social media marketing. It provides a holistic view of your overall efforts.
I'd even shell out for a premium version of Cyfe.
It's that good!
14. Postific
Although not as refined as Cyfe, Postific is still worth mentioning.
It's a great social media data-analytics tool in its own right, specializing more in social media demographics.
Get breakdowns of likes and shares across Facebook, Twitter, and LinkedIn by demographic.
Not everybody uses their real information on social media (especially Twitter), but it's still useful information.
Use Postific to guide your social media marketing efforts and see what hits and what doesn't.
15. SharedCount
If you want to see how your URLs are doing on social media, SharedCount is a great place to go.
After signing up for a free account, you'll be able to access the API and perform up to 1,000 queries per day.
Log in with your Facebook account to raise the limit to 10,000!
It even exports to CSV so you can import it wherever you'd like.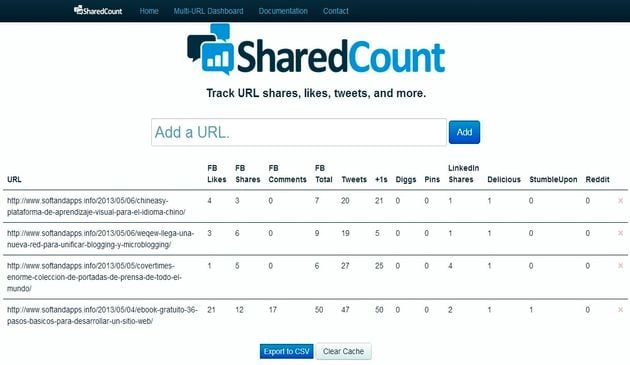 With a high-level overview, you can see how posts rank on SERPs versus social engagement.
This insight can change the entire course of your content marketing efforts.
16. LastPass
It's easy to underestimate how many social accounts a marketing agency can have.
Even a single client can have dozens of logins.
Working on a virtual team compounds the problem.
LastPass resolves them.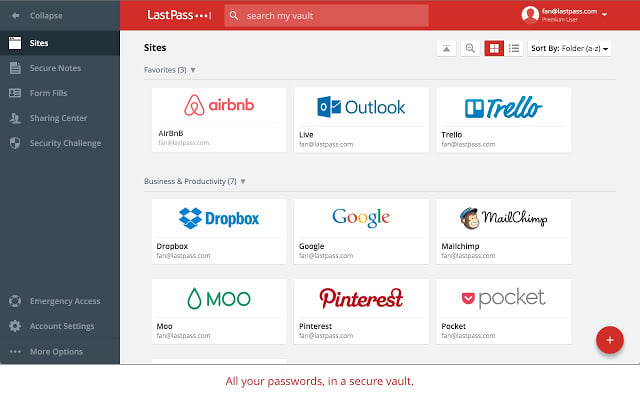 With LastPass, you can store and share logins anywhere. No longer will you fumble with whose Facebook or Twitter account you're posting in.
All your passwords for all your accounts can be stored in one spot.
This also helps when you need to revoke employee accounts after terminating them from your company.
Never underestimate the importance of operational tools in your marketing efforts.
Paid Tools
Sometimes you need more power than the free tools can provide.
Maybe you just need to simplify things, or perhaps your favorite social media tool went paid-only.
These are my favorite paid social media tools if you're still not finding something you like.
1. Simply Measured
Simply Measured is a great data-analytics tool.
These BI dashboards can track your reach across social networks. It even mines data from Klout.
This team can scrape all your social data and provide valuable insights into how to become a better marketer.
Whether you're a social marketer, content marketer, or full-service digital agency, Simply Measured takes your analytics further.
Understand facts about the ages, locations, genders, and more about your followers.
Learn the time of day and day of the week when your posts perform best.
Simply Measured is worth the price, although the cost varies.
2. Mention
If you're hoping to scale your social efforts to an entire team, Mention is a great place to start.
This simple UI monitors brand mentions across the web and social media, providing a ton of personalized insights.
What I love most about Mention are the real-time alerts.
You can use Google Alerts to a certain extent, but they're often way behind Mention.
I'll typically find a mention of myself before my Google Alerts do.
Mention beats me to the punch every time. The plans start at $29 per month.
3. Klear.com
Klear is an influencer marketing dashboard that lets you search for and connect with influencers.
You can also use it to see how you rank as an influencer against your followers.
For example, let's search cycling.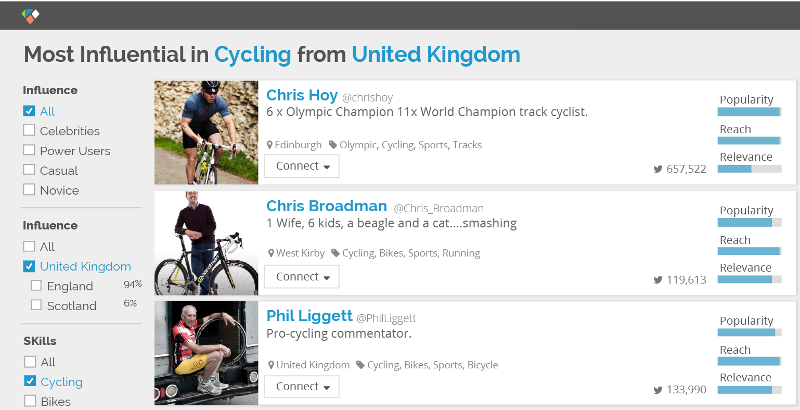 Here we can find the most influential people who are discussing cycling in any country we want to target.
We can also check related keywords like biking, bikes, and cyclists.
From there, we can connect with these influencers and partner with them to promote our brand.
Cool, right?
The cost varies by the number of influencers you want to target.
4. Sentiment
Sentiment metrics help you analyze social performance across channels.
You'll understand how customers engage with your brand, and you can even publish directly from the dashboard.
Plans start at $250 per month, and this site gives you all the tools necessary to manage a team of 10 social media analysts.
Built-in CRM, SLA, and scheduling tools make Sentiment a valuable asset for marketing agencies.
Even an in-house social marketing team could use it. Sentiment gives managers a way to quantify social media efforts and ROI.
5. ZoomSphere
ZoomSphere has a great graphical interface that reminds me of an amped-up WordPress dashboard.
Color-coded projects, channels, and modules can be created to manage your social efforts within a drag-and-drop interface.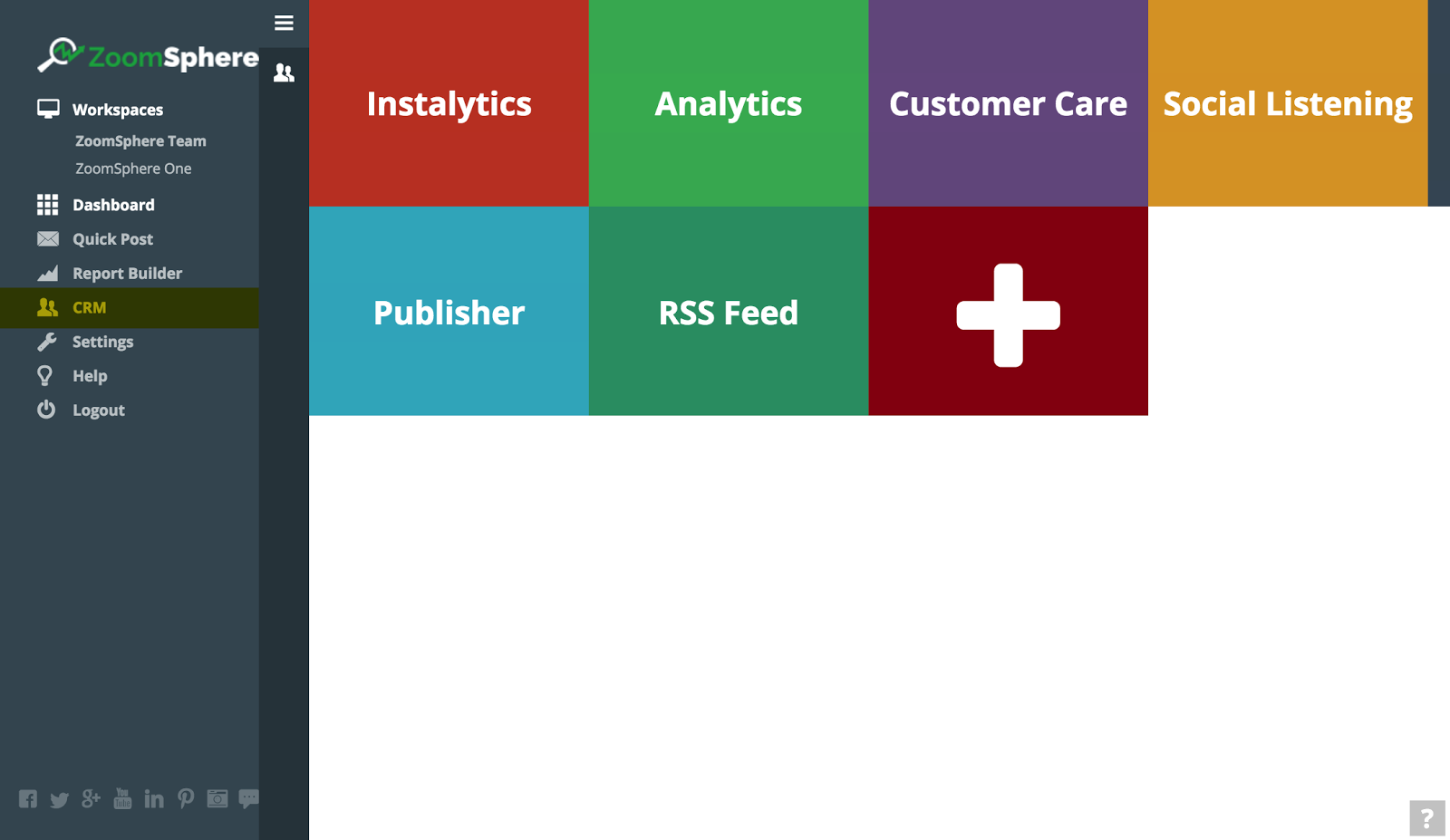 At $400 a month, it's not cheap, but it's one of the best social media management tools on the market.
This one-price-fits-all model is great for businesses that overuse other social platforms and end up paying enterprise premiums.
Set up reports, access online and phone customer service, and gain valuable insight into your cross-platform digital marketing efforts.
6. Meltwater
Formerly IceRocket, a free, real-time social search engine, Meltwater provides powerful analytics and insights.
Companies like Johnny Rockets, LogMeIn, and the University of Michigan use it to great success.
Plans are priced according to your specific needs and cover a wide array of social analytics and tracking services.
Real-time analytics are sorted into colorful graphs and charts that make it easy to see exactly where your brand stands online.
You can also view your live feed and interact across social channels in one place.
Meltwater will explain at a glance who's talking about you, where they're mentioning you, and how they feel about you.
7. Webhose.io
The Webhose.io API scrapes data feeds all across the web and social media.
If you're mentioned anywhere from major media to a tiny blog or even a Tweet, Webhose will find it.
This data analytics company is basically selling all the data you can eat!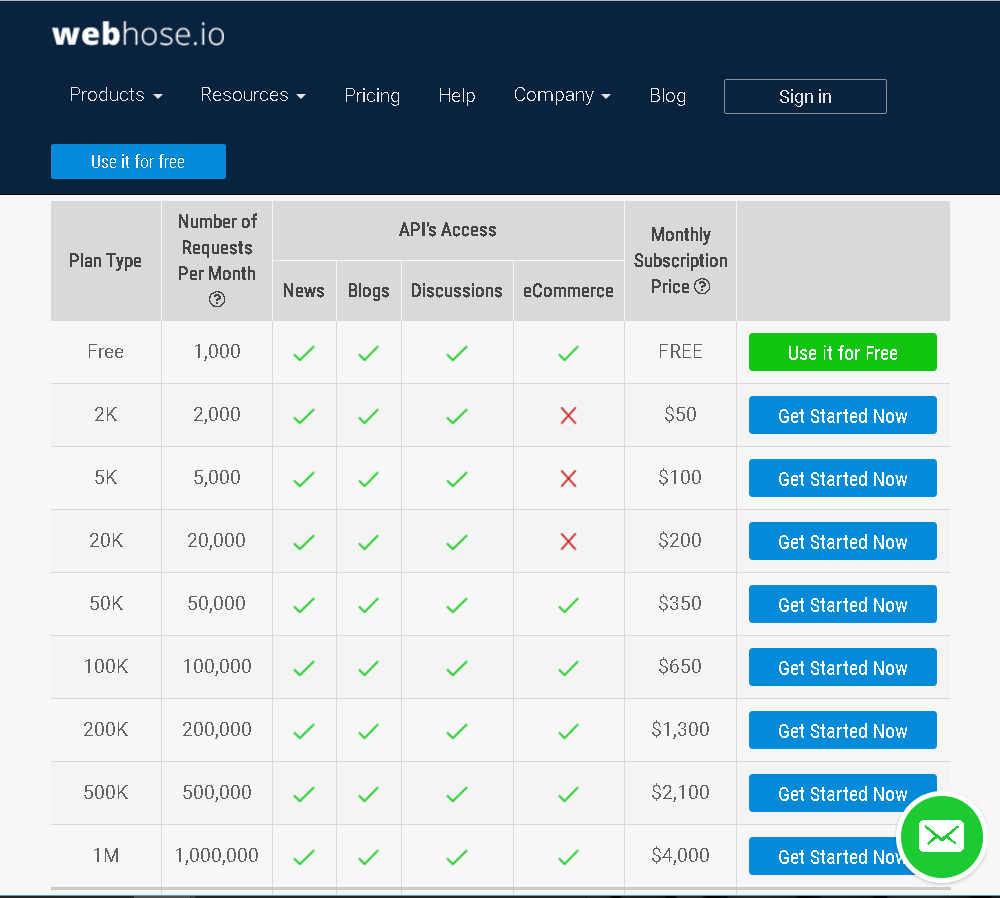 Hook up a hose and grab as much as you can afford to find the most up-to-date information about any topic.
You may remember Webhose when it was known as Omgili (Oh My God I Love It!).
It was almost as good an Internet portal as Google itself.
Now it's a paid service that you can use to make sense of data feeds around the Internet.
Don't underestimate it because your competitors are likely using this type of data already.
Conclusion
Social media is one of the biggest channels for marketing in 2017 and beyond.
Everyone's on social media, and brands are rushing to reach consumers where they congregate online.
Unfortunately, it can be a difficult task to stay active on so many social feeds.
Digital marketing agencies don't have it any easier.
A social media analyst working at an agency could be in charge of dozens of Facebook, Twitter, Instagram, and LinkedIn feeds at any given moment.
Keeping track of everything is difficult without the right tools.
I showed you my favorite social media tools. Now show me yours.
What social media tools do you love to use to be more productive and gather insights?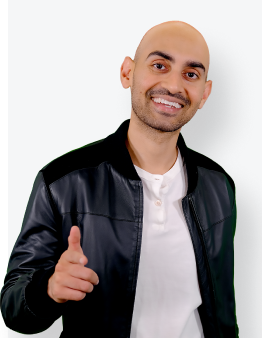 See How My Agency Can Drive More Traffic to Your Website
SEO - unlock more SEO traffic. See real results.
Content Marketing - our team creates epic content that will get shared, get links, and attract traffic.
Paid Media - effective paid strategies with clear ROI.
Are You Using Google Ads? Try Our FREE Ads Grader!
Stop wasting money and unlock the hidden potential of your advertising.
Discover the power of intentional advertising.
Reach your ideal target audience.
Maximize ad spend efficiency.