Content marketing is a relatively renew type of marketing that provides free media-type content to customers in exchange for their attention.
Unlike traditional advertising which interrupts customers to get noticed, content marketing provides content that customers want in exchange for permission to market a product or service.
If you've never heard of this concept, that's ok. This article provides a complete introduction to content marketing by discussing the following points:
The fatal flaws of traditional advertising
An in-depth introduction to content marketing
The advantages that content marketing provides over traditional advertising
Tips on the best practices that will make your content marketing more effective
If you'd like to learn how you can benefit from content marketing, continue reading.
The Fatal Flaws of Traditional Advertising
First, let's consider the fatal flaws of traditional advertising.
With traditional ads, companies create ad content that interrupts customers in the form of billboards, magazine ads, T.V. commercials, radio ads, etc. Each of these advertisements interrupts customers as they're doing something else, such as watching a T.V. show or driving down the street.
The ads don't provide any value to customers, and they don't offer any inherent reason for customers to view them.
Instead, they interrupt customers at a time when hopefully they won't be able to get up and do something else. An ad on a subway capitalizes on the fact that passengers can't go anywhere, and companies hope people will read them while waiting for the next stop. A billboard interrupts drivers hoping they'll pay attention long enough to get the message, without losing focus of the road.
Traditional ads rely on good placement, clever wording, and exceptional creativity to capture customers attention for a brief period of time. The goal is for the ads to be clever enough to capture a few seconds of attention that will hopefully be enough time to communicate the brands message.
It's a difficult proposition that leads to three fatal flaws for traditional advertising:
Ads only capture customers' attention for a brief period of time, if that.
Ads interrupt customers instead of providing something of value.
Ads end up being very expensive, especially if the campaigns are unsuccessful.
So is there an alternative? Is there a way to reach customers without interrupting them? Is there a way to engage people so that they want to hear your message instead of doing everything they can to avoid it?
Yes, and it's called content marketing.
An Introduction to Content Marketing
Content marketing provides media-type content that customers want in exchange for permission to market a product or service to them. Here's how it works:
With content marketing, instead of developing ads that interrupt customers, companies create content such as:
Blog posts
Podcast recordings (.mp3s)
White papers & downloadable guides
Infographics
Youtube videos that benefit customers and provide value
This value can be provided in two ways: as educational content and as entertainment content. In either case, customers have free access to content that provides value.
To give an idea of what this looks like, here are some examples of businesses that currently use content marketing very successfully:
Copyblogger.com

Copyblogger is considered the premier example of successful content marketing. They provide daily, world-class internet marketing tips for customers via their blog. Instead of grabbing customers' attention with ads, they create blog content that is valuable to their audience, in exchange for attention and the opportunity to market products at opportune times.
One of the things that Copyblogger does very well is mostly providing valuable content and occasionally offering direct pitches for their products. They also include ads for their products above and below every blog post. The valuable content comes first and the sales pitch comes second.

Copyblogger also recently started offering a Thursday podcast series as another way to provide value to customers. Copyblogger has used all of this content to become a multi-million dollar per year company that spends 0% of their budget on advertising. 100% of their marketing comes from content.
River Pools and Spas
River Pools and Spas is based in Ashburn, VA, and went from having no internet presence to becoming one of the top online resources in its industry. They rank in the top 5% of inground pool companies in the country, and they owe a lot of their success to the industry-leading blog they created.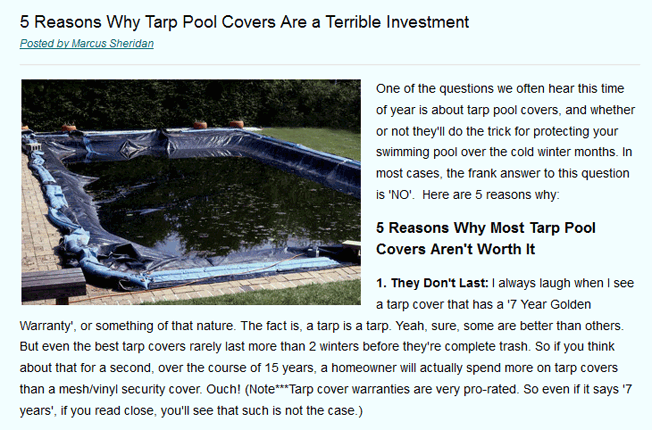 Through their educational blog along with their video library, they created one of the most informative resources in the swimming pool industry. As a result, they've created incredible traffic and impressive sales from their blog. As a demonstration of their success, eight of their top articles have received a total of 210,762 page views and 2,471 inbound links and generated at least $2,000,000 in sales. These are stats for a single local swimming pool company in Ashburn, VA, that dedicated itself to getting results from content marketing.
Toyota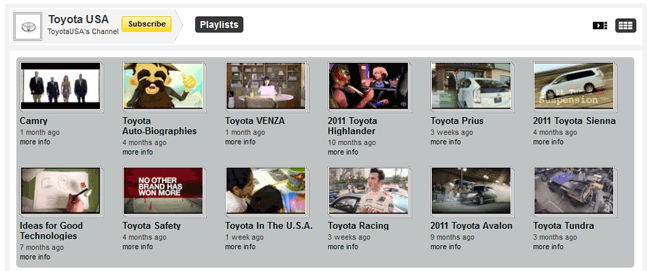 Toyota provides an excellent example of using Youtube video content to gain customers' attention. Instead of creating another me-too ad about a car driving on a road and looking "cool," they created a rap video for their Sienna minivan, calling it the "Swagger Wagon." It's a 2:36 seconds long, entertaining video for customers to watch.
Because it's so entertaining, the video went viral with people telling everyone they knew about the video to the tune of 9,985,158 views on Youtube at the time this article was written. Instead of paying for placement for an ad on T.V. that nobody wants to watch, they created a unique brand experience with a video that offered entertainment value that customers wanted talk about.
Replicating this kind of video content is difficult, but it provides a great contrast between traditional ads and content marketing.
Now that you have some examples of content marketing in action, what are some of its benefits over traditional types of ads?
The Advantages of Content Marketing over Traditional Advertising
Here are some of the many benefits content marketing has to offer (yes, the list is really long):
1. Content marketing provides something of value to customers whereas traditional ads do not.
With an advertisement, customers often try to mute, ignore, or get away from them as fast as they can. With content that's tailored to what customers want or need, they end up spending hours with your content developing a relationship with your brand and remaining engaged with your products. People may read Copyblogger for months before buying a product, but they hang around and voluntarily consume content until that time comes.
2. Content marketing educates customers to the point that they're ready to purchase your product.
Many times, people don't purchase a product because they don't realize how valuable it is or how badly they need it. Customers may not buy from a company that sells direct mail solutions like PostcardMania, not because they don't need the product, but because they don't understand how it works. Media-type content such as blog posts and Youtube videos can educate customers to the point that they're ready to buy your product.
3. Content marketing creates a sense of reciprocity with customers.
As you give people more and more free content, customers arrive at a point where they want to reciprocate the benefit that they've received. If your company helps them become a better marketer and make more money, they'll come to a point where they'll want to buy something from you to pay you back for all of the free content you've provided.
4. Content marketing attracts customers for free.
Instead of paying $1.50 per click, or whatever it costs for your business, you can attract 500 customers for the cost of writing one blog post. If you write the content strategically, each blog post will last you for the life of your business, and you'll get a lifetime return on your investment. Thousands of people can read one post that took two to five hours to write. Whereas Google ads cost money to bring people to your site one time, content is written once and can direct traffic to your site for years. In the end content becomes an asset but advertising is always an expense.
5. Content marketing creates content that gets shared.
Think about what people share online. They share content. If you look at any Facebook stream, somewhere 90% of outside content that is shared are links to content, not a link to a website. Even if customers like you enough to click on a share link on your homepage, they can only share it once because, after the homepage is shared, there's no reason to share it again.
But with content, the same customer can share your content 10 weeks in a row. That's 10 opportunities to reach their network multiplied by the size of their audience. If five people in their audience like the content and share it, the content gets multiplied again. The most important point is that people share content and not websites making a piece of content is much more likely to go viral than a link to your site.
6. Content marketing provides a SEO benefit.
For every blog post you publish, you have new content that can be indexed by Google. Without blog posts, your website may have 10 pages that can be indexed. After writing one post a week for a year, your website will have 52 more pages.
Even if the posts aren't written super strategically, which at least some of them should be, you'll have a total of 62 pages than can rank in Google for some term or another. That's much better than 10, and much more likely to gain search engine traffic.
7. Content marketing increases traffic.
With podcasts as an example, you'll reach an audience that you may not have ever reached with blog posts or Youtube videos–you'll reach people who listen to podcasts. Each of these audience members that finds your podcast will also find a link back to your site. By uploading podcast content onto iTunes, you're creating another potential traffic source that doesn't have to be paid for and another opportunity to get your message in front of an audience. By using Youtube, podcasts, and blog posts, you're creating three potential traffic sources for your website.
8. Content marketing is highly targeted.
One of the goals with any marketing campaign is to get your message in front of the largest, most targeted audience possible. A large audience means more people know about you, and a more targeted audience means that a greater percentage of the audience can potentially become buyers.
With content marketing, you develop content specifically produced for your customers. This is the type of content that's likely to bring buyers back to your website. You want to draws a targeted audience who potentially will be interested in your products. Every reader doesn't become a buyer, but the audience is highly targeted and some of the audience members will eventually become buyers.
How to Get More Out of Your Content Marketing Efforts
Hopefully you're sold on the benefits of content marketing at this point. If so, you may be wondering how you can get more out of your content marketing efforts. You may be wondering how you can get the most benefit from the time you put into developing content.
Here are four ways:
Provide content that your customers' want: A lot of people make the mistake of writing their blog about their business. That's a problem because customers don't care about you, they care about themselves. It's true, but you can also take advantage of this. You can take advantage by providing valuable content that customers want and need in exchange for their attention. This content can be educational or entertaining, and it can be a how-to article, an in-depth guide, or an entertaining video. Anything that gives customers something they want in exchange for their valuable time and attention. (Within reason, of course.)
Mostly write content for the customers' benefit and only occasionally promoting your products: If you're going to provide value to customers, you need to mostly write content for the customers' benefit and occasionally promoting your products. People are interested in articles and posts that benefit them, not ad posts touting how awesome your product or business is. By giving customers content that they want 4 out of 5 or 9 out of 10 times, you'll be rewarded with an engaged and targeted audience.
Write cornerstone content: Cornerstone content is content that can be categorized and archived in a way that's easy for customers to find. It's also content that provides incredible value to customers over a long period of time. Copyblogger does this with their resources in the sidebar, and River Pools and Spas does this with their Pool 101 content. The best part about cornerstone content is that it greatly increases the ROI of your content production. Each article brings a return on your investment over a long period of time.
Use other sites to find out what kind of content people want: Sometimes it's hard to know what people want to read about. One way to find this out is to visit sites within your industry. Check their blogs and see what post get the most tweets and shares. In the internet marketing niche, social media is all the rage. If you write a post about Facebook or Twitter, it's guaranteed to get more shares. Do some research to find out what kind of post are popular in your industry and write that type of content. You don't want to write these types of posts every time, but it's a great way to boost traffic when it fits into your publishing schedule.
So what do you think? Are you ready to give content marketing a try?
Now that you've learned about the flaws of traditional advertising, the benefits of content marketing, examples of content marketing being used successfully, it's time for you to create some compelling content. Write down a plan, follow the steps outlined above, and you'll be well on you're to more traffic, more leads, and more sales.
About the Author: Joe Putnam is the founder of Conversion Engine where they help eCommerce brands use email and SMS marketing to grow.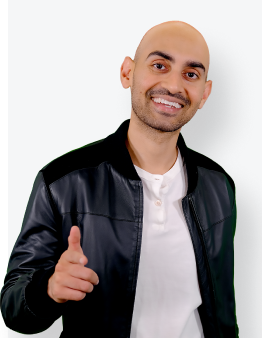 See How My Agency Can Drive More Traffic to Your Website
SEO - unlock more SEO traffic. See real results.
Content Marketing - our team creates epic content that will get shared, get links, and attract traffic.
Paid Media - effective paid strategies with clear ROI.
Are You Using Google Ads? Try Our FREE Ads Grader!
Stop wasting money and unlock the hidden potential of your advertising.
Discover the power of intentional advertising.
Reach your ideal target audience.
Maximize ad spend efficiency.