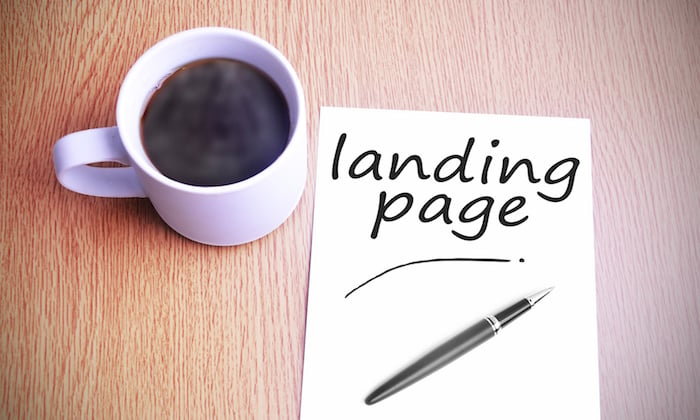 Are you ready to attract local customers to your business? Are you prepared for higher lead generation? Are you ready to boost your conversion rates? And are you ready to smash your search engine optimization?
If yes, then this in-depth article will teach you how to dominate your niche by tapping into a huge pool of ready-made buyers in your locality. But, we can't talk about local landing pages without mentioning search engine optimization.
After all, what's the use of designing a high converting page that people can't easily find using major search engines?
Local SEO tends to work best for businesses with physical locations that require direct contact with their customers.
But, it can also work for virtual online businesses that don't necessarily meet their customers before a business transaction takes place.
To make it work for you, it's vital to optimize your landing page design and rank for your surrounding areas, so that your target audience can find your web site and web pages in the search results more easily.
Obviously, in order to be successful in the search engines rank and to dominate your geographic locations with relevant geo-modified keywords, you need to combine local search engine optimization with organic search engine optimization.
Google is concerned about local consumers because they're often the most targeted and motivated set of people who conduct local searches. They are also invaluable targets for your lead gen and for improving conversion rates. 
Whether the search was done on a desktop or on a mobile device, local consumers usually purchase at a higher rate. According to Act-On, "18% of local smartphone searches led to a purchase within a day compared to 7% of non-local searches."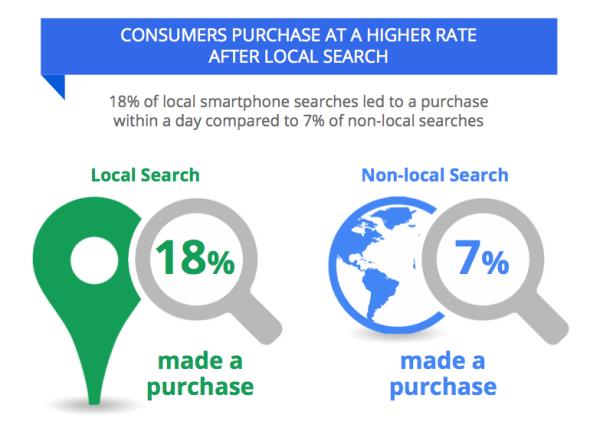 Just like content marketing, local landing pages have become the focus, since Google is gravitating towards user intent and not just the keywords that users searched for.
Let me show you the step-by-step process of designing local landing pages that reduce bounce rates, boost conversion rates, and work wonders for lead generation.
First Step: Identify where your customers are located.
Local SEO is a deliberate effort that you make to help local customers find you. For this reason, you need to identify where your customers are based.
Anybody can embrace a local landing page design, but the challenge lies in reaching the right people so you have a starting point to nurture your lead gens.
This is so important. There are sites that generate over 100,000 visitors per month, yet don't generate many sales.  Compare that to another site that gets less than 20,000 prospects per month, but they're all motivated and ready to buy.
Do you want to know what made the difference?
Audience insights.
This is clearly visible when you use any location activity map.
Audience insights consist of the things your ideal customers want, what goes through their mind when they land on a web page and where they're coming from.
You don't have to be 100% accurate, but it's massively helpful to know where people are browsing your web sites from.
We need to look at it from two angles, answering these two questions:
First, which locations do you want your customers to come from?

Second, which locations are your local customers currently coming from?
Once you can answer these questions, it becomes clearer how you can set a definite goal that enables you to meet people at the points of their need.
If you're owning or managing a single-location, service business, it means that you should have a dedicated street address and a local phone number on your contact form.
Customers may or may not come to you physically, but they do care about these pieces of information and your aim is to improve your user experience and garner trust. At the very least, it'll boost their confidence before they purchase any product.
Since SABs are limited in the number of cities and markets they reach, producing engaging content may be a challenge.
Here's another question: How do you know where your customers are based?
When you log into your Google Analytics account, you can easily find the locations of your audience.
Follow this path: Google Analytics dashboard > Audience > Interests > Geo > Location.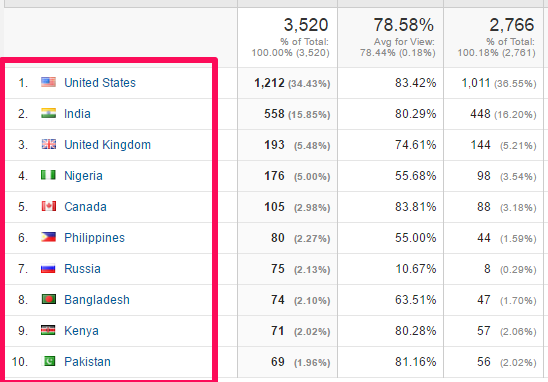 Next, click on one of the countries (e.g., United States), to reveal the states where your site visitors are currently located: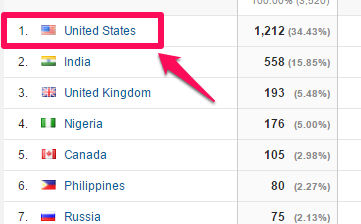 This is the state view.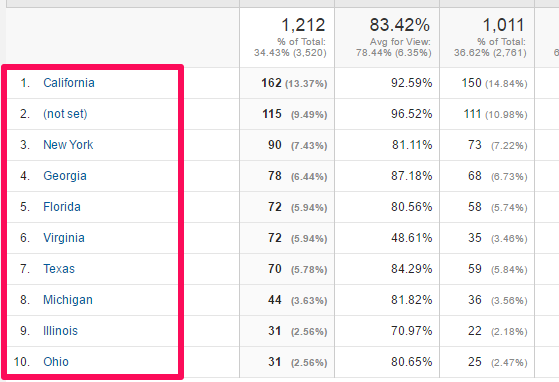 Last, but not least, you can drill deep into each state. This time, you want to see a particular city where your customers and web site visitors are coming from.
When I clicked on the "California" tab, here are the cities that I saw: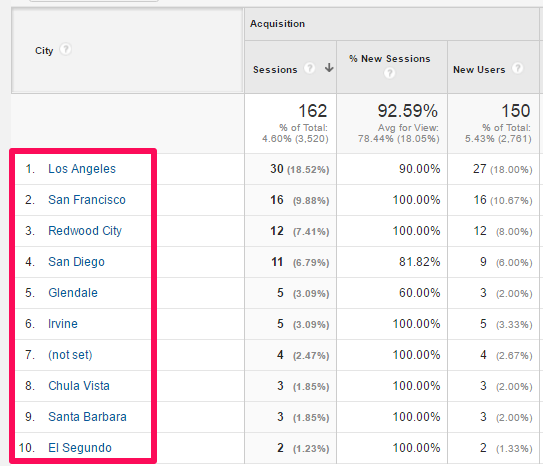 With these priceless audience insights, you can now see the future of your campaigns and how to structure your landing page design and copy for lead generation (more on this later).
If you serve more than one city or state, you have to be explicit when writing your copy and structuring your pages.
For this reason, don't just focus on local search engine optimization, but do the usual SEO, so that your individual pages can benefit from the wider audience and improve your lead generation and conversion rates.
But, if you're focused on, say, California, then local SEO best practices can help you improve your search rankings quickly. Here's a typical example of a local landing page design:
Second Step: Use localized metadata to create relevance.
Relevance is an important component of the search term algorithm. In Google's eyes, it's better to earn a natural link from a relevant site, than from an authority site that isn't relevant to your page.
In fact, relevant keywords are one of the most important factors that define quality content.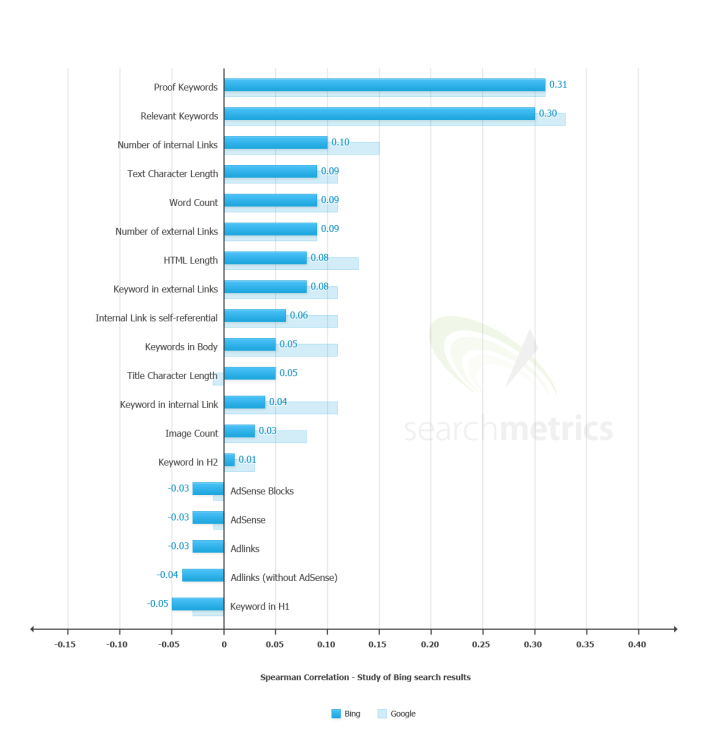 The metadata and meta tags are an important part of your landing page and it must be well optimized. Don't just throw a bunch of keywords into your content and pray for your site to show up in the search results. You've got to do it the right way.
The metadata section of your page is made up of:
Meta descriptions

Keywords
Here's the source code of a page, showing the metadata: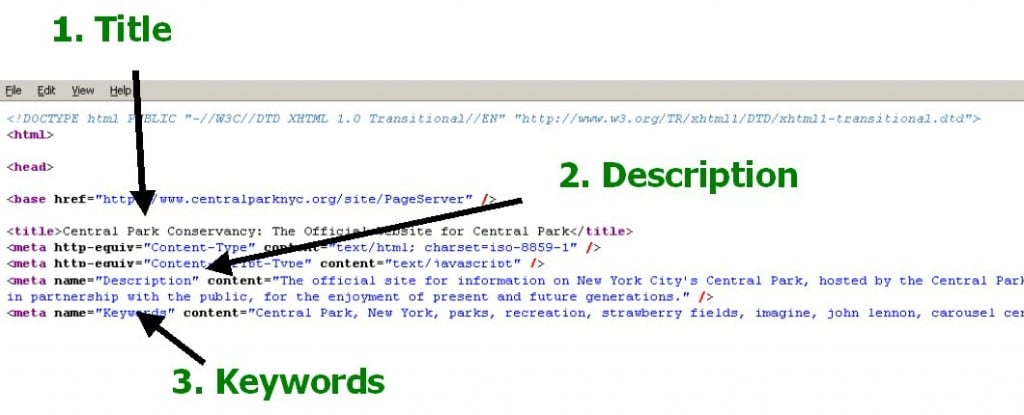 Metadata "speaks" directly to the search engines from individual pages. So, your individual landing pages should contain unique and natural metadata.
Here are the expanded meta tags that you may consider when your local pages have started attracting organic traffic.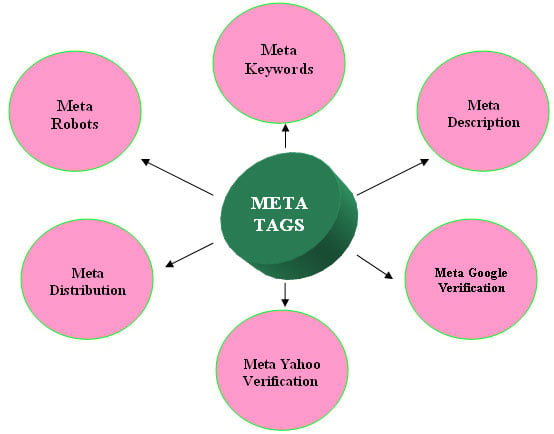 Terms such as "doorway pages," "service area pages," and "city landing pages" describe pages with a single purpose: to help local consumers find the right information online, without wasting time and money conducting endless searches.
In a bid to solve this challenge, Google released an update to the doorway algorithm, which of course would get local landing pages into trouble if they're not properly optimized.
Often times, Google tells us what to do, but not how to do it. But, in this case, they made it plain, by highlighting the key ingredients that make up a local landing page design.
Within its Search Console, Google provides some examples of doorway pages and these examples tell us most of what we need to know.
Note: Doorway pages are generally bad for users because, according to Google, "…they can lead to multiple similar pages in user search results, where each result ends up taking the user to essentially the same destination. They can also lead users to intermediate pages that are not as useful as the final destination."
Remember, several years ago Google updated its guidelines on doorway pages and given us a clearer understanding of what the best doorway or landing pages should be. For one, you should only have a doorway page when you've been able to answer the key questions below: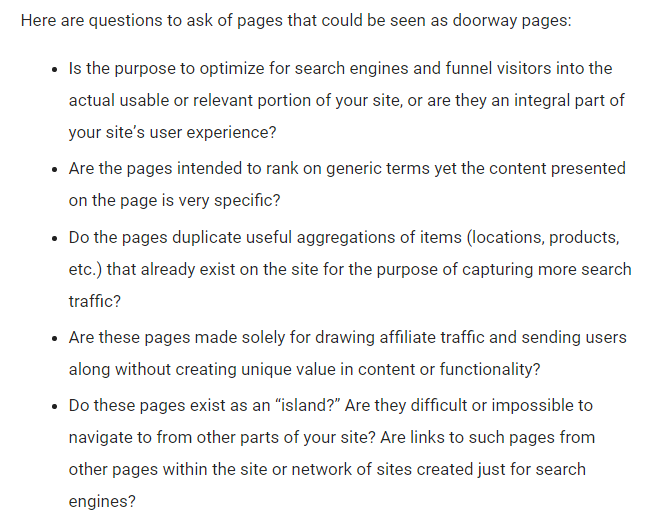 Specifically, here are simple ways to add localized keywords to your doorway pages (local landing pages):
Title tags: In the title tag, include the keyword + the city.
For example:
Best Plumbing Services in San Francisco, California

Web Design Jobs Los Angeles: 7 High Paying Jobs for You
Meta description: Since local search users are going to read your meta description in the Google results, you should make it enticing and keyword-relevant.
Let's assume that your primary keyword is New York Virtual Assistant. Here's how to weave it into your meta description naturally:
Do you have enough time to handle all the tasks for the day? You can achieve more in 24 hours by hiring a virtual assistant based in NY. New York is an awesome city to find the right professionals. I look forward to answering your call.
Notice that I didn't use the exact match keyword (New York Virtual Assistant), when writing my description.
The reason is simple: Users are looking for answers, not necessarily the exact keywords which they searched for. On the other hand, Google would penalize a local landing page for over-optimizing the exact match keywords.
Third Step: Optimize your local landers for mobile users
Your local customers are mobile – are you?
It's estimated that more than half of over 100 billion monthly search requests are coming from mobile. And, more than 60% of all Google searches are performed on mobile devices. This is why mobile apps are so important. 
Google recently revealed that more searches are being performed on mobile apps and devices than on desktops. That's remarkable, considering that mobile technology started not all that long ago, whereas desktop computers have been around for decades.
When people are searching for businesses, products, and information online, what do you think they're concerned about?
I'm sure that you've conducted a local search yourself. Maybe you were looking for a restaurant in your city where you could enjoy a delicious lunch.
What you care about is their phone number, physical address or anything that could link you to them.
When people search for information using desktop computers, they might be looking for a global overview, opinions, businesses or products.
But, for local search, the intent of the user is quite different. These users are looking for very specific services or information in a very specific locale. Mobile use is highest in the middle of the purchasing process. This means that locality matters if you want to turn those lead gens into successful conversion rates. 
As such, when you are considering your landing page design or doorway pages for your local audience, you need to speak directly to these very specific searches.
Location proximity is another important aspect when optimizing your landing pages for mobile use. 
When optimizing your local landing pages for mobile users, consider your website load time. Speed is really important, especially to mobile app and device users. Google has even started posting "slow to load" warning labels in mobile search results.
You also have to localize your content. You should even work this into your content on your blog posts, social media sites, and of course your landing page professional design. In other words, write to a specific group of people whom you're serving. Airbnb does this well.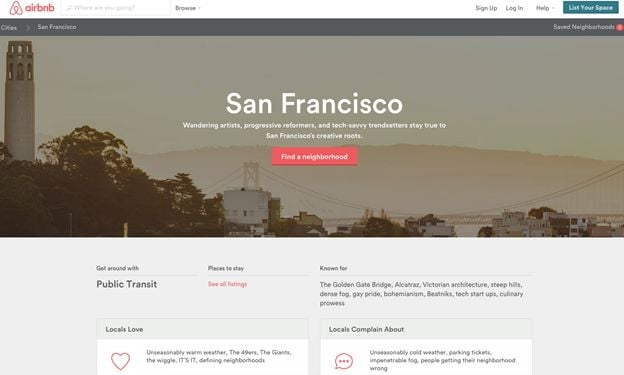 For more practical resources on optimizing your local landing page design for mobile users, see the guides below:
Conclusion
To maximize your search results and lead generation, make sure that you design separate landing pages for each city that you're targeting and attach a Google+ local page for your physical address.
Above all, create unique, location-specific copy for your landing pages. 
Building a local landing page requires an investment. It could be the investment of your time, money or both.
However, it's become a lot easier these days, because of the plethora of landing page creators and landing page templates.
Landing pages don't have to stand alone. They can be attached to your blog posts or corporate website.
When marketers think of a landing page, they're thinking about a page that helps them capture an audience and begin the relationship process. A lot of marketers are more concerned about the aesthetics of the page, a clean design, and a good visual user experience, rather than its functionality.
But, Google views landing pages differently. If you study your Google analytics carefully, you'll discover that Google defines landing pages as any page on which search users entered your site. 
For example, if people discover and come to your site through the about page, Google will treat it as a landing page. But you (as the marketer) may not have viewed your about page that way.
Here's how to strike a balance: Treat every page as a landing page. This is a game-changer, it means that you can start considering CTA buttons on your web pages, that you study landing page templates to see how you can take those ideas and apply them to your web site, and that you start to think outside the box when it comes to conversion rates and lead gen across the board, even right down to your social media sites.
There are good reasons why people should visit your web site, starting from the about page, service page or even the contact page. It's your responsibility to optimize these pages for mobile, make them insanely fast, and add relevant calls to action.
Do you attract local customers to your business via the web or social media? How do you design and optimize your local landing pages for these people?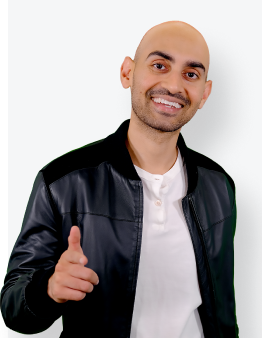 See How My Agency Can Drive More Traffic to Your Website
SEO - unlock more SEO traffic. See real results.
Content Marketing - our team creates epic content that will get shared, get links, and attract traffic.
Paid Media - effective paid strategies with clear ROI.
Are You Using Google Ads? Try Our FREE Ads Grader!
Stop wasting money and unlock the hidden potential of your advertising.
Discover the power of intentional advertising.
Reach your ideal target audience.
Maximize ad spend efficiency.