Has anyone ever told you that SEO is complicated?
Maybe it was a colleague or even an SEO consultant. They probably told you that SEO takes a lot of work and involves a lot of complex variables.
You've also probably heard that SEO takes a long time to work.
On the one hand, all of that is true to an extent. SEO can get deep, and it's hard to navigate those waters unless you know exactly what to do.
And good SEO doesn't happen overnight. You can't just optimize for keywords today and rank on page one tomorrow.
But on the other hand, SEO can be easy and quick and still give you the kind of results you're looking for.
You can rank higher in Google, get more traffic to your site, and practically own keywords in your niche. It doesn't matter how big your business is or how much you can spend on SEO.
It won't happen in a matter of days, but it won't take months for you to see results.
If you do the right things, you can increase your ranking and get more traffic within the next several weeks.
And you don't need to be an experienced SEO to get awesome SEO results.
I've met many SEOs who make it seem like only they know the secrets of SEO. It's all part of their sales pitch, of course.
I don't care what anyone has told you before. You don't need to have extensive SEO knowledge or undergo some sort of secret, exclusive training.
You don't have to master advanced SEO strategies like RankBrain optimization or audits.
You don't even have to have any prior experience.
Your startup might be neglecting SEO for those very reasons. I see this happen all the time.
But you don't need to be scared. There are simple SEO tactics you can use today that will take effect quickly, and I'm going to share with you some of my favorites.
Reach out to experts for a roundup post
Do you know what everyone likes?
Compliments.
When someone makes you feel good about your expertise, it makes you happier.
You can leverage that to enhance your SEO by using expert roundup posts.
Basically, you get a ton of experts, ask them questions, and then include their answers in a post.
Here's an example of a roundup post: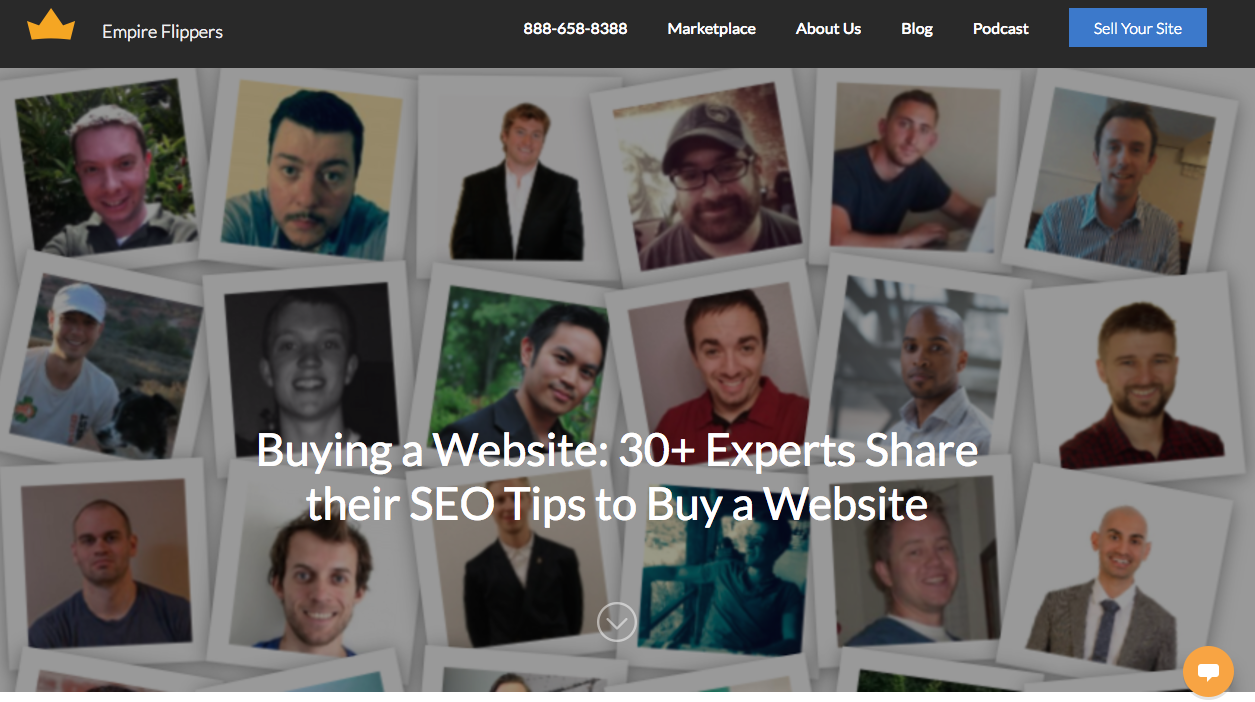 Yep, that's me in the lower right corner. I was included in the roundup:
I said yes to this roundup for a few reasons.
First, I love helping people out. You might be surprised to find out that most high-level influencers feel the same way.
Many experts aren't stingy with their knowledge. It can be intimidating to ask a big name for help, but most people are super nice and helpful.
Second, I got two links and a bunch of brand mentions out of the post.
There's a Twitter link underneath my name and an in-text link that points to my blog Quick Sprout.
I was also able to include the handles of my businesses, and even though they weren't direct links, they still helped me out.
This is why a lot of experts say yes to roundups. They'll gladly exchange a nugget of wisdom in exchange for a couple of high quality links.
Believe it or not, it's easy to make a roundup post of your own.
The first step is to find experts in your niche who have contributed to roundups before.
You just have to search your niche and "roundup" in Google.
Let's say I wanted to do a roundup of sales experts.
I'd Google something like "sales expert roundup." That leads me to this article:
And bam, I have 9 potential experts for my own roundup.
The second step is to reach out to those experts and ask for a quick blurb for your roundup.
You should include some information about the roundup and your site.
Here's a great email template you can use: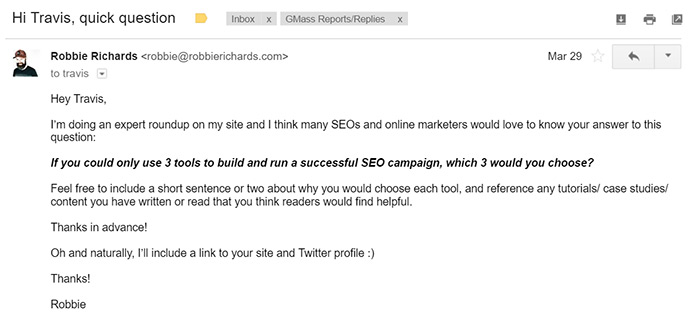 But what if you can't get any responses? One option is to go to the next person on your list of experts.
You could also use a quote from the expert's social media profiles or blog and attribute it to them.
Once the roundup is live, email the influencer and let them know they were included.
Guest Crew did exactly this and featured me in a roundup:
Even if the influencer doesn't respond to your initial emails, he or she may share the completed roundup post.
Either way, you're bound to get several shares and maybe even a few good backlinks from it, and those will all give your SEO a generous boost.
Link out to sites with high Domain Authority
The more links you get from authority sites, the better.
The idea is simple. If your site is getting linked to a lot, Google thinks that it has to be high quality content.
You probably already know this. But did you know that it also works in reverse?
Most people are so focused on getting links that they never think about giving out links.
Let me explain.
When Google is evaluating the authority of a page, it considers not only the inbound links but also the outbound links.
That's because pages with lots of outbound links are often great sources of information.
So while getting authority backlinks can help, linking out to other pages can also enhance your SEO.
To get the best results, link out to pages that have high Domain Authority (DA) scores.
DA is a metric developed by Moz that ranks the overall power and influence of a site.
Generally, any site that has a DA of 40 or higher is good to link to.
You can check the DA score of a site by going to Moz's Open Site Explorer tool.
Enter your URL and hit "Search."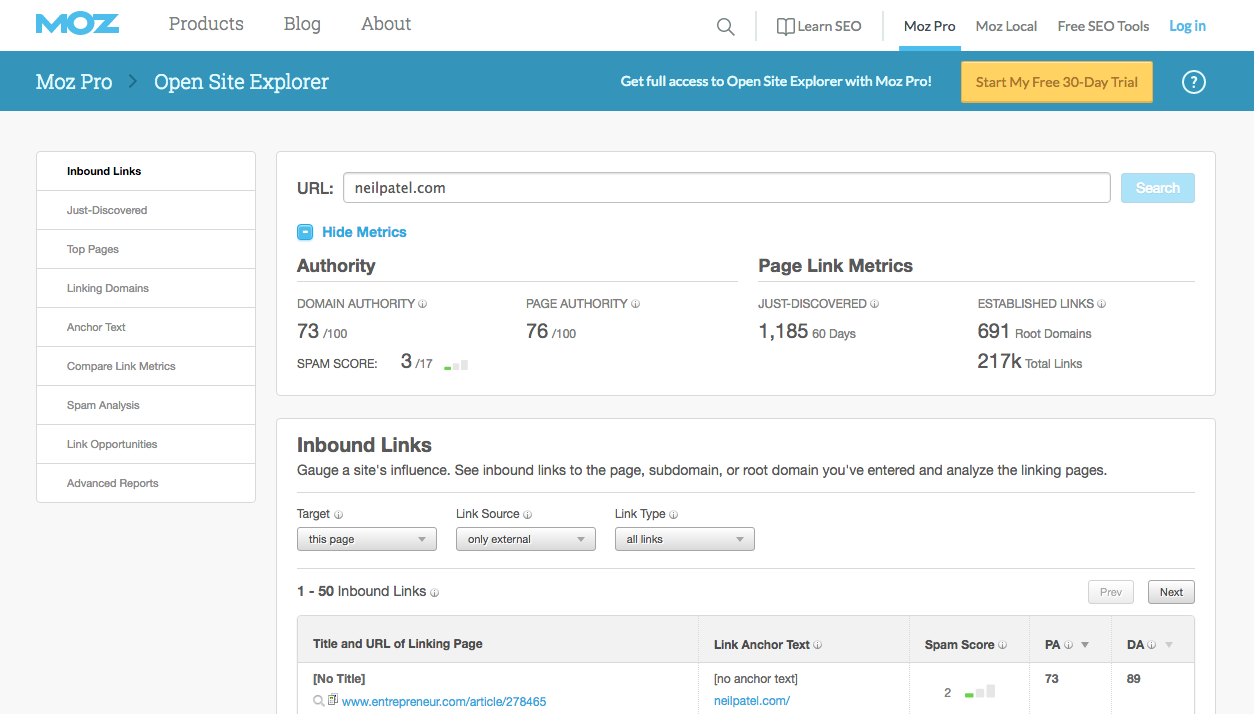 Your DA score is located under the Authority heading.
Most sites you'll encounter will have a DA that's in the range of 25-50 or so.
My DA is so high because I've spent years building it. Most sites will have a much smaller DA.
There are two methods I recommend for finding sites with high DA scores to link to.
First, find the DA scores of influential websites within your niche. For example, in SEO, that might include Backlinko, Search Engine Watch, and Yoast.
Second, look for curated lists of popular sites.
I like to use Alltop to find high quality sites to link to.
You can search for different categories and then find high authority content from top sites.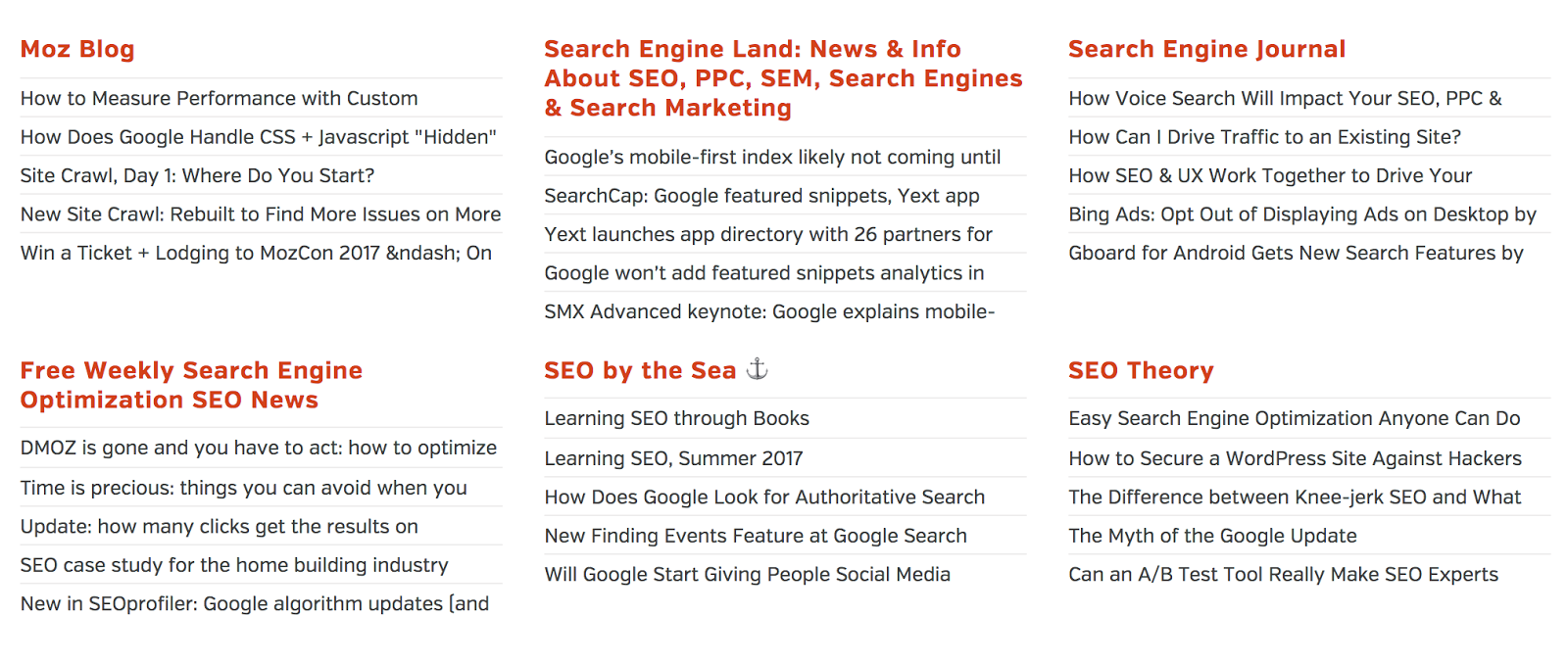 There are also pages like this one from Crizmo that list several sites with high DA scores.
Sometimes they're categorized by niche, but sometimes they're not, so you might have to dig around a little.
Once you've found some sites and linked to them, reach out to the site and let them know. Here's an email template I've used before:
And while I'm at it, let me share one last DA-related tip with you.
If you improve your own DA score, other sites could be linking out to you and then letting you know about it.
Improve your site speed
How fast do you think it takes for your site to fully load?
Make your best guess, then pay a visit to Pingdom's free website speed tester.
Enter your URL, select the location you want to test, and click "Start Test."
In about 10-20 seconds, you'll be able to see your results by scrolling down.

(My page got a C because I have a video on my homepage. Since it converts well, I sacrifice some speed.)
So how did you do? Was your guess close?
I'd bet that the actual loading time was a little longer than your guess.
Now I'll switch up the question: On average, how long of a loading time does it take for a visitor to leave your site?
While it varies, 40% of visitors will leave a page if it takes more than 3 seconds to load.
Obviously you want your site to load as fast as possible. Ideally, that means loading in less than a second.
It might sound impossible to load an entire site that quickly, but it can be done.
Even though I have a video on my homepage, it loads in just 961 milliseconds.
That's because I've worked hard to make my site lightning fast.
How did I do it? I focused on a few things.
First, I ran my site through some tools that gave me feedback.
When you use Pingdom's speed tester, you can scroll down to see what's good and what you need to improve.
It will even show you individual scores for different elements of your page.
If you see an item with a low grade (C, D, or F) next to it, write it down and work on improving it.
It also helps to use other site speed testers like Google Page Speed to make sure you're aware of all of the problems.
Second, I invested in a content delivery network (CDN).
A CDN increases your site speed by duplicating your site and hosting it on servers around the world.
Here's a real world example. Say your site is hosted in Spain, but someone from Japan wants to access it.
If you don't use a CDN, that visitor from Japan will have to wait for the server in Spain to load your site.
But if you use a CDN, a server in Japan will load your site, making it load more quickly for the Japanese visitor.
This way, no matter where your visitors are, you can ensure that your site loads from servers that are nearby.
Third, I made sure my site was free of any unnecessary code.
Developers call this condition code bloat.
Sometimes you'll find that you have way more code than you need to. Most of the time, that extra code isn't doing much, so it can be removed or replaced with more efficient code.
If you know coding yourself, you can go in and fix these problems yourself.
You can also outsource the job, which is more expensive but easier. That's what I do since I don't know how to program.
There are lots of other ways to improve your site speed, but these three techniques are some of the most effective that I know of.
Use schema markup
Schema markup sounds like a difficult math concept, but it's pretty easy to get the hang of.
Schema markup is a type of structured data, which makes it easier for search engine bots to crawl and index your content.
If your site doesn't use any structured data, search engines might get the wrong idea of your site.
Schema helps out by telling search engines exactly what they're looking at.
Search engines only take raw data, so they can't just look at an image and know that it's an image. Schema says that the image is indeed an image.
This also helps search engine bots work more quickly. Schema markup fills in all the blanks, so the bots spend less time crawling your site for information.
Adding schema to your site is actually fairly easy, but it can take some time.
There are tools that make it easier, like Google's Structured Data Markup Helper.
And if you use WordPress, you can download a plugin like Schema App Structured Data to help you out.
Here's a step-by-step guide that will show you how to add schema markup to your site.
Get keyword ideas from your users
I've saved one of my favorite SEO hacks for last.
Lots of businesses struggle with finding the right keywords. It can take a lot of trial and error to nail it.
But what if you could go right to the source? What if you could get keyword ideas directly from your target audience?
Guess what? You can!
One way you can get user generated keyword ideas is from internal search queries.
These are searches that happen when people use the search bar on your site.
Here's what Copyblogger's search bar looks like.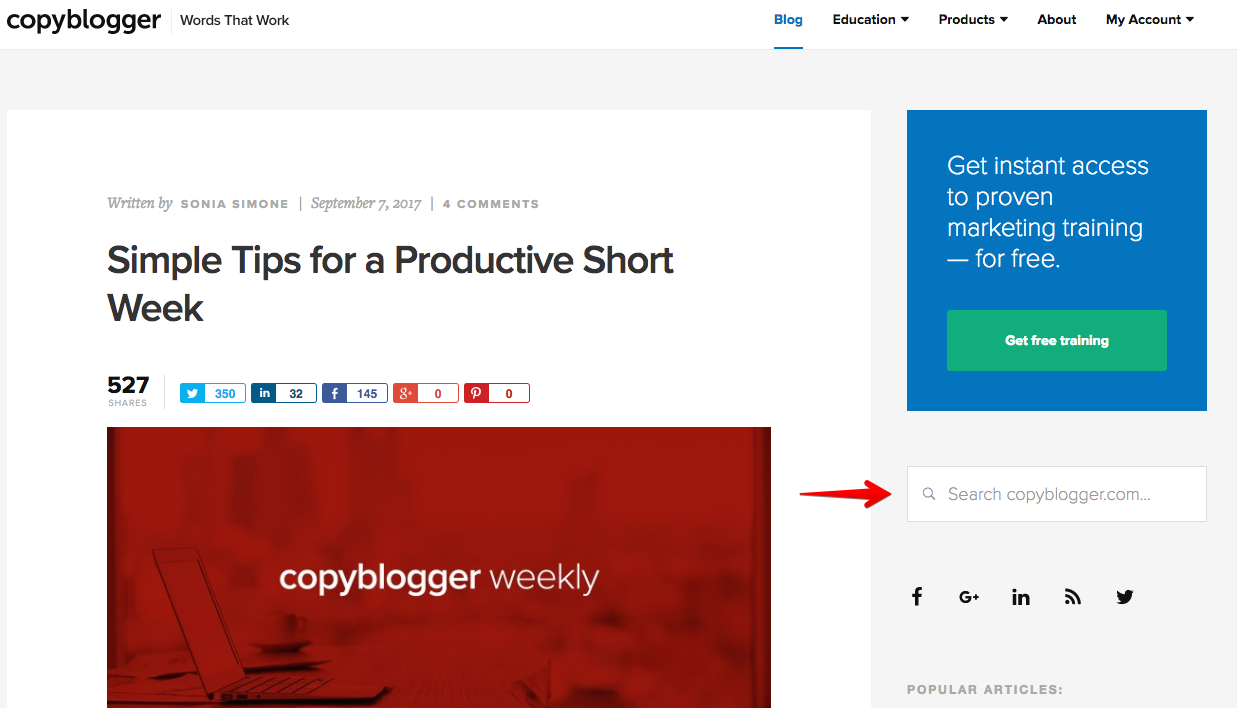 It's obvious that people use these to find what they're looking for.
But for you, that means free keywords.
Someone might come to your technology blog and search "smart phone repair." Just like that, you have a keyword that you know your users are using.
You don't have to speculate if your audience will use the keywords or not. They're already using them!
You might even be able to create entirely new content around these keywords.
If you don't have a search bar on your site, consider creating one. It's a pretty easy job for a developer.
If you use WordPress, you'll be glad to know that search bars are included in most themes.
Another great method to get new keyword ideas is to see which search terms brought users to your site in the first place.
You can actually do this in Google Analytics.
First, go to your Dashboard. In the menu, navigate to Acquisition > All Traffic > Source/Medium.
Underneath the graph, you'll see small text that reads "Primary Dimension." To the right, there are some words in blue. Click on "Keyword."
Now you'll see a chart that contains all of the search terms people used to find your site.
If you use both of these methods, you'll be able to uncover a ton of new keywords.
You can start optimizing for them right away, and more importantly, you can guarantee that your audience will be interested in your content.
Conclusion
When I built my first online startup, I made a lot of mistakes.
I don't have time to talk about all of them, so I'll focus on the SEO mistakes.
I thought that SEO was too complicated, so I just didn't do it. I'm not tech-savvy at all, so I brushed off SEO as something only an expert could do.
I see other businesses make that same mistake year after year. They either hire expensive SEOs who rip them off, or they completely avoid SEO.
The hard truth is that you can't afford to ignore SEO anymore.
That doesn't mean you have to spend thousands of dollars a month on an SEO consultant.
It just means that you have to start thinking more about SEO and how it fits into your marketing strategy.
Because at its core, SEO is a lot like marketing. You want to make your brand more visible, right?
You might not have a huge budget for SEO. That's okay. You don't need one.
Start using these techniques, and you'll see results a lot faster than you think.
Once you've done that, I suggest diving a little deeper into the world of SEO and getting serious about it.
Even using a few simple SEO strategies is better than nothing.
But if you want the best possible results, I recommend reading up on SEO and learning as much as you can.
If you really want to get tons of traffic to your website, start focusing on SEO today.
What's your favorite SEO hack to get quick results?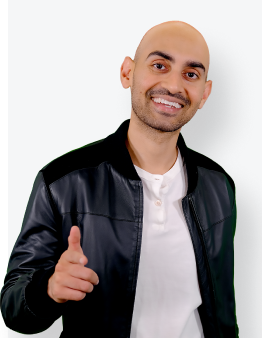 See How My Agency Can Drive More Traffic to Your Website
SEO - unlock more SEO traffic. See real results.
Content Marketing - our team creates epic content that will get shared, get links, and attract traffic.
Paid Media - effective paid strategies with clear ROI.