Make no mistake: Long-tail keywords are still important when it comes to search engine optimization.
Integrating long-tail keywords in your blog posts can help you maximize your organic search rankings and organic traffic.
However, this is not a license to stuff long-tail keywords into your posts. You already know that over-optimizing your content marketing with keyword phrases can get you penalized.
This in-depth article will show you the potential of long-tail keywords and how to use them naturally in your posts.
You can rank highly in Google for keywords that have more than 3 words and drive targeted organic traffic to your site. After all, it's estimated that long-tail keywords generate 70% of search volume traffic.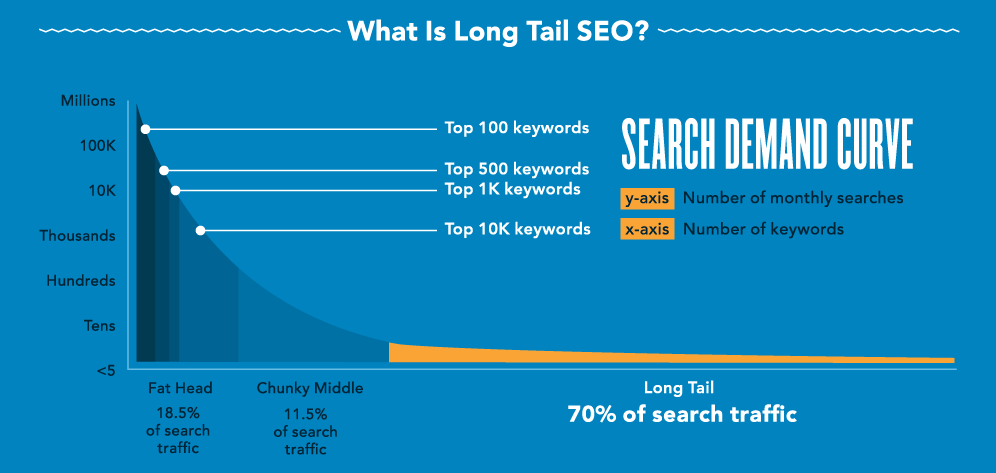 All long-tail keywords are not created equal.
If you go after head long-tail keywords (e.g., learn Spanish), your content marketing efforts almost certainly won't rank in Google's top 10 because of the fierce keyword competition.
But, if you target long-tail keywords (e.g., best tool to learn Spanish online) instead, you will have a much more realistic chance of ranking in the top organic listings for that key phrase and several others. You can even do it in a few months, assuming that you build relevant and authoritative links.
How is that possible?
Simple: The majority of top brands don't target long-tail keywords because of their low volumes across the results of search engines.
It's not uncommon for a long-tail search term to have a 5,000+ average monthly keyword search volume, whereas a longer variation of that same term has less than 100 searches.
Top brands have huge on-page and off-page search optimization budgets. They can't afford to waste time on long-tail keywords that few customers are going to actually use as search terms.
But, that's good news for bloggers!
Instead of wasting time, money, and resources trying to rank #1 for premium long-tail keywords like "conversion rate optimization," which comes with a great deal of keyword competition, why not find the longer variations and work smarter to rank for them, such as "best conversion rate optimization strategies"?
Here are some simple ways to integrate long-tail keywords in your blog posts: 
1. Define your content marketing objectives.
Long-tail keywords are a critical factor in the ranking algorithms used by search engines like Google.
Long-tail keywords are actually more important these days, because user intent can only be determined by the keywords they're searching with.
No matter what the latest ranking factor might be – site speed, mobile friendliness, engagement or something else entirely — you've got to remember that on-page keyword phrase usage boosts the search volume performance of your content marketing efforts, by up to 15.04%.
Modern search engine optimization is about user intent, not necessarily the long-tail keywords in the title.
That being said, though, it's important to define your content marketing goal.
What do you want to achieve with your blog post?
It's a basic question, but your honest answer can help you to create user-friendly blog posts that will rank more highly in keyword search results. Remember that your content marketing goal must align with your organizational goal.
Copyblogger showcased 10 content marketing goals worth pursuing, including:
Build trust and rapport with customers

Attract potential customers to your marketing system

Explore prospect pain

Illustrate benefits

Overcome objections

Build your reputation with search engines
Sure enough, great content marketing can actually achieve any of these goals, with some hard work and patience.
The best approach is to choose one or two core goals that you want every piece of your content to achieve.
On the other hand, if you want to attract new prospects to your marketing system, you have to find out what long-tail keywords they're searching with and create useful, helpful, and evergreen content based on those long-tail keywords.
Most bloggers and writers think that using long-tail keywords are only relevant to search engine optimization, helping them rank highly in Google. But, it goes beyond that.
Generally, when potential customers find their long-tail keyword search terms in your post, it doesn't matter whether they came through another blog or via social media networks. They'll feel excited about your blog post.
Besides, people also use long-tail keywords on YouTube when looking for a particular video. The same happens on Facebook when they're looking for specific blog posts or pages. It's not just Google that utilizes keywords. Every platform does.
So, you should define your content marketing goal. Don't write anything until you've done this. Specific long-tail keywords can also help in defining your goal as search terms show specific intent on behalf of the person conducting the keyword search.
For example, what comes to mind when you see the following long-tail search term?
burn fat quickly at home without pills
Of course, the searcher is probably tired of taking weight loss pills. They want to burn fat quickly and at home, not by having to spend hours at a gym.
In your blog post, you don't have to mention going to the gym as an alternative. Focus on the premise that's inherent in the key phrase.
Your advice must be aligned with the searcher's intent. In this case, the searcher may be open to exercise, diet, mind management, and other healthy habits – just not pills.
2. Conduct keyword research for long-tail keywords.
Question: How much does Google care about long-tail keywords?
Answer: Not as much as they care about users.
In Google's eyes, users are the priority. Search spiders follow users to determine the long-tail keywords that they're after.
It doesn't matter how detailed the content is or how much money you paid to outsource it. Google doesn't care.
Google only cares about search users. Remember that without people using search engines, Google would be out of business.
Sadly, many people don't get this and they feel that Google has been unfair to them.
They believe that their blog posts are superior to those sitting in the top 10 organic results.
Don't be like that.
Google can be unpredictable sometimes. But, the fact that you're not ranking highly may not be Google's fault.
The reality is this: search engines find your content valuable when readers find it valuable.
Users dictate what search engines do and how they evolve. All of the major Google algorithm updates were driven by search users.
Even the update that made mobile-friendliness a ranking factor way back in April 2015 was a result of user interactions with mobile devices.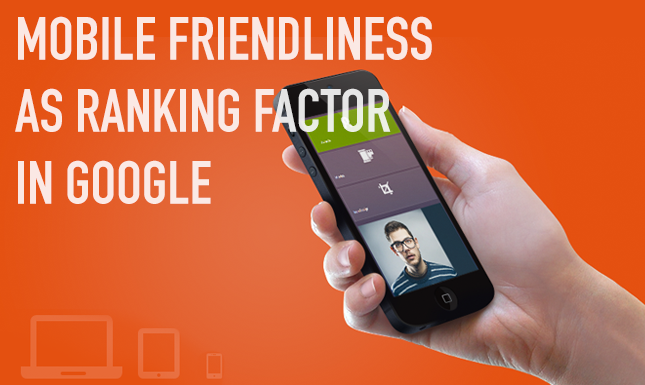 Long-tail keywords are powerful for generating organic traffic. What's more, the search traffic will be targeted and engaged – visitors who have indicated interest in your solution to their problem.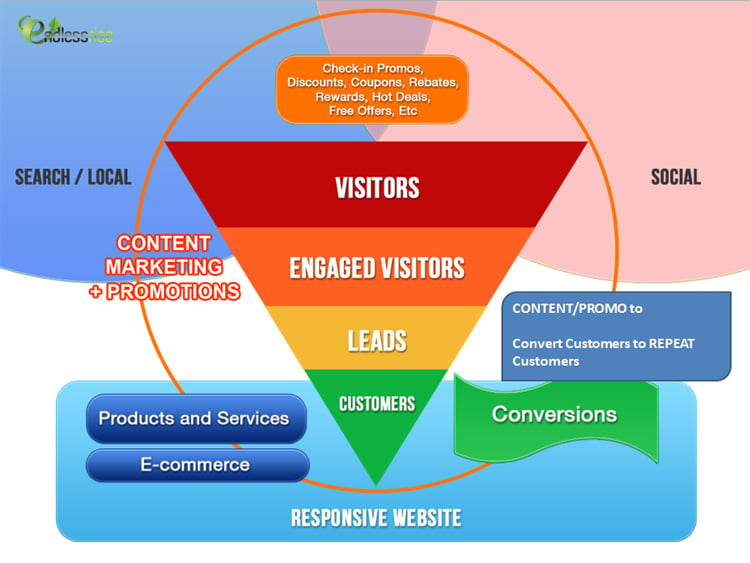 Are you ready to conduct some keyword research to find those long-tail keywords?
Just follow these simple steps, and try using the following keyword research tools:
i).   First step: Google Keyword Planner. Enter your main keyword (e.g., "list building tool") into the search box. Then, click on the "Get ideas" button.
ii).   Second step: Click on the "Keyword ideas," within the keyword planner to reveal the individual keywords and their average search volume.
Next, here are the keywords found from the keyword planner:
You'll notice that none of the keywords above are long-tail keywords. So now what?
Well, you can dig deeper. Each of those main keywords has a longer variation, which you can find using another keyword research tool like Ubersuggest.
On the homepage, enter one of the main keywords (e.g., "email marketing template"). Then, click on the "suggest" button.

When you click on the "Search" button, here are the long-tail variations you'll see:
Ubersuggest gives you a massive list of long-tail keywords that are related to the one that you entered.
Instead of targeting the main keyword ("email marketing template") in your post, you can rank higher quickly by targeting "email marketing creative brief template."
3. Craft a keyword-rich headline that flows naturally.
No matter what you're writing – blog posts, social media ads, emails – the headline is crucial.
According to writer Jeff Goins,
The most important part of writing an article is the headline.
And, for that reason, you should pay special attention to it. Don't minimize the work you put into it, or else you'll struggle to gain traction with your content marketing.
Remember that social signals are essential in today's SEO because they guide Google in determining how much engagement a particular page has.
To get these valuable social signals (Facebook likes, comments, retweets, etc), you need to create powerful headlines.
A keyword-rich headline will always outperform a generic one.
Let's see the top search results for a popular long-tail search term – "start a fashion blog":
The third result targets a different keyword. If that's the reason why it didn't outrank the first two, I wouldn't be surprised.
Let's validate this by searching for some other popular long-tail keywords. For now, let's try — "fat burning meal plan":
The top search results all have keyword-rich headlines. When you hear people say that Google no longer considers long-tail keywords an important ranking factor, it's just not true.
Remember that Google follows users. Whatever activity the user is involved with, as indicated by the search terms they use, will ultimately decide where Google ranks your page.
Brian Dean uses long-tail keywords in most of his blog post titles. Wherever possible, he puts the keyword at the front of the headline:
The long-tail keyword in question is "White hat SEO case study."
Now, let's see where Brian is ranked in Google.
Boom… he's at #1 already:
Good content that's written on a particular keyword will always outperform others. Brian also ranks at #3 for "white hat SEO strategy," a keyword that he mentioned a few times in the blog post.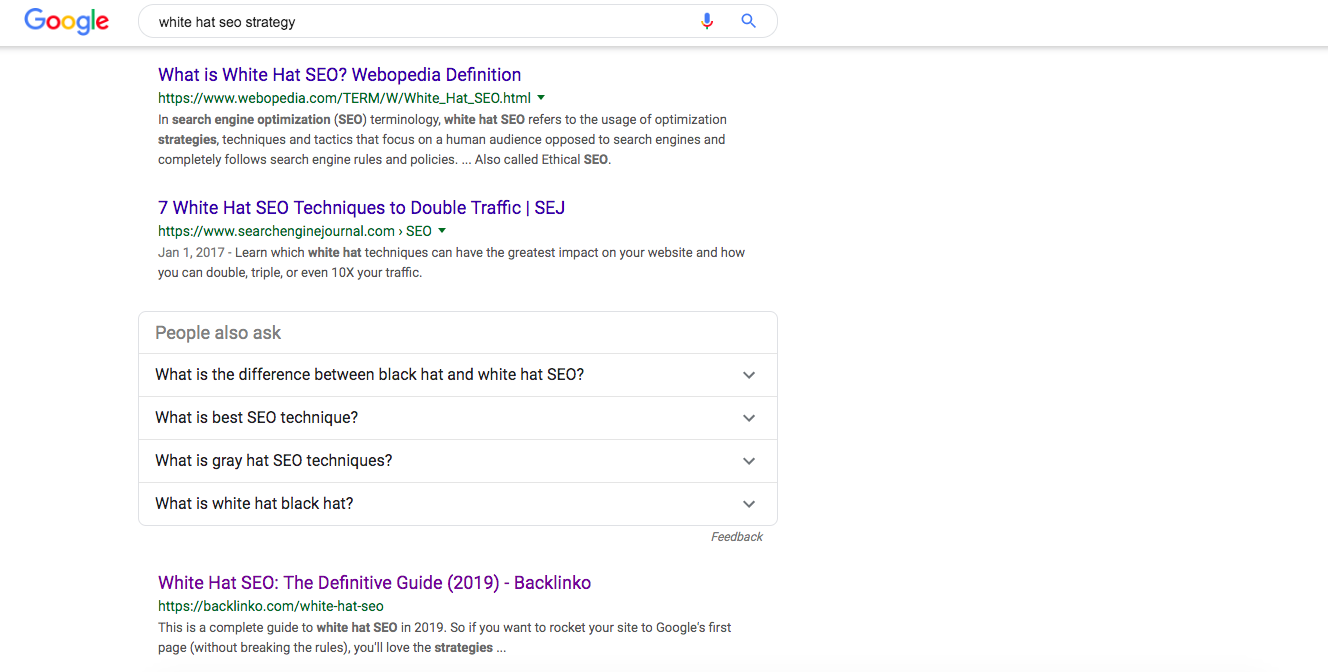 Granted, Backlinko.com is an authority blog. It has thousands of relevant and trustworthy links pointing to its pages.
So, Brian's blog pages will probably outrank yours, especially if you're just starting out.
But, one of the contributing factors to Brian's success in search engine optimization is his keyword approach. You can increase your chances of ranking highly in the search engine results pages (SERPs) if you follow his lead.
Let's assume that your keyword research has yielded the following primary long-tail keywords:
Conversion rate optimization software

Build a sales funnel checklist

How to create a Tumblr blog
We can model Brian Dean's strategy of adding his long-tail keywords at the beginning of the headline. Here are unique headlines that you might use:
Conversion Rate Optimization Software: Increase Your Email Signups Fast

Build a Sales Funnel Checklist: Simple Strategies for Increasing Sales

How to Build a Tumblr Blog for Beginners in 5 Steps
Better yet, use numbers in your headline. Data from Conductor found that numbers in headlines resonate strongly with both male and female readers. 
Therefore, the headlines above become:
13 Conversion Rate Optimization Software Tools You Should Try

7 Steps to Build a Sales Funnel: Checklists to Increase Your Sales

5 Simple Steps on How to Build a Tumblr Blog Fast
When I started integrating long-tail keywords into my posts, I increased my search engine organic traffic to 173,336 visitors per month.
That's a pretty great result. But, not all of the backlinks that QuickSprout.com generated were solely from my own efforts. I can only do so much. Other blogs and authority sites linked to my posts.
So, the point is this: Learn to link out to other blogs. Don't be scared of whoever your keyword competition may be – link out to their best posts. Rand Fishkin highlighted the 5 core reasons why you should link out to others from your site:
It makes your site a more value, scalable resource

Search engines likely reward the behavior algorithmically

Linking out sends trackable organic traffic

Linking out incentivizes links in

Linking out encourages positive participation & contribution
Don't see yourself as competing with others. Instead, think of it as "complimenting other blogs."
Find out what your so-called competitors aren't doing and do it. Compliment their efforts and make the web a better place.
Linking out to authoritative blogs and pages is a good search engine optimization practice.
I also link out to authority blogs in my posts, especially when these pages contain images, charts, screenshots or visual information relevant to my post: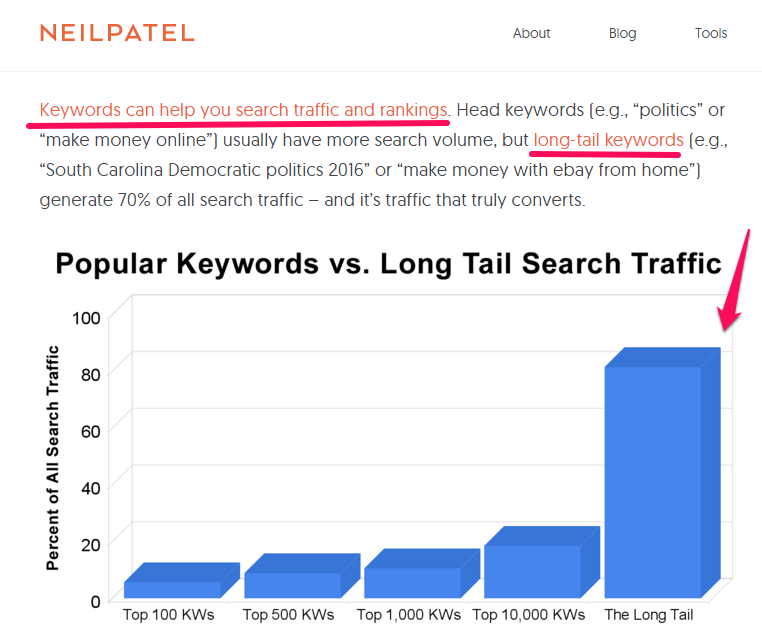 And, speaking of keywords, link out to authority blogs and pages with long-tail keywords. As long as you're not trying to manipulate search volume performance in any way with long tail keyword phrases and the search term flows smoothly in the post, long tail and exact-match anchor texts won't annoy Google.
Here's an example, in one of my blog posts: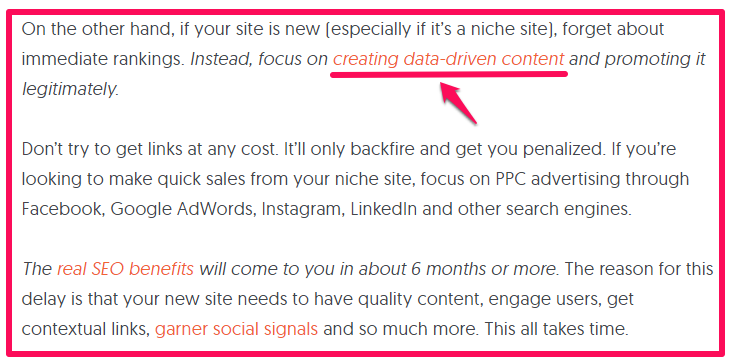 To be on the safe side, use branded long-tail keywords as anchor texts when linking out to authority pages. That way, users will be well-informed that you're referencing another site.
Conclusion
Search engine optimization is not a shortcut to quick rankings.
Yet, sadly, most brands and marketers still view search engine optimization as a quick way to dominate organic search volumes and increase revenue.
But, real SEO benefits usually start showing in about 6 months or more. If you're not going to be patient, then don't even start.
You can use other channels to drive organic traffic to your site. Paid ad networks, such as Facebook Ads, Google Ads, and other platforms are still very useful.
But, if you stick with it, you'll definitely reap the benefits, because long tail search traffic is usually more targeted than traffic from social and other platforms.
I think it's worth waiting for.
What specific search volume results did you achieve when you started integrating long-tail keywords into your blog posts?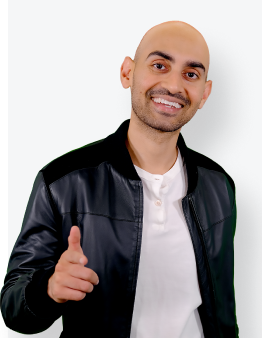 See How My Agency Can Drive Massive Amounts of Traffic to Your Website
SEO - unlock massive amounts of SEO traffic. See real results.
Content Marketing - our team creates epic content that will get shared, get links, and attract traffic.
Paid Media - effective paid strategies with clear ROI.