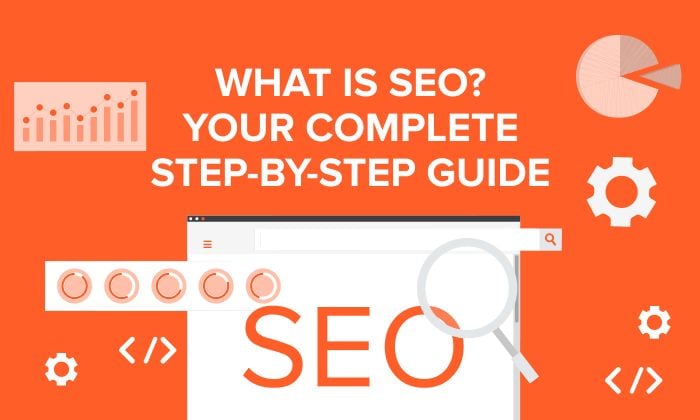 If you've found yourself Googling "What is SEO?" I'm here to help.
SEO stands for search engine optimization, a marketing strategy that improves your website's organic visibility in search engines like Google and Bing.
But that's just the tip of the iceberg. You need to be able to do much more than just define the acronym if you want to increase your website's traffic.
That's why I created this in-depth beginner's guide. If you want to hop to a specific part, I've made a handy table of contents to get you started:
I recommend reading the article in full if it's your first time. But if you want the condensed version, read my key takeaways below.
Search Engine Optimization in a Nutshell
There's a lot to unpack if you want to know how search engine optimization works and why SEO is important, but let me give you the top-level view.
SEO stands for search engine optimization. It's the practice of making websites rank higher in the organic results of Google and other search engines.
SEO is important because it is usually the biggest source of traffic for most brands. It also doesn't depend on continual reinvestment like paid marketing.
There are two types of SEO: black hat vs. white hat SEO. Both can generate results in the short term, but Google may penalize black hat techniques.
If you want to improve your site's SEO, then you should focus on the following things:

Finding relevant keywords
Creating great content
Improving your site's structure
Optimizing on-page SEO elements
Building more backlinks
Optimizing for local searches

Google changes its search algorithm regularly. Don't try to beat it; just focus on following best practices.
If in doubt, read Google's E-E-A-T guidelines.
Be patient. Expect to wait at least six months to see results.
What Is SEO?
As I explained in the introduction, SEO stands for search engine optimization. And what actually is search engine optimization? It's a set of processes that help websites rank higher in the organic results of Google and other search engines.
The key difference between SEO and paid advertising (like PPC) is that an SEO strategy involves "organic" ranking, which means you don't pay to be listed. Instead, you rank, thereby having the best (or best optimized) content on that topic.
Paid advertising, like PPC ads, on the other hand, lets companies pay to sit at the top of Google. Rather than getting traffic for free, you have to pay every time someone clicks on your ad.
Doing SEO doesn't mean you can't run PPC ads. Most companies choose to (and should) run both SEO and PPC campaigns to ensure they get as much traffic as possible.
To better understand how you can rank your content higher in the search engines, you need to first understand how search works. That's the ultimate goal of this article. By the end, you'll know the ins and outs of search so you can optimize your content to rank higher on Google and get more eyeballs on your posts.
Core Elements of SEO: On-Page SEO, Off-Page SEO, and Technical SEO
When it comes to optimizing your website for Google, there are three equally important types of SEO you need to do: on-page SEO, off-page SEO, and technical SEO.
On-page SEO is the process of optimizing your website's content. This includes creating high-quality content and incorporating target keywords.
Off-page SEO is the process of improving your website's trust and authority through backlinks.
Technical SEO is the process of optimizing your website's technical aspects, like its page load speed and structure.
Why Is SEO Important?
To put it simply, SEO can be a massive source of traffic for your website. Over 83.9 billion people visited Google.com in April 2023 alone. That's a staggering number of people, and even a tiny fraction of them could make a huge difference to your business.
It's also the biggest source of traffic for most websites, with over 60 percent coming from search engines.
Businesses don't have to pay for that traffic, either. Unlike paid ads, whether that's PPC ads on search engines or ads on social media platforms, businesses continue to see rewards from SEO long after they've invested in link-building campaigns or created great content.
SEO Strategies: Black Hat vs. White Hat
There's more than one way to optimize your website's presence in search engines. Most marketers will use one of two main approaches: black hat SEO and white hat SEO.
Black hat SEO uses spammy optimization techniques that try to trick Google into ranking your website. It might work in the short term to generate traffic, but Google will end up penalizing and even blacklisting your site in the end.
What do these techniques look like? Here are some of the most common:
Duplicate content: Copying content from other high-ranking websites.
Invisible text and keyword stuffing: Including a ton of keywords in your article, either as part of the copy or in the same color as the page's background so the user can't see them.
Cloaking and redirecting: Strategically redirecting high-ranking domains to irrelevant and often dubious websites.
Spammy linking building: For example, purchasing a Fiverr package promising you 5,000 links in 24 hours.
Since Google penalizes sites that do these things, you'll only hear me talk about white hat SEO—the use of SEO optimization techniques that comply with the guidelines and terms of service of search engines. I've always played the entrepreneurial long game, and I believe white hat SEO is the way to go.
One other thing to note: there is such a thing as gray hat SEO.
Grey hat SEO is not as pure or innocent as white hat SEO, but it isn't quite as egregiously manipulative as black hat techniques can be. You're not trying to trick anyone or intentionally game the system with gray hat tactics. However, you are trying to get a distinct advantage.
See, Google's standards aren't as clear-cut as they'd like you to believe. Many times, they might even say contradictory things. For example, Google has said they're not a fan of guest blogging to build links.
Now, what about guest blogging to grow your brand? What if you do it to build awareness, generate high-quality traffic back to your site, and become a household name in the industry?
In the SEO world, it's not so much about what you do but how you do it. If you're purchasing guest posts on sites that have nothing to do with your niche and spamming a bunch of links, you're going to get penalized. If you're creating unique guest posts that provide value to readers on sites that are relevant to you, you'll be fine, and the link juice will flow nicely to your site.
SEO Marketing Basics: The Complete Breakdown
Now it's time to learn how SEO marketing breaks down into its constituting parts. Below, I'll cover all of the things that you need to optimize during a comprehensive SEO strategy.
Don't expect to see results immediately, however. It takes time for your SEO efforts to have an effect, and you may not see an increase in rankings for several months
Content
You've probably heard it before: "Content is king."
Why?
Google's goal is to "deliver the most relevant and reliable information available." So, if you want to rank, you better make sure you create exceptional content.
Elements of Content
There are three elements of your content you should focus on when optimizing: quality, intent, and freshness.
Creating quality content is essential.
It used to be easy to create high-quality content. But now, there's so much competition, and the standard of content is so much higher that writing a great article or guide isn't necessarily enough to be rewarded by Google.
It's why one of my favorite strategies when creating content is to piggyback off of what others have created, add more value, and make your piece of content more in-depth.
It's not just enough to write more words; you need to cover topics in more detail, too. This is particularly important in the wake of Google's August 2022 helpful content update, which rewarded sites that gave visitors a satisfying experience.
Of course, the great thing about writing high-quality, comprehensive content is that it should attract more links, too.
You also need to make sure your content matches the intent behind each search
Google puts a lot of emphasis on intent. It aims to understand what the searcher is looking for and deliver exactly what they want.
As a content creator, you must ensure your content matches the search intent that Google has assigned to your target keyword. That means you probably won't be able to rank a blog post when the search results are full of e-commerce product pages and vice-versa.
Finally, you need to make sure your content is fresh. The more up-to-date your content is, the better. Going through and updating your content for accuracy, fixing any broken links, and refreshing old data with new statistics that are more relevant are all ways to show Google your piece of content still deserves a spot on page one.
4 Tips for Creating Quality Content
Here are my best SEO tips for creating content readers love and Google respects:
Understand user intent: You need to know what the reader wants to accomplish when they land on your page.
Develop a customer persona: You also need to know who your reader is, what they like, what they dislike, and why they're there.
Break up the text: People have short attention spans, and writing giant walls of text doesn't work anymore; you need to break it up with plenty of headers and images.
Make it actionable: There's nothing worse than reading a piece of content and not getting everything you need to accomplish something.
Keyword Research and Selection
Keyword research is the process of finding keywords (the phrases people enter into Google). Good keyword research will help you rank better in Google and make sure you create relevant content.
The best SEOs are constantly doing keyword research, usually in the form of quarterly SEO planning—and I'm going to show you exactly what they do below.
Elements of Keyword Selection
There's a lot more to keyword selection than going through your keyword research tool and choosing every keyword on the list. You need to choose relevant keywords that aren't too competitive and have the right search intent.
Focus on keywords that are relevant to your business and attract the right target market. For example, you don't want people looking for freebies if you sell consulting services for $10,000 per month.
It's better to choose keywords with a lower search volume (meaning fewer people are searching for them).
Next, avoid picking keywords that are too competitive. Most keywords with tens of thousands of searches will be out of reach for small brands.
Take content marketing, for example. It gets 18,100 searches a month, but the average page has 14,000 backlinks and a domain authority of 88 (out of 100).

My advice is to choose long-tail keywords. Long-tail keywords are––you guessed it––long keyword phrases that get super specific. They're often easier to rank for, and they bring you targeted traffic. You can find them easily using a keyword research tool like Ubersuggest.
There's no reason you can't get on page one for competitive keywords eventually—especially if you are creating helpful, quality content. But it isn't going to happen overnight.
Finally, analyze search intent to pick keywords that convert visitors into customers. If you choose keywords that have information intent, you can add users to the top of your funnel, but they probably make a purchase. If you focus on keywords with transactional intent, however, users should convert at a much higher rate, even if fewer people are searching for the term.
4 Tips for Selecting the Best Keywords
Here are my SEO tips for conducting the best keyword research and selection:
Use tools to help: It's hard to do effective keyword research without tools like Ubersuggest and Ahrefs.
Learn about semantics: You don't necessarily have to create a new page for every keyword. Instead, you can use the same page to target multiple related keywords.
Understand the intent: You must know the intent of the keyword to create great content.
Spy on the competitors: One of the best ways to perform keyword research is to see what your competitors are doing and follow their lead.
HTML
Your site's HTML is an important piece of the SEO marketing puzzle. Without proper tags, headers, and descriptions, Google will have a hard time figuring out what your content is about and why it should rank higher than the competition. Don't worry, though; you don't need to know how to code to optimize your website for SEO. Some plug-ins can help!
Elements of HTML
There are several HTML elements you need to optimize on your website:
Title tags
Meta descriptions
Schema
Subheadings
Alt text
URL slugs
Your title tag tells search engines what your page is about. It is displayed in the tab at the top of your browser and when your page shows up in Google. Make sure that your title tag contains your target keyword.

The meta description describes your page to search engines. It also shows up in Google results under your title tag—telling the searcher what your content is about.
It's important to optimize this section with keywords and make sure it's no longer than 160 characters. Here's an example of what I mean: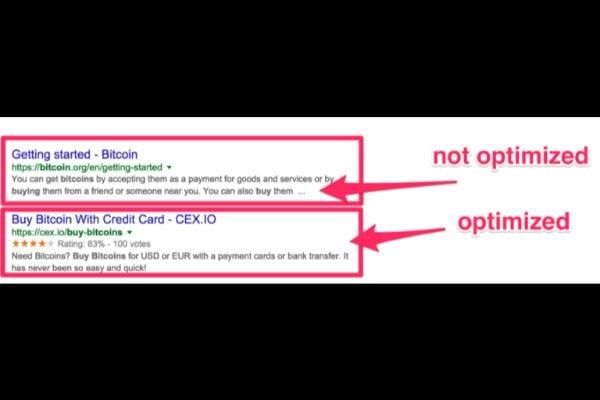 Schema is a form of markup that helps search engines understand more about your page. Specifically, it breaks down each part of your content and tells search engines what those parts mean.
You can use schema to mark up a lot of different things. For example, the author of the above example with Bitcoin used a schema to create the rating Google displays on the SERP. It's a rather small factor but definitely good practice.
If you want to learn more about Schema and add it to your website, use Google's Structured Data Markup Helper.
Subheadings help structure your content, making it easy for search engines and users to read. They also allow you to add keywords to your content to boost your rankings.
One example of a subheading would be your H1. This is the main heading of your article and is displayed at the top. While it might just seem like any other heading, Google places the most importance on it.
Your h1 tag should:
Include a long-tail keyword
Be short (20-70 characters)
Give the user a clear idea of what the article is about
Here's an example:

Alt text describes the images in your article. Unfortunately, most marketers don't make use of alt text as much as they should. The point of alt text is so search engines can verbally describe the image to people who are visually impaired. When you write alt text, you want it to properly break down what the image is, but you can also use these for inserting keywords.
The URL slug is the part of the URL that tells Google what the content is about. It's a great way to tell both humans and Google what your content is about before they read it and help them navigate your website.
In this example, we used "what is SEO" to describe the page, so Google knows the article will break down the details of content marketing.
4 Tips for Making HTML Improvements
Here are my most important SEO tips to keep in mind as you make HTML improvements to your site:
Use tools to help you: SEO marketing tools can help you identify HTML issues with your site.
Piggyback on the competition: Stealing is bad, but using your top-ranking competitors for inspiration isn't. If you're struggling to figure out what you should use for your title tag or meta description, see what the competition is doing.
Never stuff keywords: There's nothing worse than a keyword-stuffed meta description that reads horribly. Google will see right through it and may even penalize you if you do it enough.
Don't forget H2, H3, and H4 headers: We talked about H1 headers, but don't forget to optimize your website's other headings.
Site Architecture
Your website's architecture—how it is laid out and built—can seriously impact your site's ranking abilities. This includes things like a clear structure, fast loading times, a safe connection, and a mobile-friendly design.
Elements of Site Architecture
When designing, building, and optimizing your website's architecture, there are five things you should pay attention to:
Crawlability
Duplicate content
Mobile responsiveness
Speed
Security
Your website should be easy for search engines to "crawl" it. This makes it easy for Google's search bot to index and understand your website. The more relevant internal links you have between pages, the easier it is for Google to crawl. Just be sure you aren't stuffing links.
You can also improve crawlability by creating a sitemap with a simple plugin if you're on WordPress or using an online XML sitemap generator.
You should also avoid duplicate content, which causes canonical issues. Canonical issues occur when one or more URLs on your site display similar or duplicate content.
While it doesn't matter if short paragraphs or phrases are repeated on your website and social profiles, you should avoid reposting entire blog articles anywhere else online or having two pages with identical content.
Next, make sure your website is mobile-friendly. Google indexes for mobile first, which means we need to create a site that performs well on mobile because that will be one of the most important factors when Google determines how easy it is to crawl your site.
Here's a full list of what you can do to make your content mobile-friendly.
Your website should also load quickly. With the implementation of Core Web Vitals, Google puts a lot of emphasis on page speed and usability. If your site or certain elements on the site load too slowly, Google may penalize you or make it more difficult for you to outrank your competition.
You can use PageSpeed Insights to check the performance of your website.
Finally, you'll want to make sure Google considers your website secure by purchasing an SSL certificate. It's simple to set this up, and they will give you the little lock next to your URL so users know your site is secure. This is an important trust signal, and while it doesn't provide that much SEO juice, it's a best practice that will benefit your long-term goals.
3 Tips to Improve Your Site Architecture
There are three important factors to keep in mind as you improve your site's architecture.
Make sure you understand Core Web Vitals: The most important piece of the puzzle is Core Web Vitals. You need to understand what these are, how they impact your rankings, and what you can do about them. Read more about it and make sure you're making all the right moves on your site.
Get a sitemap: Use the WordPress sitemap plugin (or something similar) to create a sitemap. This is essential for large websites.
Fix canonicalization issues: There are ways to fix canonicalization issues. The exact solution depends on what's causing the original issue. It could be as simple as removing a line of code or as complicated as restructuring your entire site to prevent duplicate content.
Trust
Is your website trustworthy? That's what Google is trying to work out.
Trust is getting increasingly important, and most of the recent Google updates have hit spammy and obscure websites. Google uses an algorithm called TrustRank to determine a website's quality and fight spam.
Elements of Trust on Your Site
There are three parts to building trust: authority, bounce rate, and domain age.
Google determines the overall authority of your site by a mix of two kinds of authority you can build:
Domain authority, which has to do with how widespread your domain name is. Coca-cola.com is very authoritative, for example, because everyone has heard of it.
Page authority, which relates to how authoritative the content of a single page (for example, a blog post) is.
Your bounce rate is simply a measure of how many people view only one page on your site before immediately leaving again.
You can decrease your bounce rate by creating great content, improving your site's speed, and attracting your target audience.
Domain age is the age of your website. Sometimes, the most respected person in the room is the oldest, right? The same goes for the internet. If a website has been around for a while, producing consistent content and doing so in a way that is pleasing to the search engines, it'll rank higher than a new site, no matter what.
3 Tips to Build More Trust
If you want to increase your site's trust in the eyes of Google, I recommend the following:
Be patient: Trust isn't something that happens overnight. Sometimes, you just need to be patient and realize Google isn't in any hurry to crawl your site. One way you can get them to do it sooner is by making slight changes on the site and requesting indexing in Google Search Console. This will push Google to act, but it still doesn't guarantee anything.
Understand intent: A big part of SEO marketing is understanding what users want, not what you want them to want. When someone searches for something in Google, they're looking to accomplish something. If you provide that solution, make sure you provide the whole solution; otherwise, they'll get to your site, realize it's not good enough, and move on.
Give them what they want: One great tip to prevent users from bouncing is to give them what they want as soon as they land on your site. Most people aren't looking to read an entire article. Instead, they want an answer, and the sooner you give it to them, the better.
Links
A backlink (or link for short) is a link your website receives from another website. Gaining backlinks from high-authority websites is arguably the best way to improve your SEO.
One problem a lot of SEOs have is they don't understand how to build links the right way. If you use the wrong tactics, you're setting yourself up for failure from the beginning. If you choose to take the long-term strategy and build links the right way, it might take a bit longer, but you'll thank yourself down the road.
Elements of Link Building
There are three important factors to consider when building links for your site:
Link quality
Link quantity
Anchor text
The quality of a link matters much more than the total number of links you have. That's a relevant link from a highly trusted website, FYI. The more relevant and trusted the website, the better.
While having high-quality links is better than thousands of spammy links, you want to get as many high-quality links as possible. That's why you need to build high-quality backlinks at scale over time.
Anchor text is the text you attach a link to. The goal is for the text to appear as naturally as possible in the article. You want to have a variety of different types of anchor text because they each have their place in the SEO realm. In other words, you don't want every link to include your keyword—that looks suspicious.
3 Tips to Improve Your Link Profile
If you want to improve your link profile, follow my tips below:
Don't take shortcuts: There are no shortcuts in link building; you need to take the time to build them the right way. This involves having conversations with people, pitching yourself, and telling them how you can provide value to their site. Look for broken link opportunities, find sites that are relevant to your niche, and pitch them via email or social media.
Remove bad links: Google has something called the disavow tool that allows you to remove links that might be hurting your ability to rank. You'll want to use this tool carefully because disavowing a ton of links could harm your site. Removing links that are no longer relevant or that may have popped onto your profile by accident can help clean up your link profile.
Don't forget internal linking: Internal linking is an important piece of the puzzle, too. If in doubt, aim for about 2-4 internal links in every post.
Local SEO
Local SEO is different from the other components of SEO I've discussed so far. Instead of trying to rank your website in search engines, local SEO aims to rank your business in the map and local listing results on search engines.
Elements of Local SEO
Four main factors impact your local SEO:
The location of the searcher and your business
Your Google Business Profile listing
NAP citations
Online reviews
The location of the searcher and your business is the most important local SEO ranking factor. If a user is searching for a pizza joint in Chicago and you're based in Detroit, you're not going to be listed. But Google may also not list you if you're on the wrong side of Chicago to the searcher. In other words, proximity is paramount.
The quality of your Google Business Profile listing is arguably the next biggest determinant of your local SEO rankings. Google rewards businesses that fill out their profile in detail. That includes listing your website, phone number, address, and opening hours, as well as including photos of your business.
Next up, we have NAP citations, which stands for name, address, and phone number. A NAP citation is any mention of your business name, address, and phone number online. You can think of them as local SEO backlinks—and the more citations you have, the better.
Online reviews are the final important local SEO ranking factor. Google wants to send its users to great local businesses, so the more five-star reviews your business has, the better.
3 Tips to Improve Local SEO
If you want to improve your local SEO, follow these three tips:
Optimize your website for local SEO: Make sure you include your name, address, and phone number prominently on your website and use schema markup to let search engines know it's present. Make sure to include lots of long-tail local keywords, too.
Encourage customers to leave a review: Make sure you ask every customer to leave a review of your business. Ideally, this will be on Google, but Yelp and other third-party review sites still count.
Build more NAP citations: Use a tool like Moz Local or BrightLocal's Citation Tracker to find, fix, and create local citations.
Social
Lastly, let's take a look at the social factors of off-page SEO. Besides social signals, there are other ways social media can help you rank better.
Elements of Social for SEO
There are two main factors of influence:
The quality of your shares
The number of your shares
SEO marketing and social media marketing go hand-in-hand because the goal is to tell Google how great you are. If people are out there sharing your content and spreading the reach further, what does that tell Google?
It tells Google that people like what you have to offer, and you're providing great value to people. This is good for Google.
The secondary social metric is the number of shares. Landing a viral hit is every marketer's dream, but it is overrated. There are a lot of tips and hacks out there, but the truth is a little simpler: make awesome content.
To get shares in the SEO game, you simply need to create awesome content that people like to read, on a site where people are reading.
3 Tips to Improve Your Social Sharing
Here are three SEO tips to get more shares on social media:
Create great content: Creating the best quality content is the way to get shares, plain and simple. Google spends plenty of hours and more money than you can fathom preventing people from gaming the system.
Be consistent: Consistency is extremely important in SEO and social media. If you post once every three months, not only will social media algorithms hate you, but there won't be anyone around to share the content because it's been so long since your previous post. Posting consistently on social media requires you to have new content to share regularly. It all goes full circle.
Make it easy: There are many plugins to promote social sharing, use one of them. If the reader can't figure out a simple way to share your post on social media, they'll likely move on.
Google's E-E-A-T Guidelines
One of the best ways to get better at SEO is to read Google's training material for human content evaluators. In addition to their algorithms, Google employs Quality Raters to improve the search engine experience for everyone.
Google explains in its evaluator guidelines that a high-quality page needs to possess a high level:
Experience
Expertise
Authority
Trustworthiness
Or, as this set of guidelines is more commonly known, E-E-A-T.
Prior to 2022, these guidelines used to be E-A-T. But, Google made significant changes to its guidelines, which included adding experience to the beginning of the acronym.
That means that Quality Raters can now evaluate content by the extent to which the creator can be considered to have first-hand experience in the topic.
As well as experience, Quality Raters evaluate the expertise of the author of the content, the authority of the rest of the content on your site, and the trustworthiness of your website.
To rank highly in Google, you need to be taking steps to improve each part of your E-E-A-T score.
6 Tips for Improving Your E-E-A-T Score
Get first-hand experience: Forget faking it to make it, if you want to rank in Google you need to prove that you know what you're talking about. That means showcasing the fact that you are an industry practitioner by listing credentials on your site, taking original photographs, or proving that you've bought the affiliate products you are recommending.
Do your research: This may seem obvious, but the best way to truly portray expertise, authority, and trustworthiness is to share accurate information. Bring in expert interviews or guest posts, when you're able to. Make sure that the information you are sharing is correct, in the context of the topic, and for the audience who will be reading it. Doing otherwise is the quickest way to score low with these criteria.
Be thorough: Now that you're sure that your information is accurate, you'll also want to make sure it's comprehensive. Answering a question with a short or simplistic post can feel dismissive. To be seen as an expert, your content needs to leave the reader feeling satisfied and equipped.
Speak to what you know: When you are developing content for your website, stick with what you're about as a brand. Avoid shiny object syndrome and getting lost in content that isn't relevant to what your website is about. Sticking to your topic of expertise will help build your reputation as the place to go for information about that.
Speak to your audience's needs: On a similar note, you're only going to be able to build trustworthiness and authority in the mind of a reader if you speak to the topic that readers are coming to read. What is it about the topic that they need to know about? What problems can you solve? There's a difference between being able to speak in-depth on a topic because you know it so well and being able to teach it in ways that feel accessible and relevant. The latter will help readers see you as an authority and someone they can trust.
Prove you can be trusted: Don't give Quality Raters or real users the chance to think you're a shady business. Get an SSL certificate that makes your site secure, provide contact details that make it easy for people to contact a real human, and add real reviews to your site.
SEO and Google Algorithm Updates
Google uses a secret algorithm to rank websites in its search results. You may have heard that the algorithm is always changing, and, to some degree, that's true. Google makes what they call "core updates " multiple times a year to better serve those searching online—you can read all about them in my Google algorithm cheat sheet
Google makes so many updates that you shouldn't be concerned about its algorithm as you should be about keeping up with SEO best practices.
Your main concern should be to continue creating high-quality content, using relevant keywords, and building reputable backlink relationships. You shouldn't try to "game the system" when it comes to Google's algorithms, as a major reason for the continual updates is to weed people who do that out. You could hurt your rankings by focusing too much on the algorithm and not enough on your content.
Frequently Asked Questions
How long does it take for SEO to work? 
SEO is not a fast track to success. It never was and never will be. You need to have a long-term plan when it comes to SEO because it can take between six months and a year to rank for most keywords.
What is the most important factor in SEO marketing?
No one factor is most important because they're all important. But, if I had to pick something you should focus on, it would be providing quality information to people. You can have all the SEO pieces in place, but if your content isn't good, it doesn't matter because people won't be interested in you.
How do I rank faster on Google?
The best way to rank is with consistent effort regularly. If you're in it to win it, you'll want to steadily build links to your site, create new content, and update previous content. Doing this day after day will yield the results you want. 
Can I rank a website without SEO?
Of course, there are situations where people get lucky, but it's likely because they're providing something a lot of people aren't. Many people are competing in the same space, which is where the best SEO can win. Affiliate marketing is a great example of this. There are a million sites that focus on sporting goods for affiliate marketing. Competing in this space requires a solid understanding of SEO marketing.
How much does SEO cost? 
The cost of SEO depends. You can hire a professional to handle it for you, or you can do everything yourself. Doing it yourself will take a lot longer, and you'll have to account for the learning curve. However, for the most part, you could do it for almost free if you do everything on your own—it just costs your time. 
Conclusion
I hope you got a lot out of this guide because there is a lot of information here. Be sure to refer back as you make your way through your SEO marketing journey. The most important thing to remember about SEO is there are no shortcuts in this game. You need to do things the right way and go the extra mile because that's how you'll stand out.
What do you think is the most important factor in SEO marketing?