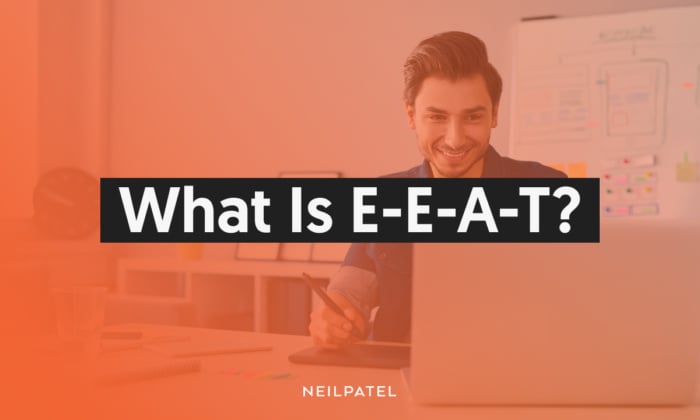 Which four words describe content and websites that deliver outstanding value?
Experience, expertise, authoritativeness, and trustworthiness—or E-E-A-T.
E-E-A-T signals what Google and potential customers are looking for—expert-level content that answers all the right questions.
E-A-T first showed up in Google's Search Quality Guidelines in 2014 and has progressively become one of the most important aspects of SEO. It became especially critical after the August 2018 Google Medic update. More recently, Google added the "Experience" parameter to its Search Quality Guidelines to add another "E" to the acronym.
Having stellar SEO content to support E-E-A-T can improve your chances of scoring prime SERP real estate and outlasting the test of future Google algorithm updates.
This blog post might make you a little hungry to know more about the elements of E-E-A-T and how it helps your SEO efforts.
Let's dive into what these concepts are all about.
The Basics of E-E-A-T
In its Search Quality Evaluator Guidelines, Google explains that E-E-A-T content has a "high level of Experience, Expertise, Authoritativeness, and Trustworthiness."
Note: MC means Main Content. Google says that high-quality MC takes effort, originality, skill, and talent to create (Wholly AI-produced content need not apply).
Putting this high-level content on your website can result in the following benefits:
Higher search engine rankings: Google's algorithm loves content that promotes your site's E-E-A-T.
Increased behavioral metrics: This would be time on page and click-throughs to other pages of your site.
Increased social shares and backlinks: People are more likely to share your work if it is viewed as valuable E-E-A-T material.
More featured snippets: You know the top of Google's search results? That's where you'll be, commanding attention over even the first paid ads.
Still a little unsure what these E-E-A-T marketing concepts mean?
Let's break them down.
Experience
The newest element of the E-E-A-T guidelines, experience, demonstrates that the writer (or content creator) has first-hand experience in a subject. The updated search quality rater guidelines describe it as follows:
"Consider the extent to which the content creator has the necessary first-hand or life experience for the topic. Many types of pages are trustworthy and achieve their purpose well when created by people with a wealth of personal experience. For example, which would you trust: a product review from someone who has personally used the product or a "review" by someone who has not?"
Trustworthy MC that prioritizes experience might look like a blog post reviewing a product, like a new bicycle, or an editorial with someone who has worked in an industry or field for several years.
Expertise
You're an expert in your field. Now it's time to show your audience what you know by creating expert-level content.
What does that look like in action?
Say a lawyer is creating content to help potential clients. They will want to make sure their content is about their area of expertise.
For example, a real estate lawyer might write about legal red flags to watch for when buying a house. That's just one potential topic. They can determine exactly what their audience needs to know by analyzing data pulled from users' search intent.
You can also speak from an area of experience on a topic to show expertise.
A chef can show the most effective way to cut an onion without your eyes tearing up. How? They have the experience and expertise to instruct someone to get it right, even if it's just for someone looking to sharpen their knife skills at home.
If you're creating content about something not entirely in your wheelhouse, do plenty of research and back up your work with highly credible sources. You can also collaborate with trusted subject matter experts to get your content where it needs to be in terms of expertise.
The goal is for your audience to see you as a trusted expert in the field and rely on you and your product or service. It all comes down to becoming the go-to in your niche by providing users with the accurate, high-quality content they're seeking.
Authoritativeness
Don't stop at experience or expertise. That's only the beginning.
You're also the authority.
You establish authoritativeness when your work receives mentions within your field or niche. What you want is related websites with established authority in your industry promoting your content.
Other experts linking to your content demonstrates how polished and trusted your work is. It also shows that your content delivers what the headlines and title tags promise.
The more your content regularly earns backlinks and mentions on other sites, the more your content will be perceived as authoritative.
You can't have SEO success without authority.
This, in turn, increases the authority of your domain.
That's E-E-A-T marketing in action.
While links are best, mentions in the news or on social media regarding your niche are also golden in Google's eyes.
Trustworthiness
Being a trusted space is quite an honor.
You won't rank as high on Google if your content lacks credibility.
Trustworthy, quality content is accurate, up to date, and flows well from the titles to the copy.
If you want a trustworthy site, quick load times and user-friendly navigation is a good start.
Here are five more quick tips to ensure your site is trustworthy:
Make sure to note whom to contact regarding site ownership.
State the physical location (i.e., office, store address, etc.).
Have a Terms and Conditions page accessible for users.
Ensure the security of your website's domain. (Note: Google values HTTPS implementation to protect users' data).
When providing expertise, cite all sources when appropriate. Remember: Link to authoritative websites.
Why Is E-E-A-T Important?
E-E-A-T marketing is a good way to hold your content accountable (aside from Google saying it's important).
So, what's the big deal about experience, expertise, authoritativeness, and trustworthiness?
Google's Quality Rater Guidelines (QRG) do not directly influence a page's ranking—so what is it?
It's the pages' value within a site that impacts where the site lands in the SERPs.
E-E-A-T, in essence, defines a website's value.

The Page Quality ranking slider shows us where the page's value lands based on purpose and valid content shared.
Quality raters keep E-E-A-T in mind when determining how effectively a site or page meets users' needs.
They assess whether they offer a quality online experience and if the information fits users' expectations. If the raters believe a user would feel at ease reading, sharing, and recommending the information, the site receives higher E-E-A-T signals.
Consider E-E-A-T the reason why users would prefer your site over your competitors.
So, even though QRG doesn't directly affect SERP ranking, E-E-A-T may directly impact how Google receives your website.
Get on Google's good side with E-E-A-T marketing content.
E-E-A-T and YMYL Sites
E-E-A-T is important to Google's "Your Money or Your Life" (YMYL) pages.
YMYL pages are classified by topics that impact visitors' legal, financial, medical, and safety. These are the type of topics that can seriously affect a person's health, well-being, or finances.
As high-stakes topics, it's important they are rich in experience, expertise, authoritativeness, and trustworthiness.
Examples include:
Google holds these types of sites to high E-E-A-T SEO standards.
Why?
The content these sites provide must be accurate and trustworthy for users—and Google—to take them seriously. Credible, high-quality YMYL content that matches search queries and is high in E-E-A-T value puts the user at ease.
Just think of the consequences of YMYL that misses the mark.
For example, a medical site giving out bad health advice may result in severe health consequences for users who follow the information.
Sites that genuinely provide helpful information or a solution to a problem are more likely to meet these demands than sites that try to get over on Google's system.
The pages and sites doing E-E-A-T justice help people make tough decisions based on their great writing and rich media content.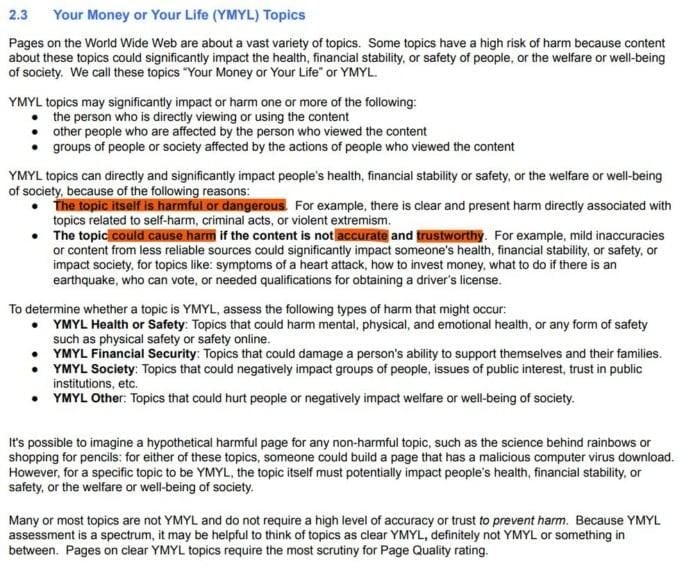 The QRG tells us YMYL sites lacking E-A-T are considered low-quality sites.
If you're giving advice about the ideal diet for someone with Type 1 diabetes, your audience wants to know you know what you're talking about. You need to make sure your content is rock solid and doesn't contribute to further irritating their conditions.
Do it right, and you'll position yourself as a credible resource. People will trust your research and advice. E-E-A-T is critical to creating genuinely helpful YMYL content.
Even if your topic is not obviously YMYL, I recommend you pay attention to Google E-E-A-T to be on the safe side.
The most recent QRG update has more information on the YMYL evaluation process and what's new, such as the accuracy of the raters and improvements to search.
Best Practices For E-E-A-T In Your Content
Now that you know E-E-A-T is about Google's algorithm and not food, you understand why it matters to your website.
When you emphasize experience, expertise, authoritativeness, and trustworthiness, you're adopting a comprehensive approach to SEO and content marketing.
Let these four pillars prop up the credibility of your content.
You want your pages to rank on Google for the most relevant search terms in your niche. You also want your content to be as helpful and accurate as possible.
Apply these E-E-A-T best practices to make your website more authoritative and trustworthy:
Create an About page: If you don't already have one, let your audience know who you are.
Collab with experts like you: Team up with another brand via guest posts or research. Not only do you need good content, but Google wants to see content from credible sources to promote to users.
Refresh your content: Content can get outdated fast. So, every once in a while, check in to make sure your content is up to date. Focus on things like stats, links, and SEO strategy.
Examples of E-E-A-T in Action
One of the best examples of E-E-A-T in action is Wirecutter. This New York Times-owned product review and guidance site routinely demonstrates firsthand experience by its writers, editors, and other contributors. Every review or purchasing guide offers a section that explains why consumers can trust their recommendations.

Nerdwallet is another site that does a great job of showing experience and expertise. For example, this post about life insurance policies features not just an author bio, but citations for its editor and a subject matter expert (SME) who reviewed it.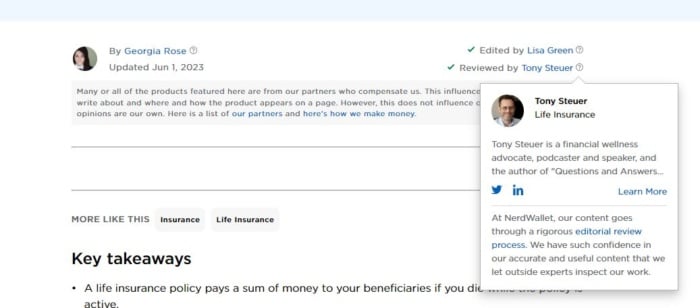 E-E-A-T doesn't replace the old E-A-T guidelines, but it does make them better. Showcasing experience in a specific area is just one more way you and your content team can help answer questions and provide valuable information to your readers, viewers, or customers.
FAQs
What does E-E-A-T stand for?
E-E-A-T stands for Experience, Expertise, Authoritativeness, and Trustworthiness. Google defines high-quality pages as pages with a high level of E-E-A-T. Google added the Experience factor in 2022.
How can I ensure my content follows E-E-A-T?
You can review the Google Search Quality Evaluator Guidelines and make updates to your site to get focused on providing users with original, high-quality content on your niche topics.
How does E-E-A-T help my SEO efforts?
E-A-T—now E-E-A-T—signals assist in determining if a site and its pages are reputable sources of information on a subject and offer actual value to users.
Conclusion
Creating content rich in E-E-A-T (and the previous version, E-A-T) is a detailed, site-wide strategy.
There are no shortcuts to developing experience, expertise, authoritativeness, and trustworthiness.
Your goal is to maintain an organically growing brand with a positive online presence.
Put the tips I mentioned into action so your site is set up to perform well in SERPs.
Remember that Google analyzes both the big picture and fine details.
Ensure every aspect of your website aims to hit the highest E-E-A-T standards (this is particularly important for YMYL pages).
These days, an overnight takeover of Google's results pages is long gone. It takes time to establish E-E-A-T.
The good news is that if you land a high E-E-A-T, it will be difficult to knock you out of Google's top ranks.
What steps do you take to create E-E-A-T content?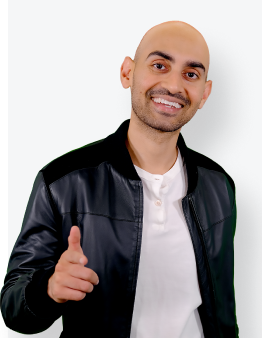 See How My Agency Can Drive More Traffic to Your Website
SEO - unlock more SEO traffic. See real results.
Content Marketing - our team creates epic content that will get shared, get links, and attract traffic.
Paid Media - effective paid strategies with clear ROI.
Are You Using Google Ads? Try Our FREE Ads Grader!
Stop wasting money and unlock the hidden potential of your advertising.
Discover the power of intentional advertising.
Reach your ideal target audience.
Maximize ad spend efficiency.