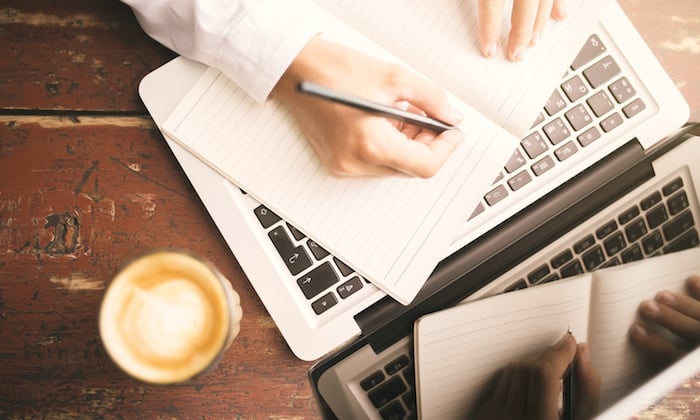 Do you have a strategy in place for creating industry leading blog content?
Regardless of your niche, from an internet marketing strategy to health, there's no way to avoid competition. It's part of life, but it doesn't have to destroy your content marketing efforts.
Instead, the best you can do is employ a strategy for creating the highest quality content. When you do this, positive results will soon follow.
You might even find yourself with a few pieces of truly viral content.
A few weeks back, I published a blog post discussing the steps first time bloggers can take to create industry leading content. While the response was overwhelmingly positive, I did receive a few emails and comments asking if there are any tools that can help improve blog content quality.
This time around, I'll examine 10 tools any blogger can use to boost the quality of their content, increase engagement, and outdo the competition.
What does the word quality mean to you?
For the sake of this tool, we're going to examine quality from the perspective that you need to choose the right topic for each blog post.
For example, a health blog should focus on health-related topics. It shouldn't branch out into other areas, as this will impact the overall quality of the site.
Ubersuggest is one of the top tools for ensuring that you remain on topic with each blog post that you create.
Its simplicity is what makes it one of my favorite tools. Combine this with top-notch results and you have something that you can rely on every day of the week.
The first step is simple: enter any keyword into the box and click "search." For the sake of this experiment, let's assume you want to create a blog post around the keyword "weight loss."

On the results page, you'll see the following: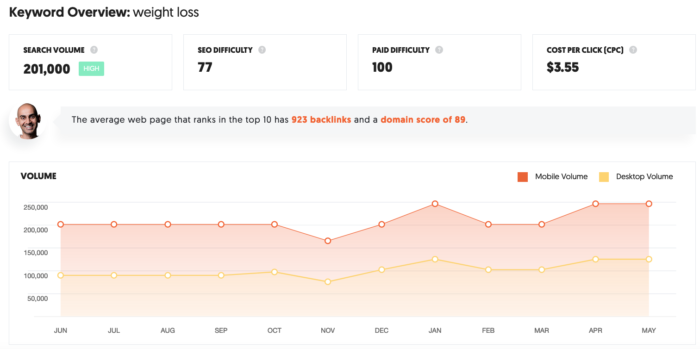 But since we're talking about how to choose the right topic for your next blog post, it's time to dig deeper. Click "content ideas" in the left sidebar. Here's what you get: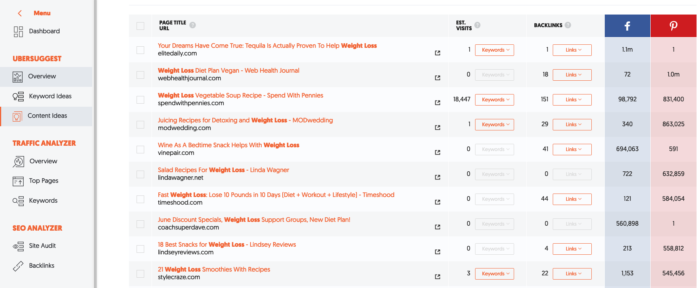 Now, you have a list of thousands of pieces of top-performing content for your specific keyword phrase. This is in addition to:
The estimated number of monthly visitors to the page
The number of backlinks to the page
The number of shares on Facebook and Pinterest
Can you create a blog post that is better than those on the list? What can you do to ensure that your piece stands out from the crowd?
In the wonderful world of blogging, the word quality can mean many different things. It's important for you to stay on topic. Not only does this ensure the highest quality content marketing strategy, but it allows you to provide your target audience with the information they're seeking.
Are you one of those people who struggles to come up with unique and engaging blog topics?
It can be extremely difficult to generate engaging topic ideas, especially as your blog grows. For example, I strive to post several pieces of content marketing strategy each week. While this is great for my readers, it can be difficult to come up with unique angles for each blog post.
If you struggle in this area, HubSpot's Blog Topic Generator is sure to help. This takes all the work out of the process, as this high powered tool can step in and provide you with ideas for your next blog post.
All you have to do is fill in the fields with a few keywords that you want to write about. From there, the tool will create a week's worth of blog post titles. What more could you want?
Sticking with the weight loss example, here is the first batch of topics that were generated:

Depending on your blog, your approach, and what you want to accomplish, some of these titles may work for you. Others, of course, could fall flat.
Here is my advice: use this tool to generate basic ideas and to stimulate your brain. From there, you can tweak each title to better suit your approach.
Also, keep in mind that you can hit the "try again" button if you don't like any of the first five ideas. You never know what you'll come across if you let the tool generate more topics based on a different set of keywords.
What tool do you use to test the readability of your work?
If you rely on your own two eyes, as opposed to a tool, it's possible that you could make a mistake along the way. It's easy to become so familiar with your style that you assume every blog post is perfect.
To protect against this, get into the habit of using the Readability Test Tool. You can test your text in three distinct ways:
Test by URL
Test by direct input
Test by referrer
Since you don't want to publish your content marketing strategy until it is 100% ready, I suggest using the test by direct input feature.
With this, all you have to do is enter your text in the box and click the "calculate readability" button. Once you do this, you will be taken to a page that breaks down the results into:
Readability Indices
Text Statistics
The Readability Indices results look something like this: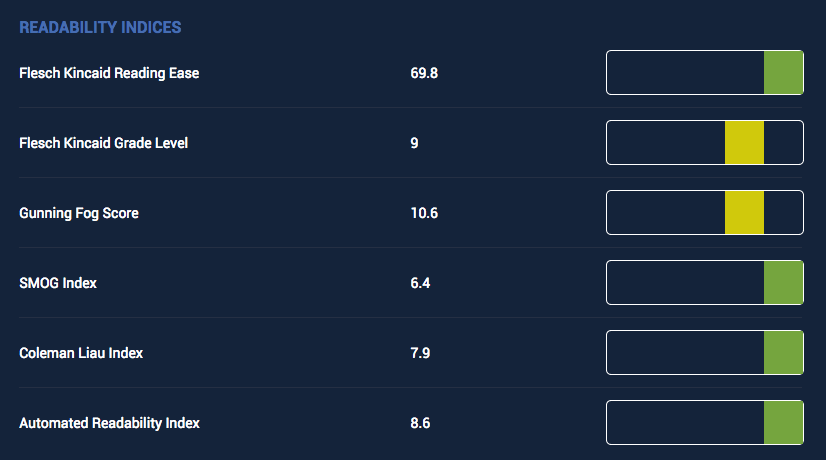 Underneath the results, you'll find advice on how to decipher the data. For example, the Flesch Kincaid Reading Ease is based on a scale of 0-100. The higher the score the easier the text is to read.
High quality content marketing strategy is easy to read. Rather than hope for the best, use the Readability Test Tool so you know for sure that you're on the right track. Your target audience is sure to thank you for it.
Do understand the benefits of making your writing "bold and clear?"
Regardless of your answer, you can use the Hemingway Editor to your advantage. With the help of this easy to use tool, it won't be long before you're creating high quality content marketing strategy with simple sentences and no errors.
Here's an example of a passage that has been edited by the app: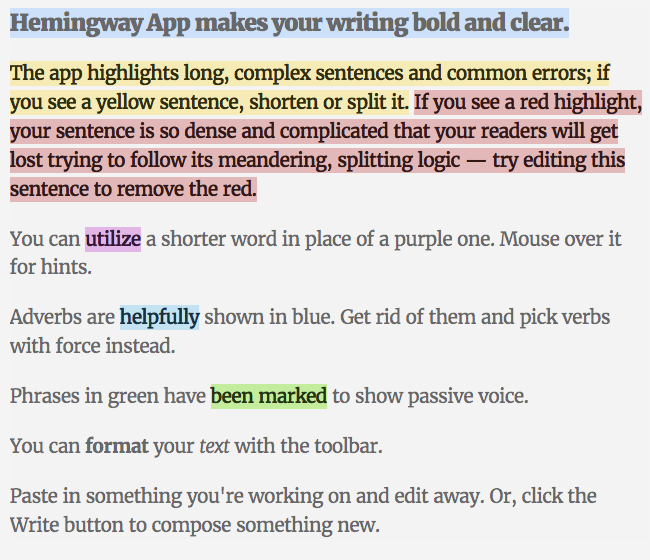 As you can see, the tool highlights any problem areas. For instance, a red highlight means a sentence is too complicated for your readers to digest.
In addition to the in-text highlighting, the right sidebar provides additional information: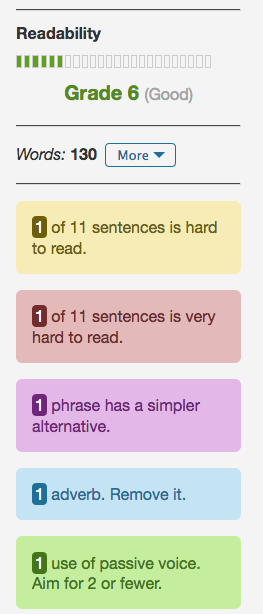 I know what you're thinking. It sounds like a lot of work to run every blog post through the Hemingway Editor.
At first, you may struggle with this. After all, editing a blog post can be every bit as difficult as creating it in the first place. However, I strongly urge you to fight through the growing pains. Soon enough, you'll look back and wonder how you ever got by without this nifty little tool.
What's the first thing that comes to mind when you think about blog content?
Like most, your mind immediately wanders towards a long-form blog post full of images, links, and anything else that will improve its quality.
However, I want you to remember something: written content is only one option to consider.
I don't publish infographics often on this blog, but I take full advantage of this on some of my other websites.
If you don't have the resources to hire a professional designer, if you don't have the skills yourself, you can use Piktochart to handle this process for you.
This tool gives you the opportunity to easily and efficiently create high quality infographics.
Start by choosing a template that matches the overall tone of your content marketing strategy and the style of your blog. From there, the real fun begins. This is when you add the content. If you want the quality to be top notch, you need to put plenty of time into the creation of content. The design is important, but what you say is what people will remember.
Piktochart offers many features for making your infographic unique. You can edit text, fonts, colors, and more.
To be competitive in today's day and age you need to do things that your competition avoids. This often means creating high quality infographics that not only share targeted information, but are so appealing that they generate inbound links.
(via Piktochart)
When was the last time you considered the emotional marketing value of your blog headlines?
Like most, this may not be something you have thought about in the past. That said, you should think about it in the future.
When you reach your target audience on an emotional level, when you touch on their pain points, you have better odds of reaching your goals.
This tool makes it easy to better understand the emotional marketing value of your headline. You don't have to guess as to whether or not you are using the right words, as everything is laid out for you.
I created a title off the top of my head to demonstrate how the tool works: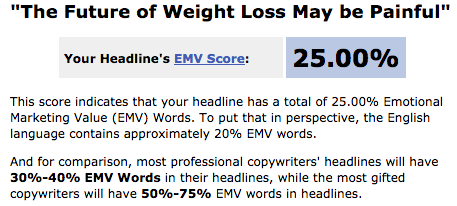 As you can see, 25% is not the worst score. However, it's far from being up to par with the top copywriters in the world.
With this tool, you can continue to tweak your headline until it meets your standards. Once you generate a title with an EMV of 50% or more, you can think about moving onto the content creation phase.
Professional tip: combine this tool with HubSpot's Blog Topic Generator to create the best possible blog titles.
How do you know for sure that your blog title is generating the best results?
Above, I examined a couple headline tools that can be used in a variety of ways. With this tool, I want to go one step further.
KingSumo Headlines is designed with the intentions of helping you increase readership by attracting more clicks and keeping people on your website longer.
This plugin produces results in three simple steps:
Create as many titles as you can think of (using the tools detailed above) and load them into your blog post.
Different titles are displayed to visitors.
As time passes, the top title is determined and subsequently displayed to future visitors.
The goal is simple: for the plugin to help you display the title that generates the best results.
I said it above and I'll say it again. A quality headline is a big part of a quality blog post. Even if the body of your post is top notch, you may not have the chance to share it on social media with the world if your title falls short.
As a simple to install and easy to use WordPress plugin, there's no reason to overlook the power of KingSumo Headlines. It can help transform the quality of your blog, all without you lifting a finger.
(via KingSumo Headlines)
What does Google Analytics have to do with improving the quality of your blog content?
Most people think about this tool as one that can provide analytics data, such as the number of visitors to a website, top sources, top keywords, and the like.
But remember, some of this data can be used to help you create higher quality content marketing efforts.
An example of this would be to examine the most visited pages of your blog over the past month. You can do this by navigating to Behavior then Site Content then All Pages.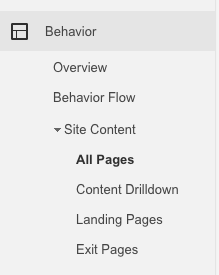 Once you're here, change the search engine to display results for the past month. From there, you can review the results.
The top pages are listed in the left column, with other columns showing the following data:

Now that you have a better idea of what your target audience is interested in, you can create content marketing efforts around similar topics.
Take for example a top blog post entitled "Top Twitter Marketing Tools for 2016."
If you know your target audience enjoyed the subject and quality of this post, your next title could be something like "Top Twitter Advertising Strategies for 2016 and Beyond."
With the help of Google Analytics, you can use past data to create high quality blog content in the future.
Are you on board with the idea that long form content marketing efforts produces better results?
If you have yet to ponder this question, take the time to read my blog post entitled "Why 3000+ Word Blog Posts Get More Traffic (A Data Driven Answer)"
In this blog post, I discuss why long form content provides a greater opportunity for driving more traffic.
This isn't to say that you can write just anything and generate top of the line results. If you want your long form content to produce it needs to be of the highest quality.
Getting back on topic, you need to keep close track of the word count associated with each blog post. Most programs, including Microsoft Word and Google Docs, have a built in counter for you to use.
But if you're seeking a more advanced solution, one that shows you your word count as you write, WordCounter is a good place to start.
When it comes to easy to use tools, this one is at the top of the list. All you have to do is type and let the tool do its thing.
Here is an example: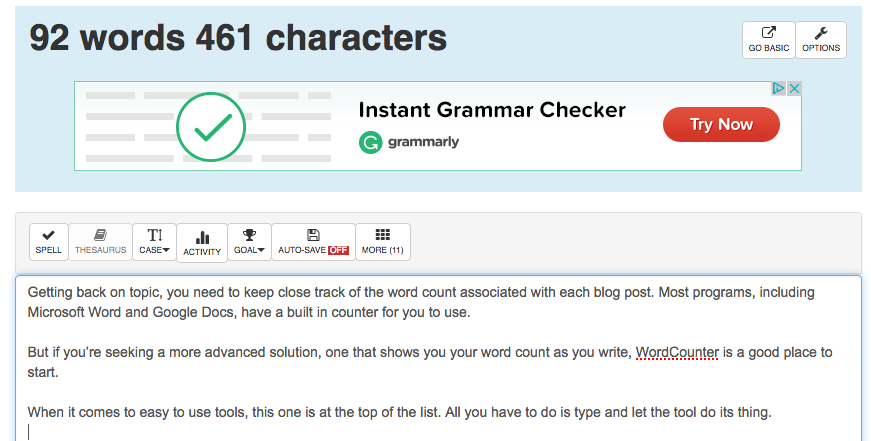 Since we're on the topic of quality, this tool has a few other features to keep you on track. Check out the details box in the top right corner of the page: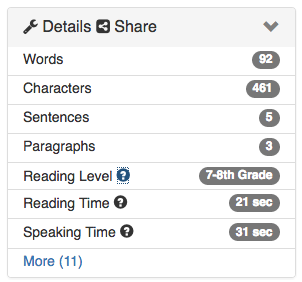 Is there something you could change to improve the quality of your content? For example, you may want to adjust your approach in an attempt to change the reading level score. This is based largely on the target audience you are trying to reach.
Although there are many factors that determine search engine rankings, quality content marketing strategy is a great place to start. When you focus on quality and generate blog posts in excess of 2,000 words (striving for 3k), you'll always feel good about what you're doing.
Do you feel that writing better headlines could generate more interest for your blog?
Above, we talked about a variety of headline related tools. From those that create headlines for you to those that A/B test your many ideas, you're covered.
With CoSchedule's Blog Post Headline Analyzer, things get even better. This gives you a quick analysis of your headline, allowing you to make changes on the fly until you find just what you're looking for.
It only takes a couple of seconds for your headline to receive a grade: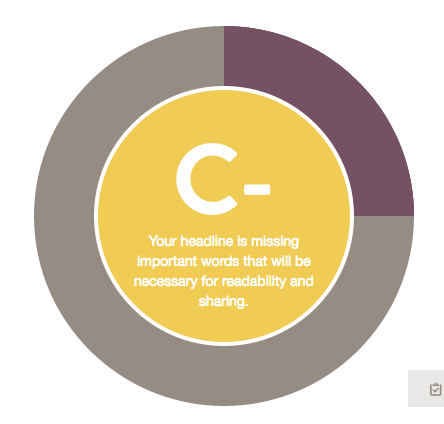 Now that you know what's missing, you can use the rest of the results to make positive changes.
Along with the above grade, the tool also shared the following:

Creating a killer headline that drives results is all about making minor tweaks and then reviewing the results. CoSchedule's Blog Post Headline Analyzer was built on the premise that marketers want to create high quality, engaging headlines that convert.
Conclusion
Did you know that marketers who prioritize business blogging are more likely to experience a positive return on investment?
With that in mind, it's easy to realize the importance of putting enough time, money, and resources into your blogging strategy.
But remember this: there's a difference between blogging and blogging with a purpose.
If you want your words to generate positive results, it's time that you focus on the quality of your content marketing strategy.
Do you have experience with any of these tools? Have you found that they improve the quality of your blog content? Share your opinion in the comment section below.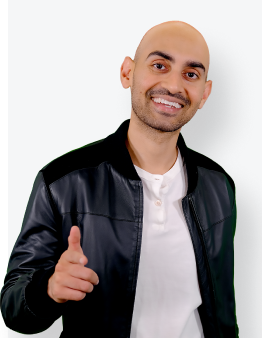 See How My Agency Can Drive More Traffic to Your Website
SEO - unlock more SEO traffic. See real results.
Content Marketing - our team creates epic content that will get shared, get links, and attract traffic.
Paid Media - effective paid strategies with clear ROI.
Are You Using Google Ads? Try Our FREE Ads Grader!
Stop wasting money and unlock the hidden potential of your advertising.
Discover the power of intentional advertising.
Reach your ideal target audience.
Maximize ad spend efficiency.