You need to maximize your SEO efforts if you want to succeed online.
Let's face it. If you don't, your business will be left behind.
SEO is a top priority for marketers. In fact, 61% say it's their main focus when it comes to inbound marketing.
They're all doing it. Why aren't you?
Ignoring it is basically ignoring sales.
But where should you begin?
Simple. Start by assessing your site's current SEO.
The easiest way to do this is with an SEO audit. See how your current site ranks and assess what you can do to improve it.
It may sound intensive and perhaps a little scary for beginners, but I'm going to walk you through exactly what needs to be done.
In one hour and with the help of a few tools, you can do this very easily. The time it takes is minimal, but its impact can be huge.
But before we get there, you need to understand the fundamentals of the SEO audit.
What is an SEO audit?
You want your content to be relevant to the people who show up to your site.
The old SEO tactics won't cut it. Gone are the days of keyword stuffing, setting up multiple pages for different keyword variants, and trying to use multiple microsites to drive traffic.
Within the past decade, criteria and ranking factors have changed dramatically.
Sites that are mobile-friendly and optimized for user intent are favored.
Search engines (Google, Bing, Yahoo) have algorithms that crawl through your website and compare your website to different ranking factors denoting usability and relevance.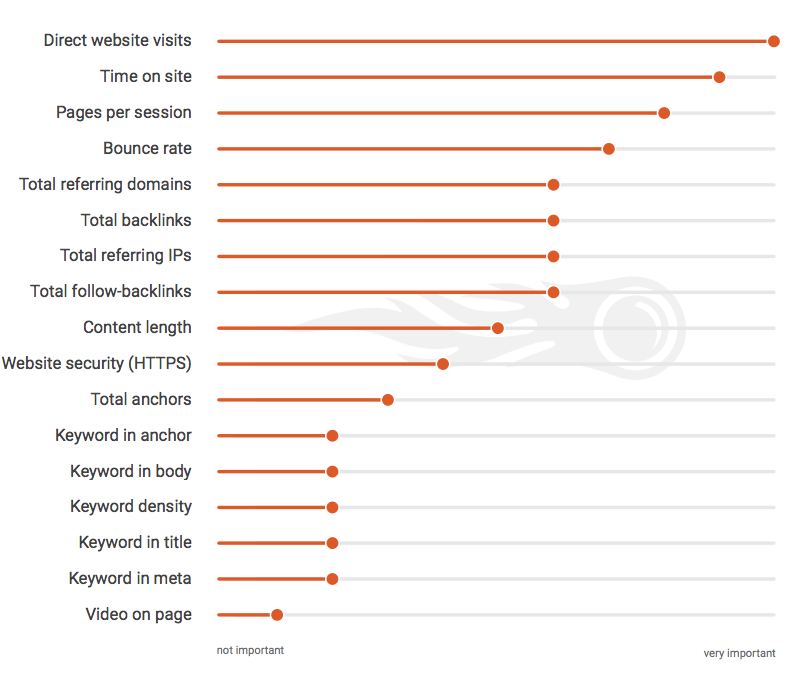 Each accessible page of your site is crawled to figure out whether your site offers useful and legitimate content.
While your site is being crawled, search engines are also checking to figure out how secure, fast, and easy-to-use it is.
And then each page receives a rank, which determines how high it shows up on the search engine results page (SERP) for people searching related keywords.
Long story short, that's what SEO is all about.
However, SEO is constantly changing.
Each search engine has its own algorithm, and algorithms get improved or regularly altered with updates.
But algorithms aren't the only thing you need to worry about.
Your competitors are racing to a better ranking than you.
Old content needs to be updated to remain relevant.
And as rules change, you need to be able to adapt to new SEO tactics and avoid red flags.
Worst of all, something on your website might be horribly broken, disrupting the flow of qualified traffic to your site.
This is why a regular SEO audit is necessary for keeping up with search engine demand.
When you conduct an audit, you are checking the health of your website.
Since search algorithms and technology can change at a rapid pace, you want to perform mini-audits monthly.
But they shouldn't take the place of a full SEO audit. Those should take place every 4-6 months or after a major change in your website.
Personally, I like to do full SEO audits quarterly and mini-audits monthly.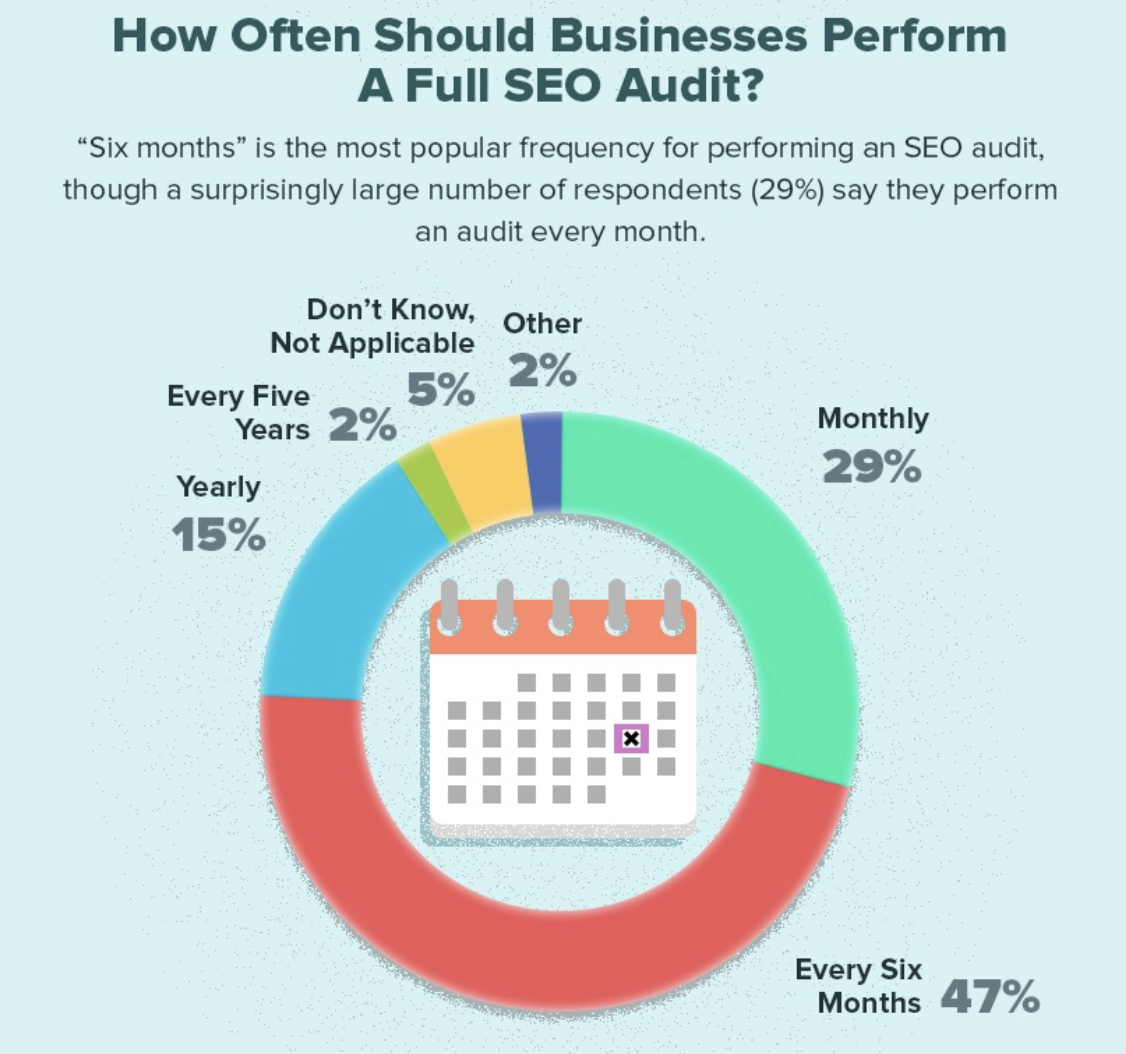 Before we start, let's consolidate the most important parts of the audit:
What are the key elements of an SEO audit?
There are three key factors to look at during an SEO audit:
Back-end factors such as hosting and indexing
Front-end factors such as content, keywords, and metadata
Link quality and outside references
Sometimes, you won't have the time to address each pain point.
So, when deciding which audit insights are worth taking action on, I like to use the 80/20 rule.
The most important part of your site's SEO is the part that your incoming traffic actually sees.
That's all washed away if your site isn't mobile-friendly, though.
With the introduction of the mobile-first index, you need to make sure you understand how your site performs on mobile to ensure proper placement on SERPs.
Due to 60% of all searches happening on mobile, Google has adjusted their algorithm to begin crawling on mobile sites.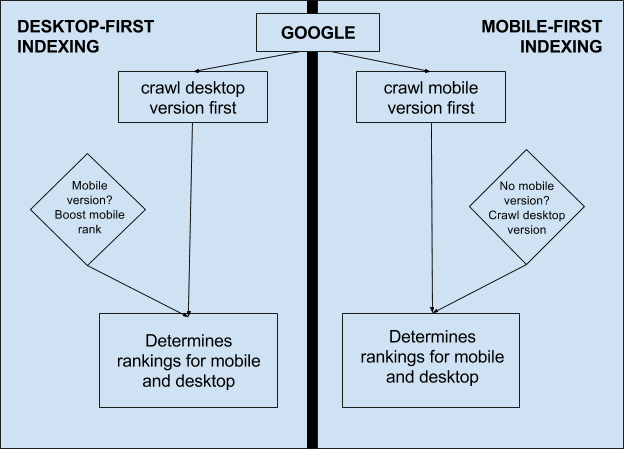 Keeping this in mind (and checking to ensure your site is mobile-optimized) will help evaluate where you stand once you complete your one-hour mini-audit.
Here are the eight steps you need to take to perform your SEO site audit in less than an hour.
1. Begin your audit with a crawl (5 minutes)
The most important part of the SEO audit is the crawl.
Before you do anything else, start a crawl of your website. You can use Ubersuggest to make it a simple process. Here's how you do it:
Step #1: Enter Your URL and Click "Search"
Step #2: Click "Site Audit" in the Left Sidebar
Step #3: Let the Scan Run
Upon completion, you're provided with the following:
Crawling is useful for identifying problems with your website, such as duplicate content, low word count, unlinked pagination pages, and excess redirects. Scroll down to the bottom of the page for a list of "Top SEO Issues."
If you find anything here, click on it for more information and advice on how to fix it. For example, my website has 32 pages with a low word count.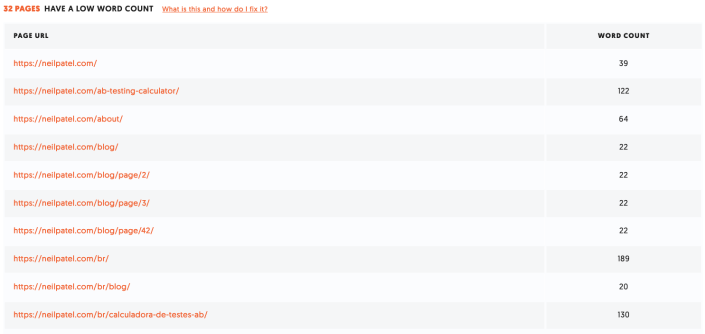 I can then review these pages to determine if I need to add more content.
What does this all mean?
In short, it gives you a glimpse into how the Googlebot is crawling your site.
Manually search your site
By doing a few Google searches, you can quickly approximate how well your website is ranking.
How many of your pages appear in relevant search results?
Does your site appear first when you search for it by name?
Overall, where does your site appear in the results?
To figure out which pages are actually being crawled, you can use a "site:rootdomain" search to see what shows up.
Here's an example of this concept in action.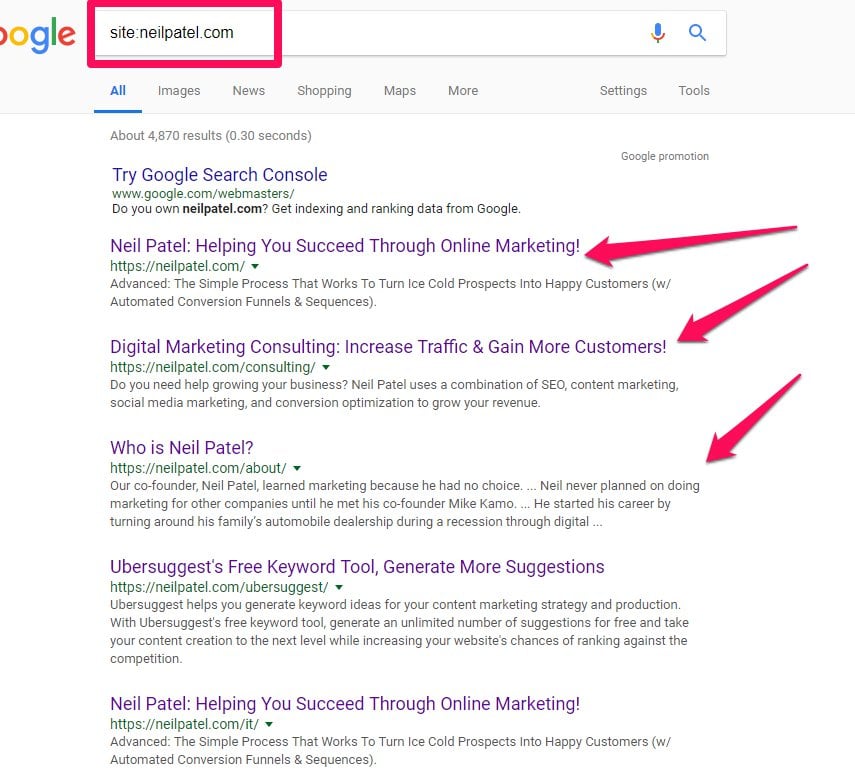 Missing pages don't automatically mean that your site is un-crawlable, but it's useful to understand what's happening behind the scenes.
Your website doesn't need to be at the very top of your searches either. It will ideally show up in the middle of the first page or higher.
2. Make sure only one version of your site is browseable (5 minutes)
Your site needs to work with all permutations of the same URL.
If your website has multiple "versions" of itself, you are sending search engines a mixed message about how to crawl your site.
Basically, the crawlers don't know which one is the right one.
And if search engines don't even know how to show your site to prospective traffic, your site's SEO ranking will be negatively impacted.
This could be a mobile and desktop version warring with each other.
Or it could be the incongruity between a duplicate "https" version and a non-"https" version hurting its SEO ranking.
The impact of an HTTP vs. HTTPS on a site's SEO has always been a hotly-contested debate in the SEO community.
Some sites that use AdSense for a revenue stream have seen a decrease in revenue after making the switch to HTTPS.
For example, Crunchify's revenue decreased 10% after switching to an HTTPS site.
However, it seems that websites without SSL protection are being deprecated on Google SEO moving forward.
Google is even taking steps to make it more known which sites have SSL protection and which do not. Chrome is marking pages as "Not secure" to make it clearer.

With this recent change from Google, it seems you will need to make sure that your website only uses "https."
3. Conduct on-page SEO checks (10 minutes)
When evaluating your site and the results from your crawl, there are many things you need to check to ensure that your site is correctly optimized.
To start, look for duplicate pages, headers, and title tags.
If you've published a lot of content with similar themes, like me, some seemingly-unrelated content will show up in your crawl.
That's okay. You're looking for duplicates of the same content.
You can use a tool such as Copyscape to help assess potential SEO problems arising from duplicate content.
From there, closely examine a few key criteria that Google evaluates in their rankings.
Page Titles and Title Tags
A title tag is an HTML code that relays to search engines the title of the page. This information will be displayed on SERPs.
It looks something like this:

You'll want to make sure these are relevant to the content found on your page. The content should also be positioned in a way that answers what your target audience is seeking.
The optimal length for title tags is between 56-60 characters.
You can use a pixel width checker to make sure that your title isn't causing truncation.
Meta Descriptions
Although your meta description doesn't affect your ranking, it still is incredibly important.
You should make sure your meta description draws in your customer. It should be compelling, engaging, and give a taste of what the user will find on the page.

Google recently expanded the limit for descriptions from 160 to 320, which now provides you with even more real estate to draw in a click.
Clear Hierarchy
You'll want to make sure your content is organized, with a clear hierarchy on the page.
That way, it will be easy for Google to analyze your site and index it for search.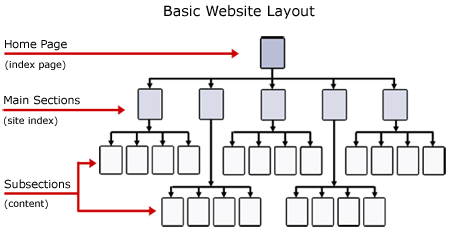 Keyword Placement
Every page on your site should have a focus keyword that is included in the first 100 words.
For example, in this post about social proof, it's included twice in the first 100 words.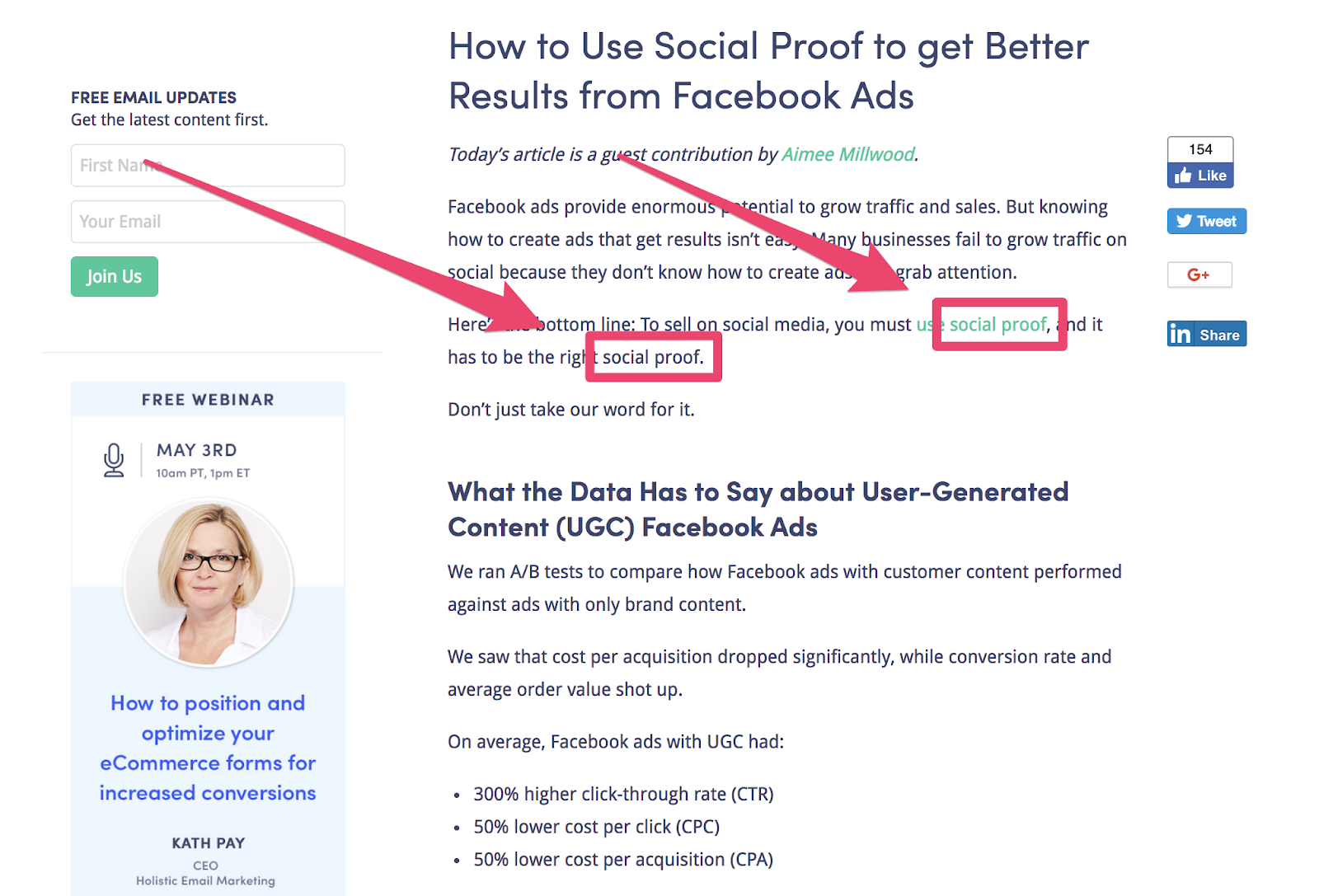 This helps Google understand what the post focuses on.
But don't stop there.
There are plenty of other places that you should insert your keyword to impact your listing's ranking.
While keyword stuffing will penalize you, you can still be strategic about where you place your keywords on the page.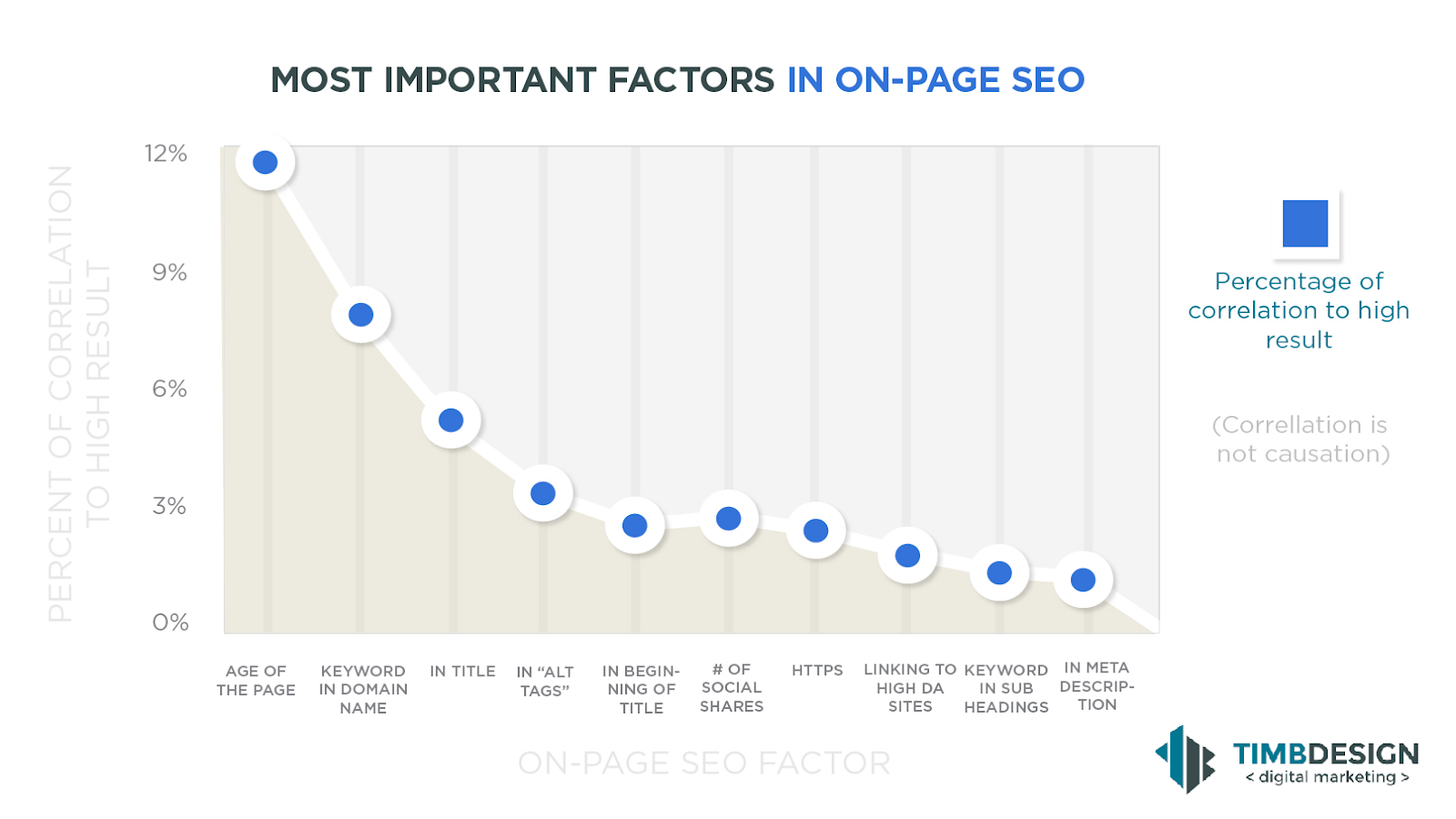 Overall, on-page SEO checks are incredibly important, but they are only one part of your overarching SEO strategy.
4. Manage your internal and external links (10 minutes)
I've mentioned that sites with logical hierarchies have improved SEO rankings.
That's why it's important to check your internal and external links.
Often web pages can be deleted or moved, which can result in broken links on your site.
But don't worry. You don't have to do this manually.
Integrity and Xenu Sleuth both are downloadable tools that can help you identify your broken links on your site. (Note: Integrity only works for Mac.)
While both tools are very easy to use and simple, I'll use Integrity as an example.
Once you download it, add your URL in the text bar at the top of the page and click "Go."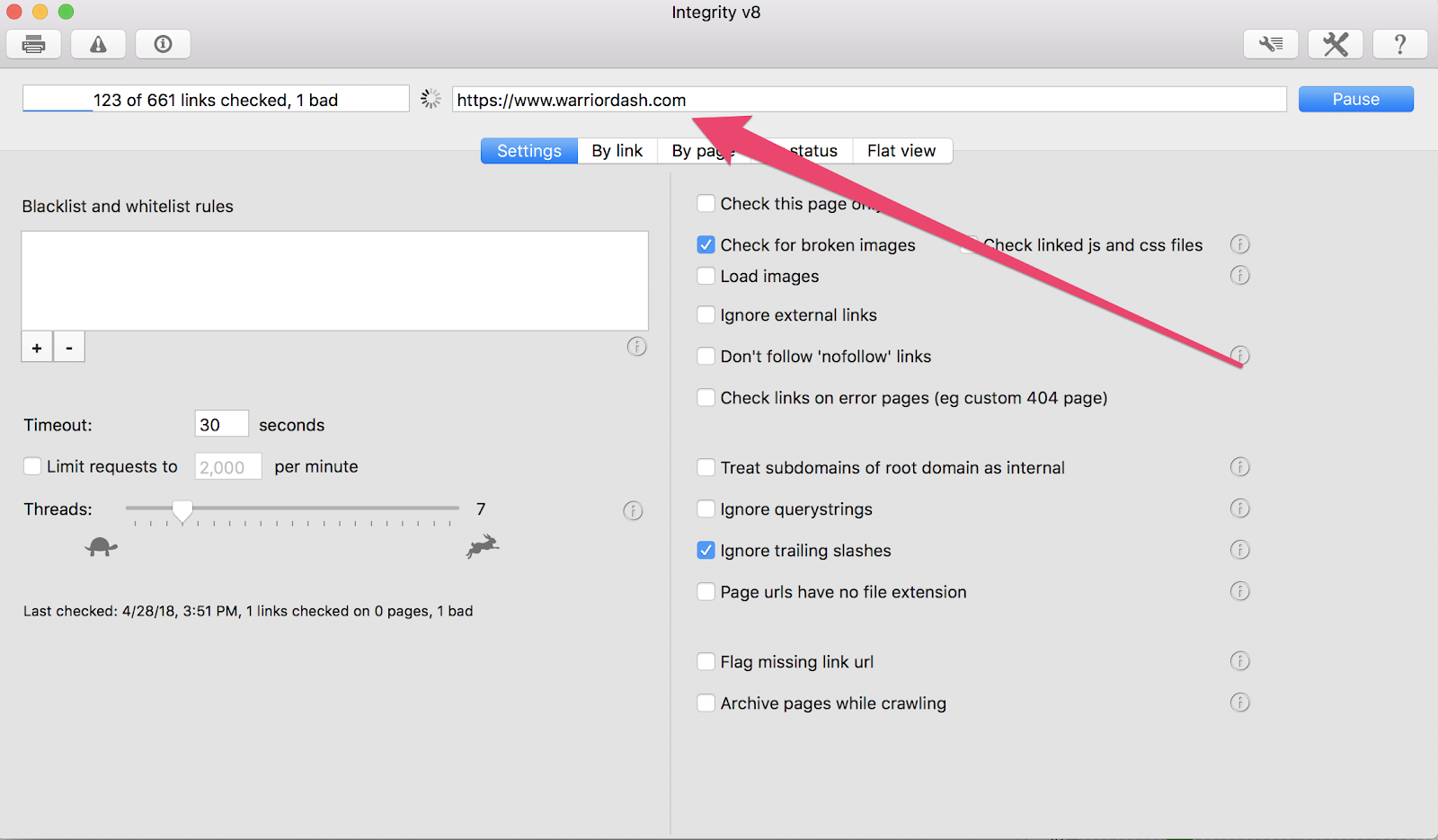 Then the tool will begin testing all the links found on your site and provide you with the results.
In the top-left corner, you can see a snapshot report outlining how many links were checked and how many were considered bad.
Depending on the size of your site and how many links you have, you might consider viewing the results by link, page, status, or flat view to help you comprehend the results.
You'll want to go to your site and change any links marked in the red shading with the "404 not found" label. These can negatively impact your SEO.
Google does score clicks from internal and external links differently, although both have their purpose in improving your SEO.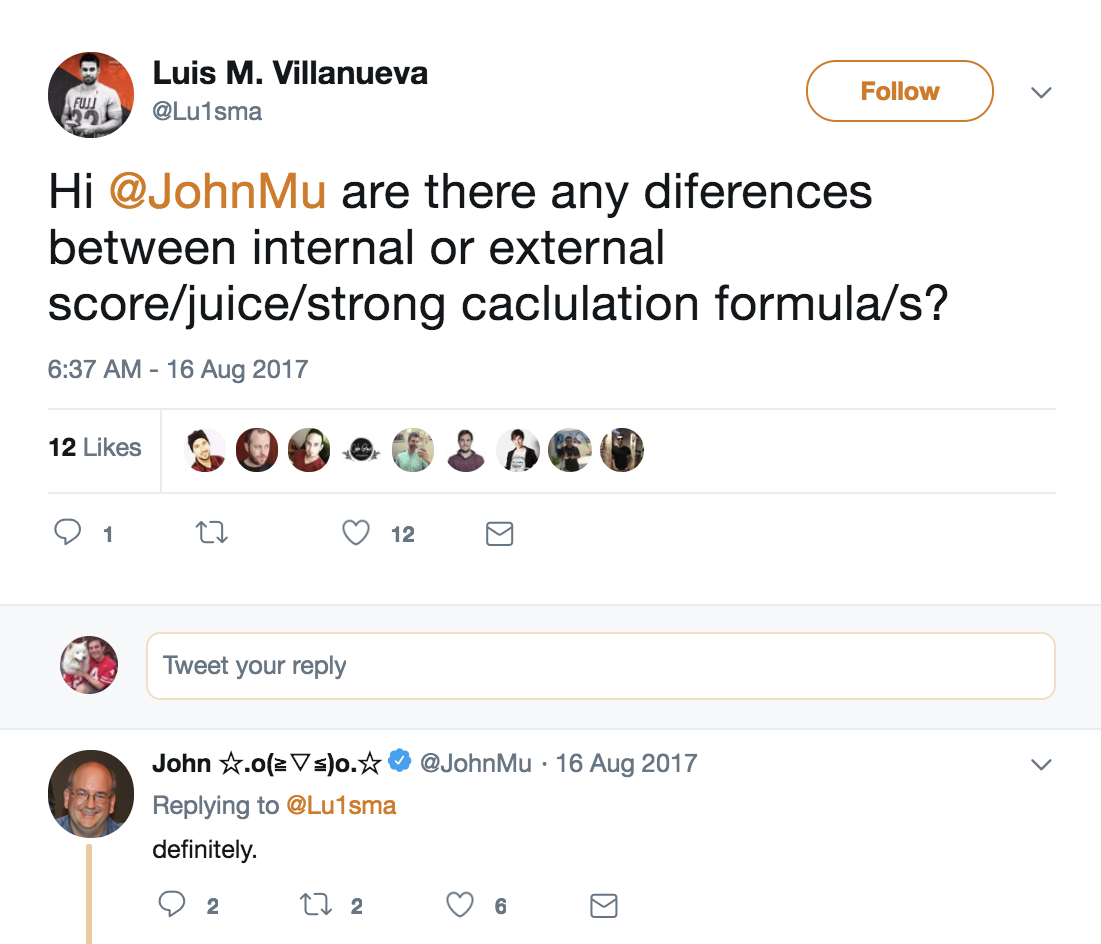 5. Check your site speed (10 minutes)
People are impatient. Google knows this.
Your customers don't want to wait around. The longer your page takes to load, the higher the chance your customer will bounce.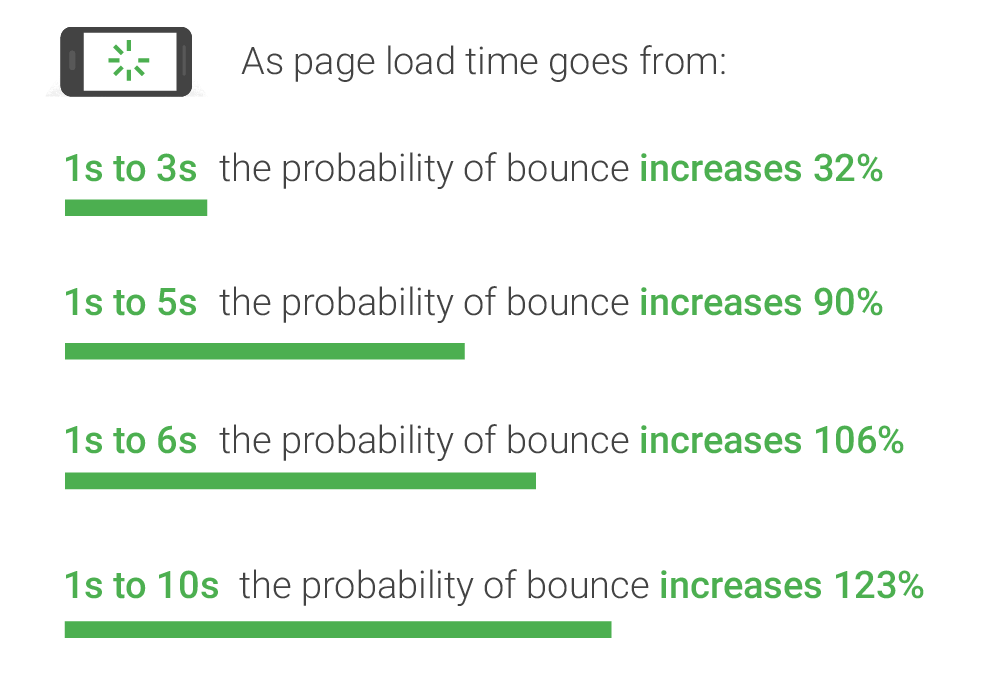 That's why they are going to take into account site speed when assessing your rank. This change was recently announced and will begin in July 2018.
So how should you prepare?
You need to check your site speed. And Ubersuggest can help. Here's how to get started:
Step #1: Enter Your URL and Click "Search"
Step #2: Click "Site Audit" in the Left Sidebar
Step #3: Scroll down to "Site Speed"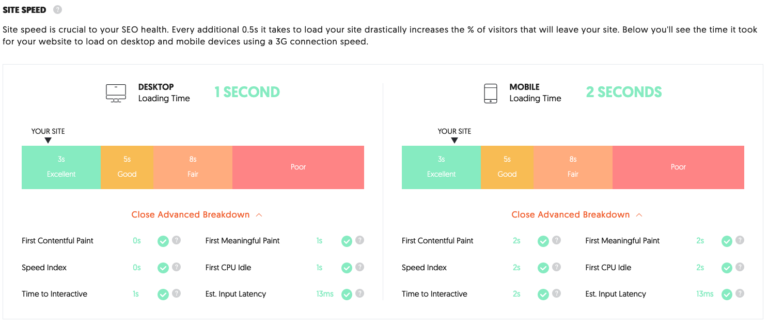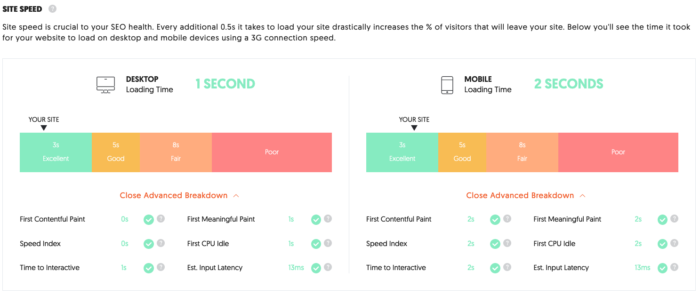 Ubersuggest displays loading time for both desktop and mobile devices. The results above show that my site is in the "excellent" range for both.
In addition to loading time, it also tests:
First Contentful Paint

Speed Index

Time to Interactive

First Meaningful Paint

First CPU Idle

Est. Input Latency
Take action if your website scores less than excellent or good.
You might need to optimize your images, minify JavaScript, leverage browser caching, or more.
Ubersuggest will outline just what you need to do to get better.
6. Leverage your analytics and compare site metrics (10 minutes)
What you want to figure out here is whether your analytics service (e.g., Google Analytics, Kissmetrics, etc.) is reporting live metric data.
If it is, your code is installed correctly.
If not, your code is not installed correctly and needs to be fixed.
If you're using Google Analytics, you want the tracker code to be placed above the header of each web page.

Once you have an analytics service up and running, compare the metric data to the results of your earlier "site:rootdomain" search.
The number of pages showing in your metric data should be comparatively similar to the number of pages from the "site:rootdomain" search.
If not, certain pages aren't properly accepting crawl requests.
Check your bounce rate
Google Analytics can be helpful when assessing your page's bounce rate. You want your bounce rate to be low for it to impact your ranking positively.
A high bounce rate means that people aren't finding what they are looking for on your site. This means you might have to go back and make sure the content is optimized for your audience.
You can check your bounce rate by logging into your Google Analytics account and clicking on Audiences > Overview.
Compare metrics with The MozBar
In addition, you can use Moz's tool called The Mozbar to benchmark between pages.
The MozBar is a tool that gives you various SEO details of any web page or search engine results page.
The toolbar adds an overlay to your browser which has a number of functions.
For example, MozBar can be used to highlight different types of links that you view.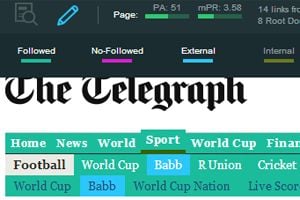 This is useful on its own, but it also lets you compare link metrics on or between pages.
It also comes with robust search tools to make your life easy.
With it, you can create custom searches by location, down to the city.
Page Authority is also supported by the MozBar.
It ranks each specific page from 1 to 100 in terms of how well it will rank on search engine results pages.
When doing an SEO audit, having a tool like this helps you quickly take the temperature of your site's relationship with search engines.
The less guesswork you have to do, the better quality your SEO audit will be.
With version 3, you can even monitor social media activity.
7. Check your off-site SEO and perform a backlink audit (10 minutes)
Backlinks are critical for SEO success.
This way, Google and other search engines will know that your page is particularly relevant and that other users will find it useful.
Remember that hyperlinks are not the only thing crawlers look for in off-site SEO.
Your site is also crawled for brand mentions. This is why it's pivotal for you to pay attention to what's happening both on and off your site.
Perform your backlink audit
Use a tool such as Ubersuggest to perform a backlink audit and assess the kind of backlinks you have going to your site.
Step #1: Enter Your URL and Click "Search"
Step #2: Click "Backlinks" in the Left Sidebar

Step #3: Review the Report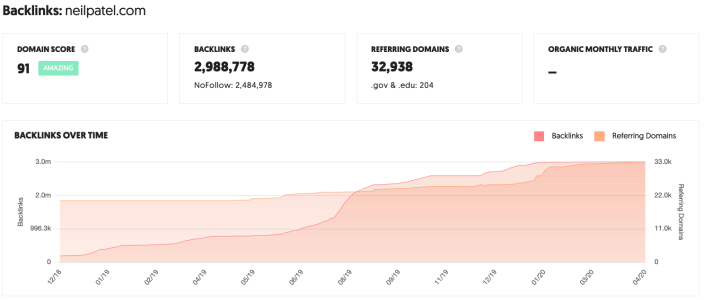 Backlink audits are helpful because:
You can assess your current link profile and see how it is affecting your site.
You can identify areas where you can focus on getting more high-value links.
You can assess your competitors' number of backlinks and work to outperform them.
But don't just stop with your site's backlink audit.
Your competitors were busy upping their own SEO capability while you were sleeping. Now, they rank above you on your most important search terms.
Ubersuggest can also help with this.
It allows you to see what keywords other sites are ranking for. It also shows what backlinks are going to those sites.
Basically, you want to explore your competitors' backlinks and see how they compare to your own. Here's how you do it:
Step #1: Enter Your Competitor's URL and Click "Search"

Step #2: Click "Keywords" in the Left Sidebar
Step #3: Review the Results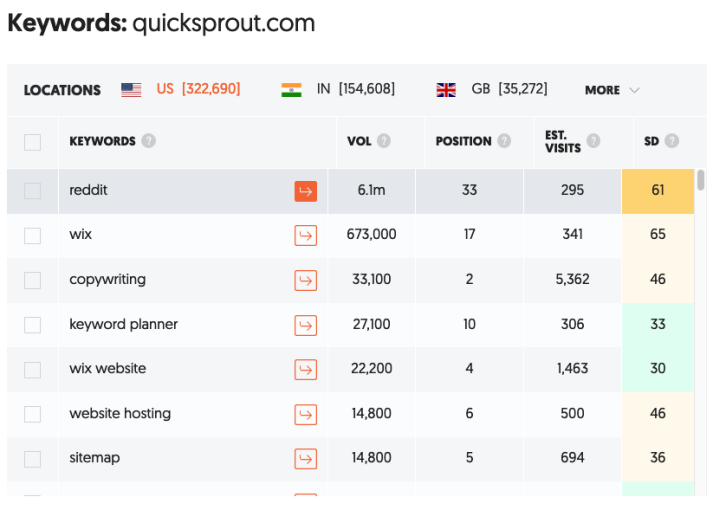 This provides a clear overview of what your competitor's site is ranking for. In addition to a list of keywords, you can review:
Volume – average number of monthly searches for the keyword
Position – position the URL is ranked in Google search
Estimated Visits – estimated monthly traffic the webpage gets for the keyword
SD – estimated competition in organic search, the higher the number the more competitive
Make sure you're engaging social media
Social media is a conduit for consistent backlinks and engagement. You can use it to support your SEO efforts.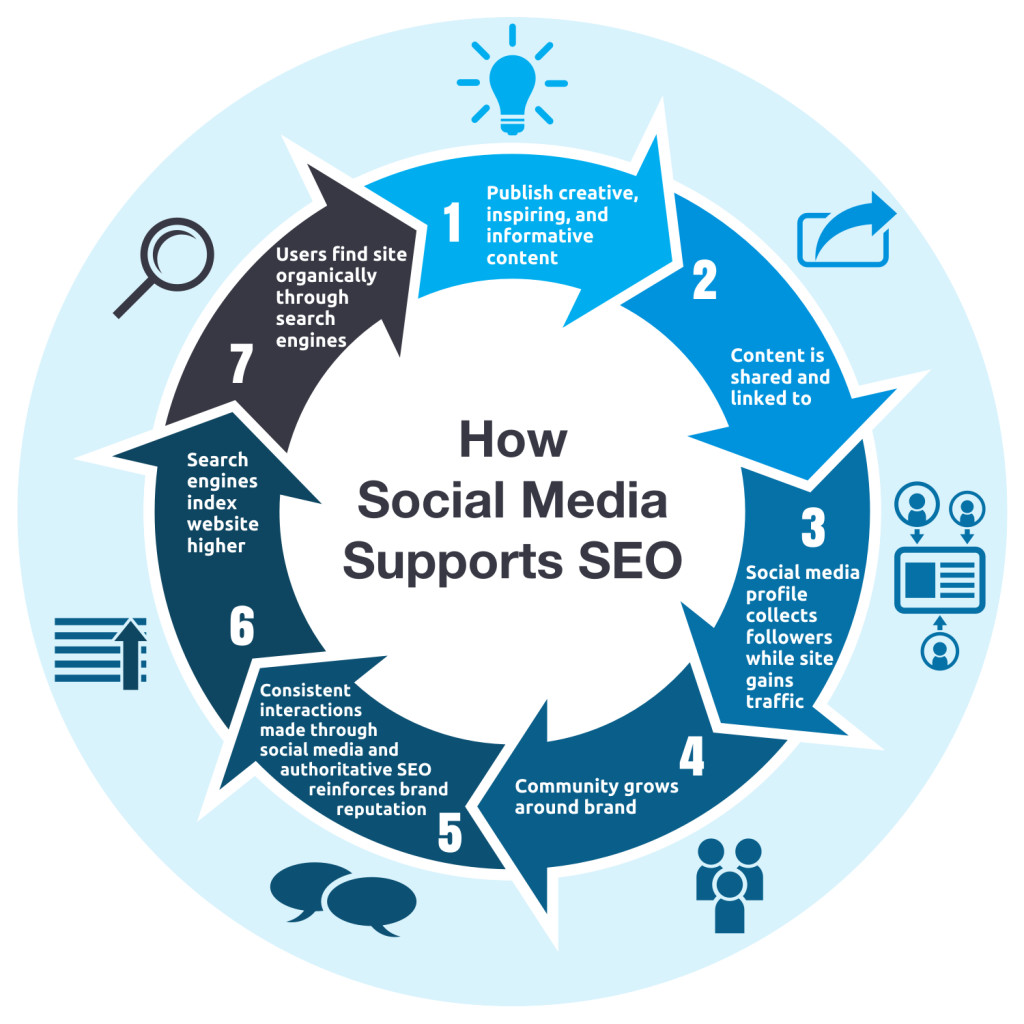 You want to figure out which additional social media platforms are frequented by your target audience.
Simply put, social media can improve your SEO by:
Increasing the number of your backlinks. Those who discover your content on social media might be more likely to link to it.
Increasing brand awareness, which can help with search queries including your brand's name.
Social media is an opportunity to increase traffic and mentions beyond what people are searching for on a search engine.
Social media saturation is also simpler than putting together a link-building campaign.
Use the Facebook Sharing Debugger to see what your web content looks like when shared on Facebook.
This tool also allows you to check your Open Graph tags.
Conclusion
Search engine optimizers debate the many different tools you could use to conduct an SEO audit.
But there's one thing they all agree on: you need to audit your SEO performance to keep up.
Search engine algorithms, best practices, market trends, and competitors are always on the move.
Is your website up-to-date?
The one-hour SEO checklist helps you make those quick adjustments in between major SEO audits so that you can pivot your strategy quickly and address issues.
Use Screaming Frog SEO Spider Tool to begin your audit with a crawl.
Eliminate duplicate content with Copyscape.
Make sure your website doesn't have duplicate versions, search your own site to see what results appear, and conduct on-page SEO checks.
Monitor your site analytics through Google Analytics or download the MozBar for quick access to metrics.
Check your off-site SEO, scout the competition, and make sure you're engaging social media platforms.
When you're done, reassess your SEO strategy and build an encompassing brand strategy around it.
The more you fill your website and social media presence with valuable and well-organized content, the further you'll push your most relevant search terms.
If you're consistent, your SEO ranking will take off like never before.
What technical SEO elements do you review regularly?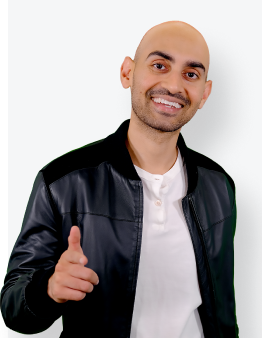 See How My Agency Can Drive Massive Amounts of Traffic to Your Website
SEO - unlock massive amounts of SEO traffic. See real results.
Content Marketing - our team creates epic content that will get shared, get links, and attract traffic.
Paid Media - effective paid strategies with clear ROI.