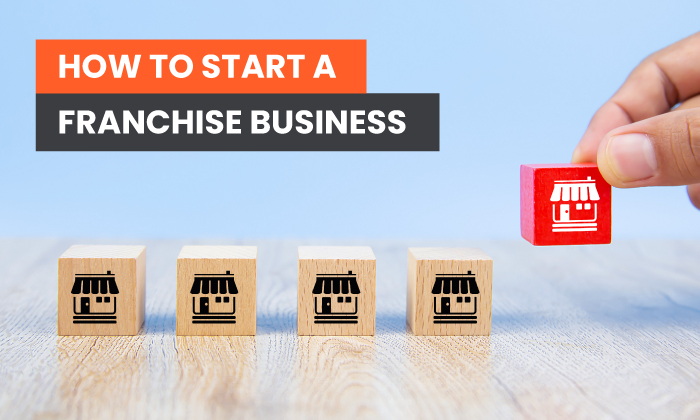 Starting a business is a major endeavor. You need to perform market research, file for a license, create a marketing plan, and build your brand. One way to shorten the process is to become a franchise business owner.
As a franchise business owner, you can tap into the resources and branding of a large brand—while still maintaining the autonomy to run your own business.
If you're considering starting a franchise business, there are a few things you should know. First, let's talk about what a franchise business is.
How Does a Franchise Business Work?
In a franchise business, a franchise owner pays a fee to essentially "rent" a brand name. The franchisee runs the business themselves (or hires someone to run it) and must follow the rules and regulations related to how the brand is used.
For example, many McDonald's restaurants are franchises, meaning an owner (or group of owners, in some cases) pays McDonald's to use their brand name, menus, logos, and other business assets.
They run their location, pay McDonald's to use the name, and keep the remaining profits.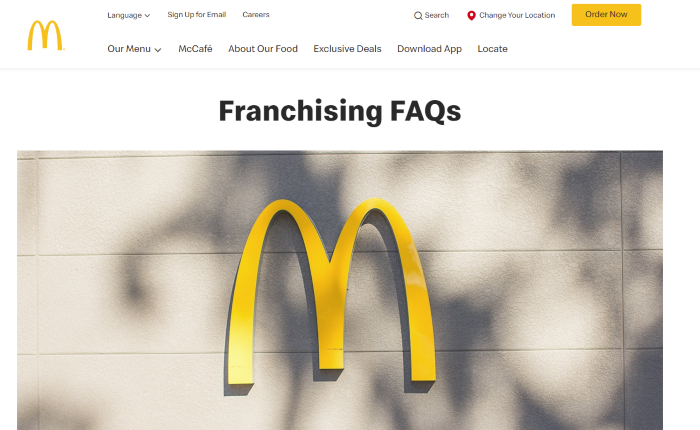 A franchise business is a popular business model because it offers owners the best of both worlds: the support of a large brand and the benefits of owning a business.
A few businesses that offer franchising options include:
7-Eleven
Taco Bell
Great Clips
Ace Hardware
Starting a franchise business should not be taken lightly. There are pros and cons to consider before deciding whether to become a franchisee.
4 Benefits of Starting a Franchise Business
Starting a business gives you more control over your life and income. Unlike starting your own business, however, there are specific benefits to buying into a franchise.
More Support
Starting a franchise business is sort of like playing video games on easy mode. The franchisor offers support in the form of training, materials, process flows, and branding to make it easier to get your business off the ground.
For example, starting a taco shop could require months for menu development, taste testing, logo design, product sourcing, etc. As a Taco Bell franchise owner, however, much of that work is already completed.
Lower Failure Rate
Franchise businesses often have a lower failure rate. When you buy into a franchise, you join a proven business model that works. You also have additional support and business resources that can make a difference in your success.
Built-In Brand Awareness
Building a brand is one of the best things you can do for your business. However, it often takes time and resources. When you buy into a franchise, the branding is already complete. People already know who your brand is and what it represents. This saves you time and creates a built-in customer base you can tap into.
Better Buying Power
In some cases, you may purchase goods at a lower rate. Many franchisors negotiate contracts with vendors for the entire network, allowing you to spend less on goods and services by purchasing in bulk. However, the flip side of these benefits is you may not choose your vendors, and sometimes the costs are higher.
While there are many benefits to starting a franchise business, there are some drawbacks to keep in mind. You'll pay licensing fees to corporations, which can eat into profits. You'll also have less control over some aspects of your business. For example, if you own a franchise restaurant, you may have little to say on the menu or which vendors you use.
How to Start a Franchise Business
Now that you understand the pros (and the cons) of starting a franchise business, let's get down to the details. How do you get started? Here's what you need to know.
1. Identify a Business Opportunity
The first step in starting a franchise business is deciding which business you want to join. Hundreds of companies offer franchise opportunities: which one is right for you? Here are a few questions to ask yourself.
Do you want an online or in-person business?
What industry are you interested in? There are franchise businesses in travel, restaurant, convenience stores, websites, health and wellness, business, and much more.
How much money do you have to invest? Before selecting a business, consider the cost.
Once you answer those questions, start looking for franchise opportunities. For example, if I am interested in a restaurant franchise and like sports bars, I might Google "best sports bar franchises." As you can see, there's plenty of options.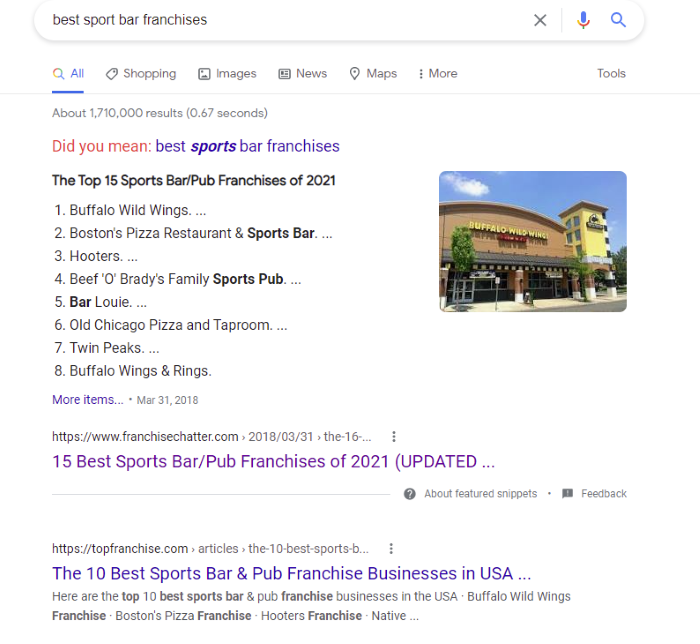 Here are a few other searches you can try. Feel free to swap out key terms to find an opportunity that works for you.
online franchise businesses
travel franchise businesses
senior care franchise
cheap franchise businesses
Make a list of your top five franchise businesses, then compare what they offer. How much are licensing fees? Is it a flat fee or a portion of your sales? What resources do they offer? Do they offer financing? What happens if you don't end up keeping the franchise?
Compare all the features and consider all the drawbacks before making a decision.
2. Research Current Owners and Potential Competitors
By now, you should have one or two top franchise choices. It's time to dig deeper. How many current franchise owners are there? What are their annual revenue and profits?
What competition will you face? Consider both online and in-person competition. For example, suppose you want to franchise a tax company. In that case, you need to consider how you'll stand out from online companies like TurboTax and in-person accounting firms in your physical location.
3. Determine Market Interest
Sometimes buying into a franchise provides a false sense of security. You see how much other franchise owners make and think that is the norm. Keep in mind markets can vary by location and the franchisor has a vested interest in highlighting their most successful franchisees.
Whether you are looking to purchase an online or in-person franchise, make sure there is enough room in the market for additional businesses. If the market is saturated, you may struggle to make sales no matter how much people trust the brand.
4. Research Startup Costs
The cost to start a franchise business can range drastically from a few hundred bucks to set up a website to millions to pay franchise fees and build a store. Usually, franchisors will list the average cost on their website.
However, sometimes there are hidden fees you'll need to keep in mind:
Travel costs: Most companies require you to come to their headquarters and learn more about their brand and company culture. Generally, you'll foot this bill.
Training costs: You may be required to train on location in a store for several weeks. This can cost time and money, since you won't have a paycheck.
Local fees and taxes: Your city or state might charge fees to start a business, get approvals, acquire building permits, etc.
The initial fee: Most franchisees pay a yearly fee (called the royalty fee) based on sales. However, there is likely a one-time initial fee that might range from $500 to $50,000.
5. Create a Business Plan
You've researched all your options and have decided on a business to join. Congrats! Now it's time to create a business plan. This is one of the most crucial steps, so take the time to create a solid business plan that covers all the bases.
According to the Small Business Association, a business plan should include:
Executive summary: What your company is and what makes it different.
Company description: Provide detailed information about the problem your company solves and who you plan to serve.
Market analysis: Who your target audience is and how your business stands out from the competition.
Management plan: How your business will be structured and who will be in charge of what facets of the business.
What you offer: Are you offering products or services? What is your product life cycle and how will you handle things like intellectual property?
Funding: How will you pay for the franchise fees, labor costs, and the equipment or products you need to get started?
Financial projections: Estimate the revenue for your business. Include a prospective outlook for the next five years. If you plan to take out loans, how will you pay them off?
Marketing and sales plans: How will you market your business? Do you have a website? How will you increase sales over time? You can also get help from a digital marketing agency like NP Digital.
6. Form an LLC or Corporation
The next step is to create your business entity. The type of business you create might depend on the franchisor you work with. Some might require an LLC or corporation. An LLC protects your personal assets from liability, while a corporation is a tax structure.
You might also choose sole proprietorship; however, that can leave your home and other assets at risk. This guide will walk you through the different options, but I suggest meeting with a tax or legal professional to decide if the structure is right for you.
Keep in mind city and state laws may impact which structure is right for you.
7. Choose an Initial Location
The final step is to find a location for your franchise business. If you are online, the location will likely be a website, but you might elect to have office space as well. If your franchise business has a physical location, make sure to compare sites to find an affordable one that gets plenty of foot traffic.
Don't just consider the location's current pros and cons. Research future developments as well. An ideal location today might not be if a bypass is installed right next to you directing traffic away.
On the other hand, a location that is just OK today might gain attention if a large shopping center is built next door. (Just remember that sometimes development plans fall through, so don't choose a terrible location based on possible plans.)
Frequently Asked Questions About Starting a Franchise
How much money do I need to start a franchise business?
The cost to start a franchise business varies by business. Some only cost a few hundred dollars, while starting a McDonald's franchise costs between $1 and $2 million.
How much do franchise owners make per year?
Can I start a franchise business for free?
Not entirely, no. The franchisor generally requires an initial payment before you can open your business. If you don't have capital, consider bringing in an investment partner.
How do you start a franchise business?
1) Identify a business you want to work with. 2) Research current owners and the competition. 3) Determine market interest. 4) Research startup costs 5) Create a business plan. 6) Form an LLC or corporation. 7) Choose a location. 8) Create a marketing plan.
What is the most profitable franchise?
Summary of Franchise Business Guide
Starting a franchise business is not without risks. However, the added support and access to a built-in customer base make it a tempting model for many business owners.
If you are comfortable working with a team and appreciate the support and other benefits of being a franchise owner, it can be an ideal way to build your own business.
Remember online marketing is crucial to the success of any business in 2021. Understand the benefits of SEO and social media. Study up on practices like paid advertising that can help you reach a wider customer base.
Finally, don't be afraid to hire a professional to handle your marketing. They can put their expertise to work while you focus on building your franchise business.

Are you considering starting a franchise? What challenges are you facing?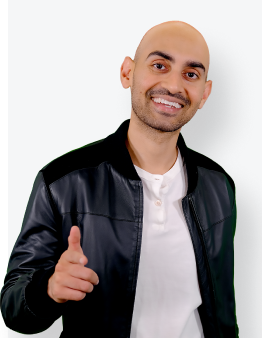 See How My Agency Can Drive More Traffic to Your Website
SEO - unlock more SEO traffic. See real results.
Content Marketing - our team creates epic content that will get shared, get links, and attract traffic.
Paid Media - effective paid strategies with clear ROI.
Are You Using Google Ads? Try Our FREE Ads Grader!
Stop wasting money and unlock the hidden potential of your advertising.
Discover the power of intentional advertising.
Reach your ideal target audience.
Maximize ad spend efficiency.