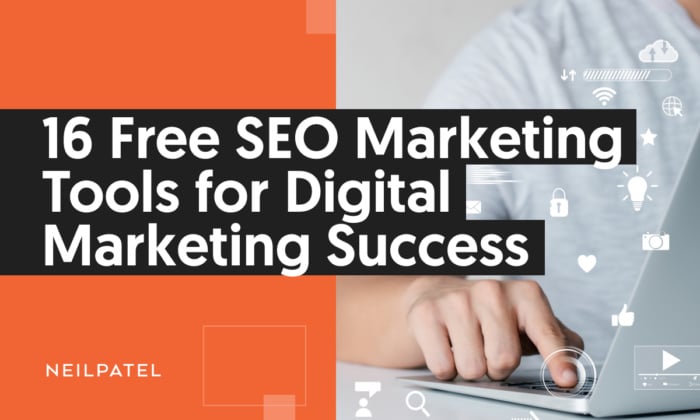 Good SEO marketing tools are vital if you want to succeed in the digital marketing game.
Trust me. I've tried to build websites with and without them, and good tools make the process so much easier.
But you don't need to spend thousands of dollars each month to improve your SEO. There are plenty of SEO tools for digital marketing available for free that do just as good a job (and sometimes even better) than paid alternatives.
And in this post, I'm going to show you what they are.
These tools are perfect whether you are a small business or a large web publisher. An experienced marketer or a total beginner. So, let's get down to business. Here are the 16 SEO marketing tools that I think you should try.
Want to learn how to use one of my favorite free SEO marketing tools?
Then it's time to get to grips with Google Analytics 4. The new version of Google's analytics offering may not be everyone's favorite tool, but it's still the most powerful analytics platform on the planet.
It offers a different approach to Universal Analytics by:
Collecting web and app data as standard
Using events-based data instead of session data
Adding privacy controls
Offering predictive capabilities
Directly integrating with other platforms.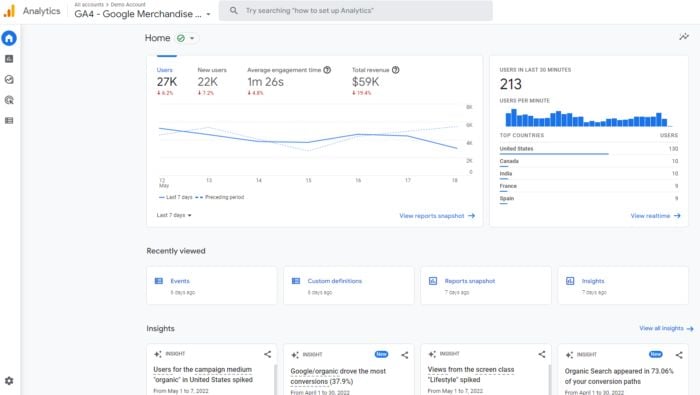 You don't have to start from scratch if you already have a website using Universal Analytics. Google has built a migration tool to help. And if you've never used Google Analytics before, you may find it easier than everyone else!
If you're at all confused about GA4, don't worry. So are a lot of SEO experts. The good news is I have created a detailed guide to GA4 that will help you navigate the platform.
Do you want one of the most comprehensive and easy-to-use SEO tools for digital marketing on the market?
Then I highly recommend you check out Ubersuggest—one of the best SEO marketing tools I use almost every day.
Why do I use it so much? Because it helps me win the SEO game in several ways. I can use it to:
Find uncompetitive, high-traffic keywords
Get content ideas that are proven to rank and get shared
Uncover backlink data for my site and my competitors' sites
Understand my competitors and reverse engineer their SEO efforts
For example, this is what you can see for free if you enter a domain: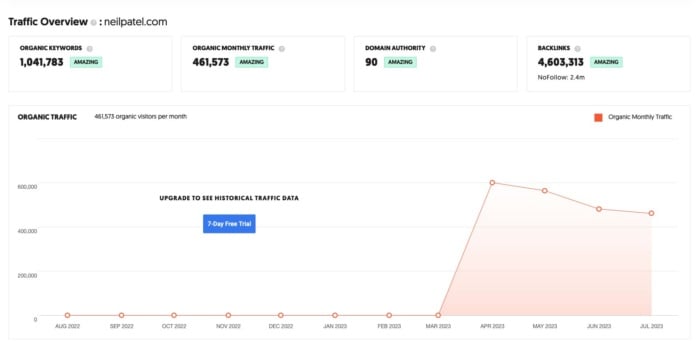 You'll get traffic estimates, backlink data, keyword rankings and top SEO pages.
Enter a keyword and you'll see search volume, SEO difficulty, paid search difficulty, a CPC estimate, and tons of related keywords.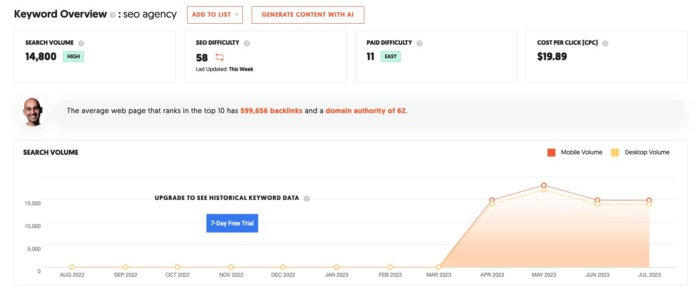 The tool is free to use, but you'll get even more value from it if you sign up for a paid account. Make sure you take advantage of the free Chrome extension as well.
Does page speed matter, when it comes to SEO and search engine rankings?
In the early days of search engine optimization, the answer was no. Today, however, that's all changed. Google makes it clear that site speed is used in web search ranking.
That's why Google PageSpeed Insights is one of my top 10 SEO tools. No other tool comes close when it comes to making your site faster.
After entering your URL, the results page spits out a wealth of information. This includes:
Core Web Vitals Assessment
Performance Issues
Accessibility
Opportunities
SEO score
The speed results look like this: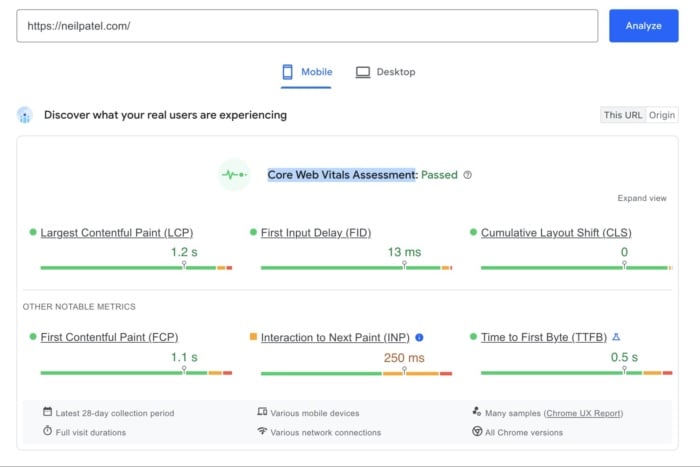 The top set of results is your site's Core Web Vital Assessment. As you can see, my site passes with flying colors. Below, you have PageSpeed scores in four categories: performance, accessibility, best practices, and SEO.
You want your score to be as close to 100 as possible in each of these. If you find that it's anything less than that, don't hesitate to follow the advice under the opportunities and diagnostics headings.
Pro tip: don't forget to check the speed for both mobile and desktop devices. You want to score high for both of these.
Do you want to see how your website is performing across a variety of metrics? Are you interested in getting an inside view of your competition?
SimilarWeb can do both these things, and it's also one of the easiest SEO tools to use. You can even use a limited version of the tool for free!
A search for NeilPatel.com provides information on a variety of traffic-related data.
There's a lot of information to soak up, so don't rush through the results page. Review each section in detail, making note of any data relevant to your SEO campaign that you can use to improve your search engine optimization and marketing plan in the future.
For example, you can learn a lot about a site's historical traffic, audience demographic, and audience interests. You can also get a list of similar websites that you can use to mine for keywords and content ideas.
You probably won't use SimilarWeb on a daily basis. But, it's definitely one of the best ways to keep an eye on the health of your website, while also tracking your top competitors.
Are you one of those people who think that search engine optimization is a complex, advanced process that you just can't wrap your head around?
I know where you're coming from. I used to be in the same position as you. But, through experience and the use of the right SEO marketing tools, things began to come together for me.
One tool that I suggest you use to make sense of SEO is SEO SiteCheckup. It provides a variety of features, including, but not limited to:
Analysis of SEO issues
SEO monitoring
Competition monitoring
White-label SEO reports
If you want to see what this tool is all about, get started by running your first free search. This is as simple as typing your URL into the search box on the home page.

If you're lucky, your website will receive a high score. This means that you're doing most things right, from an SEO perspective.
Of course, this isn't something that you should expect. There's a good chance that you'll need to address at least one issue within your SEO campaign. Heck, even my site fails a couple of tests and comes with four warnings. The good news is that SEO SiteCheckup shows you how to fix those issues.
With this digital marketing tool, you'll always know where your site stands, from an SEO perspective. If you follow the advice as outlined, you can rid your site of lingering SEO campaign problems, with the hopes of pushing towards the top of the search engine rankings.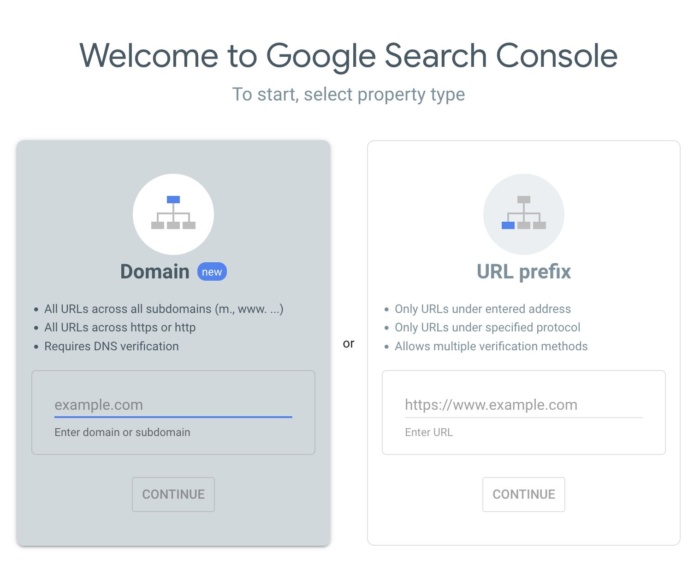 Are you using this free and powerful search engine optimization tool? Because you should be!
I can't tell you how many times I have asked people if they are using Google Search Console, just to be surprised by their answer: no!
Yet another one of Google's free SEO tools for digital marketing, this is one that will give you a clear idea of how your site is performing, and it's a must for every small business.
The dashboard will give you a solid overview of your site's health: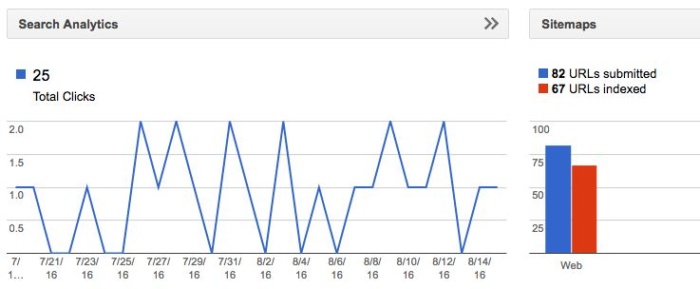 This is a good jumping-off point, but you'll want to dig deeper. The search traffic tab, for example, can give you information about:
Search Analytics
Links to Your Site
Internal Links
Manual Actions
International Targeting
Mobile Usability
Search analytics is one of my favorites, as it allows you to "analyze your performance on Google Search." You can search for data in many ways:
Google Search Console is one of the best and most accurate ways of tracking links to your site. And, as you know, this is imperative to ranking high in the search engines. Be sure to track not only the number of links, but also how your data is linked and which pages have the most links.
With Google Search Console, the more you dig, the more you'll find. And, remember this: your data is updated on the fly, so don't be afraid to review your dashboard at least once a day.
Have you ever heard the saying "keep your friends close but your enemies closer?"
This isn't to suggest that your small business competitors are enemies, but instead to explain that it's a good idea to know what they're doing—especially when it comes to search engine optimization and digital marketing.
While there is a lot that you can do on your own, you only have so much time for tracking and researching your top competitors. This is why you should use SEO tools for digital marketing like SpyFu.
With this in your digital marketing toolbox, you can quickly see what your competitors are up to.
Head to the tool's homepage and type in the URL of any website.
From there, run your search and wait for the information to be displayed (it only takes a couple of seconds.)
You'll soon see a report that is packed with actionable information:
But, that's just the start. You can continue down the results page, collecting data related to:
Shared keywords
Top keywords
Top pages
Google Ads history
So, what if I know what the competition is doing?
Obviously you'll want to spend more time focusing on your own SEO campaigns rather than those of your competitors. But, that doesn't mean that you should completely ignore them.
With the help of SpyFu, you can do things, such as:
Uncover new keywords to rank for.
Determine if you or your competition are having more success for a particular keyword or keyword phrase.
Learn more about a competitor's link profile, thus giving you the opportunity to secure the same links.
Start with a couple of your top competitors and then move on from there. Soon enough, you'll know who your biggest threats are, when it comes to ranking your website.
Want to find out what your audience is asking online?
Keyword research tools can only get you so far. To uncover every potential topic, you need to use a tool like AnswerThePublic—another of my favorite free SEO and digital marketing tools. This platform listens to autocomplete data from search engines and presentes every relevant phrase in an easy to digest format.
Here's what it looks like if I type on SEO as a keyword: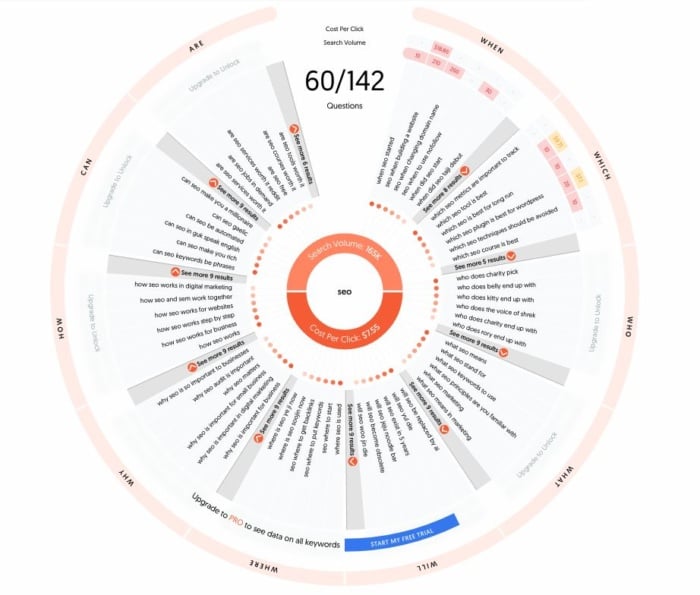 Free users get a comprehensive list of questions and related terms. But if you become a paid user, you'll also see search volume.
You can use AnswerThePublic to find topics for your next blog post. But it's also a great way to make sure you are covering a topic in as much detail as possible or to find great questions to add to your page's FAQ section.
Google Trends is a trending topics search tool created by Google. It helps you to discover topics that are getting a lot of search interest right now and see how the popularity of particular topics changes over time.
There's two major ways I like to use this tool. The first is to identify brand new topics to write about. A lot of the topics included in Google Trends aren't that competitive. And, although they may have a relatively small number of monthly searches right now, that figure could be 10x greater in the future.
The second is to make sure a topic I'm thinking about covering is still relevant. Take Facebook Messenger, for example.
When I pop this into Google Trends I immediately see the topic is on a downward trend.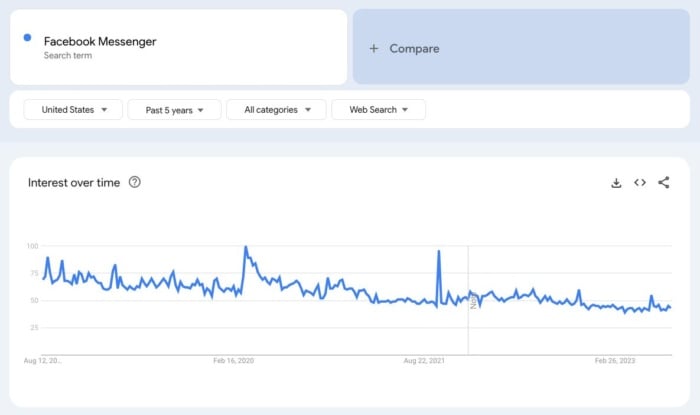 Fewer and fewer people are searching for this topic, which means I might be wasting my time. It might be useful to write about TikTok instead, which is still trending upwards.
Do you want your website to look as eye-catching as possible in Google's search results?
You should! It's why I spend a lot of time crafting irresistible headlines and writing click-worthy meta descriptions. But it's not always easy to understand how your web page will show up in the search results. That's why I use the Google SERP Snippet Optimization Tool from HigherVisibility.
This nifty free tool simulates Google's results page and predicts how your page will look. All you need to do is enter your page title, URL and meta description.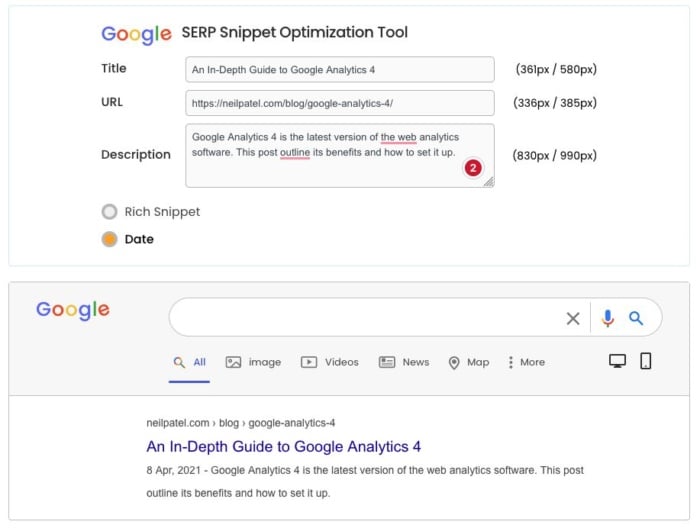 It's a great way to test out various headlines and descriptions to find the one that looks most appealing.
A word of warning, however: I wouldn't waste a huge amount of time worrying about your site's meta description. They're a valuable first impression on users, but they aren't a ranking factor.
Are you struggling to crack Schema markup?
Don't worry, you're not alone. Plenty of marketers struggle to make heads or tails of what structured data is and how to use it to improve rankings. All you need to know is that it's code you place on your website to make it easier for search engines to understand what they are crawling.
It's much more important to learn how to create and add structured data to your website. And that's where Google's Structured Data Markup Helper comes in.
The tool makes it easy to create the relevant code to add to your website. All you need to do is follow the site's step-by-step instructions.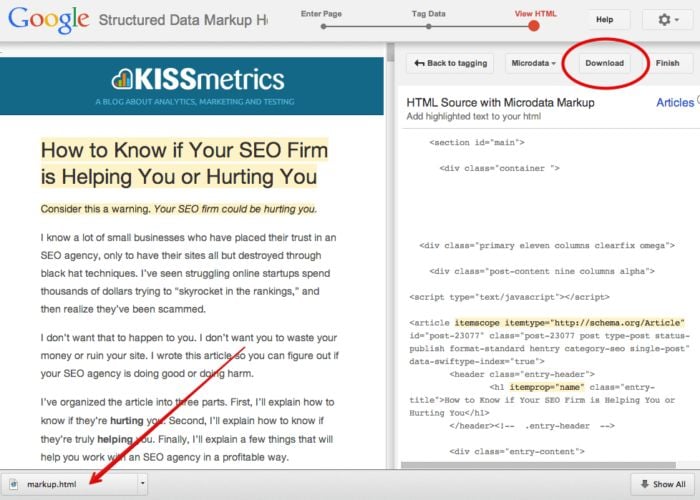 Once you've created your structured markup data, you can download it and follow Google's instructions to add it to your site. You can even test your markup using the same tool!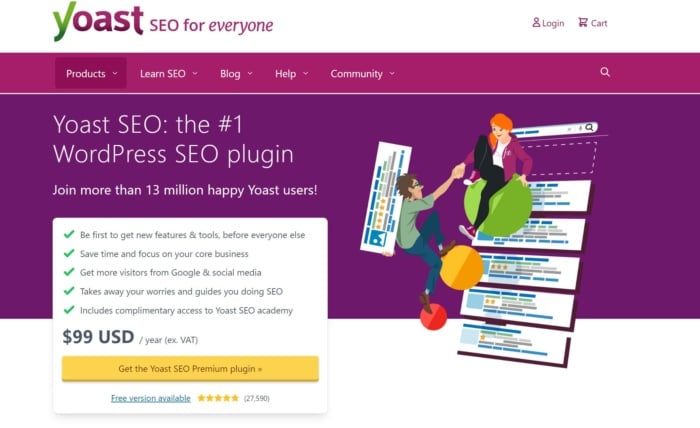 Struggling to optimize your WordPress website?
Yoast SEO is one of the leading SEO WordPress plugins. Some may even consider it to be the best SEO optimization tool. If you want to optimize the on-page elements of your WordPress blog, then this is the tool to use.
This tool makes it easy to create SEO-friendly content. It will help make sure you include all relevant keywords in your content and meta data, keep your site healthy from an SEO perspective, and even spot opportunities to improve such as adding internal links.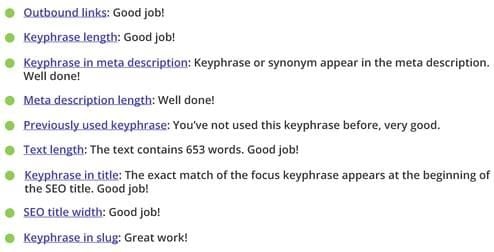 There is a free version of the plugin which has everything smaller websites need. A premium version of the plugin grants access to even more features and gives you full access to the Yoast SEO academy. There's even a plugin for your Shopify store, too.
What method do you employ to track all of the data related to your business?
Like many, you may not have an answer to this question. Instead, you move from one tool to the next, to pull data and review numbers.
If you're tired of wasting time doing this, you'll want to learn more about Cyfe. As one of the most user-friendly business dashboard solutions, you can get up and running in no time at all.
Cyfe sells itself as a tool that brings together all of your business metrics in one place. You don't have to separately log into each application to track your data.
The main reason that I like Cyfe is the fact that it has one of the largest integration libraries of all of the business dashboard providers. It connects to a long list of social networks and applications, such as:
Twitter
Facebook
YouTube
Google Analytics
Stripe
Pinterest
Zendesk
Salesforce
Shopify
And, that's just the start. Chances are good that if you're pulling data from a source, it can be integrated into your Cyfe dashboard using their pre-configured widgets. And if they don't have the widget you're looking for, then it's simple enough to build your own.
If you're anything like me, you enjoy tracking and comparing data, as often as possible, but you don't enjoy spending hours on this task. That's why you should create a Cyfe dashboard, before the end of the year.
When it comes to search engine optimization and social networks, there are a few things that you need to know. It's hard to quantify the exact impact of a sound social media marketing strategy on search engine rankings, but it's better to be safe than sorry.
Even if your social media marketing strategy doesn't directly impact your rankings, it will help enhance your brand. As a result, your social media marketing strategy will eventually pay off.
Social Mention, by BrandMentions provides "real-time social media search and analysis." It's simple to use, but it provides tons of useful insights.
Start by searching for a keyword or phrase.
After doing so, you'll be presented with a list of recent social network mentions. This is accompanied by a data box that looks something like this: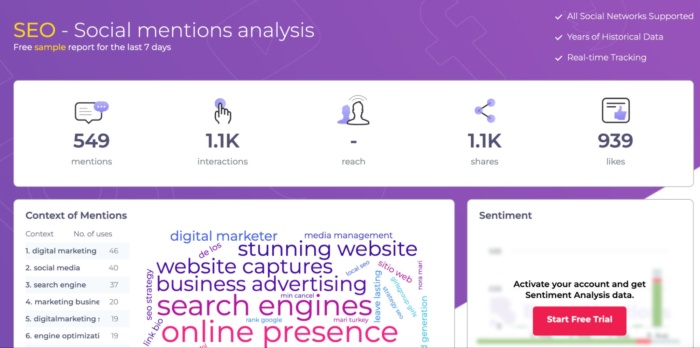 You're given access to other information, as well, such as sources, top hashtags, and top keywords and keyword phrases.
You can use this SEO marketing tool in many ways. For example, you can use it to track brand mentions. As you come across these, you are presented with the opportunity to engage with your audience.
Or, maybe you'll use Social Mention to keep tabs on your competition, knowing that you can learn more about them, with the idea of "one upping" them in the near future.
You can do a lot of digging around on social networks, without the help of high-powered SEO marketing tools. However, this can be a time-consuming process that doesn't produce any hard data for your SEO campaign.
If you want to track social network mentions, without wasting time, there aren't many small business, social media marketing tools that offer higher quality or more in-depth data.

Where do you turn for keyword ideas?
There are many answers to this question. But, the last thing that I want you to do is to guess. If you do, you could soon find yourself chasing after rankings for the wrong set of keywords.
To remove the guesswork and ensure that you're always making good keyword decisions, it's best to let Google Keyword Planner be your guide. Not only is this SEO marketing tool free, but it's operated by Google. In other words, you know that the data will be as accurate as possible, making it an essential tool for your SEO campaign.
It all starts by clicking the Discover new keywords button: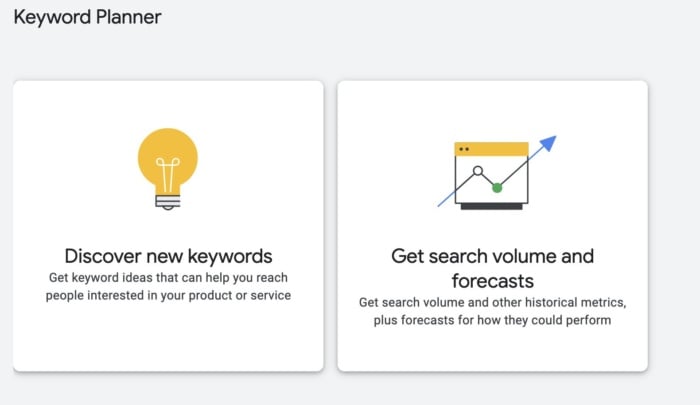 Next, enter a seed keyword. I've gone for an SEO agency: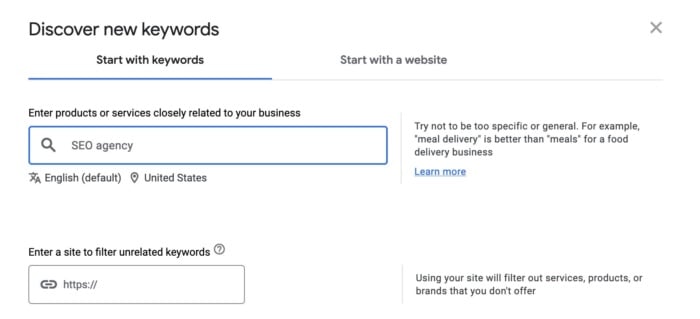 The Keyword Planner will provide you with a list of relevant keywords, as well as an estimate of their monthly traffic levels and a competition rating.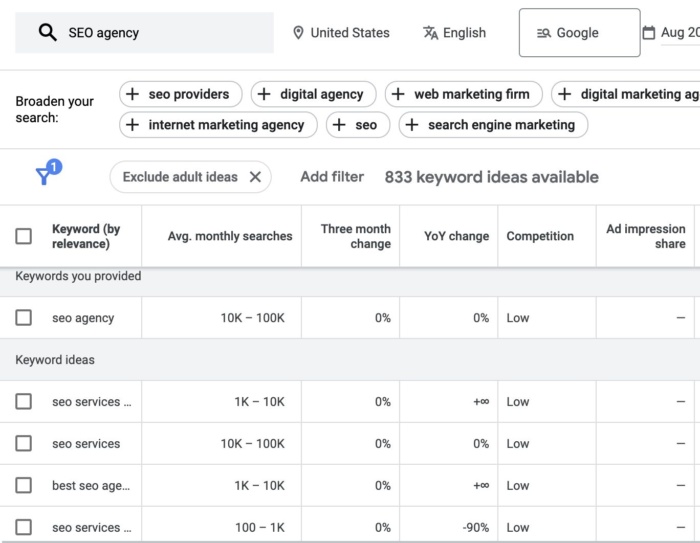 You can get hundreds of relevant keywords this way.
I suggest using Google Keyword Planner, before you launch your website. Along with this, you can rely on it as you create fresh content. It helps to ensure that you select high traffic, targeted keywords and keyword phrases for each blog post that you create.
This one is for all of the local businesses out there.
It can be hard to know how well your local business is appearing online across Google and Bing. Fortunately, you can address this issue with the help of the Moz Check My Listing tool.
It's designed to show you how your business is listed online. More specifically, you can check your listing on Google, Bing, and a variety of other local search engines.
Getting started is as simple as plugging your information into this box:

Here's a sample results page for Petals & Stems Florist, in Dallas, Texas:
Your current score is important, as it shows how close you are to having your local business listed perfectly online. But, the tool doesn't stop there. As you scroll down the page, you're presented with four tabs:
Complete
Incomplete
Inconsistent
Duplicates
In addition to reviewing the complete results, you want to pay attention to those that are incomplete. These are the results that need to be fixed immediately. Here's what you'll see:
Better still, there is a link to "update listing" or "create listing." This makes it simple to quickly and efficiently take care of the problem.
As a local business, you're faced with quite a bit of competition. If you can outdo your competitors when it comes to local SEO, you'll have a much better chance of reaching the top of your industry. Let the Moz Check My Listing tool provide you with an added boost.
Conclusion
Nobody knows what the future of SEO holds. But, one thing is for sure: it remains a viable marketing strategy. One that can send your website a flood of traffic. It's hard to get that level of traffic without one or more of the free SEO and digital marketing tools I've listed above.
The best thing about these 16 marketing SEO tools is that you don't have to pay a single dime to use any of them. Each one is powerful, full of features and free to use—at least to an extent. So there's no reason not to try any of them in the months ahead.
Have you experimented with any of these tools in the past? Will they remain a big part of what you do in the future? Share your thoughts in the comment section below.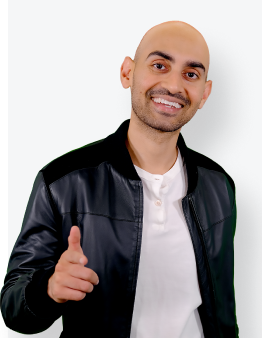 See How My Agency Can Drive More Traffic to Your Website
SEO - unlock more SEO traffic. See real results.
Content Marketing - our team creates epic content that will get shared, get links, and attract traffic.
Paid Media - effective paid strategies with clear ROI.
Are You Using Google Ads? Try Our FREE Ads Grader!
Stop wasting money and unlock the hidden potential of your advertising.
Discover the power of intentional advertising.
Reach your ideal target audience.
Maximize ad spend efficiency.