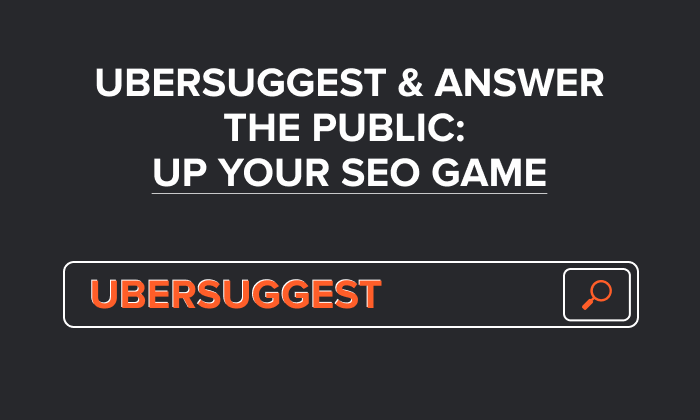 Search listening is going to get you ahead in the SEO game.
Hear me out.
Google averages 3.5 billion searches a day. Of those searches, 16 to 20% have never been seen before.
Each search is like an opportunity to pick a customer's brain. What they think about your brand, offerings, and industry—it's all calculated in real time. If you lean in to hear what they have to say, you'll get thorough answers.
But don't believe it because I said it.
Believe it because when someone has a question or thought, and a person tells them to "just Google it," Google's exactly where they go.
By listening to search engines like Google, AnswerThePublic generates every helpful phrase and query people are asking related to your keyword research.
This tool offers a goldmine of customer insight to create game-changing, useful content.
You know—the good stuff. The stuff your customers actually want to see.
So, today I am going to show you how to use AnswerThePublic.
Pairing this keyword ideation tool with Ubersuggest will kick your SEO strategy into fifth gear.
What is AnswerThePublic?
AnswerThePublic is a keyword ideation tool.
As the name suggests, you can use these keywords to create content that answers the questions people are asking search engines.
Not only is it super easy to use, but it reveals search topics you probably weren't thinking of.
Say you compete in the speakers and headphones market. Off the top of your head, you wouldn't be able to guess what everyone wants to know about speakers and headphones.
If you pop "earbuds" into AnswerThePublic, you'll eliminate the guesswork and see exactly what related terms and queries people are searching.
The results tell you what type of content to create based on the questions your audience is asking.
You gain your audience's trust by providing answers to the questions they're asking. They'll know you want to keep them informed and depend on you as a reliable source.
This is how you can get them to know your brand and offerings through AnswerThePublic.
Let's dive into how to use AnswerThePublic so you can uncover untapped keyword ideas and topics in your niche.
How to Use AnswerThePublic: An Example
Let's head to AnswerThePublic.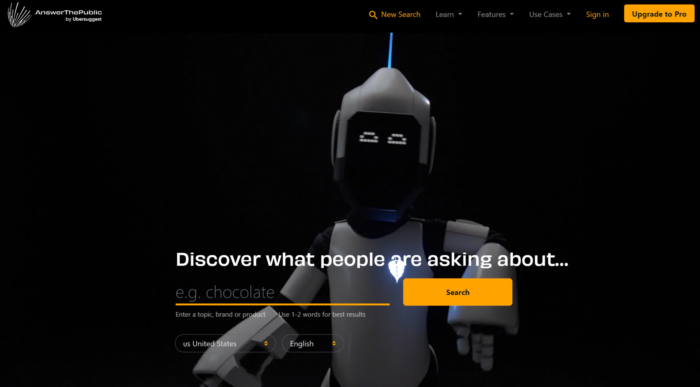 The first step is to enter the keyword for your research.
Remember the earbuds example? Let's stick with that.
I'll enter "best earbuds."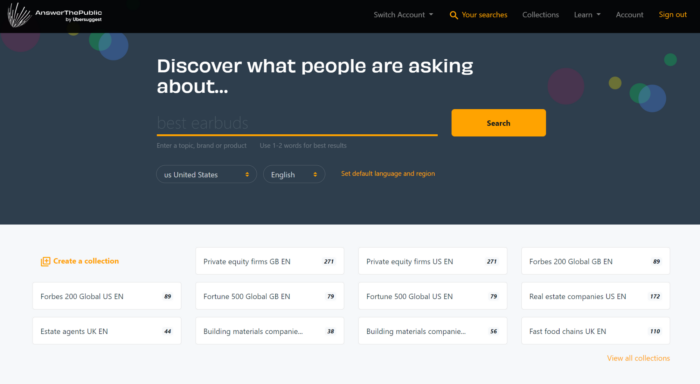 The next step is to choose your location and language from the options provided. Then hit the search button.
Of the 370 results found, you can analyze them by category or download them.
Remember, you won't have to use all the search results AnswerThePublic generates. Focus on the results you know you and your team can execute well.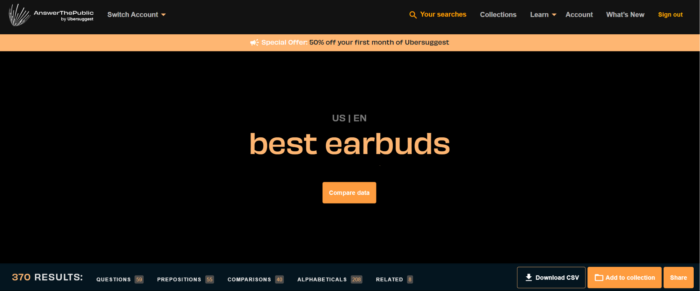 Sharing these results with your team makes for a healthy brainstorming session.
The report divides the 370 results into five categories:
Questions
Prepositions
Comparisons
Alphabetical
Related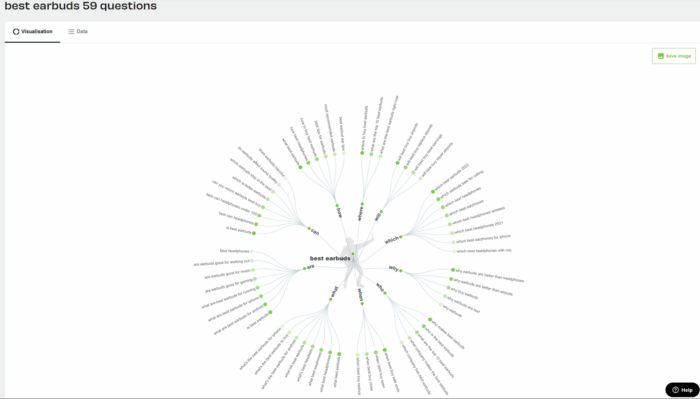 The report's "Questions" section has the following subcategories: what, how, can, when, who, why, which, will, where, and are.
You'll notice there are many differences between the questions people are asking.
No matter the keyword variations they're typing in, the public's aim is clear: Solve this problem for us.
You get to be their solution.
Give your readers a sense of your expertise and speak to their issues by addressing their queries in your blog posts.
You'll build brand credibility by answering the questions on their mind.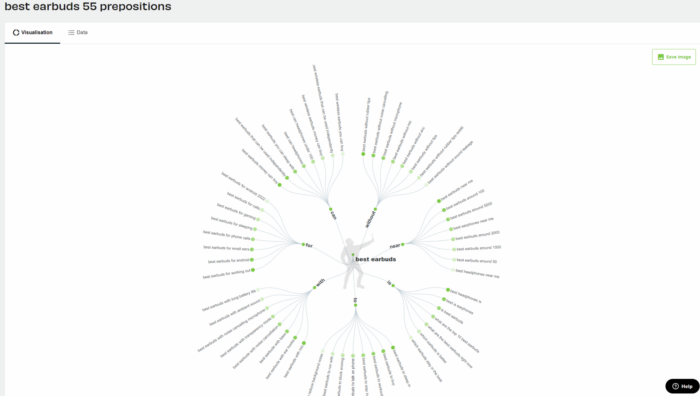 As with "Questions," AnswerThePublic splits "Prepositions" into these subcategories: for, can, with, without, near, to, and is.
These will come in handy to store in your long-tail keyword files.
With the search I did, there are at least 55 opportunities to rank for keywords related to "best earbuds."
Use these ideas to create content that boosts your domain authority.
After a quick review, you'll know which ones you want to start with. You can save others that'll require more research for later.
Now, you can get your content batched out with room to pivot as new things hit the market.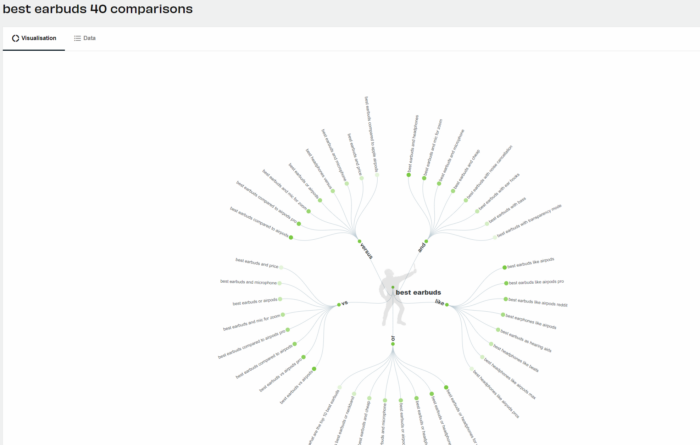 The "Comparison" suggestions get really niche specific with sub-categories of versus/vs, and, like, and or.
These will help you stand out among competitors.
It's likely no one has answered these for your target market, so now you can.
For example, you can bring a unique perspective to "best earbuds that match my skin tone."
Position yourself as the best for these products by publishing persuasive content.
To give you a visual, Beats by Dre recently collaborated with Kim Kardashian to create earbuds that match your skin tone.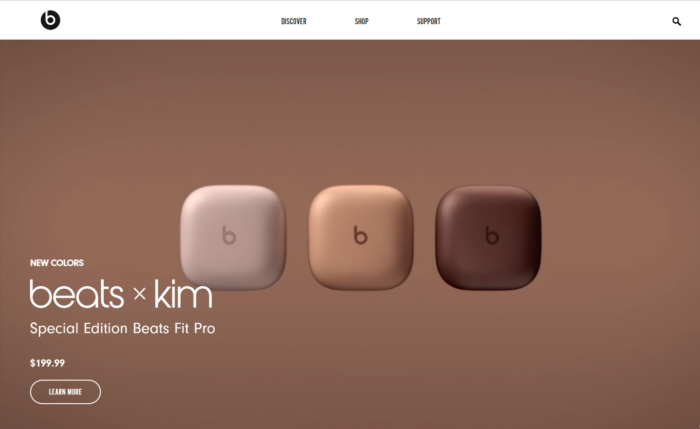 No one else has done this on the speaker and headphones market. Plus, it gives a discrete look that feels ultra-stylish. That is how the brand set itself apart and roped in a big-time celebrity who aligns with fashion.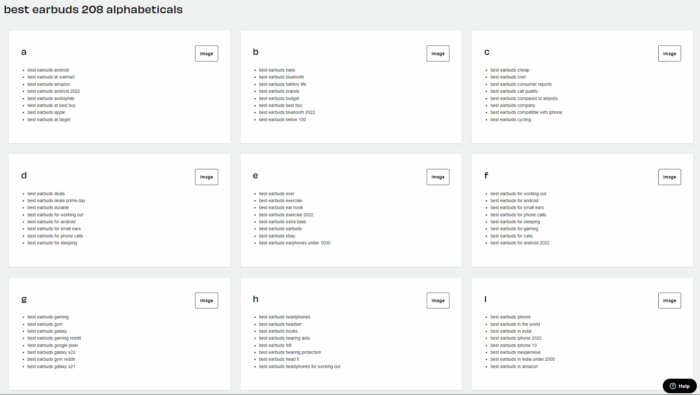 The "Alphabetical" lists offer added informational value for your audience.
You can keep these safe in your notes. From the lists, you pick the ones you know can deliver serious ROI.
As you know, SEO will be your best friend to get in front of this audience. Making a list of 10 or more keywords helps you quickly decide what your content should center around.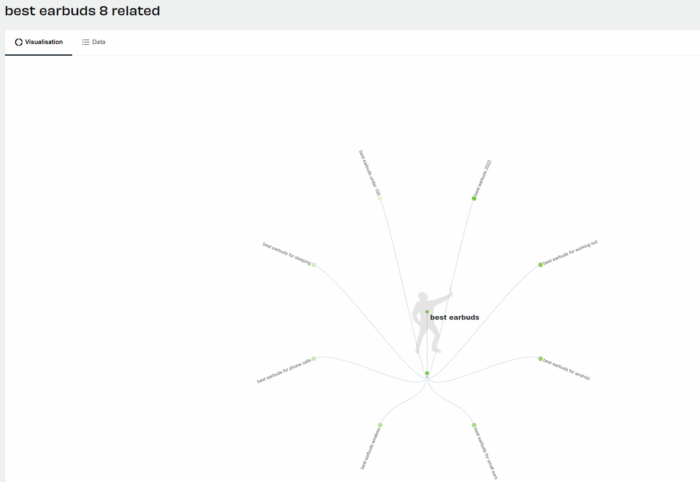 All other related keywords will drive readers to your content—content that speaks specifically to them. These are the individuals who are far along in the buying process or prepared to convert.
Since the potential buyer has probably ruled out several possibilities, it's now up to you to win them over with content that is educational and convincing.
That's how AnswerThePublic works.
Now, let's look at how to turn all that AnswerThePublic data into success with my tool Ubersuggest.
Incorporating AnswerThePublic With Ubersuggest
Now that you've got the hang of AnswerThePublic, let's fuse it with Ubersuggest.
These two tools give you a massive amount of useful data.
How do you want to use this data?
Maybe you're stumped coming up with a new YouTube idea.
I can help you there.
Using the same method we used in AnswerThePublic, plug "best earbuds" into Ubersuggest.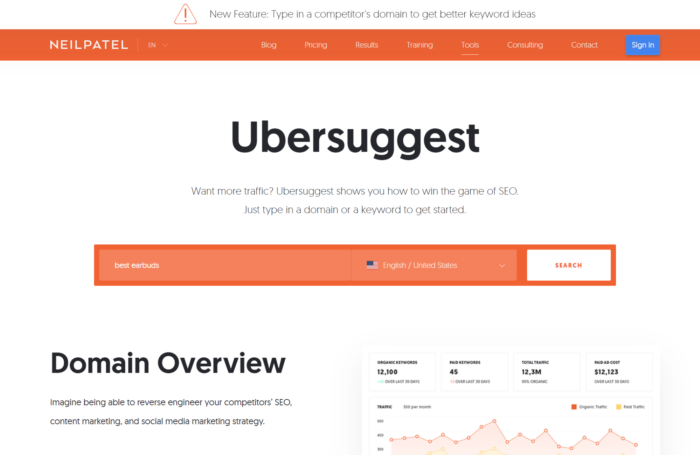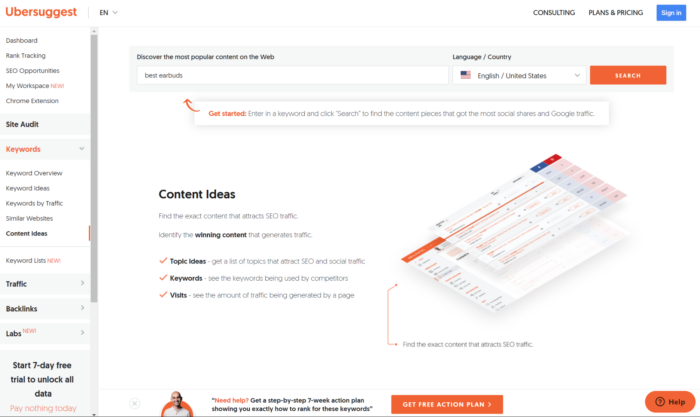 Using the dashboard, let's get some content ideas flowing under "Keywords" and zooming into the results under "Content Ideas."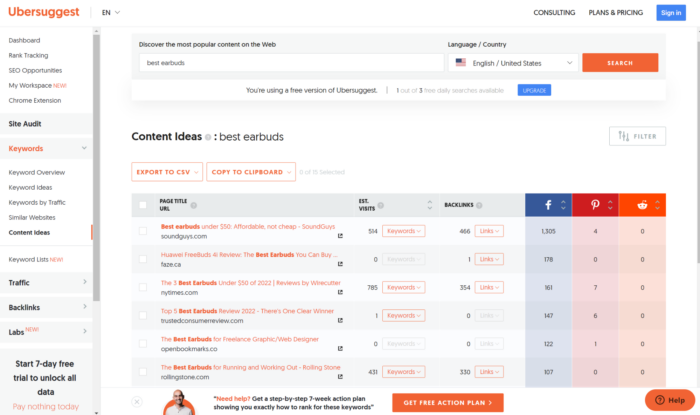 Now, based on the search results in Ubersuggest, we can take our results from AnswerThePublic and combine the findings.
From the high-ranking content we found with Ubersuggest and the mix of search results from AnswerThePublic, we learn two things:
Your audience is looking for the best earbuds under "X" price point.
Which brand(s) make the best earbuds on the market.
I think the best results from the AnswerThePublic findings will come from the "Questions" results. Pair them with the results from Ubersuggest to inform your audience.
You can combine the keyword topics and form them into a thought-provoking question you can answer with your YouTube video.
For example, "What Are the Top Best Earbuds Right Now Under $100?" is attention-grabbing.
The best part is that your audience created this question.
We take the public's concern about affordability and address it through a visual that helps them confidently choose the best product.
Visual content is trendy right now, so communicating with your audience via YouTube is a great way to connect.
The plus to video content is that you can chop it into smaller segments and use it as short-form video content on other social channels.
Content that is informative and gets you in front of your audience is what you want.
After all, you are the subject matter expert in this industry, right?
If not, following my tips with these tools is definitely going to get you there.
Using Ubersuggest and AnswerThePublic to Build Your SEO Strategy
AnswerThePublic helps you get strategically creative.
Ubersuggest takes you on a deep dive into endless keyword data opportunities.
These two together are the secret formula to your SEO strategy.
The good thing about these platforms is that they're simple and straightforward while packing loads of data (some data you didn't even know you needed).
Delivering results is what makes these tools stand out.
How?
Just look at the data output.
Take the data and form your keyword clusters and content topics.
Then, set up a cadence to schedule your content.
It doesn't end there.
Keep up with SEO trends and best practices.
This is how you'll stay up to date on your content's success.
What your audience is talking about is what the results show.
So, follow the yellow brick road of data each tool provides, and you'll be great and powerful in the SERPs thanks to your content.
Conclusion
With AnswerThePublic, it's as if you're a fly on the wall in the search queries.
Your audience gives you the answers, so listen—and then give them what they want.
Using both Ubersuggest and AnswerThePublic for search listening will boost your SEO strategy.
These tools reveal unique keyword opportunities that help you quickly develop high-quality content.
Don't just take my word for it.
Give them a try for yourself and reap the benefits.
What areas do you want to improve on search listening that AnswerThePublic can help with?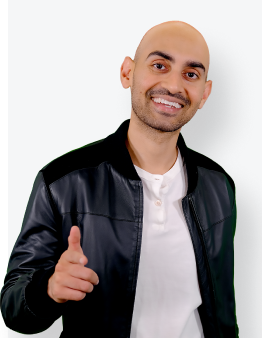 See How My Agency Can Drive More Traffic to Your Website
SEO - unlock more SEO traffic. See real results.
Content Marketing - our team creates epic content that will get shared, get links, and attract traffic.
Paid Media - effective paid strategies with clear ROI.
Are You Using Google Ads? Try Our FREE Ads Grader!
Stop wasting money and unlock the hidden potential of your advertising.
Discover the power of intentional advertising.
Reach your ideal target audience.
Maximize ad spend efficiency.