You know what's great about social media marketing?
Major social media platforms like Facebook and Twitter are free to use.
Sure, paid ads are almost a necessity on virtually every popular social media platform if you want to ensure you're actually reaching the right people.
But, at its core, it's still free to get the ball rolling. Both you and your audience are able to use sites like Facebook and Twitter without fear of hitting some kind of fee for use.
As if that wasn't enough, there's the fact that you can use these platforms to build communities around your product.
You can create content that resonates with your audience, have a dialogue with customers about their experiences and generally build a world that revolves around your brand.
You know what isn't great about social media marketing? The massive amount of time you have to invest in it to ensure your marketing strategies work out.
Let's face facts. You're running a business. Even in the least competitive industries, that's a full-time job.
If you're running a business, it's unlikely that you've got the spare time (or energy) to fully implement a complex social media marketing campaign.
But what if I told you that you didn't have to worry about having to spend all that time managing your profiles?
Social media marketing can be a major time suck, unless you know how to maximize your efficiency and get some pretty impressive returns in the process.
That's why I decided to put together a quick list of methods and tactics that business owners can use today to save time on social media.
There are a variety of ways that you can save time on social media, but I've chosen some of the most concrete and reliable, regardless of wherever in the world your brand is.
And with all that out of that way, let's dive into some of the easiest, most effective ways to dominate social media marketing.
1. Practice batching
I'll be honest. I'm legitimately surprised at how often I'm seeing this ignored by the average business owner struggling with developing their social media presence.
The concept of batching is hardly anything new. You probably ended up batching projects or readings back when you were in school.
What makes this so important is the way that batching can help save you plenty of time and money rather quickly.
To understand what I mean, let's consider two different approaches to managing a social media page.
On one hand, we have the reactive responding. Reactive responding essentially boils down to responding whenever your brand is engaged with on social.
The benefits of this method are definitely worth mentioning.
Not only is your response time going to be significantly faster, but your audience will end up with the impression that your social media platforms are run by people who are constantly available.
Major corporations like Western Union, that can afford to hire someone to run their social media pages, commonly have the "very responsive to messages" tab on their business pages.
Having that tab on your business page can definitely show your audience how much you value speedy communication.
That being said, this is where the list of benefits ends.
The reality of managing a social media page this way is that it's massively time-consuming and there isn't much that you can do here to save time.
On the other hand, we have the batching approach.
As far as marketing techniques go, I've found to be one of the best for shaving hours off of your social media management time.
Your audience is still getting their issues addressed, but it's no longer instantaneous.
By establishing a few specific times throughout the day to check your social media pages, you'll be able to sustain a healthy level of engagement with your audience.
Will your responses be a bit slower? Sure, but that's by design.
They'll still be consistent, and now you'll have the added bonus of not having to constantly be aware of your social media presence.
Which actually brings me to an important point in this approach. Self-discipline.
It's almost unavoidable that during this process, you'll feel the need to check your social media pages randomly throughout the day.
As a business owner, it can difficult trying to take your hands off the wheel. Especially if you've been checking your brand's social media pages multiple times on a daily basis.
But the fact of the matter is that the only way to make the most of the batching approach is to ensure that you stick to it.
Establish 3-5 times throughout the day where you're allowed to review your social media pages and respond to your audience.
Not only will this end up saving you an insane amount of time, but it'll also ensure that you're taking part in a sustainable social media marketing strategy.
2. Learn to curate content
But okay, that's just a management approach. How exactly can you build up your social media pages while still saving time?
The answer to this question comes in the form of a drastically misused method, the curation of content on social.
Here's the interesting thing about content curation. For the sake of this example, we're going to focus on two basic definitions of content curation in the marketing industry.
For some, content curation is essentially the recycling/plugging of other people's content.
Here's a look at Convince and Convert's Jay Baer, providing his audience with some content that he thinks they'd enjoy on Twitter.
And let's face it. Creating content is tough.
And creating completely unique, compelling content, day after day? That's borderline impossible for the average small business owner.
Which is why this version of content curation can sound so darn appealing.
Business owners can provide their audience with value and avoid having to create any content themselves? It sounds like a pretty good deal, right?
But there's more to this situation than meets the eye.
So let's address a few things.
First off, yes you would be able to produce less original content and rely on the work of others in your industry.
But you do end up missing out on quite a bit of potential in the process of doing this.
Why? Because the second version of content curation is exceptionally more valuable.
Make no mistake. Content curation in any form will help save you an impressive amount of time when it comes to managing your social media presence.
And frankly, one way or another, you're going to end up promoting ideas that you didn't have to come up with on your own.
But the second version of content curation can be an incredibly powerful tool for the average small business owner trying to be seen as a legitimate online authority.
If you're going to curate a bunch of different sources, you could do what CJG Digital Marketing did and build an infographic around that content, shown here on Business 2 Community.
Let me explain.
If you're just reposting or retweeting the content that others are making, that's only going to get you so far.
The reality of social media marketing is that you need a certain level of consistent posting in order to get the most out of your social media profiles.
And as admirable as it is to try to make completely unique content every day, the truth is that it's a recipe for burnout.
Even if you're operating in an industry that's changing on a daily basis, the truth is that coming up with content every single day is going to be rough on you.
That's why content curation is such a powerful tool for small businesses.
Instead of trying to load your content calendar with as much purely unique content as you can manage, make an effort to curate content frequently.
The reason for this is two-fold.
First, you'll be able to ensure that you're producing enough content to match the growing needs of your audience.
Just take a look at how often I have to post on Twitter to maximize my reach.
I'm typically posting at least once per hour, and that's on a slow day!
It may not seem that important, but the truth about consistent posting is that it's necessary if you're hoping to be taken seriously as an online authority in your industry.
But more importantly, if you're able to curate content properly, you'll be able to offer a level of value that none of your other competitors will be able to.
If you're at all confused, here's a simple example for you.
Imagine that you ran a digital media marketing agency. Everyone in your industry has just determined that Facebook marketing and advertising is changing drastically.
Could you hop on the bandwagon and just link to this content on your Facebook or Twitter? Sure, and there's a good chance that you'd get some decent engagement out of it.
But then again, you could always go a step further.
What if you took a look at the information being put out by your competitors and found a way to provide readers with even more value?
Instead of just restating what's been said by your competitors, you could take that information and do something with it.
I'm a huge fan of taking data and using it to create an infographic.
Consider what Speechless Digital put together back in 2016 after looking at some recent stats and trends on the platform.
It might seem a bit intimidating if you've never made one before, but the truth is that there's no easier way to add value to any piece of information than by making it an infographic.
The beauty of this version of curated content is that you've still saved yourself a massive amount of time by not having to do any of the research on this topic yourself.
All you really need to do is put the visual together, give credit where credit is due, and watch as your social media page enjoys the benefits of a consistent posting schedule.
Of course, that's just one example of how to curate content properly.
The truth about content curation is it's not so much about just posting other people's content as it is about finding ways to add value to the content of others.
That way, you're not just riding off the accomplishments of your competitors. You're taking the best of what they had to offer and making it even better, all for the sake of your audience.
3. Track metrics to determine optimum posting frequency
Here's the truth about social media marketing. If you're just moving forward without any consideration for the big picture, it's only a matter of time before you do something wrong.
I'm a firm believer that small businesses and brands should take time before the implementation of any marketing strategy or campaign and really clarify what they want out of it.
Are you looking to increase the traffic sent to your website? Are you purely interested in increasing conversions?
Whatever your goals are, it's absolutely vital that you define them clearly and early.
Why?
Two reasons, actually.
The first reason being that you're going to have a pretty tough time reaching any of your goals without establishing them first.
Or to put it another way, it'd be pretty hard to hit a target if you had no idea where it was, wouldn't it?
The second reason is that if you're looking to experience consistent, long-term growth, you're going to need to regularly improve upon your social media marketing efforts.
And that's going to be pretty difficult to do if you've got no idea what's been effective over the last few weeks/months.
Creating content and promoting it is important, but so is keeping track of your social media page metrics and developing a better understanding of what it is your audience wants from you.
That's why I'm such a massive advocate of tracking metrics on social using tools like Facebook's Audience Insights.
There's no getting around the fact that improvement is built on knowing what works and what doesn't.
And when it comes to determining what works and what doesn't, there are two topics that are worth focusing on if you're interested in saving time.
The first, and most important in my opinion, is determining your optimum posting frequency.
It's easy to look at a social media marketing post and think that posting 3-5 times a day on Twitter is enough to keep you in the clear.
And to be fair? It very well might be. But the point of this section is that you should know for certain that your posting schedule is as efficient as it possibly can be.
By keeping track of those metrics, you'll be able to figure out exactly how often you should be posting content, which will help increase your overall engagement when it comes to content.
The second topic when it comes to metrics and saving time is something that I think all business owners need to realize at some point.
Not all social media platforms are created equally.
You might love Facebook, Twitter, and Instagram. But that doesn't mean your audience does too.
In fact, it's almost impossible that your audience uses all three of those platforms equally.
It's much more likely that you'll notice an increase in traffic and engagement in one or two specific platforms.
If the data that's coming back isn't conclusive, try an A/B test where you can finally see which platform performs the best for you and your content.
Once you've checked that data and determined which platforms are giving you the most bang for your buck, double down and focus your energy on those platforms.
Could you market on 5 different platforms? Sure. And when you're first getting started, it makes sense if you're looking to figure out what your audience responds to.
But if you've been promoting on social media for a while, it's time to concentrate your efforts and ensure that you're having the right conversations with your audience through the right channels.
Conclusion
Social media is an interactive place where businesses and consumers can engage in meaningful conversations.
Of course, the issue with interactive experiences is that they can demand quite a bit of attention from you in order to be executed properly.
Saving time while still executing on social media can seem like a tall order, but not when you've got the right tools for the job.
Take the time to practice batching, and establishing clear time limits for yourself.
Learn to curate content efficiently and properly, in order to alleviate some of the content creation pressure while still being seen as an online authority.
Track metrics that matter and data throughout your social media marketing efforts in order to figure out when you should be posting and where.
If you're able to adopt these practices, it's only a matter of time before you significantly cut down the time you spend on social media while still crushing it on social.
What are some of your favorite time-saving strategies on social media? What have you found to be the most effective platforms for social media marketing?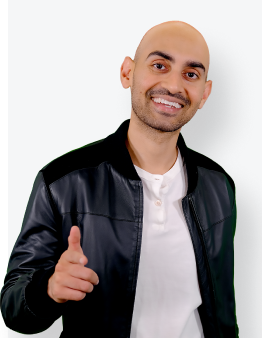 See How My Agency Can Drive More Traffic to Your Website
SEO - unlock more SEO traffic. See real results.
Content Marketing - our team creates epic content that will get shared, get links, and attract traffic.
Paid Media - effective paid strategies with clear ROI.