Your Google Ads are humming, Bing is kicking out a smattering of leads and you're running Facebook ads. Good stuff.
But have you tested LinkedIn Ads yet?
If you're looking for a new channel to find traffic, leads, and customers, LinkedIn might be the perfect place to look—especially if you're in the B2B space.
According to 2018 data, as many as 65% of B2B marketers have acquired customers by using ads on LinkedIn.
But LinkedIn, like its counterparts across the web, is different from other platforms. It's not quite SEM, not quite display buying, and not quite typical social advertising.
LinkedIn ads are their own category, and today you'll learn how to work with them.
In this post, I'll lay down the basics, explain how the system works, and share with you some tricks and best practices to get the most from your LinkedIn ads investment.
Let's get started!
Who should advertise on LinkedIn?
Before you decide whether this is truly a channel worth testing for your business, you should ask yourself: "Would a professional, in a day-job mindset, likely be interested in my product, service or offer?"
Chances are, this single question is all you need. There aren't fancy LinkedIn marketing tips to know whether your audience will be on LinkedIn.
But with this question and testing, you'll find the answer. Business-to-business (B2B) marketing is usually a snug fit here.
If you sell something that benefits business owners or working professionals the answer is probably yes. LinkedIn is likely a great place to test.
People are on this site to better their careers, find a new job, network, connect with business contacts, and to get a few minutes of mindless get-away-from-work time. Your offer should speak to someone in that head space.
If you make educational games for children, maybe LinkedIn Ads aren't your hottest new marketing channel.
Who sees LinkedIn ads?
While LinkedIn ads might not be as obvious on ads on other platforms—take Facebook, YouTube, and Google as examples—nearly every user sees them on a daily basis.
There are a few types of LinkedIn ads. The first are sidebar ads. These are small and text-based with a single square picture.
The next type is sponsored content. These are similar to Facebook's news feed ads, since they show up in the LinkedIn feed just like Facebook ads.
Finally, you can also use sponsored InMail. This is essentially private messaging that you pay for, and you can use it to target very specific audiences.
While each ad has its own specialty, some of the best-performing ad types on LinkedIn include relevant industry-related content.
Research from 2017 indicates that LinkedIn is the best social platform for distributing content and securing audience engagement.
Who can I target?
If you're looking to get more LinkedIn leads every day, you're in the right place. With LinkedIn targeting, you can do some amazing things that aren't possible with other networks.
While platforms like Facebook have lots of personal demographics, LinkedIn specializes in career-related filters that you can't find anywhere else.
You can get pretty smart about targeting your customer. Company size, title, industry and geographic targeting are available.
Perhaps you're marketing a recruiting firm focused on executive search for tech companies in Silicon Valley.
You could target VPs of Human Resources at high tech and semiconductor companies with 501+ employees in and around the San Francisco Bay Area.
LinkedIn provides tremendous opportunities for targeting the very professionals who need to hear about your product or service.
Anatomy of the LinkedIn ad
With the three different types of ads, there are different strategies for maximizing each one. Let's look at each in turn.
For the text ad, you'll want to keep the image simple and to the point. You only have 50×50 pixels for the image (and it's optional) so don't make it too complex.
Typically use a person, and only use your logo if you're going for brand awareness.
For sponsored content, you have more flexibility. You'll want to craft an interesting post that looks similar to natural, organic posts on the site.
According to data published in 2018, case studies are best at converting leads into customers.
You'll be able to write a short headline and some intro copy. Next, include a destination URL and an image. A larger one works fine here, since the recommendation is 1200×627.
Finally, you can use sponsored InMail messages. For these, you'll want to write them like friendly emails. Since they're not displayed as ads, you can be more informal.
Most importantly, use plenty of personalization here since you'll be targeting a laser-focused group of individuals.
Another great component of LinkedIn is the ability to create auto-populated lead generation forms.
With a few clicks, a LinkedIn user can submit a form with their information, all without typing it up. This makes the process frictionless and means you'll get more leads with less effort.
How much do LinkedIn ads cost?
As with any contextual CPC ads, the price depends on your targeting criteria and your competition.
We've seen CPCs start at around $2 and run up to $4 or $5 per click, with the higher end typically coming into play when your click-through rates aren't fantastic.
LinkedIn pegs a good click-through rate at 0.025%, but you can do better with laser-targeted ads featuring compelling copy and a vibrant photo.
A good rule of thumb is to try between .08% and 0.1% as your click-through rate. This means get as close as possible to one click in every 1,000 impressions.
A smart tip? Switch up your ads often, at least once a month. New ads get a boost in terms of impressions and have a chance of scoring a higher CTR than your previous ads.
Don't run more than two ads at a time. Test early and test often.
How should I capture the leads?
Now that you have eyeballs on your ads, the next step is simple: you need to convert those impressions or clicks to customers and sales.
And using ads is one of the best ways to boost sales through LinkedIn.
You have two ways to collect leads from LinkedIn Ads, and I recommend you use both simultaneously.
The first is obvious: your landing page. Consider giving away something for free—like great content relevant to your audience—or running some kind of promotion.
People jump at free, helpful content, and their engaging with your offer puts them into your lead nurture funnel and opens the door to a relationship.
So what's the second way? It's a feature LinkedIn calls "Lead Gen Forms." Someone can be interested in your ad and almost immediately respond to it with auto-populated fields.
If you haven't used this type of ad response before, it might be a game changer for your business.
Tracking your ads
LinkedIn offers a suite of tracking tools for data, analytics, and ROI measurement—but I also recommend doing some of your own measurement and tracking.
With LinkedIn's tool, appropriately called Conversion Tracking, you'll want to set up a specific conversion action you're looking for people to complete.
This could be a purchase, signup, or new email registration. You'll then tie this into your LinkedIn ads through a simple piece of Javascript code embedded on your site.
If you're familiar with Facebook Ads and the Facebook pixel system to track conversions, you'll be able to get started with LinkedIn's tool quickly due to its similarities to Facebook.
If you aren't familiar with Facebook's tool, don't fret. Just brush up on LinkedIn's software and get started as soon as possible so you can learn as you go.
Why should you track your ads? The biggest reason: so you can make an educated decision about whether the channel is ROI-positive for your business.
That way you have clear visibility into which optimizations you choose to make will ultimately impact your bottom line (not just your traffic).
To keep tabs on your goals off of LinkedIn, I recommend setting up Google Analytics on your landing page, if you don't have it there already.
You'll want to check analytics for engagement metrics (time on site, pageviews, bounce rate, etc.) to understand how long LinkedIn ad visitors are staying on your site.
If you're consistently seeing a time on site of under 5 seconds, your offer isn't compelling, your landing page needs work, or your ad copy is a little "too attractive" for the effort required to convert.
Look at the pages these users are visiting to get a sense for the quality of the visits. Are they reading up on your company at all, or are they just hitting the landing page and bouncing?
Just like any paid media channel, what happens on the other end of the click matters most.
Ultimately, LinkedIn Ads can be an expensive promotion channel in terms of CPCs, aimed at an elite audience. You have to be crafty to extract ROI from it, but it's worth testing.
Depending on your business, it might be the best source of new leads.
Conclusion
Whether you're looking to find more prospects in a predetermined target market or eager to explore a completely new area, LinkedIn ads might be the way to go.
If you're in the B2B space, LinkedIn ads are a no-brainer. But they can also work well if you're selling a consumer product that appeals to business-minded or affluent customers.
To start, you'll want to choose the exact type of ad you want to run. Decide on placing a text, feed, or InMail ad. You'll also want to specify the exact parameters to attract just the right people.
Once you've created a quality ad for LinkedIn's guidelines, choose your targeting specifications, measure your results, and get started!
What strategies will you use for your first set of LinkedIn ads?
About the Author: Igor Belogolovsky is Cofounder of Clever Zebo, a group of online marketing strategy experts specializing in SEM, SEO and conversion funnel optimization. He also happens to like craft beer and snowboarding.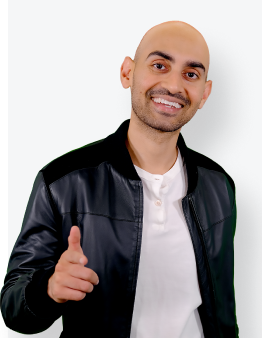 See How My Agency Can Drive More Traffic to Your Website
SEO - unlock more SEO traffic. See real results.
Content Marketing - our team creates epic content that will get shared, get links, and attract traffic.
Paid Media - effective paid strategies with clear ROI.