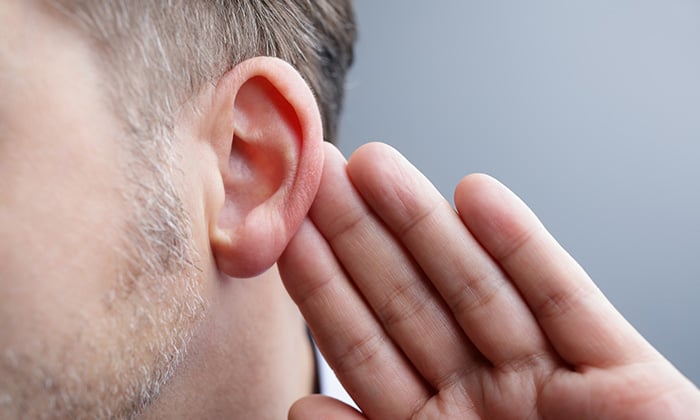 About 59% of Americans who use social media say that social customer service has made it easier to resolve customer complaints.
And if you've ever had someone complain about your brand on social media, that probably doesn't come as a surprise to you.
The thing is, not everyone who has a problem with you will say it right to your face.
Roughly 30% of tweets that mention a brand don't include the brand's handle.
So how do you find out what's being said about you? Where do you even start?
That's where social listening comes in.
You don't have time to try and sleuth out every mention across the entire Internet. Between blogs, Reddit, and social media channels, it's just too much.
That's why you need a top-notch, social-listening strategy.
With the right tools, you can know immediately when someone says something positive or negative about you, even if they don't include your social media handle.
You can keep an eye on the general sentiment about your brand, product, or competitors, too.
And, you can stay informed on news and influencer conversations while also identifying new influencers at the same time.
You can do all of that with only four tools.
That's right, just four.
Because when you know the ins and outs of these four cutting-edge social listening tools, you'll never miss the chance to get in on an important conversation for your brand.
Mention
This first tool takes the cake.
Mention combines social monitoring, analytics, and competitor espionage.
These are pretty much my three favorite things.
If you feel the same way, you should definitely go ahead and sign up for a free trial of Mention.
It's a paid service, but when you maximize the resources it has to offer, you can be sure you'll get every penny's worth.

After you sign up, one of the first things you'll see is a popup. Simply click on "Create your first alert" to get started.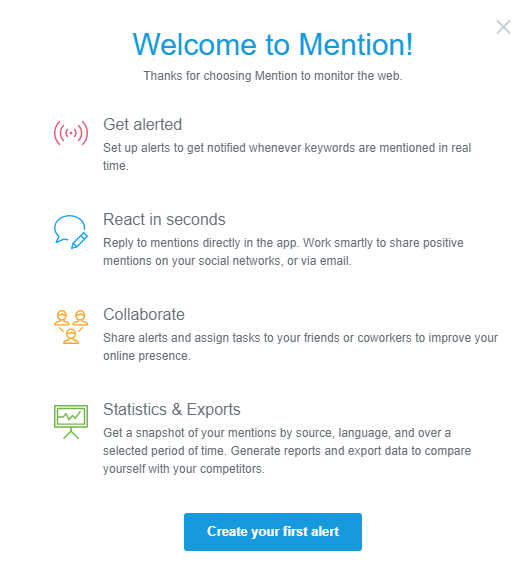 From here, you can specify what kind of sources you want to monitor. You can also choose which languages you want to include.
This is also the time to select which brand you'll monitor. You can choose your name or the name of your brand — or, in my case, both.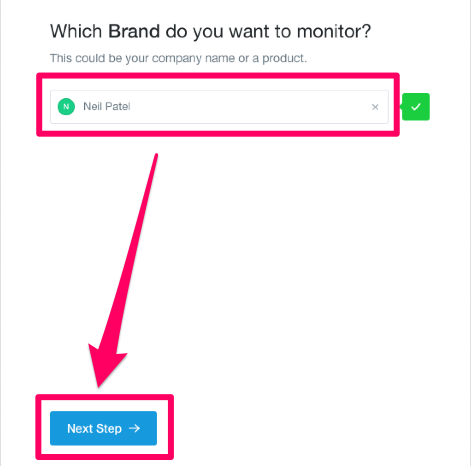 On top of that, you may want to choose to monitor related brands. The site will suggest some candidates during the setup process.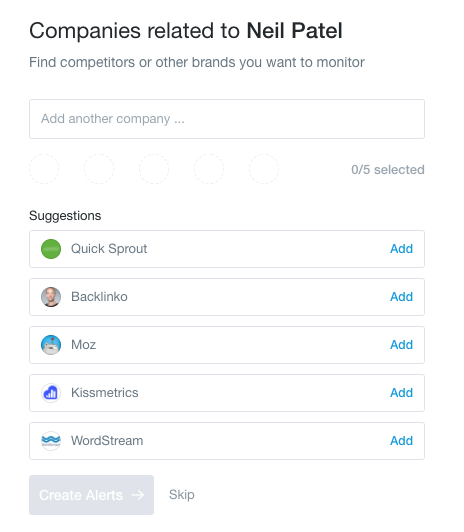 Now, you'll know right away when someone mentions you or your business.
Mention will update your mentions in real time and list them in a feed that's right on your dashboard.
With Mention set up, you can take a few minutes every day to scroll through your feed and read up on what the public has been saying about you lately.
Click on a mention to view the full post or article where your name came up.
You can also retrieve analytics on the accounts that mention you. Click on "Dashboards" at the top of the page, and then select "Listening Analysis."

This dashboard will answer all your biggest questions about the demographics of the people who mention you.
For example, check out which languages the authors wrote in and which platforms they posted them on.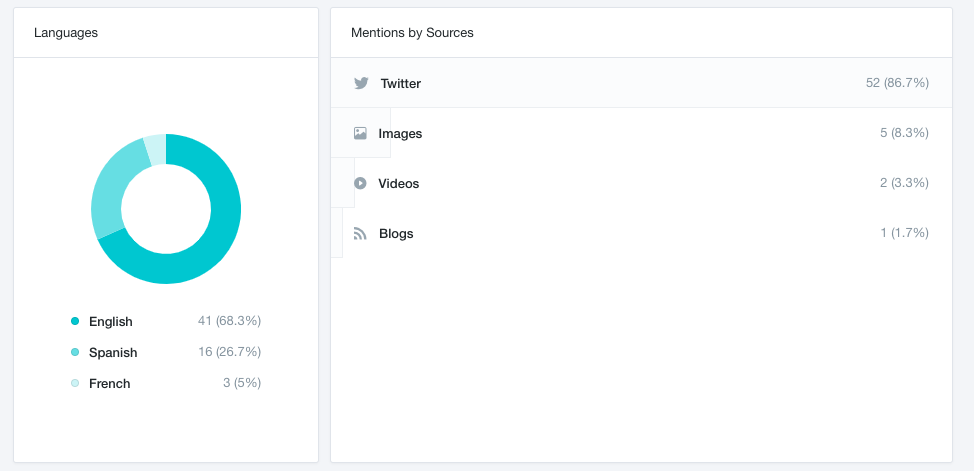 Scroll down to see a list of mentioners sorted by their social authority.
Do you see someone you don't have a relationship with yet? Take a look at their account to find out more about them and what they're saying.
If they seem supportive of your work, this could be the start of a beautiful relationship. Consider reaching out.
Similarly, you can view the accounts that have the most reach here as well.
This is a perfect place to find some potential influencers in your industry that you don't know yet.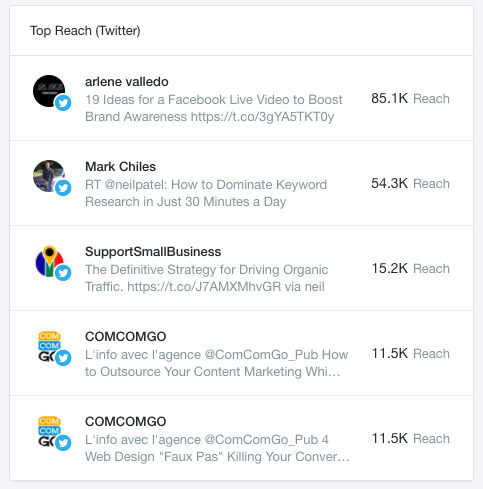 You'll also see a weekly chart showing how many of your mentions have been positive, negative, or neutral.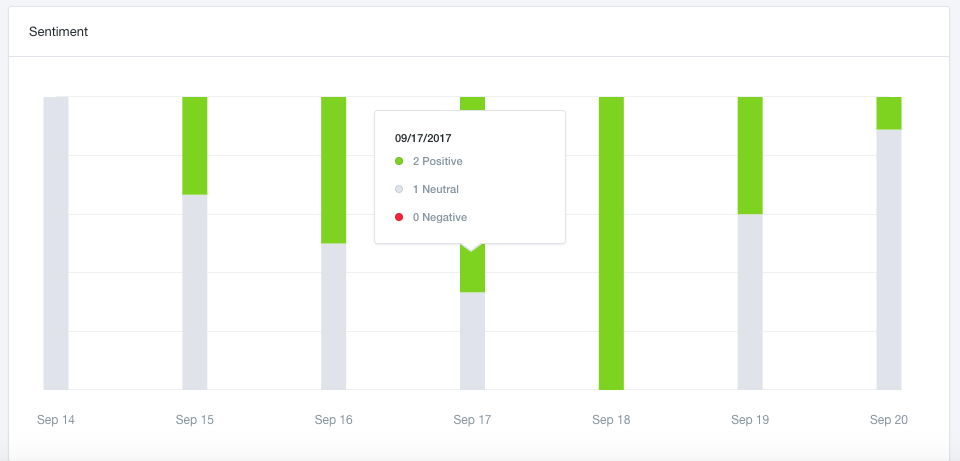 Use this chart to keep an eye on public sentiment, and maybe boost your ego from time to time, too.
The last, and possibly most unique, feature I want to point out about Mention is the "Competitive Analysis."
This dashboard allows you to compare analytics for you and your competitor's mentions side by side.
You can find it by clicking on "Dashboards" and then choosing "Competitive Analysis."
On this page, you can retrieve data for any of the competitors you added to your tracking list.
Here's what it looks like with data for my brand, and for Kissmetrics: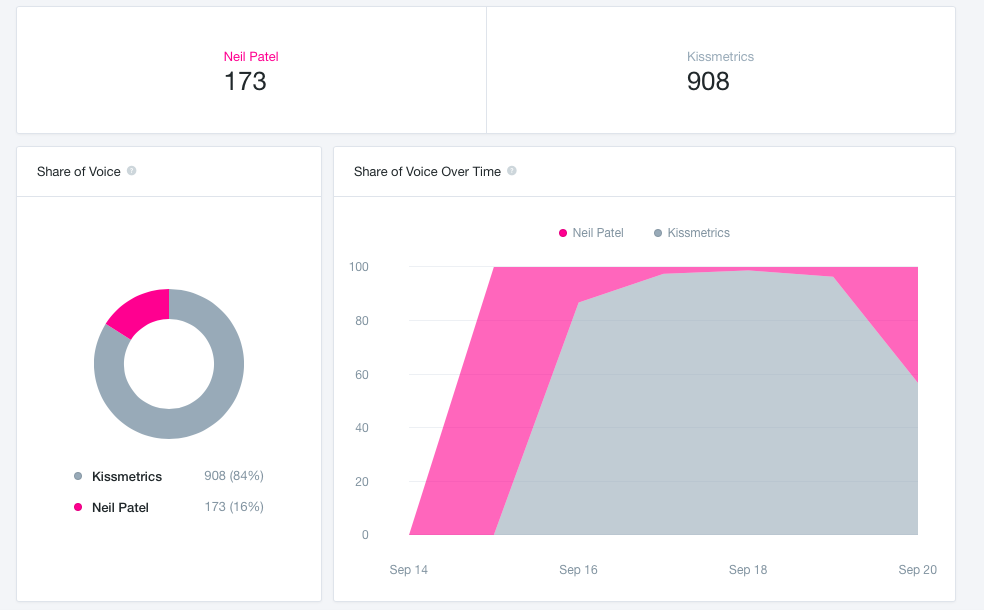 These graphs show a direct comparison between the number of mentions the two brands have received over the past week.
Next, you'll see how the share of voice differs based on the platform.
While Kissmetrics was mentioned more than my brand was on Twitter, I was mentioned with a photo attached more than Kissmetrics was.

Use the "Daily Activity" chart to view when during the week you and your competitors are being mentioned.

When does your number of mentions differ from your competitor's? And how can you use this to inform your strategy?
Your competitor's target audience is the same as yours. Knowing when those people are active is a key part of your social media strategy as you plan out your posts.
IFTTT
If you're interested in finding out when blogs are mentioning you, try signing up for IFTTT.
If This Then That (IFTTT) will send you an email whenever someone mentions your brand in a selected RSS feed for a specific industry.
You can sign up for IFTTT through Google or Facebook, or you can create an account from scratch.
Once you've settled, click "My Applets" at the top of the page. Next, select the "New Applet" button.
The next screen will look like this: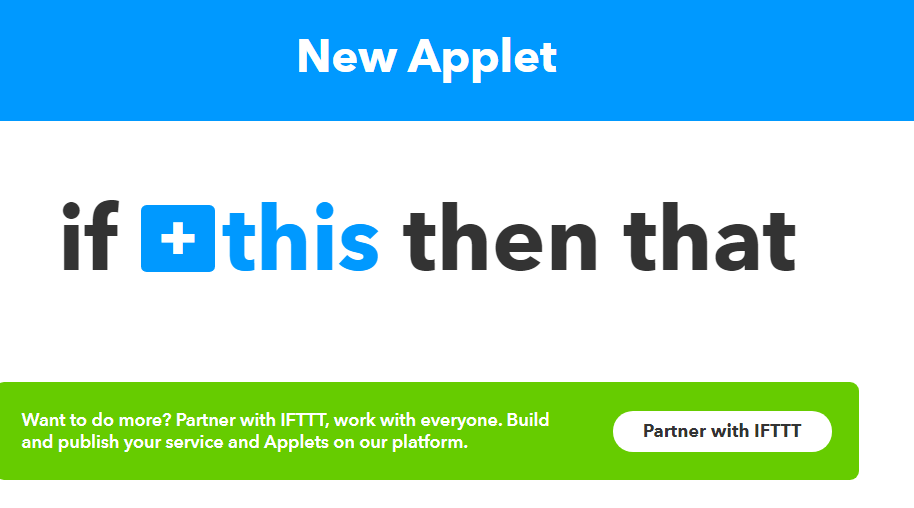 Go ahead and click on that blue plus + sign with the word "this."
On the next screen, choose "RSS Feed."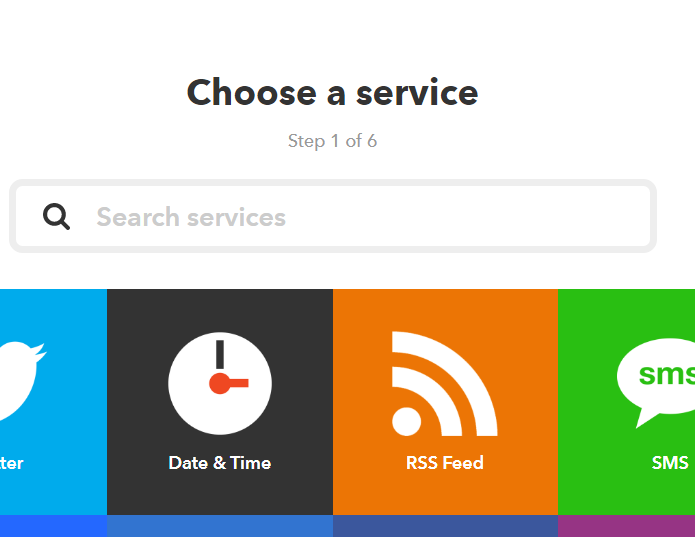 Now it's time to specify your "trigger." The trigger is the word or phrase you want to receive alerts for. To set it, click "New feed item matches."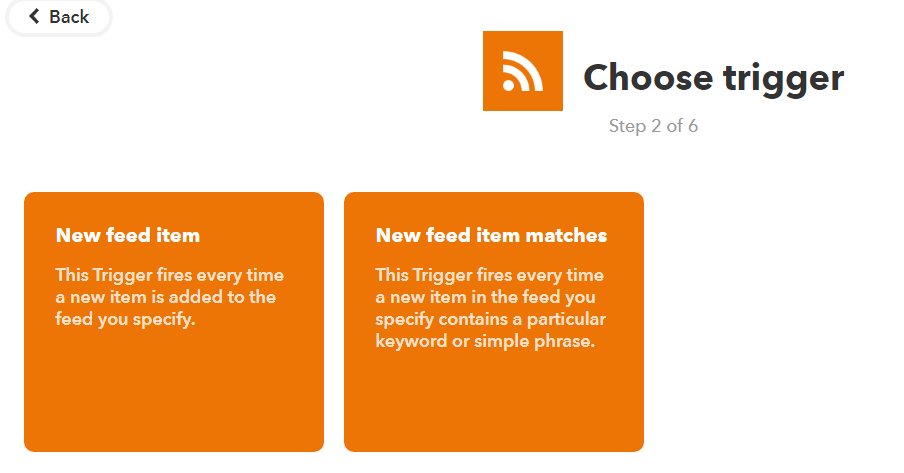 All that's left to do is fill out the boxes provided with your keyword and the RSS feed you want to keep tabs on.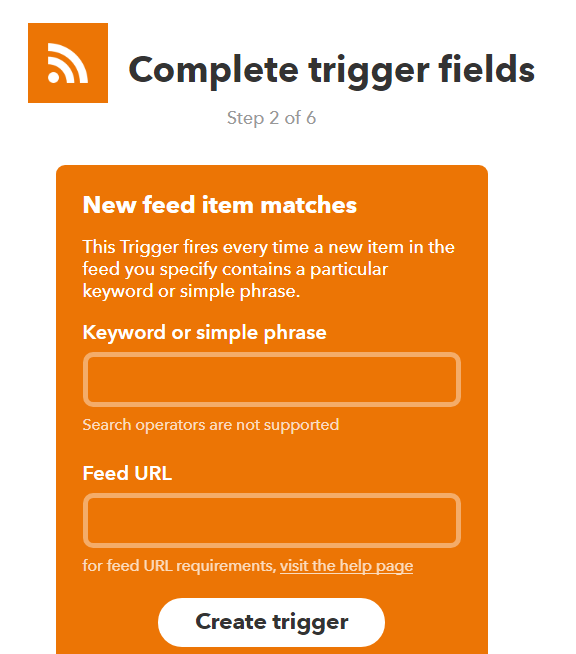 As an example, I'm using my name as the keyword and the feed URL from Search Engine Land.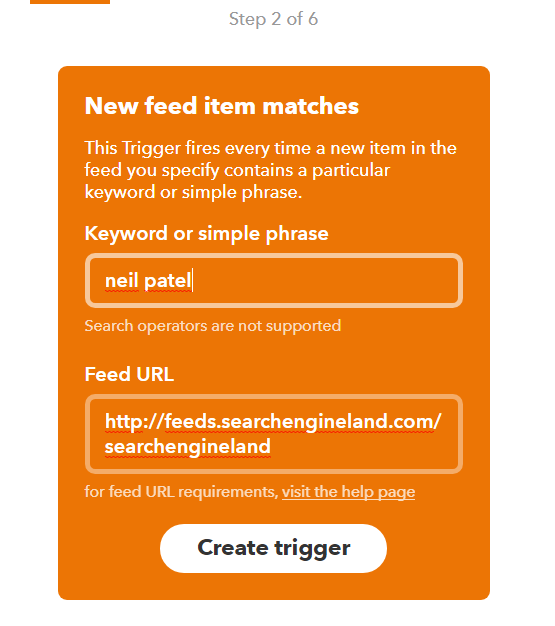 After you hit "Create trigger," you'll see this: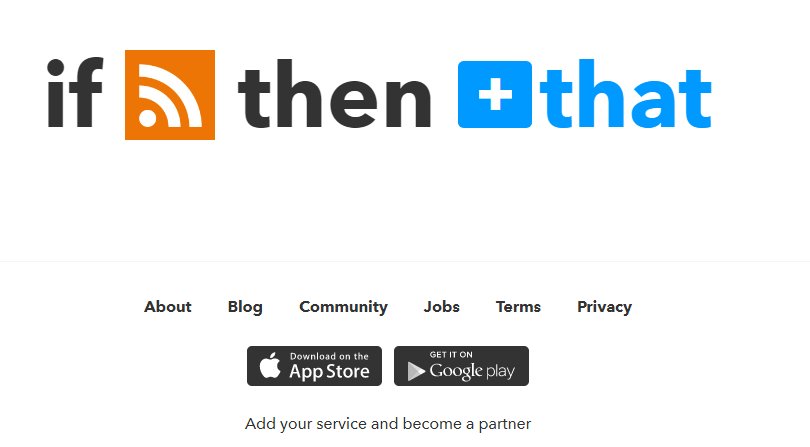 You'll notice the word "that" now has the plus + sign. Try clicking on it.
Then decide how you'd like IFTTT to notify you when your name is mentioned on the website you've chosen.
You've got some decent options here. Among them are Twitter, Facebook, Tumblr, Buffer, Delicious, and Google Drive.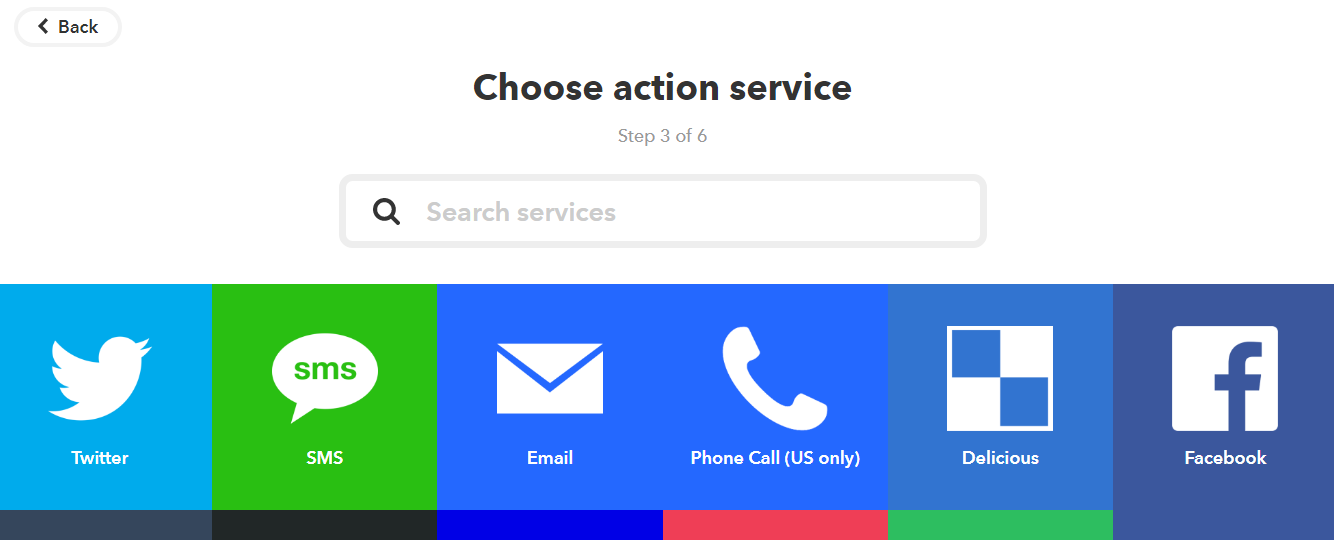 Once you finish setting things up, IFTTT will notify you each time that website mentions your name or your business's name.
Review your work, then pat yourself on the back. From here on out, you'll get an update whenever this blog gives you a shoutout.
And when you get that update, use it. Do your best to check up on those shoutouts and ensure they're inbound linking to your blog.
If the link appears to be missing, don't be afraid to ask the author for it in the comments.
Chances are, the link was omitted by mistake and they would be more than happy to add it.
Hootsuite
Now that you've got an ear to the RSS-feed door, it's time to do some eavesdropping on social media.
Responding to customers on social media pays off in a big way. By answering customer complaints via Twitter, you can increase customer advocacy by up to 25%.
That's where Hootsuite comes into play. Hootsuite allows you to monitor social media mentions in real time, so you can respond to customers right away.
What's more, the tool puts all your social media feeds into one convenient place.
Access the Hootsuite website to set up your account. Your next step is to click "Add Stream" at the top of the page.

Next, just select the profile you want, and choose "Mentions" from the list.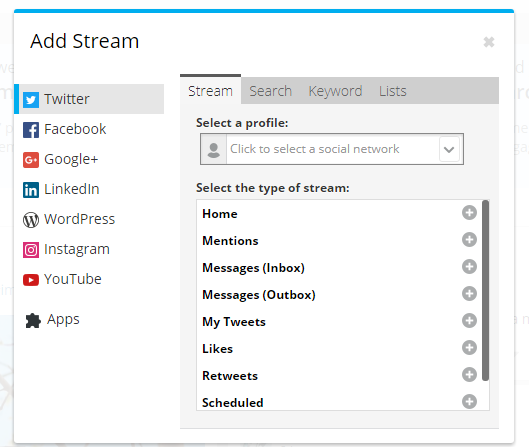 Once the change has been made, you'll see a green "Stream added!" notification at the top of the screen.
Find the column that says "Mentions." This column updates every time someone mentions you on Twitter.
I've got notifications set up for my name, as well as for my companies, like Quick Sprout.
I know about each brand mention as soon as it happens. That means I can respond quickly.
And now you can do the same.
Of course, as your brand grows, you may start getting more mentions than you can handle.
If that's the case, you won't have time to respond yourself. So you might need to enlist your team to help.
But don't worry, Hootsuite has your back.
This example from their website shows how you can delegate responses to other members of your team.
Members of the best social media teams are all on the same page when it comes to handling customer complaints.
You have to be, or one customer complaint can turn into a viral maelstrom.
And you know dealing with unhappy consumers can be tricky. But it's nothing a little preparation can't fix.
As you and your team study up on best practices, take a cue from Tesla founder Elon Musk.
In 2016, a customer tweeted him about a problem he had noticed. Musk replied like this: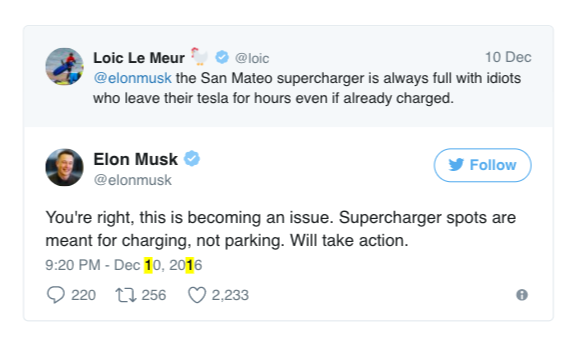 By doing this, he was able to be transparent about the problem and pave the way for an honest conversation.
And that further paved the way towards the ultimate destination: excellent customer service.
After all, 94% of customers say they're more likely to be loyal to a transparent brand.
It's also important to note that Musk responded to this comment within 24 hours.
Take that cue, because the quicker you respond to a customer, the more satisfied they'll be with your answer.
Keyhole
Tracking your brand, name, and product mentions are only one part of social listening.
Tracking specific industry keywords is the other part. And it's just as important as watching your brand name.
Let's say you want to be the authority on a keyword. When influencers start talking about news for that keyword, you want to be sure you're in on that conversation right away.
You don't want to be the one that comes in late to the party after everyone's already left and moved on to the next big thing.
You'll want to contribute when the topic is still hot so you can be a thought leader on the subject.
You can easily accomplish that with a tool called Keyhole.
This tool isn't free, but it does a lot of things others can't. And as a bonus, it's extremely user-friendly.
Can you guess how to get started? That's right, sign up for an account.
Once you've signed up, you'll be able to create a new tracker on your Keyhole home screen.
For our purposes, you'll want to create a tracker for either a keyword or a hashtag.
If you're tracking a hashtag, choose to track for Twitter, Instagram, or both.
Then, navigate to the "Advanced" settings link.

You'll wind up at this advanced settings page.

Here, you can include up to four additional variations of your hashtag or keyword. Like your original keyword, these variations will act as a trigger for your tracker.
Below, you'll see an extensive list of other settings you can play with.
First, let's talk about how you can track a spike in popularity for your keyword.
If a keyword suddenly becomes more popular, it might mean that breaking news about that topic has just surfaced.
Keep yourself updated on these changes by scrolling down to "Alerts" and navigating to "Tracker Volume." Then, set alerts for an increase in keyword popularity.
You can also use Keyhole to monitor influencers and find new ones. From the settings list, click on "From all users or specific influencers."
Then, enter the Twitter or IG username of an influencer in your field. This way, you'll know whenever these people mention your keyword.
And if this influencer just so happens to be your competitor, you can actually listen in and know what they're saying without having to follow them. Talk about sneaky.
All of this is in the name of healthy competition, of course.

Now, you might not always know who the influencers in your field are.
It could be someone you don't follow because they're outside your field, but they might say something important about your topic.
You can alert yourself to that, too.
Select "Alerts." Then choose how often you want to get these alerts: weekly, daily, or as it happens.
Specify which email you'd like to receive the alert.
Then set a follower or retweet minimum for these alerts. After all, you want to find the credible sources or influencers.
For example, set an alert for "Users with at least 10,000 followers who mention your search term." Keyhole will notify you when an account with a huge following says something about your keyword.
If that account has a huge following, you can be sure it also has a huge influence. And it definitely has a huge reach.
So these alerts are the perfect way to identify new influencers you could reach out to.
You don't want to partner with just anybody, though.
With Keyhole at your disposal, if someone has a large following and they're mentioning your keyword, you'll be the first one to know about this person, and the first one to reach out.
All you need is the perfect game plan. Win new influencers to your cause by giving a pitch that nobody could say no to.
Conclusion
When you're running a business, negative press is a necessary evil.
OK, maybe it isn't necessary, per se. But it just seems to come with the territory and it's definitely evil.
Luckily, thanks to today's technology, you can nip negative mentions in the bud. With social listening, you can correct false posts or resolve customer complaints before the problem goes viral.
But you don't have to stop there. You can do much more than that.
Sign up for Mention to learn about the demographics of the folks mentioning you and compare those numbers to a competitor's.
Use IFTTT to subscribe to your favorite blog's best posts — you know, the ones that mention you.
Log in to Hootsuite to receive real-time updates for your social media mentions and assign conversations to your team.
Finally, try using Keyhole to listen in on industry conversations and to locate potential influencers.
And then go beyond "social listening" and interact. Engage with those mentioning you and answer their questions or concerns.
Be a part of the conversation.
Be transparent.
Then take that strategy and use it to grow your business by winning over influencers in your industry.
How do you use these tools to learn what the public is saying about your brand?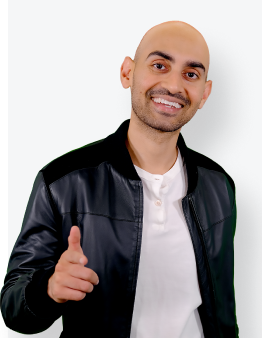 See How My Agency Can Drive More Traffic to Your Website
SEO - unlock more SEO traffic. See real results.
Content Marketing - our team creates epic content that will get shared, get links, and attract traffic.
Paid Media - effective paid strategies with clear ROI.
Are You Using Google Ads? Try Our FREE Ads Grader!
Stop wasting money and unlock the hidden potential of your advertising.
Discover the power of intentional advertising.
Reach your ideal target audience.
Maximize ad spend efficiency.