Out of all of the different facets of digital marketing, social media tends to change with the most immediate and drastic results.
There is always a new platform emerging for marketers to look into and master to stay ahead of the trends.
And with algorithms on big platforms like Facebook always evolving, you have to stay on your toes as you figure out how to engage on them.
However, through all the change, there is one thing that remains consistent:
Users want to engage with brands in a personal way.
For this purpose, Instagram stands apart from all other platforms. It's one of the best places for you to promote brand engagement with your users.
It's grown by 1,400% in just the last five years. With growth like that, it's a no-brainer for marketers to implement Instagram into their social strategies.
In particular, Instagram Stories makes easy for marketers to engage with users, humanize their brands, create leads, and generate customers on the platform.
They're a great tool for showing potential customers (and existing ones) why your brand is relatable or interesting.
So, how do you get the most out of Instagram Stories?
That's what this guide is here to help with. It will give you ways to use Instagram Stories to build your brand and convert leads and sales.
1. Show what makes your brand fun and relatable
All marketers know that social media engagement is important. It's one of the best ways to develop trust from prospects.
And the more they trust you, the more likely they are to become loyal customers.
While all social media platforms are great avenues for driving audience engagement and ultimately sales, Instagram is on a whole different level.
Of the 700 million users on Instagram, 500 million users are active on a daily basis.
Instagram also excels in terms of engagement. 68% of users regularly engage with brands on Instagram while only 32% of users regularly engage with brands on Facebook.
Why? Because features like Instagram Stories make it easy for brands to show themselves in a fun and interesting light. It's easier than ever to humanize a brand.
Tarte Cosmetics does this well. The brand regularly travels to exotic places for photo shoots of new products or company bonding trips. And when they travel, they bring their followers along on the adventure.
From showing products that they've staged for shoots in Bora Bora to showing team members on a mother/daughter retreat in Hawaii, Tarte uses Instagram Stories to give followers insight into what it means to be a "Tartlet."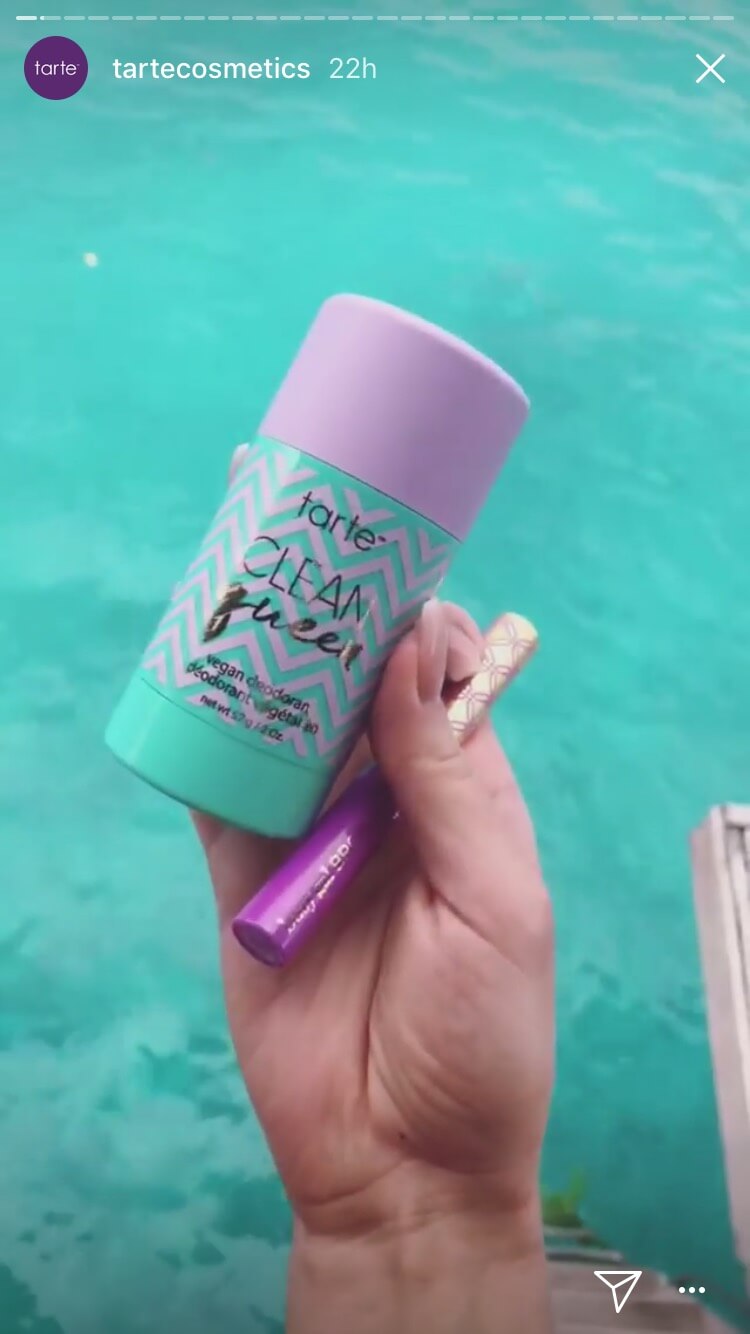 Lululemon is another great example. Being a popular fitness clothing brand, the Instagram team at lululemon regularly takes followers through their own personal fitness journeys using Stories.
From live yoga practices to cooking healthy meals, the brand gives great insight into how employees are working toward the same goals as their followers.
Just recently, lululemon took viewers on one employee's daily run through Austin, Texas.
You experience the route she took, the music she was listening to, and the trials she had along the way. Instagram Stories like this make it very easy to relate to a brand.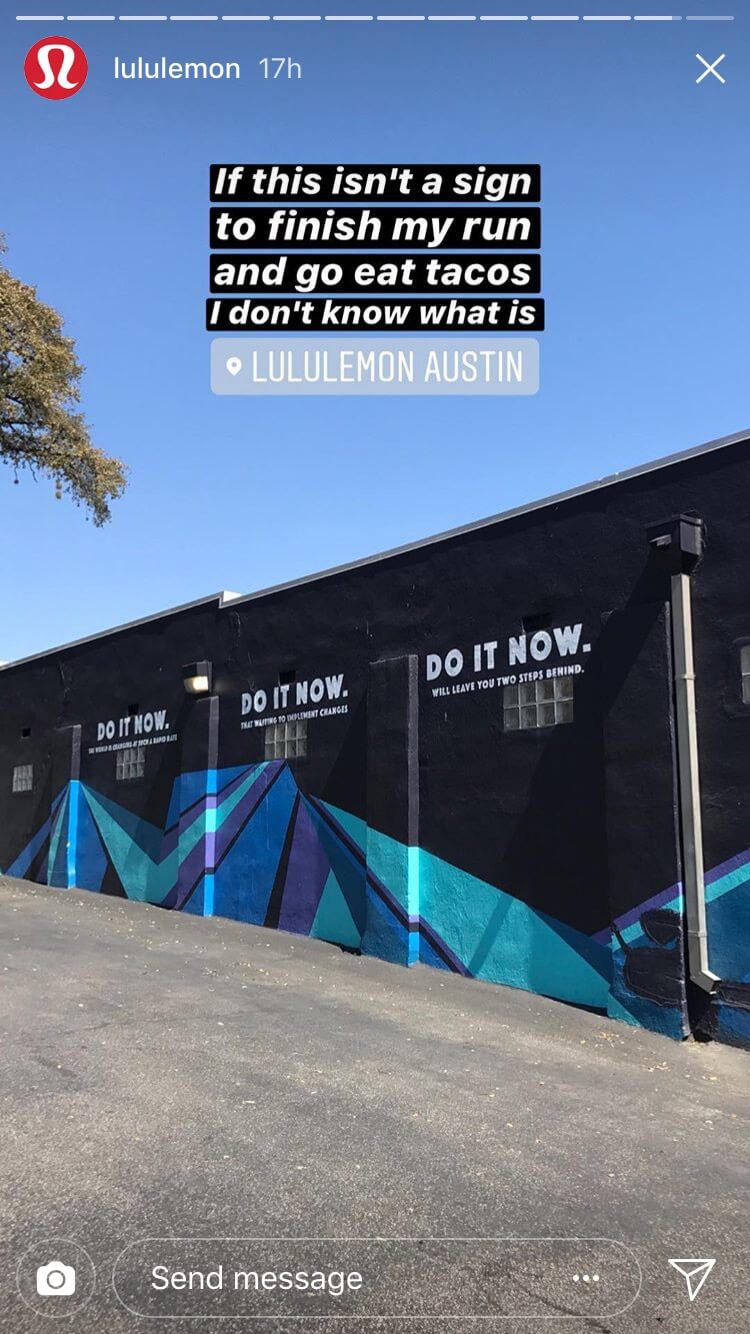 2. Take advantage of Instagram Stories features to interact with your audience
Instagram Stories give marketers a variety of ways to facilitate easy interaction with users.
With features like geographical location tagging, hashtags, polls, gifs, stickers, and more, growing your following and facilitating brand engagement is simple. You just need a little creativity.
Features like hashtags and geotagging make it easy for users to find you based on location and interest.
If you're a local business, geotagging is vital when it comes to your interaction on Instagram Stories.
Each time you enter a city, Instagram aggregates Stories that other users have geotagged in your location.
This is a great opportunity for small businesses and city tourism brands as they can utilize geotagging to show Instagram users exciting things taking place around them.
Carrigan Farms, which is in the small town of Mooresville, North Carolina, takes advantage of geotagging to show users in the area the fun activities visitors can take part in at the farm.
With a huge water quarry on the property, Carrigan Farms visitors can jump off of cliffs into the deep, clean water.
Capturing and sharing videos of these activities on the farm's Story with geotagging brings awareness to others in the area of the fun they could have on the farm.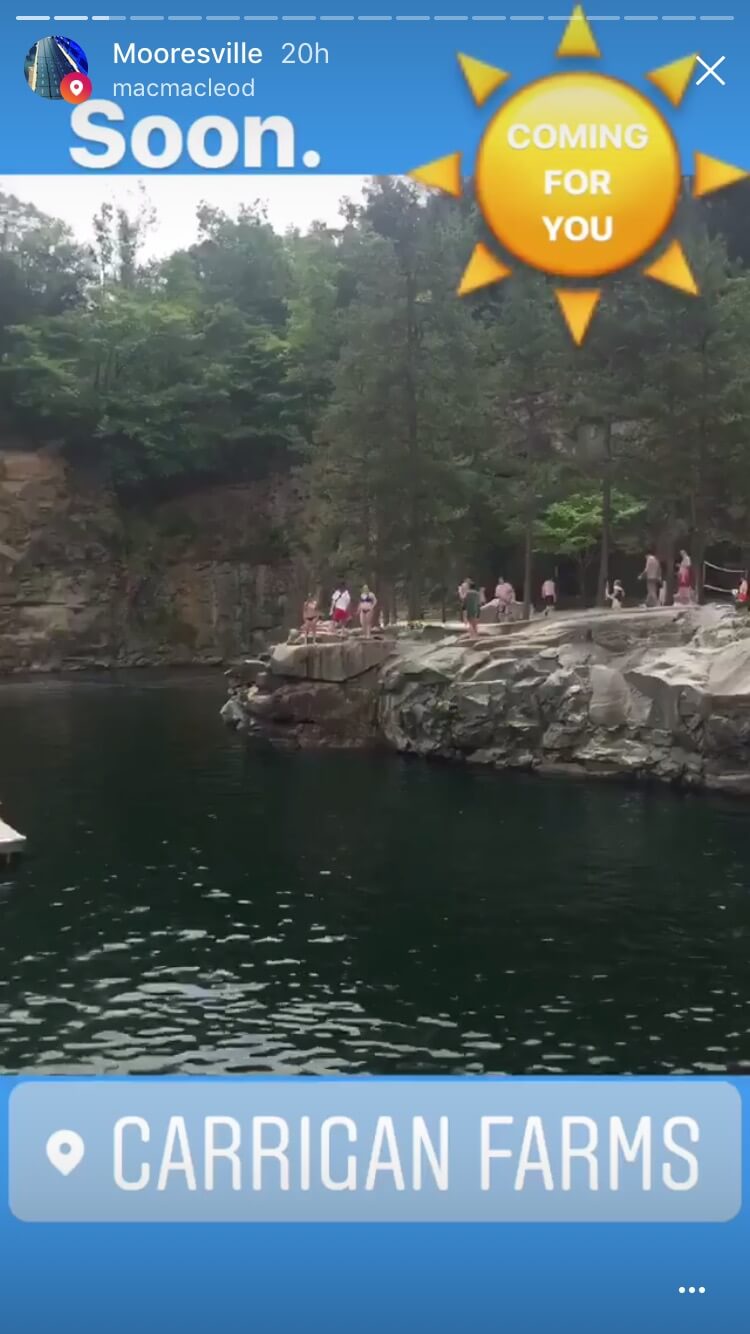 Hashtags make it easy for users to find your content based on topic.
Many brands or celebrities will have a hashtag that they use across social media so that anyone looking for content about the brand or person can easily find it.
For instance, Justin Timberlake just recently canceled shows up north due to the massive snow storms.
In addition to his publicity team notifying showgoers of the cancellation via email and his website, he posted to his Instagram Story.
Using hashtag #MOTWTOUR, he added another way to notify his fans who have been following along with his tour on social media about the cancellation.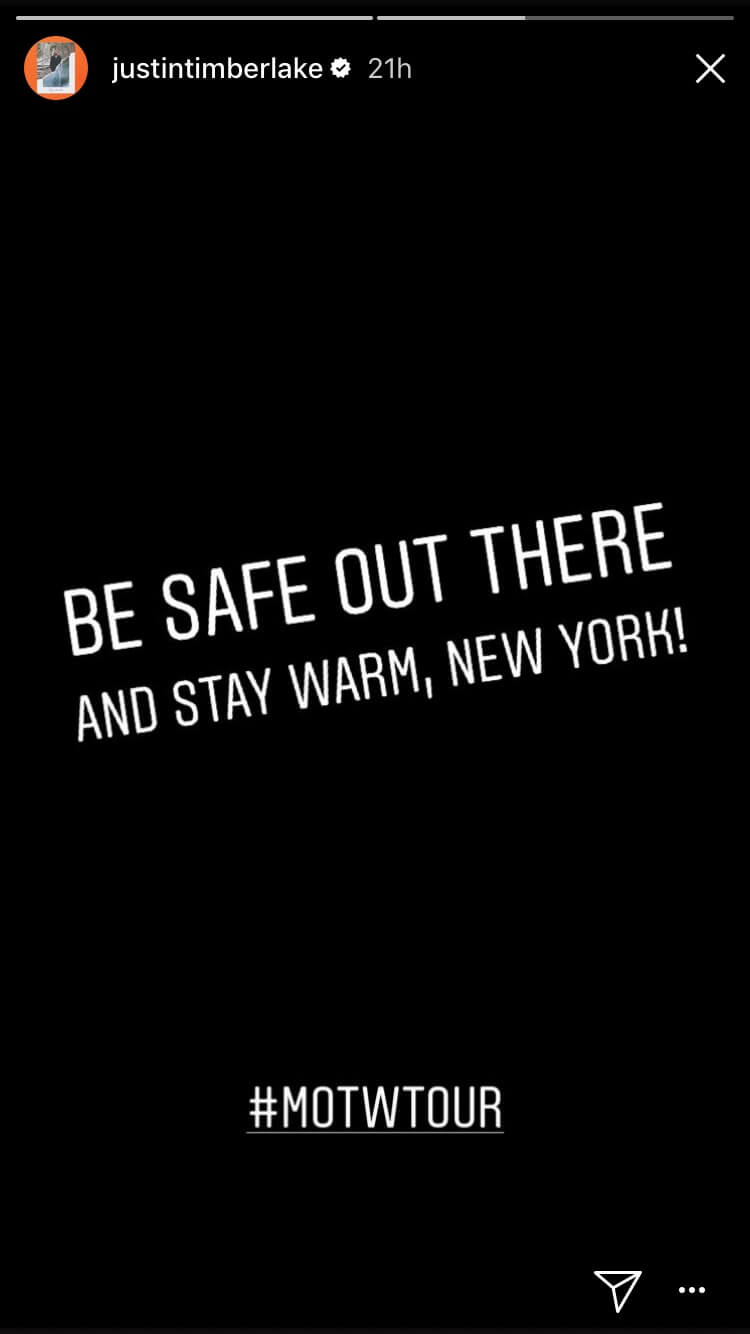 Items like gifs and stickers enable brands to add to images and videos that they share on Instagram Stories.
Lake Norman Surf Co., which is on Lake Norman in North Carolina, offers wakesurfing lessons. The brand regularly uses stickers and gifs to demonstrate their light attitude.
Just recently, Lake Norman Surf Co. shared a video of the lake water and used a sticker to show the temperature. They did this to remind their followers that wakesurfing season is coming.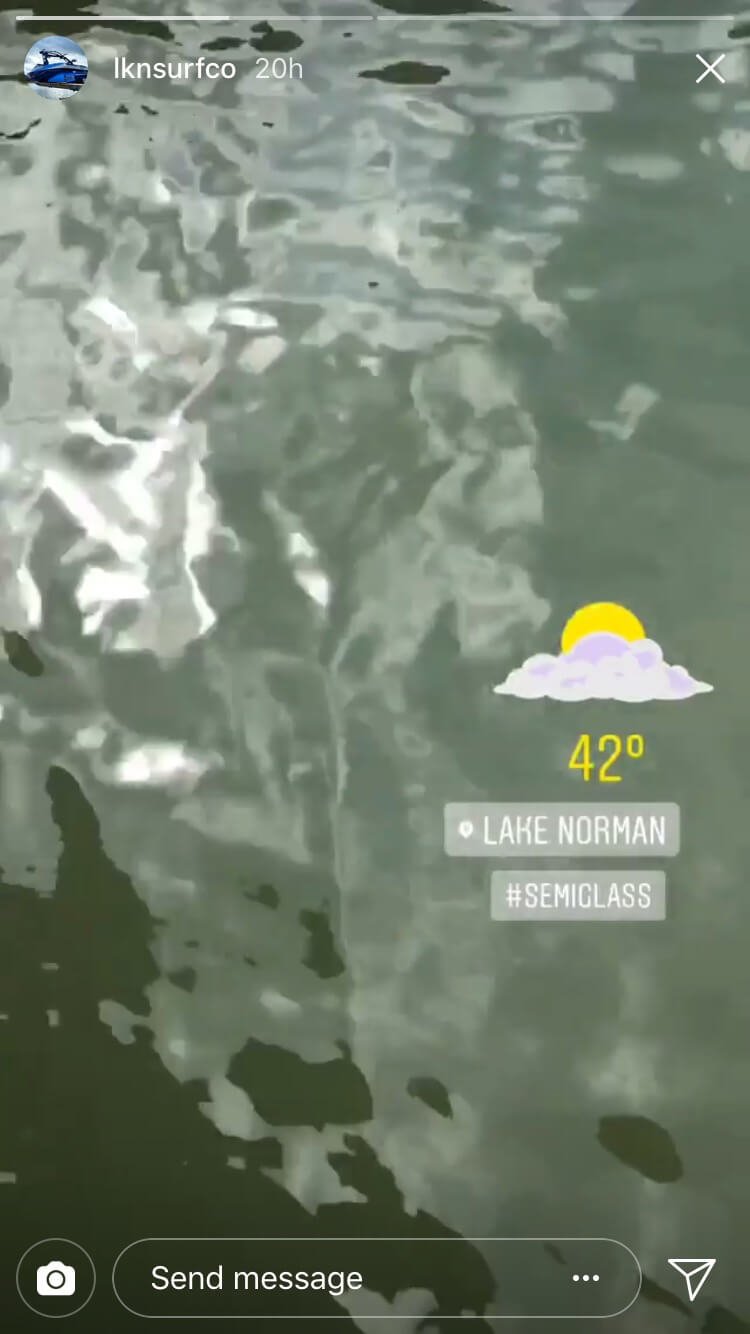 The poll feature, which Instagram recently rolled out, is a creative way to create easy interactions with followers.
As a marketer, you always want feedback from our prospects and customers.
Polls on Instagram Stories provide a way for you to get that feedback from fans while making your audience feel like your brand is empowering them.
Companies can utilize polls to ask fans anything!
Ask about their opinions on new products, how often they'd like to receive brand emails, their favorite kinds of sales, what kind of content they'd like to see from your brand on social media, and so on.
Perhaps you're a clothing company, and you're wondering if your fans are ready to see summer transitional pieces or if they are still looking for winter/spring clothing. In that case, use a poll.
Or maybe you're an outdoor adventure gear company, and you're wondering if your fans prefer to see behind-the-scenes stories from product shoots of if they prefer to just see the new products.
Ask them in a poll.
For instance, HomeGoods and Kurgo will often show items in their shops and ask followers which color they prefer.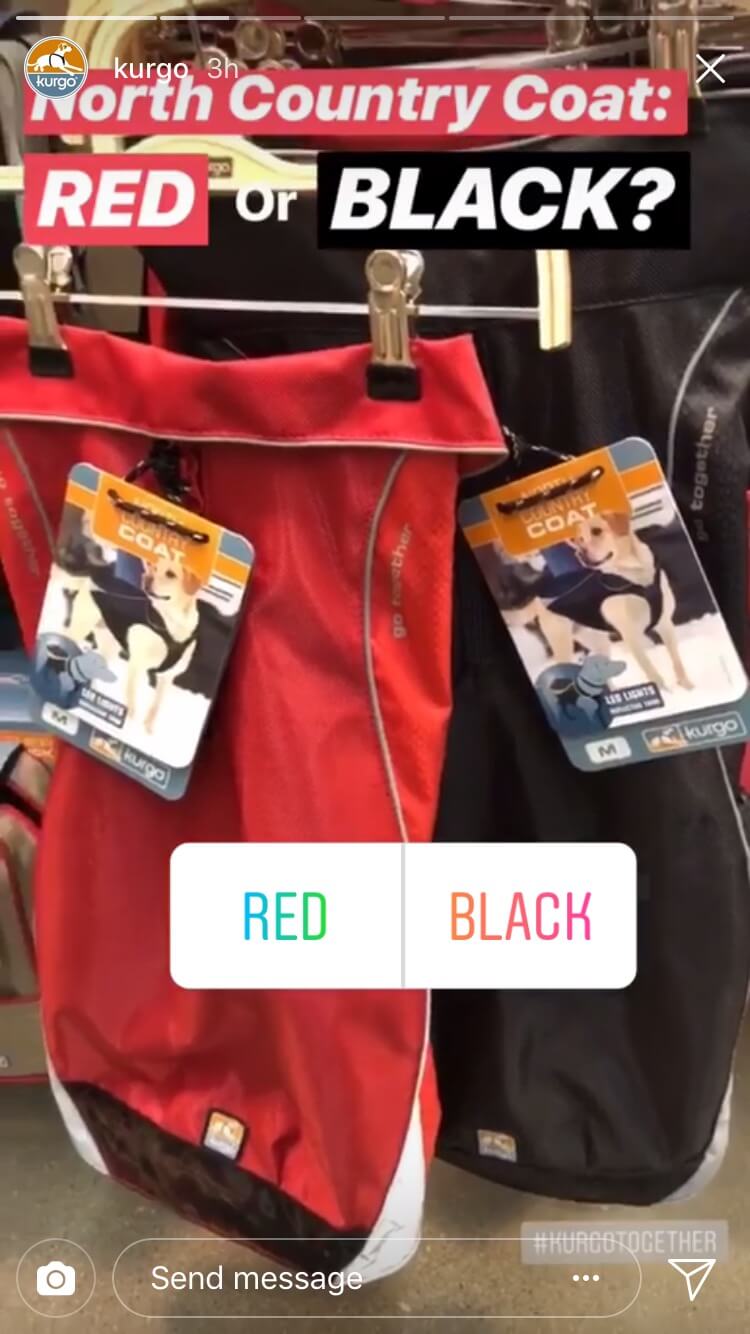 This is an interactive way to get followers interested in new product rollouts. They might come in and purchase the color of the item that they chose from the poll.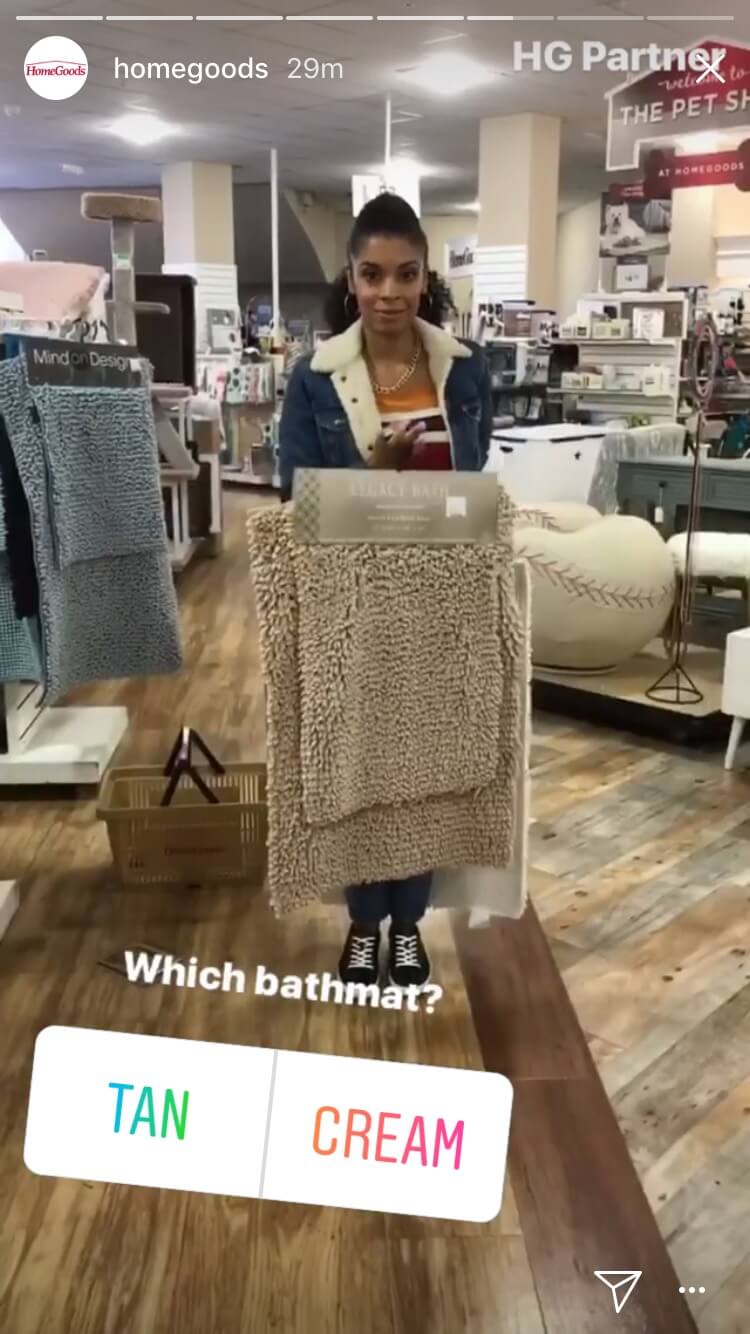 Some sports teams and leagues will even use polls that ask fans who they think will win the big game.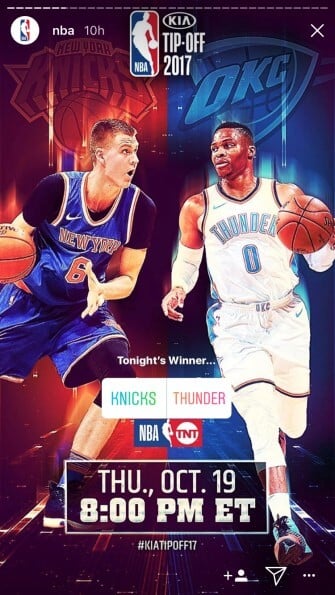 These are fun ways for followers to engage with a brand and feel important.
3. Host Instagram takeovers with Instagram influencers
Adding Instagram influencers to your social media marketing strategy is an invaluable way to both increase your follower base and drive sales.
You can classify Instagram influencers in the micro (1,000 to 100,000 followers) level or the macro (100,000+ followers) level.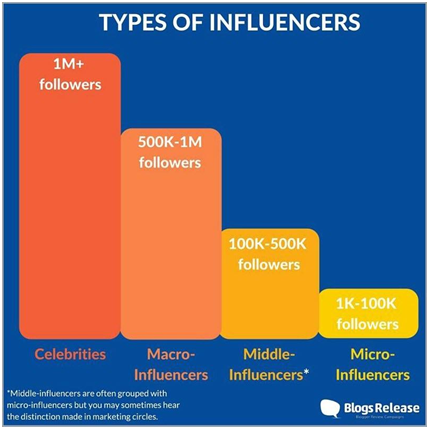 There are
many types of influencers
. You can find celebrities, TV stars, bloggers, and
even animals
!

There are two ways that an Instagram Takeover can work: An influencer can take over your account for a day, or your brand can take over their account for the day.
Leading up to a takeover, both the influencer and the brand regularly remind followers when it will be taking place.
This builds the hype and reminds users where to tune in. Here's an example from Kurgo.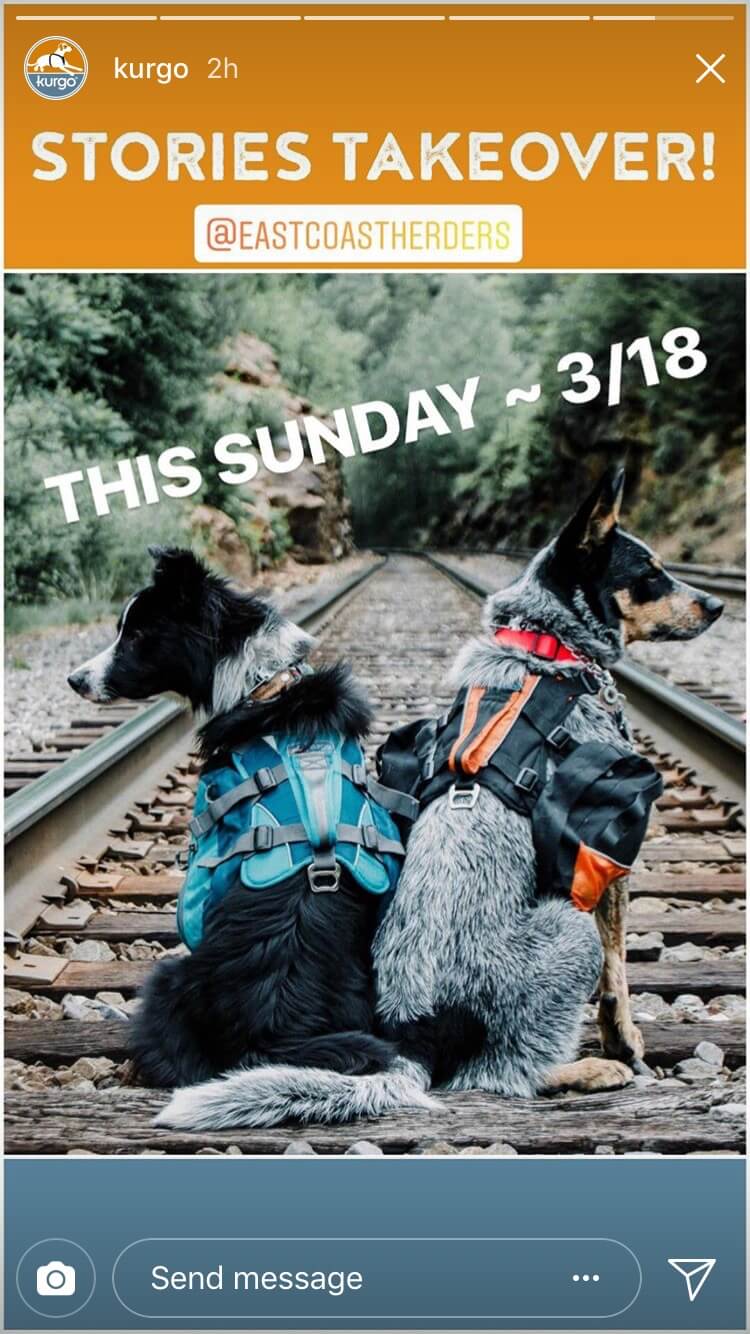 Another dog brand that regularly hosts Instagram Takeovers is BarkBox.
The popular dog box subscription brand will allow major dog accounts on Instagram to take over the account for the day.
During the takeover, you get a hilarious inside look at a day in the life of that pup.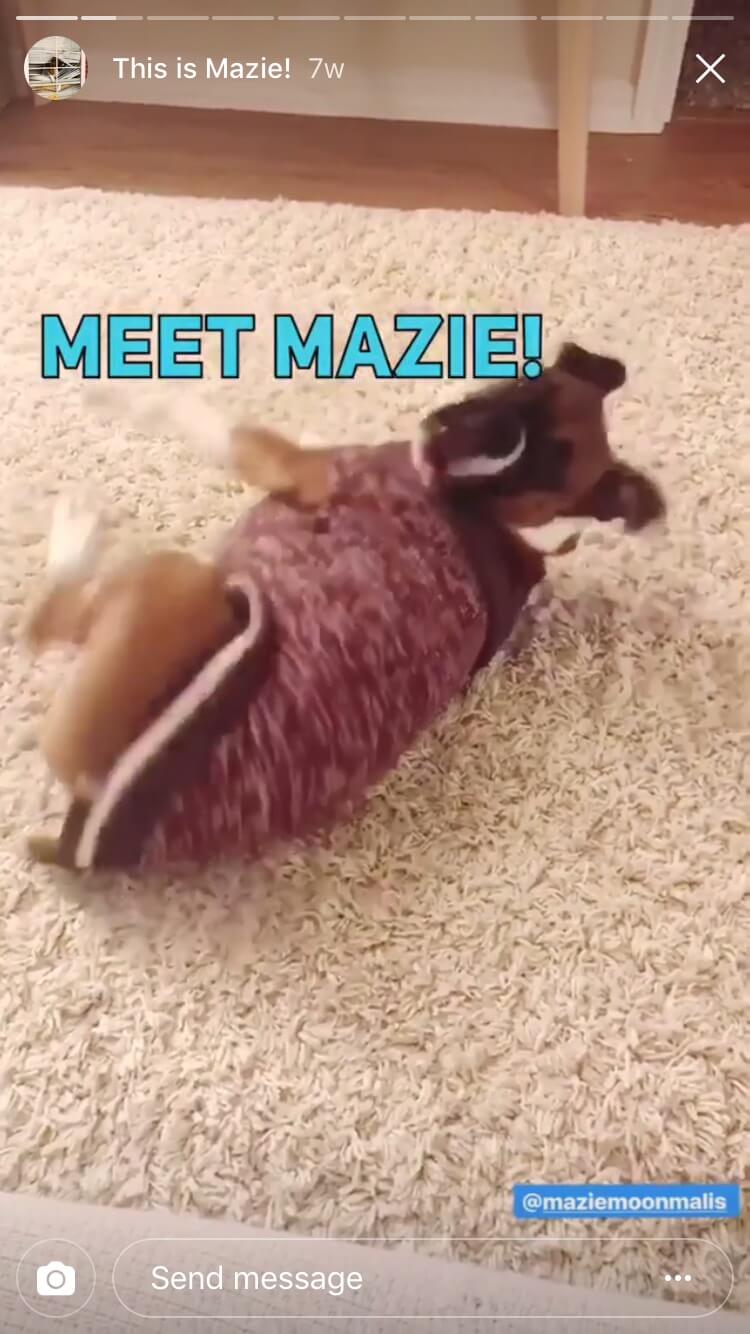 Throughout the day, they add plugs for BarkBox products from the BarkShop that users can purchase, and they typically offer a coupon for followers to subscribe with a free starter box.
4. Increase your lead generation and sales by adding links
At the end of the day, we're digital marketers. If our efforts aren't generating leads and sales, we're not impacting the company's bottom line.
So how do all of these visual storytelling and humanizing tactics impact lead generation and sales conversion?
Well, storytelling boosts conversions by 30% when you use it to answer customer questions.
If you're not telling good stories, you need to get on board. As many as 78% of enterprise marketers believe that their team is very or extremely effective when it comes to storytelling.
With the new "Swipe Up" link feature on Stories, Instagram has revolutionized the way brands can convert users through social media.
The "Swipe Up" feature allows brands to add links to pictures and videos that they share on Instagram Stories.
This makes it simple to move a prospect through the sales funnel directly from Instagram. All that a user has to do is swipe up with their finger.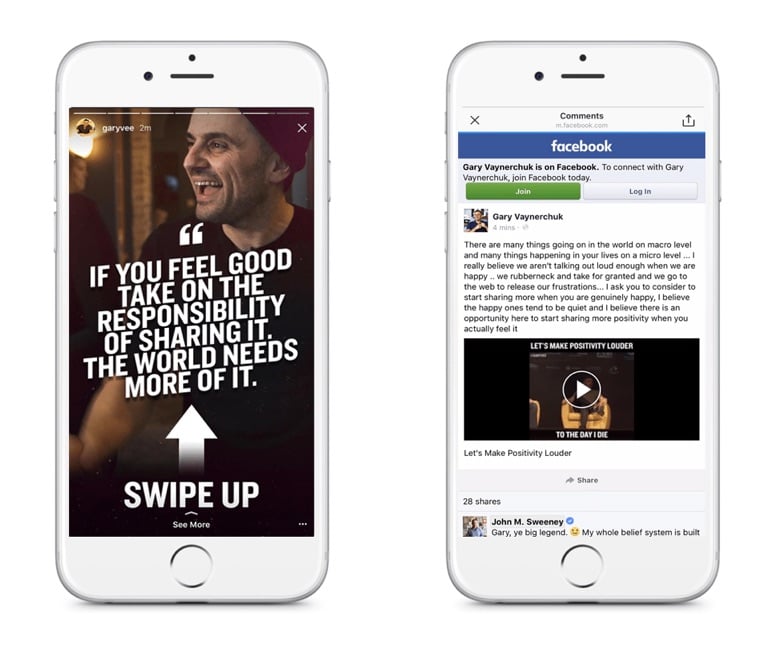 Here are three ways to generate leads and sales using this feature.
1. Share your web content to generate leads and sales.
By now, it's old news that content is king.
And generating remarkable content is important for SEO, lead generation, lead nurturing, customer retention, and lots more.
Instagram gives marketers another great way to get their content in front of new prospects, existing leads, and customers. How?
Brands can share a relevant photo or video with Instagram Stories and link to any piece of content – a blog, a page on the site, a YouTube video, an e-book, and more!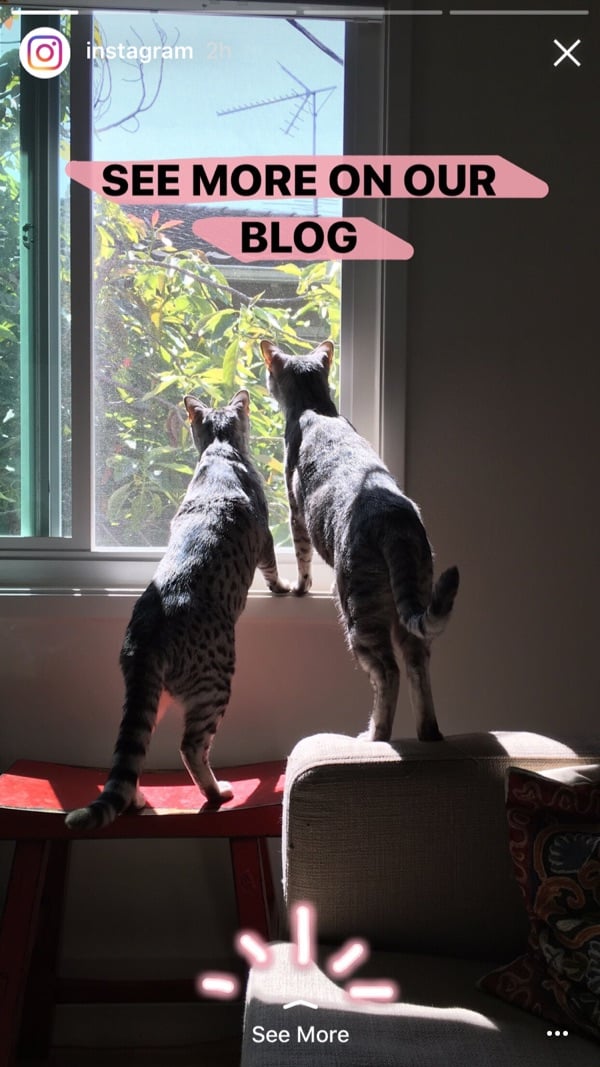 This lets a brand bring users back to their website to interact with the company on a deeper level. And it works.
During March of 2017, over 120 million Instagram users visited a website, got directions, or contacted a business to learn more about them from Instagram. That's a lot of interaction with businesses in one month!
Explore Canada does an excellent job of using links in Instagram Stories to drive users to its blogs.
The tourism company partners with many country-wide travel groups and implements links on Instagram Stories to share travel guides.
The example below uses links in Stories to bring users to a blog post that offers tips for planning a trip to the Great White North. At the end of the blog, they give the reader an opportunity to reach out to a travel agent, thus securing the lead.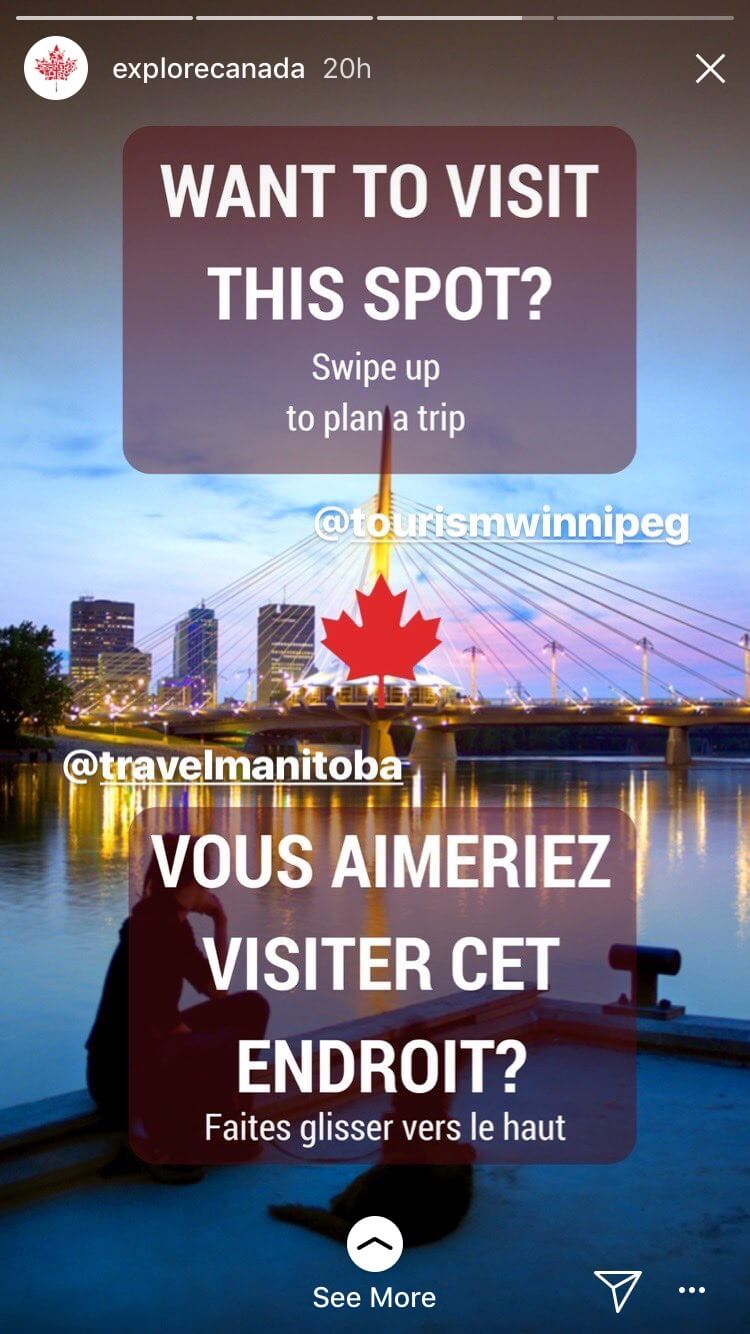 These types of tactics are great for getting users to engage with your website and convert to a lead.
You can also use Stories to promote an immediate sale from Instagram.
In fact, at least 30% of Instagram users have purchased a product that they first discovered on Instagram.
Why is that?
Because 62% of consumers use social media when deciding whether or not they want to purchase a product or service.
This makes sense since photos influence purchase decisions even more than videos do.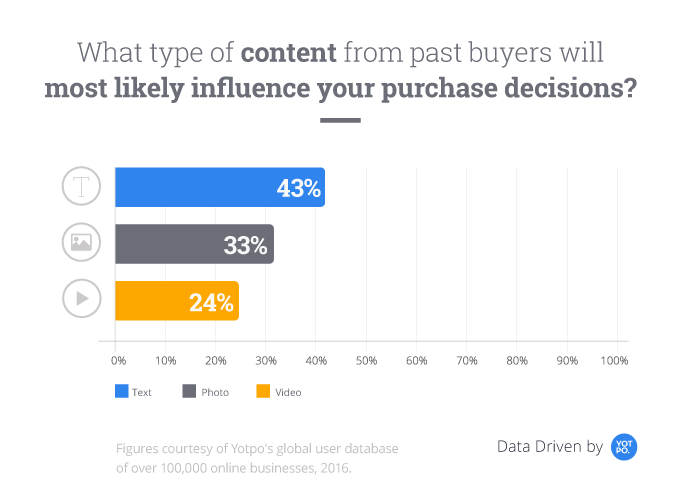 One of the most valuable features that Instagram Stories gives marketers is the ability to include a link that brings users directly to the purchase page of a product.
This feature eliminates the need to visit a company's website, find the item you saw on Instagram, and then make a purchase.
Instead, it facilitates the impulse buy. It puts the product right in front of a user with the swipe of a finger.
Pottery Barn regularly uses Instagram Stories to drive users to its products.
In this example, Pottery Barn uses Stories to show beautiful pictures of new products from the collection with Jamie Durie, HGTV's beloved Australian landscape artist.
After enticing users with a few behind-the-scenes pictures of the collection, they invite users to 'See More' by clicking the link to browse products.
Target also uses Instagram Stories to promote impulse buys.
Across the brand's two platforms, Target and Target Style, the company shows products that designers have staged. Followers can to swipe up and purchase.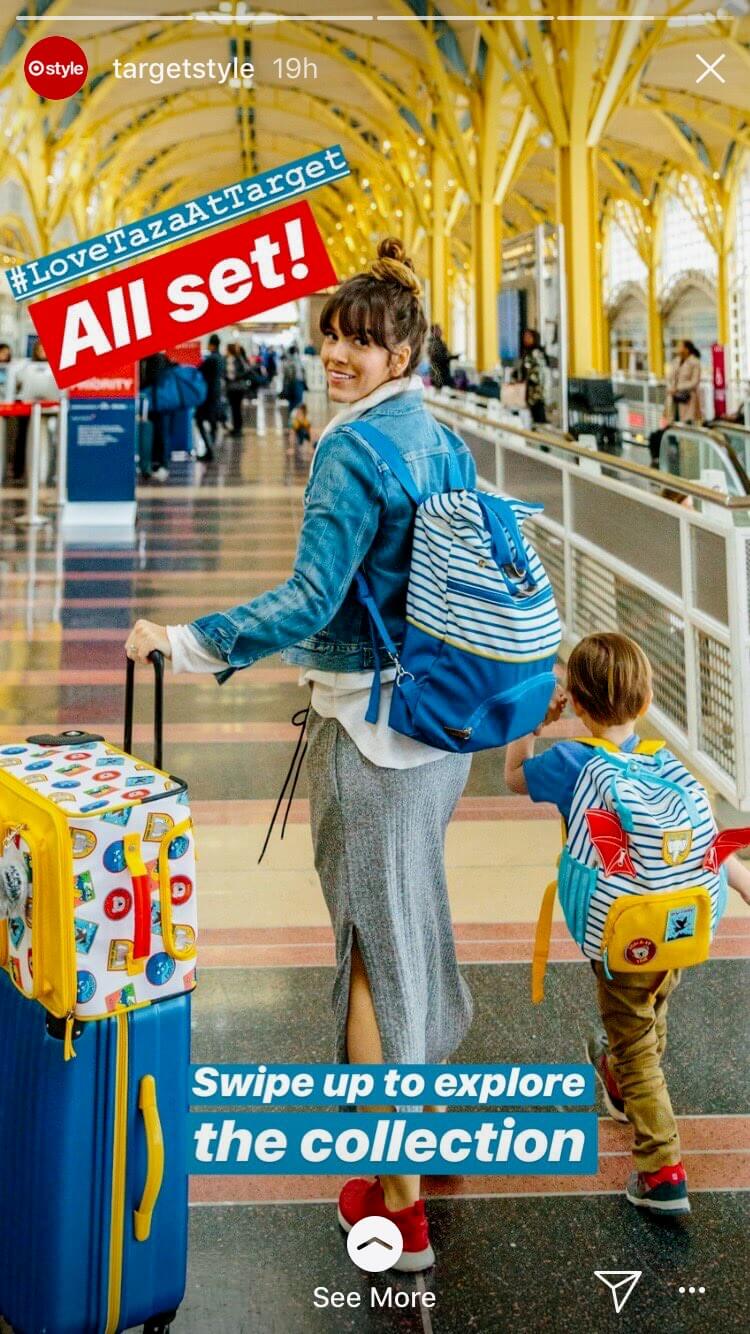 2. Utilize Instagram influencer and brand ambassador endorsements.
Let's come back to Instagram influencers. Right now, 95% of influencers report Instagram as their favorite social media platform to work on.
So, how does influencer marketing on Instagram work?
In a nutshell, brands build relationships with Instagram influencers and brand ambassadors by offering them a free or discounted product to promote with Instagram Stories and in their feed.
They also give the influencer a coupon code so that their followers can shop at a discount.
It's relatively easy to attach a dollar amount to enlisting an Instagram influencer, too. You can use digital marketing tactics like custom URLs or give influencers tracking URLs to use in their Stories.
While enlisting Instagram influencers is common throughout all industries, marketers especially use them within the beauty, fashion, and fitness communities.
Past Bachelor and Bachelor in Paradise contestant Jen Saviano is constantly promoting brands as an Instagram influencer through her stories.
Jen has a whopping 203,000 followers on Instagram.

And according to SocialBlade, that number is only going to increase.

She uses her feed and stories to promote a variety of products that range from clothing to makeup, jewelry, vitamins, furniture, food subscription boxes, and more.
She posts a product she loves with a coupon code and a link to shop in her Instagram Story daily.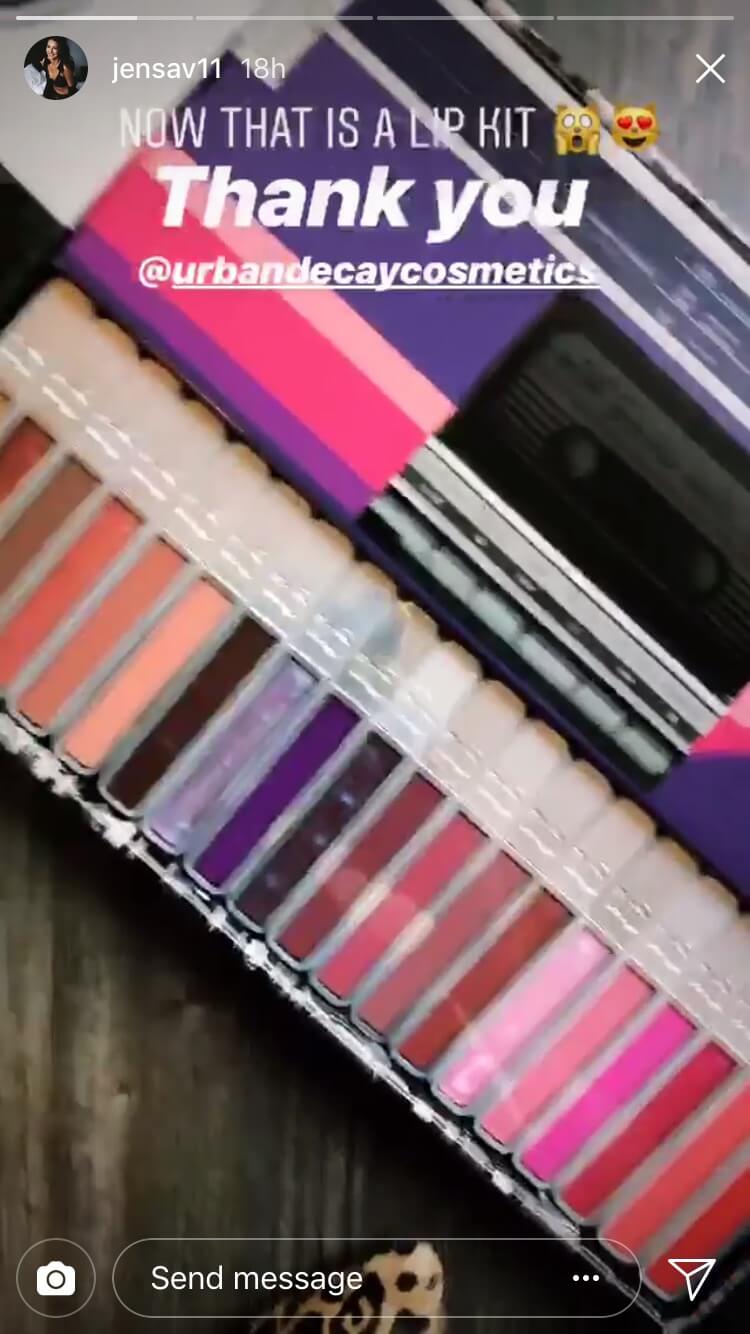 Fashion blogger Katy Harrell is another example. With 187,000 followers, she is constantly modeling for clothing boutiques, offering clothing reviews, sale updates, and coupon codes.
Boutiques nationwide work with mumuandmacaroons to have her share updates on her Instagram Stories about their businesses and products.
With her Southern drawl and honest reviews, it works.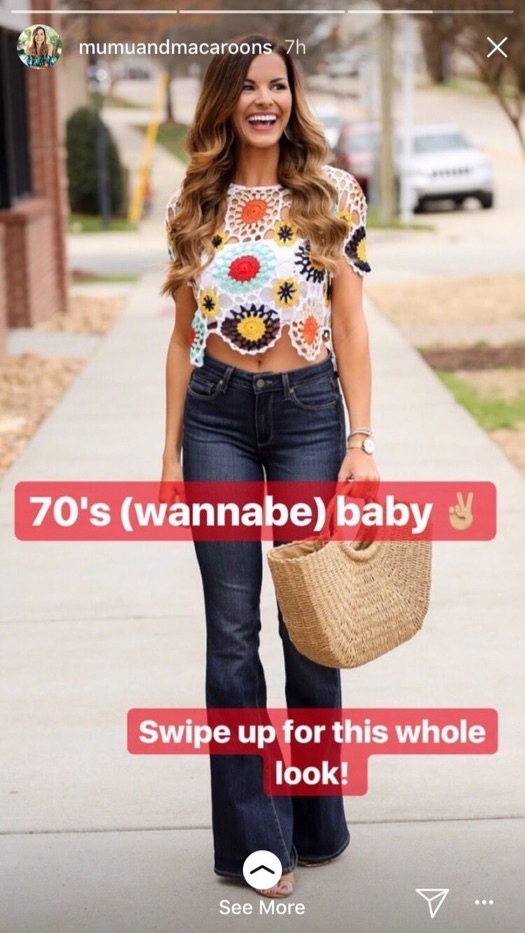 Plus, rather than seeking out Instagram influencers to promote products and sing praises, some brands hold casting calls for brand ambassadors.
MVMT, the popular jewelry and watch brand, recently held a casting call for brand ambassadors.
In addition to reviewing a candidate's Instagram's influence, the company essentially has an application and interview process.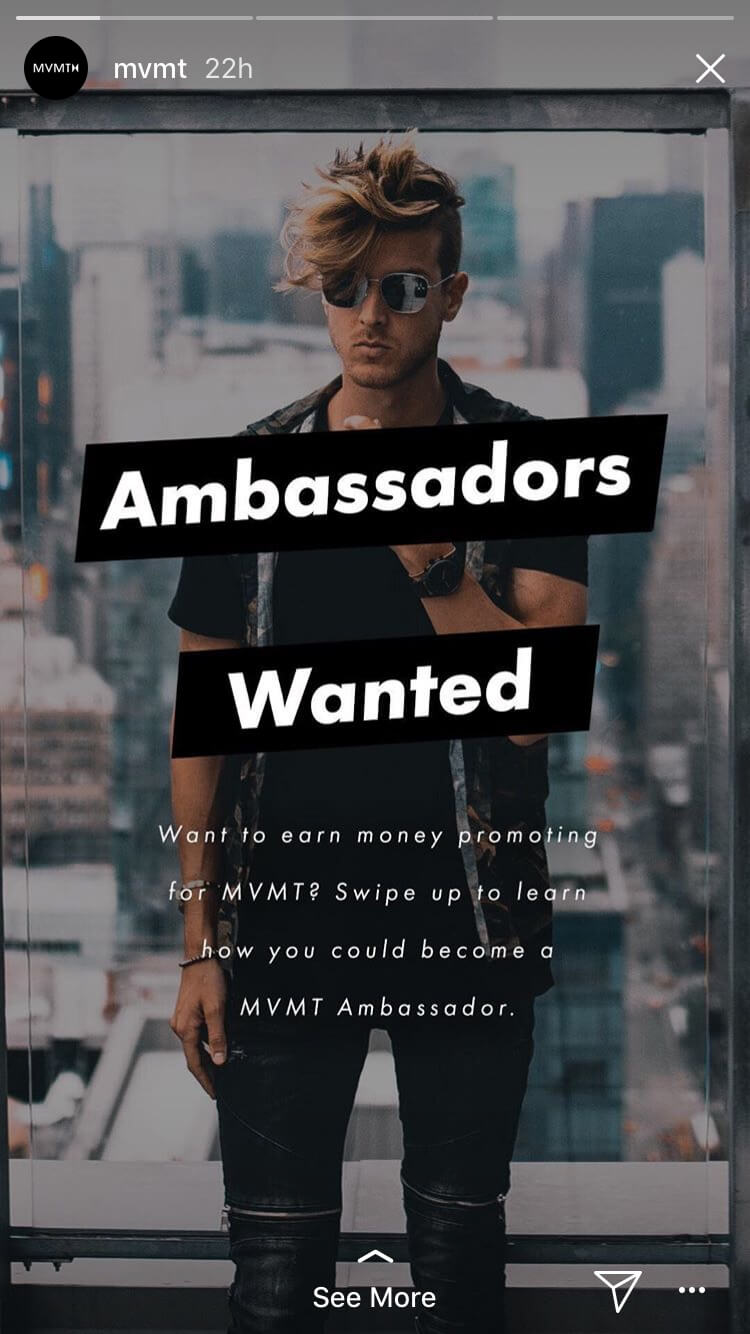 Since most Instagram influencers rely on companies using them to grow their individual brands, they are always looking for businesses to work with.
3. Implement ads on Instagram Stories.
As the number of users on Instagram continues to grow, so does the number of ads on the platform. In 2017, the number of ads grew by 28% in just six months.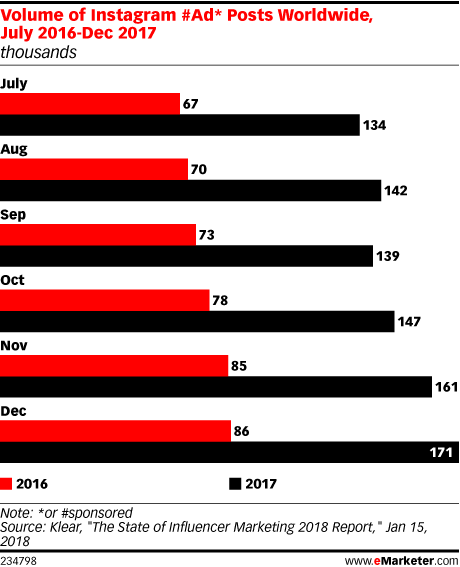 In a year, the number of ad posts doubled. And it's easy to understand why:
They work.
Instagram uses Facebook's advertising system, which has unparalleled targeting ability.
You can target ads based on an audience's interests, behaviors, demographics, language, location, and more.
And since Instagram and Facebook share the same ad platform, brands can choose whether they want their ad to run on Instagram Stories, in the Instagram feed, or on Facebook.
When ads run on Stories, users often don't even realize that they're seeing them. The ads flow smoothly as the user transitions from one story to the next.
La Mer, a high-end skin care line uses Instagram ads to reach users of a certain age who have shown interest in similar brands.
The brand uses a short film to express the type of woman who uses La Mer.
The ad includes a link at the bottom that allows viewers to swipe up and shop the skin care line.
4. To implement Instagram Stories well, be prepared to respond to direct messages.
In order to implement Instagram Stories to build your brand and convert more leads and sales, companies have to be prepared to respond to a heightened influx of direct messages (or DMs).
A direct message is a message that a user privately sends to your business account on Instagram.
At the bottom of each Instagram Story that does not include a link, users will see a message bar. This tool enables a viewer to easily DM the brand.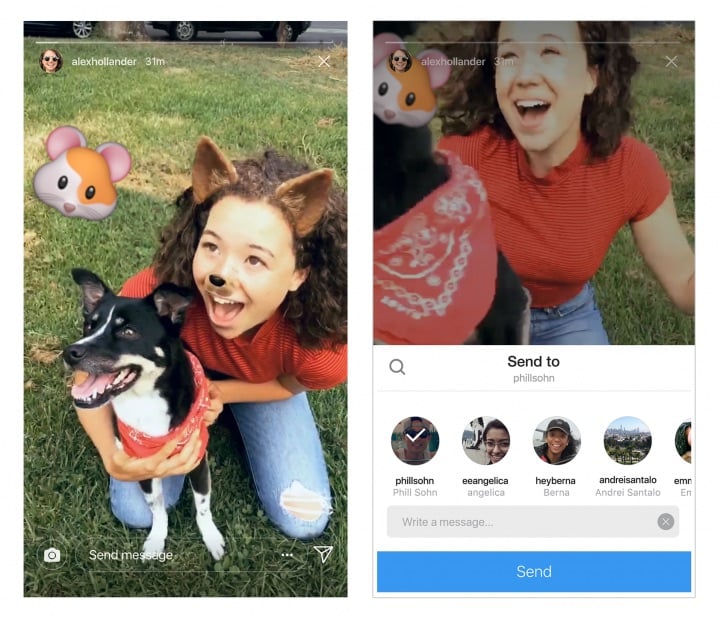 While this is feature is an excellent way to narrow the gap between brands and followers on Instagram, it can be detrimental to a brand if they aren't diligent about responding.
Everything on Instagram is at the touch of a finger for users. It's easy for them to get the content and information they crave on this social platform.
So, if a brand isn't quick to respond to a DM, the user who sent it will go elsewhere to find the answer.
That's why it's important for marketers to be aware of their customer response times on Instagram.
As you begin actively using Instagram Stories, you need to put a strategy in place for responding to direct messages from followers.
Conclusion
Understanding how Instagram Stories works and the benefits marketers can gain from it is half the battle. Now, what you do with the information is what matters.
With its unique visual storytelling ability and strong conversion methods, marketers in any industry and any consumer base can use Instagram Stories.
It's a weapon you need to have in your social media arsenal.
Take advantage of the ease of engaging with fans by using Instagram Stories to build your brand.
Show what makes your brand fun and relatable. Implement the features within Stories to easily engage with your audience and help people find your brand on the platform.
Build relationships with Instagram influencers to expand your brand and gain the stamp of approval from a trusted source on the platform.
Then, grow your leads and sales using the link feature.
Put your web content and products at the fingertips of your prospects and buyers on Instagram Stories.
Utilize relationships with brand ambassadors and Instagram influencers to have them promote your products and services and encourage fans to shop.
Test the waters within Instagram Ads to discover the ROI of putting some of your marketing budget toward Stories.
Don't forget to have quality response times as your brand's Instagram becomes a regular gateway for consumer conversation.
And as you go forth building out your social strategy on Instagram Stories, keep in mind that no marketing action is worth taking if you can't measure the results.
Be sure to utilize tracking URLs, custom coupon codes, and lead/customer sourcing to determine how your use of Instagram Stories is impacting your overall marketing strategy and goals.
How will you use Instagram Stories to grow your brand and increase your leads and sales?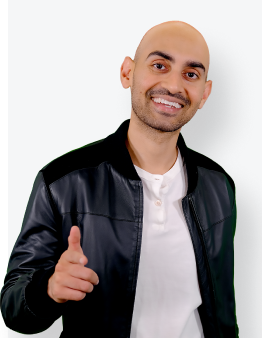 See How My Agency Can Drive More Traffic to Your Website
SEO - unlock more SEO traffic. See real results.
Content Marketing - our team creates epic content that will get shared, get links, and attract traffic.
Paid Media - effective paid strategies with clear ROI.
Are You Using Google Ads? Try Our FREE Ads Grader!
Stop wasting money and unlock the hidden potential of your advertising.
Discover the power of intentional advertising.
Reach your ideal target audience.
Maximize ad spend efficiency.