Content marketing professionals are in a fantastic position to reach more and more potential customers and boost loyalty with customers they've already scored.
From social media to video ads, they're in a better position than ever to drive home real results.
And some of those real results are due to the social media networks that are proving to have staying power.
If you're a content marketing pro looking to explore new digital marketing venues, how about a social media platform that reaches 41% of the U.S. in the 18 to 34 year old age group?
I would love to consider adding such a channel to my marketing arsenal.
If you feel the same way and want to achieve more in terms of your social media marketing efforts, then let me introduce you to the real-time picture chatting mobile app that's taken the world by storm.
Snapchat.
Here are a couple of astonishing stats about the social network that should excite you about adding this platform to your list of media marketing channels:
Snapchat users spend 25 to 30 minutes every day on the app.
60% of the daily active users also contribute content (which means your marketing won't be a one-way street on the media platform).
Many marketers (including me) had their doubts about Snapchat. Even Evan Spiegel's classmates at Stanford balked at the idea of a product that would consist of temporary photos.
But, numbers don't lie. Snapchat has turned out to be a highly authentic, personal and engaging medium for digital marketing stars to connect with their customers.
If you've been skeptical about the social network or felt intimidated by the newness of Snapchat, then this article can fix that. Whether you're a small business owner or on the digital marketing team of a huge company, this post will convince you that this exceptionally popular social media platform-as in the third most popular social network among millennials–should be a vital part of your overall content marketing strategy.
Let's look at the first tenet of marketing on Snapchat.
1. Take the top down approach
In the application of most marketing strategies, the numbers game kicks in at some point in time.
You can't expect to generate massive traffic numbers on your website, without upping your content-posting frequency.
You won't see good engagement numbers on your social media platforms, without sending out the optimal quantity of relevant updates.
And, you won't be able to grow your Snapchat account at a good pace, without building relationships with influencers.
Just think:
If a person with 4.8 million followers sends an update about your brand…
Then, even at an organic reach of 1%, you'll get 48,000 impressions.
That's pretty awesome.
And, by the way, the above numbers aren't made up.
Elon Musk (with his gigantic social media following) actually tweeted an article from one of the world's best blogs – Wait But Why.
Look for yourself at the engagement numbers on the tweet.
And, guess what?
Elon's endorsement for Wait But Why didn't stop there.
He actually asked Tim to write about the work his company does at Wait But Why.
And, Tim managed to get a photo of Elon holding Wait But Why's patent character: the panic monster.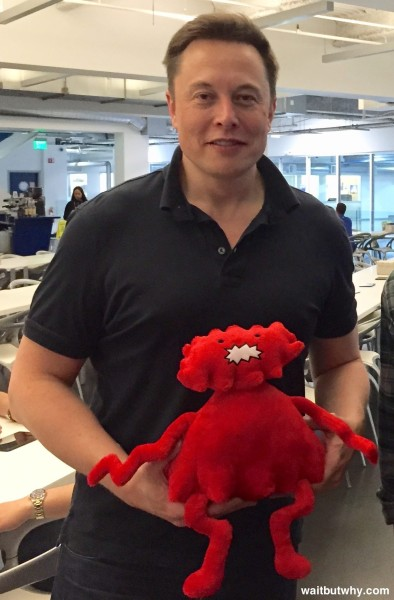 Any kind of brand would love such PR. Especially given that 92% of consumers are much more likely to trust earned media over advertising.
Snapchat has its own army of celebrities that love sharing their snap stories. These social network stars can serve as a great source of authentic engagement around your brand, by sharing your content.
And, guess what it takes to catapult your reach to hundreds of thousands of Snapchat followers?
Just one viral moment.
Actress Jennifer Levison is a great example of this. BuzzFeed shared a video of how Jennifer snapchatted her boyfriend while sleepwalking (for 6 months). Watch the hilarious video below:
The video went viral, garnering over 7 million views. Jennifer amassed over 100K followers on Snapchat.
Now Jennifer offers her Snapchat influencer marketing campaigns to brands.
For example, Jen invited her friend on a Snapchat road trip to create a buzz at the DVD release of the film 'Dear Eleanor.'
And, she also placed a promo for this road trip on her Instagram account.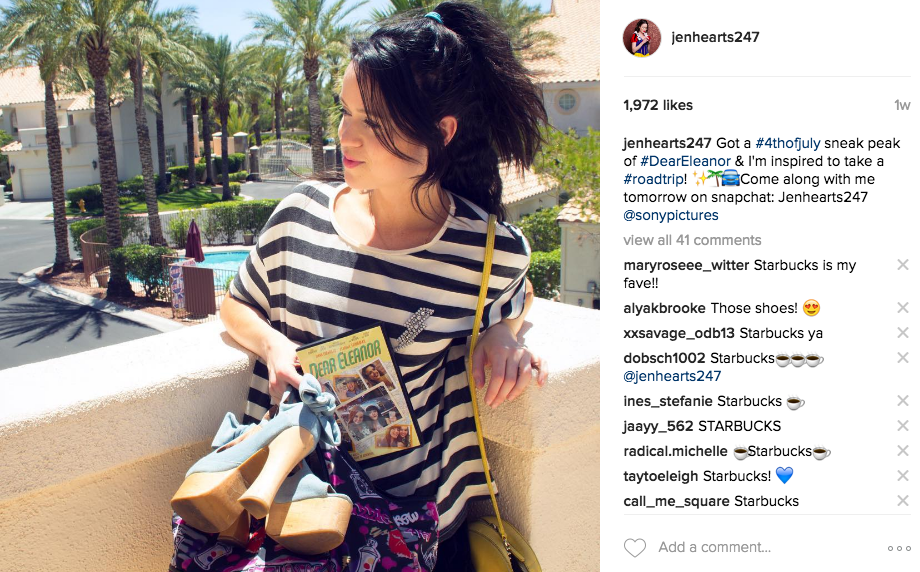 Both of her social media accounts drove considerable traffic to the purchase site.
Similarly, you can invite social media influencers to take over your accounts for a day and build your following.
Jennifer spent the day at Gordon Hotel and took over their Snapchat account.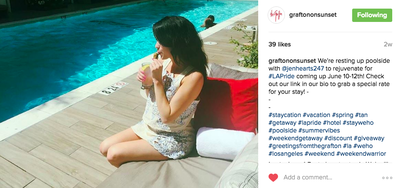 She drove traffic to Gordon's Snapchat from her own Snapchat and Instagram accounts.
Similarly, I've already shown you how Sour Patch Kids partnered with Logan Paul (500,000+ followers on Twitter).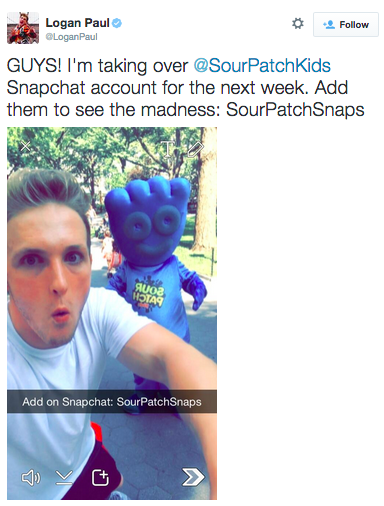 And, how they managed to get 120,000 new Snapchat followers from the campaign, along with 1,900 mentions of the campaign on Twitter. As you can see, media marketing has become more innovative than ever, thanks to the people you'll naturally find on social media.
Partnering with influencers can tremendously accelerate your growth rate. But, it is resource-intensive and you'll need a good budget to hire these in-demand celebrities.
Here are 3 pointers that you need to keep in mind while recruiting influencers for your Snapchat account:
1. When you're on the hunt for influencers, don't rely on the number of followers alone. Influence is important, but it's only a part of the mix.
Always inspect:
Does the influencer have a relevant audience that regularly engages with him or her?
Further on a creative platform like Snapchat, the influencer will also need to have a creative bend for creating compelling content.
Delmondo shares these 3 important elements to consider in your influencer hunt.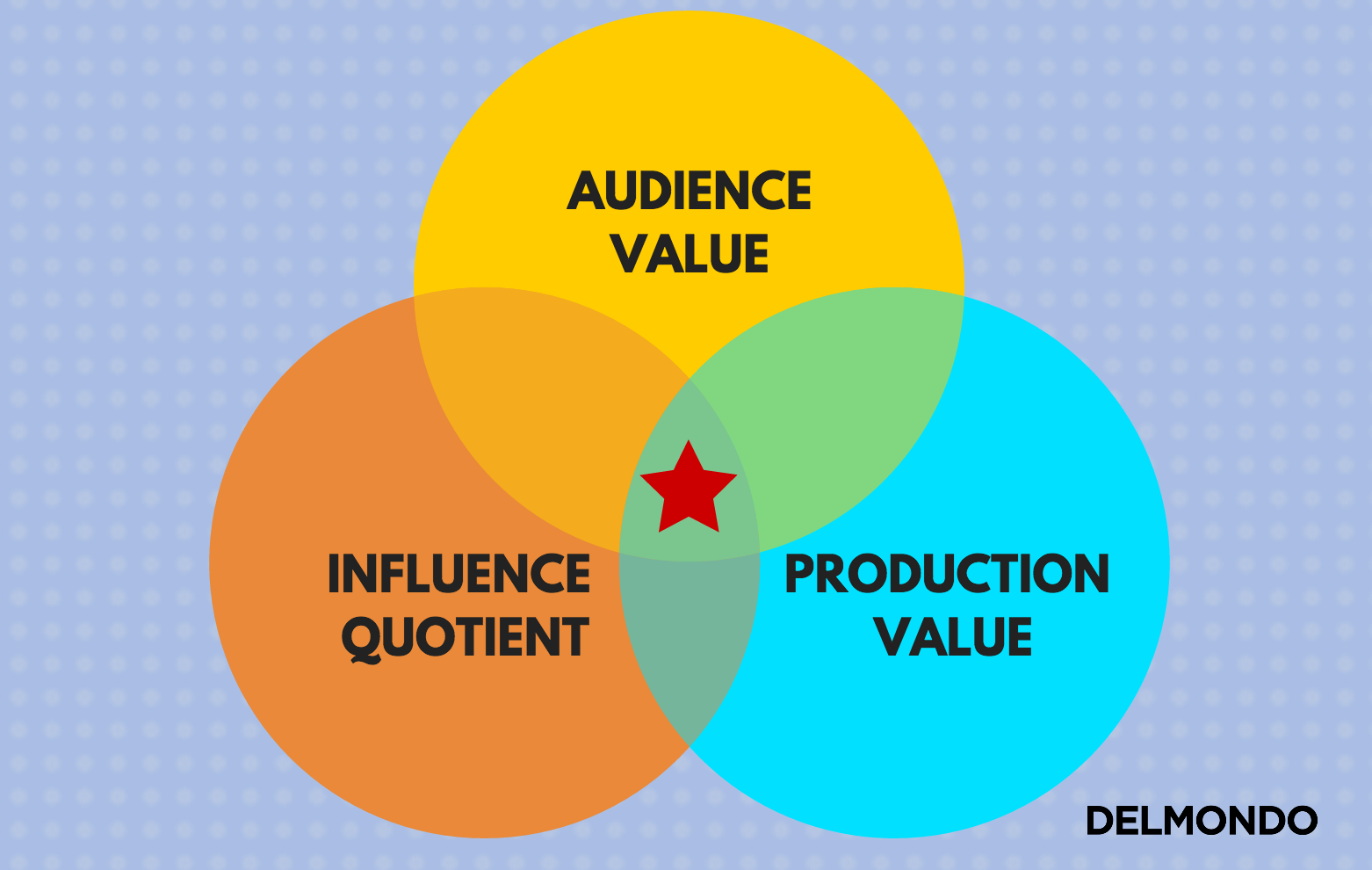 2. You might not necessarily find relevant influencers on Snapchat alone. You'll need to look around on YouTube, Twitter, Instagram and other social media platforms. In most cases, you'll see that influencers conduct cross-channel social network marketing campaigns for brands.
3. Ask the influencer to share a persuasive and clear CTA for your content marketing campaign.
You might already know that direct links aren't allowed. But, textual overlays on photos and repeating verbal statements are a couple of good ways to drive action from the audience.
Walt Disney hired Mike Platco for Magical Kingdom's Snapchat account. And, here's how he added textual CTAs to add @WaltDisneyWorld on Snapchat in his snaps.
You can also ask the influencer to send traffic to your website/eCommerce store or to subscribe to your email list.
Since content is ephemeral on Snapchat, you can also consider asking the influencer to direct their followers to screengrab the snap with your website/CTA information. This will ensure that the information is readily available later.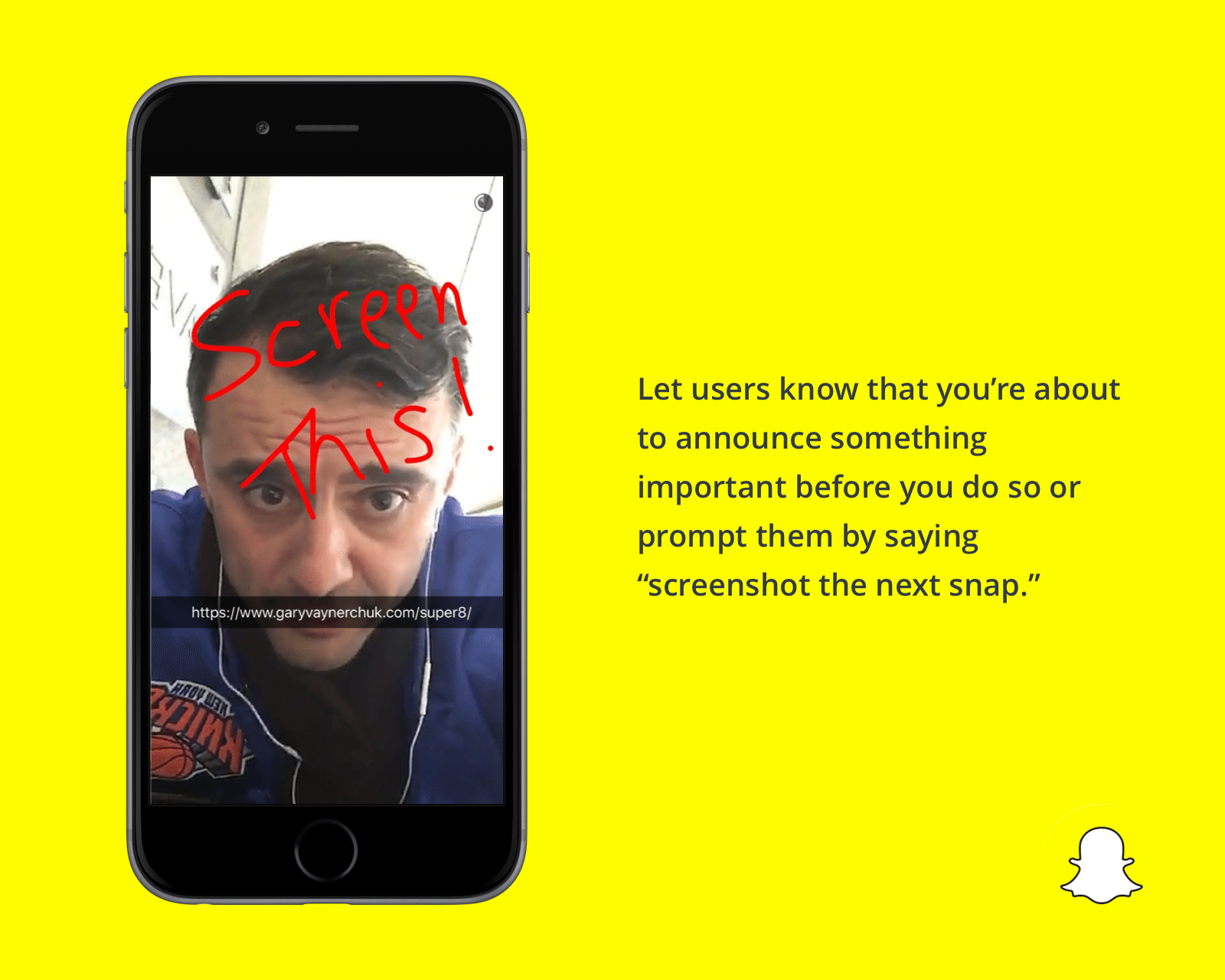 2. Provide exclusive content on Snapchat and leverage the inherent urgency on the social media platform
Due to the short-lived nature of content on Snapchat, users love hanging out on this social network.
If you want to truly leverage this inherent urgency, a great tactic is providing private and exclusive access to your brand.
Here are 4 potential ways to engage Snapchat users and motivate them to take action:
Giveaways and contests
Flash sales
Special discounts
Behind-the-scene previews and teasers
Now, let me share live examples of how brands are performing their digital marketing on Snapchat.
The first one is Everlane.
After some initial testing, the company declared that Snapchat will be their de facto social channel. The reason was the raw and unedited appeal of the platform.
Everlane found Snapchat helpful to "explore transparency in a completely new way." It is in line with their motto of 'radical transparency.'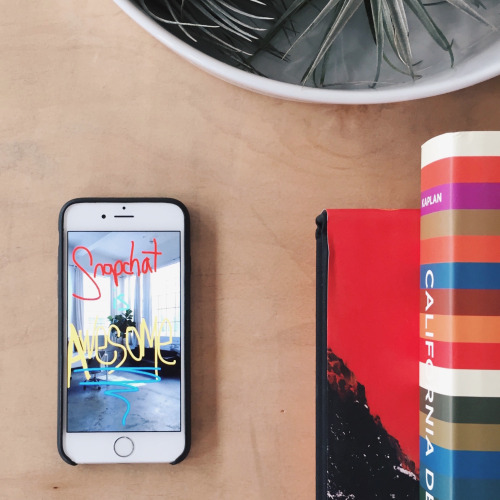 If you'll follow Everlane on Snapchat, they won't chase you away you with multiple sales pitches. Rather, they are eager to show you how a brand is built on a day-to-day basis.
And, they use the other social media accounts, like Twitter, to announce their exclusive Snapchat content, like upcoming clothing lines.
Indeed, Everlane started their Snapchat account, with their social media lead, Red Gaskell, in a series of snaps touring around their factory.
And even now, Everlane regularly conducts "Transparency Tuesdays" on Snapchat. Any follower of the account is allowed to ask questions to Gaskell and the sales team about the company in this Q&A session.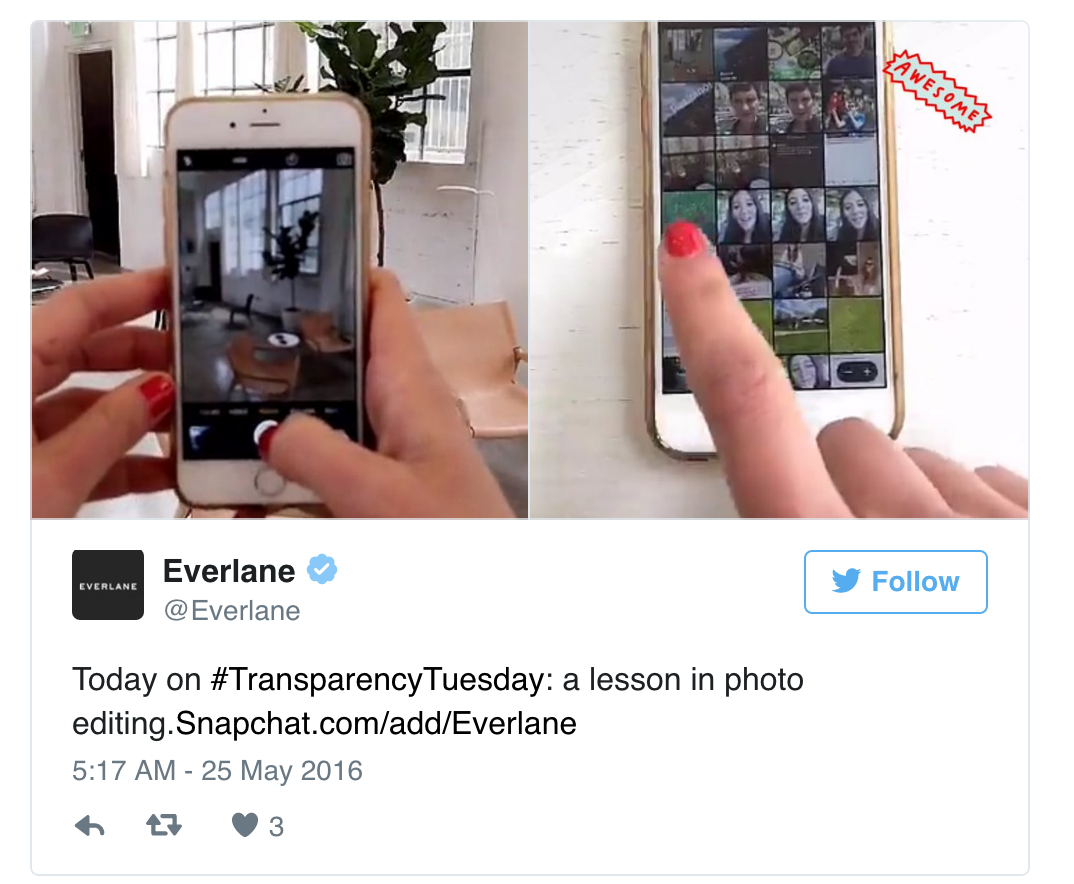 You can also invite customers from other social media platforms, through your QR Code and share an exclusive Snapchat series.
My second example shows you how:
Warby Parker run a series called "Desk Job." Here's a recent tweet that they sent out to their followers, encouraging them to join Matt (their brand creative manager), sharing his five desk essentials.
Warby Parker also sold the first-ever Snapchat exclusive sunglasses.
What does that mean?
Well, you've got to follow Warby Parker on Snapchat to get the unique URL for buying these limited edition sunglasses. A brilliant social media marketing maneuver, wouldn't you say?
What's more? They announced the $95 sunglasses on Instagram.
Isn't this a fun and creative way of doing commerce on Snapchat?
That's what Neil Blumenthal and his team (co-CEO Warby Parker) aimed to do with the social media platform.
If you are an eCommerce business, then Snapchat filters and its inherent urgency are powerful tools to make shopping fun for consumers. You can offer discounts and conduct exclusive giveaways to catapult your sales.
What if you aren't an eCommerce business?
You can still show behind the scenes views of a day in your life.
Just remember that the content you share should uniquely fit Snapchat.
For example, The New York Times asked the best storytellers from their team to get on the social network and share their own story.
Here's how they describe their strategy, "Each journalist takes the account for a specified amount of time to tell a story from his or her vantage point."
You can read about The New York Times experiments with Snapchat in more detail here.
Overall, your Snapchat content must be raw and personal.
3. Keep your audience engaged with build-up through snaps
In 2013, Snapchat introduced a new feature called "stories."
As the name suggests, this will allow the user to create a narrative with a compilation of snaps.
Which means you can use a series of photos and videos…along with Snapchat's fun features for creating drawings, text add-ins, emojis and the like, in your creatives to show a compelling story.
Not only is this a great way to get past the briefness of images and videos on Snapchat. You can also garner interest and get huge engagement across multiple posts.
I highly recommend changing the "Who can…" >> "View My Story" from "My Friends" (the default setting) to "Everyone." You'll find this option under settings.

Once you're happy with an image/video, you can add emojis and markups to it. Then, you can change the number of seconds that you want an image to be visible in a Snap, from the bottom left corner (look for the encircled number).
A story remains available to users for 24 hours (unless you delete it).
You can also save a story for sharing on your other social media platforms, by clicking on the download button.
Brands have used creative ways to leverage stories in their Snapchat marketing.
The New York Times created a fun and educational Snapchat story, sharing some pro tips on using Snapchat.
Writer Nick Bilton invited his friend to teach him how to use Snapchat, so that he could write an article for the publication on the same subject.
Voila!
It's authentic, relatable and builds interest for the viewers.
In another major breakthrough, Grubhub managed to hire a summer intern through Snapchat stories.
They used the 6 images below to promote their recruitment and encouraged their target audience (very likely to contain young students looking for internships) to 'doodle' their way to Snapchat.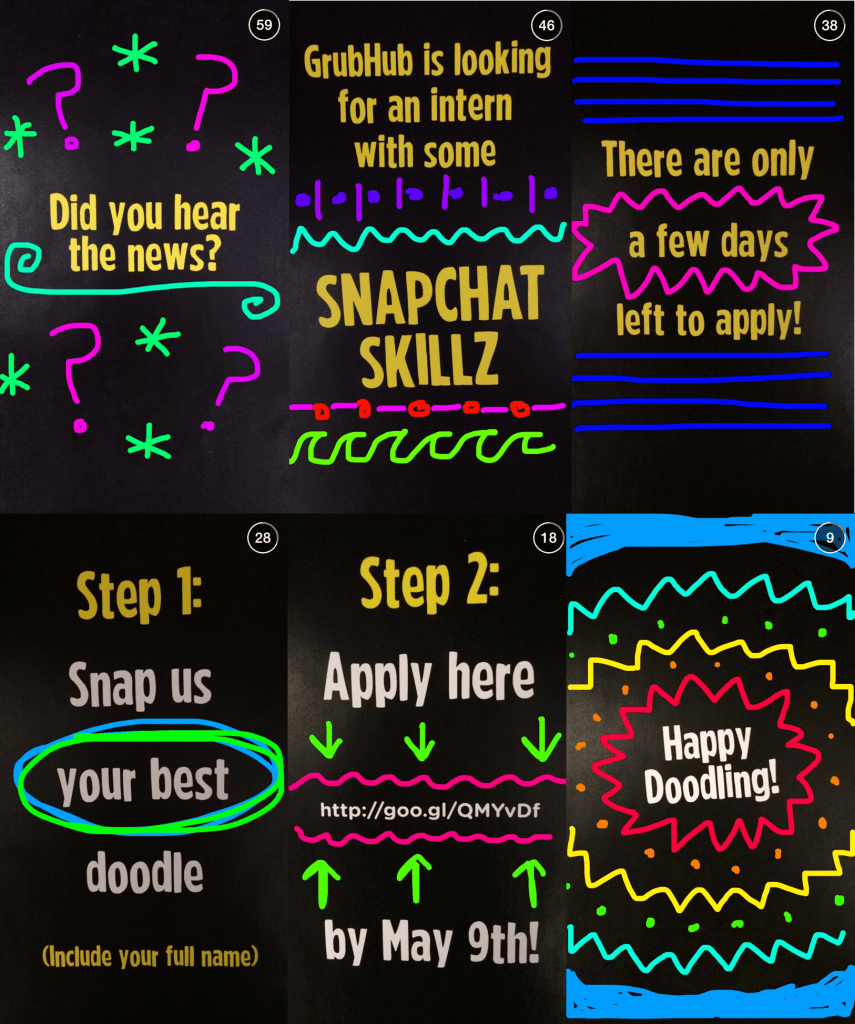 4. Have fun by using filters, emojis and drawing
Snapchat users don't want to feel like they are looking at ads.
So, your stories and snaps need to feel relatable and engaging on the social network. You've got to make the conversation fun for the consumer.
I've already shown you how emojis are a serious tool for marketers.
On Snapchat, you get geographic filters, lenses and drawings. You can even buy filters and lenses for your brand.
You can also create an interactive ad, via sponsored lenses (Snapchatters engage with lenses for 20 seconds on average). Here's Taco Bell, allowing its audience to play with their lenses.
Got tacos on your mind today? Us too. Snap us your Cinco de Mayo celebrations using our @Snapchat lens today.
Gatorade's 160 million Snapchat lens impressions and 8 point increase in purchase intent shows that having fun is essential for brands to take the lead on Snapchat.
Conclusion
Snapchat is a terrific platform for most types of businesses who are looking to build a relationship with their customers through authentic and personal content. Indeed, Brian Robbins of AwesomenessTV considers it the most relevant social media platform for content marketing.
I've showed you 4 tenets of successful Snapchat marketing, with numerous brand examples and case studies. And, I encourage you to experiment with the social network, especially if your target demographic consists of 18-34 year olds.
So, whether you're a small business owner or a digital marketing pro looking for new ways to boost your media marketing strategy, get ready to snap on this super fun social network.
How have your Snapchat media marketing efforts fared so far? Let me know about your Snapchat and other social media strategies in the comments below.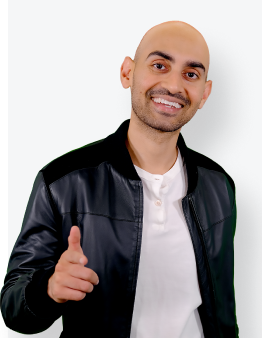 See How My Agency Can Drive More Traffic to Your Website
SEO - unlock more SEO traffic. See real results.
Content Marketing - our team creates epic content that will get shared, get links, and attract traffic.
Paid Media - effective paid strategies with clear ROI.
Are You Using Google Ads? Try Our FREE Ads Grader!
Stop wasting money and unlock the hidden potential of your advertising.
Discover the power of intentional advertising.
Reach your ideal target audience.
Maximize ad spend efficiency.