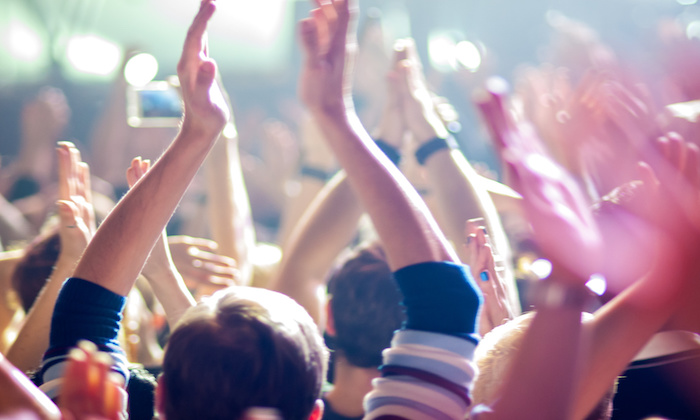 User-generated content (UGC) is a marketing goldmine.
If you know how to use it, it can create a snowball effect of higher engagement and more social followers.
Are you taking advantage of the right opportunities to let your users market for you?
Nine out of ten online consumers trust organic, user-generated content (UGC) more than they trust traditional advertising.
In other words, your audience would rather hear from your customers instead of you.
Further proof of this? 37% of consumers rely on social networks for their pre-purchase research.
They go straight to the source: users.
Based on this data, user-generated content is a surefire way to win over your prospects, right?
Some marketers still aren't using UGC to its full advantage, though, because they don't know where to start.
Thankfully, user-generated content is practically free and highly effective when you know how to guide it alongside your internal branding efforts.
Buffer sees the value in user-generated content. In fact, they boosted their Instagram following by 400% using a UGC strategy.
I'm going to show you how to leverage user-generated content to build a bigger social fan base the same way Buffer did.
But first, you need to understand why a social media following should even matter to you as a marketer.
Why do brands need a social media following?
Over two billion people across the world use some form of social media. That's over a quarter of the population of the entire planet.
It makes sense then, that social media is the second biggest driver of referral traffic to websites, coming in at over 25% of the total number of referrals from all sources. (Second only to search.)
But many marketers still don't see the value of investing their time and energy in social media as a content marketing and conversion strategy.
Research shows that only 2% of brands meaningfully engage with users on social media, and yet 53% of consumers that follow a company on social media feel more loyal to that brand.
Whether it's a matter of time, a perception of value, or a simple oversight, if you're in that 98% of marketers who are ignoring social engagement, it's time to give it another look.
Why spend the time and effort when you're already up to your eyeballs in marketing tactics?
Because 74% of C and VP-level buyers use social media to make purchasing decisions — that's why.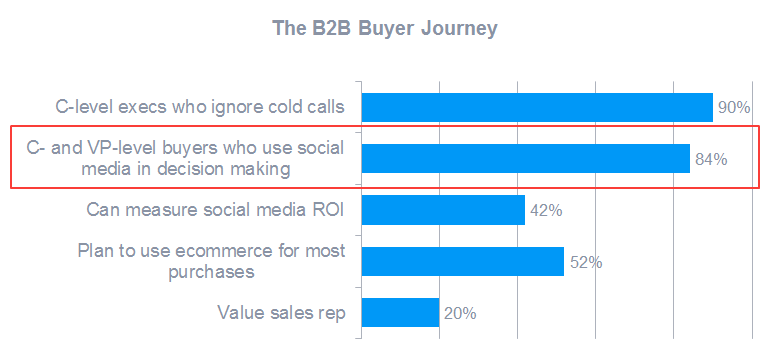 And don't think UGC isn't valuable if you're running a B2C business. The same rings true for you. 74% of consumers use social media to help them decide what and from whom to purchase.
Still unsure if UGC is worth the effort?
Brands like Buffer see the value. Remember their 400% uptick in social engagement that I mentioned earlier?
Toyota also puts user-generated content to work for their brand. They boosted their Facebook Ad engagement 440% with UGC.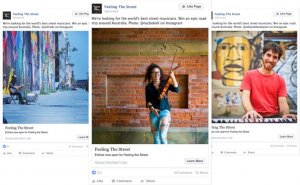 Toyota's creative agency had a lofty goal of 300% more engagement when they started on their user-generated content plan.
When they blew that goal out of the water, Kirsten Matthew from Media Blanco (their agency) said this:
We were confident leveraging authentic user-generated content would attract positive engagement from our audience, but even we were surprised just how much more effective it was. We're thrilled with the results and proud of the campaign we were able to deliver for Toyota.
So how do you do the same thing?
Enhance your marketing efforts and build your audience by letting your users speak for you. It's free marketing! Use it to your advantage.
I need to share one overarching rule before we go any further: When you set up a social media account on a new platform, please choose a memorable name.
For example, Fortune Magazine uses a variant of their name.
If they would have chosen something like "moneymag419" or "fameandfortune76," no one would be able to find and follow them.
Ready to get started? Here are few practical ideas to get your UGC strategy up and running.
Run a hashtag contest
Hashtag contests are a covert way to boost fan growth and promote your brand.
Instagram contests that incorporate hashtags grow 70% faster than those that don't.
Everyone uses hashtags. You just have to get your audience to use the right hashtags.
It's not as difficult as you'd think. Here's how a good hashtag contest works:
First, post the rules (make sure you only open the contest to people that follow your account).
Next, ask followers to use a specific hashtag (tied to your brand) for the chance to win a prize.
Choose a winner at random, or let a judging panel choose.
Promote the winner along with the great prize they won and offer a teaser to your next contest to diminish a post-contest drop in followers.
Here's an example of a contest with a simple hashtag that generated over 1,500 entries in 25 days.
The number of hashtags is another key to success. Make sure your contest has at least one (obviously), but don't overdo it.
Anything above 11 hashtags produces diminishing returns.
If you aren't sure how to start, Wishpond can help you design the right contest with the right hashtags for your brand with their hashtag contest app.
Don't forget to tie in extra ways to boost followers through social sharing. You can use a simple pop-up like this one:
It cross-pollinates your content with other social platforms and exponentially increases your social reach.
After you've pulled in all of these new followers with your clever hashtag contest, then what do you do with them?
Ask a question
Asking your users leading (but intriguing) questions is another way to generate more user content and boost growth.
Think of social engagement like a first date. If you only talk about yourself, you probably won't get a second date, right?
If you ask plenty of thoughtful questions about the other person, listen to their answers, and keep the conversation going, your odds of a repeat date are much higher.
Marketers love to talk about themselves (specifically, their brand). They don't ask enough questions. If you don't ask your readers to engage positively with you, then they won't.
So how do you ask the right questions to ensure that the conversation isn't embarrassingly one-sided?
First of all, know your audience.
Use a tool like Sprout Social to pull audience demographic data to give you a better idea of who you're engaging with.
Next, make sure you frame your questions in a way that elicits a positive response. For example, USA Today does an excellent job asking engaging questions on Twitter.
It received 27 likes, 14 comments, and 6 retweets in under an hour. Not too shabby!
Lastly, don't forget to keep the engagement going. Nothing is more confusing to a follower than when a brand suddenly stops all engagement.
You'll get busy with other marketing obligations, and it will be tempting to let social engagement slip.
Make time for it so your followers don't disappear.
Once you start seeing engagement, Sprout Social can help you track user engagement, enabling you to nurture social relationships and use follower data to increase growth.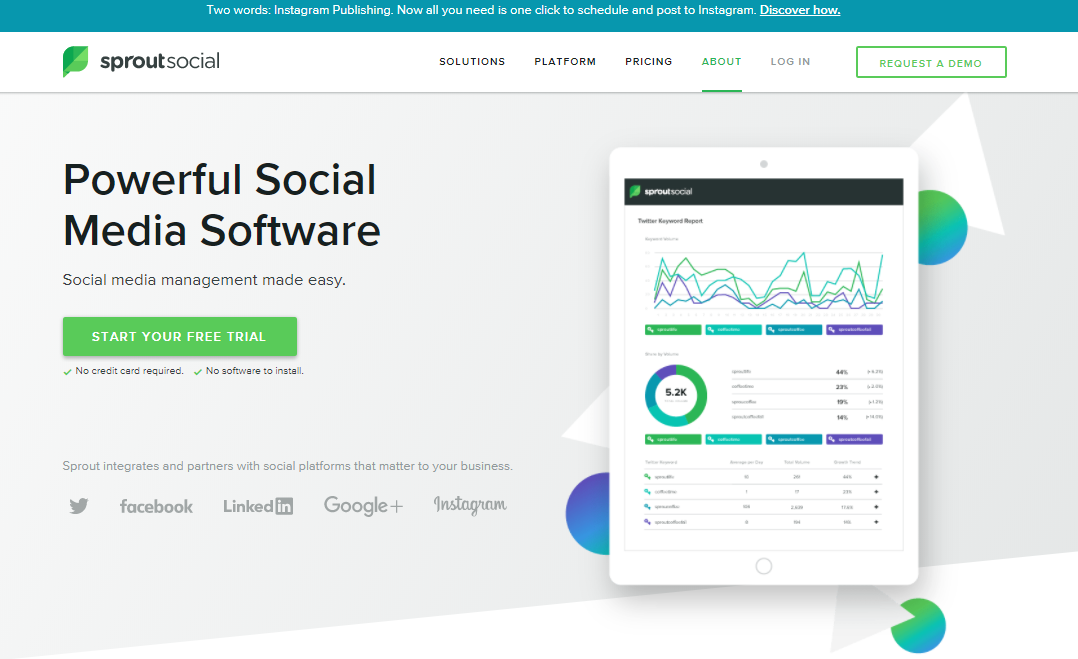 Humanize your brand
When you consider sources for user-generated content, don't forget about your employees.
Think about it. Who else is closer to your brand than your employees?
You might think that your audience will lump employee-generated content into the same category as brand-generated content.
It's not the case.
Consumers trust content they see from company experts 66% of the time.
Compare that to corporate advertising. 82% of consumers are distrustful of advertising from big businesses.
Encourage your employees to promote brand-related content with a designated, pre-approved hashtag, but give them some creative liberty to keep the content authentic.
Customer-centric companies typically have actively engaged employees.
In fact, 64% of employees describe themselves as "engaged" or "fully engaged" at organizations that consider themselves to be customer-focused.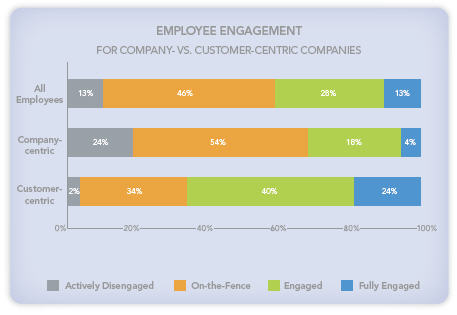 A few years ago, T-Mobile launched an employee-generated content campaign called #BeMagenta.
It was in support of their corporate social cause, Boys and Girls Clubs of America (more about social causes later).
It was a simple way to empower their employees to inspire conversations about their experiences as insiders of the T-Mobile brand.
At the end of the campaign, they saw a 140% increase in Facebook likes and 150% growth in LinkedIn followers.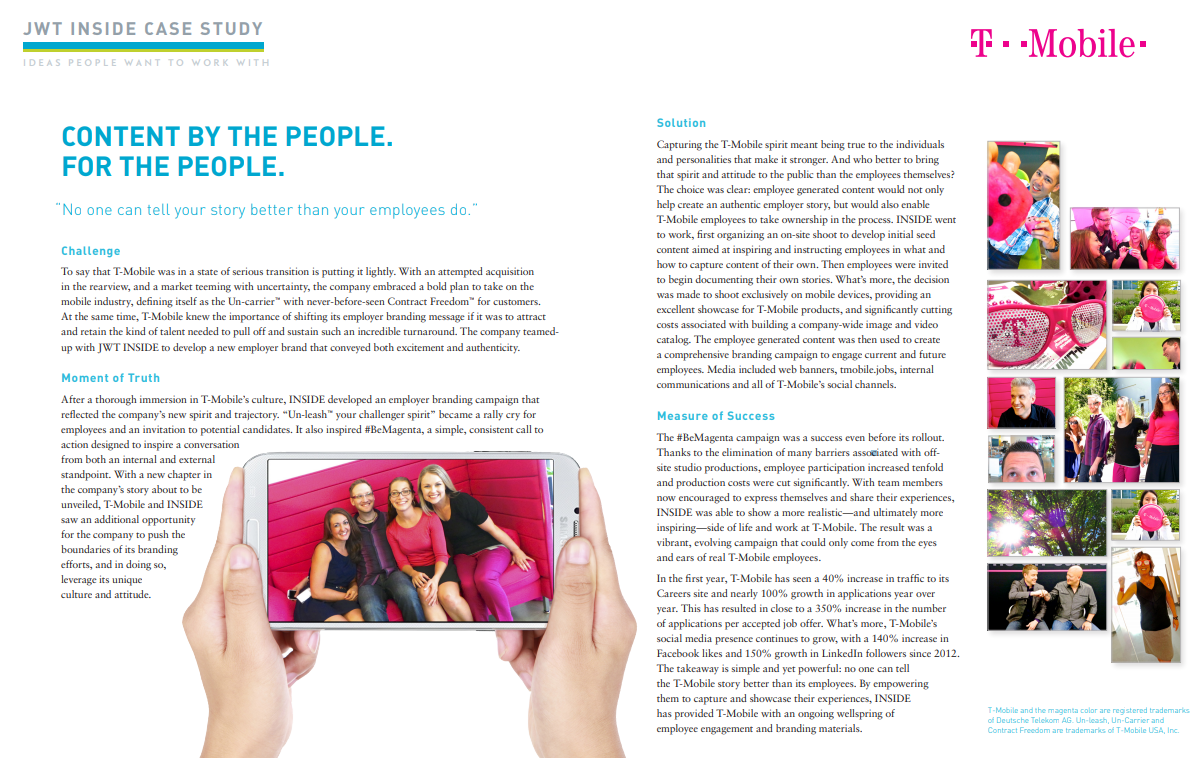 If you want to dip your toe into the employee-generated content water, try a tool like Hootsuite Amplify.
It will help employees get comfortable sharing prescriptive content at first until they are ready to create their own brand-related posts.
Other tools, like GaggleAMP, allow employees to edit content before they post it.
Companies like Pivot3 have seen huge success with this hybrid method of brand and UGC content creation.
After they implemented GaggleAMP, they saw a 32% lift in their social media impressions over the first month.
Jay Baer's quote "Social media allows big companies to act small again" has never been truer than with employee and user-generated content.
It makes everyone a marketer, whether you're a company of 10 or 10,000. It's unifying.
Now that you've let your employees show their brand pride to help boost your social following, let's talk about how to help your customers brag about your brand.
Let your customers brag a little
We've already seen how employee-generated content is trusted above corporate content.
It's a great way to boost social growth, but you can't stop there.
If you desire to engage authentically with your users, you need to take a deep breath and relinquish a bit of that white-knuckled grip on what's said about your brand on social media.
Give your customers a chance to be truly creative.
76% of customers say they trust content shared by "average" people more than content from the brand itself.
BMW uses a hashtag campaign called #BMWrepost to let customers post pictures of their cars, which BMW then reposts on their page.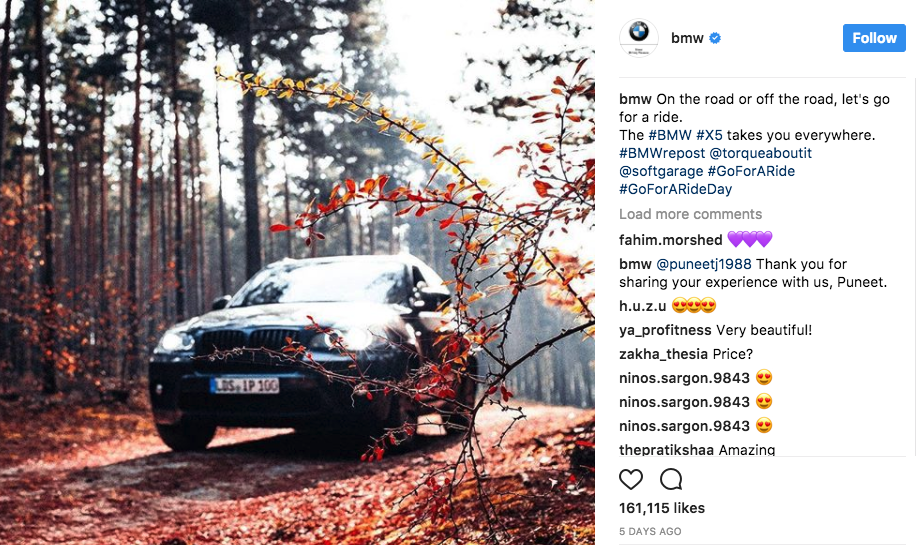 It's a great way for car owners to show off their beloved cars and for BMW to showcase how loyal their followers are to the BMW brand.
As a result of this user-generated content campaign, BMW has ten million Instagram followers and is the most successful automotive brand on Instagram.
The best part is, the photography and creativity are supplied by users.
Airbnb takes this a step further by positioning their customers as "local experts."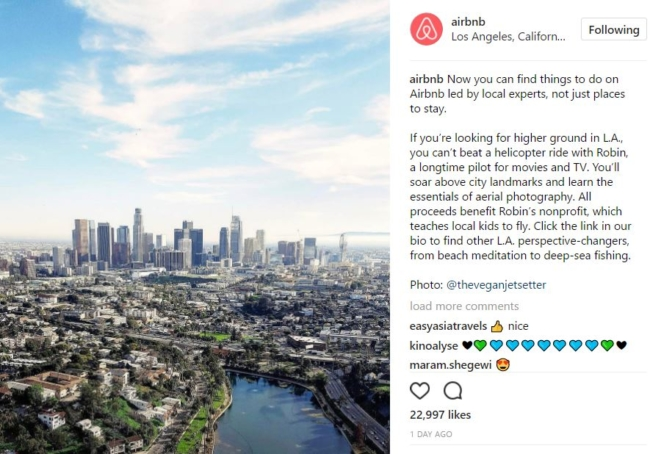 While Airbnb isn't selling a physical product, they expertly sell an experience through beautiful, user-generated photography.
They simply let their tribe of fans tell their stories for them.
See something you love that one of your users posted? Contact the owner and ask to buy the rights to it.
Then it's yours to do what you wish, but it doesn't lose the authenticity of the UGC spirit.
The founder of Bylined, David Hungegnaw, says this about buying UGC rights:
When it comes to UGC, Apple takes a different approach… Apple quietly scours the Internet for the best UGC, then contacts those content creators to buy rights. The result? The "Shot on iPhone" campaign, with more than 10,000 billboard installations around the world…
If you'd like some tips on approaching users for permission to use or buy their content, then check out this guide from Metropreneur.
Post seasonal content
Seasonal content and campaigns create excitement about a product or limited-time branding, which in turn, boosts sales and increases social growth.
Remember Starbucks' #RedCupContest?
They encouraged customers to share a photo that showed how they enjoy their Starbucks coffee in the famous, red holiday cup.
Oh, and by the way, it was a brilliant sales move, since it required a purchase for users to get the red cup to share in their photos.
Another great example from Starbucks is the infamous  #PSL hashtag.
Whether or not they knew the pumpkin spice latte would end up being a cultural icon, they capitalized on the publicity brilliantly through hashtags and user-generated content.
Timing is everything with seasonal content.
Think about it.  You're standing in line in a store, and what do you do? You mindlessly look at your phone while you wait, right?
Four out of five holiday shoppers look at their phones regularly throughout the day.
Be the first thing they see when they scroll.
If you want to try your hand at a seasonal UGC campaign, you can either aim for a particular brand element (a la "Red Cups") or center your campaign around a specific event.
As an example, retailers pulled in nearly $8 billion on Black Friday in 2017.
Shoppers are already in the shopping spirit — you just need to get them to think about your brand.
Studies show that consumers are 137% more likely to buy if they see consumer photos of a product.
Why not create a post or two to encourage user-generated content on the biggest shopping day of the year?
Capitalizing on the Black Friday and Cyber Monday shopping madness, Amazon made light of cats and their inexplicable attraction to boxes.
As a result, they got 22,000 reactions, thousands of shares and 1,100 comments from users. Each of those metrics is a small piece of the user-generated content pie.
They didn't mention a product. They didn't post a discount code. They talked about an empty box — and it worked.
Shine a spotlight on your logo
If you recall the UGC campaigns we've talked about, you'll notice a theme: User-generated content revolves around imagery.
Why not use that as a platform for your logo?
Have you ever heard of the term "banner blindness?" It's the concept that consumers are programmed to block out and ignore banner ads.
There are numerous reasons why people hate banner ads.
The good news is that you can get around many of these objections with user-generated content.
Coca-Cola launched a fantastic logo-placement platform with their "Share a Coke" campaign.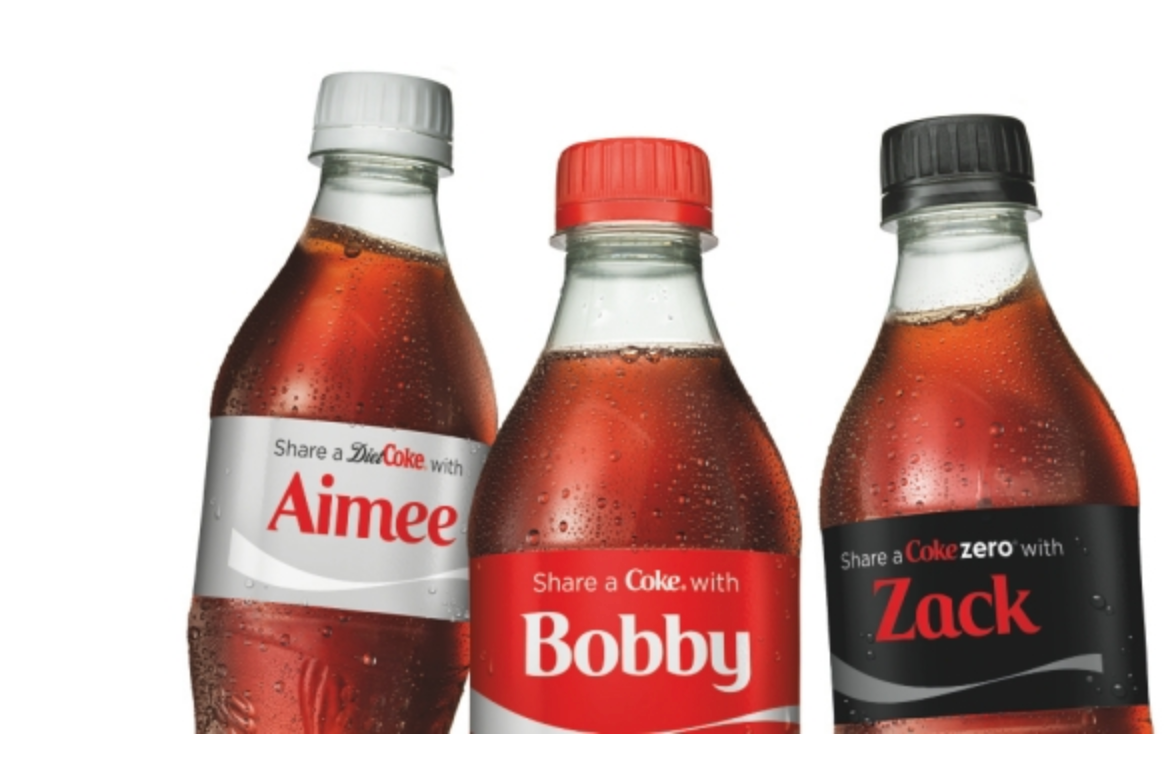 Users all over the world photographed and posted pictures of themselves with their personalized Coke bottles.
It worked — to the tune of 998 million impressions on Twitter.
In the process, it created a snowball effect of users encouraging their own networks to participate in the campaign.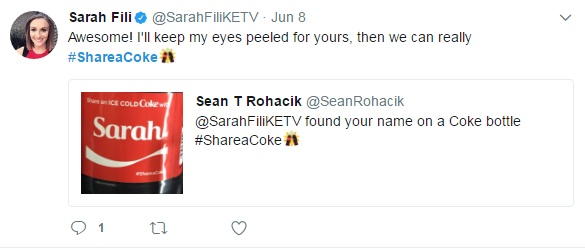 Give your audience a good reason to share your logo, and they will.
Create a quiz
People love quizzes.
It supports our basic human desire to prove our intelligence and gain the approval of others.
Shelly Turkle, an MIT psychologist, says this about quizzes:
Basically, we're trying to get a number… we use a quiz to get the number. It gives people something to look at, an object to think with. I think these quizzes are a kind of focus for attention for thinking about yourself.
As an added bonus, quizzes drive up to three times more cold traffic than a blog post.
So how do you harness that desire for attention into a successful UGC campaign?
First of all, you need to make the content engaging enough to entice users to participate.
Buzzfeed is great at this:
One of their recent quizzes was shared an astonishing 5.9 million times.
That's a lot of free marketing and logo placement.
The secret to quiz success is very simple: make your quizzes fun to take and easy to share.
Above all, don't forget to include a call-to-action to share the quiz or post the results.
Check out this guide on Kissmetrics for creating a share-worthy quiz.
Support a cause
Did you know that over 90% of consumers prefer to shop with brands that support a cause?
In addition to making the world a better place, rallying behind a cause attracts new customers, gains attention from media outlets, and boosts brand loyalty with existing customers.
AdWeek conducted a study with several major brands to see which kinds of social media posts performed best.
They found that posts with some connection to corporate social responsibility far out-performed other post types.
Here is an example from The North Face:
With one simple post asking users to leave comments in support of their favorite national monuments, they got over 13,000 "likes" and built a feeling of unity between users and the brand.
Looking for ideas on how to help your organization embrace a social cause?
Check out these top ten socially responsible companies and how they have ingrained philanthropy into their cultures.
Find a cause your brand can enthusiastically support and like-minded social media users will stand in support with you.
Conclusion
Are you channeling your share of the over two billion social media users to help drive your brand recognition?
Too many marketing organizations rely on their own content to drive social growth for their brand.
If the average click-through rate of the average banner is only 0.06%, then marketers have to find new ways to share their message with the masses.
User-generated content not only takes a bit of pressure off of content creation demands, but it also builds credibility with your audience and naturally attracts more followers.
Do you want to see the kind of social growth like Buffer, Toyota, BMW, Starbucks and others that I talked about in this article?
It's time to think about user-generated content as an offensive strategy instead of one that needs defense against the perils of what people might say about your brand.
Be the kind of brand that people want to share with their peers and talk about on their social accounts.
How are you leveraging user-generated content to boost your social media footprint?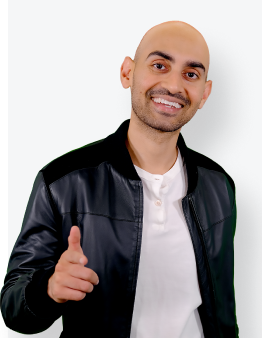 See How My Agency Can Drive Massive Amounts of Traffic to Your Website
SEO - unlock massive amounts of SEO traffic. See real results.
Content Marketing - our team creates epic content that will get shared, get links, and attract traffic.
Paid Media - effective paid strategies with clear ROI.