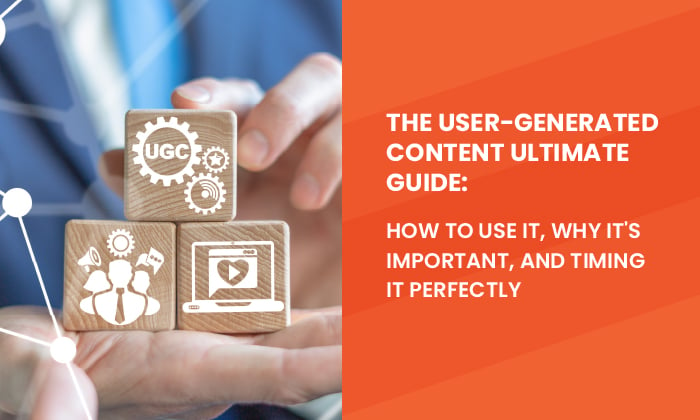 User-generated content (UGC) is a marketing goldmine and knowing how to use it properly can create a snowball effect of higher engagement and more social media followers.
That's not all.
Taking advantage of the right opportunities will let users do most of the work for you—generating product interest, conversation, and even revenue.
How?
It's simple. Consumers trust organic, user-generated content more than they trust traditional advertising. In other words, your audience would rather hear from your customers instead of you.
Here's the proof: 37 percent of consumers rely on social networks for their pre-purchase research. Based on this data, user-generated content is a surefire way to win over your prospects, right?
Yet some marketers still aren't using UGC to its full advantage because they don't know where to start.
Below, I'm going to show you everything you need to know to craft a winning UGC strategy that will explode your growth, engagement, and bottom line.
Let's dive in.
What Is User-Generated Content?
User-generated content (UGC) is content created by individuals rather than brands.
If you've ever gone to a cafe, snapped a picture of your latte art, uploaded it to your Instagram Stories, and tagged the coffee shop, you've created UGC.
User-generated content usually comes in the form of images, videos, reviews, or testimonials—which leads to users promoting a brand through online content, rather than the brand promoting themselves.
The result? Powerful online social proof that has the potential to increase trust, authenticity, and sales.
Why You Should Use User-Generated Content
You're leaving money on the table by ignoring UGC.
Close to 80 percent of people say user-generated content impacts their purchasing decision.
UGC outranks other forms of marketing content like promotional emails. In fact, 64 percent of Gen Z and 60 percent of Millennials indicated they did not buy from an e-commerce store because the site didn't include customer images or reviews.
Incredible, right?
These statistics beg the question: what about UGC makes it so successful? Why does it have such a powerful pull over our purchasing decisions?
People Trust Real People, Not Brands
Word-of-mouth recommendations from friends and family are worth their weight in gold.
Remember when sleazy salespeople going door-to-door was a thing?
A stranger knocks at your door, trying to convince you to buy the latest vacuum cleaner, makeup products, or a revolutionary anti-aging serum.
Immediately, your defenses are up. You don't trust this person and you don't want their product.
However, if you are sharing a problem with a trusted friend, such as a broken vacuum cleaner, you are more likely to trust their review and recommendation of a product.
What was once word-of-mouth has now evolved into user-generated content.
Eighty-eight percent of people trust recommendations from people they know over advertisers, whether it's a friend, family member, or influencer.
UGC Is More Authentic
Authenticity is a key ingredient in establishing trust with your audience.
In a study by Stackla, 90 percent of consumers say authenticity is an important factor when deciding which brands to support.
Consumers today don't just buy products, they buy into brands. In fact, 55 percent of consumers will purchase from a company that shares their values, while only four percent say it's not something that influences their purchasing decisions at all.
How does UGC make your brand more authentic?
It humanizes your company, helps people connect to you on a deeper level, and shows (not tells) your audience that your product will deliver on its values.
UGC Is Time and Cost-Effective
How long does it take you to plan, shoot, edit, upload, and write a caption for a single post on social media?
If you're publishing 5x per week, the minutes each post takes quickly adds up to a couple of hours.
Then there's the cost.
Whether you're outsourcing your graphic designers or relying on the talents of your in-house team, their time costs your business money.
User-generated content helps you shave off time and money by letting your community create the content for you.
Need some convincing?
Busabout reduced its content creation costs and grow its social audience by 350 percent with user-generated content.
The ROI for User-Generated Content Is Sky-High
The high ROI isn't only for sales.
The impact UGC has on purchasing decisions isn't the only advantage. It can also increase brand engagements.
In a digital world where reach dwindles by the day, this type of content can go a long way to improving your follower count and click-through rates (CTR).
Brands like Air France have used user-generated content to increase their CTR by 11 percent and reduce the CPC by 21 percent for Facebook ads featuring user-generated content.
Types of User-Generated Content
Now that you understand what UGC is and how it can benefit your business, let's look at the three main types of user-generated content.
1. Photos and Videos
Visual content is some of the most powerful UGC because it shows potential customers what they can expect from a product without physically inspecting it.
For example, an experience like staying at a hotel or a new pair of shoes.
Seeing these images or video clips is immersive and makes users feel more confident buying an item online.
This is especially true for younger demographics, with 52 percent of Gen Z preferring video reviews over images.
Where can you find visual user-generated content for your business?
Customers: Encourage and incentivize your customers to post photos and videos about your product or service.
Influencers: Team up with influencers in your niche to create UGC content. It allows you to reach their audience while adding new content at the same time.
Employees: Encourage your employees to give people an inside look at what your company culture is like. Not only is this type of UGC content great for attracting talent, it shows your audience your brand values are real.
2. Testimonials
Are you collecting customer testimonials? If not, you're missing out on leveraging the best kind of social proof.
Whether you're selling an online course or a physical product, testimonials from real customers can go a long way in boosting your sales.
If you can show people your item gets results, you're helping people on the fence feel more confident and secure in their purchasing decision.
How do you get testimonials?
Reach out to past happy customers and ask for a short paragraph on how your product or service has helped them.
Send out customer feedback forms after every purchase.
Browse your comment sections on TikTok, Facebook, and Instagram. Take screenshots of comments complimenting your business and ask permission to use them in your marketing materials.
3. Reviews
Reviews are similar to testimonials but are on sites like TripAdvisor, TrustPilot, product pages on Amazon, or Facebook business pages.
With 89 percent of customers reading reviews before making a purchase, using this type of user-generated content can increase:
If someone is taking the time to read reviews, you know the person is at the bottom of the sales funnel and is close to making a purchase.
That doesn't mean you should save reviews for the end of the sales cycle. Using reviews in your top-of-funnel strategies can build the necessary brand awareness and trust early to boost your brand's reputation.
How to Get User-Generated Content
Since user-generated content comes from your customers, you need to find a way to incentivize and collect the content you need.
Motivating Your Audience
Just like on your Instagram captions and landing pages, you need a strong call to action. Tell your audience what you want, and you'll motivate your customers to create the type of UGC you need.
How do you achieve this?
Review your buyer's journey, identify parts with a high emotional charge, and add a CTA for user-generated content.
This is when your customer is excited about their purchase, for example:
right after making a purchase
unboxing your product or getting access to your service
seeing the result your product or service promised.
Some of the ways you can encourage UGC at these touchpoints are by:
Adding a tweet or share button on your after checkout page.
Encouraging users to take a screenshot, share it on their Instagram Stories, and tag you.
Sending a note with your product with a CTA, your brand hashtags, and social media handles.
Emailing customers a few days after receiving your product to write a review.
Sending out feedback forms at the end of an event.
Incentivize Customers With a Prize
User-generated content competitions are a strategy you can use a couple of times a year. They increase brand awareness and create powerful social proof you can use for months to come.
What is a UGC competition?
It's when you ask your audience to create and share a piece of content related to your brand and the winner gets a prize.
For example, fitness app Shreddy runs competitions asking users to share their progress over a specific time period. The person with the biggest transformation wins a cash prize.
Not only does it encourage users to sign up and use the app, but it motivates users to get the results the app can use as social proof.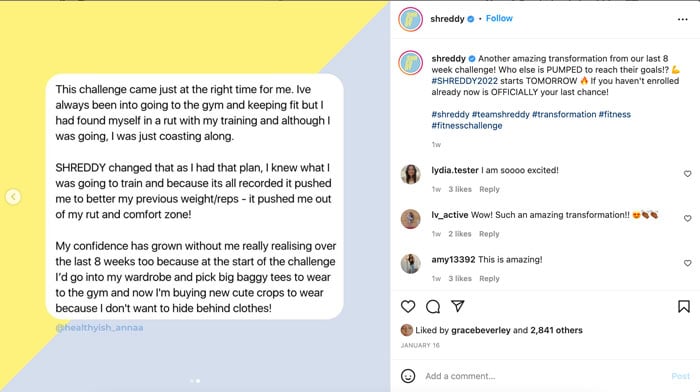 Chipotle did something similar with its TikTok campaign. The brand asked users to make a video explaining why they should win a free year of Chipotle using the hashtag #ChiptotleSponsorMe.
The result?
The brand hashtag received over 2.3 billion views.
Create Shareable Events
Social media is all about visuals.
Leverage this by creating beautiful and unique unboxing events, in-store spaces, and brand activation.
One of the best examples of this is Kynd Community in Bali. Thanks to its pink palm leaf wall and Insta-worthy smoothie bowls, the small cafe went viral on social media.
If you visit the cafe, you'll often see customers lining up to take a photo in front of the famous wall, creating an endless stream of user-generated content and FOMO among travelers who want the same experience.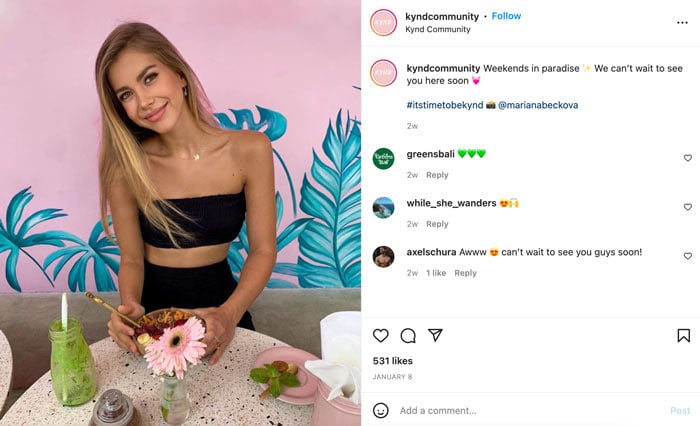 How to Start Incorporating User-Generated Content in Your Content Marketing Efforts
Have you tried implementing UGC before but didn't see results? Or are you just getting started and feeling a little overwhelmed?
Just like with any other marketing initiative, you need to have a clear plan on how you will achieve results with your new content efforts.
Here are a few things to keep in mind when creating your user-generated content strategy.
1. Decide on Your UGC Campaign Goals
Before you can start calling for and collecting content, you need to know exactly how you plan to use it.
Want to increase brand awareness? Create a hashtag like Audi's #WantAnR8 campaign. A Twitter user started the hashtag, and the brand hopped on board to promote the launch. Soon other users took notice, and the hashtag was used 75,000 times.
Want to increase conversions? Focus on a campaign that generates reviews and testimonials. Takealot, an online retailer in South Africa, offers users the chance to win a voucher for leaving reviews on recent purchases.
Want informative content that influences buying decisions? Take a page out of GoPro's book and use UGC that shows the different ways your product or service can be used.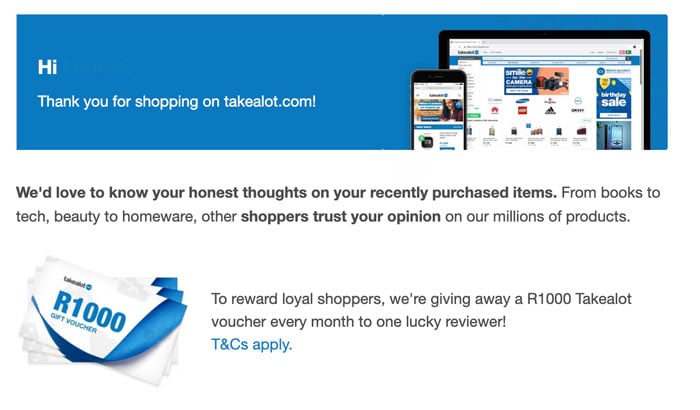 2. Brainstorm Which Type of UGC Will Help Meet Your Goals
Not every piece of user-generated content will work for each stages of the buyer's journey.
In order to get consistent results, you need to analyze what works at each touchpoints and make changes accordingly.
Your UGC competition is perfect for creating top-of-funnel awareness while a user's video review of your product works best for bottom-of-funnel conversions.
3. Use Different Types of User-Generated Content
You don't need to post every type of user-generated content on each platform. Selectivity is key to any winning strategy.
Ask yourself what type of content is going to work best at each stage and test it out.
Let's say you're an online business coach ready to launch your next group coaching session. Testimonials and reviews are the types of UGC most likely to get results.
Collect testimonials regularly to add them to your content bank. This social proof can also be used in your emails, Instagram Stories, and landing pages.
Hotels are another good example of this strategy.
Reviews and testimonials are the perfect type of UGC for their booking and product pages. On the other hand, photos and videos of customers enjoying their stay would work really well on Instagram.
4. Find or Ask Users to Create UGC
If your brand has been around for a while, there's a good chance users are already creating UGC.
Use a social listening tool to find what people are saying and implement the content into your marketing strategy.
Didn't find anything?
Start asking your audience to create what you want. Encourage users to use your brand hashtag, incentivize reviews, and create campaigns centered around user-generated content.
Whatever you decide, make sure it's clear to your audience what you want.

4. Request Permission to Use the Content
Just because your brand is mentioned in a post doesn't mean you can re-publish it without permission.
Always reach out and ask if you can use the content on your social media pages or website. Without permission, you might upset even your most loyal brand advocates.
Besides, when you reach out, it shows the user you like their content. They get those positive feelings while you get permission, everyone wins.
5. Always Credit the Original Creator
The most important rule of UGC is to always give credit where it's due.
Don't take someone else's content and share it without tagging their account. That's a big social media no-no.
Not crediting the original poster can also land you in hot water with your followers.
Plus, there's an even bigger incentive to do it.
By tagging the creator, you show your followers that the UGC is authentic and wasn't created by your team.
6. Promote Your User-Generated Content
Once your UGC starts rolling in, it's time to start using it!
Schedule your photos and videos for Instagram and TikTok. Use the content to create ads on Facebook.
Share reviews on your next email blast and start adding your best testimonials to your sales pages.
The more you promote your UGC, the more you'll incentivize your followers to participate.
A big part of UGC is the community. It brings you and your audience closer together and makes everyone feel like they are a part of something.
7. Track the Success of Your UGC Campaign
How do you know if your UGC campaign is successful? By tracking the following metrics:
number of impressions
total reach
organic traffic
social follows
engagement rate
total number of interactions
volume of posts created
total number of conversions
conversion rate
total revenue
total ad spend
click-through rates for ads
return on ad spend
growth of visual asset library
Monitor these KPIs throughout your campaign and make adjustments as needed to hit your goals.
Examples of Brands that Use UGC
Let's put everything together and explore some of the best user-generated content campaigns that you can take inspiration from.
Coca Cola's Share a Coke
Remember when Coca-Cola launched their "Share a Coke" campaign?
Featuring bottles named after people in every destination took the world by storm.
The brand asked customers to share photos of themselves with their personalized coke bottle resulting in 496,000 uses on Instagram and 89,000 tweets on Twitter.
Plus, more than 1.25 million teens tried the drink, and sales rose by sales rose by 11 percent in the United States.
Burberry's Art of the Trench
Over ten years ago, Burberry capitalized on the social media revolution with its UGC Art of the Trench campaign.
The brand asked its followers to upload pictures wearing their iconic trench coats. Burberry curated the best submissions and showcased their picks on Facebook and a dedicated microsite.
The results?
Burberry's Facebook page grew to over a million and became the largest page in the luxury sector. Their ecommerce sales went up by 50 percent, and the microsite had 7.5 million views from 150 countries within the first year.
Lululemon #thesweatlife UGC Campaign
Lululemon is a yoga clothing brand known for its strong sense of community.
One of the reasons behind its billion-dollar success is the brand's user-generated content. Lululemon launched a hashtag campaign to encourage brand partners and users to post pictures using their gear on Instagram.
#TheSweatLife campaign was a huge success. It hit $4.6 million EMV across 1.4k posts from 678 creators.
T-Mobile Break-Up Letters
One of the greatest examples of a user-generated content campaign is T-Mobile's break-up letters.
Mobile users didn't want to switch carriers in the U.S. because of high cancellation fees.
T-Mobile's solution? Encouraging people to submit break-up letters explaining their reason for leaving their current provider.
In exchange, T-Mobile would cover the termination costs.
More than 113,000 break-up letters were submitted, the app for the campaign received 2.7 million page views, and the campaign generated 67 million social media impressions.
This was topped off by T-Mobile's CEO personally re-tweeting break-up letter posts and welcoming the new customers.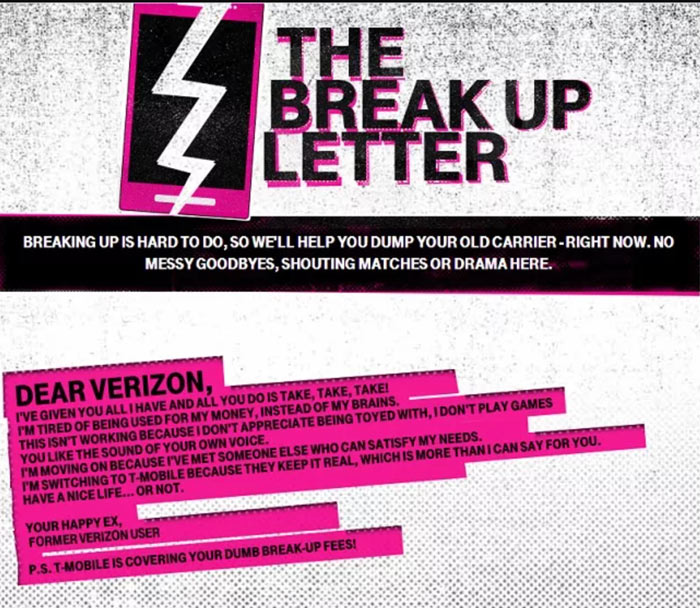 User-Generated Content Frequently Asked Questions
Do you have to pay for user-generated content?
No, you don't need to pay for user-generated content. All you need to do is encourage your audience to create content featuring your product/service and tag your account in their posts. Don't confuse UGC with sponsored ads from influencers.
Why is user-generated content used in marketing?
User-generated content is used in marketing because it's powerful social proof. People trust recommendations from friends, family, and other humans online over the lip service of a brand. It humanizes your business and creates trust between you and your audience.
Do you have to get permission for user-generated content?
Yes. The best way to get permission for user-generated content is to ask. Reach out to the person in the DMs or the comment section and ask if you can repost their content on your profile.
What does user-generated content do?
User-generated content creates social proof. By posting content made by your customers, you're increasing your credibility and showing potential customers your product/service will deliver on its promises.
Conclusion: User-Generated Content
Are you using social media to help drive your brand recognition?
Too many brands rely on their own content to drive social growth for their brand.
User-generated content not only takes a bit of pressure off of content creation demands but also builds credibility with your audience and naturally attracts more followers.
It's time to think of user-generated content as an offensive strategy instead of being on defense against what people might say about your brand.
Be the kind of brand that people want to share with their peers and talk about on their social accounts.
How are you leveraging user-generated content to boost your social media footprint?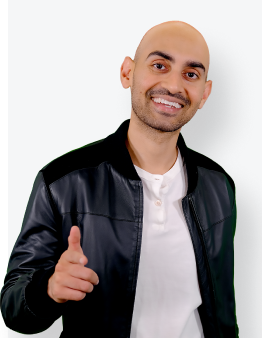 See How My Agency Can Drive More Traffic to Your Website
SEO - unlock more SEO traffic. See real results.
Content Marketing - our team creates epic content that will get shared, get links, and attract traffic.
Paid Media - effective paid strategies with clear ROI.
Are You Using Google Ads? Try Our FREE Ads Grader!
Stop wasting money and unlock the hidden potential of your advertising.
Discover the power of intentional advertising.
Reach your ideal target audience.
Maximize ad spend efficiency.