LinkedIn continues to innovate even years after launch, especially with Microsoft's acquisition of the platform. Despite a number of other social channels rising to meet consumer demands LinkedIn remains the leading social network for marketers and business professionals.
It's more than just a digital rolodex, and with each new feature that is tweaked and added LinkedIn improves as a channel for B2B traffic and lead generation as well as hunting ground for new career opportunities.
In this post, we'll dig into the features and updates you should have on your radar to get the most out of marketing yourself and your business on LinkedIn.
Setting Up Your Professional Profile
The first step toward creating and optimizing an effective LinkedIn profile is tackling the basic information. Before you get into defining skills and building out an impressive portfolio you need to let people know who you are.
Making a solid first impression starts with your name and your headline.
LinkedIn frowns on the name field being used for anything but your name, so avoid filling that space with clever keywords.
Instead, focus on the headline field for that. This headline field, in conjunction with your name, shows up in various places throughout LinkedIn including search results…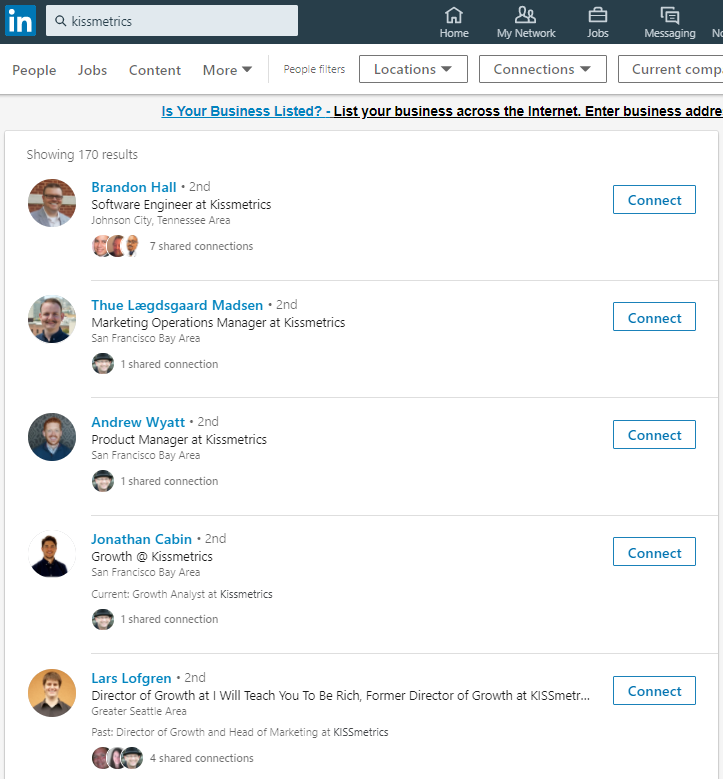 As well as invitations to connect, messages, and the newsfeed updates seen by everyone in your network.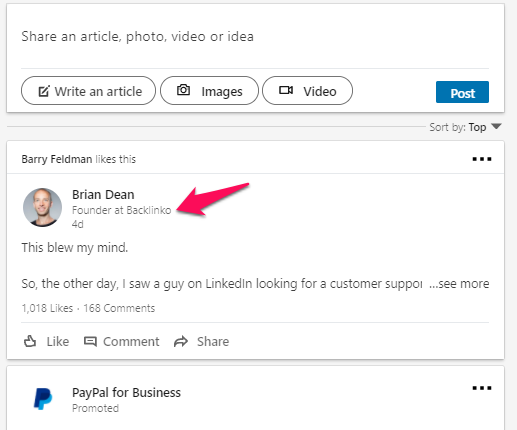 This makes your headline an ideal point of optimization for specific keywords that may be related to your career, position, skillset, company, etc.
This is also a great space to use as a tagline that can help set you apart from other candidates and professionals within your field.
Contact Info
In previous versions of LinkedIn information such as your website was hidden away in a "contact info" tab.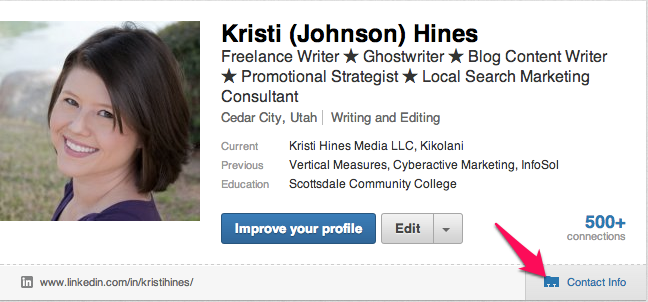 With more recent updates the contact information is now front and center at the top of the profile, though it's nested until a person clicks to retrieve the full data. Update this segment with the information you want to share with other professionals such as your website and blog URL, or your Twitter handle. You can also include your phone and email address.

Summary
The summary section of your LinkedIn profile allows you to enter a summary of your professional experience and expertise. You have a few paragraphs to describe yourself to a prospective employer, partner, customer, or connection. From a professional standpoint, think about this segment as your elevator pitch – what would you say to someone in person about who you are and what you do?
When updating your profile and summary segment you'll also have the option to add media to the top of your profile. While media can be added under individual career listings, those you're particularly proud of can be positioned at the top to establish expertise and branding.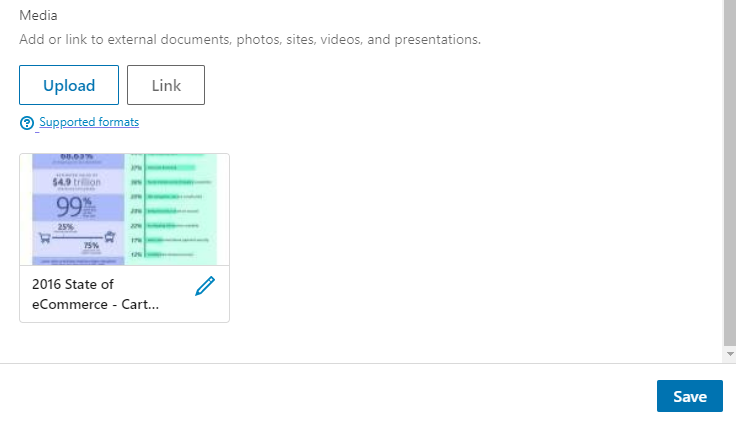 You can add YouTube videos, Slideshare presentations, and other media (images, videos, audio, presentations, and documents) from these service providers. Mari Smith uses her media to establish expertise and branding.
Here are just a few ways you can use visual profile elements to market yourself on LinkedIn.
Speakers can link to presentations from Slideshare to show topics they cover and videos from YouTube to show clips from their latest speaking engagements.
Graphic & web designers can link to Behance to show off their portfolio.
Consultants who help businesses build traffic for websites can link to Quantcast profiles for the sites they have helped.
Entrepreneurs can link to their Kickstarter project to encourage more funding for their ideas.
Podcasters can link to their best podcasts.
Photographers can link to their best portfolio photos on Pinterest.
Authors can link to documents with writing samples.
The list is endless…
Current and Past Job Experience
Your current and past job experience is another area that LinkedIn uses to determine what keywords your profile should rank for. It also comes up in some other areas of LinkedIn like search results and employee listings on company pages. Therefore, it's a good idea to utilize keywords that you want to rank for in the job position titles and descriptions.
Avoid being heavy-handed with keyword use. While ranking is important, you don't want to detract from the skills and experience in this section.
Beyond keyword optimization you can also add media to each job experience listing. Like your summary, these visual enhancements can help solidify your authority and expertise around specific topics and industries.
Here's an example from the profile of Wordstream's founder Larry Kim:
Skills & Expertise
When you add your skills and expertise to your LinkedIn profile you're not only optimizing for those keywords, you're also creating opportunities for endorsements. Other users can review your skills an endorse you, which are much easier to attain than detailed recommendations. Visitors and connections can endorse you for multiple skills with just one click.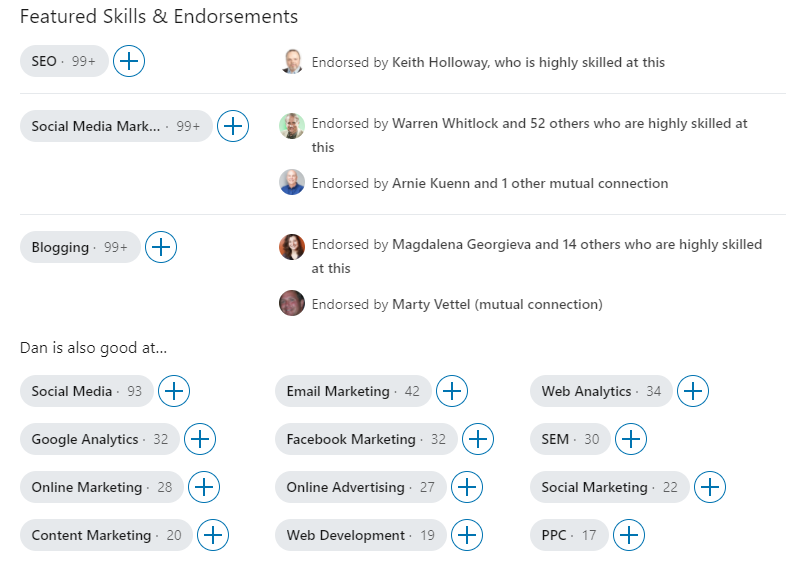 Visitors then can see all the skills others have endorsed you for, adding an element of social proof to your expertise.
You will receive notifications when others endorse you, giving you the opportunity to reply with a thank you, and even provide endorsements to return the favor.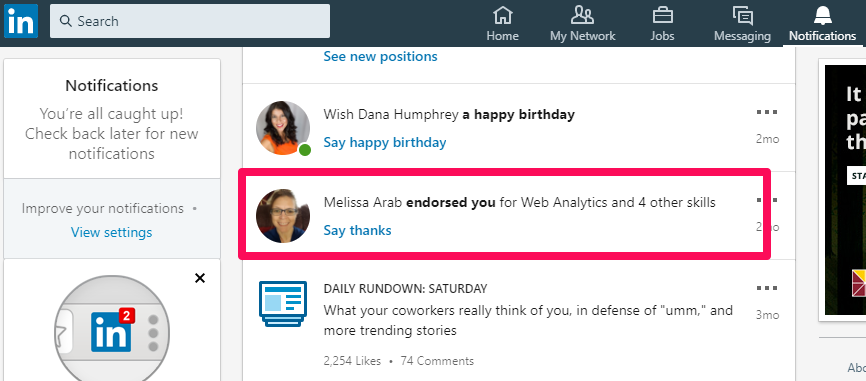 Since others receive the same notification you can encourage endorsements on your own skills by taking time to regularly endorse your connections.
If you're not sure what skills to add to your profile, you can visit the LinkedIn Topic Directory. Browse the alphabetized list to choose skills that are most relevant to your experience.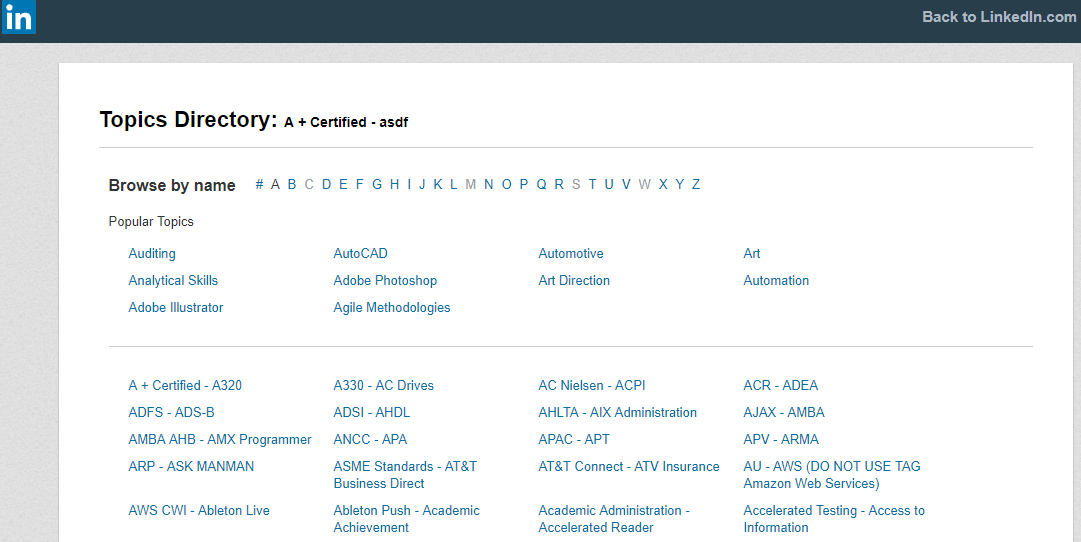 When you click on a skill/topic you'll be taken to a page showing relevant companies and the top subtopics for each or related skills. There will also be a list of professionals ranking for that particular skill. If a skill is relevant to you and you'd like to list it on your LinkedIn, just click on the "add to profile" button on the page.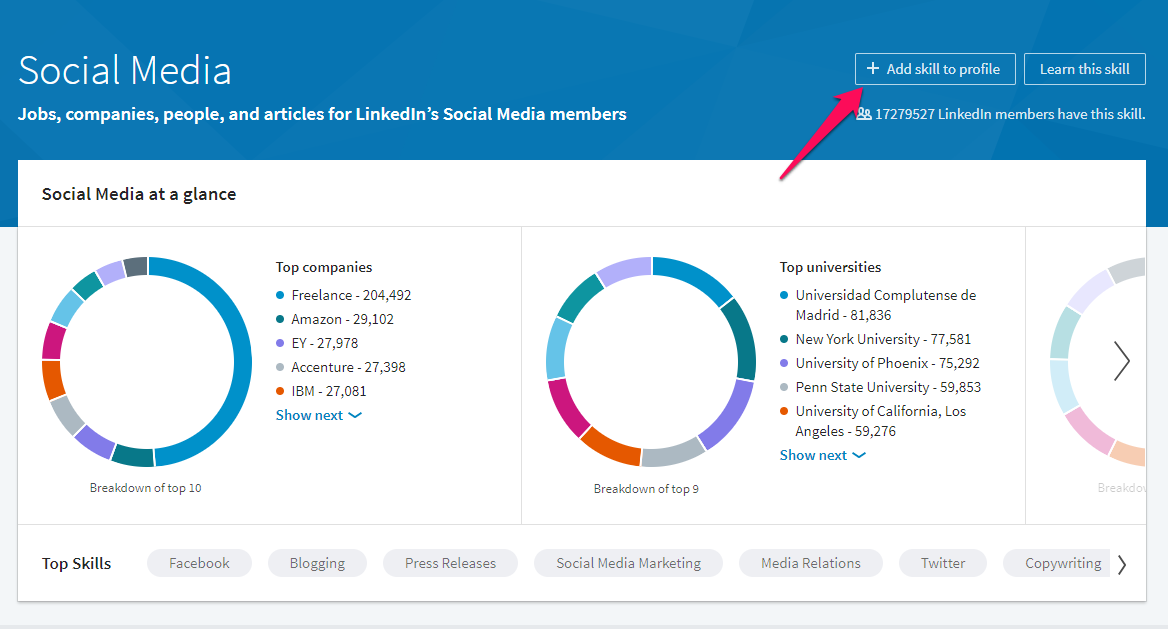 You can also use the "add skill" option within your profile to start typing in skills or click on suggested skills provided by LinkedIn based on the information you've already entered on your profile.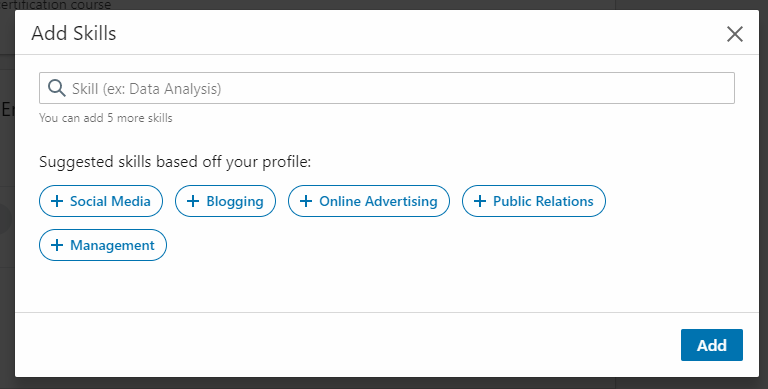 Note that you can only list 50 skills, so be sure to choose them carefully. If you notice some that are not applicable or have a low endorsement rate, remove them to make room for more relevant ones.
Accomplishments
LinkedIn has combined a number of segments such as publications, organizations, and more into a single "Accomplishments" section to enhance your professional profile.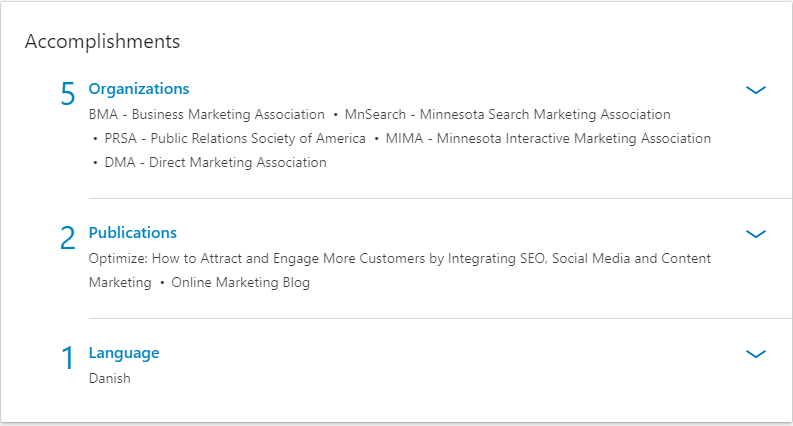 If you have written reports, white papers, or books, you can add them to your publications section. This section is unique because you can include a direct link to your publications on your website, Amazon, or any other site you choose. This can help you draw attention anything you've written, including free ebooks you use as lead magnets for your mailing list.
There's a substantial list of accomplishments to choose from for enhancing your profile.
Updating Your Professional Profile
You can make status updates on your professional profile similar to the way you would on Facebook and Google+. You can share links as well as tag people and companies relevant to your update. You'll find the blank post segment at the top of your home page feed.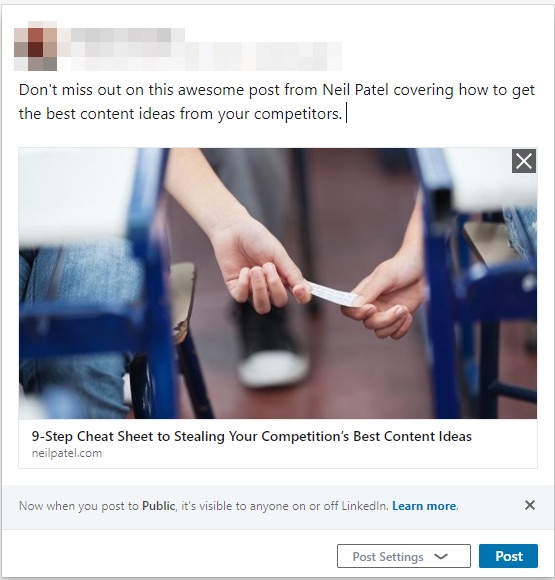 When preparing to make a post you can opt for a general text post or one that includes media (images and video) or a link, like the example image above. You can also choose to publish an article instead, which will open a new draft in LinkedIn Publishing.
Articles you publish can be featured at the top of your profile next to your activity feed while also promoted out to your connections.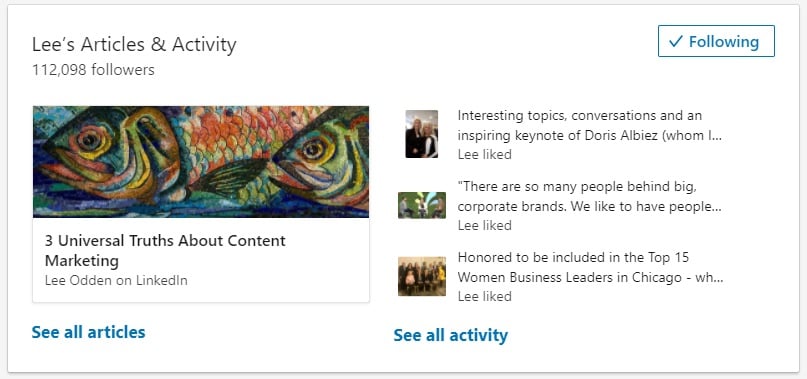 They're also discoverable in LinkedIn search as well as organic search.
Growing Your Network
Once you have set up your professional profile, you will want to start building your network by connecting with others. First, you will want to see who you already know on LinkedIn using your email address book.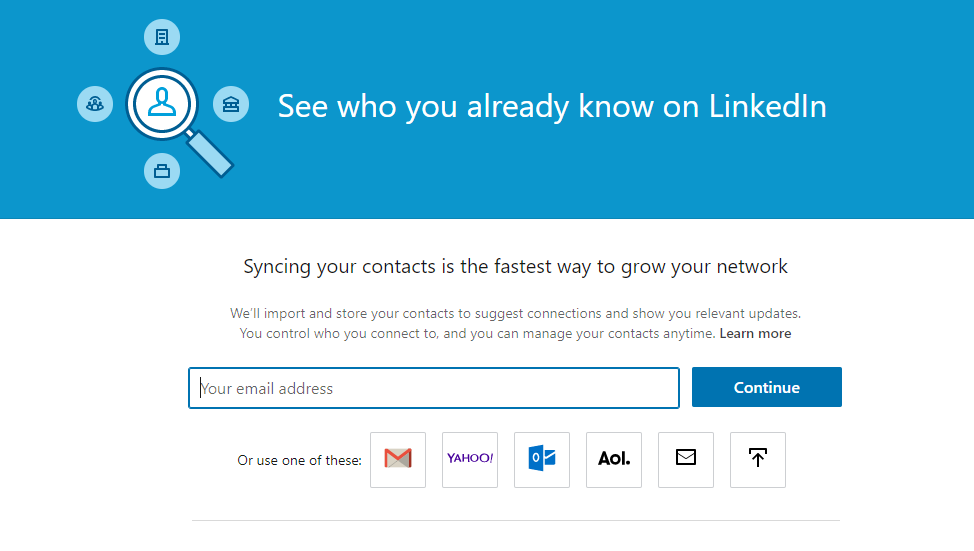 You can also use the people you may know browser to find more connections based on the people in your network.
Once you have exhausted the list of people LinkedIn thinks you know, you can branch out to others. Be careful about who you send connect invitations to. LinkedIn encourages you to only connect with people you really know. If you receive spam flags from sending invitations to people you don't know LinkedIn may suspend your ability to connect with others.
As you go through LinkedIn, you will see different annotations by people that show your connection to them. First degree connections are those people in your network. Second degree connections are those people who are connected to people you are connected to. Third level connections are connections of those second degree connections.
People who are in one of your groups are annotated as group.
The next way to connect with others is through groups. When you belong to the same group as someone you want to connect with, you can include a note in your connection request that you share similar interests and belong to the same group so they recognize that it's not just a spam request.
It's best if you have engaged with them a little first within the group and then send a custom message letting them know that you like their posts and want to connect.
You can find new people to connect with in the groups themselves by looking through active discussions or look at the groups/interests your desired connection belongs to, join a group, and then connect with them.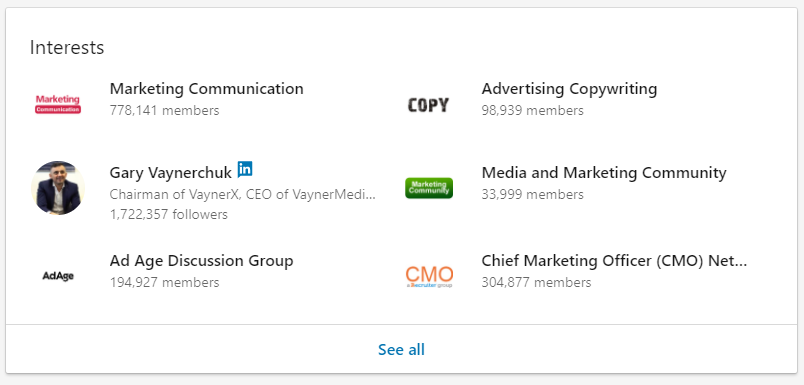 You can also attract new connections by linking to your LinkedIn profile on your website and anywhere that allows you to connect to other social networks or by cross-posting your LinkedIn profile URL to those social networks.
To learn more about LinkedIn's policies and strategies to connect with others, visit their pages on Building Your Professional Network.
Increasing Recommendations
Your next goal once your profile is complete and you are making connections is to get recommendations for your work. These are essentially LinkedIn testimonials that are attached to a specific job experience on your professional profile.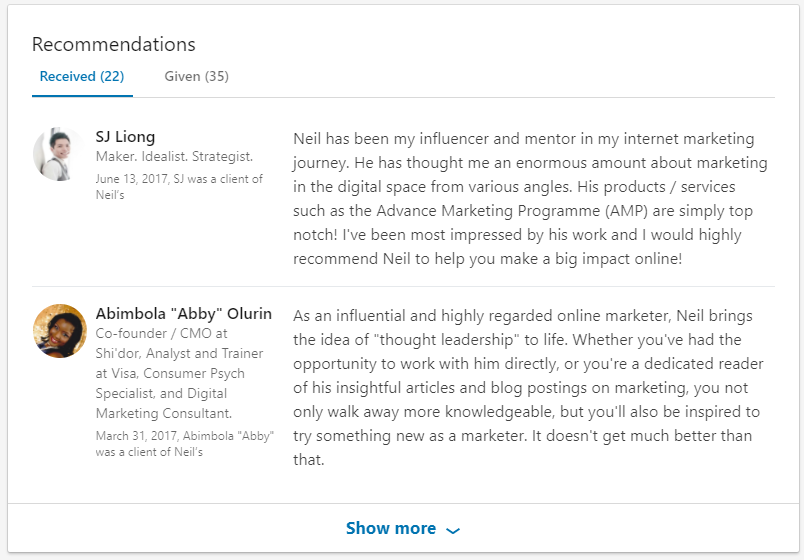 You can visit the recommendation section to manage the recommendations you have received and given as well as ask your connections for recommendations. When you click to Ask for a Recommendation LinkedIn will ask you to choose the target recipient. You'll then be prompted with questions to personalize your request.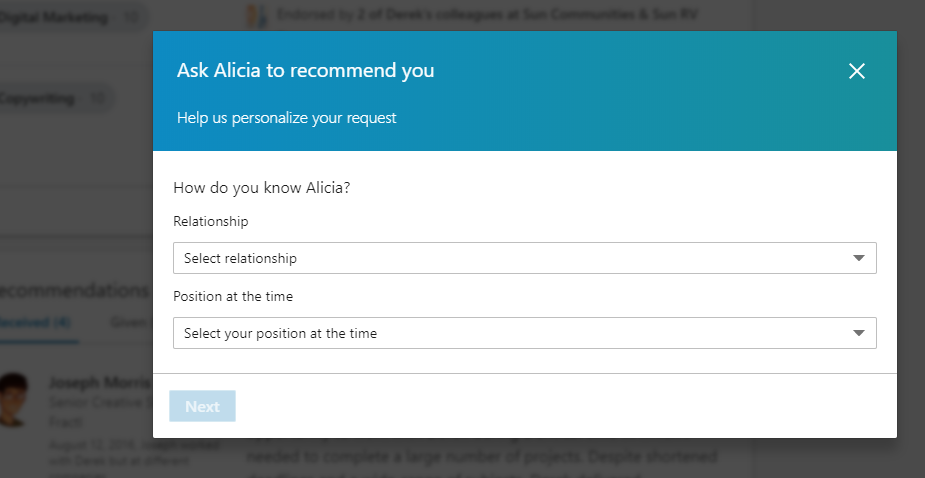 You can then type a personalized message requesting your connection to provide a recommendation for you.
I personally like to send a request outside of LinkedIn, especially to people I'm not connected with but have worked with. For example, after I highlighted several businesses I had worked with in a post I wrote, I emailed the business owners to let them know about the mention. Then I asked them for a favor – to connect with me on LinkedIn and give a recommendation. The success rate was 100%!
You can also get recommendations through the reciprocation route. Simply write a recommendation for someone you have worked with in the past. When they receive the recommendation, they will be asked if they want to write one for you in return.
Most of the time, if they know you well enough, they will oblige. When others write you recommendations, you should return the favor as well if you know them and can honestly recommend their work.
Another thing to know about recommendations is that you can ask for revisions if needed as well as either "show" or "hide" the recommendations.
Using LinkedIn Groups
Earlier, we talked about how you can use LinkedIn groups to connect with others in order to grow your professional network. You can also share status updates with your groups in order to drive traffic back to your website and your blog, although you need to be selective of which groups you share with as some are not as open to members sharing links as others. Sharing your status updates with relevant groups can turn exposure for your update from just your connections to upwards of thousands of LinkedIn members, which makes it well worth it.
The other way you can use LinkedIn groups is by creating one yourself. The value of doing this is you are essentially starting a new mailing list on LinkedIn. Group owners can send group members an announcement once a week.
Assuming members have not turned off email notifications, they will receive your announcement straight to their inbox. While it's not as valuable as having your own email list, it can still help you connect with people you may not have reached otherwise.
The key is to creating a group that your target customers would be interested in. So instead of creating a group called Your SEO Company (which not many will care about unless you are a SEOmoz in the industry), you would create a group like Small Business SEO.
This way, small business owners and employees (aka, your target customer base) would join to learn more about SEO. Then you can use your group announcements to regularly email them about things like free ebook downloads, webinars, etc. that can convert your group members into your actual mailing list.
In order to successfully maintain your LinkedIn group, you will need to stay on top of moderating discussions and approving new members. This way, the group will thrive, the members will stay active, and therefore will be more receptive to your group announcement emails.
Exploring Pro Account Features
LinkedIn offers premium accounts for those looking to do more with LinkedIn. Premium accounts are geared towards recruiters, job seekers, sales professionals, and individuals who are looking to get something very specific out of LinkedIn beyond the basic features and functionality.

Pro account types and features are as follows.
LinkedIn Premium Business – Plans start at $47.99 per month and allow you to see who has viewed your profile, see full profiles of people you are not connected to, send direct messages to anyone on LinkedIn regardless of connection, get more introductions, let anyone message you, gain access to premium search filters, see more profiles in search results, create saved search alerts, and get a full list of people who can provide a reference for someone you are interested in.
LinkedIn Premium Hiring – Plans start at $99.95 per month and allow you to see who has viewed your profile, give you full network visibility regardless of connection, send direct messages to anyone, and use premium search filters.
LinkedIn Premium Career – Plans start at $29.99 and allow you to send direct messages regardless of connection, be a featured applicant when applying to jobs on LinkedIn, get a premium badge so you stand out in search results when recruiters are looking to hire, see who has viewed your profile, and get access to a job seeker group and webinar.
LinkedIn Premium Sales – Plans start at $64.99 per month and allow you to stay on top of leads with sales alerts, gain access to a lead builder to manage your pipeline, pinpoint leads with premium search filters, see full profiles, see who has viewed your profile, get introductions, and send direct messages to anyone regardless of connection.
For the most part, people are happy with using LinkedIn with the basic, free features. But you can always try the pro features for one month to see if you get any benefits. Be sure to switch the pricing options to monthly instead of annually if you just want to give it a test run.
Setting Up Your Company Page
Whenever you created your professional profile, you may have noticed that some of the companies you worked for popped up.
This is because these companies have created company pages. If your company did not show up as you were typing, then you may need to create a company page. You will need an email address at your company's domain such as [email protected]. LinkedIn will not accept generic email addresses like [email protected].
Once your company page is created, you can use it to market your business by filling out the following sections.
Overview
Basic information about your company in the company page overview section such as the name, description, company size, website, and industry are important as these are the details that will show up when someone hovers over your company name throughout LinkedIn on professional profiles, tagged mentions of your company, and the company news feed when people are following your company's updates.
You can add additional details about your company in the overview section such as company specialties, featured groups related to the company, and page admins that you want to manage your company page.
You can also add status updates to your company page to drive engagement from your company's followers (similar to Facebook fans).
Customization for Company Pages
There are additional ways to customize your company page providing insight and a glimpse into how your company does business. Here's an example of how Microsoft positions content on its LinkedIn page to show the company culture.
From your company dashboard you can access analytics to view traffic metrics and other data around updates, visitors, and followers to your company page.
Careers
If your company is looking to hire, LinkedIn allows you to create a robust careers section for your company page that can include a banner image that clicks through to your website, YouTube videos, and job listings.
Visitors to your company page's career section will also be shown to people in their network that work in your company, turning those people into recruiters for your business. Potential employees can also apply directly on LinkedIn or be linked back to your website to apply. Job listing fees vary based on the location of your company.
Advertising with LinkedIn
Want to get more exposure for your brand on LinkedIn? Then try LinkedIn Advertising. Like Facebook and other social channel promotions, LinkedIn gives you a number of ad options from direct advertisements to content boosts for expanding reach and visibility.
Unfortunately, the cost of advertising can be a touch higher than other social channels like Facebook. According to AdStage's 2017 Benchmark Report, LinkedIn ads CPM averaged $8.39 with average CPC sitting around $6.50 while the average CTR was .13% (based on 4.3 billion ad impressions during Q1 and Q2 of 2017)
On the upside, LinkedIn offers laser-focused targeting leveraging the wealth of data your audience plugs into their profiles. You can nurture interested prospects, leads, and contacts with website retargeting, contact targeting (list uploads), and account targeting.
Targeting aside, you can create text ads, sponsored InMail to send targeted messages to specific people, or promote your content with targeted native advertising.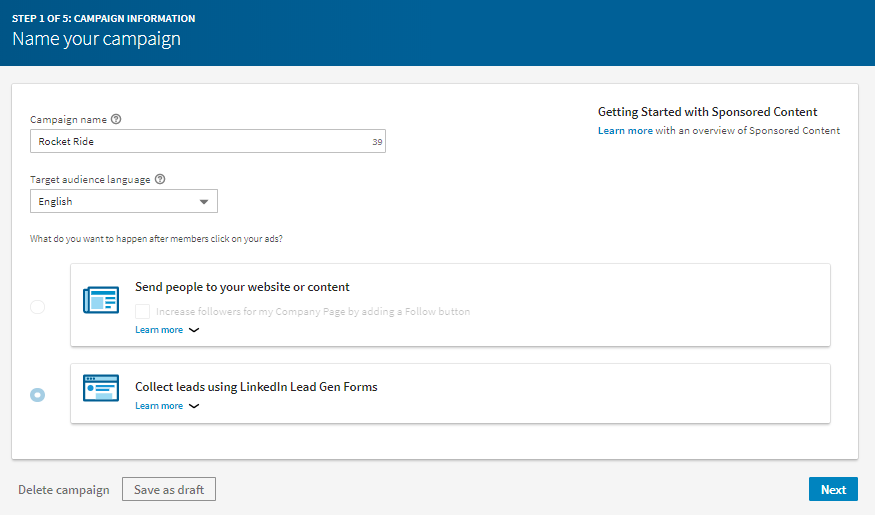 The designated action will change depending on the type of ad you create, from sending traffic to your website (or any landing page) to funneling leads to a lead gen form or driving users to specific content or your LinkedIn page.
The best part about LinkedIn advertising is the targeting. You can target your ad based on a LinkedIn user's location, company, job title, school, skills, group, gender, age and more.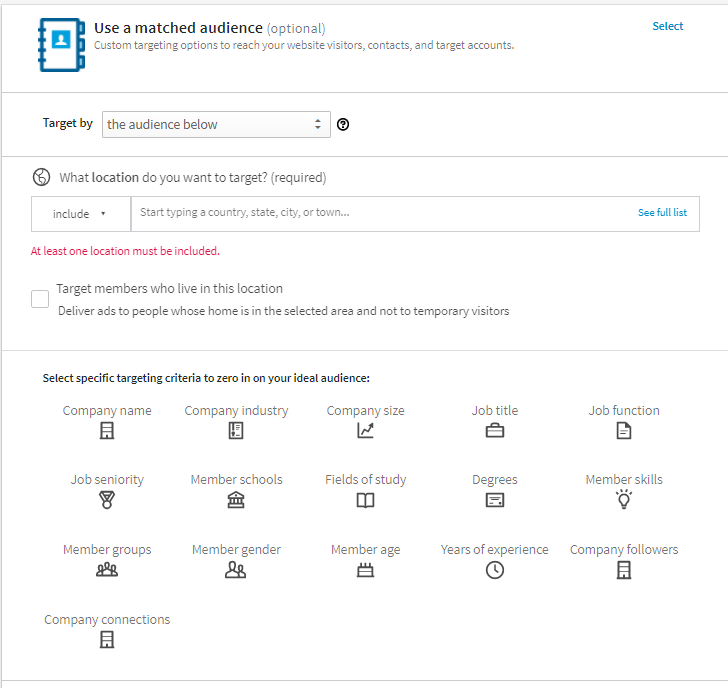 For B2B companies, these target options mean you don't have to spend a lot of advertising budget on the wrong audience. So, while clicks may cost a bit more on LinkedIn you can target a very specific group of people which will make your clicks more likely to convert. You can learn more about the basics of using LinkedIn Advertising on my blog.
Enhancing Your Website with LinkedIn
LinkedIn offers a variety of plugins to connect LinkedIn to your website. For example, you can add a LinkedIn share button to your blog content in order to get it shared on LinkedIn.
You can also add a company follow button to encourage more people to follow your company page.
You can even add a recommendation button on your website asking people to recommend your products and services on your company page.
There are also plugins that you can add to your website to highlight your professional profile, career opportunities, and more details from your company page (similar to a Facebook-like box).
Analyzing Your Results
If you are using LinkedIn Advertising, be sure to use UTM parameters to specifically track the URL's from your ads. You can view the clicks for these links under Traffic Sources > Campaigns.
Exploring the Top Tools
Want to manage your LinkedIn presence or get additional insights about your LinkedIn activity beyond what LinkedIn offers? Here are some great tools to use!
Conclusion
Congratulations if you made it through this guide! If you apply everything you've learned, you should have a great LinkedIn profile and be well on your way to building a targeted LinkedIn network, engaging with your audience, managing your account with terrific tools, and seeing the results of your LinkedIn activity. What else would you like to know about LinkedIn marketing? Please ask your questions in the comments and share your own great LinkedIn tips, tools, and resources.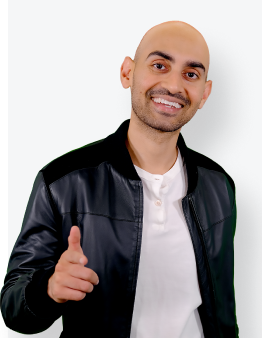 See How My Agency Can Drive More Traffic to Your Website
SEO - unlock more SEO traffic. See real results.
Content Marketing - our team creates epic content that will get shared, get links, and attract traffic.
Paid Media - effective paid strategies with clear ROI.
Are You Using Google Ads? Try Our FREE Ads Grader!
Stop wasting money and unlock the hidden potential of your advertising.
Discover the power of intentional advertising.
Reach your ideal target audience.
Maximize ad spend efficiency.