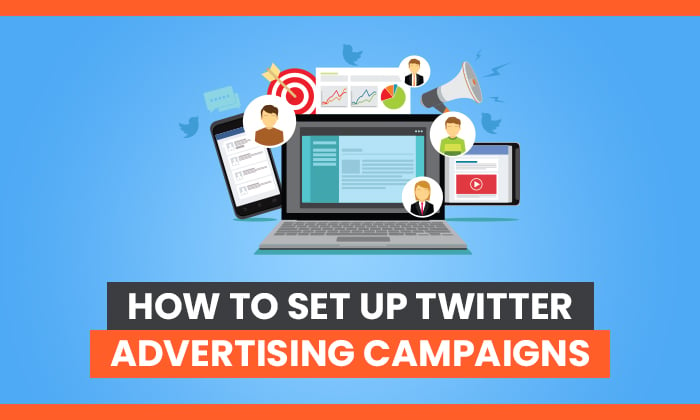 Like most social media platforms, Twitter is one of the best places to find and engage your target audience. It's a fast-paced platform you can use to achieve many business goals such as lead generation, brand awareness, and even driving sales, among others.
However, because Tweets are limited in length, and the platform is one of the most competitive, it may be easy for your Tweets to disappear into oblivion within a few minutes.
That's why you must leverage Twitter advertising and create an effective campaign if you want your Tweets to help you achieve your business goals.
Why Should You Create a Twitter Advertising Campaign?
Besides the large pool of monetizable users, Twitter advertising has several other benefits.
Here's a rundown of several reasons why you should utilize Twitter advertising:
1. Twitter Advertising Is Performance-Based
One distinction between Twitter advertising and advertising on other social media platforms is that, unlike other platforms, you only pay for performance.
To run a Twitter ad campaign, you must set objectives. Examples of these objectives include:
website conversions
app installs
engagement
increasing your follower base
In other words, Twitter shoulders some of the risks involved in running paid ads on their platform.
2. Keyword Targeting
Another significant advantage of Twitter advertising is that you can create campaigns to target people who have used a particular keyword.
You can conduct keyword research to find seed keywords you can start with. From there, you can find more specific keywords and upload them to your campaign.
3. Tailored Audiences
One of the best features of Twitter advertising is that you can create tailored audiences by targeting people who follow influencers in your niche. The good thing is you don't need to have their email addresses or other details for it to work.
4. Twitter Ads Are Dirt Cheap
As said earlier, Twitter advertising is performance-based. You only pay for results. That alone should be reason enough to jump onto the platform.
However, there's even more incentive: Twitter ads are dirt cheap.
The cost per click (CPC) on Twitter ads is fairly low—probably the lowest you can get on any platform.

The most expensive platform is LinkedIn, with an average CPC of $5.26. Facebook is closest to Twitter in cost and would set you back $0.97 per click.
Besides being cost-effective, Twitter ads also have the extra advantage of not having a minimum ad spend threshold. This means anyone can start a campaign, even with a shoe-string budget.
Despite not being as huge as platforms like Facebook and YouTube, Twitter is still an excellent platform for running ads, so don't ignore it as you design your social media marketing campaigns.
3 Types of Twitter Ads You Can Leverage
With Twitter advertising, you have three options for the types of ads you want to run. Here's a brief overview of each:
1. Promoted Tweets
Promoted tweets are the most common type of Twitter ad campaigns. These entail creating a tweet and sponsoring it, so it reaches a broader audience. Promoted tweets are usually used for lead generation, brand awareness, and product promotion, among many others.
2. Trend Takeovers
Trend Takeovers appear in the first or second position on the "Trends for You" section under the Explore tab. According to Twitter, Trend Takeovers are best used for launches, breaking company news, or promoting an event at scale.
Trends run for 24 hours from the time they're promoted. They're also the most expensive types of Twitter ads.
3. Promoted Accounts
Another way to boost your reach and increase your exposure on Twitter is by promoting your account. Twitter will suggest your profile to users who don't follow you but might be interested in your profile and content. Your promoted account will show up at the top of the suggestion lists.
Now that you know the three ways you can use Twitter advertising, here are the benefits.
Twitter Advertising: Know Your Objectives
One of Twitter's most significant advantages is that the platform drives conversations that can sway decisions.
To use these to your advantage, you must understand your objectives. Objectives are campaign types you can use in your Twitter marketing strategy. Fortunately, Twitter designed campaign objectives around the traditional marketing funnel, making them easy to understand. More importantly, it also helps move your prospects down your funnel.
Awareness
Awareness, as the name implies, is all about getting eyeballs on your brand. That could be why Twitter named the one campaign under this category "Reach." For this objective, you pay per thousand Twitter impressions.
Consideration
Consideration objectives are set for audiences aware of your brand and need more information to move further down your funnel. Some campaigns you can run here include:
Video views: Promote video ads and pay per view (cost per view, or CPV).
Pre-roll views: Pre-rolls are video ads played at the beginning of one of Twitter's content partners. The payment model is CPV.
App installs: Use this objective to get people to install your app. You pay every time a user installs your app on their device.
Website clicks: Use this objective to drive traffic to your website. Twitter charges you every time someone clicks on your link (CPC).
Engagements: This is best for getting more people to engage with your Tweets. You pay for each engagement generated (cost per engagement).
Followers: Use this objective to build a larger audience for your brand. The payment model here is cost per follow.
Twitter is an excellent platform for grabbing people's attention and getting them to consider your offer. Leverage Twitter advertising, particularly the consideration objectives, to get your target audience to pay closer attention to your brand.
Conversion
Twitter's only campaign under the conversion objective is app re-engagements. The purpose is to get people to take action in your app. This is a big deal for brands that leverage apps because app retention rates can be quite low.
7 Twitter Advertising Campaign Steps
Now that we've looked at the essential foundational aspects, let's dive into how to set up your Twitter advertising campaign.
How to Set Up Your Twitter Advertising Campaign
Create a Twitter Ads Account

The first step to getting started with Twitter advertising is to set up an advertising account.
To set up your Twitter advertising account, head over to ads.twitter.com and log in to or sign up for an account. Then enter your country and time zone. Once that's done, click "Let's go."

Now you're ready to get started with your first campaign.

Select Your Campaign Objective

Determine what you want to accomplish with your Twitter ad campaign. Your objective determines the actions you'll pay for as people engage with your ads. Remember, you can choose from these main objectives: awareness, consideration, and conversion.
Once you've decided on your objective, you can then move on to the next step: setting up your campaign.

Enter Campaign Details

Once you've set your objective, you'll go to the "Campaign details" page. This is where you name your campaign, add payment details, and determine budget and schedule.

When you're done entering this information, click "Next," and you'll be directed to the "Ad Group" page.

Set Your Ad Group and Bidding

As a newbie to Twitter advertising, you should focus on one ad group. This will help you get the hang of how Twitter ads work. Once you're more comfortable, you can split your ad groups into different categories targeting different audiences.

You can also play around with creatives, timing, and budgets to see which combinations work better for you.
So, name your ad group, set the period you want the ad to run, and move on to setting your budget. It's recommended that you choose automatic bidding, as Twitter will set your bid in such a way that you get the best results at the lowest price.

Define Your Target Audience


A few options you have for setting your audience include:
Demographic targeting: This is where you define your target audience by age, gender, location, language, and device.

Location targeting: Use location targeting to reach users in a particular locale. You can also target users by device type, platform (operating system), and carrier.

Targeting by audience type: Twitter's "Audience features" section allows you to target users based on specific interests. It uses psychographic data such as events, interests, behaviors, and even movies and topics users are tweeting about.

You can also define your target audience by basing your audience on people with similar profiles to your followers.

After setting your preferred audience, click "Next."

Choose Where Your Ads Should Appear

This next step simply involves choosing where your ad should be placed. Your options are users' timelines, profiles and tweet detail pages, and search results.

Once you've selected where your ad should appear, click the "Next" button.

Review and Launch

Finally, review all your settings and, if satisfied, click "Launch Campaign."
7 Tips for a Successful Twitter Advertising Campaign
Before you rush off to set and run your Twitter ad campaigns, here are some tips for running an effective Twitter advertising campaign:
1. Clearly Define Your Brand
People scroll through their feeds pretty fast on Twitter, and chances are your target audience is not in your network. To make them stop scrolling in their tracks, make it clear what you do.
This is where branding comes into play.
From your images to your ad copy, users should be able to tell in an instant what you do.
2. Use Eye-Catching Images
The brain processes images faster than words, which is why a primary element of your Twitter ads must be your images. Make them eye-catching so that they grab attention. For video ads, make sure you create a custom thumbnail.
3. Write Crisp, Concise, and Compelling Copy
Once you've stopped users in their tracks using your visuals, engage them with your copy. Keep it short yet punchy. Most of all, make it compelling enough to move your prospects into clicking on your ad.
4. Use Figures and Symbols
Figures and symbols help break the monotony of text and make your ad copy stand out. As a result, people will pause to take a closer look at your ad. Here's a great example that uses a hashtag and percent sign to draw attention to a sale: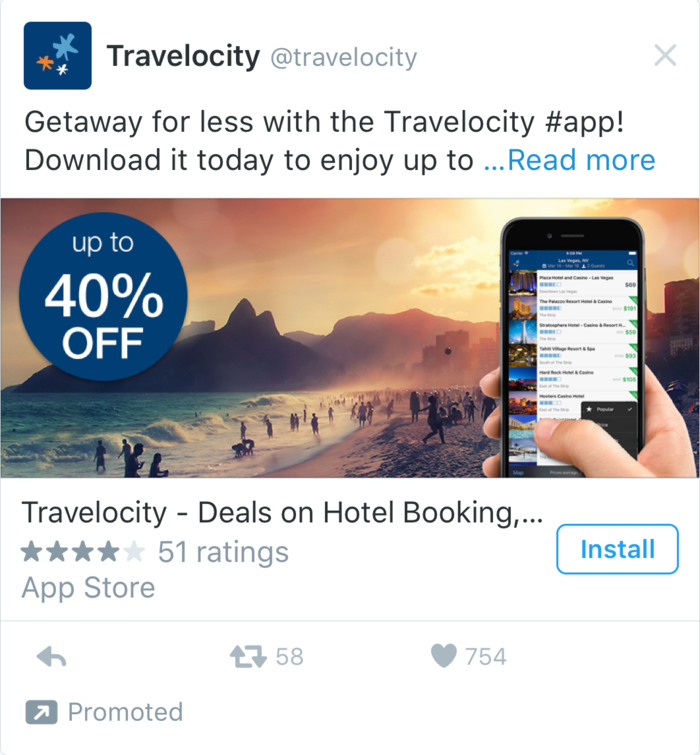 5. Include a Call to Action
Your ad copy must end with a CTA.
Never assume that your prospects will know what to do after reading your ad copy or watching your video. Always tell them what to do next.
6. Use Hashtags Carefully
Hashtags are a great way to boost visibility. However, they can also detract from your campaign. For example, if your objective is to drive traffic to your website, overdoing your hashtags could lead to a prospect clicking on a hashtag instead of your URL.
Doing this will lead them to other tweets featuring that hashtag, resulting in you missing out on a website visitor.
7. Keep Tabs on the Data
Always keep tabs on your data and analytics. Knowing what's happening under the hood can give you insights into what works and what doesn't.
Conclusion
Twitter is an excellent platform for advertising your brand and products or services, which is why every marketer should include it in their tool stack.
With so many advantageous features like being performance-based, having tailored audiences, and being one of the cheapest platforms to advertise on, Twitter is one platform you just can't ignore.
As you map out your social media marketing strategy, make sure to invest in Twitter advertising.
Now that you know the tips and tricks for a successful campaign, you can start with your own.
Have you used Twitter advertising before? What were your experiences with the platform?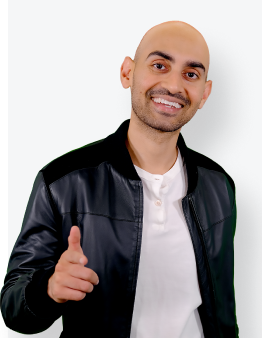 See How My Agency Can Drive More Traffic to Your Website
SEO - unlock more SEO traffic. See real results.
Content Marketing - our team creates epic content that will get shared, get links, and attract traffic.
Paid Media - effective paid strategies with clear ROI.
Are You Using Google Ads? Try Our FREE Ads Grader!
Stop wasting money and unlock the hidden potential of your advertising.
Discover the power of intentional advertising.
Reach your ideal target audience.
Maximize ad spend efficiency.