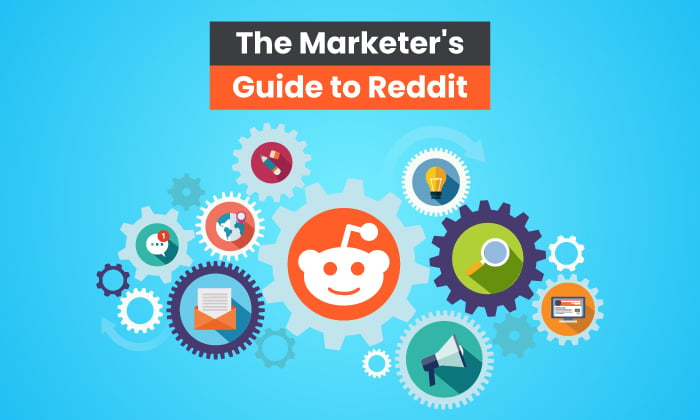 Reddit is a social media and news aggregation website that ranks content based on a voting system. People worldwide post content (usually links, but also original content), and other users can "upvote" or "downvote" posts, pushing the most interesting content to the top.
It's a place where you can find groups of like-minded people. Reddit calls these groups subreddits, and they cover different topics, including niche interests, politics, hobbies, and thousands of other topics people want to talk about.
Since its launch in 2005, the site has become one of the most popular social media sites with millions of monthly active users.
Its engaged, passionate community is just one of the reasons you should consider marketing on Reddit. However, the site has a tough stance on self-promotion, which makes marketing tricky, and it's easy to fall foul of Reddit's strict guidelines (including the unwritten rules.
That means you need to take a more strategic approach that focuses on conversations and providing helpful or interesting content.
Before we cover how to create ads, let's talk about Reddit marketing etiquette so you can get it right.
Reddit Marketing Etiquette
Start with the basics by reading Reddit's page about self-promotion and what's allowed and what isn't. Once you've read that, look at the "Reddiquette" page so you can see Reddit's main rules.
The list includes:
using original sources when sharing stories
looking out for duplicate content before posting
being considerate in the way you speak to other users
reading the full guidelines for a community before contributing
You also need to be clear about why people use Reddit. According to Signity Solutions, Reddit users are looking for answers or entertainment. If you can offer either, then it's worth contributing to the conversation. Just don't try and sell anyone anything.
If you need ideas, there are plenty of ways you can avoid falling into overly promotional material, like:
posting survey results
creating subreddits around your brand
adding relevant content
being active in the Reddit community
Reddit is a massive site with thousands of subreddits. Each of those subreddits has its own rules, moderators, and culture. Whichever subreddit you join, take the time to familiarize yourself with the sub's etiquette and what's acceptable.
Above all, if you're not sure, ask before posting something. Redditors are there to help and guide users.
Reddit Advertising Policies
Reddit's advertising policies cover quality, style, URLs, and landing pages. Below are the basics you need to know for each section.
Video Advertising
Video advertisements must be high quality. That applies to the audio, visuals, and text. Make sure content is relevant and suitable for a wider audience. Also, the spoken language should be targeted for where you're advertising.
Reddit allows mature-rated media. However, it needs to comply with the relevant rating laws for each country, and videos containing "shocking, graphic, or profane content" should be labeled as such.
Additionally, Reddit doesn't permit videos that include strobing or flashing.
Reddit Ad Style Policies
Reddit stresses the importance of professional-looking ads that are concise and detailed. The main takeaways are:
Check ads for any typos and use correct grammar throughout.
Limit the use of emojis and symbols.
Unless mandated by law or a regulatory body, don't include personal details in your ads.
Limit capitalization to 50 percent or less.
Use quality images.
Target non-English ads to the appropriate regions/countries.
Reddit Ad Quality
Quality primarily relates to accuracy and clarity about the products/services you're advertising. That means:
not misrepresenting the product, service, or brand
ads should avoid clickbait
advertisements mustn't promote individual Reddit content; the only exception is if you're using managed ads
URL and Landing Policies
As with all of Reddit's advertising policies, the main emphasis is on quality and consistency. Make sure your:
product shows on the landing page
landing page content complies with Reddit's content and advertising policies
language on the landing page is the same as in the adverts
the landing page doesn't spam users or use other questionable marketing tactics
URL is consistent with the landing page
not making limited/prohibited products readily available or linking them on your landing page
For more details, read Reddit's full advertising policy.
Non-Paid/Organic Reddit Marketing Strategies
Perhaps you're not quite ready to commit to paid advertising. That's OK. You can use some strategies to start marketing on Reddit without paid ads, like those listed below.
Use a Personal Account
Rather than using a business account, you could set up a personal account. From there, you can begin engaging with the community by answering questions and posting content related to your niche. This is a way of showing your expertise and gaining traction on the site while avoiding self-promotion.
It's the preferred way of Beardbrand's Eric Banholtz, who has attracted more than 600 members into his subreddit.
Beardbrand tends to post YouTube content like:
The Top Ten Best Beard Transformational Trims
The Best Way to Fade Your Beard at Home
Wild Beard Gets Shaped to Perfection
You get the idea.
In keeping with Reddit guidelines, there's no promotional content. The account is just a way of sharing relevant news and touching base with subreddit members.
Ask Me Anything
There's a subreddit called "Ask Me Anything."
Members of the community post a huge variety of posts on just about every topic you can imagine. For example, one post is from a female gamer, while AMA is a person who had the same lunch every day for the last 16 years.
Basically, you post a topic and invite others to ask you anything.
Although regular members heavily use the community, you needn't think you don't have a place there as a business owner or marketer. The subreddit also attracts members from the business world.
One heavy hitter who makes the occasional appearance is Microsoft's Bill Gates. Although it's been some time since Gates contributed, there was huge interest when he did, including plenty of upvotes and lots of interaction.
Start a Subreddit
A popular way for businesses to stay on the right side of Reddit's rules is to start a subreddit for their brand. Here, you can engage with your customers, answer any questions about your company, and share industry news.
This is a good approach if you aim to encourage engagement and build relationships with prospects.
Paid Advertising on Reddit
Reddit is often overlooked by marketers, but with 52 million daily active users, and high levels of engagement, marketers shouldn't ignore the site.
Additionally, Reddit attracts 430 million monthly active users and it boasts 100,000 communities.
Year on year, Reddit's active users continue to grow. It looks like Reddit's here to stay, and the potential is enormous for those that get their marketing right.
It's also popular among younger age groups, so it's a brilliant way to reach out to younger prospects.
What Are the Different Types of Reddit Ads?
There are two main types of ads on Reddit. The first is promoted ads, which you'll see most often. Reddit displays these at the top of subreddits.
The other type is display ads. Reddit offers other types of advertising, like video and carousel, which we detail below.
1. Display Ads
These are the most common forms of advertisement on the site. With display ads, you're not just limited to sharing your posts. For example, you can post a customer story that relates to your brand.
You can choose from CPM, CPC, or CPV ads, and these are all made available as auctions via the Reddit Ads Dashboard.
2. Display Ads
Reddit aims to display ads at bigger companies with larger budgets. Unlike promoted ads, these aren't self-serve, and you need to speak to Reddit's sales team first. You need a minimum budget of $30,000.
3. Promoted Video
These are available as CPM and CPV bids. Features include an auto-play video and an optional call to action button.
4. Promoted Carousel Ads
Promoted Carousel ads allow up to six images/gifs, and the bid types are CPM and CPC. Reddit shows these ads in users' feeds.
For greater visibility, Reddit also offers takeover products. You can view the complete requirements for each type of ad and the features provided on Reddit.
Examples of Great Reddit Ads
Before diving and creating your own Reddit ad, let's look at a few examples.
Nordstrom Reddit Ad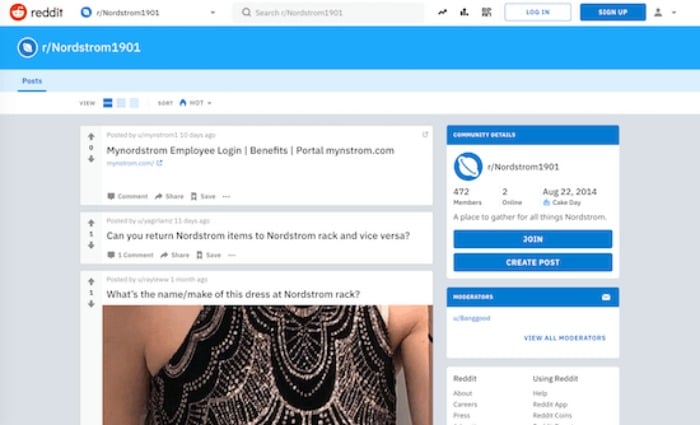 Department store Nordstrom uses Reddit in a way that just about everyone can adopt. It stays on the right side of Reddit's robust guidelines by using subreddit groups to talk to customers and discuss products, overall service, and typical customer experiences.
It's clear Nordstrom is playing the long game with its Reddit advertising approach. Its method isn't likely to garner overnight results. However, it's a strategy that works for the brand, and it has got hundreds of Reddit users keen to interact with them.
If customer engagement is crucial to you and you're using it as a building block for your business, the Nordstrom method could be the way to go.
Ally Bank
Ally Bank dared to be different with its advertising. Rather than posting in a financial subreddit, it reached out to Reddit's vast audience of video game lovers.
How did it connect the dots between the two topics? With a simple one-liner that demanded attention:
"You wouldn't settle for a 1-star controller, so why settle for a 1-star bank?"
Ally Bank stayed away from the traditional banking advert because it was appealing to a non-traditional audience.
You can easily use this approach. Rather than limiting your marketing to your typical market, think about how you could reach different groups and win over consumers that you mightn't usually market to.
Maker's Mark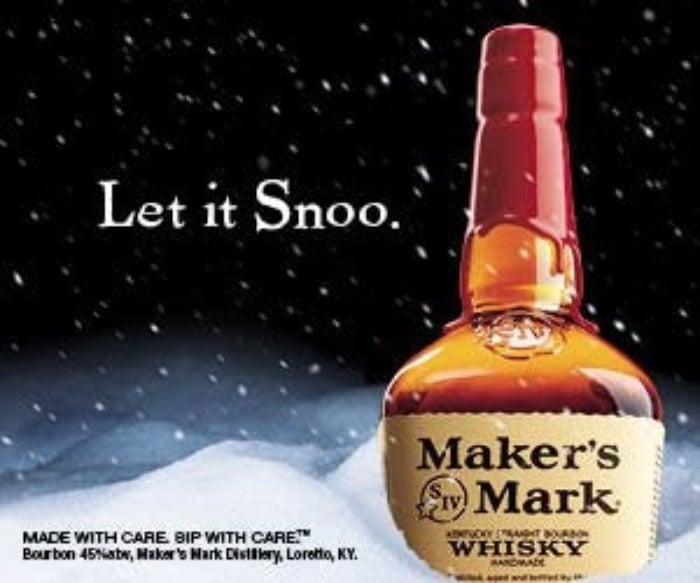 Maker's Mark took a more direct way of targeting the Reddit community through the r/ads subreddit.
Its "Let it Snoo" tagline was a play on words around Reddit's mascot, Snoo, and it aimed to make the audience laugh rather than despair at the sight of an advert.
Maker's Mark was careful to tailor the nature of its advert to the typical Reddit user and talked to them in a style the Reddit audience would welcome.
That's the key: Always target your audience in the language and the style they're most comfortable with.
How to Build Your Reddit Advertising Campaign
Setting up your first Reddit campaign may take some time, but with plenty of detailed step-by-step instructions, you should find it easy enough. Here are the basic steps for getting started, but always check Reddit if there's any part you're not sure about.
Frequently Asked Questions About Marketing on Reddit
Can you self-promote on Reddit?
Like most other online communities, Reddit takes a dim view of self-promotion. Anyone who uses Reddit purely for promotional purposes should view the Reddiquette pages and FAQs to understand what's allowed.

It's also worth reading the FAQ page on spam.
How do I market on Reddit without getting banned?
Start by reading the FAQs and Reddiquette. If you want to include links to a blog, for example, then the content you're sharing should be helpful and in context with the general topic.

This discussion details a suitable way to share links. Also, ask the admins of subreddits if sharing a link is OK, and build a good reputation or "karma" on the site before thinking about how you can use Reddit for marketing.
How much do Reddit ads cost?
Reddit bases its advertising costs on auctions. It sets its rates at $5 a day minimum, and costs vary dramatically from 20 cents per 1000 impressions to $100.
Marketer's Guide to Reddit Conclusion
Reddit is a unique platform with millions of active users. It might seem like the ideal place to promote your business, you could get banned (or ridiculed) if you aren't careful.
Although Reddit is tougher on self-promotion on other platforms, that doesn't mean marketers should steer clear of it altogether. Provided you stick to the rules and don't stray into spamming or being "salesy," you have the opportunity to grow a keen, engaged following.
With hundreds and thousands of subreddits, there's bound to be one that suits your brand, whatever niche you're in, regardless of whether your business is new or established.
Reddit is also a fantastic way to get feedback and suggestions from your customers and get to know them better.
Do you advertise on Reddit? What tips do you have to share?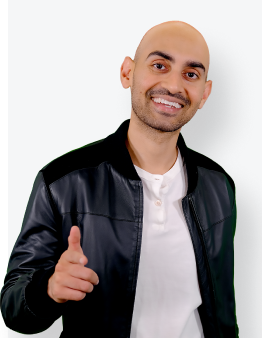 See How My Agency Can Drive More Traffic to Your Website
SEO - unlock more SEO traffic. See real results.
Content Marketing - our team creates epic content that will get shared, get links, and attract traffic.
Paid Media - effective paid strategies with clear ROI.
Are You Using Google Ads? Try Our FREE Ads Grader!
Stop wasting money and unlock the hidden potential of your advertising.
Discover the power of intentional advertising.
Reach your ideal target audience.
Maximize ad spend efficiency.