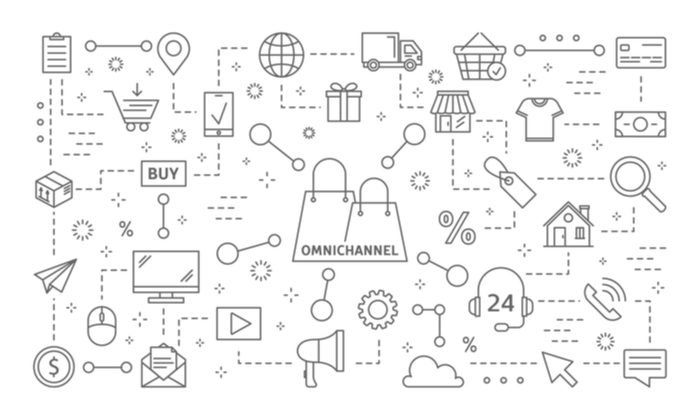 Think back to the last time you made a big online purchase. If you're like most consumers, there's a good chance you interacted with the brand multiple times on different channels using different devices before you paid.
The customer journey isn't straightforward anymore (if it ever was). It's a meandering path where customers visit brands on different platforms before converting. To successfully target and convert consumers across every channel and platform, you need a unified marketing strategy. That's the crux of an omnichannel e-commerce marketing campaign.
This article walks you through precisely what omnichannel e-commerce looks like, why it is crucial for e-commerce brands, and how you can create your own killer omnichannel e-commerce marketing campaign.
What Is Omnichannel E-commerce?
Omnichannel e-commerce is a marketing approach that creates a unified customer experience across multiple platforms. Specifically, omnichannel retailers deliver the same experience across every channel and create a seamless experience that transcends individual platforms.
This is different from multichannel e-commerce, where brands sell across different channels but offer different experiences. While consumers may be able to shop on social media, a website, and a brick-and-mortar store, they can't move seamlessly between them.
There is one other form of commerce: single-channel e-commerce. This is when brands only sell through one channel. That could be a traditional store, an online shop or a marketplace like Amazon. This approach limits brands to just one platform, which can be devastating if that platform makes changes.
With omnichannel e-commerce, customers hop from device to device, or platform to platform during the conversion process. As a brand, you need to keep up.
Why Is an Omnichannel E-commerce Strategy Important?
An omnichannel e-commerce experience sounds better than a multichannel or single-channel experience, right?
That's reason enough to adopt an omnichannel approach, but it's not the only reason you should. Omnichannel e-commerce provides a better customer experience and allows your brand to take advantage of new platforms, increase customer retention rates, and boost sales.
Omnichannel E-Commerce Strategies Provide a Better Customer Experience
Google reports that 85 percent of online shoppers start the purchase process on one device and finish it on another. Why does that matter?
Convenience rules when it comes to e-commerce; just ask Amazon. It's not enough to offer a great selection, competitive pricing, and next-day delivery, however. Brands must show up where their customers are and offer a seamless experience when they switch devices or channels.
Take off your marketer's cap for a second and remember that most consumers don't view their shopping experience as separated. It's all one journey to them, and that's exactly how an omnichannel e-commerce experience approaches it.
As you can see from the infographic by Invesp below, customers can use an omnichannel experience in several different ways. They can:
check the availability of products
reserve or buy items and pick them up in-store
have constant access to their profile information
enjoy a personalized shopping experience regardless of platform

Omnichannel Is the Future of E-commerce
Want to future-proof your brand? Omnichannel is the way to go. Statista found e-commerce accounted for 14 percent of omnichannel sales in 2019, but it accounted for a whopping 63 percent of omnichannel growth—which means omnichannel is growing fast.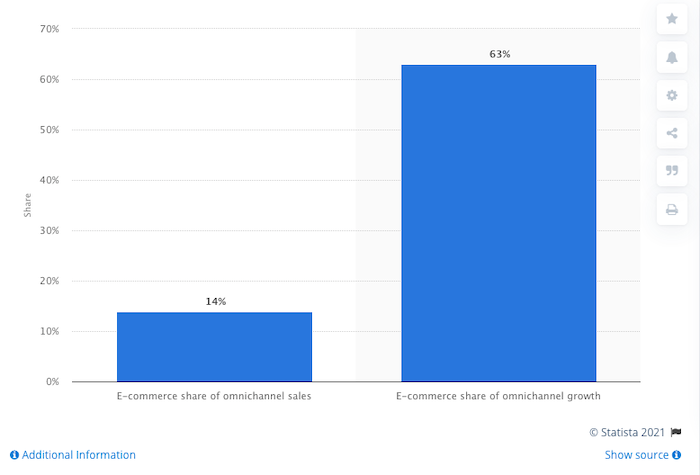 According to BigCommerce's Omnichannel Retail report, consumers shop fairly evenly between different online stores, even though the bulk of spending happens on marketplaces like Amazon and large retailers.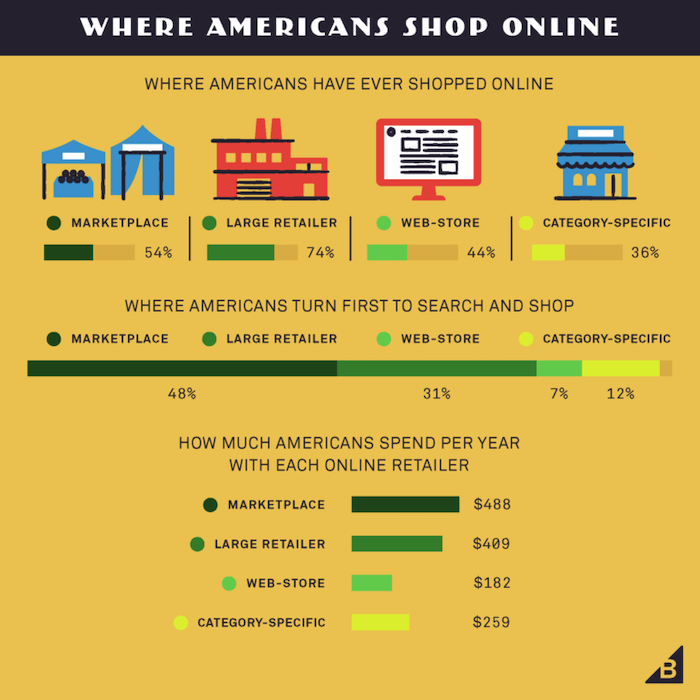 Increase Customer Retention Rates and Sales
An omnichannel marketing strategy isn't just good for customers; it can be incredibly profitable.
Customers keep coming back to stores that offer an omnichannel approach. A survey by Aspect Software finds organizations that leverage an omnichannel strategy see 91 percent better year-over-year customer retention rates than businesses that don't. If you're serious about generating repeat online sales, omnichannel marketing is the way to go.
Omnichannel customers are better customers in the long run, too. IDC finds these consumers have a 30 percent higher lifetime value than single-channel shoppers.
Research also shows 47 percent of shoppers who engage with brands on 10 or more channels purchase from their favorite brands at least once a week. That's compared to 21 percent of shoppers who engage across one to four channels.
8 Tips for Building a Successful Omnichannel E-commerce Marketing Campaign
Omnichannel e-commerce marketing is essential for brick-and-mortar or digitally native brands that want to drive more e-commerce traffic and increase e-commerce sales in the years ahead.
Here's what it takes to run a successful campaign.
Identify Each Channel's Opportunities
Every channel is important in an omnichannel e-commerce strategy, but they play different roles. Begin by identifying where your customers spend the most time, how they interact with these channels, and the types of products they normally buy there.
Some channels are more suited to advertising particular products, while others may be better for customer service. For example, an enterprise software company probably won't get many direct conversions from Twitter, but they can still engage prospective customers there.
Keep in mind, your omnichannel strategy shouldn't include every single marketing platform. If none of your customers use TikTok, there's no point creating a presence there. Omnichannel should focus on the channels your customers use.
Understand Your Customer's Needs
An omnichannel approach should put your customers front and center. Every business likes to think they know their customers, but how much do you really know about them? Now is the time to find out.
Think about the channels where your customers hang out. What content do they like to see on those channels? When are they most likely to convert? These are the questions you have to answer.
You can use data to understand how customers interact with your brands across each channel, but don't be afraid to speak with them directly through surveys and polls. This may help you uncover things you didn't know about the buyer's journey.
Personalize Ads and Messages
Customers expect more than an omnichannel experience; they expect personalization at every touchpoint on every channel. They want to land on your website and see the products they frequently buy. They expect the emails in their inbox to contain offers and marketing messages relevant to them.
The trouble is, 67 percent of marketers are not providing customers with contextual, personalized messages.
You don't need to personalize your messaging for every individual customer, however. Instead, segment your audience into smaller groups that have the same traits. These traits can include:
demographics
shopping patterns
favorite channels
favorite products
spending amounts
Personalization strategies can even be implemented in stores. It may be a little more complicated recommending related products online, but setting up kiosks or equipping shopping assistants with mobile devices can help bring the online experience in-store.
Keep Your Brand Voice Consistent
Apple, Nike, Wendy's; there are some companies with instantly recognizable brand voices. Why? Because they have an unfailing commitment to maintaining consistency across every channel.

It doesn't matter if you see an Apple ad on TV or in print, read the copy on their website, or even watch one of their product launches. The language and tone of voice are exactly the same. That's the secret to developing a great omnichannel e-commerce marketing strategy. The more consistent your messaging and tone of voice are, the less likely consumers are to get confused and fall out of your marketing funnel.
At the same time, they'll find your message much more engaging. It's one thing to be hit with a promotional message in an email. It's another thing to see that same message on social media, your website, and in-store.
Your promotional strategies should also be consistent. It's not an omnichannel marketing strategy if you're running separate promotions in-store and online and aren't allowing either shopper to use the other channels' promotions.
Make Each Channel and Touchpoint Shoppable
With an omnichannel experience, customers should be able to purchase wherever they interact with your brand. Your online and brick-and-mortar stores are a given, but can they make purchases on social media channels or your app?
This wasn't possible a couple of years ago. Thanks to some pretty significant updates on the major social media platforms, it is now possible to drive sales through Instagram, Facebook, and Pinterest.
Don't stop there, though. Consider expanding your reach to marketplaces like Amazon and Etsy, if appropriate. As we saw in the breakdown of omnichannel e-commerce spending above, marketplaces have the second-largest share of shoppers and drive the most sales.
Sure, in an ideal world, it's better if customers buy your products on your own website. But having customers purchase on Amazon allows you to engage with them and bring them to your website.
Keep Testing and Gathering Data
Your omnichannel e-commerce marketing campaign will need to evolve over time. Consumer habits change, new channels emerge, and existing platforms become less important. That's why gathering data and continuing to test and refine your campaign is so important.
More data allows you to better optimize your campaign, and, ultimately, be more successful. Test your campaign as a whole and run live A/B tests on your personalized messaging to each customer segment. Tweaking headlines, body copy, and images can dramatically improve engagement and conversion rates.
Back It Up in the Back Office
There's no point in developing a killer omnichannel marketing campaign if your backend operations can't follow through on your promise.
Specifically, inventory visibility and management should be top of the list. Use an inventory management system that centralizes inventory across warehouses and physical storefronts, so no customer orders an out-of-stock product.
Shipping, fulfillment and returns are also important. Customers should have the ability to purchase their products in several ways, whether that's having purchases delivered to their door or picking them up from their nearest store. The same goes for returns. In-store and online returns are essential components of a true omnichannel approach.
Conclusion
Omnichannel marketing for e-commerce stores is becoming the norm. Customers expect a seamless experience when switching between devices and channels, and it's your responsibility to deliver it.
Omnichannel marketing significantly improves the customer experience, but it also drives better engagement, creates better customers, and leads to more sales. That puts it up there with some of the biggest factors of e-commerce success.
If you want to succeed with e-commerce, omnichannel marketing isn't a strategy; it's a requirement.
Want help setting up your marketing campaigns to align with your omnichannel e-commerce strategy? Let us know and our agency can help.
Which are the most important channels for your omnichannel e-commerce marketing campaign?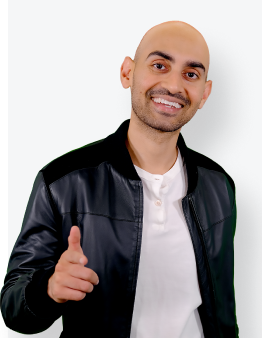 See How My Agency Can Drive More Traffic to Your Website
SEO - unlock more SEO traffic. See real results.
Content Marketing - our team creates epic content that will get shared, get links, and attract traffic.
Paid Media - effective paid strategies with clear ROI.
Are You Using Google Ads? Try Our FREE Ads Grader!
Stop wasting money and unlock the hidden potential of your advertising.
Discover the power of intentional advertising.
Reach your ideal target audience.
Maximize ad spend efficiency.