Ecommerce is still growing.
Statista says worldwide ecommerce sales will grow from 4.2 trillion in 2020 to 6.5 trillion by 2023. The worldwide pandemic and the growth of remote work continues to boost ecommerce growth. This is a huge opportunity for ecommerce companies that are ready for this change.
Your ecommerce business will need help.
The huge growth in ecommerce means competition; as a result, ecommerce companies are struggling to get customers to their business. Choosing the right marketing company can be the difference between failure and success.
Here's a list of the best ecommerce marketing companies. 
1. NP Digital – Best for Maximizing ROI
NP Digital is my e-commerce marketing company. I've built several successful companies, including KISSmetrics, Crazy Egg, Hello Bar, and several other agencies. I've helped large companies like Amazon, NBC, GM, HP, and Viacom grow their revenue. I've built ecommerce companies of all sizes — from startups to established Fortune 500 brands.
One thing that sets NP Digital apart from other agencies is our focus.
Every improvement we make needs to lead to revenue in some way. If we're optimizing images, rewriting copy, or redesigning graphics, it needs to lead to revenue. Our focus on revenue changes how we approach problems; it forces us to analyze the profitability of each decision. If it doesn't work financially, we generally try to avoid it.
NP Digital's client list includes:
Facebook
Viacom
Google
GM
eBay
NBC
Thomson Reuters foundation
TechCrunch
Cheezburger
American Greetings
2. Upgrow – Best for Strategic Planning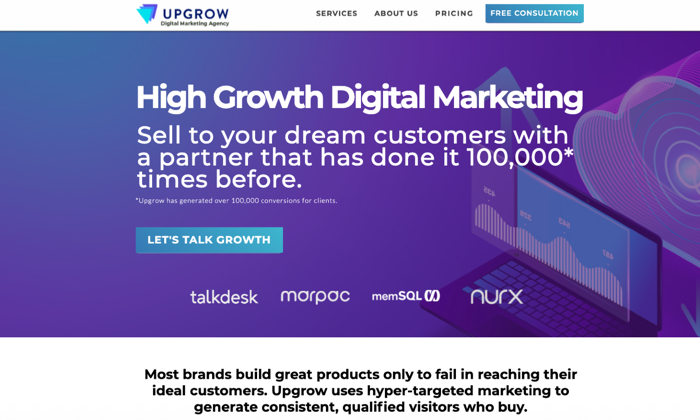 Upgrow is an e-commerce marketing agency based in San Francisco.
They follow a specific e-commerce marketing process that focuses on brand discovery, creating a strategic plan, tracking and reporting set up, and ongoing optimization. They're one of the few e-commerce agencies that provide complete A-to-Z coverage and optimization. They can design, create, optimize, and promote your e-commerce business.
Upgrow is data and process-driven; as a result, the average client experiences a 259 percent ROI.
Think of their agency as an expert generalist. They're comfortable working with e-commerce clients regardless of their industry, whether they're selling $1 pencils or $5,000 vacation packages.
They have approximately 33 clients, manage a client budget of 6.1 million, and they've generated more than 125,000 conversions for their clients.
Upgrow's client list includes:
Talkdesk
memSQL
Nurx
Impact Fund
Cloud Logistics
Platform9
Miss Jones Baking Co.
Seal
Stessa
Juris.co
Knowable Magazine
3. Inflow – Best for Ecommerce Specialist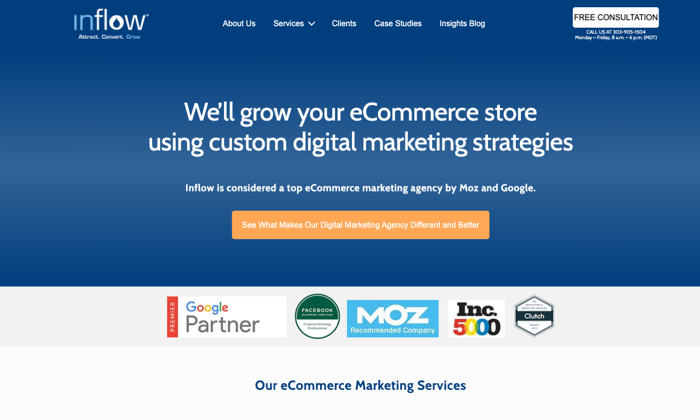 Inflow is an award-winning e-commerce agency based in Denver.
While other agencies provide A-to-Z support covering design, optimization, and promotion, Inflow focuses exclusively on the marketing and advertising side. They offer SEO, PPC, paid social, and CRO services. If you're looking for an agency to provide you with marketing and advertising support, but you can handle the design and creative services on your own, Inflow may be a fit.
Here's one thing that sets Inflow apart.
Inflow doesn't have account managers. Clients work directly with industry veterans on their campaigns. These experts have a significant amount of experience in their chosen specialty, whether that's search engine optimization, paid advertising, or conversion optimization.
They prioritize search engine optimization, conversion optimization, and pay per click management in that order. That's an important detail to keep in mind if you prefer one channel over another.
Inflow's client list includes:
Amazon
Overstock
Moving.com
Vince
Mountain House
Gaia
Colorado State University
Aviator Gear
Tilebar
4. Single Grain – Best for a Custom Marketing Plan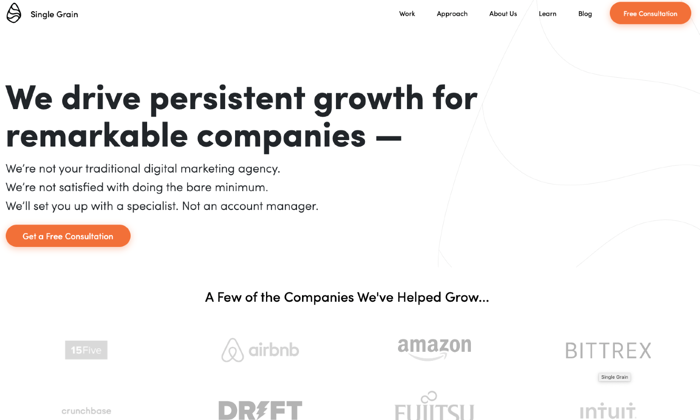 In 2014, entrepreneur and marketing guru Eric Siu bought a failing SEO agency — Single Grain — for $2. Using his marketing expertise and growth mentality, Eric rebuilt Single Grain, turning it into the digital marketing powerhouse it is today.
Single Grain focuses on rapid growth.
When it comes to ecommerce marketing, many e-commerce marketing companies rely on an assembly line approach. They apply the same strategies and tactics they've used with other clients; they repeat the same procedure until it's overused.
Single Grain creates a unique digital marketing campaign for each of their clients. They analyze their client's circumstances, creating custom strategies on a case-by-case basis. This sounds obvious, but it's also the strategy that enables Single Grain to grow its client businesses at such a fast pace.
Single Grain's client list includes:
Cafepress
Fujitsu
KitchenAid
Random House
Nordstrom Rack
Airbnb
Alexa
Amazon
Uber
TurboTax
5. 1Digital – Best for Bigcommerce Customization
1Digital is a full-service agency focusing exclusively on e-commerce optimization and marketing.
While other agencies focus on a specific e-commerce platform, 1Digital works with a variety of mainstream platforms, including Shopify, Magento, Volusion, Woo Commerce, and others. They're known for their work with BigCommerce and Shopify.
Their focus on e-commerce includes design and development, SEO, and CRO. They're not as heavily invested in paid advertising, so that's something to consider if you're looking for an agency with significant advertising expertise.
1Digital's client list includes:
MiR Tactical
Oakwood Veneer Company
VitaRx
Everything for Offices
Mac Me an Offer
Maca
Kids N Cribs
Atlantic Cigar
Genius Ecommerce
6. Avex – Best for Shopify Plus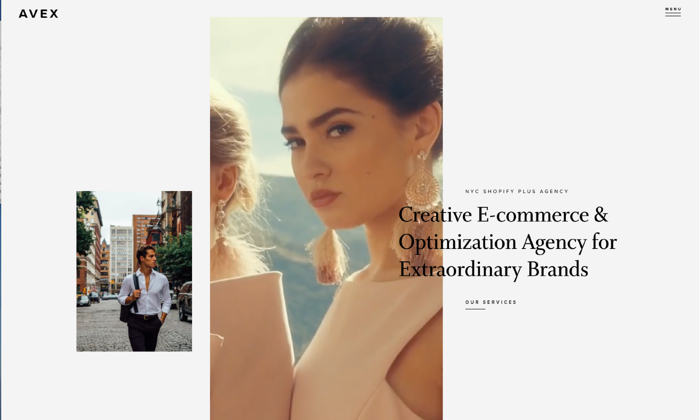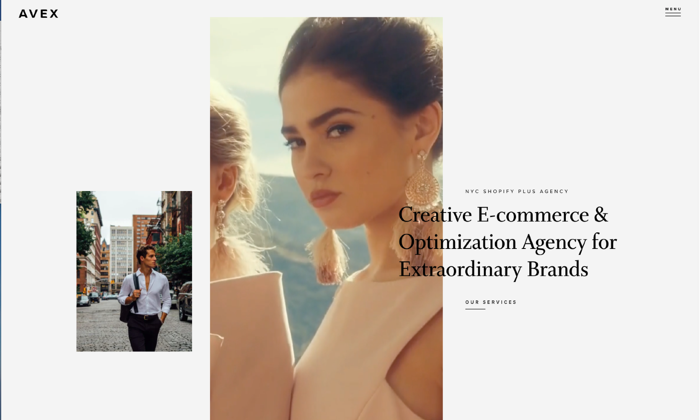 Avex is a boutique creative e-commerce agency based in New York City. Their agency focuses exclusively on e-commerce. They design, build and optimize e-commerce websites for beauty, luxury, lifestyle, and fashion companies. As Shopify Plus Partners, they're focused primarily on optimizing and marketing Shopify websites.
As an agency, they're heavily focused on the creative and design side of marketing. They provide their clients with additional support in the form of conversion rate optimization, usability testing, split testing, marketing, and consulting.
They're a small 20+ person team that's focused on serving a specific group of clients in particular niches. This is a good fit for clients who specialize as well — fashion, luxury, or beauty companies are an obvious fit. They may also be a good fit for e-commerce companies with a broad product offering, as long as they're comfortable with the specialization that Avex offers.
Avex client list includes:
O'Neill
Simmons Bedding
Wolf & Shepherd
Hugo Boss
Kith
Marchesa
TomboyX
Haus
Starter
Pony Sneakers
Packer
Coffee for Less
4 Characteristics That Make a Great Ecommerce Marketing Company
E-commerce companies are facing more competition than they've ever met before. Great ecommerce marketing companies have the following characteristics.
1. In-depth knowledge of your business
E-commerce businesses aren't created equal. Every industry has its own set of expectations; it's own culture, unique jargon, and unique problems. Your agency should have an in-depth knowledge of your customers, your business, and the industry as a whole.
If your e-commerce business focuses on health and wellness, or fashion, you'll want to work with an agency that has significant experience in that space. The more technical or specialized your industry, the more important it is to have subject matter experts who understand your customers, business, and the industry well.
This is important because this knowledge gives your agency the know-how they need to promote your business effectively. They'll have a clear idea of the images that work best for your company, the words they should use, and the promotions your customers will respond to.
2. Obsessive customer focus
Your e-commerce customers are the priority. Your agency should focus on helping you serve your customers. They should work to get to know your customers as well as you do. This isn't just an understanding of the things your customers want and need. It's an understanding of the way you work with your customers.
Zappos focuses on customer service. Apple focuses on quality. Walmart focuses on low prices. A great agency understands your business and your focus, so they're able to create offers, content, or ads that appeal to your audience.

This is important because it means you can create marketing you know will work. By understanding your customers, and your business, your agency has the knowledge they need to generate the results you need. It's also helpful because it helps you manage the financials on your end.
If your agency understands your breakeven cost, and they know what your margins are, they'll avoid creating ads with offers that put them in the negative. For example, if margins are tight, discounts should be out. Instead of creating discounts on the front end to win customers, your agency can make low price guarantees and warranties to win customers over.
3. Sales and revenue-focused
Your agency should focus on generating leads, sales, and revenue. Everything your agency does should be oriented around you closing the sale and enticing customers to buy. If your agency wants to focus on brand building with no long term plan to generate revenue, they're probably not a good fit.
Your agency should help you find ways to reduce expenses, particularly those due to shipping or returns. They should work to consistently lower advertising costs while increasing your return on ad spend. This sounds like it's pretty obvious advice, but you'd be surprised at the number of agencies that ignore this.
4. Your agency should understand your metrics and KPIs
There are lots of ecommerce metrics you can track, but it's probably not a good idea to try and track them all. A better idea would be to identify the most important metrics you need to maintain and grow your business, then build on the metrics you need, on an as-needed basis.
Your agency should focus their attention on your:
Website traffic rates: You'll want to identify several details with your traffic: The traffic sources that make you money, sources that cost you money, and the sources that lead to increased conversion rates over time. If you have a steady supply of good traffic from interested customers, you'll have the demand you need to sell more products. If your agency's CRO protocols are consistent, you should be able to increase revenue whenever you increase your traffic.
Sales conversion rates: You're probably already familiar with this, but for those who aren't, your conversion rate is sales divided by users times 100 percent. The average ecommerce conversion rate is 2 to 4.9 percent in the United States. Your agency, with consistent testing, should be able to increase your conversion rates year-over-year. Your agency should also be tracking both micro and macro conversion rates.
Average order values: This tracks the dollar amount spent by your customers each time an order is placed on your website. Your agency should be able to provide you with concrete steps you can take to increase your average order values (and customer lifetime values) over time.
Email opt-in rates: According to Campaign Monitor, email produces an ROI of $42 for every $1 spent. Building an email list means you're less dependent on paid media to grow. Your agency should be able to help you build your email list. The more reliant you are on earned media (i.e., email), the more stable your cash flow and revenue.
Refund and Return rates: A good agency will help you find the hidden problems behind your refunds and returns. They should be able to use non-traditional sources like online reviews and competitor research as well as traditional sources like customer feedback to help you reduce your refund and return rates.
Ecommerce churn rate: Churn measures customer attrition; this is a problem for ecommerce. How do you measure churn rates if your customer never cancels? Your agency should be able to use metrics like repeat purchase rate or time between orders to calculate your churn rate and provide you with a plan to reduce churn in the future.
The ecommerce marketing company you choose should have these characteristics. They should be able to provide you with the information you need to grow your business.
What To Expect From a Great E-Commerce Marketing Company
Before you hire an agency, you'll want to make sure you're prepared for their help. You should expect your budget to mirror the kind of attention, value, and support you receive. Big budgets = lots of attention and support.
A clear track record: Your agency should be able to provide you with samples, references, case studies, and reviews showing their performance. If you found your agency through marketing, it's a good indication that they know how to market your business. If you are introduced through partnerships or referrals, the same concept applies.
Clarity on their expertise: Your agency should be able to explain their strengths and weaknesses candidly without any weasel words, generalities, or weird marketing speak. They should be able to provide you with clear samples showing that they have the expertise and experience needed to sell your products well.
A clear timeline: Your agency should be able to provide you with a clear timeline showing you how to approach her campaign, how long everything will take to implement, and when they anticipate you'll begin seeing results.
Questions about your capacity: Your agency may have questions about who handles what — which tasks will be handled by the agency and which jobs will be handled in-house (by you). Set clear boundaries and expectations ahead of time, so there's no confusion in the middle of your marketing campaigns.
A list of their credentials: Is your agency a Google Premier Partner or Facebook Pro Partner? Are they HubSpot certified? You want to get a list of the credentials they have. This will verify their experience and expertise in several areas.
Their process, policies, and procedures: You'll want to see how your agency plans on approaching your campaign or project. They should be able to breakdown their approach to marketing your business, how they'll approach your campaign, and their internal dos and don'ts as it applies to your business.
Communication guidelines: When and how will their team communicate with you (e.g., Slack, Skype, Trello, or email, etc.)? Who will be your point-of-contact? Are you free to call your point of contact whenever you need help, or is there a specific time they're available? Is support included (it should be).
Your agency should provide you with detailed specifics for each of these points. If you have more questions or concerns, you'll want to bring those up with your agency.
Conclusion
Ecommerce sales will continue to grow. This growth means more competition for ecommerce businesses. Today, ecommerce businesses are struggling to get customers. Your ecommerce business will need help.

Choosing the right ecommerce marketing company can be the difference between failure and success. Choose the right company, and your growth skyrockets. Choose the wrong company, and your business takes a giant step backward.

Use this list to identify the pros and cons of the ecommerce company you hire. Invest with the right company, and your business will grow faster than you expect.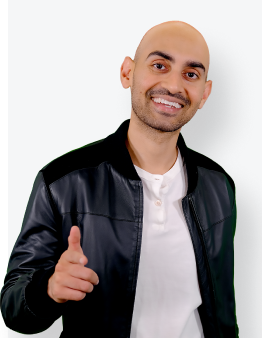 See How My Agency Can Drive More Traffic to Your Website
SEO - unlock more SEO traffic. See real results.
Content Marketing - our team creates epic content that will get shared, get links, and attract traffic.
Paid Media - effective paid strategies with clear ROI.
Are You Using Google Ads? Try Our FREE Ads Grader!
Stop wasting money and unlock the hidden potential of your advertising.
Discover the power of intentional advertising.
Reach your ideal target audience.
Maximize ad spend efficiency.