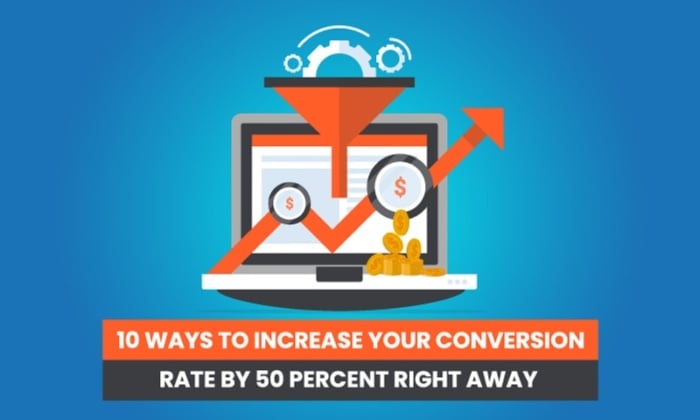 Conversion rates are the lifeblood of any online marketing campaign.
Whether you are an experienced digital marketer or new to the field, understanding, tracking, and increasing conversion rates all play a big role in the success of your website.
In order to hit target sales, you need to draw in audiences—and then convert them. But what's the average conversion rate across the board? What goals should you be aiming for with your advertisement or content strategy?
It all depends on your niche, the marketing platforms you use, and your relationship with your customers. Typically, 2-5 percent is considered an average conversion rate.
WordStream found the standard median conversion rate is 2.35 percent.
The data also shows the top 25 percent of websites in an industry convert at 5.31 percent or higher. If you want to be in the top 10 percent in your niche, aim for a conversion rate of 11.45 percent.
Why Do Conversion Rates Matter?
Conversion rates are easily one of the most important things to track to ensure the success of your marketing campaigns—and stop you from wasting your budget.
You run a marketing campaign to get people to do something like sign up for your services, buy your product, fill out a lead gen form, give you their email, or follow through on some other CTA.
Essentially, you market in the hopes that people will do what you want them to do and eventually produce profitable revenue for your company.
How will you know if your strategy is working?
Conversion rates!
A good campaign will get a lot of people to take action and convert. An ineffective campaign won't.
If your conversion rate is seriously low, you'll know it's time to re-evaluate your marketing plan. Similarly, if your conversion rate is in the average to high range, you'll have a better idea of what's working.
Unfortunately, if you think tracking your conversion rates to find ways to increase them is too much work, you'll end up wasting your time and money on the wrong campaigns.
If you never take the time to see what makes your users convert and where they bounce, it'll be harder or even impossible to make your marketing campaigns more effective.
Your conversion rate matters.
1. Add More Social Proof to Your Site
Your audience won't always blindly believe what you say. So, if you're claiming something, you better back it up with proof.
Research shows adding social proof to your site will rapidly improve customer trust and eventually increase your conversion rate. In fact, 97 percent of consumers look at reviews before making a purchase and 83 percent of people are more likely to trust a review instead of an ad.
WikiJob was able to increase their conversions by 34 percent just by adding prominently-displayed testimonials to their site.
Here's how you can add social proof:
Add customer reviews: Every e-commerce site has a customer reviews section because 93 percent of customers read online reviews before buying a product.
Include case studies: Case studies in the form of stories or blog posts can help position you as a genuine business making a real difference in the world.
Use social proof pop-ups: Add pop-up notifications to your sales page to show user activity. For instance, here's an image from Proof Factor (a social proof popup app) to show what these popups can look like.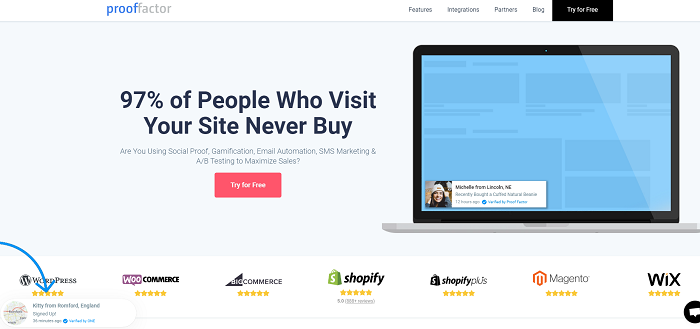 2. Shorten Your Forms to Increase Conversions
Imagine you find an interesting e-commerce store with great products at affordable prices. The only problem? It requires long forms for you to sign up or get more information.
Long forms can help you learn important details about your customers. However, think about how annoying it might be for users to spend a lot of time filling so many fields when all they want is the information or to buy the product fast.
To reduce this frustration, and lower bounce rates, consider shortening your forms to only collect the most essential information. Whether it's a newsletter signup or access to a special offer, keep your form short and sweet.
According to a test completed by Marketo, their conversion rate with longer 9-field form was 10 percent. The same form's conversion rate jumped to 13.4 percent when the number of fields was reduced to 5.
Here's how you can shorten your forms:
Only collect essential fields first: Focus on the essentials when starting your relationship and ask for any other information via email, surveys, or follow-up calls.
Collect information via a third-party account: If you can, add the option to sign up through an account like Google so they don't have to enter their information each time. This way, you make it easier for users to find what they need, making them more likely to buy from you.
3. Keep It Super Simple (KISS)
Shortening your forms is not the only thing you can do to make the buying process easier for potential customers.
You can simplify the whole user experience to increase your conversion rate.
People have much shorter attention spans today than they did just 10 years ago. Etsy did an experiment on user experience where they added 160kb hidden images to intentionally slow down some of their mobile pages. They saw a 12 percent increase in bounce rates.
Keeping the process simple goes beyond just UX design and load speeds. 67 percent of users will abandon a form if they encounter any complications when completing it.
Here are some ways to keep things super simple:
Offer clear instructions: Where should they click? What information should they enter? How do they find the right color/size?
Make your CTA obvious: Have properly positioned buttons. The shopping cart should be easy to find and edit. The next step in the buying process should be obvious even to the most new-to-tech user.
Don't offer too many options: It's tempting to offer a lot of choices, but sometimes this can work against you. Don't confuse the users. Keep it simple. Add filters to help them navigate through the choices.
4. Don't Require a Login
Have you heard of the famous $300 million button story?
In a nutshell, it says customers don't want to spend a lot of time registering and logging in to websites when they just want to buy a product.
As one customer in the study said, "I'm not here to enter into a relationship. I just want to buy something."
This is true for most e-commerce sites.
If you require customers to log in before they make a purchase, there's a chance they'll leave.
In fact, a study by Baymard Institute found that 37 percent of users will abandon their checkout altogether if they are forced to create an account. The same study showed that 38 percent of the e-commerce sites looked at didn't even offer users the chance to create a temporary account before finishing their order.
Why risk the lower conversion rate for something so simple?
Here's how to avoid requiring a login:
Guest shopping: Let your customers shop as a guest without creating an account.
Include clear instructions: Make it clear to users that they do not need to create an account to shop with you by including a clear, clickable "Checkout as Guest" button.
Make fields optional: Mark login or sign-up fields as "optional" so it's clear users have the option of making purchases as a guest.
5. Meet Customer Expectations
Having a good product to sell isn't always enough. If you want to increase your conversion rate, think about how you can meet your customers' expectations.
In PwC's future of CX report where they surveyed 15,000 customers, they found that 1 in 3 would leave a brand they lover forever after only one bad experience. The same report found that 92 percent would forget the company after two or three negative interactions.
Some reports even show that as much as 66 percent of customers can't remember the last time a brand exceed their expectations.
Here are some tips to continually meet (and exceed) customer expectations:
Run experiments: Experiment with user testing tools to see what customers like and dislike before making big changes.
Ask for feedback: Offer an incentive to some of your customers to give you feedback on their experience.
User testing platforms: Invest in user testing platforms like TrymyUI, Userlytics, Maze, etc. You can use heatmaps to find what appeals to first-time or repeat visitors and which areas are glossed over.
Once you have this information, edit your website to match user expectations.
Make the user experience as satisfying as you can so you can increase your chances of converting the visitor.
6. Look Past Initial Testing Results
A/B testing is the cornerstone of most effective marketing campaigns. That's not all though.
According Business Insider, the market demand for A/B testing software is expected to exceed $1 billion by 2025.
To increase your conversion rate, you need to look past initial testing results. For example, one change might lower your conversion rate on the surface, but it might make the converting users spend more money. In this case, the change is good even if it has lowered your conversion rate.
Similarly, some changes might improve your conversion rate but make you less money. If this happens, undo the change or try something else.
The more you experiment, the more you'll find what works and doesn't work for your business. 77 percent of marketers conduct A/B tests across their sites regularly, with 60 percent of those tests being on landing pages.
Keep tweaking your website based on your data to see conversion rate increases over time.
Here's how to know which testing results are important, and which to ignore:
Pay attention to your revenue: Keep a close eye on how your tests affect your bottom line and revenue, not just conversions.
Take a holistic approach: Think about your testing results holistically.
Run tests in a good sample size: Make sure you run your test for a decent sample size in order to make sure the results you see can be trusted.
7. Make Data-Backed Decisions to Increase Conversions
You know you need to make changes, but what kind of changes? Whether you're A/B testing, or just trying a new user experience to increase your conversion rate, it's important to make data-backed decisions.
The demand for more data-driven decisions is growing. 91 percent of companies say that data-driven decisions are important to the future growth of their business and businesses that use big data experienced a 8-10 percent increase in profit along with a 10 percent reduction in cost.
It can be tempting to copy what others are doing or make additions based on what you think is trending. Don't do that. Rather, use a tool like Ubersuggest to see what's working for your site.
For example, you can use Ubersuggest's Keyword Tool to find relevant keywords to target in your industry.
You can also use the Ubersuggest SEO Analyzer Tool to find gaps in your site's optimization.
Here's what else you can do to make better business decisions using data:
Look at trends with your data: Don't get too observed in just the numbers and make sure to take a look at trends in your industry or area that might have influenced results.
Don't look at everything: It can be easy to get distracted by every data point that relates to your website but only focus the metrics that drive your business.
Get input from other departments: Before making big changes on your own, connect with other departments to see if what you propose makes sense to them.
8. Perform an SEO Audit
You can have the best user experience in the world, but if your website is slow or you aren't getting indexed by google, users won't even find you.
The more traffic and views your website gets, the higher your conversion rate will be. On average, the first ranked webpage on Google has a CTR of 31.7 percent. At the same time, only 25 percent of users even make it to the second page of Google which doesn't even include any clicks that might occur beyond the first page.
If you want to get more clicks and rank higher on Google—and get more conversions along the way—you should improve your SEO.
Fixing this is fairly easy. Perform an SEO audit.
This will help you find what's preventing your site from ranking higher. Then you can fix the issues one by one to boost your organic traffic and increase conversion rate.
Not sure how to perform an SEO audit? Worry not! Here's how:
9. Localize or Personalize Content
Who doesn't love content tailored just for them?
Data by Accenture shows 91 percent of consumers say they are more likely to shop with brands that provide relevant offers and recommendations.
Research by SmarterHQ shows 72 percent of consumers say they only engage with personalized messaging.
These stats prove the power of localized, personalized content and that they shouldn't be taken for granted.
Here's how to offer localized and/or personalized content:
Relevant content: Make sure you share relevant content content with users that connect with where they are in their buyer's journey.
Personalize offers: Personalize offers and give unique discounts to each person based on their location, customer behavior, or how they interact with your site.
Local SEO optimization: Make sure that you optimization your website and content for local SEO to reach more people in your location.
Actions like these can increase customer trust, boost the number of recurring visits and eventually increase your conversion rate.
10. Add a Live Chat to Drive Conversions
Say a visitor loves your product. They really want to buy it, but they just have one question. It's the only thing holding them back from converting right away.
How do you help them?
Add a live chat option to your website.
Studies show live chat can increases conversions by as much as 20 percent. Research also shows that 38 percent of people made a purchase right after a positive exchange with a live chat agent and that chatters in general spend 60 percent more per purchase than non-chatters.
Today, with the abundance of free and paid tools available in the market, setting up a live chat feature is pretty easy.
Live chats can be used for answering common customer questions, resolving complaints, or even tracking orders. You're only limited by your creativity.
Here's an example of a live chatbot by livechat.com: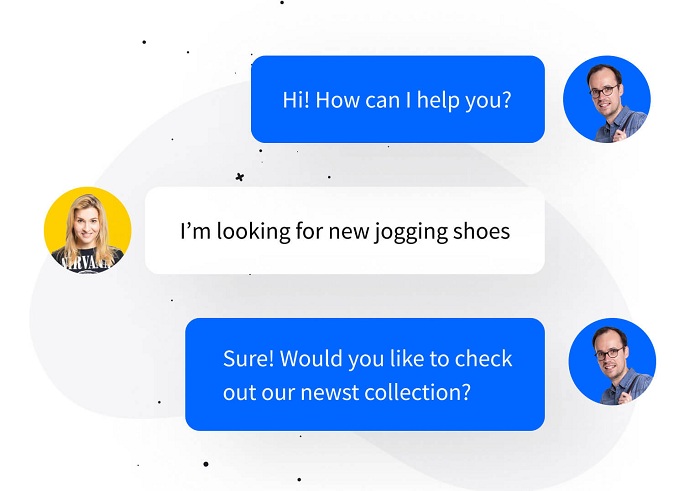 The best part? You don't even need to hire people for this option. You can use bots to answer recurring questions and program the feature to offer other resources if a question can't be answered directly.
This way you're saving money and also ensuring the customer is satisfied. What happens when a customer is satisfied? They're more likely to convert!
Here are tips for setting up live chat:
Invest in a chat tool: Use a tool like ZenDesk to create custom scripts that will answer most user questions.
Determine how your site will use live chat: Is it to provide better customer service? To make it easier for customers to purchase products? To answer frequently asked questions? Consider testing the chat in different ways to see what has the most significant impact on conversions.
Increase Conversion Rate Frequently Asked Questions
What is a good conversion rate?
Conversion rates above three percent are typically considered good. However, the top 10 percent of sites in industries have conversion rates above 10 percent. So if you want to rank higher, aim for a 10 percent conversion rate or more.
What is the top change I can do to increase conversion rates?
Some of the best ways to increase your conversion rate include shortening your forms, performing SEO audits, adding social proof to your websites, enabling a live chat option, and other strategies discussed in this article.
Do conversion rates really matter in 2022?
Conversion rates play a critical role in helping you understand the effectiveness of your marketing campaign. They offer immediate feedback about what is and isn't working, so it's important to track and increase your conversion rates in 2022.
What is a good freemium conversion rate?
Freemium conversion rates vary based on your industry and the type of product you offer. Typically conversion rates between two to five percent are considered average. However, big players like Spotify and Slack have conversion rates above 25 percent.
Conclusion: Increase Your Conversion Rate
Increasing conversion rates can improve the effectiveness of your marketing plans.
Today there are dozens of free and paid tips, tricks, and tools to help you improve your website's user experience, simplify the user journey, and increase the chances that a visitor will convert.
You don't have to try all of this at once.
Pick one or two strategies to try, conduct A/B tests, see what works and tweak accordingly. Eventually, you'll get a better idea of what works well with your target users and how you can increase conversion rates without spending a lot of money.
Which strategy will you try today to increase your conversion rate?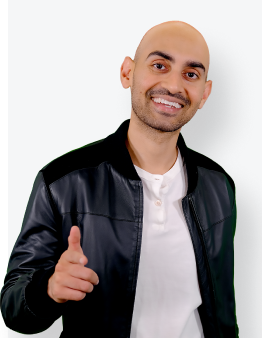 See How My Agency Can Drive More Traffic to Your Website
SEO - unlock more SEO traffic. See real results.
Content Marketing - our team creates epic content that will get shared, get links, and attract traffic.
Paid Media - effective paid strategies with clear ROI.
Are You Using Google Ads? Try Our FREE Ads Grader!
Stop wasting money and unlock the hidden potential of your advertising.
Discover the power of intentional advertising.
Reach your ideal target audience.
Maximize ad spend efficiency.