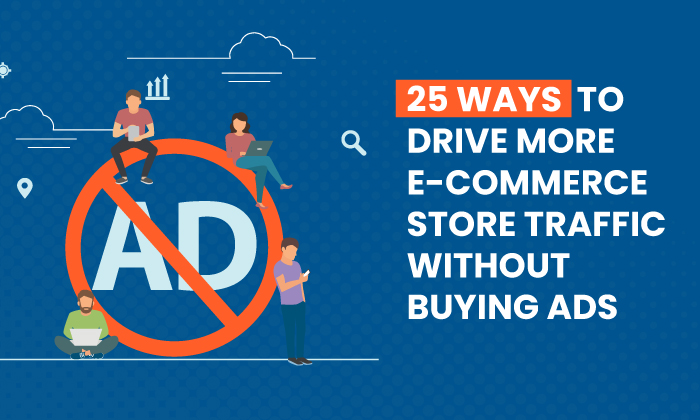 It's no secret that e-commerce is here to stay.
With more consumers shopping online than ever before, retailers must work hard to get noticed.
What if you don't have the budget for ads? Are you doomed to fade into the online abyss?
Absolutely not.
Over half of consumers prefer to shop online. Great news for online retailers like you, right?
With the growth of online marketplaces and hoards of choices available to consumers, it's tough to get the attention you need to drive traffic and revenue.
Today, I'll share 25 e-commerce tips to get more visitors to your site—without spending a dime on paid ads.
Best of all, many of these tips are easier to implement than you might think.
What Are the Benefits of Using Non-Paid Strategies to Increase E-Commerce Website Traffic?
Many marketers focus on paid e-commerce strategy because they think it's the only way to outshine the big brands, but that isn't always the case.
With 95 percent of website traffic hitting the first page of Google, all the traffic you could hope for is there, waiting.
One of the most obvious benefits of non-paid e-commerce strategies is you don't need to invest money to drive traffic. You're not trading dollar-for-dollar; instead, you're trading time or resources for sales.
Another benefit is focusing on non-paid traffic means building a better, easier-to-use website. According to a study done by Amazon Web Services, 88 percent of online shoppers won't return to a site they had a bad experience on.
With all the options for e-commerce shopping, why would they?
We're completely inundated with options. The threshold for mistakes and user experience problems is getting lower and lower.
Finally, thinking outside the box helps build a real business with long-term potential.With paid ads, as soon as you turn off your budget, your traffic will plummet.
SEO, email marketing, and on-page experience are long-term strategies that pay off over time.
25 E-Commerce Strategies to Drive Traffic (Without Paying for Ads!)
Overall e-commerce sales have grown steadily year after year and show no sign of slowing down. By 2025, e-commerce sales could hit nearly 7,400 billion dollars. If you're having trouble getting the traffic you want, there are tons of opportunities to get a piece of the pie.
Here are some e-commerce tips you can implement today to get more traffic to your site.
1. Start a Referral Program
Leads that come from referrals convert at a 30 percent higher rate than any other marketing method. If you don't have a referral program for your e-commerce store, it's never too late to get started.
Keep in mind, it doesn't have to be elaborate.
Take GetResponse, for example. You get a $30 account credit for every person you refer to the software.
Offer something of value to existing customers for every customer they bring to you; it's as simple as that!
To get started, find a referral program platform, then use these tips to drive sign-ups.
2. Build Out Your Blog
Google controls more than 92 percent of the search market, which means if you want traffic, you need to invest in SEO. Investing in a blog and delivering valuable content is one of the best e-commerce tips I can offer.
Start producing content regularly whether you have to hire someone or write everything yourself. I'm definitive proof that this strategy works.
If you don't currently have a blog on your e-commerce website, starting one is easy. Most e-commerce platforms like BigCommerce and Shopify have built-in blogging templates to help you get started.
3. Improve the On-Page Experience
Google makes it crystal clear that the on-page experience is one of the most important factors they look at when determining whether a site should rank.
On-page experience refers to (but is not limited to):
To use these e-commerce tips, start by running the reports linked above. Google will offer you tips and strategies to improve your on-page experience.
Improving these factors helps increase your e-commerce traffic because your site looks better in Google's eyes, and it's easier for users to navigate, which keeps them coming back.
4. Build an Email List
Repeat customers spend 67 percent more than new customers—and one of the best ways to bring them back is by building an email list.
Why?
You've already established trust with them, and they know what you have to offer.
Take a look at this example from Birchbox: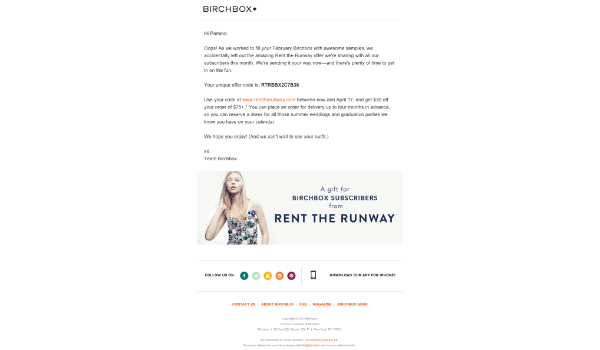 Offering a unique promo code encourages customers to return and makes the offer feel exclusive and like they're getting something that isn't available to everyone.
To build an email list, try these strategies:
Offer a small discount (10 to 15 percent) for users that sign up for your email list.
Make your list feel exclusive by promoting new products only in your email list.
Post teasers about an upcoming email announcement on social media to encourage followers to sign up.
5. Retarget Email Subscribers
Once you've built out an email list, you'll want to retarget users based on onsite behavior. Retargeting, in this case, means sending an email to someone who has shown interest in your business but didn't take the action you were hoping for. (It can also be used for paid ads, but in this case, we're covering non-paid strategies.)
Abandoned cart emails are one of the most effective ways to leverage email retargeting. In fact, they're responsible for recovering nearly 30 percent of abandoned carts.
You can also send current customers suggested products related to a previous purchase. As we already covered, it's easier to go after customers you already have than find new ones.
Here's a quick guide to retargeting your email subscribers:
Look for ways to retarget users in your email marketing platform. For example, MailChimp has a retargeting email guide that walks its users through the process.
Implement the easiest retargeting campaigns first. Generally, abandoned cart emails and recommended products are easy wins.
Test other retargeting campaigns to see what works. For example, ask for reviews a week or so after purchase or suggest a new collection.
6. Optimize Your CTAs
Only around two percent of your web traffic will convert on the first visit, so capturing email addresses through your CTAs is crucial.
You need to experiment a bit to see what works. Even something as simple as the color of your CTA button can make a difference.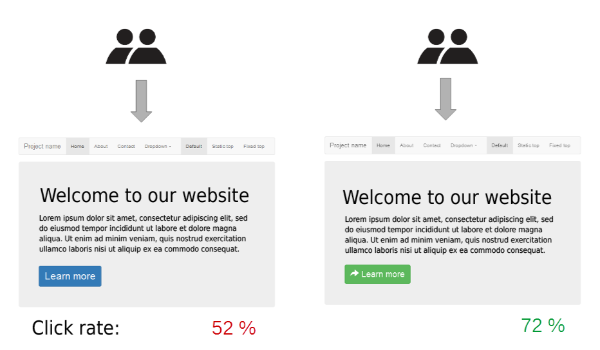 For example, Performable found that switching their CTA button from green to red boosted their conversion rate by 21 percent.
Try different CTA buttons and phrasing to see what works and test them side-by-side using A/B testing.
Don't stop at colors, though. You can also test your CTA's:
copy
placement
font type/size
including images
landing page
Offer
7. Improve Your Checkout Process
Nearly 70 percent of people abandon their cart. This can be due to hidden fees, shipping costs, too many steps, and a poor overall experience. The best e-commerce tips build on what you're already doing, and the checkout process is a great place to start.
While people are more comfortable than ever shopping online, they also have high expectations for the process. How do you improve the process? Here are a few tips:
Get rid of hidden fees and be upfront about pricing.
Share shipping fees early in the process.
Limit the number of clicks to convert.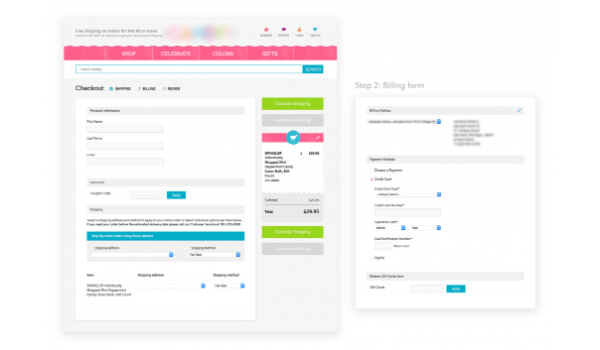 Scandiweb did a great case study of the steps to improve their checkout experience. You don't need to go nearly this far, but it's a smart e-commerce strategy to implement no matter how big or small you decide to make it.
8. Develop a Rewards Program
A white paper by Altfeld shows that when selling to an existing customer, the probability of closing that sale is as high as 70 percent.
What's the most effective way to bring customers back? Loyalty programs!
Rewarding customers for returning and doing business with you again is a brilliant and timeless strategy.
Take Sephora for example.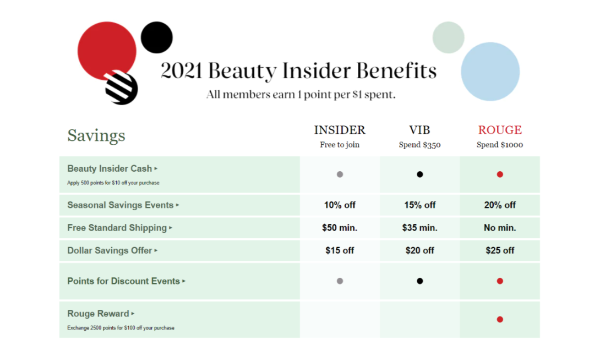 For every dollar spent, you earn one dollar in rewards. The more you spend, the more rewards you're eligible for, including discounts and free shipping. It's so simple when it's broken down this way, but the hard part is coming up with a smart rewards program.
To set up an effective rewards program, you'll want to:
See what your most profitable customers have in common (location, products, interests, etc.)
Look at data to see what drives purchases. This will help you set up a reward program. Do they like free shipping? Discounts? Access to new product lines early? Use a survey to ask customers if you aren't sure.
Look for e-commerce reward and loyalty tools and plugins to implement your program.
9. Add Internal Links to Your Site
I've mentioned SEO already, but this step focuses on internal linking within your e-commerce website. How can this improve e-commerce traffic?
Sites without proper internal linking don't rank as high as those with a solid link-building strategy.
By creating a web of links on your site, you're telling Google that you are an excellent resource for what people want to buy and you're a wealth of knowledge in whatever niche it is you sell in. That will improve the user experience while also improving your worth to Google.
Here are a few tips for adding internal links:
Identify hub pages—these are important pages you know your users want to see. Add links where it makes sense that point to these pages.
Link to related products on your product pages. If you sell tents, link to other camping gear, for example.
Use "breadcrumbs" in the navigation to help users quickly navigate back to core pages.
Use easy-to-understand anchor text, like this: Here's more information about internal linking best practices. It's clear what you'll get if you click the highlighted text.
10. Get Active on Social Media
Ninety-one percent of people read at least one review before making a purchase. Where is a great place to get a lot of customer reviews?
Social media, of course.
Are you using social media to drive traffic to your e-commerce store?
Are you using it as a place for customers to land if they have something positive or negative to say about your business?
You should be doing both things because it helps show customers that you're a real business with real people and not just some brand.
Here's how to build a social media strategy for your e-commerce business.
11. Incorporate Chat on Your Website
You need to be there for your customers. Sixty percent of people want to connect with someone during the sales process.
Remember that one time you were in a brick and mortar and wanted help finding something, but you walked around and couldn't find anyone to help you?
How did that make you feel? Unimportant?
As people turn to e-commerce, they expect to have the same customer service experience they get in person. That means you need to be available to answer questions and assist throughout the sales process.
There are plenty of live chat software to make this process simple. Leveraging chatbot automation, which answers common questions before connecting users to a live person, can also make it more affordable.
12. Focus on Value Upfront
Your e-commerce strategy cannot revolve around you asking your customers to do things without making them feel like they're getting the most for their time and money.
A great example of this is email marketing. We all know we need a lead magnet if we expect anyone to give us their email, right?
We're getting to a point where just offering a product isn't enough to make a sale.
You need to offer free shipping, free trials, fast shipping, bonus offers, and handwritten letters to drive sales.
Whatever you decide to offer, make sure it's clear what you're offering upfront so people can see the value before they click to buy.
This also extends to other areas of your site, such as:
product pages
landing pages
CTAs
social media posts
13. Improve Your Product Pages By Focusing on Benefits not Features
You could be losing a lot of money due to poor product descriptions.
Want to know an easy fix?
As you write about a feature, think about the benefit for customers and center that in your copy.
Look at this example from Gillette: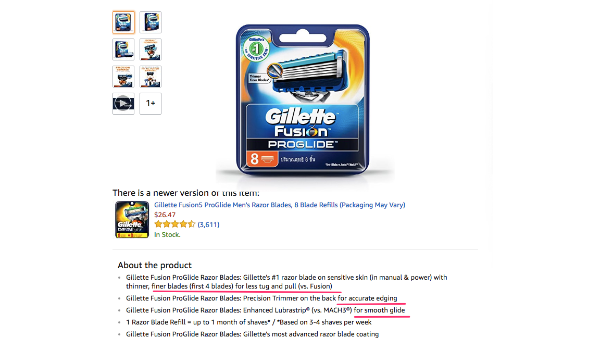 Every feature is tied to a benefit.
They don't just explain what it does. It's a razor, we know what it does, but they explain how it will make you feel.
Here are a few other ways to improve your product pages:
Cut the clutter so users can easily focus on what matters.
Use clear, concise calls to action to tell visitors what to do next.
Check your page speed.
Use high-quality product photos.
Add social proof to build customer confidence.
14. Implement Video
Eighty-seven percent of video marketers say that video helped increase e-commerce traffic to their website.
I could do an entire guide on video e-commerce tips because that's how important it is right now.
If you're not embedding videos into your product pages, you'll want to start right now.
15. Add User-Generated Content
As much as 80 percent of people say user-generated content impacts their purchasing decision.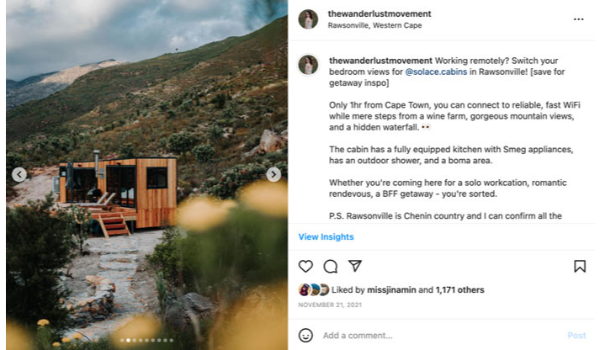 User-generated content can be as simple as taking an image of a product in use that a reviewer left and putting it on your website.
People are more likely to trust you when they see other people enjoy your products. Here are a few other ways to leverage UGC:
Add reviews to product pages.
Create a branded hashtag and ask users to share their favorite products.
Embed product pictures from users at the bottom of your website.
16. Understand Customer Personas
If you don't know what a customer persona is, you could miss out on one of the simplest e-commerce tips.
What is a buyer persona?
It's essentially a representation of your customer. What do they do? How do they act? How do they think? What makes them click?
If you don't have a specific avatar that you're marketing to in your e-commerce business, you're potentially leaving money on the table.
17. Use Trust Signals
According to TrustedSite, lack of business legitimacy causes 50 percent of cart abandonments.
What are we talking about when we say legitimacy?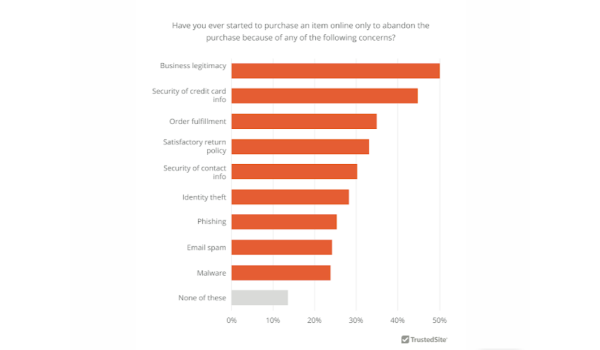 Trust.
As someone works through the purchase process, they might start to feel uneasy. Are you a real site, or a scam? Is the quality going to match their expectations?
How do you avoid mistrust?
Add trust signals to the process. These include:
badges
third-party verifications
customer reviews
testimonials
HTTP
Adding a video of yourself or someone in the business is another great way to show customers you're a real business.
18. Offer Free Shipping
Here's a stat that could drastically change your e-commerce revenue: 66 percent of consumers expect free shipping on every single online purchase.
These people expect you to pay the cost of shipping their products no matter how much they spend. You can thank Amazon for that.
That said, offering free shipping isn't the revenue buster you think. As an added bonus, if you do everything else right on this list, you've likely secured yourself that customer.
There are a few ways to make free shipping work for you:
Up your prices to cover the shipping cost, then make it "free."
Offer free shipping as a loyalty program reward.
Ask for an email address in exchange for free shipping.
Offer free shipping only for purchases over a certain amount.
19. Keep User Data Safe (and Make Sure Your Customers Know It)
This e-commerce tip goes hand-in-hand with trust signals, but it's important on its own.
E-commerce sites collect a lot of data about their customers, including onsite actions, banking or card information, addresses, and potentially even social security numbers on your website.
What are you doing to protect this information?
Here are a few ways to keep your customer's information safe:
have an SSL certificate
track all orders
require strong passwords
make sure your data storage is encrypted
Make sure you let your customers know that you're doing all of this. When asking them to input sensitive information, include all the steps you take to protect their data.
20. Use Influencer Marketing
Influencer marketing is when you pair up with another brand or influencer to help them promote your products.
We see this frequently on platforms like Snapchat, TikTok, and Instagram.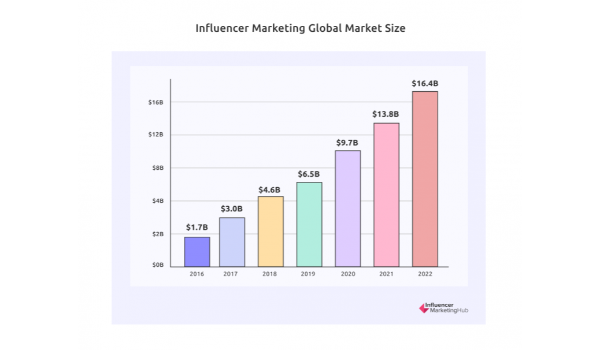 With the influencer marketing market growing to 16.4 billion in 2022, the potential is there.
Start reaching out to influencers in your niche and see if they sell endorsements. Send them free products to test out.
Dan-Os Seasoning is a great success story on TikTok, and now influencers all over the platform are using it in their cooking videos.
21. Research, Test, and Pivot
At this point, you've read through 20 e-commerce tips; all of which will help you drive more traffic to your site and convert at a higher rate.
If you want to succeed, you need to implement these strategies. However, not all strategies will work for every brand. Or they might work, but with a different approach.
For example, an e-commerce fashion website might get better results using influencers than a B2B manufacturing e-commerce company.
The only way to know is to research, test, and pivot. If something doesn't work for your audience, try something new. It's the only way to keep growing.
22. Create a Sense of Urgency
Visitors who leave your site without purchasing rarely complete the sale.
Urgency offers a compelling reason to complete the purchase now.
Maybe it's "Act now! Quantities are low!" or "Buy now for free shipping!" or "This is a limited time offer!"
You can approach it from various angles, as long as the feeling of "don't miss out on this" is created with your visitor.
Look at this example from American Apparel:
Right there in red font, they warn shoppers that they are about to run out of this item.
There are so many ways to create urgency through exclusivity and FOMO, including:
Use popups to show other users who have made purchases.
Send "last chance" emails.
Add a shopping cart timer.
Display limited stock (like American apparel.)
23. Upsell the Customers You Have
Many smaller e-commerce stores ignore one of their arsenal's most accessible selling weapons: upselling.
There is a false impression that it isn't worth the effort, but that's not the case.
Upselling can increase average order value, which adds up over time.
The very first year that Amazon tested upselling on their platform, they increased sales by 35 percent.
Here are a few ways to increase upsells:
offer related product sections on product pages.
suggest products on the checkout page.
offer free shipping for orders over a specific amount, say $25 or $50
24. Launch New Products
According to Nielsen, 63 percent of buyers like it when manufacturers offer new products. What does this mean for you as an e-commerce store owner?
You need to launch new products and make innovations in your industry regularly. The best e-commerce tip I can offer you is to focus on making a difference for people.
See what the competition is doing and figure out ways that you can take it to the next level.
If you don't manufacture your products, there are still ways to innovate.
For example, if you're selling home improvement products, perhaps you could find a way to bundle multiple items together? You could even create a bundle subscription box.
25. Spend Your Money Elsewhere
While this whole list of e-commerce tips focuses on how "not" to spend money, perhaps you could take whatever you would spend on paid ads and spend it somewhere else.
Spend it on outsourcing high-quality blog content, SEO strategy, or influencer marketing.
Every business should have a marketing budget regardless of how big or small it is. If you're currently spending money on paid ads, think about what else you could do with that budget and experiment with other paid options.
E-Commerce Tips Frequently Asked Questions
How can I increase my e-commerce website traffic quickly?
Social media and influencer marketing are the two fastest ways to get more e-commerce traffic. Other methods like SEO are more of a long-term solution.
What percent of my e-commerce traffic should be from non-paid sources?
In years past, organic traffic had some of the highest rates of conversion simply because people are finding you naturally. This means you're likely a solution to a problem the visitor has. It's tough to put an exact number on this though because every business is different. However, you can succeed with nothing but paid traffic if your strategy allows for it.
How do I track my e-commerce website's traffic?
There are many ways to track e-commerce traffic. You can use your site's Google Search Console dashboard as well as tools like SimilarWeb and Ahrefs.
What is organic traffic to an e-commerce website?
Organic traffic is website visitors that find your site without the use of paid advertisements, often by searching on sites like Google or Bing.
Conclusion: E-Commerce Tips
As you read through these 25 e-commerce tips, which ones resonated with you the most? Do you feel more equipped to drive traffic to your store?
The most important thing to understand is that you don't have to do all of these things perfectly, you just need to gradually implement them to see results.
Figure out what is currently wrong in your e-commerce store and identify the low-hanging fruit. Perhaps you simply need to ramp up blog content or update your checkout process. Most of those changes can be completed in a few days or weeks.
With all of these tips and tricks available to you, the possibilities are endless.
What are some of the ways you boost e-commerce sales without spending money on ads?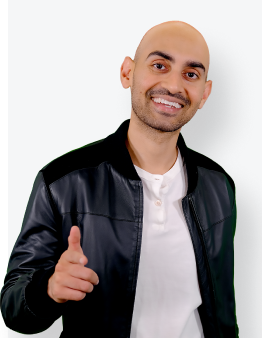 See How My Agency Can Drive More Traffic to Your Website
SEO - unlock more SEO traffic. See real results.
Content Marketing - our team creates epic content that will get shared, get links, and attract traffic.
Paid Media - effective paid strategies with clear ROI.
Are You Using Google Ads? Try Our FREE Ads Grader!
Stop wasting money and unlock the hidden potential of your advertising.
Discover the power of intentional advertising.
Reach your ideal target audience.
Maximize ad spend efficiency.