One like. One tweet. One compliment.
They are sweet to receive for your blogging efforts.
But, what if you want to create a bigger impact: Do you think there's a way to reach hundreds of thousands of people from your target audience overnight?
Yes there is, and the route is reaching out to those top 1 or 2 percent unicorns that have superhero powers. Their influence in your industry can create huge waves for your content piece.
So, where can you find these influencers and how can you get them to share your piece of great content?
I can understand if you're skeptical of your own ability as a content marketer. You might doubt whether you can truly create an epic piece of great content. Alternatively, you might not be able to understand why influencers will be interested in you and your content at all.
I want to tell you a sneaky little secret…
It's possible to get industry celebrities to not just share your blog post on social media, but even link to it.
Imagine the direct referral traffic and authoritative backlinks you'll get, if you can convince them.
Don't be afraid of taking the first step and performing an outreach to show off your awesome piece of content on social media. But, first understand that influencers don't have free time…so you need to give them exactly the type of content that helps their target audience.
I receive hundreds of emails everyday and find that most people don't know how to do outreach the right way. They don't even know how to create a stellar piece of content marketing. Let me show you the exact process in this article. 
Identify the influencers you want to target and figure out a way to add value
What's the best way to find the influencers that can amplify the efforts of your content marketing strategy on social media?
If you've read my article on social media fake fans, you know that numbers can be faked. You can even buy a hundred thousand followers on Twitter to create fake social proof, but expect close to zero interaction.
That's why a better metric for judging influence is engagement. Someone with an engaged audience list of 2000 can be more help than a so-called influencer with 10,000 social media connections they don't engage with.
In their analysis of 100 million blog posts, Buzzsumo studied the impact of social media shares by influencers that had a retweet average of more than two on a blog post. They found that posts that were shared by 5 people with a retweet rate higher than two received nearly 300% more social media shares.
So, instead of searching for social media accounts with a million followers, look out for people that get more retweets – you'll find that they typically have a modest following.
Buzzsumo is a great tool to find and sort influencers by the average retweet rate in any niche. Once you've built a successful piece of content promotion, you can click on 'View Sharers'.
Then, filter the list by the average retweets value.
You can even find their interest areas by clicking on 'View Links Shared' and finding the kind of content marketing efforts they typically share.
Another important aspect you must remain careful about when building your list of influencers is…
Think about these two scenarios:
1. You send 500 emails to marketing bloggers, requesting that they link and share your article about a new content marketing strategy.
2. You send 50 emails to content marketers requesting the same.
Undoubtedly, you'll see more success in scenario 2.
By simply plugging in "marketing" and then prospecting contacts that have vague interest in a broad niche, you'll end up adding many irrelevant social media contacts to your outreach list.
Put conscious effort into either find influencers in a directly-related niche or have a really compelling reason for requesting links from bloggers in a non-related niche.
Once you've got a list of prospective influencers, it's time to filter for the specific folks that particularly love to link. With Google's recent penalty on websites linking unnaturally to irrelevant external websites, you might find that many webmasters are not willing to link.
But, when done right, external linking to authoritative and high-quality websites actually helps Google understand what your page is about.
So, scan a few articles by influencers on your list and see how often they link to external websites. Ideally, they must not mind linking to an external website for every 300-600 words and also have decent domain authority.
You can add all of the prospects into an Excel sheet and list their contact information beside their domain and social media authorities.
Once you've filtered the top 20% of site owners that like linking out, it's time to get into Sherlock mode.
If you mail an influencer directly at this stage, they will label you as just another blogger who's desperate for publicity.
Instead, you should subscriber to their newsletter, find out where they hang out and how you can be of help to them and try to build a relationship.
For example – Inbound.org is an aggregator where passionate inbound marketers share their content and users vote on them. If you end up creating content promotion pieces that gets loved in one such esteemed community, you'll gain attention from fellow content marketers and linkers.
If you reverse engineer the content marketing efforts that gets the most love in a particular community, you can craft a better piece that gets more upvotes.
You'll find tightly-knit communities on most social networks, including Facebook, LinkedIn and Google+.  You can also check for subreddits.
For building a relationship with influencers on web sites and social networks, you can also share some of their top content pieces and write value-adding comments on their blog posts.
You can even point out broken links on their website or offer any service that would help the influencer. Devesh read a series of articles on conversion optimization and sent the following email pitch to Brian Dean.
Obviously, the email pitch is a stand-out in itself, but he also sent the following custom video showing how he could improve Backlinko.
The result?
He ended up making over $10,000 working with Brian from this one, simple email.
Similarly, Eric from My4HourWorkWeek.com created an excel sheet that adds value to the following popular Smart Passive Income post. And, he earned a juicy backlink.
Establishing a contact prior to sending the piece that you want to backlink for is essential. Gregory Ciotti tested the response rates for people with whom he had no contact vs. a minimal prior contact (who replied to a tweet or a comment on a blog post).
There was a drastic difference, because of the familiarity.
Gregory shares a networking tip for achieving great social media outreach results – "Reach out to one new contact every other day, WITHOUT anything in mind (no requests)."
Create an original piece of 10x content (and include an influencer in it)
With 2 million blog posts getting published every day, good unique content marketing efforts are no longer good enough to attract the attention of a consumer, let alone an influencer.
You need to create 10x better quality content than all other search engine results for your target keyword (a term coined by search engine optimization whiz Rand).
And, it doesn't simply mean getting more words on the page than your competitors. You'll need to provide:
stellar user experience

with your fonts, colors, design, navigation, loading speed and overall website usability

interesting angles that address the problems of your target audience

content promotion efforts that will evoke an emotional response and garner social media shares
You can view Rand's hand-picked examples of 10x great content in this Inbound blog post.
Now, how do you identify a subject that deserves 10x the amount of effort?
By looking at previous successful content promotion pieces, via Ahrefs.
Plug an influencer website from your niche into the tool and move to the 'best by links' under pages or 'top pages' under organic search in the left sidebar.
Here are some of the most linked pages at Quick Sprout.
Similarly, you can also find the most shared pieces of great content marketing from the past year, in your niche, by using Buzzsumo.
To get started, you need to key in on an industry keyword within their search engine and press the search button.
Once you settle on a subject that already has proven demand (gotten social media shares and links), it's time to top the content piece on quality.
While writing the content, create some buzzing content promotion by informing the influencers that you're putting together something awesome.
Or, better yet, try to involve them in the creation of great content by getting a quote from them.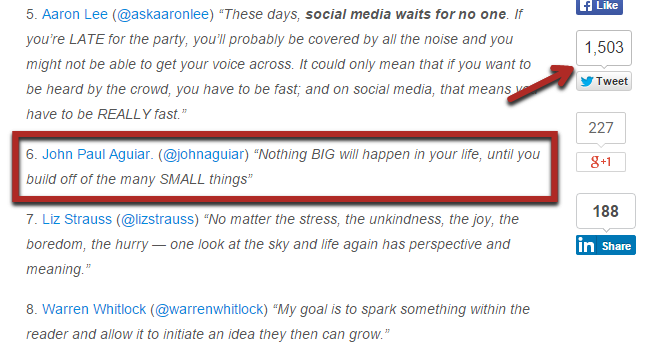 Or, link to some of the most awesome and relevant snippets of great content from your piece. Try to add a personal commentary on how the linked pieces of content will help your readers.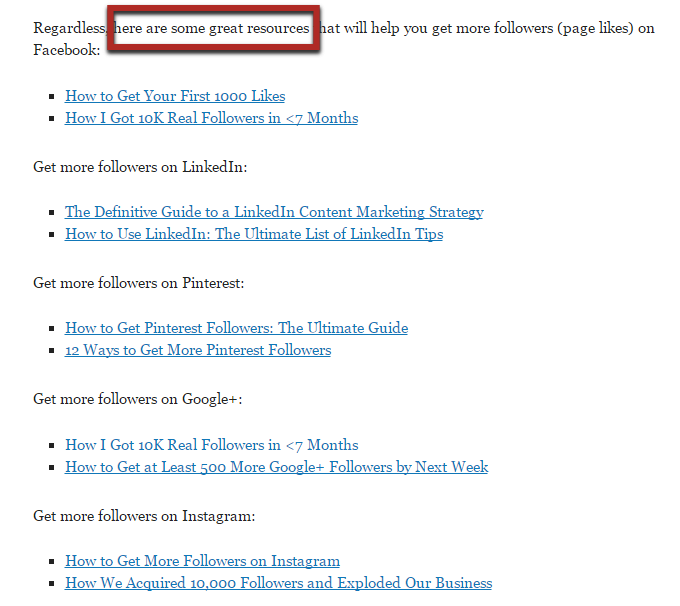 Another clever way to score A-one links and expand your brand's reach is by utilizing a influencer marketing strategy to publish data-oriented research by partnering with an influencer.
Original research is treated as gold, because of the actionable insights readers can derive from it. For example, I wrote a piece on Buzzsumo's analysis of 1 billion Facebook posts.
It ended up getting over 3k social media shares, indicating that my target audience loved it. And, it also created tremendous brand exposure for Buzzsumo.
If you can scrape data and perform an analysis, try to find such win-win situations – it'll not just get you an ample number of backlinks from influencers, but also start a relationship with them.
As per Rand Fishkin, getting a hit with 10x content can take 5 to10 attempts. But, remember that our goal is to get links from a targeted list of influencers.
Ask influencers if they are interested in seeing your content and let karma take over
By now, you already have a list of influencers that you considered, filtered, targeted and involved in crafting your awesome 10x content piece.
Once you've put in the hard work, it's time to cast a wide net. Pull out all of the links pointing to your original competitor's great content marketing efforts (that you reverse engineered) in an excel sheet.
You want to score as many backlinks as possible and not limit yourself to the influencers.
Send your email to the influencers you've established prior contact with and helped in achieving their goals.
If you want to gain early momentum, then I recommend these three tactics:
1. Use search engines to find monthly and weekly roundups in your niche. You'll find many authors hungry for great content promotion and ready to send traffic your way.
2. Perform paid marketing to a targeted list of influential people. Larry Kim has created a list of journalists and influencers on Twitter. He performs paid marketing to ensure that his blog posts get in front of the right people at the right time.
And, it has helped him in getting his articles picked up by press and to also score television interviews.
3. Remember how I asked you to add domain authority and social media authority columns in your excel sheet in the first step?
Start with prospecting the second and third tier of influencers first – meaning those individuals with lesser but more engaged following and more time to check their emails.
Once you gain traction with these, your chances of success with the top-tier influencers increase.
Buzzstream advocates that you to start with tier-1 influencers first, because if your content is picked by them, it'll trickle down to the lower tiers (classic Pareto principle in action). If you're ready to face the initial rejection, then take this harder route.
Refer to my guide on outreach for help with drafting your mail.
Don't expect that your content will get shared by every influencer.  
For instance – Tim Suolo from Ahrefs wasn't able to impress Rand Fishkin with even his 7,000 word article.
But, it ended up getting a place in the Moz top 10 newsletter, bringing a lot of traffic to Tim's website.

Conclusion
In a poll conducted by Tomoson, businesses rated influencer marketing as the fastest growing online customer-acquisition method.
59% of businesses planned to increase their influencer marketing budget in the next 12 months, as they continue to get strong returns for every dollar spent.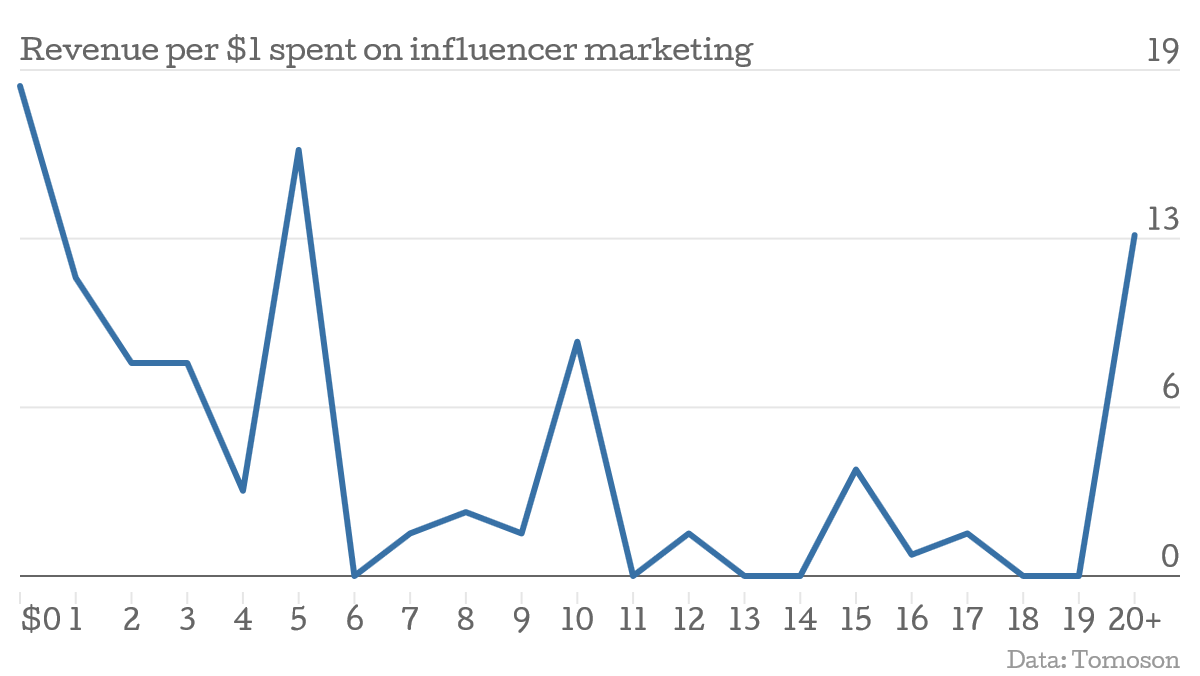 If your blog is fairly new, then I recommend that you cultivate relationships with influencers to build credibility with your target audience. 92% of consumers trust recommendations from individuals they know for referrals above any other source.
By following the steps in this article, you can score backlinks from their authoritative domains and get unparalleled exposure on your great content marketing efforts.
Have you ever performed an influencer marketing strategy and scored backlinks? What was your method of identifying, targeting and scoring links from them?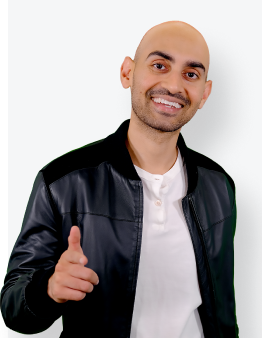 See How My Agency Can Drive More Traffic to Your Website
SEO - unlock more SEO traffic. See real results.
Content Marketing - our team creates epic content that will get shared, get links, and attract traffic.
Paid Media - effective paid strategies with clear ROI.
Are You Using Google Ads? Try Our FREE Ads Grader!
Stop wasting money and unlock the hidden potential of your advertising.
Discover the power of intentional advertising.
Reach your ideal target audience.
Maximize ad spend efficiency.