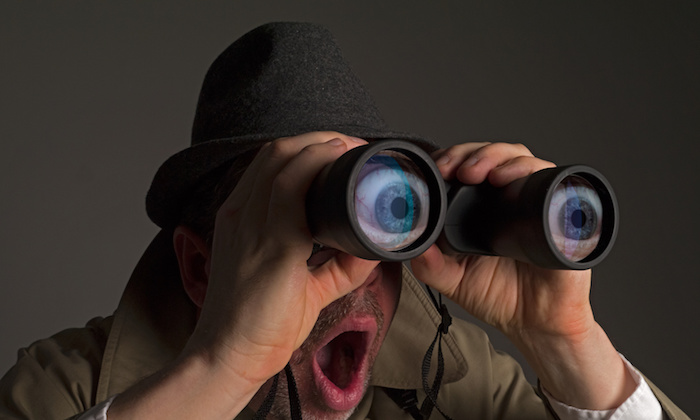 I want you to try something.
Right now, think of your top competitors.
They might be doing better than you, or they might be giving you a run for your money. You might be blowing them out of the water. I don't know.
Now go to Google and type in your focus keyword — your money keyword, the most important keyword in your SEO strategy.
See where you rank and see where your competitors rank.
It doesn't matter if they're ranking better or worse. Just think about all of the traffic they must be getting.
Think of the traffic that they're getting, and you're not getting.
(Pay extra attention to those competitors that are on page 1 of Google.)
Now imagine stealing all of that traffic from right under their noses.
Does that sound interesting?
Well, guess what? You can do exactly that.
You can actually spy on your competitors' backlinks and get more links to your own site.
One of my clients used this method to get 20% more backlinks to their site.
That's completely possible with this method. It's not too hard either, so if you don't have a lot of SEO experience, don't worry.
If you've wanted to start a good backlink strategy for a long time, I think this is a great first step.
Learn how to market your company when you have no visitors or money.
Why use this strategy?
This is a powerful idea, and I want you to understand just how important this can be for your link building strategy.
Let's take a random keyword like "scheduling app" and look at the first page of Google:
The simple fact that these sites are on page 1 of the SERPs (search engine results pages) means that they have excellent link profiles.
In other words, they meet and exceed Google's expectations, and as a result, they're rewarded with prime SERP real estate.
Each of these sites has a unique link profile, but they're all on page 1.
This is where spying on your competitors will give you a huge advantage.
Imagine if your link profile looked like all of your competitors' link profiles put together.
Your link profile would have to be pretty awesome, right? If you use this strategy, that's exactly what will happen.
You'll build a link profile that astounds Google and helps you improve your visibility, enhance your SEO, and dethrone your competitors.
That's why I love this strategy. If you use it right, you can actually get to page 1 of Google for one or more of your keywords.
But do you know what my favorite part is? You're letting your competitors build a backlink strategy for you.
They did all the hard work, and you can use that to your advantage.
This takes the phrase "work smarter, not harder" to a whole new level!
I think everyone can use this strategy and get amazing results.
If you're ready to get some links, read on and I'll explain the exact techniques you can use.
Grab your competitors' backlinks
The first step is to get a copy of your competitors' link profiles.
Since most sites have hundreds of backlinks, I recommend starting with your two biggest competitors.
If you try to analyze your top 10 competitors, you'll find yourself drowning in backlinks. Don't bite off more than you can chew. Starting small will make a big difference.
The way you'll get your competitors' backlinks is by using a backlink analysis tool. There are lots of options out there, but I'll share with you a few that I like to use.
The first is Moz's Open Site Explorer (OSE). If you read my blog regularly, you're probably sick of how often I mention this tool!
But I'll stand by it time and time again.
In this case, we'll be using its backlink feature.
This is ideal to start out with because it will force you to focus on the most important links. You'll see what I mean by that in just a minute.
Go to OSE and type in the URL you want to grab links from: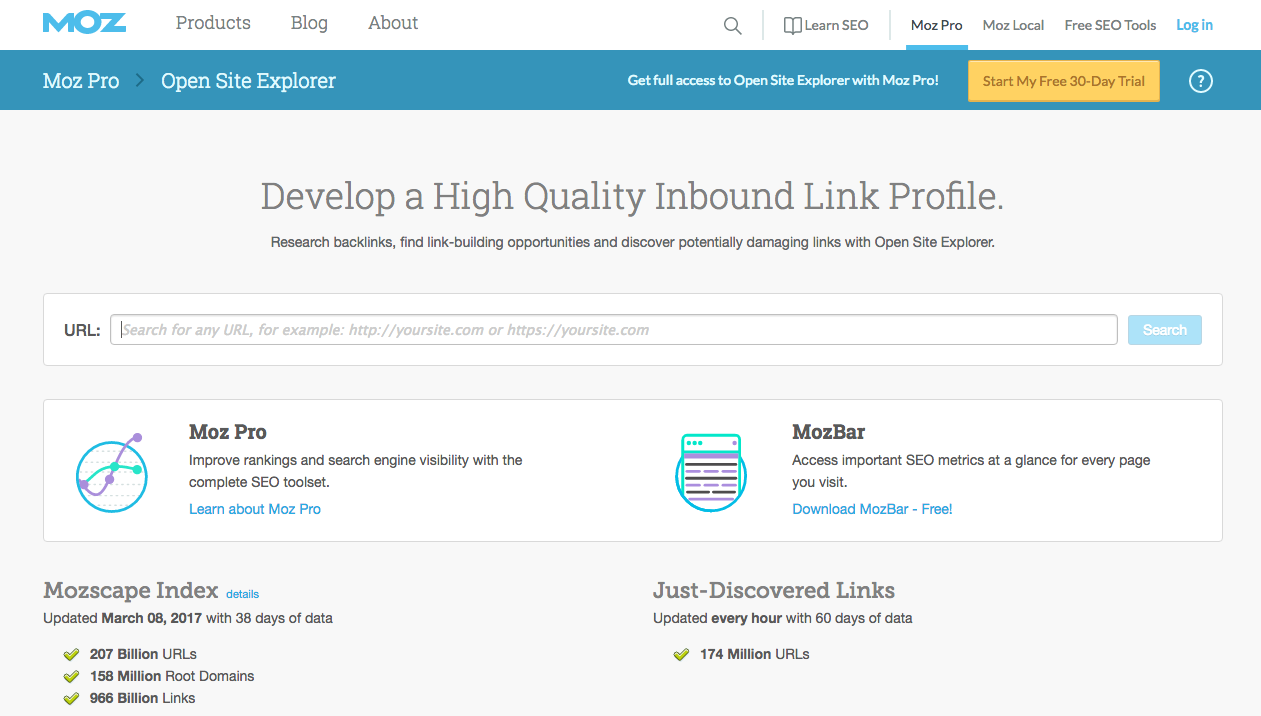 On the results page, scroll down until you see the list of backlinks under the "Inbound Links" heading: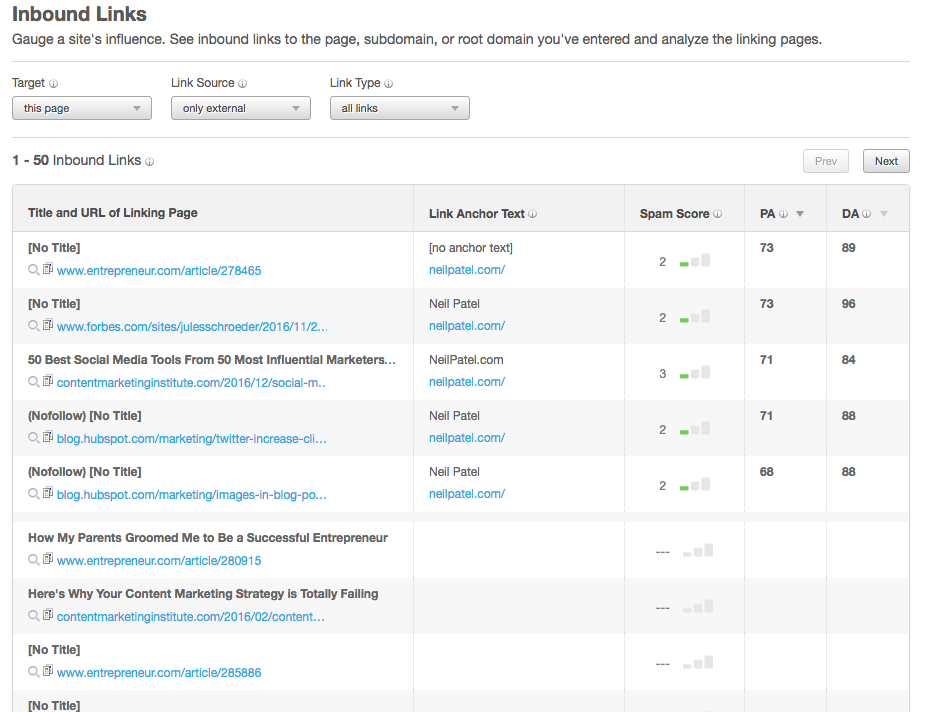 On many backlink tools, you'll have the option to export a list of all of these backlinks into one tidy file. But OSE doesn't have this option.
Since it doesn't, I recommend focusing on the backlinks with the highest Domain Authority (DA) and Page Authority (PA) rankings. Try 5-10 links to start out with.
By just concentrating on replicating these links, you'll be stealing your competitors' top-performing links.
And let's be honest––you're going to go after your competitors' best backlinks. You probably won't aim for backlinks that are just okay.
Another tool you can use is Ahrefs.
You'll have to either take advantage of their 14-day free trial or pay for an account, but it's one of the best backlink tools out there today.
Ahrefs is actually a suite of tools that all help with your SEO. One of their tools, Backlink Checker, is excellent for our purposes.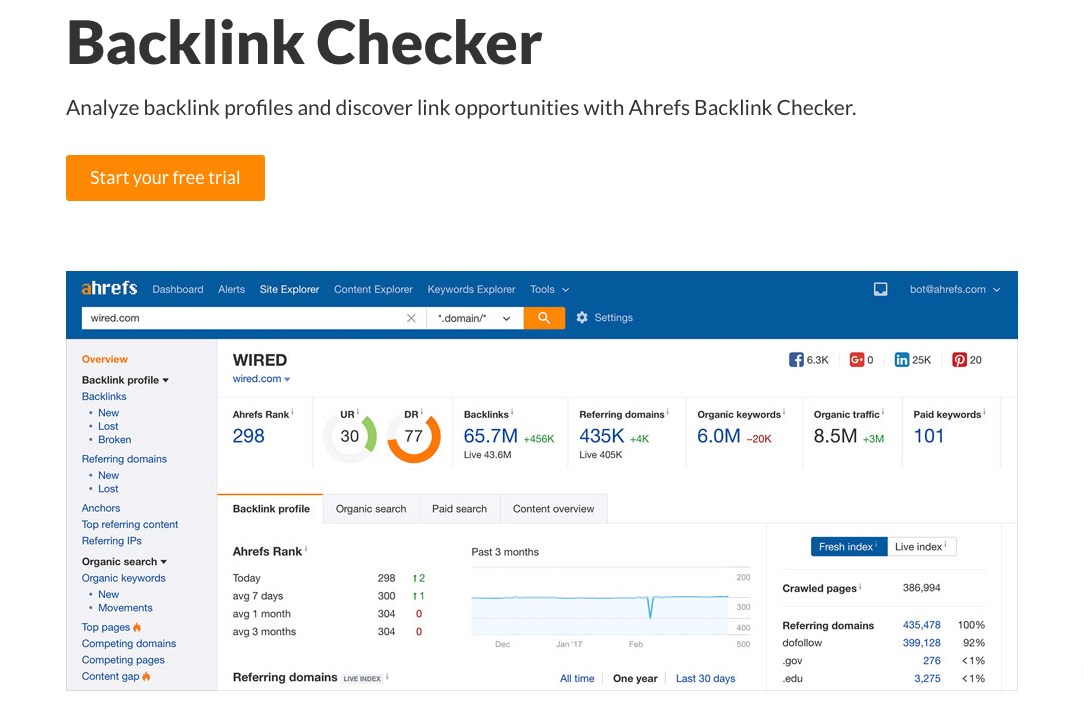 Ahrefs has the largest backlink index available, with 12 trillion links. That will give you full access to any link your competitors have.
And the Ahrefs index is updated every 15 minutes. You couldn't ask for more than that.
They even have an extensive guide on how to use their software to get competitors' links:
One of the coolest features about Ahrefs is setting up backlink alerts. In short, Ahrefs will email you weekly with any new backlinks your competitors have gotten.
I love this because it lets you stay up-to-date with your competitors, and you can steal their links almost immediately.
Ahrefs is particularly useful because it gives you some additional functionalities you won't find in other link building tools.
For example, you can also find your competitors' recurring link sources:
Then you can nab those link sources and use them for your own site.
Or you can get entire link profiles to leave no stone unturned: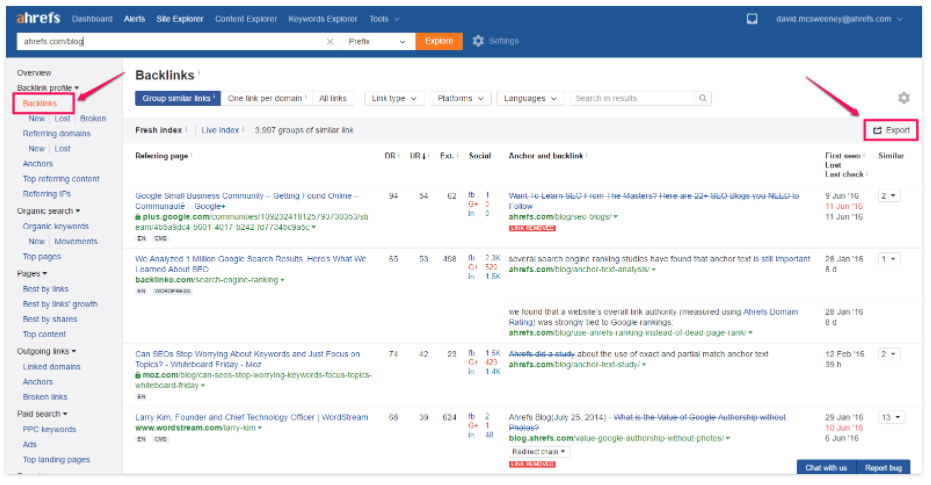 So while I definitely recommend OSE for those starting out with link building, Ahrefs is the place to be if you want to dig in deeper and get some juicy data that you can use.
There are other tools you can use, like Majestic, but I recommend starting with these two. Between the two of them, you'll have all the backlinks you need to create a strategy that will get you tons of valuable links.
When it's all said and done, you should have a list of your competitors' best backlinks. Now it's time to investigate them.
Analyze the links
To get the most out of your competitors' backlinks, you can perform a simple analysis and find out exactly which links are doing the most work.
And you want to make sure you're getting high-quality backlinks the right way. Otherwise, you could be facing a penalty from Google, which would hurt your SEO.
This is where a little bit of analysis comes in. Don't worry––it's not as scary as it sounds.
You might have heard about Google's PageRank, or PR for short.
It's a factor that Google uses to evaluate the quality and authority of a site.
Sites are given a PR rank from 0 to 10, with 10 being the best possible PR.
While PR scores are no longer visible to the public, they continue to play an important role in link building.
In fact, some SEOs will tell you that PR is the single most important factor to take into account when analyzing backlinks.
Many articles that talk about link building say the same thing. They argue that PR should be your #1 priority.
The idea is that sites with a higher PR will be higher quality. And generally, that's true.
But me? I disagree that PR is super important.
You might be wondering why. It's because Google uses literally hundreds of factors to evaluate any given site.
PR is just one of those factors.
Don't get me wrong, PR is definitely important. But it's not so important that you should only consider PR when evaluating backlink sources.
So don't get too caught up in checking the PR rank of every backlink you find. There are bigger fish to fry.
Now that we've established that, there are a few steps you can take to conduct a link analysis.
First, check to make sure the site is actually being indexed by Google.
You can check this by using a simple search string in Google:

If you see results showing up on the SERP, that means the site is being indexed and the site doesn't have any penalties.
If you don't see the site, it could mean that it got a penalty and that can negatively impact your backlink strategy.
The link could also be a dead link to a defunct or expired domain.
So if a site isn't being indexed, don't consider that for your link profile.
Second, conduct a link profile audit on your competitors' sites.
This is one of my favorite sneaky SEO tips.
You probably know that you should regularly perform link audits on your site to make sure your link profile is the best it can be.
But have you ever thought about auditing other people's sites?
It works the exact same way except you get a bunch of data about your competitors that you can use to surpass them in the SERPs.
To use this technique, just follow the steps to do a link audit, which I outlined in this article.
You can follow the steps up until the "Check for link penalties" step. At that point, you can stop. (You don't have to do the "check for link penalties" step.)
You can use Open Site Explorer again if you want since it doubles as a link auditing helper.
But if you want to go the extra mile, I recommend SEMrush's Backlink Audit tool.
This will show you the most toxic links so you know not to replicate those ones.
When you're done, you should have a list of healthy backlinks from the site you audited.
Like I mentioned earlier, start off small and focus on about 5-10 links for any given site. So look at the 5-10 best backlinks, as shown by the link audit.

Cross-reference these top backlinks with the ones you retrieved earlier. Most of them should match up.
If some links don't match up, that's okay. Take the link you got earlier and see where it stands in the link audit results.
If it still looks good, keep it. If the link audit shows problems with it, throw it out.
Create a master spreadsheet
To move on to the final step in this strategy, you should create a spreadsheet for reference.
This part is simple. Just take all the links you're focusing on and copy them into a spreadsheet.
The final result should look more or less like this:
Conveniently, Excel works well with most .csv and .txt files. Of course, you can also use a Google Spreadsheet, which is the free option.
Otherwise, you'll have to do it manually and make sure the links are correctly separated. But you should only have about 10-20 links (5-10 links from 2 competitors), so this shouldn't be a big issue.
You should also create two other columns: "Replicated" and "Link."
In the "Replicated" column, you'll record whether or not you were able to replicate that particular backlink type.
In the "Link" column, you'll paste the backlink you got if you successfully replicated it.
Don't worry, I'll explain exactly what I mean by all of this in just a second.
For now, just make sure your spreadsheet is good to go. Then it's time to copy your competitors' strategies and get more links.
Replicate backlinks
When I say you should try to "replicate backlinks," I mean you should try to get a backlink using the same technique your competitor used.
I'll show you what I mean.
Let's say your competitor got a backlink from a discussion forum. I see this happen all the time on Quora, and in fact, I do it myself:
Your mission is to use the same strategy to get a backlink.
In this case, you'd find a question on Quora that's in your niche.
Then you'd post a helpful answer and include a link to your site in the process.
Voilà! You've just gotten yourself a high-quality backlink using your competitors' method.
It's pretty easy, right?
You probably get it by now. You just visit a link, see how your competitor got a backlink, and then use that same method to get yourself a link.
Maybe your competitor got a bio backlink like this one: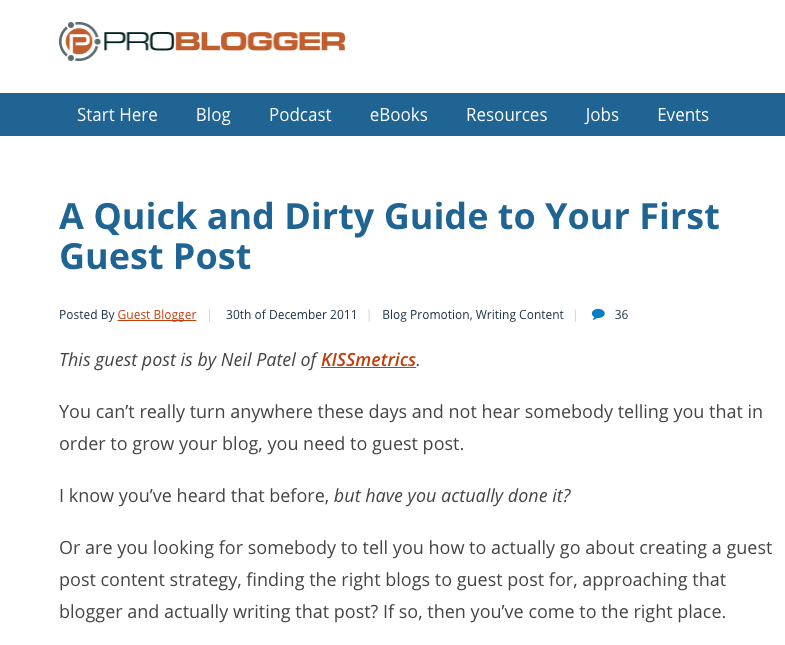 If you see this, it means your competitor published a guest post on the site. Many blogs give authors a free backlink in the post's bio section.
In this example, I wrote a post for Problogger and got a link back to my site.
To copy this, you'd want to submit a guest post of your own.
That's super easy to do. Just follow the process in this article.
Even if you don't end up getting a guest post on the same site as your competitor, guest blogging is still a very valuable strategy.
There are lots of ways sites get links, so familiarize yourself with all of them.
For example, sites often get backlinks through blog comments and discussion forum posts. If that's the case, join in the conversation yourself and give yourself a backlink.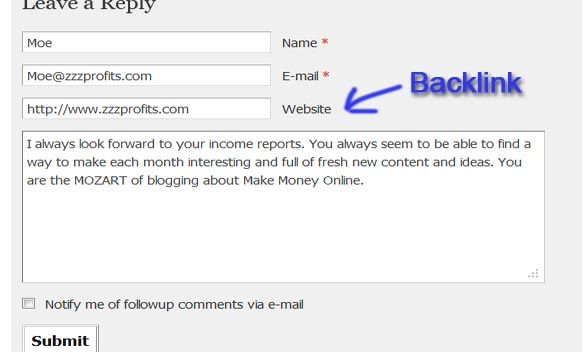 Like I mentioned with guest blogging, this is a great strategy on its own. So even if you don't get any backlinks from these techniques, you'll still be doing something valuable while enhancing your SEO.
Before I go, here's something I can't stress enough.
When you're replicating a backlink, you need to provide value to the audience.
That means you can't just sign up for an account on a forum and tell people to check out your site.
Instead, create helpful content and include a link to your site as part of that helpful content.
This way, people will truly appreciate it, you'll help out others, and you'll get a free link (and free traffic).
Conclusion
When I've shared this technique with some clients before, they feel like it's cheating.
That's exactly what's so great about this! You're letting your competitors do all the hard work for you.
I wish more people were using this strategy because it's so easy. You can get a handful of high-quality backlinks in a few days' time.
There are so many people struggling with link building, and I feel their pain. I've been there. For a while, I wasn't driving any traffic at all.
This is the sort of strategy I wish I had used early on in my career. It's worth its weight in gold, and it helps you tackle a problem that's stumped more than one SEO.
If you've been looking for a white hat technique that will bolster your SEO, give this a try. I think you'll be pleasantly surprised at the results you get.
Try this out, and tell me how it works for you. Make sure you're tracking your money keywords because you'll probably start getting a lot more traffic!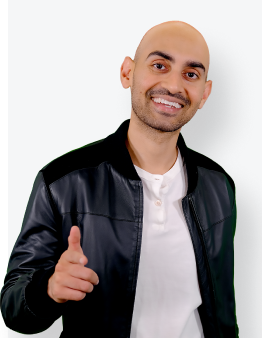 See How My Agency Can Drive More Traffic to Your Website
SEO - unlock more SEO traffic. See real results.
Content Marketing - our team creates epic content that will get shared, get links, and attract traffic.
Paid Media - effective paid strategies with clear ROI.
Are You Using Google Ads? Try Our FREE Ads Grader!
Stop wasting money and unlock the hidden potential of your advertising.
Discover the power of intentional advertising.
Reach your ideal target audience.
Maximize ad spend efficiency.