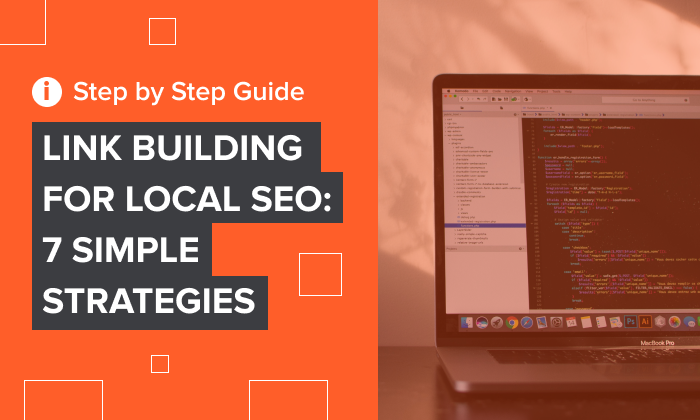 Consumers want to connect with local businesses.
According to Google, searches including "near me" are increasing by 500 percent year on year.
What's more, 81 percent of consumers used Google to search for information on local businesses in 2021.
What does this mean for digital marketers?
Well, if you're hoping to reach local consumers, then you need to ensure they can find your business online. You need to propel your content to the top of relevant local Google search rankings.
One way to do this is by embracing the power of link building, specifically, link building for local SEO.
Let me show you how local link building works, why it matters, and how you can start building your own link profile.
What Is Link Building for Local SEO?
Link building refers to the process of acquiring links from other websites back to your own. These links are known as "backlinks," "inbound links," or "incoming links," and they help to drive traffic to your website.
Now let's put the two concepts together.

Link building for local SEO is the process of acquiring backlinks from relevant local businesses. The goal of local link building is to boost visibility in organic local search results and draw more traffic from local customers who are more likely to purchase from you.
Why Link Building for Local SEO Matters
There are three major reasons local link building matters.
First, Google considers the number of backlinks you have when determining your page rank. The higher the number of quality backlinks you have, the better your chances of securing a page one ranking. Over 67.6 percent of clicks go to the first five organic search results!
Second, link building for local SEO helps you drive specific, highly targeted search engine traffic to your website. By targeting the right traffic, you're more likely to draw people who are serious about making a purchase.
Finally, link building for local SEO is a great way to build your brand's visibility organically. It takes, on average, seven brand impressions before someone takes action (the marketing "Rule of 7" as it's colloquially known). Better brand visibility helps you nurture prospects.
Link Building for Local SEO Strategies
Are you ready to get started on building your backlinks? Here are my top six strategies.
1. Get Links From Travel and Local Review Websites
According to research, 98 of consumers read online reviews about local businesses, and 85 percent of consumers are looking for a high star rating.
In other words, you need positive reviews, and you want them from websites that can help you with your local link building goals. For example, here's a rundown of nine great new restaurants in Kansas City:

Each listing includes a backlink and contact details: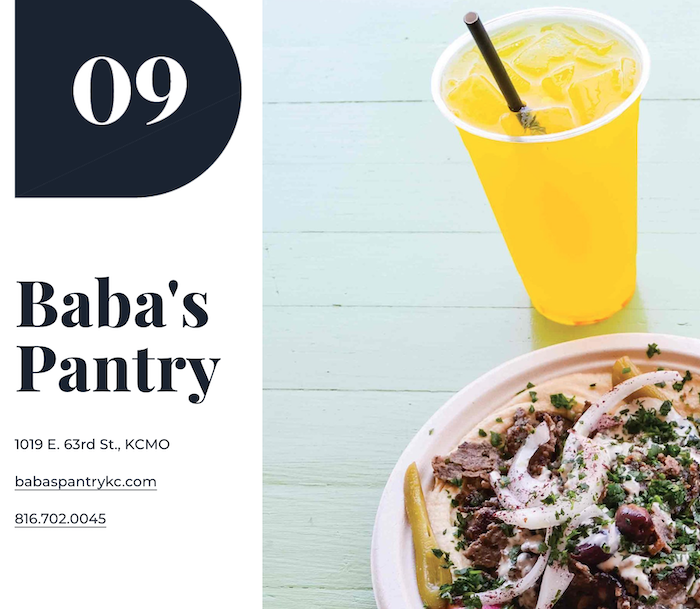 As another example, Visit Kansas City, a travel website, has listings of popular local restaurants: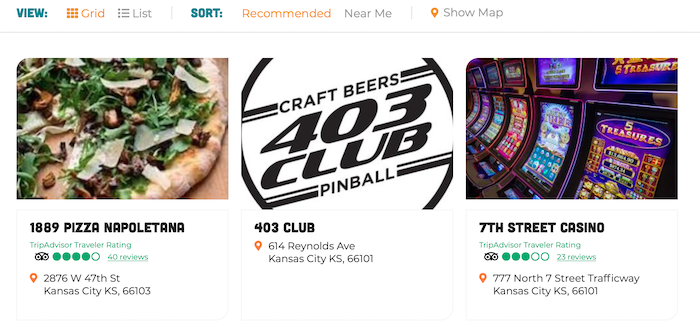 Want customer reviews like this? You need to encourage your existing customers to leave reviews.
Kansas City magazine reps visited restaurants based on existing customer reviews rather than accepting cold pitches.
Make it easy for customers to leave reviews on Google, Yelp, and other popular platforms.
Offer incentives, e.g., a kayak business might offer a discounted kayaking session for reviewers.
Highlight customer testimonials on your social media platforms—they make great User Generated Content, and often encourage others to leave their thoughts.
Link building for local SEO often means doing some manual outreach, so you can, of course, pitch local websites and see if they'll list your business.

Just make sure you send a professional pitch, include relevant business information, and provide links to any customer reviews (if available.)
2. Hold Special Events and Promotions to Get PR Links
Want to build your local presence and increase brand awareness, all while sourcing local link building opportunities?
Consider holding special events or campaigns.
If you need some event inspiration, you might:
sponsor a local sports team
host a charity fundraiser
run a workshop
hold a contest
Or, you could offer promotions like a free product demo or seasonal discounts. It all depends on what makes the most sense for your business model.
Once you've chosen an event or promotion, you need to advertise it.
Do some online research to find your local news outlets such as local papers, radio channels, Facebook community groups, etc.
Decide which outlets to target based on your consumer demographic. 96 percent of 18 to 25-year-olds and 87 percent of 55 to 66-year-olds check social media daily, so online platforms are a good place to start.
Draft a short press release. Include key events, details, and a URL for the backlink.
Don't forget to include keywords in your press release, too. Ubersuggest can help you find relevant keywords.
3. Get Listed in Local Business Directories
According to research, 94 percent of consumers have turned to a business directory at least once in the last year to learn more about a new company.
For local link building opportunities, target directories and get your company listed. Popular business directories include:
Bing
Facebook
Foursquare
Yelp
Want to find more local or niche directories? Google is your friend. For example, if you search "local small business directory Colorado," one of the top organic search results is Colorado Enterprise Fund's Small Business Directory:

When you're ready to pitch a local directory, follow their instructions closely. Set out your key details, like your website and opening times, and include a short description of your business.
Every detail helps a directory verify your business which could improve your chances of acceptance (and acquiring a backlink).
4. Create a Blog Covering Local Topics
Do you have a blog yet? If not, start one and focus on covering local topics. Sure, this step requires more effort on your part, but here's why blogging is worth it to build links for local SEO.
Blogging lets you showcase your knowledge and expertise, which increases consumer trust and, ultimately, encourages them to choose your brand over competitors.
According to a Demand Gen report, 60 percent of buyers read blog posts in the early stages of the purchase process.
Blog content is easy to share on social media. Over time, more shares mean more visibility for your brand which draws more traffic.
Once you're ready to start your local blog, here's how to get backlinks to your posts.
Backlinks begin with great content. Spend time researching what your audience wants and craft articles to meet their needs. If readers find your content useful, they'll link back to it.
Pitch your content to link roundups. Roundups highlight great new content in a specific niche, and since the authors are always looking for content to feature, there's a good chance they could offer a listing and backlink.
Highlight your posts on social media. The more people share your content, the more likely it is you'll reach bloggers looking for content to link to.
Be active on platforms like Twitter, LinkedIn, and Facebook. Build business relationships, establish yourself as a local expert, and you'll acquire backlinks naturally.
5. Use an SEO Tool Like Ubersuggest to Find and Target Competitor Backlinks
Why should you care where competitors get their backlinks?
It's simple.
These are the types of places likely to link back to you, too, so it's worth doing some competitor research to find websites to target for local link building opportunities.
Here's how to use Ubersuggest to target competitor backlinks if you're link building for local SEO.
Say you run a bakery in Denver. If we run a Google search, we can see one of the highest-ranking local bakeries is Azucar Bakery: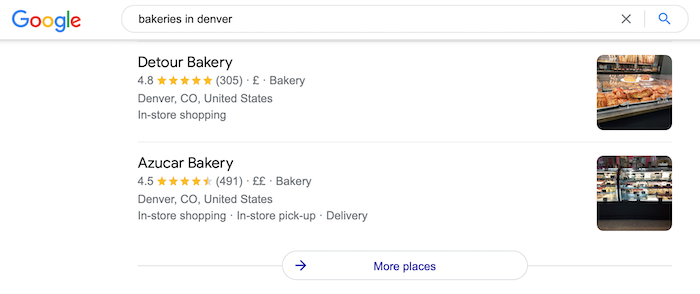 Enter their website domain into Ubersuggest and click "Search" to get started:

From the main screen, go to the left-hand column, scroll down to Backlinks, and click "Backlinks Overview":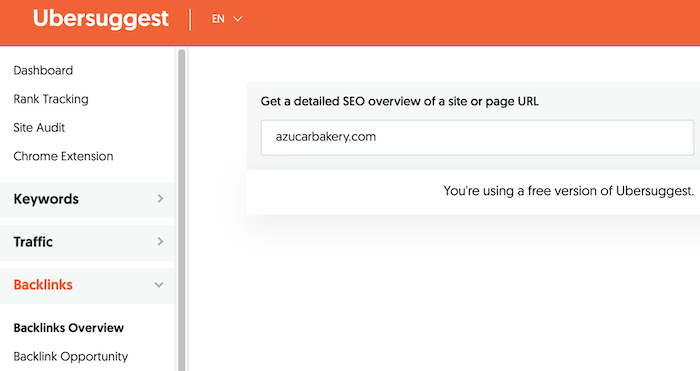 Enter the domain name again and hit "Search" to load the results:

On the next screen, scroll down to the "Backlinks" results. You'll see a list of the domains that link back to Azucar Bakery: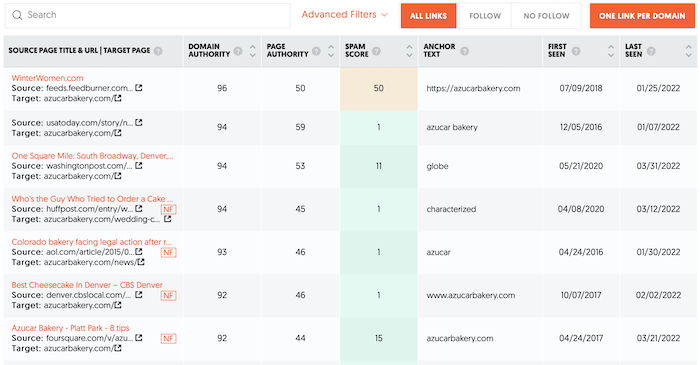 Once you know the type of websites linking to your competitors, you can target them yourself.
How you use these backlinks depends on your marketing strategy and business goals; in this case, you might make sure you're listed on Foursquare and also target websites for product reviews.
6. Find Unlinked Mentions of Your Brand and Ask for Links
Unlinked brand mentions can present golden opportunities to secure backlinks from high-quality, authoritative websites.
For one thing, it's easier to send outreach emails to the relevant contact if they already know your brand.
If they're discussing your products or services, then it's reasonable to think you might ask for a backlink, right?
There's no need to pursue every brand reference, though, especially if it's on a low-quality website that won't boost your rankings—so here's how you might find backlinks worth pursuing.
First, scan the internet for unlinked brand mentions. You can do this by using a tool such as BrandMentions:

Then, identify the relevant contact to send an outreach email. The contact could be the website owner or someone from the marketing department. You can usually find these details using tools like LinkedIn or social media such as Twitter.
Finally, send your outreach email. Compliment their company, and thank them for mentioning your brand. Politely explain why adding a backlink could benefit their company and consider offering them a link in return.
Don't neglect those unlinked brand mentions. Instead, seek them out, build relationships with other website owners, and convert them into useful backlinks.
7. Work To Get Mentioned By Local Publications and Bloggers
While PR campaigns are a good idea, you should also look to get noticed more organically by local publications and bloggers. You don't want every mention of your website to be linked to an event or publicity stunt. Instead, focus on building real connections with local bloggers.
You can also request to have your website added to local business roundups that may already exist on their blogs. These types of posts tend to be published and then not updated for years.
So seek out local round-ups that were published, but not updated, within the last 6 months or more and reach out. You really want to sell your website as a beneficial addition for readers, so don't be modest.
Are you hesitant to reach out?
Remember that local publishers and content creators are always looking to network with, you guessed it, local businesses.
Just reach out with the intention of benefiting both of your interests and the reception is likely to be positive.
8. Purchase Domains In Your Industry
Did you know that a whopping 70 percent of domains are not renewed after the first year?
That's a lot of opportunity for local businesses, like yours, to swoop in and buy relevant domain names in your industry.
You can purchase more than the domains, too. You can purchase the website outright from the owner. This is sometimes referred to as a domain name transfer agreement, or a website asset transfer agreement.
What's the difference?
When you buy a lapsed domain from a host like GoDaddy, the domain name can then be used by you to set up a new website. You can also set it up as a redirect to your established website.
When you buy a website from the owner, you typically purchase the domain as well as all content that currently exists on it.
While the price tag for a complete website takeover may be daunting, just consider the time and money you spend by inheriting all of this worthwhile content. Not to mention, you retain the domain authority and the content retains its publication date, which lends more credibility to the site.
So where do you start?
If you have a domain in mind, head over to Whois.com and enter the domain in the top right search bar:

You can usually find the contact information for the owner via the records that come up. That is, unless, the domain information is protected, like this: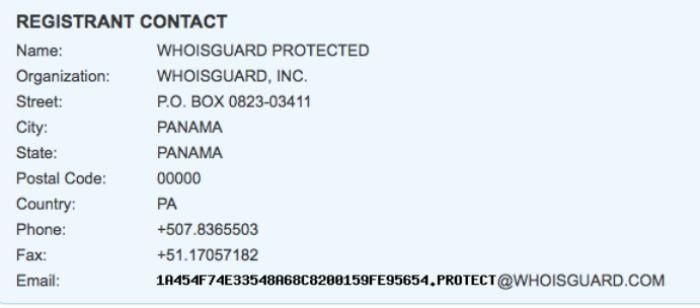 In that case, find a contact form on the website and reach out. It never hurts to ask!
9. Don't Forget About Internal Links
Internal linking should be a part of your content strategy already. After all, it's an opportunity to serve up more relevant content to your readers.
The longer time spent on your website, the more engagement.
Internal linking can also be a good strategy for local link building. How so?
Your website is considered local content. So, while internal links won't count as backlinks, they will still count as local links to your content.
The benefits of internal linking don't stop there.
Internal links help Google to understand the structure of your website, including the relationship between pages and their relevance. By linking to posts internally, you're ensuring Google can find and rank all relevant content. This will serve you well when it comes to ranking for local search results.
Take this example from our blog post on prioritizing SEO: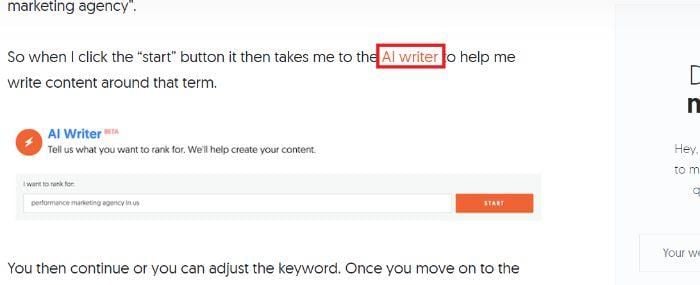 The phrase "AI writer" is hyperlinked to our blog post on, you guessed it, the Ubersuggest AI writer feature. This lets Google know that we think that article is 1) related to this topic; and 2) important enough to highlight.
Internal links can also help you to establish value for a new blog post without significant work. You're essentially lending value from one (or more) blog posts to another. This is known as the "flow of link value."
So, while internal links shouldn't be your first line effort for link building for local SEO, they should be included in your overall strategy.
Link Building for Local SEO Frequently Asked Questions
How important are links for local SEO?
Links are hugely important for local SEO because they help to boost your local search ranking. With a higher ranking, you're more visible in search results, and customers are more likely to visit your page.
Should I use an agency for help with my local SEO link building strategy?
You might find a digital marketing agency partnership helpful if you lack the time or resources to dedicate to marketing, but it's absolutely possible to create your own strategy by following the tips I've outlined above.
How can I get reviewed by local publications to get backlinks for my business?
Link building for local SEO means liaising with local businesses. You could contact local publications directly, host an event and invite their representatives, sponsor a contest, or even reach out to and sponsor local influencers. It all depends on your marketing budget and what's most likely to appeal to your target audience.
Is a blog a good way to build local SEO backlinks?
Yes! Blogging is a great way to build links naturally in the long term, so prioritize writing useful, engaging content on a regular basis. Don't forget to optimize your articles for local keywords.
Conclusion
Local link building is a great way to improve your SEO, boost search engine visibility, and draw relevant traffic to your website.
You won't see results overnight, no, but you should consider link building as a key part of your longer-term marketing strategy.
While you don't need to try all the tips I've suggested, start with the strategies that make the most sense for your business and, in the meantime, focus on producing regular, high-quality blog content to build your brand's trustworthiness.
If you need any extra help with link building for local SEO, check out my consulting services to see how I can help you boost your local rankings.
Have you tried any of these local link building strategies? How are they working out for you? Let me know below!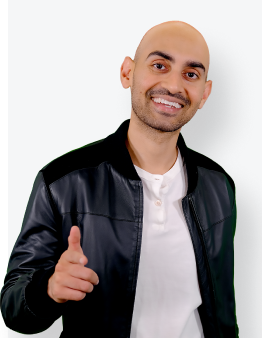 See How My Agency Can Drive More Traffic to Your Website
SEO - unlock more SEO traffic. See real results.
Content Marketing - our team creates epic content that will get shared, get links, and attract traffic.
Paid Media - effective paid strategies with clear ROI.
Are You Using Google Ads? Try Our FREE Ads Grader!
Stop wasting money and unlock the hidden potential of your advertising.
Discover the power of intentional advertising.
Reach your ideal target audience.
Maximize ad spend efficiency.