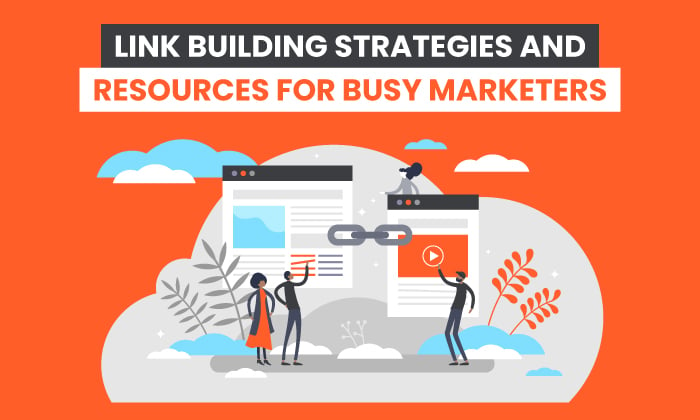 In the past, link building focused on quantity, not quality.
Today? Link building is a different ball game.
If you're building a link building strategy, it's important to know that it won't be instant. It's a gradual process—at least, if you do it right.
That said, Brian Dean of Backlinko.com was able to grow search traffic by 110 percent via a link building strategy known as the "skyscraper technique."
The pages where you build links, specifically the quality and authority of those pages, play a key role in determining how high you'll rank in search engine results.
Blogging is an obvious way to get backlinks to your website. However, there are plenty of other proven ways to build the best links and raise your ranking in the SERPs.
This blog post will show you 13 fool-proof link building strategies you can put to work today. They're especially helpful for busy marketers who have a lot on their plate and want to stay mindful of their standing with search engines.
What Is a Link Building Strategy?
Link building strategies refer to the techniques marketers and SEOs use to get other websites to link back to their own.
For example, if you run an e-commerce site that sells camping gear, you could write a blog post about camping safety precautions. Other websites that discuss safety issues may then link to your blog post so their users can find more information on the topic.
Why are Link Building Strategies so Important?
Link building is important for search engine optimization (SEO). It's one of the major factors search engines use to determine rankings, meaning who gets the first-page search result.
In fact, pages in the top spot in the Google SERPs have an average of 3.8 times more backlinks than the pages in spots 2-10.
When deciding how to rank your website, Google, Bing, Yahoo, and other search engines look at how many links lead to your site (and the quality of those links).
The more high-quality, trustworthy, and authoritative sites linking to you, the higher your blog posts and sales pages will appear on search result pages.
Beyond that, links to your website help users find your site and can increase traffic and trust. After all, users are more likely to trust you if other sites think you know what you are talking about.
13 Link Building Strategies for Marketers
In a 2020 survey taken by more than 800 professional SEOs, nearly 40 percent of respondents said they spent over $1000 per month on link building.
But what strategies, specifically, should you invest in? And how do you get high-quality links from other websites? By following my link-building strategies.
These are the strategies I've used over the last ten years to build up Neil Patel Digital and become an authority in the digital marketing space.
Experiment and find a strategy or strategies that work best for you and your business.
1. Use Strategic Guest Blogging
Is guest blogging dead? Yes and no.
The old way of mass guest blogging just for links is dead. You don't want to post an article on a site that's not relevant to your niche and has zero authority just to get a backlink.
That style of guest blogging won't cut it. The search engines are smart and can see you're not guest blogging to add value.
However, in a 2021 survey, 60 percent of the bloggers who responded said they write between 1 and 5 guest posts a month.
If you want to reap the rewards of guest blogging, you need to be strategic and authentic. Make sure you're creating a unique piece of content for the other site (for example, a case study) and that the site is relevant, authoritative, and attracts your audience.
When you guest blog selectively, you'll reap the rewards of higher rankings, increased traffic, and qualified leads.
2. Create and Distribute Infographics
56 percent of companies use infographics, and 84 percent of those who use them find them to be effective. That's because infographics still work today and can play a vital role in your link building strategy.
The good thing about infographics is you'll continually generate organic traffic to your blog and earn quality links without even asking for them.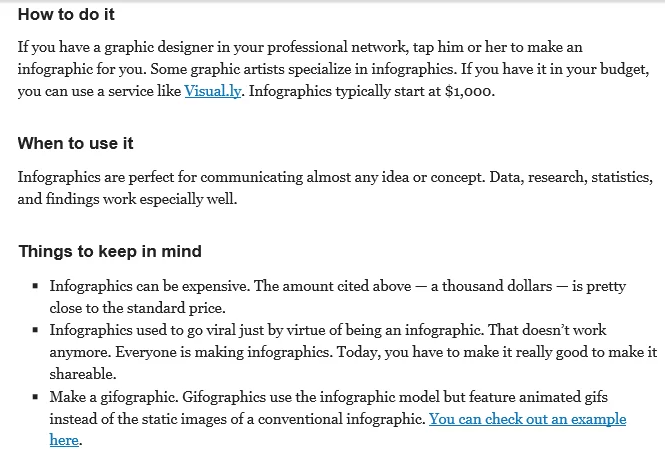 If you're ready to create and promote your infographic, see the links below:
3. Get Active on Social Media
Ahrefs recently completed a link building case study. They got links from five different states for which they hadn't done any outreach due to their social media efforts.
Social media networks have revolutionized marketing and can be a huge boon for your link building plan and guest post efforts. If you're not active on social media, then you're doing your brand a disservice.
Become active by sharing new posts, images, and updates. Help your fans find what they want to see by sharing it in more places using social media.
When you get active on social media, you can easily boost engagement, even if you're new to it. Consequently, you'll expose your brand and site to more people who could share your best posts with their target audience.
This will improve your link profile and bolster your visibility overall.
See also:
4. Use Resource Links From Trusted Sites
It's time to start using resource links from trusted sites. A resource is like a guide that you create or compile for your target audience.
Some authority sites and blogs like Forbes, Entrepreneur, Huffington Post, Jeff Bullas, Social Media Examiner, and Copyblogger have resource pages that you could tap into as you're creating yours.
If a leading site in your niche has compiled a list of blogs in your industry, their visitors can more easily find what they're looking for.
Here's an example from Copyblogger.
If you can create an even bigger resource article than the one above, you'll get more backlinks. You can expand yours to 25, 50, or more.
Here are some fresh headline ideas that you can model for your resource:
25 Copywriting Blogs That Will Make You More Money
50 Copywriting Blogs You Didn't Know Existed
27 Copywriting and Content Marketing Blogs That Will Send You Free Traffic
This kind of resource can be a great tool for a marketing team. After it's written, get links through email outreach. Send a simple email to all of the people whose blogs you included.
I once sent emails to 30 bloggers whom I referenced in my resource post. Twelve of them linked to my resource page within ten days, and I got lots of social love.
Email outreach tends to work better than the typical broken link or link request email because you've linked to them first.
You've established a certain level of trust, and you've shown some appreciation to them as well. They'll be more inclined to reciprocate your generosity by linking to your web page.
5. Leverage the Broken Links Strategy
According to a Semrush study, 42.5 percent of websites have broken links. You can capitalize on this with the broken link strategy.
The broken link strategy may be the best way to go if you're too busy to write content for your blog or a guest post.
As a busy marketer, I know you've got limited time to write content. That's one reason why a large number of B2C content marketers struggle to create engaging content for their customers.
How does broken link building work?
This link building strategy is simple: Find pages on blogs with dead links (links that no longer work) and suggest replacing the broken link with a link to similar content on your own site.
If I linked to a particular web page from my Neil Patel blog and found the links to be dead, I could easily replace it with another relevant and high-value resource. If that high-value page belongs to you, that's both search engine optimization juice and a valuable link.
There are several in-depth guides to help you understand the concept of broken link building and how to get it right the first time. You'll find these resources really helpful:
6. Grow Your Personal Brand
One of the top link building strategies is growing your brand. Your brand evolves from your thoughts, then begins to express itself externally.
When it comes to link building that works, recognize that people will naturally link to you as your personal brand grows.
What do I mean by that? Let's pause for a moment here.
While different definitions might circle through the marketing world, a natural link is a link that's a) editorially earned, and b) organic in the context it appears.
It's not part of a sponsorship or paid in any way. Often, a natural link gives credit where credit's due, and it's something every pro blogger should be after.
I've watched how powerful a natural link can be. Whenever I publish a new blog post, within 24 hours, I usually see new links from authority blogs.
Earning that comes back to the quality of your content and your brand. In a sense, your brand represents you. My definition of a brand is "your representative when you're not there."
I've been marketing online for over a decade. Throughout this time, one of the most effective strategies I used to grow my personal brand was consistent blogging. When you blog consistently, you get more attention.
If link building is part of your strategy, get serious about blogging. You'll get 97 percent more inbound links, and that will also improve your search engine rankings.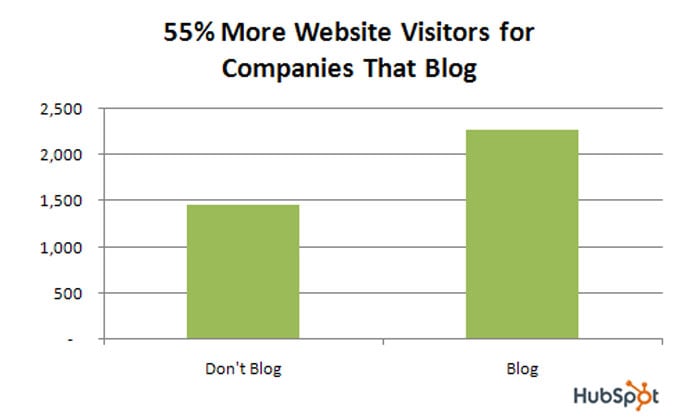 7. Check Competitors' Backlinks
If your competitors are ranking higher than you in the search engines, they may be on the right track. You can be there, too.
There's nothing as powerful as spying on your competitors to know where their links are coming from.
Spying on your competitors helps you see what keywords they're ranking for, where their best links are coming from, and what they're currently doing that helps them succeed is called "competitive analysis."
So how do you check your competitor's backlinks?
Follow these steps:
Step 1: Go to Ubersuggest and type in your competitor's domain into the search bar.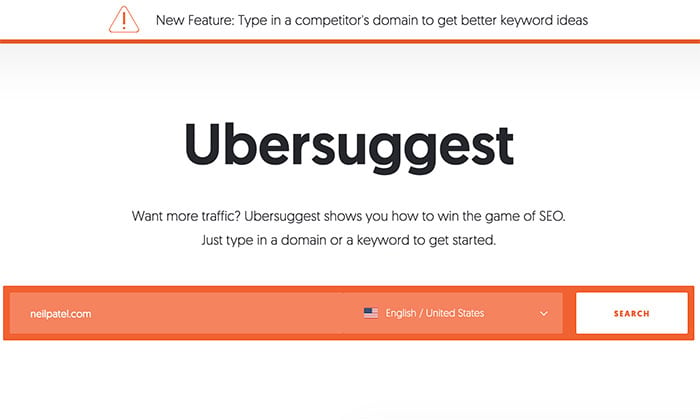 Step 2: On the results page, click on the backlinks box.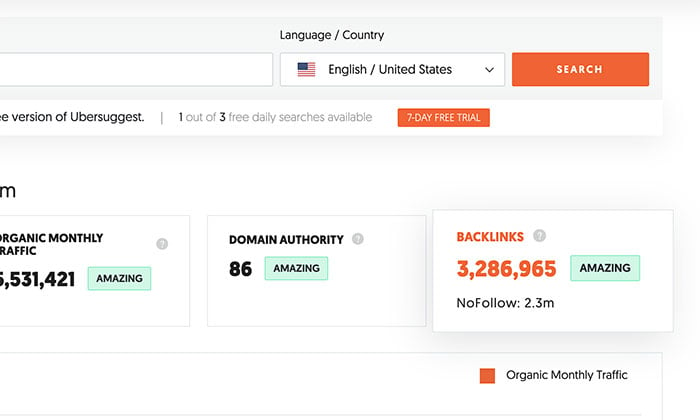 Step 3: Scroll down to see a list of sites linking to your competitor.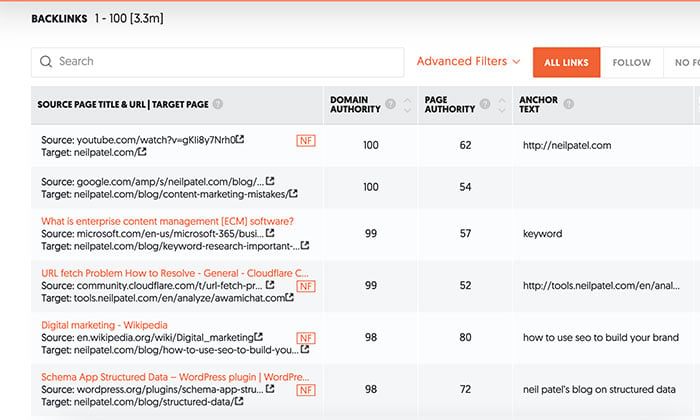 When you know which sites your competitors are generating their backlinks from, you've won half the battle—now you can focus on sites that are yielding results instead of reinventing the wheel.
8. Replicate Your Competitor's Best Links
Now that you know where your competitors got their links, you need to answer the next question: How can you replicate their success?
For example, if you find several links are from related blogs, especially on the author profile, it's obvious that guest blogging is working for them.
If their links are from corporate sites, your competitors are probably getting links through outreach and networking.
On the other hand, if their links are from high-value sites such as Entrepreneur, Forbes, CNN, Huffington Post, and the like, then you should know that a columnist or editor is likely involved, and this might be a paid placement.
Use Ubersuggest to help you focus on the links with a high domain and page authority. You want natural links from websites that Google (and the rest of your industry) already view as a thought leader.
9. Create Link Building Roundups
Recently, a blogger got over 20,000 page views in six days with his first roundup post.
If you want the right links, you've got to give first. Don't be selfish with your posts by linking to your internal pages only. Learn to link out to other useful blog posts.
Link roundups are a powerful method of networking and a great link building strategy. All you need to do is create a list of blog posts from other bloggers.
How do you create link roundups?
First, find blog posts that are relevant to your topic. For example, if you want to compile a list of 50 blogs that deal with headline writing, you'd simply go to Google and try this search string:
intitle: roundup "YOUR KEYWORD"
You also want to pay attention to your traffic and current link profile. More blogs in your industry may be linking to your posts. When writing your roundup posts, start with the blogs that have sent you traffic.
Remember when you do a roundup post, don't link solely to your internal pages. Site owners may not be inspired to link back to you because you didn't use the principle of reciprocity.
Link to their posts, and they'll be more likely to reciprocate by linking to your resource page.
10. Keep Track of Your Backlinks
Most people spend time and money to get new links, but they don't track their status.
If you don't track your backlinks, how will you know whether to build more or pause? You may have over 800 links pointing to your web pages right now, but when you check it after 30 to 60 days, some of the links might be gone.
Why?
You don't have control over the blogs and authority sites that link to you. The site owners can easily remove your link from their post or resource page without notifying you.
This is why it's important to monitor your backlinks.
If you're not sure of the number of backlinks your site currently has, here's how to find out.
Step 1: Visit Ubersuggest, type in your site's URL, and click on "search."
Step 2: Click on the backlinks box.
Step 3: Scroll down, and you'll see a graph detailing links you've gained and lost.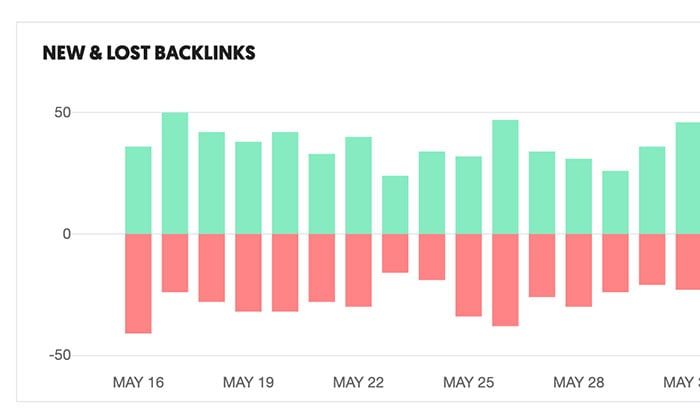 Besides seeing who is linking to you, the backlinks tool also shows each site's anchor text, DA, and page authority.
There's also a graph showing your backlinks over time. This is useful to see if your link building strategies are paying off or if it's time to try something new.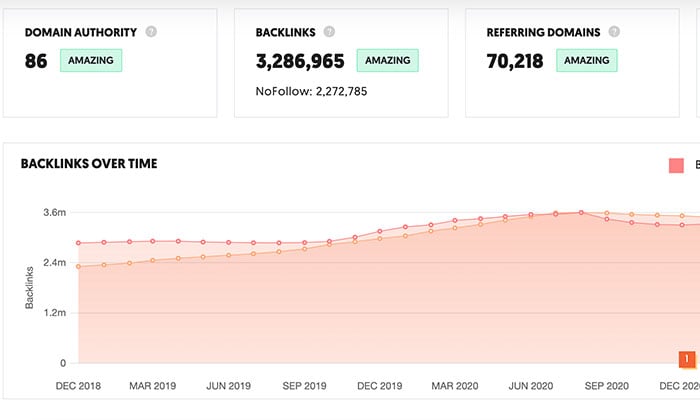 11. Establish Content Pillars
If you want people to take your content seriously, then you've got to write things that make people think. Create useful content, content that actually helps them do something, and the links will follow.
Content is the lifeblood of your online business. Whether you're selling information products, like e-books or software, or you're into physical products, like digital cameras and hard copy books, you've got to give people a reason to publicize you.
The challenge of creating content is frequency.
How often should you publish new content for your target audience?
Constantly bombarding them with one blog post after another may not be helpful, as it generally leads to information overload.
The real challenge is when and how often you need to publish new content for your prospects and customers. Some customers don't mind if you posted daily, but it seems like a boatload of work to others.
This leaves you with two options:
ask your customers questions
create pillar content once in a while
You'll likely get different responses from your email subscribers, blog readers, prospects, and customers if you follow the first option. This ends up complicating things.
The second option is a lot better. Instead of regularly creating and publishing new content, you can save yourself the hassle and create pillar content regularly.
What is pillar content?
According to Yaro Starak it is:
"A pillar article is usually a tutorial style article aimed to teach your audience something. Generally they are longer than 500 words and have lots of very practical tips or advice…This style of article has long term appeal, stays current (it isn't news or time dependent) and offers real value and insight."
When you start creating pillar content, you'll no longer struggle to write and publish new posts every day of the week, yet your traffic will grow.
Instead, you'll bring in traffic from users and other sites that are interested in the valuable content you've created.
If you want to increase conversion rate, generate organic and referral traffic and improve your search rankings, spend more time creating pillar content. It's a great way to improve your link profile.
You could format your content pillar using the "how-to" style, as in this example from Yaro Starak: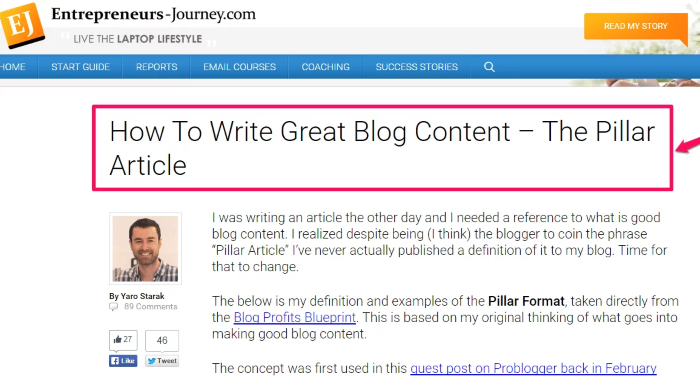 Alternatively, you could make your post a top list, like this one from Wordtracker.com: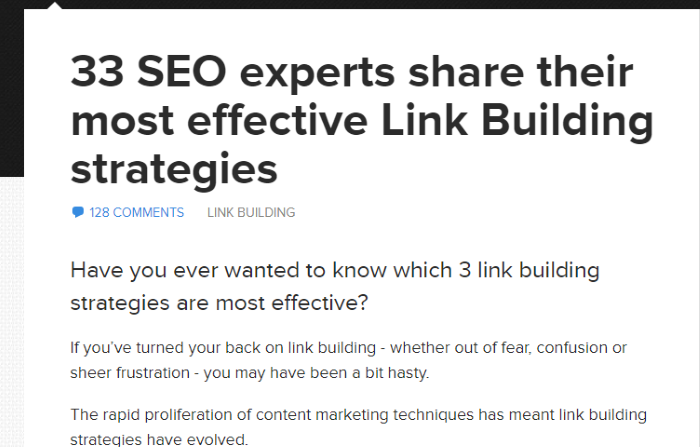 12. Reclaim Links Through Social Mentions
Over 2 percent of external links across the internet are broken, according to Semrush.
Link reclamation is a popular topic in search engine optimization and the social media world. You can reclaim broken 404 links and name drops that don't link to your blog.
Check your Google Analytics for 404 pages that people link to, then point them to another active and relevant page while you fix the 404 pages.
Alternatively, you could just go ahead and fix your broken page to reclaim your links.
However, we're particularly concerned about link reclamation through social mentions.
If you've been monitoring your brand and social media mentions using Google Alerts and not taking advantage of those mentions, then you've been making a mistake.
When you publish infographics with an attribution code below the graphic, your goal is to get people to embed the code on their blogs and link back to you.
How many of these people use your code or link back to the primary source?
I design and promote lots of helpful infographics. A lot of sites may decide to publish my infographics for their readers to enjoy.
They're supposed to credit my blog, but what if they saved the graphic and just uploaded it to their blog post? How do I reclaim what rightfully belongs to me, the link?
Follow these simple steps:
Step 1: Use Google Images Search. Do a keyword search for the complete title of your infographic.
Step 2: Click your infographic and visit the page. Check whether your link is attributed correctly or not.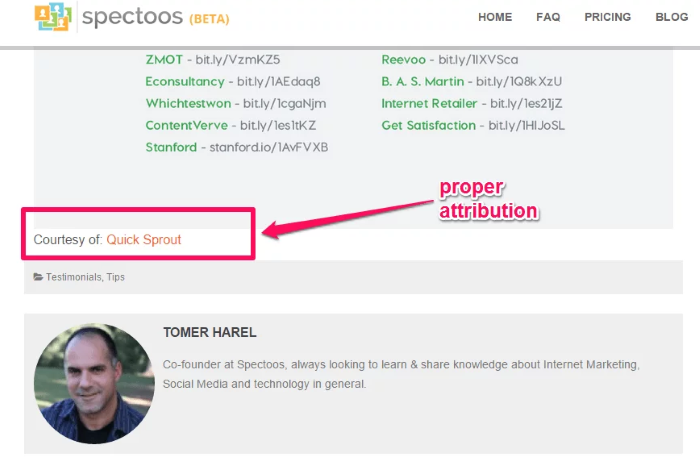 You can see that Tomer Harel linked to my infographic page on QuickSprout.
Beyond infographics, you may want to know who is mentioning your blog URL. You can ask for the link once you discover that your name or URL was mentioned but not linked to your web page.
13. Earn Editorial Links
Editorial links don't happen by chance. You create them by providing value. This is what Google has been after since the first Google Panda, Penguin, Hummingbird, and Mobile-geddon updates.
Editorial links are the most valuable and sought-after links because they're freely given by sites that aren't looking for anything in return.
The nature of editorial links is this: your content must be compelling before people link to it.
If all of your links are acquired or built manually, you'll struggle to retain all of them, and Google may penalize you because you can't be that careful all of the time. To avoid wasting time and effort, why not focus on producing great content?
Yes, I know that I've said it over 50 times in the past 30 days, but if it weren't important, I'd have ignored it. I create high-quality content every day, and thousands of people link to it. My link profile thanks me for it.
To earn editorial links, you can start blogging with a strategy. Write content that will help people move from Point A to Point B. Create more tutorials and pillar content and make sure that you include accurate data in all of your content.
Read this guide on how to create better content that will earn you editorial links.
Link Building FAQs
Is link building dead?
No. It's changed from focusing on the number of backlinks to the quality of backlinks.
What is a link building strategy?
The practice of gaining links back to your website to improve your authority and search engine rankings. Common link building strategies include creating infographics and guest posting.
Do I need permission to backlink to another site?
No, you do not need permission to link to another site.
What's the most common link building strategy?
Guest blogging is one of the most popular link building strategies. It's all about creating quality content people want to link back to.
What's the best way to find the authority of a website that gives you a backlink?
Use a tool like Ubersuggest to find the Domain Authority for websites that give you backlinks.
Conclusion: Link Building Strategies
Your website's link profile is one of the most crucial factors for ranking in search engine results. Remember, Google doesn't care so much about how many links point to your pages, but rather about the experience you create for users.
Be smart and strategic about blogging, social media marketing, search engine optimization, and any other marketing techniques you use to build links.
Your real challenge isn't link building, but earning quality, trusted, and natural links. That's because it's no longer about the number of links—it's the quality that matters.
Follow these fool-proof link building strategies, and you'll be on your way to building a successful blog that both users and Google will love.
Which of these link building best practices have you used?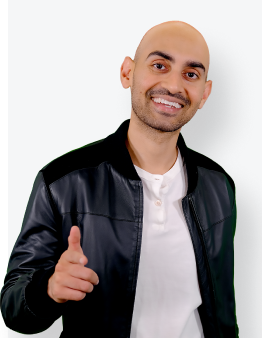 See How My Agency Can Drive More Traffic to Your Website
SEO - unlock more SEO traffic. See real results.
Content Marketing - our team creates epic content that will get shared, get links, and attract traffic.
Paid Media - effective paid strategies with clear ROI.
Are You Using Google Ads? Try Our FREE Ads Grader!
Stop wasting money and unlock the hidden potential of your advertising.
Discover the power of intentional advertising.
Reach your ideal target audience.
Maximize ad spend efficiency.