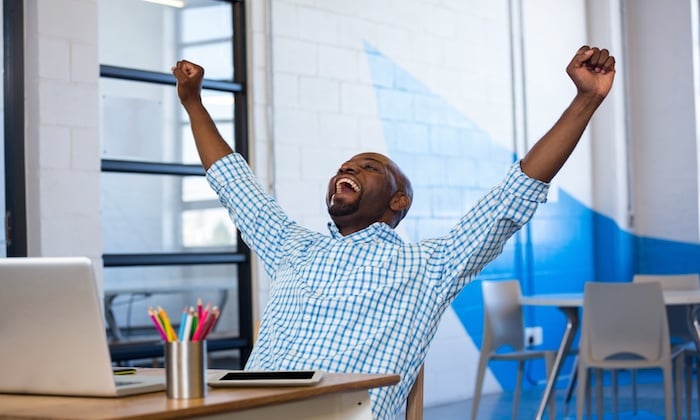 Have you ever heard the phrase "a craftsman is only as good as his tools?"
No matter what your opinion is on the actual validity of that phrase, there's no denying that we require tools to do our work.
Whether that's powerful analytical capabilities or simple methods that optimize your time, your tools often make or break your ability to be a good marketer.
Which is why I love to share online tools that help businesses achieve their goals.
And every now and then, new tools come to my attention that I think are worthy of being shared.
This is one such moment.
I want to share some of the best extensions that you can add to your Chrome web browser.
These tools will help you focus, find new customers, and make informed decisions about your marketing strategies.
All of them have served me well at various times, and I think you'll like them too.
But first, I want to make a case for why you should be using Google Chrome in the first place.
The case for Chrome
I know that there are plenty of browsers out there.
Just to name a few: Safari, Mozilla Firefox, and Microsoft Edge.
Whichever one you use, I highly recommend you take a closer look at Google Chrome.
Why? Because it's considered by many to be the best browser available, and with good reason.
Like most other browsers, it is free to use.
But it's also strikingly fast, integrates with any smartphone, carries your email, analytics, and so much more in one place.
And more importantly for our purposes, it allows you to download as many extensions as are useful to you.
Don't just take my word for it though.
Studies have shown that it's by far the most widely-used browser available.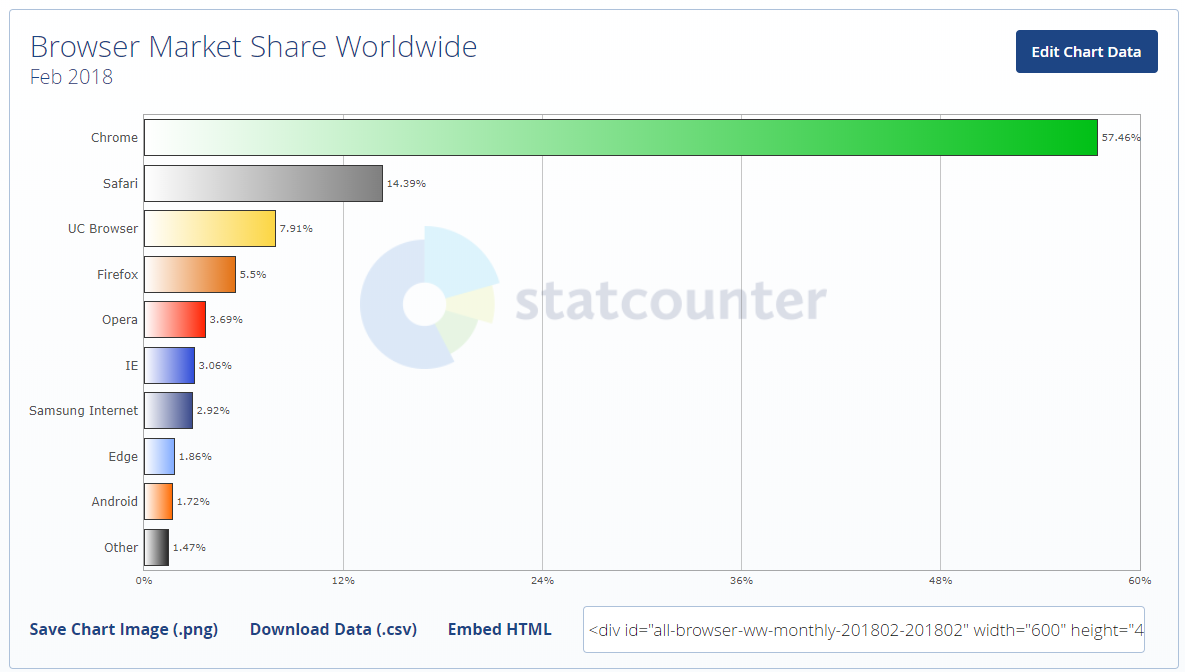 Going with the crowd isn't always the best idea, but a 43% gap in usage should at least turn your head in this case.
At the very least, I recommend trying it out.
But let's talk more about extensions. That's what we're here for after all.
Extensions are simple tools that are designed to increase the functionality of your browser while you use it.
For example, the popular extension HTTPS Everywhere changes unsecured HTTP sites into encrypted HTTPS sites automatically when it's installed.
That means your browsing and information will be more secure without you even having to think about it.
And extensions are incredibly easy to install too.
All you have to do is go to Chrome Web Store and find the extension you want.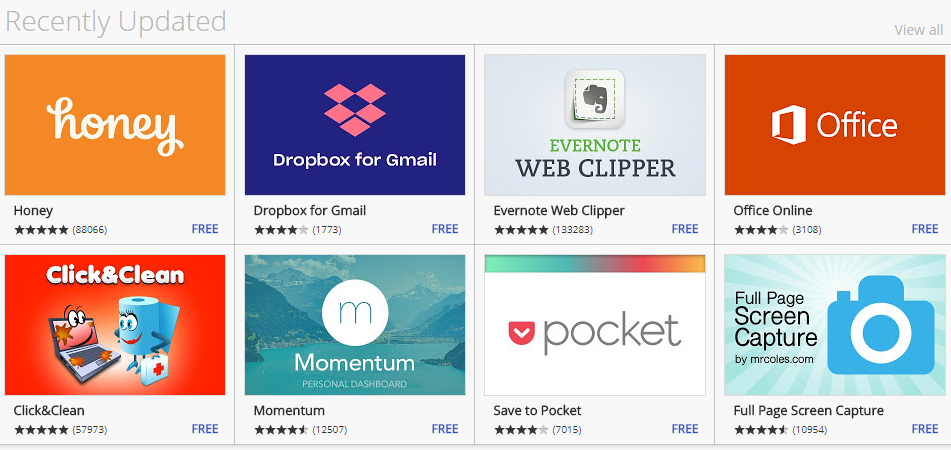 There are thousands to choose from and each one promises a unique and helpful experience.
Of course, how many you use is completely up to you.
Once you find the right extension, all you have to do is click on it, and add it to your Chrome browser.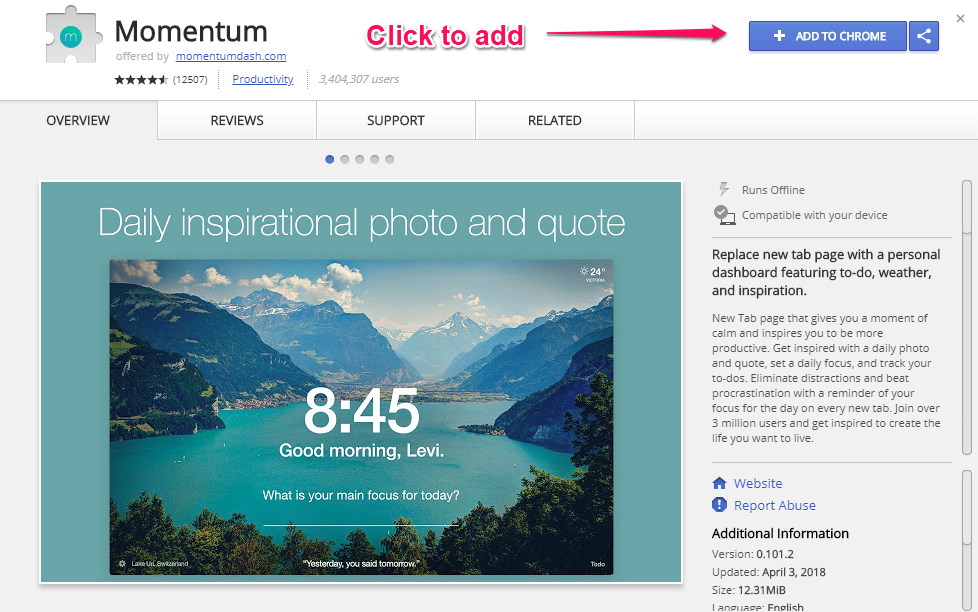 All in all, the process is mind-bogglingly simple, which is one of the reasons why I love Chrome so much.
And don't worry about test driving an extension you might not like because it's also easy to remove them from your browser.
Just left-click the icon for the extension, and select "Remove from Chrome."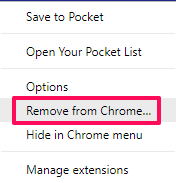 So all things considered, you have nothing to lose when trying out these tools I'm about to share.
And I think you can find one that can help you be a better marketer.
To start you off, I want to give you a tool that can help you be a better writer in every facet of your life.
Tool #1: Grammarly
Grammarly is a tool that's designed to help you edit and improve your writing without the added homework you may have had in high school.
This tool automatically checks every aspect of your writing, including grammar, spelling, and other common issues.
Their normal platform requires you to either write or copy/paste your words into their own editor.
Then, you're given advice on elements you can change.
But the extension for Chrome acts as a longer arm, reaching into some of the sites you use on a daily basis and giving you advice instantly inside your email or blog post as you write it.
Here's a quick breakdown of how their extension works:
Wouldn't you want an extra pair of eyes on that very important email you're about to send to a client?
It's a no-brainer, really. If you can mitigate errors that might impact your reputation, you absolutely need to look into Grammarly.
So the value here is pretty clear, but what about the functionality?
When I downloaded their extension, I decided to test it out in Gmail.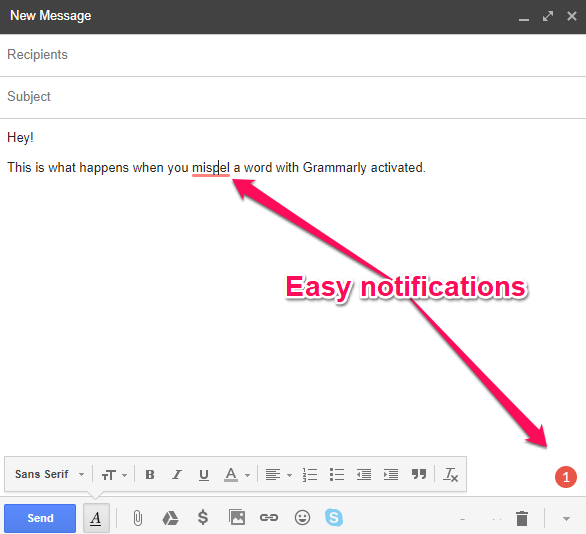 Just like their advertising promised, my purposefully-placed error created a red notification that warned me not to hit send.
To make sure that nothing else was wrong, I also noticed that you can expand the tool inside of whatever page you're using.
When I did that, I noticed Grammarly had flagged another part of my sentence.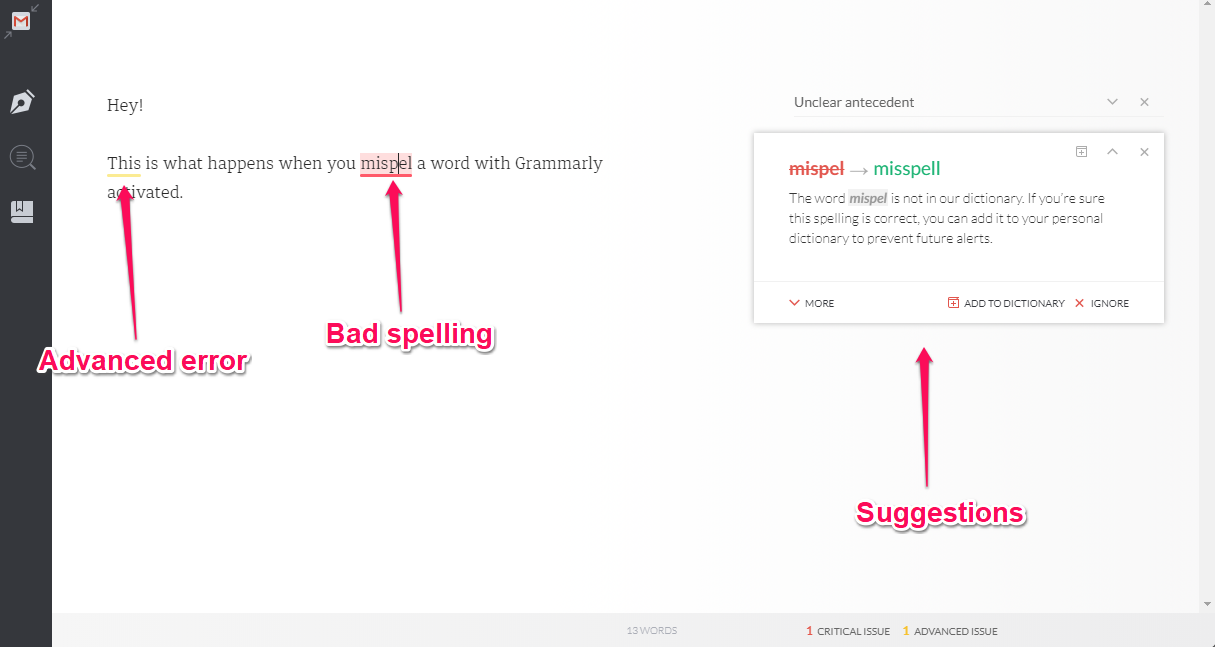 The added flag was for an "unclear antecedent," which means my audience might not know what the word "this" is referencing.
They also provided a quick correction for my blatant misspelling.
I was able to correct both of these errors quickly and then my example "email" was ready to send.
And while this took me a few extra seconds, I like the fact that I can send messages or social posts that are verifiably error-free.
The applications for this tool are limitless for marketers, so go check it out.
Tool #2: Hashtest
I've said before that you don't always need to use hashtags.
However, there are still times when a hashtag is necessary.
On Instagram, hashtags help users see more photos they might be interested in.
So in the instances when you do need hashtags, I recommend making sure that the ones you use are going to provide value.
That's where Hashtest comes in.
This tool will automatically test the quality of the hashtags you're considering in real-time.
So when you're about to create and share a post, this is a great tool to help you see which hashtags are performing best.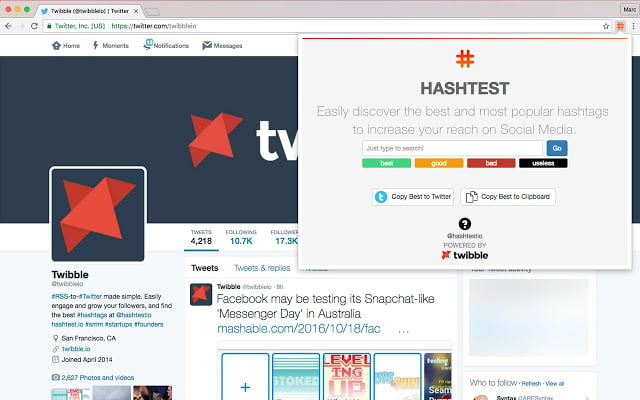 Since it sits conveniently in the upper corner of your screen, it's simple to use.
It even lets you copy your best results to your clipboard, which means the entire process should take only a few sections.
I also really like how they color code your results, like in this example: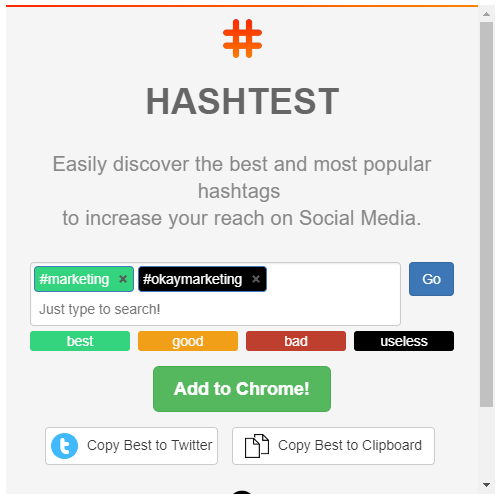 Clearly, in this case, the #marketing option is better according to their scale.
So while you might not use this tool frequently, it's still a good one to have around when you need it.
Tool #3: LinkedIn Sales Navigator
LinkedIn is a great way to boost sales for B2B players.
And finding a way to expand the usefulness of LinkedIn only makes it that much better.
That's why the LinkedIn Sales Navigator extension made the cut.
What it does is provide a detailed info bank for your Gmail contacts.
While that doesn't sound like much, it actually makes it easier for you to keep messages relevant without having to dig back into your inbox filled with five thousand emails.
All of the information you need is given to you in the sidebar of your Gmail account, much like this: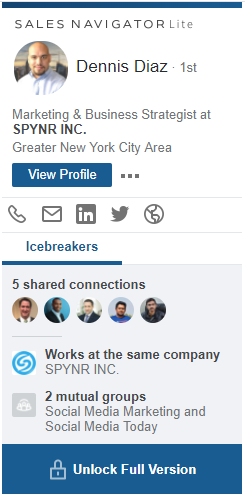 This profile gives a name, company, and even links to social media.
And even more usefully, you'll find a short list of icebreakers, like connections you share on LinkedIn or any mutual groups you might be involved in.
This information can help you cater your message to your target and heighten your chances of starting a valuable conversation.
What's more, this is just the lite version of the extension.
Upgrading to the premium service offers more custom features like networking and lead saving directly to your Gmail.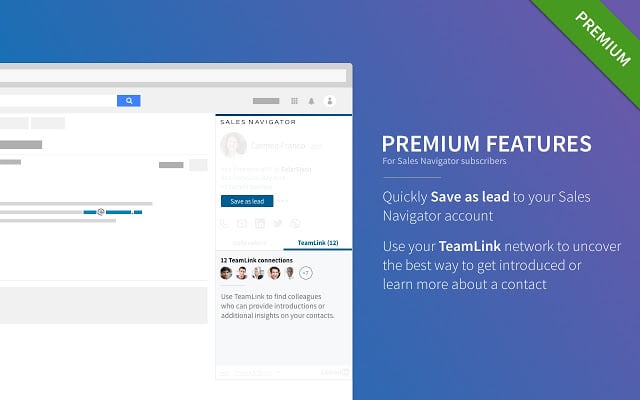 So if you use LinkedIn Sales Navigator, I highly recommend checking this tool out.
At the very least, you'll be able to keep your messages on target and stimulate some good conversation.
And if you really like the functionality, you can get more by upgrading.
At the end of the day, you'll be a better marketer and a stronger asset to your team.
Tool #4: SEMRush
SEMRush is a helpful tool for all marketers to take a look at.
The entire platform is designed to give you a quick breakdown of your site's search traffic and performance on Google.
Here's an example of some of the information they have to offer: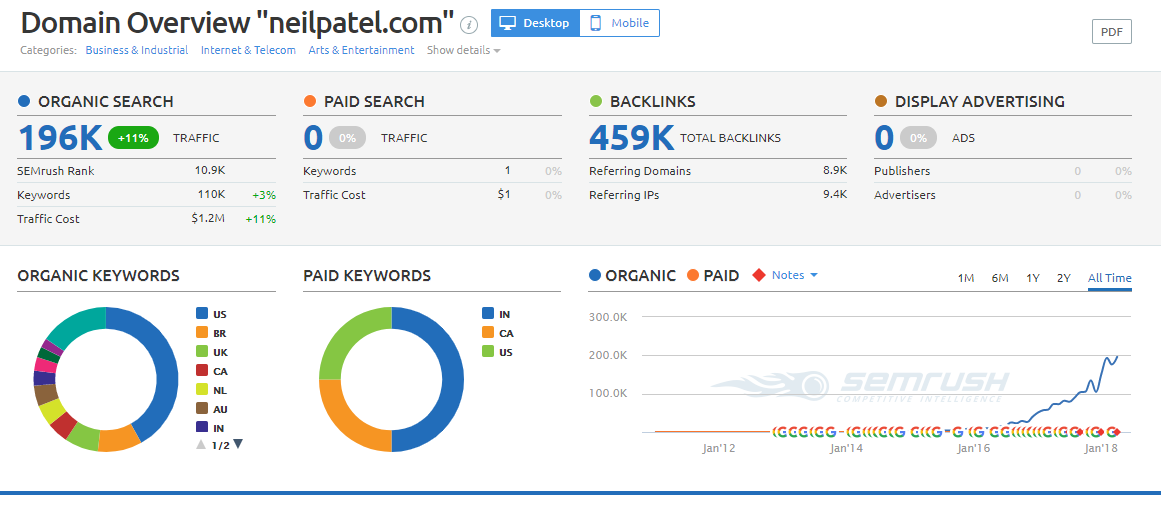 You can see organic search, paid search, backlinks, and tons of other helpful information about your site.
And the extensions only add extra functionality to this already useful tool.
In fact, you actually get a two-for-one deal here.
Because there are two extensions you can use to get quick info on your site or a competitor's.
The first is called SEMRush Page Rank, and it's pretty simple.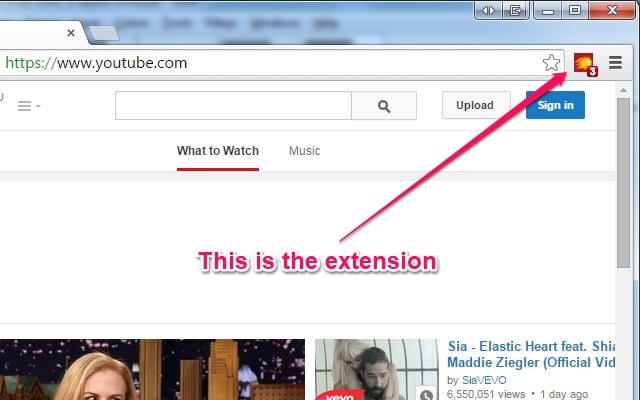 It's just one little button at the top of your screen.
But the real value is in the number it displays.
That number, which looks like a normal notification, is actually telling you how high the page is ranked according to SEMRush's algorithms.
Which means instead of opening SEMRush, typing in the URL, and then finding that info on your own, you get a quick readout of the authority and status of the page.
It saves you time and gives you helpful information at a glance.
But just like I promised, that's not all for SEMRush.
You can also use the Open in SEMRush tool to quickly bring up a full rundown of the page you're on.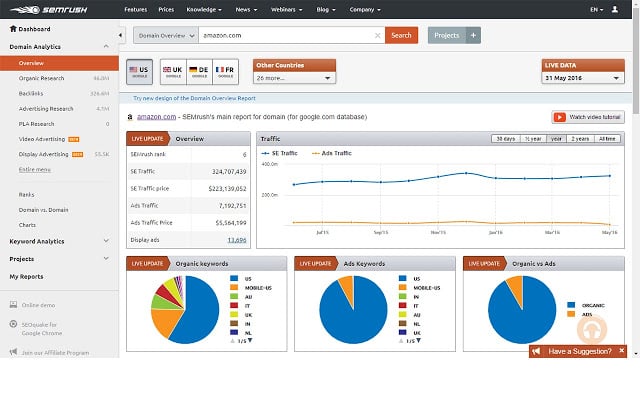 So once again, SEMRush is saving you from having to open their application and type in a specific URL manually.
You'll get all the data you need in seconds, which keeps you organized and on track.
If you use SEMRush, take a crack at these extensions. You'll wonder how you ever went without.
Tool #5: Boomerang
Not to be confused with the popular video looping app, Boomerang is an extension that helps you manage the flow of your emails.
To be precise, it helps you time your emails so that your audience is most likely to see and respond to you in the way that you want.
Here's a look at all of the cool things it can do:
Overall, I think there's a lot of functionality in this app that makes it worth everyone's consideration.
For example, I really love the ability to schedule my emails.
Since marketers have been sending emails, they've also been trying to find the best time to send them.
But without the ability to schedule an email, sending emails at the right time has often proved difficult.
Say for example you want to be at the top of someone's inbox on Monday.
Normally you'd have to wake up at 5 AM to make sure that your email was written and sent at just the right time.
But with Boomerang, you can hit snooze on your alarm with the knowledge that your email will be sent on time.
And that's just a simple application of that feature.
How you use it is up to your needs and imagination.
But there's one other function of Boomerang that stands out to me: the ability to see how easy it is to respond to your email.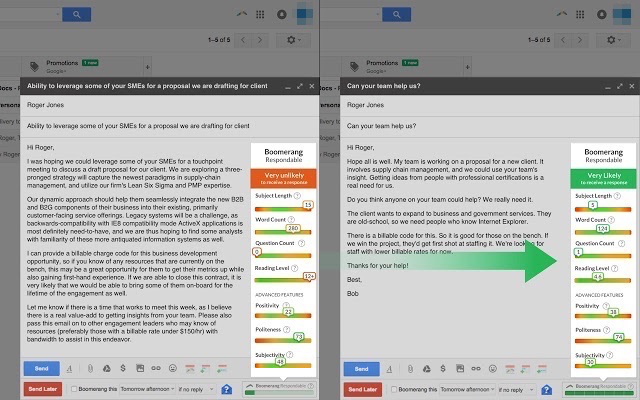 This is a really innovative idea for anyone who sends a lot of emails because it's directly tied to your profitability.
If you're constantly sending emails that are hard to read and respond to, you aren't going to see very good results.
But with Boomerang checking your messages, you can improve the likelihood that you'll actually receive a reply.
And again, the best part is that this process is completely passive. The extension does all the work for you.
Tool #6: Oktopost
For the social media geeks of the world, I want to introduce you to Oktopost.
While it specifically focuses on B2B social media management, the applications are really available to anyone using a social media account for business.
And the extension only adds to the value of what Oktopost has to offer because it allows you to share articles and posts directly from your browser.
The result is that you have a custom-made tool for curation efforts and keeping your social posts relevant.
And it's very easy to use. All you have to do is click on the extension's tab when you're on the page you want to share: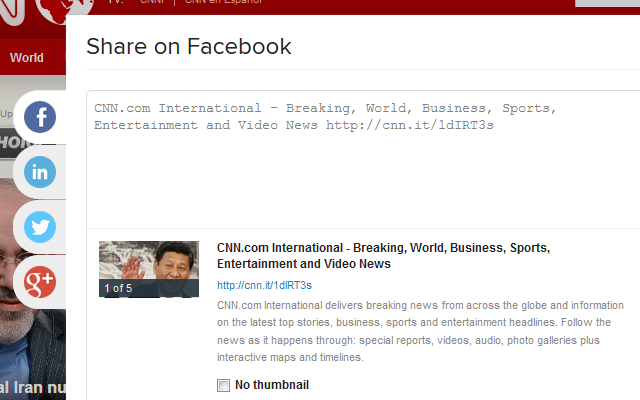 You'll see a drop-down menu that gives you a brief preview of how your post will look when you share it.
From there, you just have to type in your caption and then post.
No more clicking through tabs trying to keep everything straight.
Easy peasy.
Tool #7: BuzzSumo
BuzzSumo is another one of those tools that every marketer should know and love.
The site itself gives you a detailed breakdown of how pieces of content perform for a specific topic or industry.
And the extension allows you to do the exact same thing with just a few clicks.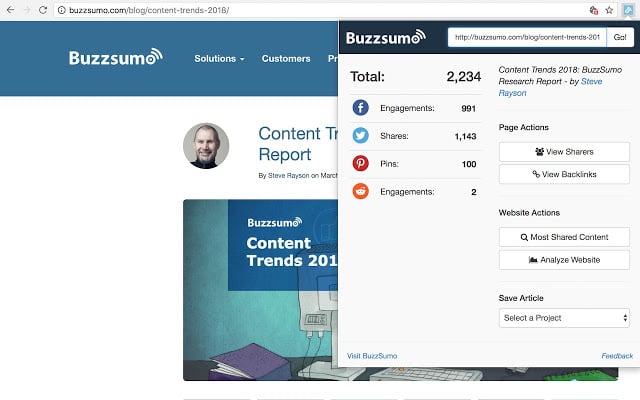 As you can see in the image above, by using BuzzSumo's extension you can get information on any page you visit.
Say you're checking out a blog post your competitor just shared.
If you're using this tool, all you have to do is open the extension and see what it has to say.
You'll get a readout of social media engagement, unique pageviews, and other items like shares or backlinks.
This helps you target your content strategy in real-time and without hassle.
So if you're looking for a quick way to get an edge, this is the Chrome extension for you.
Tool #8: LinkClump
If you're like me, then you probably do a lot of research on topics every day.
And a lot of research means a lot of open tabs, which can be a blessing or a curse.
In the case of LinkClump, it's definitely a blessing.
Because it quickly opens tons of links when you're trying to do a little research.
Which means less clicking back and forth between pages or tabs, and more reading your content.
It's pretty easy to use, too. All you have to do is install it, hold z, and then click and drag.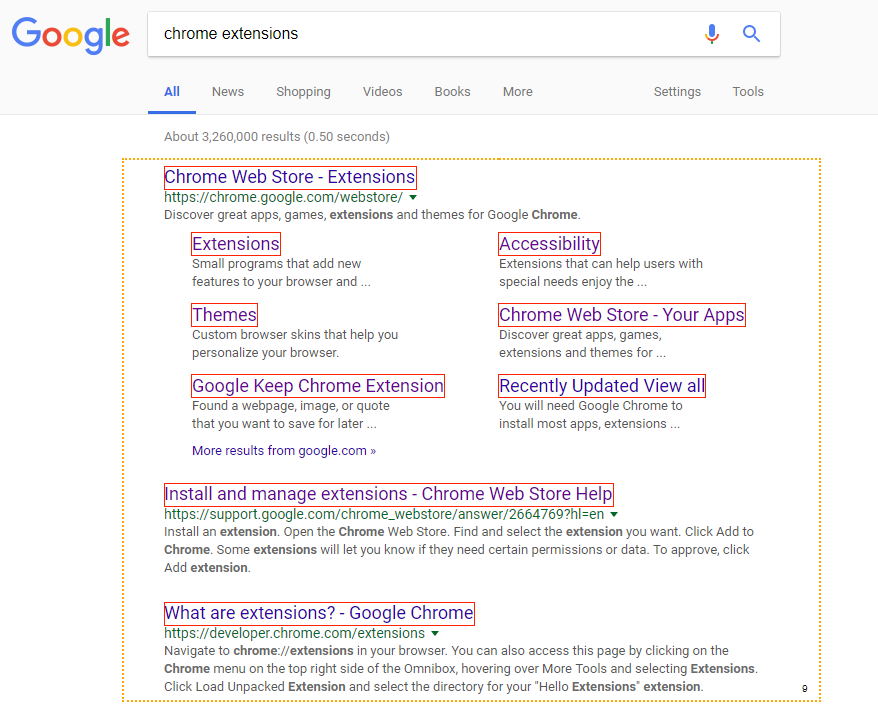 As you can see, the tool will highlight all of the pages you select.
Then when you release your mouse button, all of the pages will be opened in their sequential order.
All you have to do now is start browsing through each of them to see what you can find.
It's a simple hack, but finding a way to save time while researching is always a good thing.
Tool #9: Liner
Not to keep harping on this, but I love research.
And if you do as much research for your content as you should, it can start to get overwhelming without a way to organize and quickly recall relevant information.
Thankfully, Liner exists to let you quickly highlight from blog posts or web pages when researching.
That way, you can read and highlight the content you like, then quickly rework what you find to be even better than when you found it.
Here's how it works:
Since it tracks your highlights so easily and keeps a running catalog, it's easier than ever not to get lost in the clutter.
To activate highlighter mode, just press the "`~" button and then go to town.

Hopefully, this will help you stay on task and keep your content sources well organized.
At the very least, it's always good to have a visual reminder of tips or tricks that stood out to you.
Tool #10: Save to Pocket
Do you ever have times when you're reading through a perfect piece but you don't really have a reason to share it?
I know I do.
When that happens, I like to use the Save to Pocket extension.
This allows you to quickly save articles you want to come back to and reference in a later project.
Or if you're a social media manager, you can save something to curate at a later time.
And as this video illustrates, you can save any page for any reason you like.
Don't worry about getting too unorganized either, because the extension allows you save by category.
So if you use the extension both personally and professionally, you won't have to wade through scores of saved links to find what you're looking for.
That way, you can never get lost.
And you can also see other recommended articles based on the topic you've saved: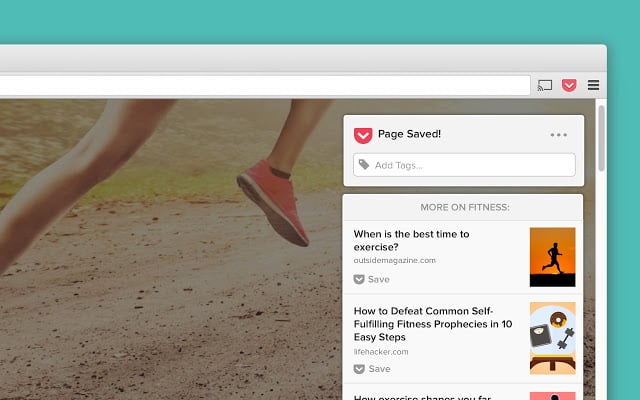 That not only makes this a good organizing tool but also a decent research tool when you're in a pinch.
However you use it, Save to Pocket is a great way to keep useful pieces on the backburner.
Tool #11: Push by Zapier
The Push by Zapier extension is one of the extensions that I like to recommend to marketers who use a lot of tools for the projects they're running.
It's just that good.
It's a workflow tool that lets you integrate a bunch of apps you use on a normal basis.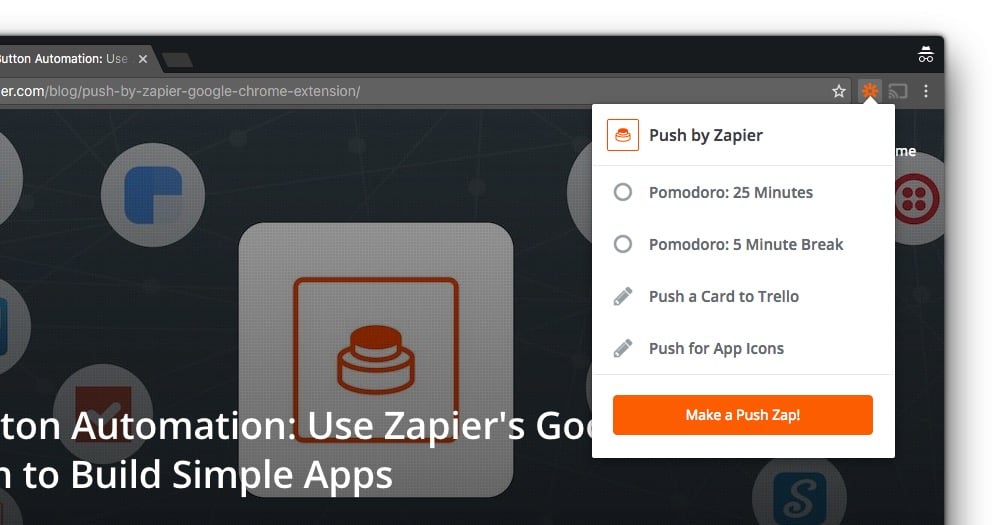 But when you start to use it, you'll find that it's so much more than that.
The reason I say that is because it allows you to set up a "push" for just about any task.
For example, if you use the Pomodoro technique of high-intensity work interspersed with short breaks, you can set up Push to help you keep your regimen.
You can also use the extension to integrate all of your tools and have them work together.
Say you want to create a regular post on your company's Slack chat.
All you have to do is set up a push, and you're able to use the extension to create your post even if you're not currently in Slack.
And Push by Zapier will save every push you ever create:
If you need to activate, deactivate, or edit, just head over to your Zapier account and check them out.
The flexibility and resourcefulness of this tool are what make it a must-have for busy marketers.
You can save time and stay on track by creating a regular schedule of Pushes that will keep you going.
Tool #12: Evernote Web Clipper
One of the most frustrating parts of browsing is finding a really helpful image or graph but not being able to easily take a screen capture.
So if you're looking for a tool that will help you do just that, check out the Evernote Web Clipper.
When you install this extension, all you'll have to do to take a beautiful screenshot is open it up and let it work its magic.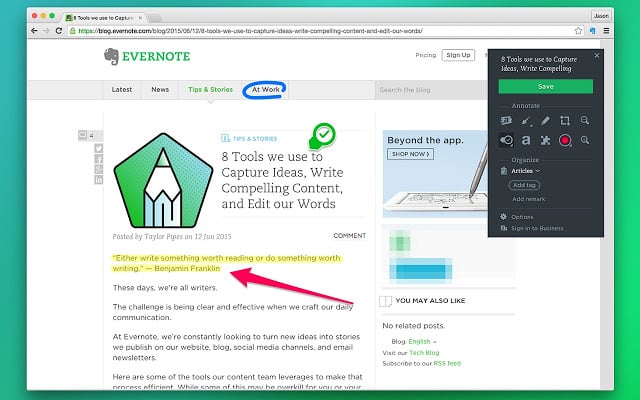 What's more, you can also make simple edits like highlights, arrows, or callout boxes to help your audience see what you want them to.
And as you can see in the image above, the arrows match the style I use.
That's because I use this tool on a regular basis.
Here's a deeper look at what the tool can actually do:
By saving entire pages at the click of a button, you'll never again fumble with another screen-capturing tool.
You'll be able to create clean, powerful imagery for your own content with just a few simple steps.
Tool #13: One Click Extensions Manager
If you've made it this far, you're probably wondering how many extensions are going to be clogging up your screen.
Well, with the One Click Extensions Manager, the answer will be none.
Because you'll be able to take a toolbar that looks like this: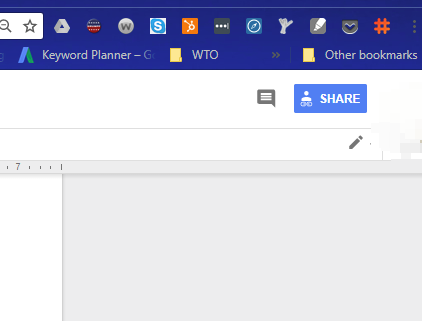 Or make it look like this:
The result is that you'll have a clean browser that allows you to quickly find and toggle all the new extensions you're using.
So don't worry about creating more clutter in your attempt to be a better marketer.
Just clean up the results with this final extension.
Tool #14: Ubersuggest
This free plugin works with my Ubersuggest SEO tool. It allows you to view information from SERPs on related keywords, search volume, and estimated CPC for paid campaigns.
We are constantly updating our tool and look forward to any feedback you may have on it!
Chrome Extensions for Marketers FAQs
What is the most popular Chrome extension for marketers?
The most popular Chrome extension for marketers is Grammarly.
Do you have to pay for Chrome extensions?
In 2021, Google made all Chrome extensions free.
How do I find Chrome extensions?
To find Chrome extensions, click the three dots to the right of the Chrome bar and click "More Tools," then "Extensions."
How would you briefly define Chrome extensons?
Chrome extensions are tools you can add to your Chrome browser that give it extra functions.
Conclusion to Google Chrome Extensions for Marketers
Hopefully, by now, you've found at least one Chrome extension that can help you become a better marketer.
At the very least, I think you'll agree that Google Chrome is a fairly handy way to browse the Internet and make the most of it.
Whether you're trying to stay on task, research, or simply fine-tune a message, there are dozens of options to help you succeed.
I've only mentioned 13 extensions in this post, but I can assure you there are plenty more out there.
All you have to do is find the ones that work for you and then let them help you do your job a little better.
Because with the right tools, I think we can all be better at our craft.
What are your favorite Chrome extensions for marketing?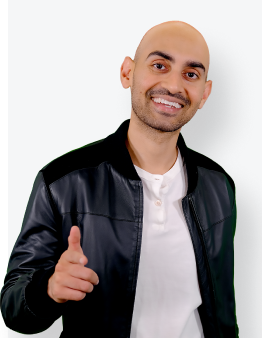 See How My Agency Can Drive More Traffic to Your Website
SEO - unlock more SEO traffic. See real results.
Content Marketing - our team creates epic content that will get shared, get links, and attract traffic.
Paid Media - effective paid strategies with clear ROI.
Are You Using Google Ads? Try Our FREE Ads Grader!
Stop wasting money and unlock the hidden potential of your advertising.
Discover the power of intentional advertising.
Reach your ideal target audience.
Maximize ad spend efficiency.