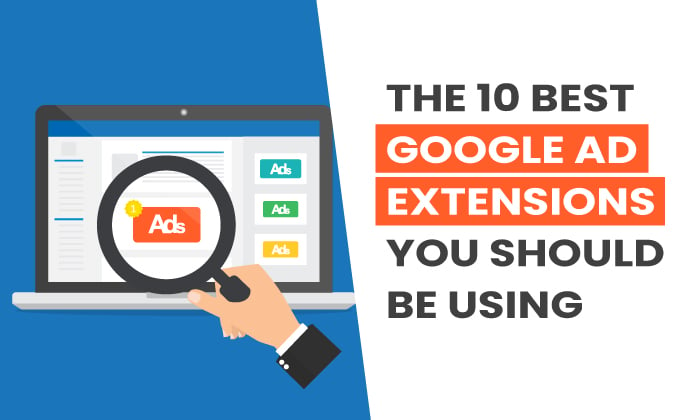 The average Google Ad converts just 4.40 percent of the time.
How do you make it better? A lot of different factors contribute to the success or failure of your Google Ad campaigns.
If you really want to increase the effectiveness and reach of each campaign, you need to use Google Ad Extensions.
Not only do they improve the quality of your ad campaigns, but they also offer more insight into what's working and what isn't.
Let's learn more about what they are, how to set them up, and which ones to start using today.
What Are Google Ad Extensions?
Google ad extensions are just a fancy way of saying, "The stuff you can adjust, add, and alter about your Google ad campaigns."
On average, Google finds there can be a 10-15 percent uplift in CTR when implementing a new ad extension.
Different extensions do different things. With some, you can add reviews or a call button. Others allow you to add a discount or brief testimonial.
That's why, when you search on Google for something, you often see sponsored results that look different from each other.
Here's an example.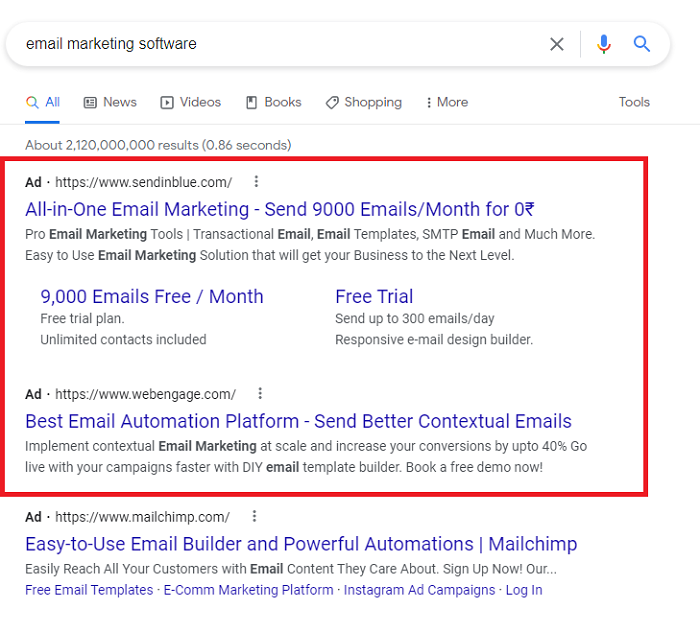 These two ad campaigns use different Google ad extensions to display varying results. One type might look more appealing than the other, depending on your target audience.
Why Should I Use Google Ad Extensions?
Are Google ad extensions all about making the search results look presentable? No. They have a lot more benefits to offer.
By using Google ad extensions, you get:
More Ad Space
Google ad space is limited, but with Google ad extensions, you can claim more real estate by adding content and CTAs. See the example below.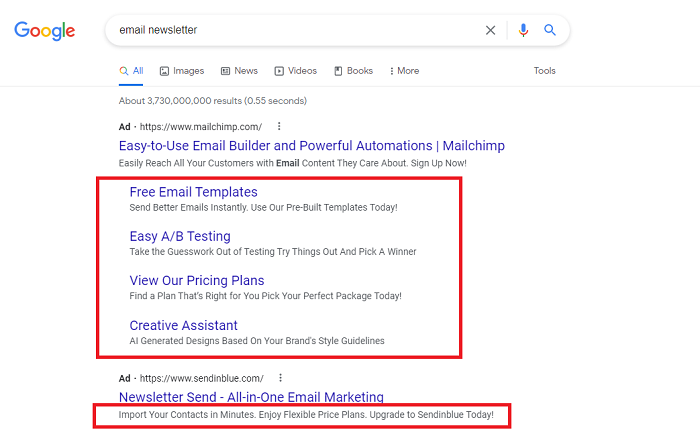 Here, company 1 has a long, detailed ad that offers viewers more options, while company 2 only has a one-line ad with little detail. Which one seems more appealing?
High-Quality Leads
Now you have more ad space, which lets you offer more information to potential customers. This is ideal for filtering leads.
When a user is offered the chance to explore more information, those who are most interested in what your business offers are likely to respond to the ad. 50 percent of people who visit a site from paid are more likely to buy than those coming from an organic link.
So since extension ads tell users what to expect once they land on your site, they're more likely to convert on post-click landing pages. Poor-quality leads will see don't have what they need and will move on.
How to Set Up Google Ad Extensions
Google Ad extensions are easy to create. Follow the steps below:
sign in to your Google ads account
click on the Ads and Extensions tab on the left side of the page
click on Extensions
select the + button in the top left corner
select the appropriate option from the dropdown menu
The Top 10 Google Ad Extensions
Google ad extensions are important if you want to improve conversions from paid campaigns.
For the best results, you need to make sure you use the right extensions for your business. You want to use the ones that raise your click-through rate, lower your cost per click, and increase your ROI.
Here are some of the best options to choose from:
1. Sitelinks
Want to add different links in your ad? Use the Sitelinks Google ad extension.
You can use these extensions to encourage users to choose where they'd like to go instead of just visiting your homepage or landing page when they click on your ad.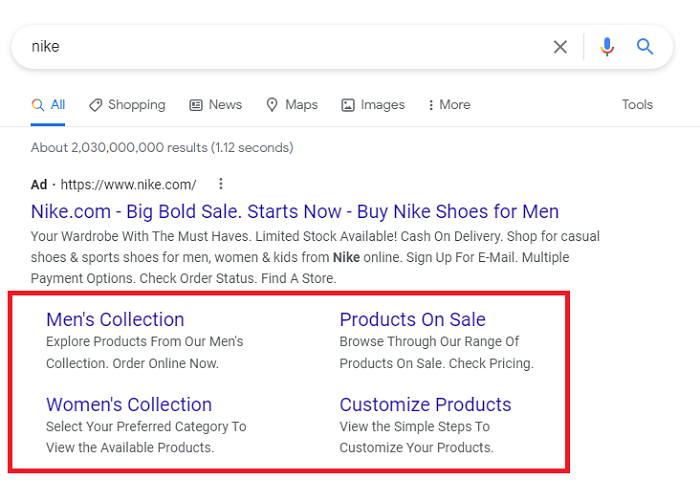 A report from WordStream shows advertisers have seen an 8 percent uplift in their click-through rate by using Sitelinks Google ad extension.
This might be because you are making it easier for users to find exactly what they're looking for. You're giving them answers even faster.
You can choose whether you want to add sitelinks at the account, campaign, and ad group level. I would recommend making them as connected to each campaign or ad group as much as you can but this might not be possible for smaller sites.
Setting up sitelinks is very straightforward but keep in mind you can only use four links at a time. Make sure they reflect your site, keep the link text short, and add descriptions so users can see what information will be learned.
Choose the the links that make the most sense for your account or campaign and make changes if needed depending on the results.
2. Structured Snippets
Featured snippets get 35.1 percent of all clicks, making them an ideal way to increase organic traffic.
Structured snippet Google ad extensions are useful to highlight your products, services, and popular features users may be looking for.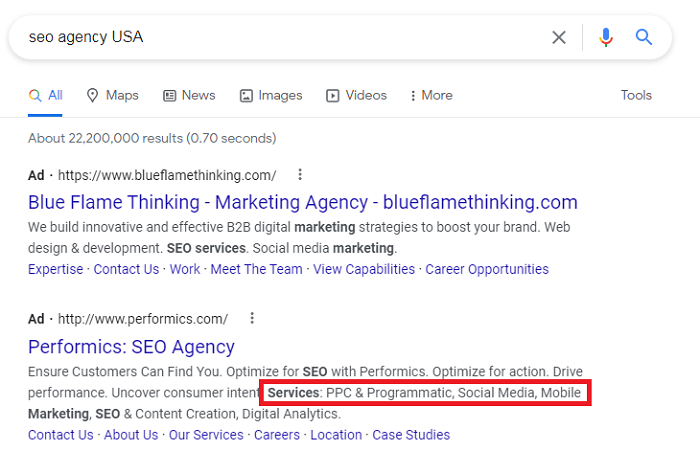 In this way, you can list a few different options the visitors will have if they click through to your website. Now, searchers will know who you are and what you offer before they even visit your website.
Not only does this help you provide value before the click, it can also help you disqualify poor leads from taking up your time and your budget. After all, you want to make sure you get the right clicks, not just a lot of them.
In order to set up some structured snippets for your ads, here are a few things to keep in mind:
you need a minimum of 3 values
each snippet has a 25 character limit
aim for less than 12 characters on mobile
3. Call Extensions
Want to skip the long, drawn-out discovery process and offer customers a way to call you directly?
Use the call Google ad extension. It's a simple way to add a phone number and a direct calling option in your ad.

By adding that button, you tell customers that you're just a phone call away, which can build trust and make you feel more approachable and accessible. If you're business operates in different locations, you can use the call extension along with location extensions (more on this later) to drive even more qualified traffic.
Call extensions works best on mobile devices where users can just click on the number and call you right away, directly from the search engine page.
Today, 63 percent of organic searches take place from a mobile device so you should leverage that as much as you can. The easier you make the experience for customers, the more likely they are to buy from you.
4. Lead Form Extensions
61 percent of marketers say lead generation is their top challenge. Lead forms can make that a little easier.
Lead form Google ad extensions let you insert a form in the ad to collect important information.
As a business owner, you can use lead form extensions to collect information to gauge user interest, collect feedback, or answer customer questions.
The lead form Google ad extension makes it easier for customers to engage with your business and convert. They simply click on a link to a Google-hosted that already has their content information filled in.
You can use lead forms in your search, video, discovery, and display ad campaigns. Google stores collected leads for up to 30 days and allows you to download them as .CSV files.
You can use this data to better understand how customers engage with your business. You can also build marketing funnels using this information or build a remarketing list for a more targeted approach.
This way, you're being more thoughtful of your marketing process to create more effective campaigns.
5. Location Extensions
Location Google ad extensions are fairly simple. They do what it says on the pack. They let you add your physical address in the ad and since 46 percent of all Google searches are for local information, this can drive powerful results.
This is ideal for businesses that rely on in-person visits for transactions. Location extensions make it easier for customers to find where you are and how to visit if they want.
There's one more benefit. Location extensions even work for businesses that primarily operate online.
Including your address in paid ad campaigns is a great way to show the legitimacy of your business. People are more likely to trust your company if you are open and honest about who you are, where you operate, and how they can find you.
With the location Google ad extension, your business turns from something ambiguous to something personal and tangible. Not so surprisingly, people prefer businesses that seem real, which means being genuine will make them more likely to buy from you.
6. Affiliate Location Extensions
You can use affiliate location Google ad extensions if you are a retailer or manufacturer whose products are sold through retail outlets. They can help you reach customers when they're searching for your products.
With the affiliate location extension, Google will display the nearest location where the product is sold, either as an address or on a map.
Studies show 76 percent of consumers who do a local search on their mobile phones visit a physical store in the next 24 hours. That is why it's important to make sure customers have the right information (including the location) when they're searching for your products.
Affiliate location Google ad extensions are easy to set up and make your business seem more available which makes it easier for customers to decide to buy from you.
7. Price Extensions
Think about it: What's the first thing you want to know when you're buying a new product?
The price!
In fact, 70 percent of shoppers say pricing is the most influential factor when they shop online.
Imagine how easy you can make it for your customers by adding the product prices directly in the ad. When people click or tap on a certain price in your ad, they will go straight to that product page on your site.
The best part?
Your products and services will be more likely to attract interested customers if you are transparent about your prices. In other words, it makes it less likely that someone will click on your ad, check your prices, and then decide not to convert because you were too expensive. This can help you drive more qualified leads and maximize your budget.
Not only that, but the price extension also provides detailed information about your offers and directs customers straight to the offer page.
The less hassle there is, the better the customer experience.
8. App Extensions
Do you offer an app for your business?
Nearly 50 percent of users use mobile phones for using the internet. Moreover, data shows 85 percent of mobile users prefer apps over mobile sites.
If you don't yet have an app, you should seriously consider one if it makes sense for your business. Once your business has an app, you can can leverage the Google ad app extension to encourage users to download it.
Apps tend to provide a better user experience so you increase the likelihood that customers will spend more time using it and potentially find something that catches their interest.
In a way, adding the app Google ad extension could boost your conversions.
9. Promotion Extensions
Everyone loves a good bargain. In fact, 88 percent of shoppers say they use a coupon when shopping.
The promotion Google ad extension allows you to highlight any offers you might have. With this, you can display price, discount percentage, sales offers, and other data to attract customer attention.
What makes this better is the customer is taken directly to the offer without having to navigate through your website, saving much time and hassle.
Typically, the promotion Google ad extension is available year-round, but you increase the effectiveness of your campaign by using special holiday promotions like "Back-to-school", "Black Friday" and "Christmas Special."
These are easy to use and update while also providing you with a lot of data on your users to help you better understand their purchasing behaviors.
10. Callout Extensions
The callout Google ad extension is quite versatile—you can use it to say a variety of different things.
You can describe the kinds of products you offer, promote a special deal you currently have, or call out your specific target market. They are easy to customize and makes it even easier to highlight some of your key business offerings.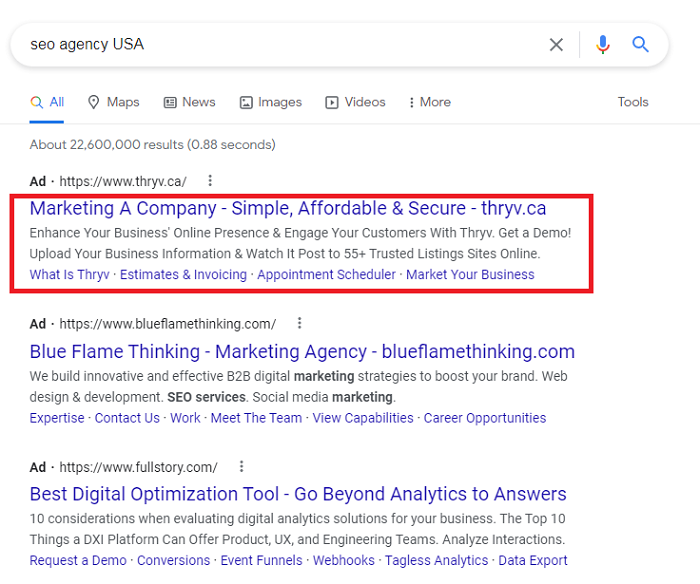 To use these effectively, you want to make sure they are specific to your account and campaigns. Some generic ones such as "24/7 phone support" make sense at the account level whereas more specific ones like "get a free gift", "free delivery", or "pick-up-service" might make more sense at the campaign level.
The extension helps you get a sense of who your target market is and how you can quickly grab their attention. The more value and information you show them upfront won't just get their attention, it will also get them to click to your site.
Google Ad Extensions Frequently Asked Questions
How many Google Ads extensions are there?
Currently, there are 10 main types of Google ad extensions. They can either be manual or automated. A manual extension requires a little setting up, while an automated extension is automatically added when Google Ads predicts it will enhance the performance of your ads.
Are Google Ads extensions free?
Extensions do not cost anything to add to your campaign. If someone calls you from your call extension or downloads your app from the app extension, you'll be billed for a click.
Where do I get Google Ads extensions?
Google Ad extensions are available from your Google ads account. You can click on the Ads and Extensions tab on the left side of the page, then click Extensions. Select the + button in the top left corner and select the appropriate option from the drop-down menu.
Are Google Ads extensions really needed?
Google Ad extensions are not required to launch paid ad campaigns, but they can significantly improve its appearance and performance. They offer more ad real estate, let you display more information, and add links, phone numbers, and other relevant data to boost your conversions.
Conclusion: Google Ads Extensions
Google ad extensions can be a great way to maximize the efficiency of your ad campaigns.
While having so many choices can seem overwhelming at first, try starting with one. Track your performance and then experiment with others.
Remember, Google ad extensions are tools meant to help you reach your customers more effectively, so make sure you explore ways to make the process work best for you.
If it sounds too complicated, consider working with dedicated ad experts to help you get started.
Which Google ad extension will you try using today?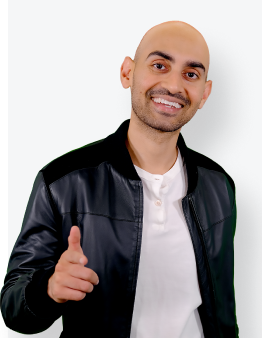 See How My Agency Can Drive More Traffic to Your Website
SEO - unlock more SEO traffic. See real results.
Content Marketing - our team creates epic content that will get shared, get links, and attract traffic.
Paid Media - effective paid strategies with clear ROI.
Are You Using Google Ads? Try Our FREE Ads Grader!
Stop wasting money and unlock the hidden potential of your advertising.
Discover the power of intentional advertising.
Reach your ideal target audience.
Maximize ad spend efficiency.