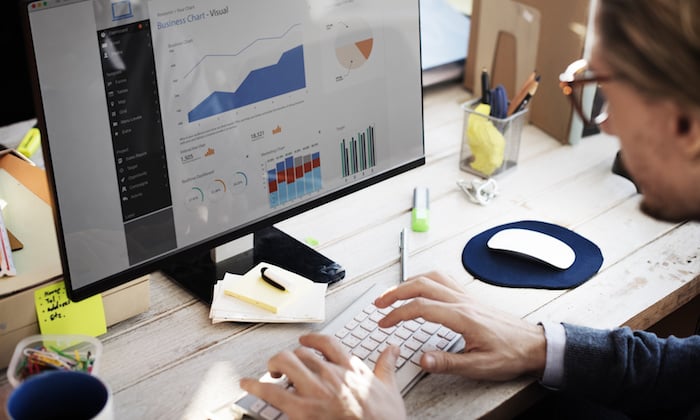 Are you new to the wonderful world of SEO?
Everyone has to start somewhere.  So, you might as well hit the ground running, as soon as possible. As you gain steam and begin to understand the finer details of search engine optimization, you'll soon realize just how important the right strategy is to your business.
In my step-by-step guide to SEO, I discuss the importance of this strategy, as well as basic information to help you better understand what you should and shouldn't be doing.
Several times per week (if not more often), I receive an email asking the same basic question:
What's the best way to get started with SEO, without spending thousands of dollars?
It's easy to believe that you have to pay an SEO professional thousands of dollars to achieve top notch search results where your business ranking is concerned. At the same time, you may find yourself paying for every resource imaginable.
While there's nothing wrong with spending money to make money, this isn't something you have to do. Instead, there are plenty of free resources that can point you in the right direction.
In this post, I'll share 10 free SEO tools that are perfect for beginners who want to get their feet wet. These tools won't guarantee page one search results, but they'll go a long way in helping you formulate a strategy for reaching your goals.
Let's take a closer look!
Ubersuggest is a high-powered SEO tool designed to help drive more traffic to your website. You can do everything from reverse engineer your competitors' SEO to dig up long-tail keywords for future blog posts.
The competitor analysis tool is a good jumping-off point. Get started by typing any domain into the search box:

Your search leads you to a results page: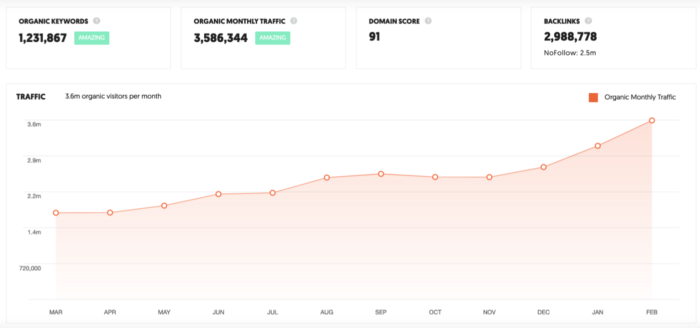 It's here that you'll find data such as:
Organic keywords – Number of keywords the domain ranks for in Google.
Organic monthly traffic – Total estimated monthly traffic the domain gets.
Domain score – Overall strength of the website (taking into account various factors).
Backlinks – Number of incoming links to the website.
With this snapshot, you can gain a quick understanding of how your website stacks up to your competitor.
But that's not all, you're also provided with an SEO keywords ranking graph:

This graph shows:
Total number of organic keywords ranking in Google
Keyword rankings by month for the most recent 12 month period
Number of keywords by month that rank in position 1 to 3, 4 to 10, 11 to 50, and 51 to 100
As you move beyond the domain overview, you gain access to features such as the backlinks tool. It's one of my favorites and you can get started by clicking on "Backlinks" under "SEO Analyzer" in the left sidebar:

This takes competitor analysis to a whole new level, allowing you to review every backlink to your competitor's site. You can use this information to seek out the same links, thus improving your odds of overtaking your competitor in the search engines.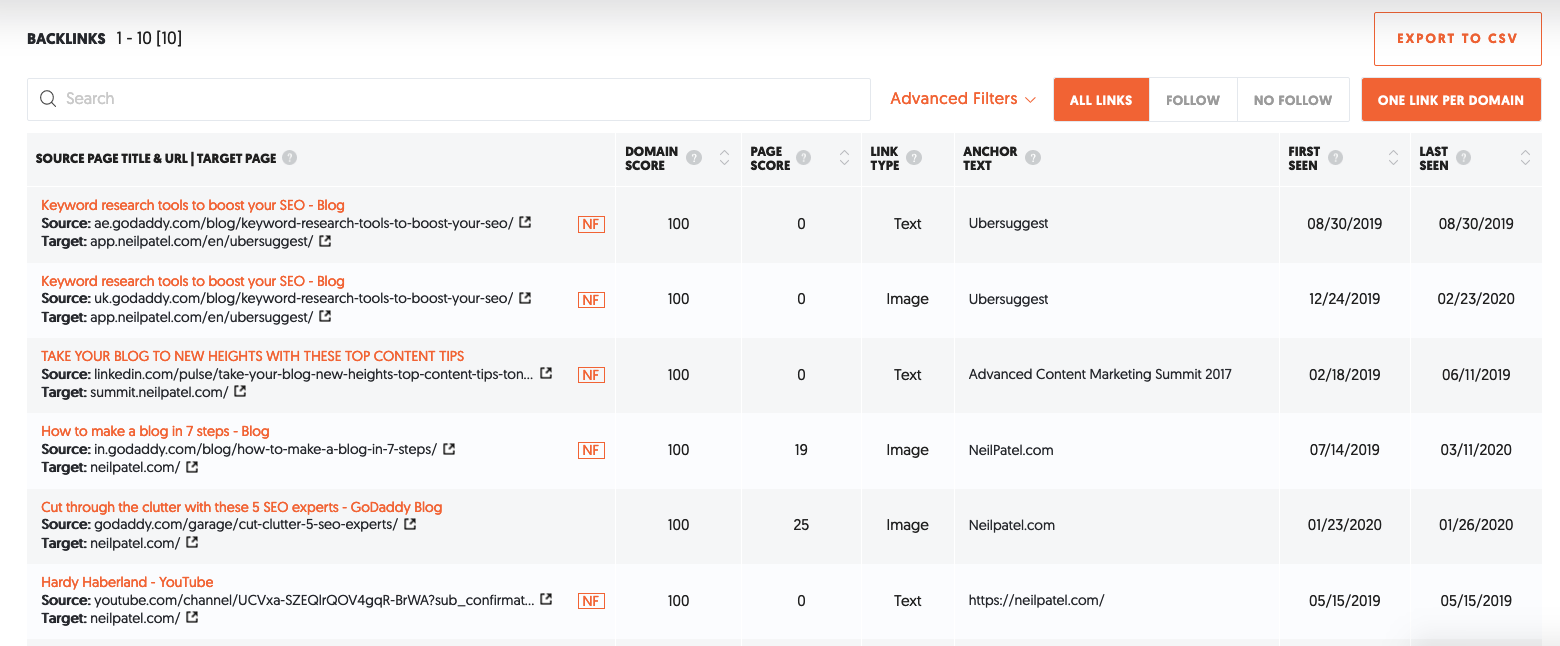 In addition to a list of backlinks, complete with the source page title and URL, other key data in this report include:
Domain score -Overall strength of the linking website.
Page score – Overall strength of the linking web page.
Link type – Whether the link is text or image-based.
Anchor text – Anchor text of the link.
First seen – First time Ubersuggest robots were able to identify the backlink.
Last seen – Last time Ubersuggest was able to confirm the existence of the backlink.
The purpose of this data is to not only understand the backlink profile of your competitor but to also provide you with the necessary guidance in securing the same links.
The first thing you should do is make a list of 10 – 20 linking websites that align with your company. For example, if you have a blog that shares content related to hosting and domains, GoDaddy is a natural fit.
From there, visit the linking web page and identify the anchor text. For the example above, both the first and second result, you'll search for "Ubersuggest" to find a link to this page on NeilPatel.com
Finally, find a web page on your website that fits into the article. You can then reach out to the author, suggest your web page, and work with them to include it in the article.
Remember, this is a hit or miss strategy, so you shouldn't expect success across the board. For every 25 to 50 emails you send, you can expect maybe one or two backlinks. While that doesn't sound like a lot, if they're from websites with a high domain score you're doing your part in moving the needle.
For more information on how to conduct link building through email outreach, check out Brian Dean's Link Building for SEO Guide.
After you're done analyzing your top competitors (or before), I also suggest creating a project for your website:
Step #1: Click on "Create a Project" at the Top of the Page

Step #2: Provide Information About Your Project
Step #3: Choose Your Preferred Search Locale
Step #4: Add Keywords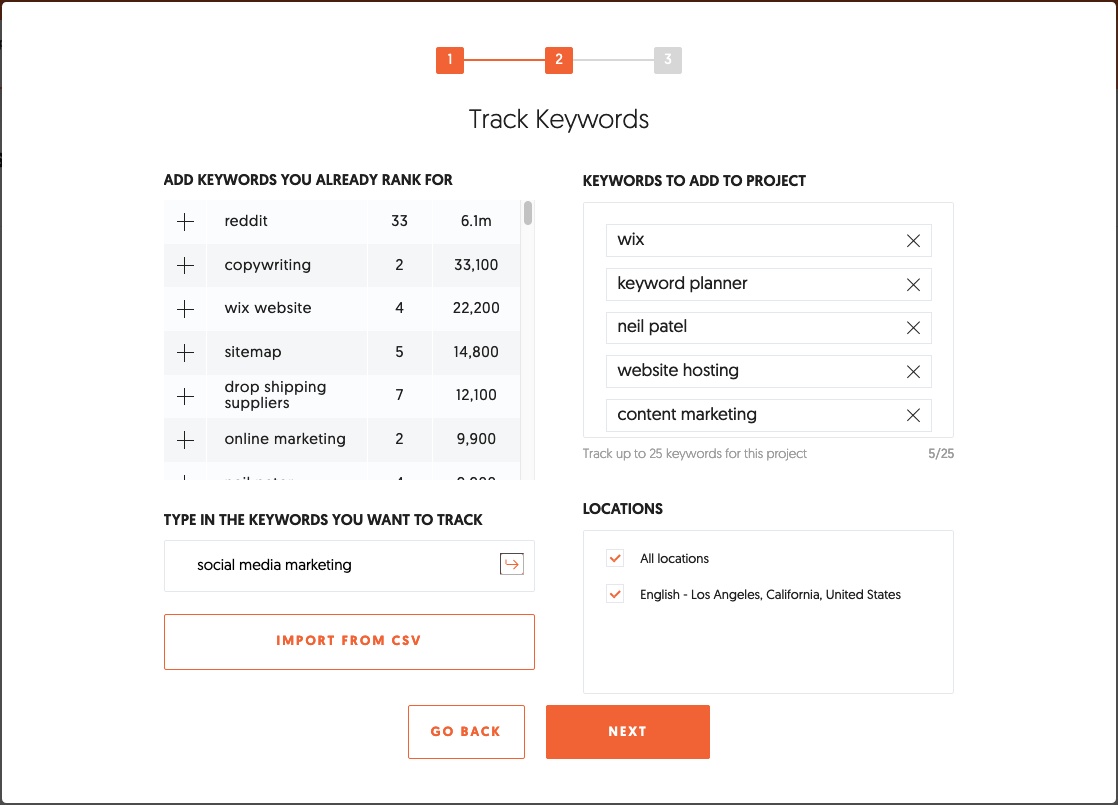 If you're successful in taking the above steps, you'll see the following:

You can then go to your dashboard for a project overview:

This is the same data as a competitor analysis, such as the one I detailed above. You can click on any of the sections from the overview or those corresponding on the left sidebar. When reviewing your own site, I like to start with a site audit:
The site audit feature gives you insight on the overall health of your website. For example, there is one critical error, which has the highest impact on your overall SEO health. That's in addition to 17 warnings that are impactful but to a lesser degree. Clicking on critical errors shows the following:

You can then locate the page with the low word count and get suggestions on how to fix it:
With Ubersuggest, you have access to everything you need to understand the SEO health of your website, as well as your competitors. This positions you to make informed decisions that'll have a positive impact on your search engine rankings. You can also use the free Chrome extension to research your target keywords right from the SERPs.
If you're going to familiarize yourself with only one free SEO tool, let it be this one. It may not be the most advanced. And, it may not have a direct impact on your rankings. But, it's extremely powerful for beginners.
This free SEO tool is all about one thing: the overall health of your website.
For example, you can use it to see how many URLs have been submitted and how many have been indexed.
Another one of my favorite features is the "Search Analytics" function. With the ability to review "your performance on Google Search," you can get a better idea of whether or not your website is trending in the right direction.
Here's an example of some of the data that you can track:

You don't want to obsess over these numbers, but they give you a good idea of where your site stands and how it's progressing. For example, you want your total clicks, total impressions and CTR to increase over time, with your average position getting lower.
Even if you don't know the first thing about using the Google Search Console, it only takes a few minutes to poke around and learn how it works.
Are you looking to learn more about your website? How about a competitor's site?
SEMrush has you covered. All you have to do is enter a URL and run a search. From there, you'll be provided with a variety of data, all of which can be used to help push your SEO efforts to the next level.
The only bad thing about SEMrush, if you can call it that, is the amount of information you're presented with. If you're experienced in the field of online marketing, you'll love the avalanche of data. But, if you're new to this space, it can be intimidating.
My suggestion is to take things one step at a time, only moving on to the next section of data when you fully understand what you've already reviewed.
Many people start by reviewing the backlinks data. This is particularly true when you want to see how a competitor is performing:

From there, it's only natural to focus on the top organic keywords. This shows you the top keywords for the site, which will provide you with some guidance, moving forward.

If you want to learn more about any website, with an eye towards SEO, you'll need to spend plenty of time with SEMrush. There aren't many free SEO tools that offer as much as this one.
There's something about keyword research that scares many people.
If you're new to SEO or if you don't know which keywords align with your industry and goals, you need to use Keys4Up.
The goal of this free tool is simple: to bring simplicity to the process of keyword research.
Once you run a few searches, you'll find Keys4Up easy to use and full of powerful features.
Once you select your primary keyword and hit search, you can sit back and let this free tool do all the work for you.
Inputting "content marketing" into a search engine turns up the following search results:

As you can see, you can review all keywords or focus on those that are 1, 2, or 3 words long. I suggest that you experiment with each option, as this will allow you to review every keyword.
What I like best about Keys4Up is the "what you see is what you get" functionality. You aren't bogged down with details that don't matter. Instead, all you do is run your search and review the keywords.
Pro tip: you can export saved keywords to your computer or spreadsheet. Either way, this is a good idea, if you want to review your search engine results at a later date.
Is Firefox, Chrome or Opera your browser of choice?
If so, you owe it to yourself to learn more about the SEOquake browser extension. It doesn't matter which of these three browsers you use, the same features are available.
While this free tool is self explanatory, once installed, there are some key features that you should become familiar with:
Instantly conduct an on-page SEO audit of any webpage, including competitors.
Analyze the external and internal links of any webpage.
Compare URLs and domains, in real time.
Export data for future use.
Here's an example of the SEO audit of a webpage, as shared by SEOquake:
You'll find this useful, when browsing your own website, as it gives you an idea of what you're doing right and what might need a change.
It's also useful as you check out your competitors. By seeing where they come up short, you may be able to take full advantage, subsequently pushing your website to the top of the search engine results.
All in all, SEOquake is easy to use, without being intrusive. Once you download the extension and learn how it can suit your personal needs, there's a good chance that it'll become one of your go-to free SEO tools.
Are you looking for something a bit more creative than a basic keyword planner?
Keyword In may be able to help. With this, you can throw out a variety of keywords, with the hope of uncovering fresh ideas.
Here's a basic idea of how to get started:
You can use any keywords that come to mind. It's free and fast to use, so get creative.
Once you hit the "Generate" button, the search results will knock you off your feet: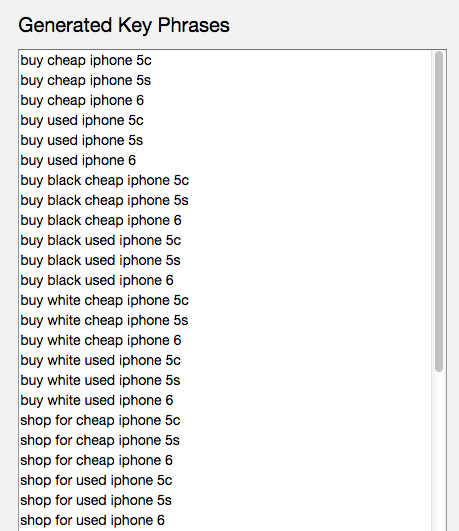 Sure, you could have thought up these keywords on your own, but it would have taken quite some time.
With Keyword In, you can quickly find the best long-tail keywords for your website.
This isn't the type of free tool that you'll use each day, but it definitely comes in handy, every now and again. For example, if you're researching ideas for a new blog post, you can use it to come up with a list of long-tail keywords to include.
Keyword In can be classified as a keyword research tool, but it's definitely more than that. One search and you'll realize this to be true.
7. Gogretel
The name of this free SEO tool doesn't give anything away, in terms of what it offers, but it's well worth using.
With Gogretel, you can get an instant look at whether or not your website follows Google webmaster guidelines. Along with this, there's a social media component that's also worth checking out.
Upon running a test, you're presented with a search results page that allows you to view information in three distinct categories:

You can click on each category to access detailed data. For example, the basic information tab provides the following: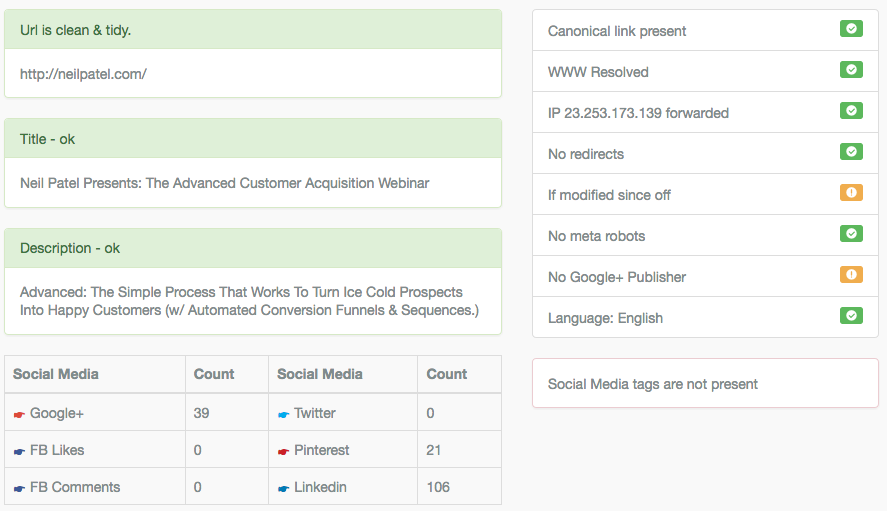 Like a few other free SEO tools on this list, Gogretel isn't one that you'll use daily. Sure, you'll want to check your site from time to time, but you don't have to do so every day of the week.
That said, it doesn't hurt to use Gogretel as a way of better understanding and tracking your competitors. For example, you can use the content analysis tab to see where your top competitors are lacking, then use these shortcomings against them.
The speed and data alone are reason enough to run a couple searches with Gogretel. If nothing else, one search will show you if the free tool has something to offer your business in the future.
There was a time when it didn't matter if your website was mobile-friendly.
However, those days have come and gone. Not only does this have an impact on your search engine rankings, but it also has a lot to do with the user experience.
Are you unsure if your website is mobile-friendly?
Well, you don't have to wonder any longer. Instead, you can use this free Google tool to get a fast answer.
Running a search engine query for my website, NeilPatel.com, generates the following: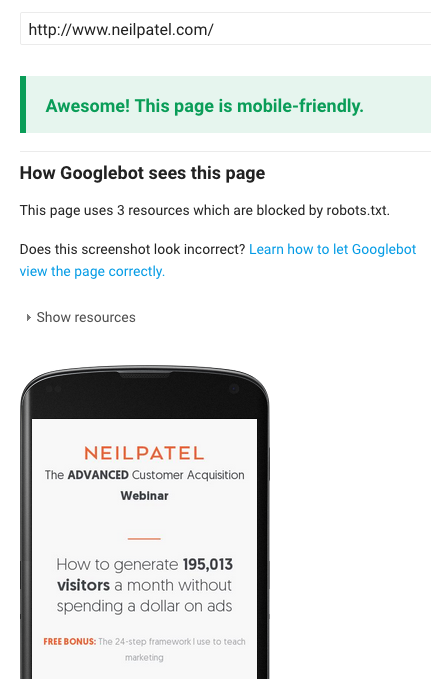 There's nothing else you need to know about this tool. Once you check your website, you'll know, for sure, if it's mobile-friendly or not. If it is, you're in good shape. If it's not, don't wait another day to make a change. This could do wonders for your traffic.
From an SEO and user perspective, you website must be mobile-friendly. There's no two ways about it.
This tool is similar, in some ways, to Gogretel.  However, it has its own unique set of features that make it a favorite among SEO beginners.
The goal of this free tool is to help webmasters determine "how well a page follows the Google guidelines."
Just the same as most free SEO tools focused on anaylysis, it starts with entering your URL. From there, it only takes a few seconds to see the search results.
The tool reviews 14 key areas of the website:
Googlebot access
Mobile devices
Security
Accessibility
Page Speed
Robots.txt guideline
Image alt text
Sitemaps
If modified since
Paid links
Valid HTML
Amount of links
Findable links
HTTP headers
If the category heading is "green," it means everything is in good working order. If it's "yellow," it requires some attention.
For example, you may need to take some steps, in regards to security: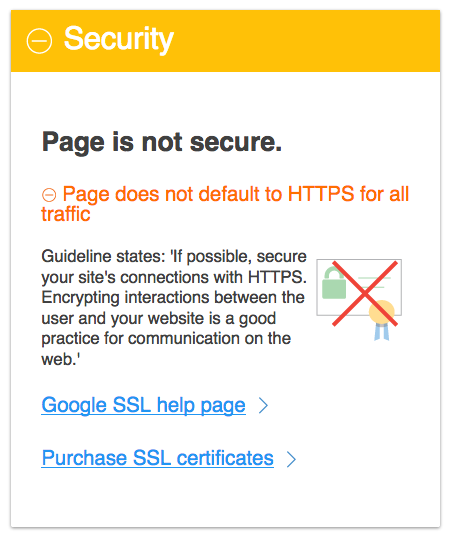 The Varvy SEO tool is not the end-all, but it definitely provides some useful information and guidance. Since it's free and quick to use, you might as well rely on it to regularly double check if your website is within Google's guidelines.
Are you concerned about how your website looks in Google SERPs?
You should be. Not only can this impact your search engine rankings, but it goes a long way in helping a person decide if they'll visit your site.
Rather than do things the hard way, you can use Slerpee to see how your website looks in the search engine results. Best yet, it then provides tips for improvement.
Here's an example of what you'll see, after running a search: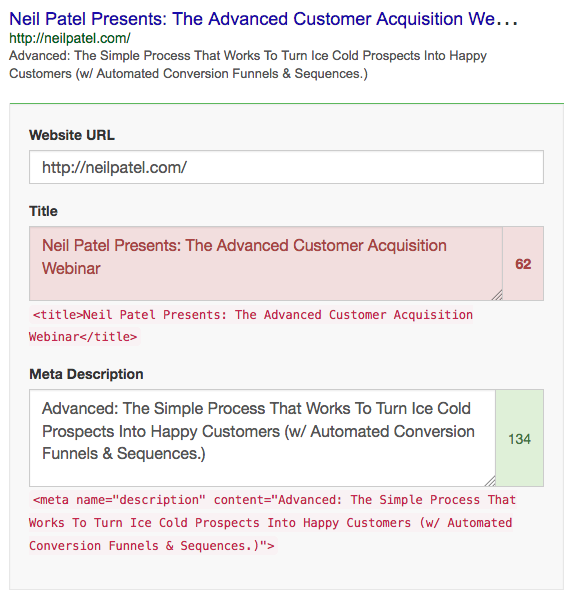 If you're happy with what you see and you're happy with your search results, thus far, you don't have to change a thing.
However, the cool thing about this free tool is that you can experiment without actually taking action. This way, if you find something that you like better, you can transfer it over to your website.
Any changes you make to the title or meta description can be previewed at the top of the page: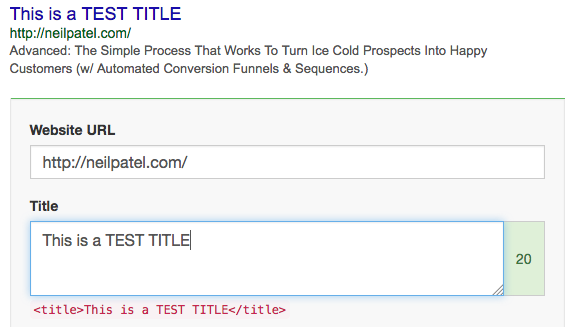 Even if you never make a single live change, this free tool gives you the opportunity to experiment with different variations.
You don't have to use this free tool every time you create a new page or post, but it wouldn't be a bad idea, either. It's nice to know how your website will look in Google SERPs, before it's indexed.
Did you really think I'd go through this entire list, without mentioning the Google Keyword Planner?
While I've discussed a couple other keyword based free SEO tools, this one is a must-use for all beginners.
You can't go wrong, when you get involved with this free tool.  It provides comprehensive and detailed search results that can be immediately put into action.
For example, a search engine query for the phrase "online marketing," leads to the following search results:
This allows you to answer questions such as:
What long-tail keywords make the most sense for my website?
Which keywords have the least amount of competition?
Which keywords are searched the most?
For those who want to get involved with paid traffic, this free tool is a good place to start.
Taking into consideration the suggested bid, you can easily determine which keywords you can and can't afford.
If you're new to SEO, keep one thing in mind: you're going to spend a lot of time on keyword research.
Even though you'll use many free SEO tools, this one is sure to be at the top of your list. With data "straight from the horse's mouth," you know you're on the right track.
Conclusion
With the SEO landscape constantly changing, it's imperative to keep an eye on the industry, as it applies to your website.
If you've overlooked the importance of SEO in the past, remember this: 93% of online experiences begin with a search engine.
Even if you only use one of these free SEO tools, I'm confident that it'll help you take another step towards reaching your marketing related goals.
Do you have experience with any of these free SEO tools? Would you add any others to the list? Share your comments below.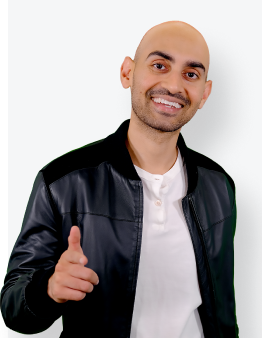 See How My Agency Can Drive More Traffic to Your Website
SEO - unlock more SEO traffic. See real results.
Content Marketing - our team creates epic content that will get shared, get links, and attract traffic.
Paid Media - effective paid strategies with clear ROI.
Are You Using Google Ads? Try Our FREE Ads Grader!
Stop wasting money and unlock the hidden potential of your advertising.
Discover the power of intentional advertising.
Reach your ideal target audience.
Maximize ad spend efficiency.