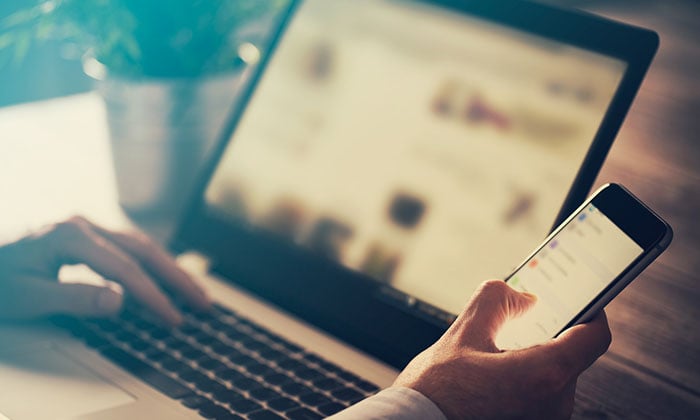 As many as 88% of B2B marketers use content marketing as part of their marketing strategy.
Are you part of that 88%?
If you are, you're probably well aware of all the benefits.
If you aren't, it's just a matter of time. You've likely already realized its importance and plan to make changes to include it in your overall marketing strategy ASAP.
But how do you get started if you've never done it before?
And how can you do it right, and well?
The good news is there are countless marketing tools at your disposal to make things easier and more successful for you.
So whether you're just starting to use content marketing or you've been using it for awhile, these 15 tools will help you get the most out of your time and energy.
1. Analyze topics and find influencers with BuzzSumo
Do you know what kind of content is trending in your industry?
Do you know what your competition is writing about and how they market it?
BuzzSumo is perfect for leveling the playing field, revealing the topics you should write about, and helping you find influencers in your industry to market your content for you.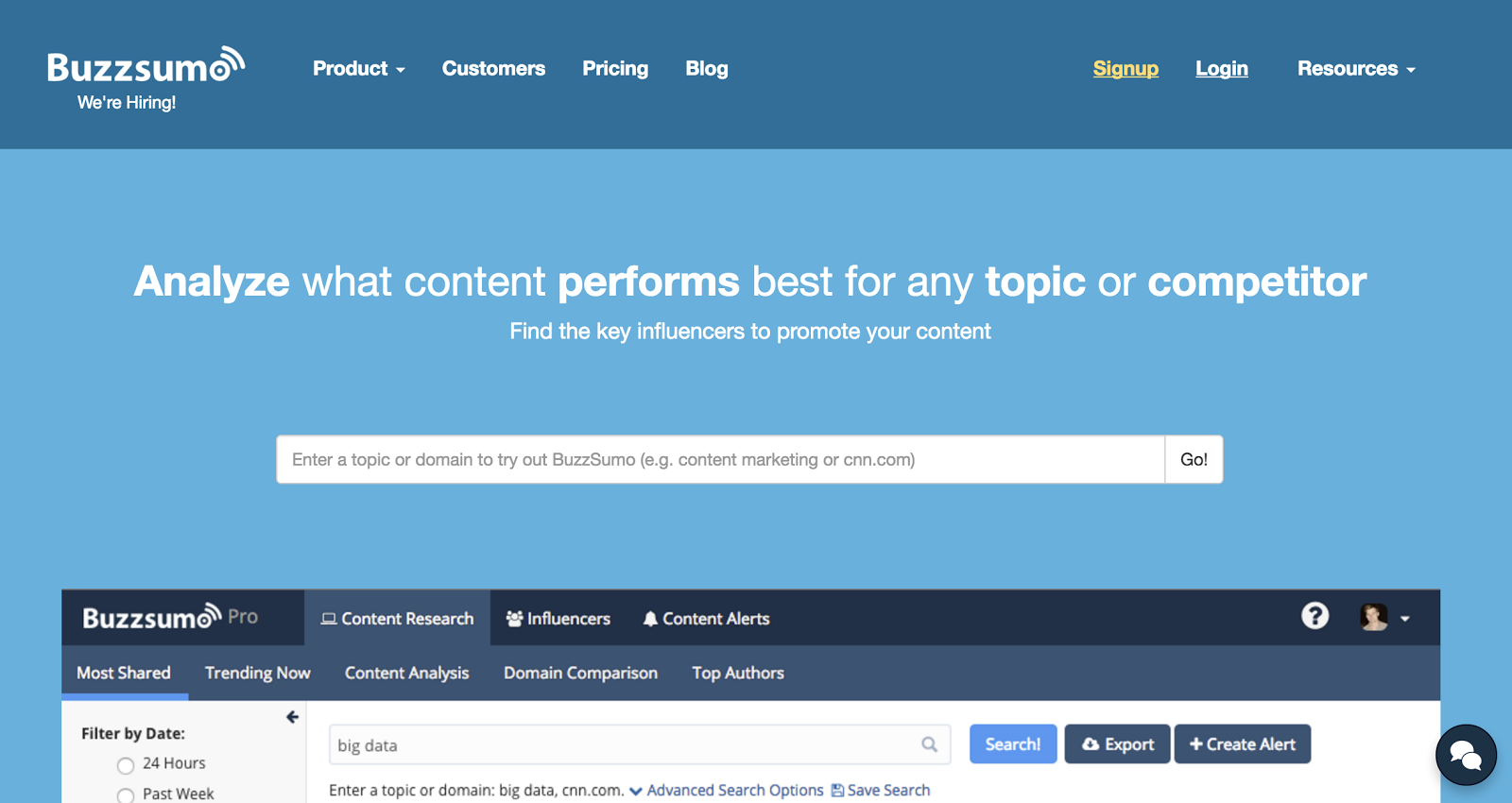 Get content insights by discovering what content was most shared across all social networks and run analysis reports.
Find influencers who are industry leaders in any area, check out the content they've been sharing, and plan influencer outreach from there.
You can get content alerts to be the first company to see content that mentions your keyword.
You can also get alerts when a competitor posts new content, so you'll never miss anything.
With competitor analysis, you can track how your competitor's content is performing and compare their results to your own performance.
When you search any keyword, you'll be shown a list of the top-performing content.
It looks like this:

And that makes this tool perfect for editorial planning and scheduling. Use it before you even start drafting a blog post.
Then use this next tool to organize your findings.
2. Capture, organize, and share notes with Evernote
Do you wish you had a better way to stay organized or brainstorm for future content?
Do you need a place to put your ideas, where your entire team can have access to your thoughts and collaborate with one another?
To fulfill these needs, use Evernote. It's available across all devices and it's a great place to add all the information you found through your research with the first resource, BuzzSumo.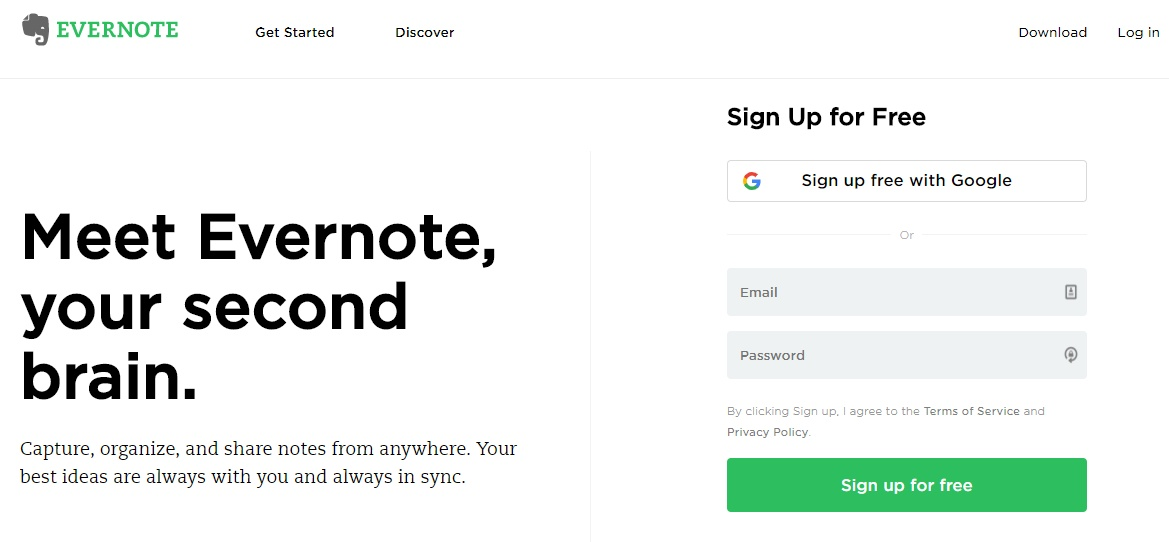 If you save something on Evernote, you can access it at any time from your work computer to your smartphone.
Share your notes in a place where you can always access them.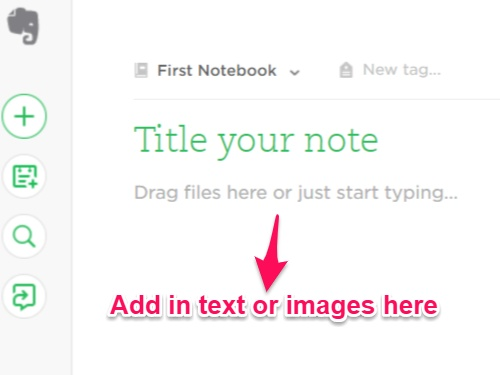 Clip web images, web pages, and PDF files.
Access your notebooks while offline, search for previously captured text or images, add annotations to images, sync notes across devices, and more.
Evernote is the ultimate content marketing organization tool.
Now that you've got a game plan in place, you'll want to boost your online presence.
3. Measure your online influence with Kred
When it comes to content marketing, there's more work to be done than just producing the content and hoping people read it.
You have to find and connect with influencers who can amplify your message on social media.
This is where Kred can help you out.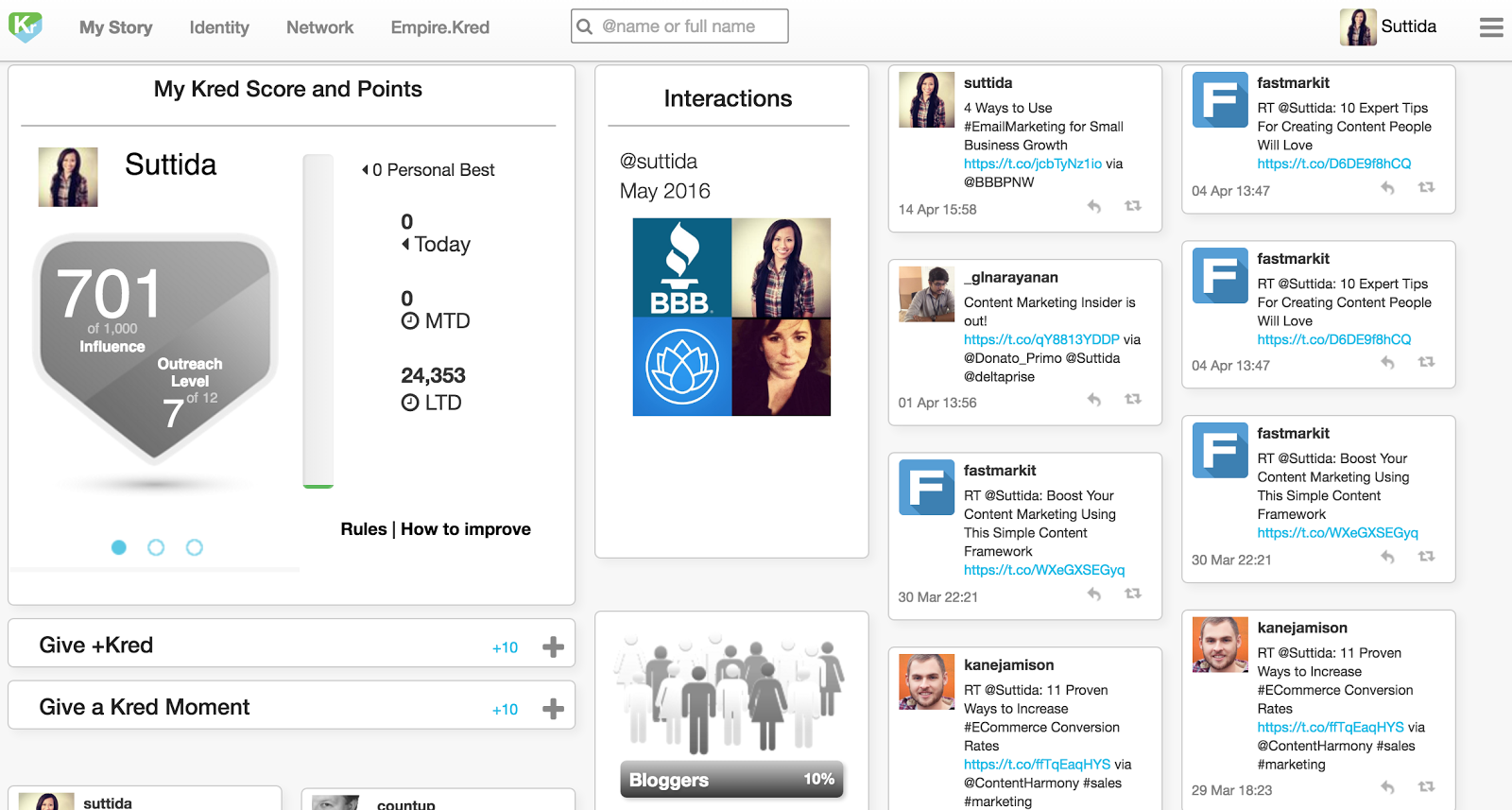 The platform measures your influence by analyzing Facebook and Twitter activity so you can reach out to influencers who will impact your business the most.
And unlike other influencer tools, this one allows you to build up your own "influencer" status so your online presence is enhanced.

Once your presence gets a boost, so will your content.
Kred is the perfect resource for building credibility and trust. When people know who you are, they'll be more willing to click on your content and engage with it.
But building up your brand is a team effort. Which brings us to Trello, where you can manage a content marketing team with no sweat.
4. Collaborate with team members via Trello
Most companies approach content marketing with an entire team dedicated to the subject.
Trello takes teamwork to the next level with boards, lists, and cards.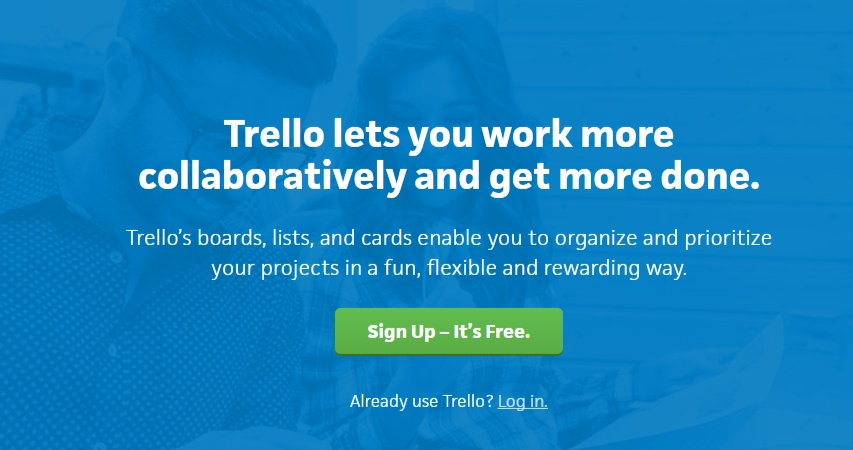 This is a great organization and productivity resource to schedule content writing, posting, and sharing.
You can leave messages for other team members and share content with one another all in one place, so there's no question about your content marketing game plan.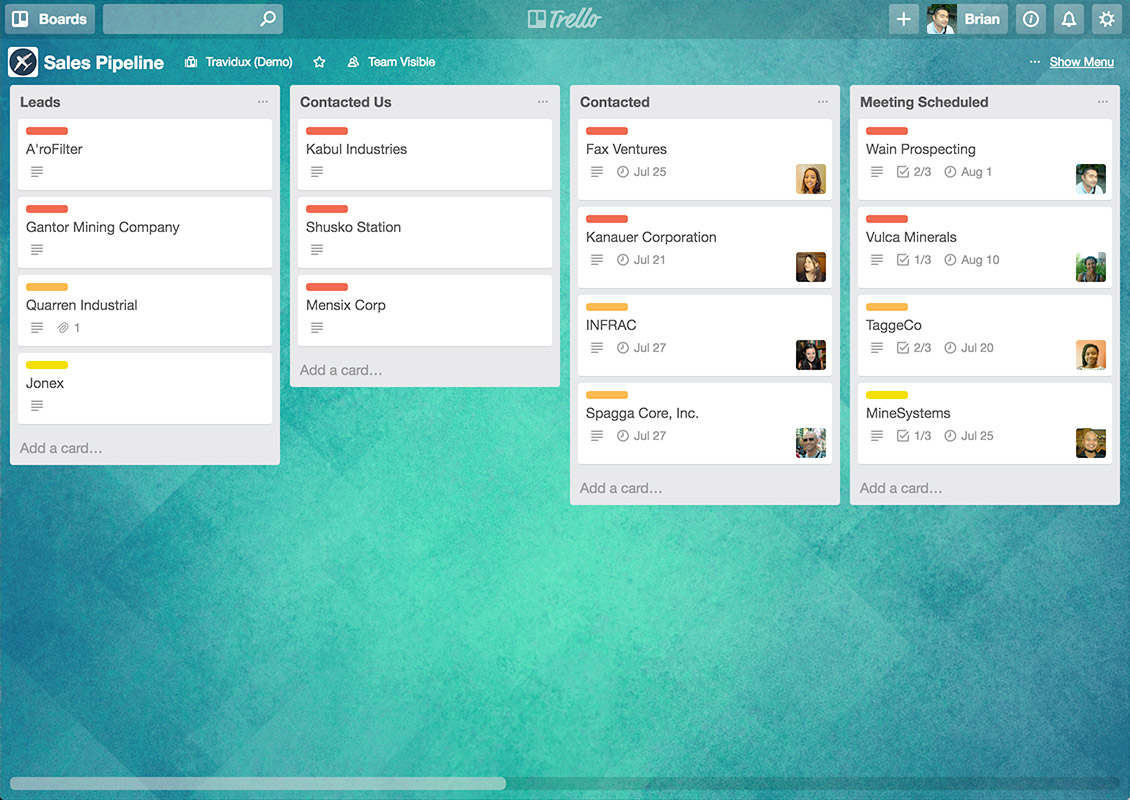 There are plenty of collaboration tools out there, but Trello is one of the top ones.
The layout makes it easy to get started and stay focused, so planning should be a breeze.
Next, we're going to talk about funnels and why they matter when it comes to content marketing.
5. Create funnels with ClickFunnels
Regardless of whether your company focuses on people online or off, you should be creating a sales funnel if you have an Internet presence.
A sales funnel shows the journey that takes visitors and turns them into leads.
Leads then become sales, and these funnels can be used to increase your company's average order value.
You could spend hours making a funnel from scratch, but since this post is all about time-saving tools, you'll probably just want to use ClickFunnels.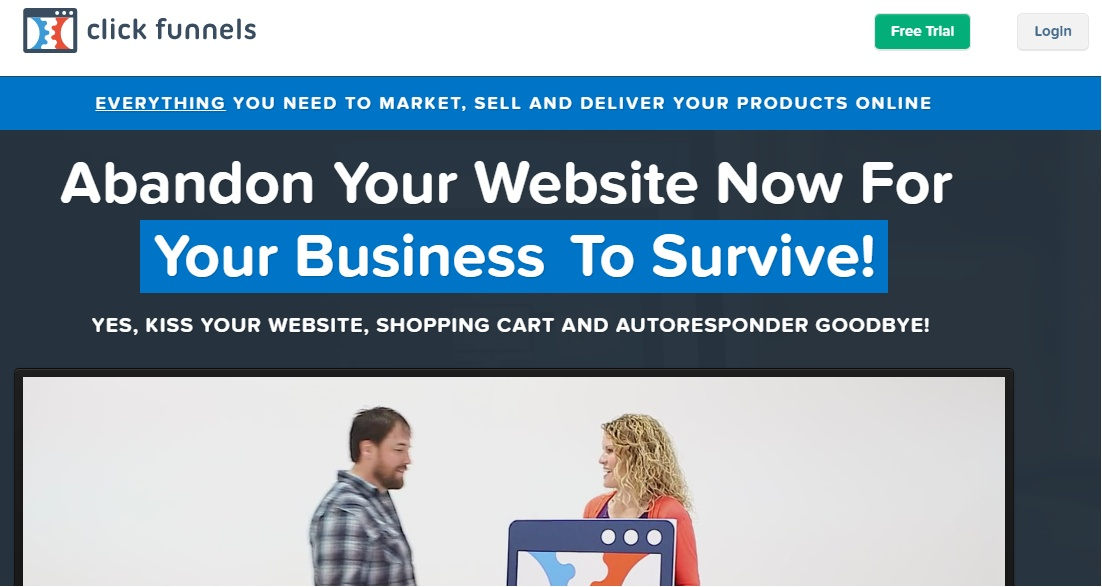 ClickFunnels is so great because of its easy drag-and-drop platform. You can create a sales funnel that converts in just a few minutes.
And the templates make this process even faster. The best part? Templates are designed by the site based on what has actually worked in the past for other companies.
Features include, but are not limited to:
Sales funnels
Membership funnels
Auto-webinar funnels
Hangout funnels
Email integrations
A/B testing
And it gives you the most bang for your buck when compared to other marketing-automation tools.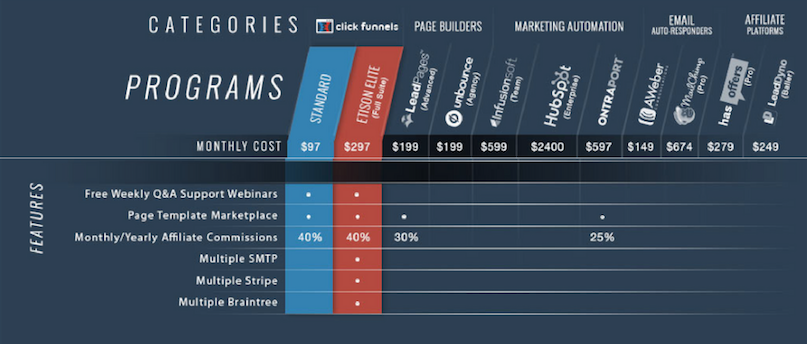 Now your funnels are made, but how do you know when your audience is paying attention to you? Find out with Tweriod.
6. Tweet when others are listening thanks to Tweriod
If you're using Twitter to market content, which you should be, it's important to share it when your audience is online and paying attention to you.

Thanks to Tweriod, you'll be able to figure out when the best time of day is to send tweets.
You can also track when you're getting the most mentions and replies.
A visual report will show you the absolute best days and times to reach your audience on Twitter.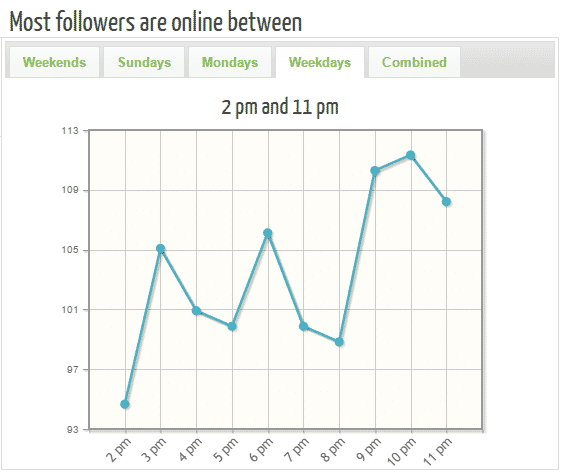 The free tool will analyze as many as 1,000 of your followers.
Once you uncover the best time to post, you can make sure to do so during peak engagement hours to get more people to click on your content.
This is exactly why you're marketing your content on Twitter in the first place, right?
Now that you know when to post, you might need some good images to share on Twitter. Here's one place to look.
7. Design beautiful imagery with Canva
When you're sharing your latest blog post, you want to make sure it has some high-quality images to go along with it so people actually click.
But Photoshop isn't always a fun (or cheap) way to go. And it can take forever to design something with this professional software.
Luckily, Photoshop isn't the only tool out there.
Enter Canva.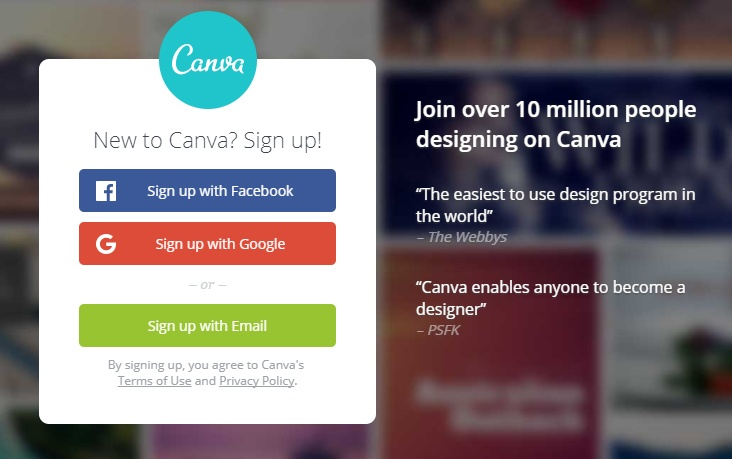 Canva comes with pre-built templates and layouts, so it takes no time at all to create something your readers will love.
Select different layouts that are designed for the platforms you want to post them on.
For example, the template for a social media banner is sized to be a banner, while the template for an Instagram post is sized specifically for Instagram.

You can drag and drop elements into the tool, and there are tons of options to choose from.
It's a wonder they're all free.
At the very least, you can use Canva to make eye-catching images to post to your social media accounts and gain more online exposure.
But it's also perfect for crafting images to add across all your content.
Once you've attracted people's attention to your content with imagery, you need to improve the functionality of your site.
8. Dominate the buyer journey with Uberflip
Uberflip is all about improving the "content experience" of your site and boosting your performance to own the buyer's journey.
It's mainly a collection of valuable tools for content marketing, lead generation, account-based marketing, and sales enablement.
Use Uberflip to manage blogs, videos, e-books, and more all from one central location, so your workflows are all in one place.
In addition to those features, Uberflip allows you to build content hubs or sales streams so "your visitor's interaction with your brand is consistent and uninterrupted."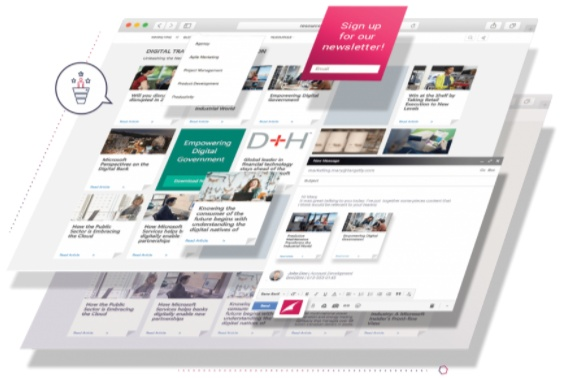 Uberflip is the best tool to mega-hype your content and give customers a seamless experience with it.
But you also need to keep an eye on your competitors.
9. SEMRush: An all-in-one marketing toolkit

SEMRush gives you a world of insight into all things search marketing.
What keywords are your competitors bidding on? What do their search ads look like?
Use SEMRush to find out.
With this tool, you can quickly view the keywords that your competitors are gaining organic rankings for. You can also see which keywords your company is ranking for organically.
Simply enter a URL into SEMRush, and you'll have tons of keyword information you may have never thought existed.
This is a valuable resource because you can uncover the keywords your competitors might not know about yet.
And you can find out if you're already ranking high for a keyword you've never thought of.
With a bit of work, you can push that already high ranking to a first-page one.
The tool also has tons of other features. For example, you can check your competitor's backlinks — or your own.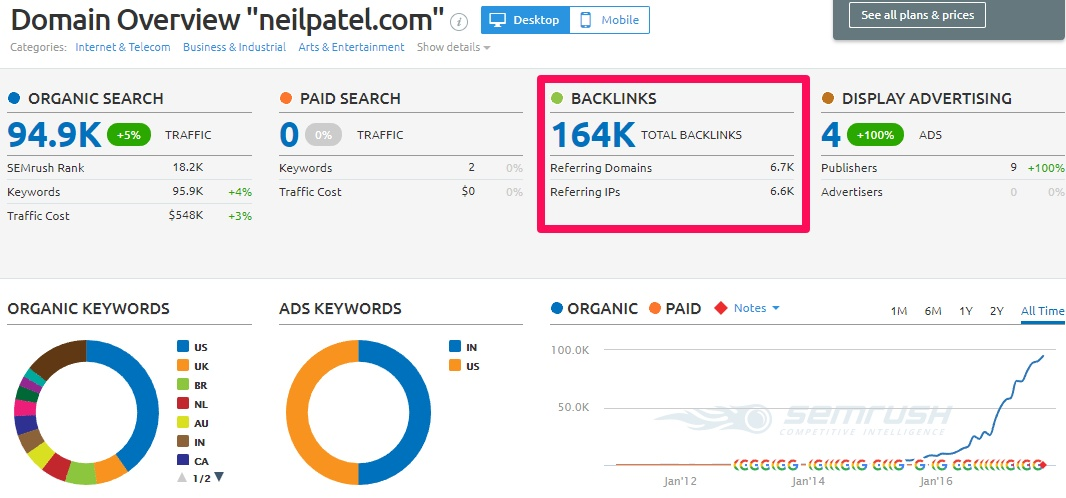 Try it for free and you'll see the value in minutes.
In the meantime, you can work on your email marketing game to send out the content you're improving based on using competitor's keywords.
10. Email marketing with MailChimp
Email marketing has remained the top dog for content marketing.
Email should be a part of your online marketing strategy, and the perfect solution for this is MailChimp.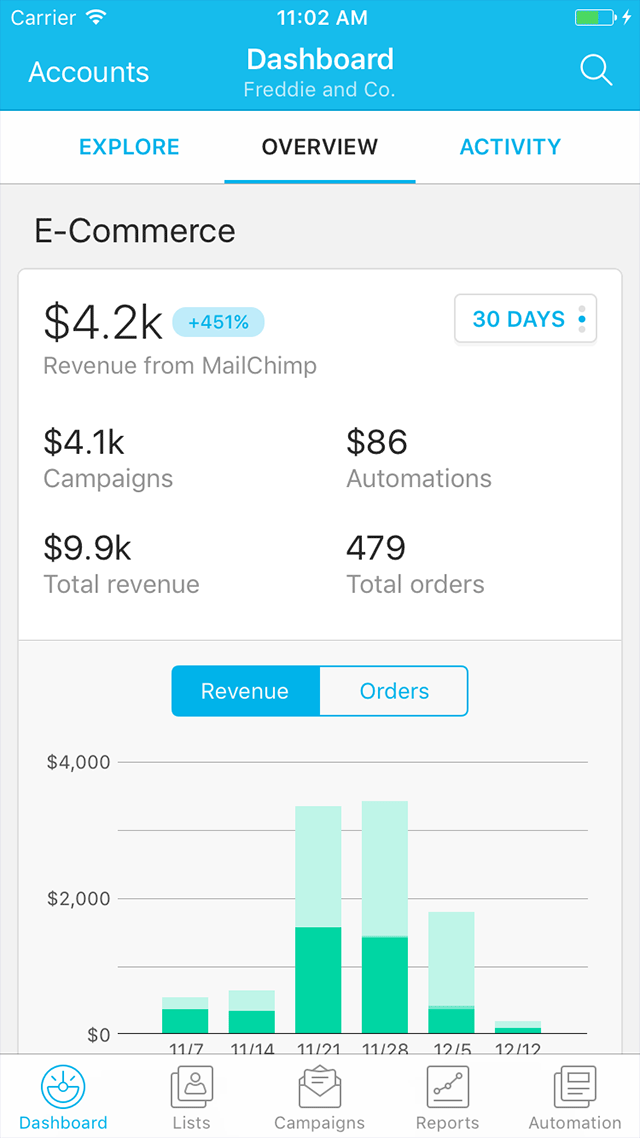 With MailChimp, you can access your dashboard from both mobile and desktop.
What's even more awesome is it's free (up to a certain number of emails sent and number of subscribers).
There are countless features, but the most notable one lets you build an email list with subscribers who are truly engaged with your content. Plus you can track them.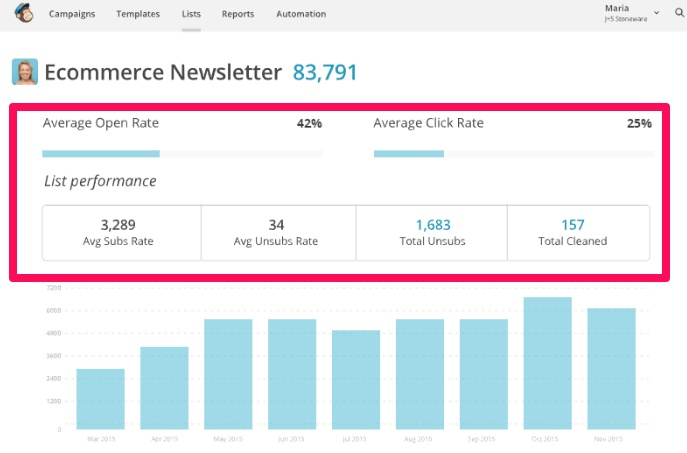 You can also monitor metrics such as average open and click rate, as well as your average email subscribe and unsubscribe rates.
Now, what if you want to trigger emails automatically? Check out GetResponse.
11. Trigger emails and events with GetResponse
As we just discussed, email marketing brings you the highest ROI of any channel.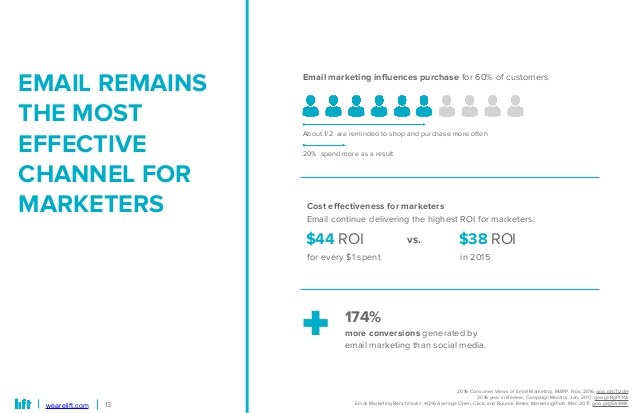 Email is also key for customer retention. It costs much more to gain a new customer than to keep a current one, but many companies overlook this.
GetResponse has been making advances in the past year that put them ahead of other email software providers.
How? They offer more than just email tools.

GetResponse uses automation to trigger events or emails based on actions taken by a recipient or a certain time frame that has passed.
This is tremendously valuable because these features come at a decent price with GetResponse.
MailChimp also offers marketing automation, so other email services are jumping onboard with GetResponse's plans and features.
But GetResponse is planning to take things a step further.
Soon they will be providing CRM (customer relationship management) capability, so you can monitor your relationship with your customers in the same place you're triggering emails.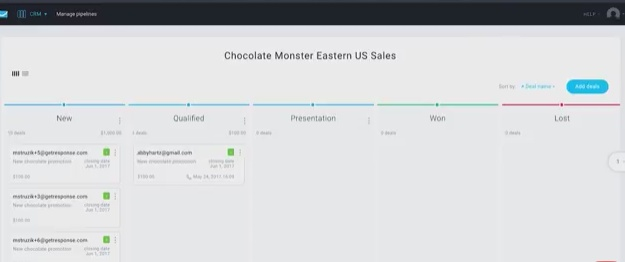 This is one of the best email marketing tools because it does so much.
You can also automate events and use a CRM functionality, which is going to boost your overall brand.
And a boosted brand means boosted content.
But another great way to boost content is with the use of social share buttons.
12. Social share buttons with MashShare
You probably already know that social share buttons are a must have in 2017.
MashShare lets you add eye-catching social share buttons that readers won't be able to ignore.

This plugin gained attention because its buttons look similar to those on Mashable.com.
The idea here is to get more people to share your posts because the buttons will trigger them to do so.
Then those readers' friends will see their post and read your content (and hopefully share it, too).
The free version offers limited features, but you can purchase add-ons to expand your options.
MashShare is used by more than 70,000 websites, and it has some great reviews on the WordPress Plugin site.

Add-ons for MashShare include a "Select and Share" feature which shows share buttons when users highlight text on your site.
There's also a "Click to Tweet" widget you can add on.
Features include:
Most-shared posts widget
Eye-catching share count animations
Open graph support
Twitter cards support
Option to hide share counts below a certain number
Supports short URL's via Bitly
A mobile-responsive feature is available as an add-on
Supports only Twitter and Facebook (additional networks are available through add-ons)
Boosting social shares is great, but organic rankings are king. Here's how to "spy" on competitors to find out how and why they're ranking so high.
13. Outrank competitors with Ahrefs
The Ahrefs homepage explains what it's all about:
Ahrefs helps you to learn why your competitors are ranking so high and what you need to do to outrank them.

Ahrefs allows you to keep an eye on your competitors while tracking your own progress.
Track mobile ranking, update frequency, locations per website, keywords, and more.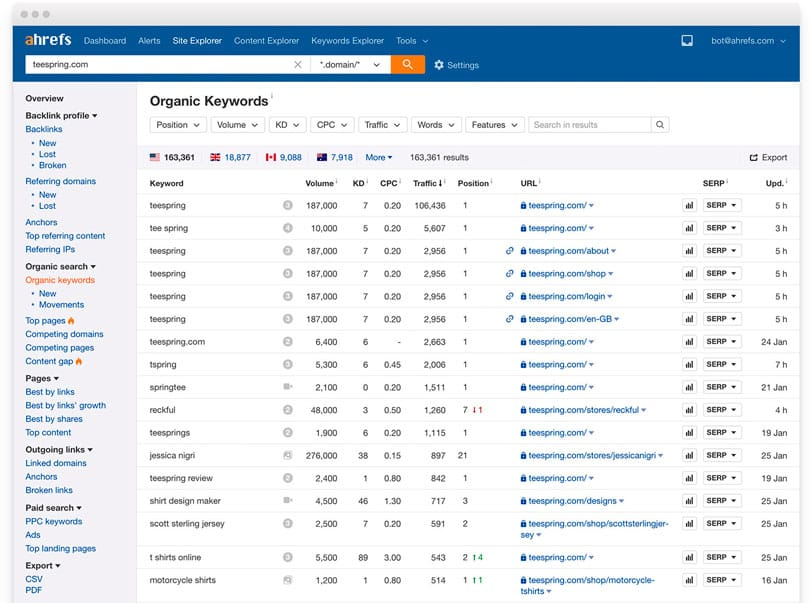 It's perfect for researching before you write a piece of content.
Plan it out to get huge results based on what's working for your competition.
Then after you create content and market it, use it to measure how it performed.
Did you gain backlinks? How often was it shared across social media?
You'll know the information is up to date because Ahrefs crawls five-billion web pages every day.
Now, if you need a way to boost social shares by automating posts, try HootSuite.
14. Manage social media thanks to HootSuite
Coming up with content and then sharing it across a variety of social platforms is awesome for your business. But it also takes a ton of time.
This is why millions of people are using HootSuite to manage social media posts ahead of time, and based on their peak engagement hours.

With this tool, you can schedule your best content at the best times without manually having to share it at those hours.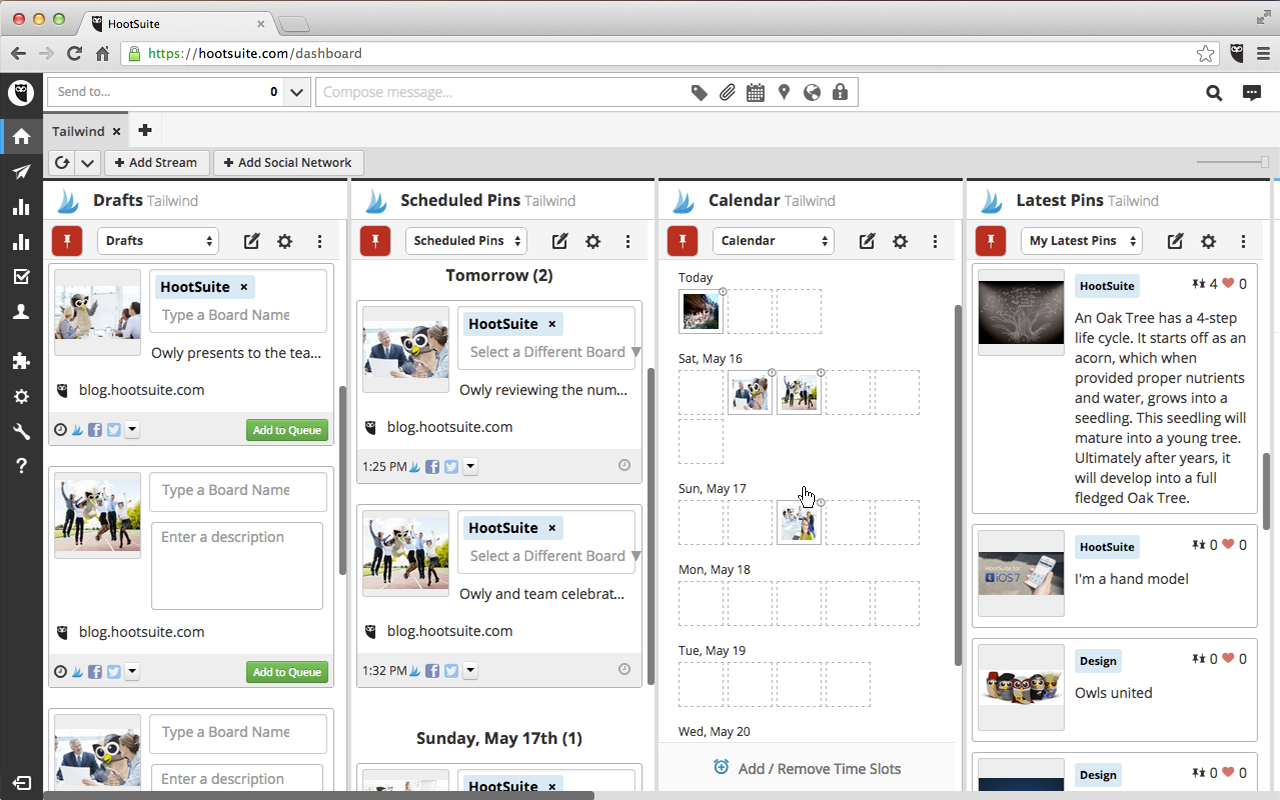 And you can connect HootSuite to more than 35 social media platforms, including Pinterest.
Draft posts, schedule them, check your social media calendar, and view your latest posts all from your dashboard so you'll never miss a beat when sharing content online.
Of course, you don't want to have any spelling errors in your social media posts (or your blog). The following resource provides a built-in spell checker that solves this problem for you.
15. Correct spelling and grammar with Grammarly
Users aren't going to trust you (or engage with your content) if it has spelling and grammar mistakes, no matter how hard you market your writing.
And normal spell checkers can't always analyze writing for grammar mistakes or take context into account.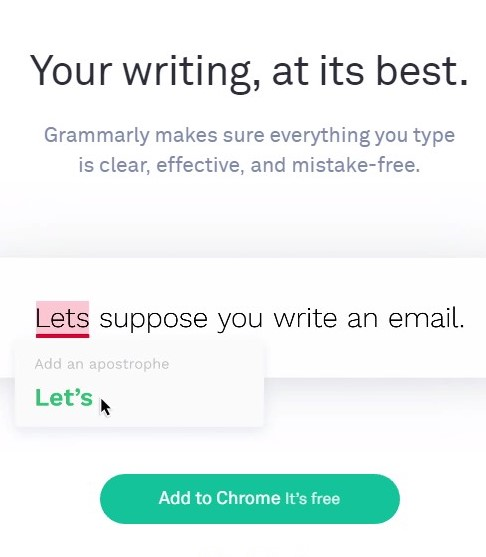 This is why you need Grammarly.
You won't be able to catch every writing error that you could possibly make, but Grammarly is awesome for proofreading your content before you post it.

It catches grammar mistakes such as squinting modifiers, word usage, overused words, and more.
And you can install Grammarly for Chrome to edit your writing from whatever window or tab you're in without having to exit and go to the Grammarly site to copy and paste it.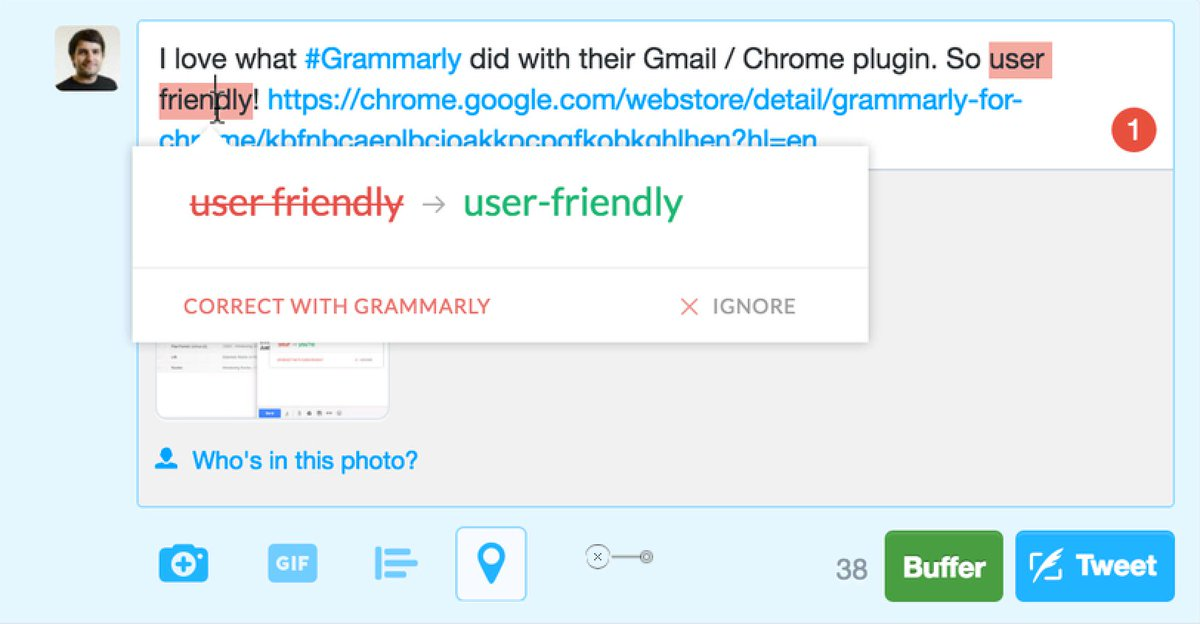 Bonus: Create awesome videos with InVideo
Video marketing needs to be a part of your marketing strategy. This is especially true going into 2020.
Your video strategy wouldn't be complete without using InVideo, a powerful video editing tool that makes it easy for anyone to create stunning marketing videos.
You don't need to have any experience with video editing to use the tool and you'll find it fun and simple to create great videos that you can use across social media and your blog.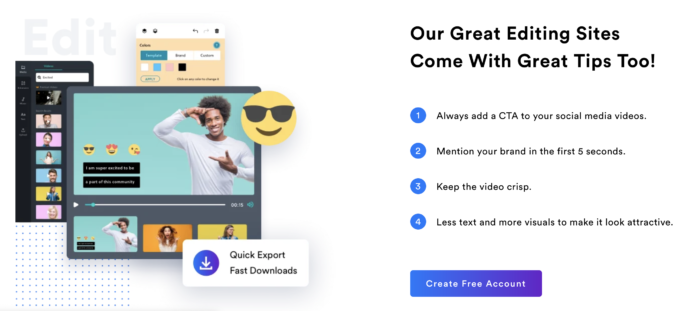 Bonus 2: Drive traffic from Instagram to your blog with MobileMonkey
If you're content marketing, you are probably already leveraging the power of content repurposing.
For instance, content you post to your blog will make for a great email and an engaging piece of social content.
There's just one problem: Instagram generally makes it hard to link someone from an Instagram post or story to the blog post on your site.
That's where MobileMonkey Instagram DM tools come in.
MobileMonkey turns Instagram into a traffic driver, powering CTAs from Instagram to a website link, or anywhere else you want to send traffic.
Simply include a call-to-action in the Instagram story or post caption to DM you with a campaign keyword, and MobileMonkey will automatically send the relevant content as a follow-up DM.
Sure, you can use Instagram ads to send traffic to your site content, but this is 100% organic Instagram content marketing! 
And MobileMonkey even includes Instagram marketing tools in their free version.
This is the tool every marketer needs to turn Instagram into a direct, traffic-generating channel that gets eyes on your content.
Conclusion
Most B2B marketers are using content marketing within their marketing strategy.
You probably are, too.
If you aren't, chances are you probably plan to start soon.
These 15 content marketing tools are the easiest ways to get the most engagement out of your content without spending a ton of time and energy.
Just pick the ones you want to try and see which of them brings in the best results.
Each of these tools relates back to content marketing in one way or another.
Need a place to store and share editorial schedules? Try Evernote. Want to automate your site growth? Check out Uberflip. Need to design images? Create an account with Canva.
Whether you're just starting out in the content marketing world, or you're a pro, these resources are essential for taking your content-engagement rates to the next level.
Which content marketing tools do you have the most success with?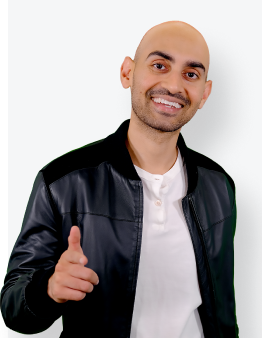 See How My Agency Can Drive More Traffic to Your Website
SEO - unlock more SEO traffic. See real results.
Content Marketing - our team creates epic content that will get shared, get links, and attract traffic.
Paid Media - effective paid strategies with clear ROI.