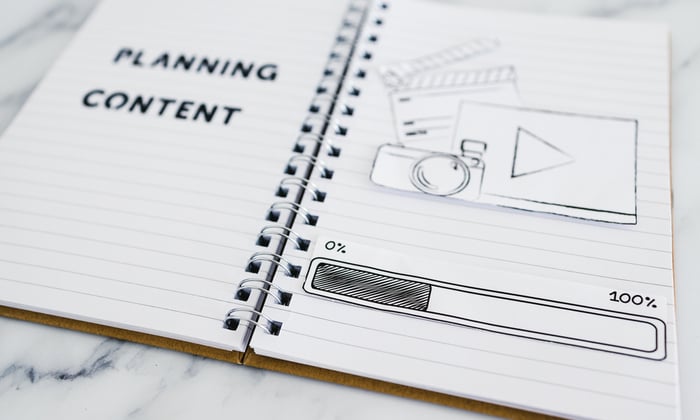 Content planning is easily the most unenjoyable part of the entire content production and marketing process—just ask any digital marketer.
Yet, it's an essential component of content marketing that can't be ignored if you want to 10x your content output.
Not only will organization help you stay on top of things, but content planning helps improve the overall quality of your content. You should regularly review your content plan and look for ways to maximize your productivity—even on a shoestring budget.
Remember, content plays a huge role in your business growth.
As a result, you must be deliberate and proactive about the type and quality of content you publish. Planning your content will help you provide real value to your audience, remain consistent in posting, and stay ahead of your workload for the month.
This will create more time to respond and engage with your target audience: the true goal of content marketing.
Review Last Quarter's Content Metrics
A key part of creating a quarterly content plan is to review the previous quarter's performance metrics for your social media, mailing list, and blog pages.
Check everything from traffic on your pages to direct social media engagement to click-throughs to your website. Analyzing your content this way will help you understand what kind of content your audience is looking for and what works best.
You'll also be able to identify what hasn't taken off and has been a waste of your marketing budget. This will help inform your content strategy moving forward.
To make this segment of your quarterly content planning more effective, design a way of keeping track of your content's performance each quarter. You can use a spreadsheet or any other content-management tool that you find easiest.
Set Content Goals
Before you start planning the type of content you'll publish, it's essential that you first decide what you want to achieve with your content.
You should set goals for your content each and every quarter.
A few business goals you can achieve with your content include:
brand awareness
customer acquisition
sales
customer retention
engagement levels
When setting your quarterly content goals, it's a good idea to use your previous quarter's content performance as the benchmark for your next quarter's content goals. It's also an excellent idea to set SMART goals as this makes your goals easy to track and measure. For example, your goal could be a 20 percent increase in organic traffic in the next quarter.
Every content marketing campaign you run must be designed to accomplish specific goals that align with your future business plans.
Define Content Campaign Metrics
One of the biggest mistakes you can make with your content is spraying and praying—publishing content and hoping it will perform. Content doesn't perform by chance. You have to be strategic about every component of your campaign.
That's why you must define the metrics you'll use to gauge the performance of your campaign. Defining your content campaign metrics will help ensure that every piece of content and every campaign is data-driven, thereby increasing the chances of success.
How do you define your content campaign metrics?
Easy. Your metrics should be tied to the content goals you set for the quarter. A few examples of the metrics you can use to review the performance of your content include:
Page views: This shows the number of unique visitors seeing your content.
Time on-page: This is the amount of time visitors spend on a particular page. If your content is relevant and engaging, time spent on the page will be higher.
Bounce rate: This is the percentage of website visitors that leave without performing a relevant action.
Social media shares and engagement: This metric indicates how much people find your content useful.
SEO performance: Check factors like page ranking, backlinks acquired, and the keywords the page is ranking for as indicators of SEO performance.
Newsletter signups and engagement: How readers engage with your newsletter shows the relevance of your content.
Defining your content campaign metrics will give you the perfect way to measure the success of each piece of content and the campaign as a whole.
Evaluate Your Content's Target Audience
One critical aspect of your content plan is understanding the audience you're targeting. If your targeting is off, your campaign will flop.
To ensure you're targeting the right audience, you need to conduct audience research and build personas representing your ideal customer.
A few things to note as you research your target audience include:
Demographics: These are the physical attributes that members of your target audience have in common. Examples include geographical location, gender, age, and marital status.
Psychographics: Psychographic data refers to the general psychological makeup of members of your target audience. Examples include interests, aspirations, opinions, and more.
Firmographics: This mainly applies to B2B brands as it refers to the descriptive attributes that make up a brand's ideal customer profile (ICP). Examples include industry, location, company size, customer base, and technology stack.
Using the data you obtain, you can then build profiles of your perfect customer.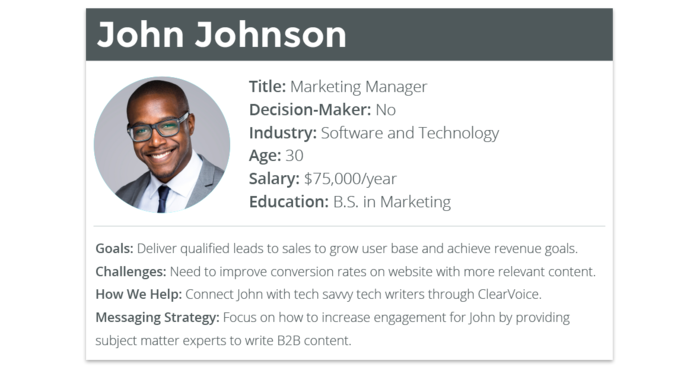 Doing this will help you design the right messaging and create personalized experiences for your audience.
Besides understanding your audience, you should also seek to understand which stage of the funnel they are in. This will help you know which stage of the funnel to put more effort into as you create content for the next quarter.
Decide What Types of Content to Create
Another important element for creating a quarterly content plan that will 10x your output is knowing what type of content to create.
Different content types include:
social media
webinars
how-to guides
blog posts
infographics
memes/GIFs
videos (live stream videos, YouTube videos, TikTok, Instagram reels, etc.)
podcasts
email newsletters and campaigns
user generated content (UGC)
long form pieces
white papers
As you well know, making decisions (even concerning the smallest details of your life) can be challenging. Thankfully, a few factors will help you decide on the content types to focus on in the next quarter. These include your:
Target audience: Create the type of content they find valuable and engaging.
Sales funnel: Make sure to create content that caters to each stage of your sales funnel.
Competitors: Study your competitors and take note of the content types that are bringing them results. You can do this by checking out Ubersuggest, a free marketing tool.
You can also review your own content to check which types of content have worked well for you.
For now, here are some of the content types you can leverage in your content marketing campaigns:
1. Blog Posts
Easy to produce with the help of the right content writers, blog posts are among the most consumed types of content. They are also the easiest to rank in search engines as they provide many opportunities for SEO optimization.
2. e-books
E-books are a type of long-form content in PDF or HTML formats. They are a great way of showcasing your expertise, thereby helping you gain your audience's trust. Plus, they are great for earning passive income.
3. White Papers
White papers are informational documents that go in-depth to highlight a specific topic and how your product or service can help solve said problem. Their most prominent use is to help establish you as a thought leader. They're also great for lead generation.
4. Case Studies
Another excellent type of content you can use to gain your audience's trust is a case study. Case studies highlight a common problem your audience faces and how one of your customers used your solution to solve that problem.
5. Video Content
Video content has grown in popularity over the past few years thanks to its highly interactive nature. It's a great way to drive engagement and easily convey your message.
6. Infographics
Infographics are a superb visual way of presenting information in an easy-to-digest format. They're also great for driving engagement and attracting backlinks.
Review Your Content Budget
Now that you know the types of content you'll create, you can start reviewing your content budget. You'll have to work out how much you're prepared to spend on:
content strategy
content creation
content promotion
As content marketing plays a huge role in the success of your business, you should set aside a healthy portion of your marketing budget for it.
How much should you budget for your content marketing?
The answer is largely dependent on several factors—including the types of content you plan on creating, the volume of publishing, and the size of your business. However, research shows that most brands spend anywhere from $5,000 to over $50,000 on content marketing. Marketing budgets in general should be between 7-12 percent of your total revenue.
Review Content Production Workflow
With the budget sorted, you can now start getting the gears of your content creation in motion.
It's time to review your content production workflow.
A content workflow is a series of tasks that you and your team must perform to ensure that each piece of content is perfectly crafted and created on time. It also highlights who creates which parts of your content, such as writing, recording, editing, and graphic design.
A well-designed content production workflow ensures that your content creation runs smoothly and efficiently. That's why, as you do your quarterly content planning, you must review how well your content workflow worked. Ask yourself:
Did your content production run smoothly?
What parts of the workflow do you feel need improvement?
As you review your content production workflow, take note of the parts of the process that you can automate. For example, you could streamline aspects of the process by creating templates that ensure uniformity in the quality of the deliverables.
Create a Content Promotional Plan
Most people make a mistake when it comes to content marketing. They think the process stops after hitting the publish button. You need to realize that content marketing has two critical stages: content production and content promotion. Writing content is only half the battle.
You also need to promote it. After hitting the publish button, you must aggressively promote your content. This can be via alternative content marketing platforms—e.g., sharing your blog posts on social media, or sending your LinkedIn article to your mailing list.
A few tips to help you create an effective content promotion plan include:
Understanding the platforms your audience frequents: Do they prefer to consume content on social media, blog posts, or YouTube?
Outlining what types of campaigns you'll run: Examples include SEO, paid social ads, google ads, and email marketing.
Defining your content promotion KPIs: Doing so will help you track the performance of your campaign.
Creating a content promotion calendar: A content promotion calendar shows you which content to promote, on which platform, and on what day.
Design your content promotion plan in such a way that the day you launch a piece of content, you're already prepared to start promoting it. Content promotion and distribution must start immediately after you publish a piece of content.
Quarterly Content Plan Frequently Asked Questions
How can I increase my content production?
Content creation is a big challenge for many businesses. The best way to increase your content production is to plan ahead. That's why you need to create a quarterly content production plan.
Are there any tools that can help increase content production?
There is a myriad of tools you can use to increase your content production. Examples include spreadsheets, Trello, Frase, Workflowy, Grammarly, and many more.
How often should I review my content production plan?
Reviewing your content production plan is an essential part of running a successful content marketing campaign. That's why you must regularly review yours. For your quarterly content plan, a monthly review is best as it gives enough time to get enough data to help you have a clear picture of how your content is performing.
What should be included in my content production plan?
Your content production plan should include everything that can help you effectively produce quality content. This includes content research, workflows, creation, and promotion.
Quarterly Content Plan Conclusion
Content marketing plays a significant role in the success of marketing your business.
For your content marketing campaigns to succeed, you need to plan your content ahead of time. You need to create a quarterly content plan that will help you 10x your content output—both qualitatively and quantitatively.
Content planning has many advantages it brings to your content team and business overall. From speeding up the content creation process to improving content quality, you can engage your audience in new ways and maximize your marketing budget ROI.
Go ahead and use the tips outlined above to create your quarterly content plan.
What content planning tips have you found to be most helpful?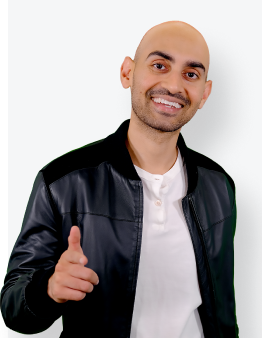 See How My Agency Can Drive More Traffic to Your Website
SEO - unlock more SEO traffic. See real results.
Content Marketing - our team creates epic content that will get shared, get links, and attract traffic.
Paid Media - effective paid strategies with clear ROI.
Are You Using Google Ads? Try Our FREE Ads Grader!
Stop wasting money and unlock the hidden potential of your advertising.
Discover the power of intentional advertising.
Reach your ideal target audience.
Maximize ad spend efficiency.