The concept of 'social media marketing' is probably one that you've heard a lot about by now.
If you're in the B2B space, however, you might feel a little unsure of how you can make the most out of B2B social media marketing.
After all, a lot of B2B businesses are steadfast in the belief that their clients can't be reached on social media – despite the fact that platforms like Facebook have over 1.13 billion daily active users.
If you currently find yourself doubting your ability to reach and market to your ideal B2B clients on social media, then this blog post should help you use your social network.
Because, in this post, we're going to take a look at how B2B companies can make social media marketing produce results for them.
We're going to review exactly how social media marketing works and what it takes to market to a B2B crowd, in a way that will generate engagement and leads on your social network whilst adhering to social media marketing best practices.
By the end of this post, you'll appreciate the power of social media marketing and understand that it can work for you, even if you are working with B2B clients.
Let's begin!
An important point – Business to Business or Human to Human?
Social media marketing gives you the chance to 'humanize' your brand. Social media is powerful, because it gives you the chance to connect with people, in a personal way.
You should take advantage of this and communicate with people on your social network via a media campaign as a brand representative, rather than as faceless company.
At the end of the day, you're dealing with people, even if you are in the B2B sector. If you make your social network interactions personal, you'll get better results, whilst increasing your social media presence.
If you're struggling to grasp the concept of social media strategy, you'll get a better understanding of social media campaigns as you read further.
For now, however, just remember this – it's called social media marketing for a reason.
Pick one channel
Below, you can see the top ten social media channels in the world.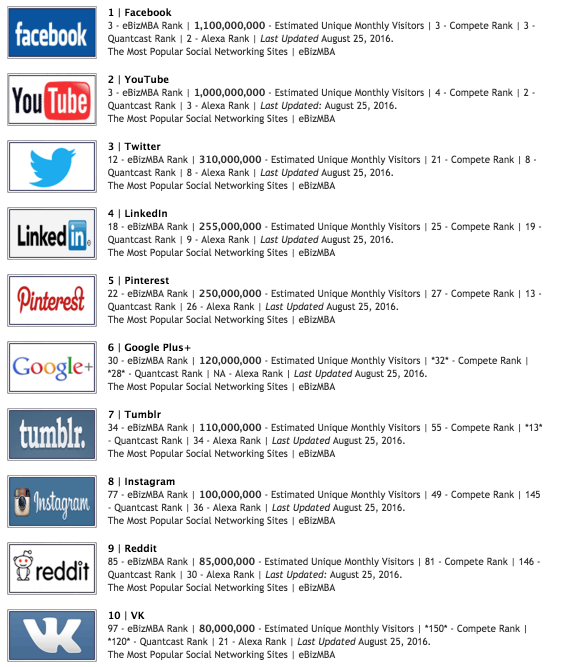 A lot of marketers get excited by the prospects offered by social media marketing and end up spreading themselves too thin across social networks, conducting activities on all of the major platforms.
However, this is one of the fastest ways to get into trouble and hamper any social media campaign and therefore, any chances of social media presence.
The reasons for this are many.
First, different platforms require different types of content.  As a result, this can create more work for you.
Plus, even if they don't require different types of content, different platforms still require that you present your content in different ways, meaning that you'll need to adjust your copy, study varying social media best practices, and specific presentation styles for each platform.
This issue is also amplified, when you consider the fact that there are different groups of people on each platform who connect with different things. Meaning you can't always re-purpose a piece of content.
Different platforms have their own little nuances.  So, it's often helpful to master one platform, before you consider moving on to another social network.
B2B marketing tends to work well on Facebook and LinkedIn more than other social channels – and so that's what we're going to focus on those social media accounts in this post.
Get clear on who your customer is
You need to know who your customer is if you want to experience success with digital marketing – and especially for social media marketing and growing your media presence. For example identifying if you are dealing with a large or small business.
Therefore, it helps to create a buyer persona that lists out the traits and demographics of your ideal customer and how that relates to their usage of their media accounts.
I won't go into too much detail on this topic, as I've covered how you can develop a buyer persona here.
Once you're clear on who your customer is, you'll be better able to craft your social media messaging. You'll also be in a better position to take advantage of the paid traffic methods provided by social media platforms (something we'll cover later).
It might also be worth it to ask yourself what stage your customers are in, too.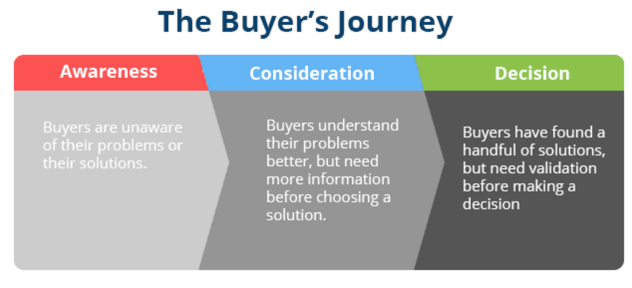 Are they in the Research (also known as Consideration) phase, where they're actively looking for solutions to a specific social media account problem that their business is experiencing at that very moment?
Or, are they in the 'Awareness' phase, where they're aware that they have a problem (or they don't realize that they have a problem) and it's your job to highlight their issue and what their need/pain point is.
Knowing this information will help your media campaign later on, down the line, when defining your goals – something I'll cover next.
Decide on your goals
Once you're clear on who your customer is, the next step that you must take is to get clear on what your media campaign goals are.
Many businesses have fallen into the trap of chasing social network 'Likes' or 'Retweets,' in the hopes that it will somehow magically produce results that affect the bottom line. This is a limited approach to utilizing a social media account.
In fact, if you've heard of a business that has little belief in social media marketing, it's probably because they did the aforementioned on their social networks whilst ignoring social media best practices.
If you take a look at the numbers, you'll see that there is a variation, in terms of those who believe in social media marketing.

As you can see, there are also some who believe that social media marketing does not generate a positive ROI, even though, simultaneously, there are those who agree that social media generates a significantly positive ROI.
Obviously, you want to join the group that generates a significant ROI from social media marketing.
And, the best way to do that is by being clear, from the onset, about what you want to achieve with a media campaign and, therefore, applying social media best practices.
In general, there are two main goals that you can hope to achieve with social media marketing –
Brand Awareness
Conversions
Note: Content marketing and social media marketing work very well together.  And, a lot of what we're going to cover is going to be in the context of what would happen if you're trying to promote some content using a social media campaign. So, just keep that in mind, if there is a mention of content.
If you're looking to build brand awareness, you're not doing things in the hopes that your efforts will lead directly to revenue.
Rather, you're looking to become a thought leader in your space and you're trying to build familiarity with your brand across social networks.
You may also be more concerned with shares/likes/retweets and/or fan page growth, if you're running a brand awareness campaign.
If you're looking to drive conversions, you're taking steps to ensure that you can see a direct return on investment on your social media marketing activities.
This might happen when you're actively promoting a piece of content, using paid traffic, that is designed to get people into a funnel that will 'convert' them and direct them towards your media account.
For this type of campaign, you'll be more interested in 'website visits and click-through rates.'
This kind of social media campaign approach works well, when you're trying to reach people in the 'Research' phase, because they're actively looking for the solution to a specific problem.
Decide on your approach
So, you've decided on your goal and you've picked a platform that you're going to work with.
Next, let's talk about how you can develop your approach.
Your approach relates to how exactly you're going to market yourself on social media, in order to achieve your goals.
As mentioned earlier, content marketing is often a good method to combine with social media marketing.
If you take a look at high performing marketing teams, you'll notice that producing unique original content is the second highest priority for them.
So, assuming you combine content marketing with social media marketing, how exactly do you generate results?
A lot of it comes down to being clear about what stage your target market is in, therefore making it clear what kind of content that you should create.
If you're looking to reach people in the Consideration/Research phase, then you'll need to think about how you can create actionable content that teaches your target audience how to solve a specific problem.
Upon reviewing such content, people may decide that they have enough information to solve the problem on their own.  Or, they may reach out to you and ask for advice.
You can do this with the help of a webinar or a blog post. Webinars are preferable, however, as they typically convert more often whilst promoting social media best practices.
If you're creating content for potential customers in the Awareness phase, you need to think about why people need your social media campaign offering in the first place.
You're trying to shed light on an issue that your target market might not even be aware of.
If you're selling SEO services, for example, then you might have a piece of content that teaches people, 'Why it matters to be on the first page of Google.'
If you're selling data security, you could create content called, 'Your biggest threat isn't your competitor – it's your employee' and then talk about security hygiene related to USBs and things of that sort.
In short, when creating awareness content – focus on the 'why' and then create the content.
When people see awareness content, they'll then move to your 'Research' content and some of these people will reach out and engage with you.
Yes, that's an oversimplification of a social media campaign, though it helps to provide an overview, in terms of how this all works.
Note: If you're looking to create content on your media account that is purely for brand awareness purposes and that you're not looking to attribute a direct positive ROI to, then you might want to consider creating videos/blogs as part of your media campaign that detail stories of and related to your company.
That might include the origin story of your company, where you detail on your social media account why it was set up in the first place.
You might even create content based on the products that you're creating and explain the reason that they were created, as well as showcasing the effort that goes into creating them.
There's even the option of creating video testimonials of your customers that show how their life changed, as a result of using your product.
You may also create content that documents an event your company hosted or sponsored on your social media account.
Here's an example, from Adobe, that related to a 'Scavenger Hunt.'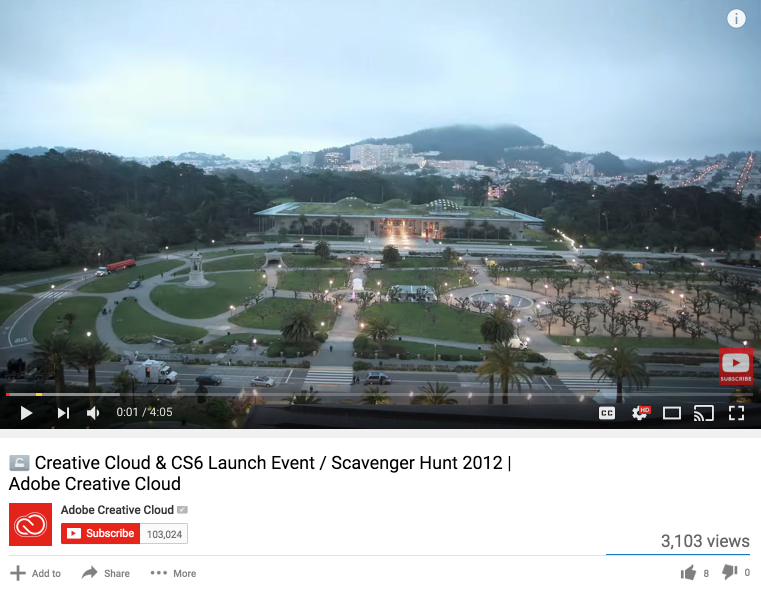 The Scavenger Hunt, combined with a 30 day giveaway event, managed to earn the company over 32 million impressions and over 14,000 fans.
A pretty good result, if you're looking to achieve brand awareness.
The importance of goodwill
If you want to see real results from social media marketing, then you need to make it so that you're consistently making an effort to generate goodwill.
The easiest, and perhaps most obvious way to do that, is to simply create a lot of content that is high quality and informative whilst demonstrating you are using social media marketing best practices.
By providing your target market with all of this content, they'll then begin to appreciate your expertise and will feel more comfortable about getting in touch with you via social networks.
However, another way that you can generate goodwill, is by actually interacting with those who engage with your social media profiles.
That means replying to social media account comments, but also asking followers of your media account new questions.
You may also want to host Q&A sessions, where people can engage with you and become more familiar with your brand and expertise.
Bringing it all together
Finally, let's talk about how we can bring everything together.
You know who you want to reach and you know what you want to achieve and you know how you're going to achieve it.
Everything that we've covered, so far, relates to the groundwork of developing a social media marketing strategy.
Now, we need to discuss how you can get your content/events in front of the right people using the right media account.
After all, networking can take many forms.
There are two ways that you can do this.
Organically or via paid traffic.
Initially, it is often better to launch a social media campaign using paid traffic to expand your social media presence.
After a while, your social media assets will have amassed a large enough following that you will have less of a need to use paid traffic, in order to conduct effective social media marketing.
So – where to begin?
If you're looking to market to your ideal customer on LinkedIn, you can make use of Sponsored Updates.
I've talked about how you can set up LinkedIn ads here.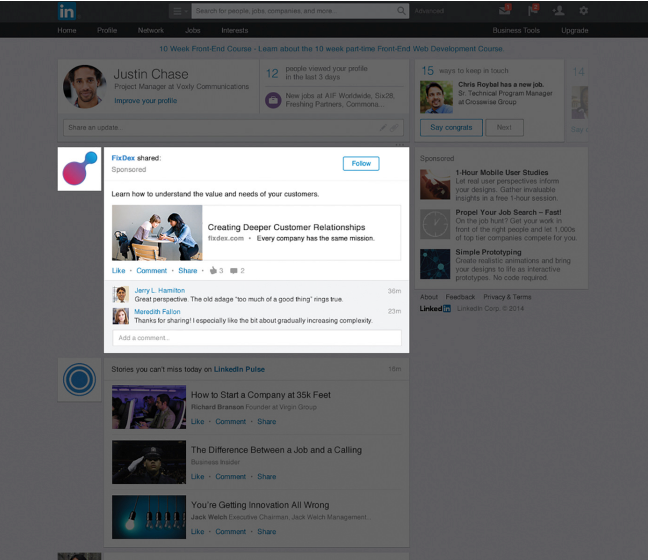 Sponsored Updates are ads that appear in the News Feed of a LinkedIn user. These ads work quite well, because they're very visible and garner a lot of engagement with your social media account.
LinkedIn also provides you with some incredible targeting features, making it easy for you to get in front of your ideal B2B client.
In fact, here are all of the targeting options open to you, when running LinkedIn ads –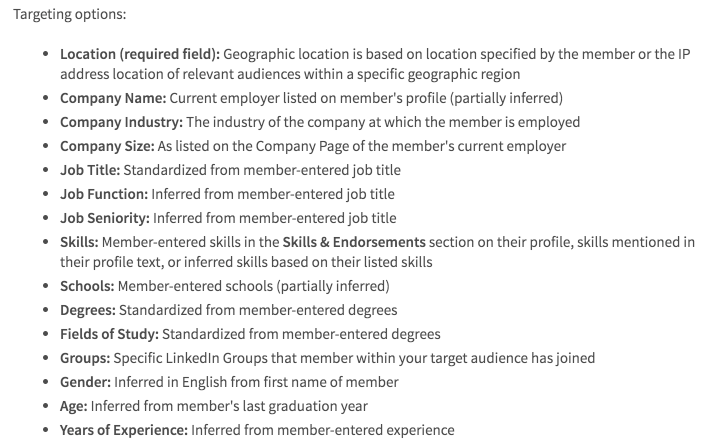 Note: Keep in mind that advertising on LinkedIn can be expensive.  If your budget is small, be careful.
However, when done right, the results on this social platform can be fantastic.
Skillsoft managed to achieve a 30% conversion rate, using Sponsored Content. Thanks to the targeting abilities provided by LinkedIn, their leads came from manager level or above.
If you're looking to promote via Facebook, you can use Facebook News Feed Ads (if you're promoting blog posts) and Facebook Video Ads.
Here's an example of a Facebook Newsfeed Ad, from AdRoll.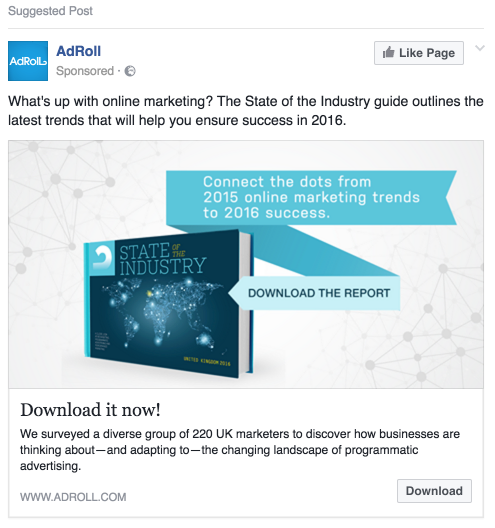 Facebook also boasts some incredible targeting features that you can take advantage of.
If you have a list of email addresses, Facebook can even analyze your list of customers, providing you with detailed targeting data that you can apply to Facebook and LinkedIn Ad campaigns.
That's possible, thanks to the Audience Insights tool.
If your business model allows for it, you can also consider targeting existing customers on this social platform with your promotional content. You can also target people who are similar to existing customers, using Lookalike Audiences.
If you're still pessimistic that Facebook can work for a B2B audience, consider Knowlarity.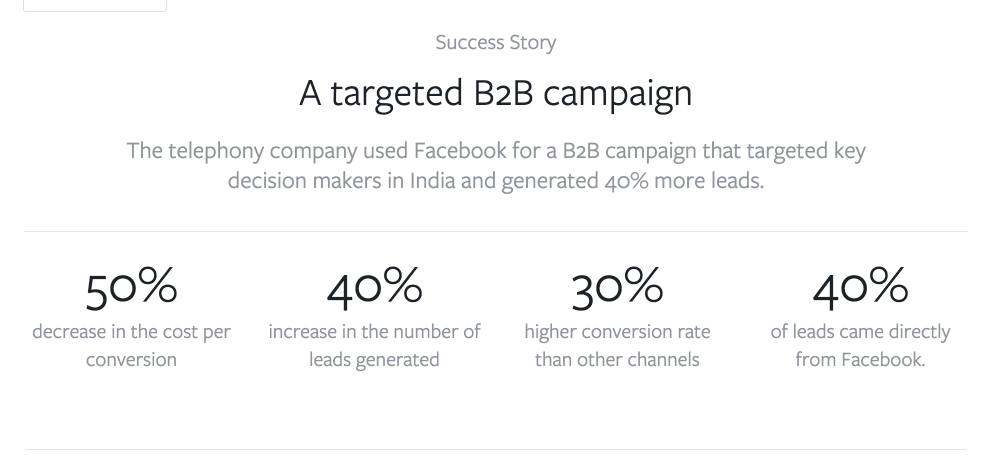 Using Facebook Ads, they managed to achieve a 30% higher conversion rate than all other channels. Additionally, they also managed to decrease their cost per conversion by 50% on this social platform.
You might even want to focus your media strategy on creating a community, through the use of a Facebook Group.
Conclusion
B2B social media marketing can appear complex.  But, if you break it down, it's actually quite simple.
Provided that you focus your efforts, understand how to reach the right people through the right social channel combined with an accurate media strategy and generate goodwill in the process, it all starts to make sense.
Of course, if you really want to make the most of B2B social media marketing, it's really important that you're clear about what you want to achieve.
When you are, you can create content on your media account that hits all the right notes and get it in front of decision makers, who will pick up the phone and get in touch.
Do you have any insights to share, when it comes to B2B social media marketing? Share what you know below! Thanks 🙂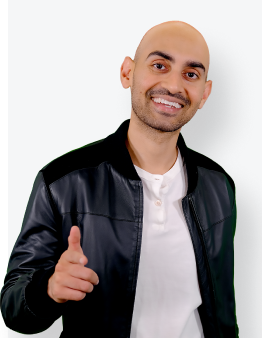 See How My Agency Can Drive More Traffic to Your Website
SEO - unlock more SEO traffic. See real results.
Content Marketing - our team creates epic content that will get shared, get links, and attract traffic.
Paid Media - effective paid strategies with clear ROI.
Are You Using Google Ads? Try Our FREE Ads Grader!
Stop wasting money and unlock the hidden potential of your advertising.
Discover the power of intentional advertising.
Reach your ideal target audience.
Maximize ad spend efficiency.