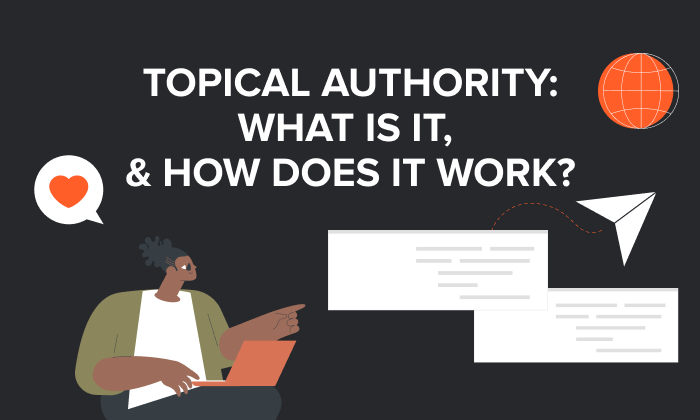 Unless you've been living in a cave for the last couple of years, you've probably heard the term "topical authority" used a heck of a lot in the SEO community.
But what is topical authority? What does it mean, and how does it work?
Given how much SEOs discuss it, you probably realize that topical authority is pretty vital to your site's rankings—and you'd be right.
When you have topical authority, you prove to search engines and users that your website is the place to learn about a particular subject. You cover every facet of a topic in-depth, and, in return, Google rewards you with better rankings.
If you want to become the authority in your industry, I'm here to help. In this article, we'll cover everything you need to know about topical authority, what it is, how it works, and what you can do to build it.

Ready to increase your authority? Then let's begin.
The Basics of Topical Authority
No one has a definitive definition of topical authority — that's because Google hasn't given one. With that said, in the SEO community, it's commonly referred to as a measure of your site's expertise on a given subject. The more high-quality content you have on a topic, the better your topical authority.
If you have strong topical authority, Google will rank your content on that topic higher than a website with weaker topical authority.
Let's take this site as an example. Because I've been writing about SEO and digital marketing for over a decade, I like to think I've developed strong topical authority on the subjects. That means when I write a new post on local SEO link building, it will rank quickly and rank higher than established articles on sites with a smaller content footprint or that don't regularly talk about digital marketing topics.
Topical Authority and the Google Hummingbird Update
Topical authority came to the fore with Google's Hummingbird update, introduced in 2013. The update completely changed the way Google analyzed content, ranking it by relevance to the searcher's query. In other words, it lets Google analyze content on a semantic level.
Before the Hummingbird update, Google's algorithm, while better than any other search engine's, was pretty basic. It relied heavily on keywords, backlinks, and other critical Google ranking factors.
Unfortunately, as many SEOs know all too well, this made it easy to game the system. This wasn't great from Google's point of view, because it encouraged SEOs to spend time stuffing articles full of keywords or building tons of backlinks rather than creating quality content.
Hummingbird fixed that. But now Google can understand the semantic meaning behind searches, many website owners are asking themselves, do keywords matter? The answer is yes, they certainly still have a place in your SEO strategy. But they now take a backseat compared to other factors, such as creating high-quality content.
How Does Topical Authority Help Build Your Marketing Strategy?
Achieving topical authority is great for your SEO, but it can also help you achieve broader marketing goals. Here's what it can do for your website.
More organic traffic
One of the best things about having topical authority is that it ensures more potential customers head to your website instead of your competitors. That's because better topical authority means higher Google rankings and higher rankings means more traffic.
More backlinks to your website
When you make yourself a topical authority on a subject, you also make it much more likely that other websites will link to your content. The reason for this is partly because you're seen as the expert on that topic, but also because you rank higher. So when someone searches for a website to cite, you'll be high on the list.
Increased brand reputation
Consumers trust experts. And if your website appears at the top of every search result related to a particular topic, you're naturally going to be considered an expert. When you're considered an expert you get a huge increase in brand reputation, which can result in more loyal customers and better opportunities for your company.
How Can You Tell A Website Has Topical Authority?
It's not always obvious if a website has topical authority. There's certainly no concrete metric you can look up. But there are several factors you can use as a guide.
A Strong, Authoritative Domain
Websites with good topical authority tend to have strong, authoritative domains. That's because of the role backlinks play in both these metrics. The more backlinks a website has, the better its domain authority (DA) or domain rating (DR) — and authoritative websites tend to garner a lot of links.
There are several ways you can measure the authority of a domain. Moz's domain authority and Ahrefs' domain rating are both great metrics, so use whichever you prefer.
Robust Internal Link Profile
A strong internal link profile suggests that a website has a lot of pages about a similar topic. After all, you'd only link to another page on your website if it is related to the topic you're currently writing about.
If you want a quick and easy way to check internal links, then use the Internal Link Checker by Sitechecker.

It will show you all of the internal links on a page of any website.
Number of Ranking Keywords
Generally speaking, the more keywords a website ranks for, the more topical authority the website will have.
It's easy to see how many keywords a website is ranking for using Ubersuggest. Just run a Site Audit on your own or your competitor's website, and organic keywords is one of the headline figures you see.

You can click on the tab to get a complete rundown of all the keywords that the site ranks for.
Great Content
Well-written and well-researched content for your target audience is a final sign of a website with high topical authority. With that said, this usually needs to be combined with at least one of the factors above to be a true factor.
Best Practices To Build Your Topical Authority
Becoming a topical authority isn't easy, but it's possible if you follow the steps I outline below.
Create an Awesome Content Strategy
Building an in-depth and detailed content strategy is essential for establishing topical authority. Your topical authority strategy must include a plan for producing authority-building content consistently that includes topics and keywords that will interest your audience.
Focus your attention on supporting your readers by sharing your knowledge. Establish what others are talking about within the industry, and start sharing your thoughts on relevant topics you are confident writing about.
Build Topic Clusters
When selecting topics to write content about, focus specifically on a couple of key topics, and use them as pillars for your website.
Make sure you create the very best piece of content about these core topics, then start branching out into other related topics—most of which will have a smaller search volume than your key topics.
When you write about these smaller, related topics, make sure you are linking back to the bigger topics and between all of the other smaller topics that are related to your key topic.
It will look something like the diagram below from HubSpot.
This strategy will help you build topic clusters, which is essential for improving topical authority and SEO. Topic clusters make it easy for search engines to see that you are covering a subject as deeply as possible and make it easy for search engine crawlers to navigate your site and rank your content.
Understand User Intent
Most content marketers will implement a plan surrounding user intent to improve their topical authority. It is no secret that Google's search engine algorithm has become extremely good at understanding user intent.
If a user searches for information on a subject via a given fact or specific keywords, Google's algorithm tries to establish the intent behind that particular search and deliver the most relevant result.
That means your content strategy must take into account the intent of the user searching for that keyword. If it's informational, write a how-to article. If it's transactional, consider targeting an e-commerce page.

You can go even further by creating the type of content Google wants. For instance, run a Google search yourself for a target keyword and see what kind of articles come up.
Below I've run a search for the term "Keyword research." As you can see, the results are a mixture of how-to articles and tools.
This tells me that I can either market my keyword research tool, Ubersuggest, or create a how-to guide that includes my keyword tool and others like it. This satisfies the user intent and what Google thinks the user intent is.
Build High-Quality Links
One final strategy you should use to improve your website's topical authority is to build high-quality backlinks with other authoritative websites.
The key is to get links from websites that have strong domain ratings and that are relevant to your industry. For example, if you have an SEO tool, getting a link from my blog would be a great link.

There are several link building strategies you can use to get these kinds of links. Some of my favorites include:
Guest blogging
HARO link building
Mentioning influencers in your content
Please don't neglect link building. While you need to be focusing on creating content, you also need to keep building links to your website to increase topical relevance.
Frequently Asked Questions
What is topical authority?
Topical authority is a measure of your site's expertise on a particular topic. The more authoritative content you have on the subject, along with other factors like backlinks, the higher your topical relevance. 
How do I create topical authority in my industry?
To achieve topical authority you need to cover a topic better than anyone else. That means lots of high-quality articles, great internal linking, and lots of backlinks from other authoritative websites. 
Do backlinks play a role in establishing topical authority?
Yes, backlinks absolutely play a role in establishing topical authority. Great content will only get you so far. You also need to acquire links from other authoritative websites. Those links will help Google see you as more of an authority and increase your rankings. 
How do I incorporate topical authority into my SEO strategy?
A good SEO strategy should already be increasing your website's topical relevance. Keeping that in mind, you want to make sure you are creating lots of high-quality content and covering every relevant keyword and topic in as much detail as possible. You should also be improving your website's internal linking structure, and obtaining as many high quality backlinks as possible.
Conclusion
Hopefully, you can now answer the question: "what is topical authority?" In addition, you understand the huge impact achieving topical relevance can have on your website and marketing efforts.
Becoming an authority requires understanding your customers and your subject matter like no one else. The thing is, you also need to prove it through your website's content, on-page SEO, and backlinks. It's a lot of work, but it's one of the best ways to supercharge your SEO efforts.
What subject are you going to gain topical relevance on?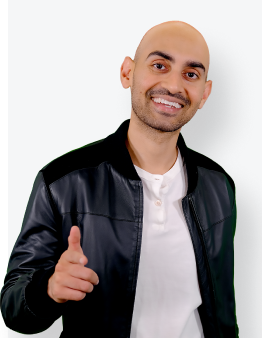 See How My Agency Can Drive More Traffic to Your Website
SEO - unlock more SEO traffic. See real results.
Content Marketing - our team creates epic content that will get shared, get links, and attract traffic.
Paid Media - effective paid strategies with clear ROI.
Are You Using Google Ads? Try Our FREE Ads Grader!
Stop wasting money and unlock the hidden potential of your advertising.
Discover the power of intentional advertising.
Reach your ideal target audience.
Maximize ad spend efficiency.