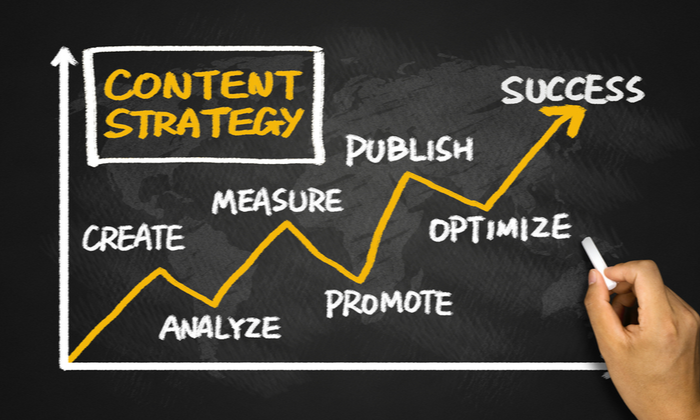 If you've been looking to score the top spot or even the first page on Google, here's one secret to improving your position: have a great content strategy.
Your content strategy should focus on producing quality content, engaging with your audience, and measuring your successes and failures. Don't simply churn out content for content's sake.
Let's go over what a good content strategy contains and how to create one.
Step #1: Define Your Goals for Your Content Strategy
Great content is created for a specific purpose, and this purpose needs to be clearly defined. Ask yourself if you are creating content to boost brand awareness, generate leads, convert users, attract past customers, improve search ranking results, or something else altogether.
Once you have clearly defined your goals, you can determine if a content strategy is actually the best way to achieve them.
Don't assume that content is the best option in every situation.
For instance, content might be of little use in converting users at the bottom of the sales funnel; however, it could be invaluable in bringing users onto your site in the first place, by boosting brand awareness and organic lead generation.
Different segments of the sales funnel warrant different types of content. So, you will need to decide what content is most appropriate for a person to receive at a given time. That way, you will have the right conversation with the right person at the right time.
HubSpot provides some useful information on the types of content that are needed in different parts of the sales funnel. The company divides the sales funnel into three key areas, and then lists the appropriate content asset types for each in the graphic below: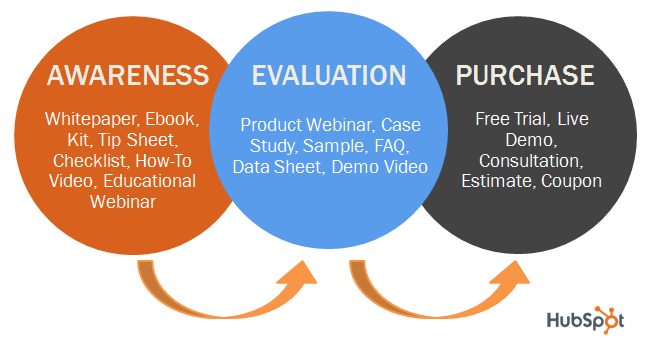 Step #2: Research Your Audience for Your Content Strategy
Your content strategy will only be effective once you know who your target audience is.
Valuable information can be gleaned by checking what types of sites your prospects are already visiting, which content they engage with, and which social media platforms they share content on.
This can be done by enabling Google Demographics and Interests for the types of sites prospects engage with and Google Analytics for the content they engage with, as well as by calculating which social media platforms your users will be on from their demographics.
Understanding what content works best and where can also be useful in the long run. Facebook has made it increasingly difficult for small business owners to increase their reach without paid adverts. However, video content seems to thrive on the platform, with video content "generating 1200% more shares than text and image-based content combined."
Understanding your audience, and how they act will help you narrow down your content strategy, without feeling like you need to have eggs in hundreds of baskets. Content creation on social media works well for B2C businesses, but not so much for B2B businesses.
Step #3: Focus on Your Niche for Your Content Strategy
It's a sad fact that the Internet is full of content that shouldn't even exist. A lot of content is either plagiarized from elsewhere, is simply reposted or doesn't provide any real value. Most people don't see 99 percent of this useless content because it doesn't appear anywhere near the top of SERPs.
To avoid having your content lost in that pack, create content that: stands out, is unique, has a distinct voice, and, most importantly, offers genuine value to readers.
The more specific you are and the more you focus on your niche, the greater your chances of establishing yourself as an authority in your field, whether your readers are looking for information or entertainment.
Step #4: Measure Your Results for Your Content Strategy
Measuring the results of your content marketing efforts is one of the most important aspects of developing an effective content strategy. Churning out content without analyzing your user feedback is akin to having a phone conversation on mute. You need to know what your audience liked as well as what they didn't like, and why.
Here are some of the most important metrics to understand:
1. Consumption Metrics
This is the first layer of information you can gather when people view your content. As previously mentioned, and as shown in the screenshot below, you get this data from Google Analytics by clicking on Behavior > Site Content > Content Drilldown. You can sort by different factors such as:
average time on page
bounce rate
pageviews
With this data, you can find answers to questions like these:
Did you craft a blog post that brought on a huge spike in traffic? Did your users spend more time on a particular piece or genre of content? Did a piece of content garner a large number of comments or shares on social media?

2. Social Sharing Metrics
Sharing on platforms like social media can be a great metric for judging how engaged your audience is. Ask yourself what types of content are being shared, who is sharing, which platforms are being used, and, most important, what content is converting. Below are the steps for how to find what content is converting:
Log into Google Analytics.
Click on Acquisition>Social>Overview.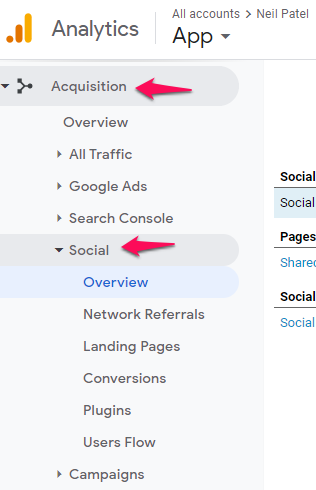 Then you will have a report similar to the one below (assuming you have goals set up):
Here, you have three important metrics:
Conversions: This shows you the total number and amount of conversions. They are from every traffic source, not only social.
Contributed Social Conversions: In order for an assisted social conversion to register, a visitor must have visited the social media site once, though they may have used another traffic source before the last part of the conversion.
Last Interaction Social Conversions: Visitors are attributed to this group if they came from social media and completed the assigned goal in the same session.
Once you have this data, it will yield insights into the style of content that needs to be created in order to get conversions. Also, you will be able to decipher which social media platforms are working best. (Take into account that some niches encourage sharing more than others, so compare your performance with those of competitors with a similar user base.)
3. Lead Metrics
If your content is part of a sales funnel, ask yourself which part of the sales funnel you are creating the content for. Content needs to be tailored to the specific audience at each segment of a sales funnel.
Your content could be either attracting or leaking leads, so monitor its performance and identify areas that could be improved to stop users from dropping out of the sales funnel and areas that could generate new leads. The quickest and easiest way to track leads is to use goals in Google Analytics.
The easiest type of goal to set up is a URL destination goal. Here are the steps:
Log into Google Analytics.
Click on Conversions>Goals>Goal URLs.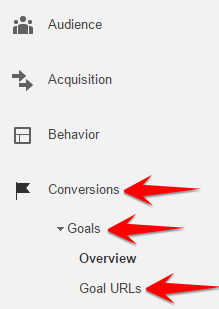 3. Click the "Set up goals" button.

4. Click the "+NEW GOAL" button.
5. Select "Template" (shown in step 7 below).
6. Type in a description of your goal (shown in step 7 below).
7. Select "Destination", and click the "Continue" button.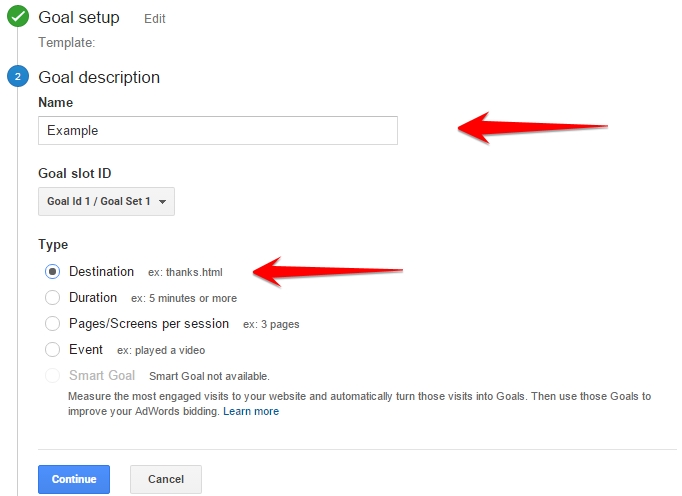 8. In goal details, you need to add the URL of the goal you want to track. The whole URL is not needed, just the final path. For example, to track www.example.com/thankyou.html, input only /thankyou.html.Here, you will have two optional details:
Value: It is possible to assign a value to the goal. For example, if you are selling a product for a specific price, you can add it here.
Funnel: It is also possible to track a specific part of the sales funnel by adding it to the goal.
9. Click save and that's it: you've set up a goal.
10. To view goals once they are set up click Conversions>Goals>Goal URLs
You should see something like this:

4. Sales Metrics
For most businesses, content generation ultimately should boost revenue. Therefore, if your content strategy is revenue-based, you will need to find ways to measure the amount of revenue your content marketing has generated.
Below are the steps for how to find the amount of revenue your content has generated:
Log into Google Analytics.
Click on Behavior>Site Content>All Pages.
You should have something similar to this:

This will allow you to assign a value to a piece of content. If the content isn't performing as needed, then check out this article on how to increase engagement with content.
To summarise, here is a picture that visually represents the four content marketing strategy metrics outlined above: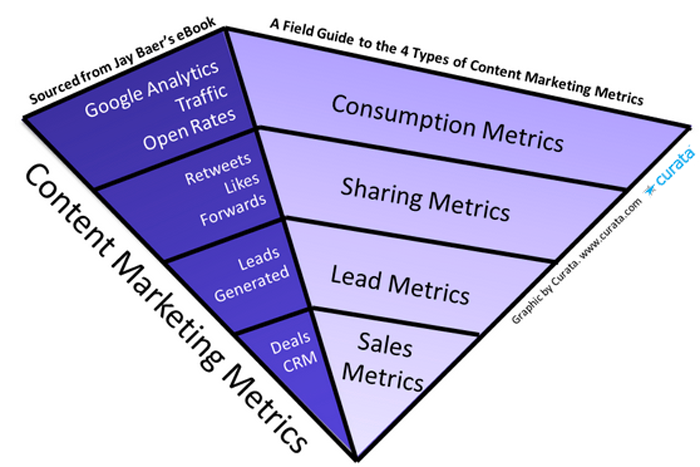 Step #5: Listen to Your Customers to Improve Your Content Strategy
While data analysis can be an immensely useful tool, it gives you only black and white figures on a spectrum that encompasses a lot of subtleties. Access the rest of that spectrum by really listening to your customers. Your customers need to know they are being heard on social media, so ask them for feedback and suggestions and engage with them regularly.
Also, speak to other members of your staff to get a better understanding of the needs of your customers. Sales teams and help staff who are speaking to your customers on a regular basis are better positioned to have thoughtful insight into how customers perceive your business. Then, reaching out to your customers and responding to their feedback enables you to gather valuable data, whilst also showing them that their opinion matters.
Virgin provided an excellent case study by showing how they utilized big data. They incorporated search terms used on the web, people being followed on social media platforms, and views and interests expressed online.
Using the data below, they dug deep and incorporated it into their communications, successfully giving audiences the right message at the appropriate parts of the customer journey. Find out more here.
Here is a flowchart of the results: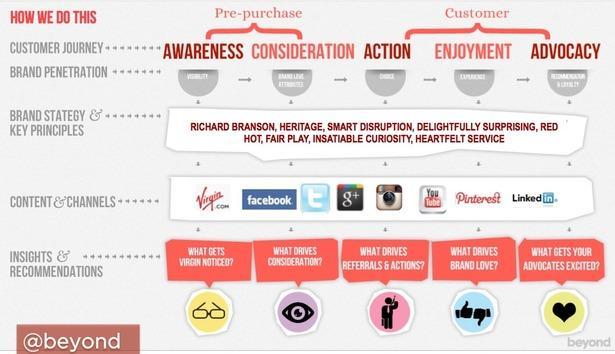 Step #6: Amplify Your Content Strategy
A sound content strategy and targeted content creation make up only the first part of the equation. The final part is amplification of the content.
To amplify your content, determine the places your audience are frequenting online, and then publish on those channels to reach them.
Ultimately, you'll need to think strategically in order to identify all the resources available to you and truly harness the power of employees, customers, and influencers that can help you amplify your content.
Content Strategy Frequently Asked Questions
What is involved in content strategy?
Content strategy involves content ideation, content development and publication, editorial calendar planning, process and system creation and oversight, writing, editing, on-page SEO, and a host of other activities related to content management.
What is a content strategy framework?
A content strategy framework is an outline of how you plan to create content. A framework might include your audience, keywords you will target, how often and when you will publish content, and who will create the content.
Why is content strategy important?
If you want to rank high in Google, you need quality content. You also need good content so when people visit your website, they want to convert. Sloppy or visually unappealing content may turn off your potential customers.
What's the first step of creating a content strategy?
The first step to creating a content strategy should be to define your goals. From there, you can make decisions about what your processes should look like, who your target audience is, what your publishing schedule should be, etc.
Conclusion: Guide to Creating a Better Content Strategy
As you can see, creating a great content strategy isn't rocket science, but it can be quite challenging to implement.
Expect to encounter roadblocks and go through lots of trial and error. Once you have a recipe for success, though, all you'll have to do is rinse and repeat to see the kind of audience growth you've always dreamed of.
Using our step-by-step guide will push you in the right direction to creating a great content strategy, whilst also making sure you are paying attention to key metrics that can make or break the success of your content. Remember: starting your content strategy on the wrong foot is guaranteed to waste your time, and publishing your content on the wrong platforms for your audience means you won't generate the leads you desire.
There's a lot of planning behind content strategies that means you can't just write great content and call it a day.
Does your team have a content strategy in place? If so, how thorough is it?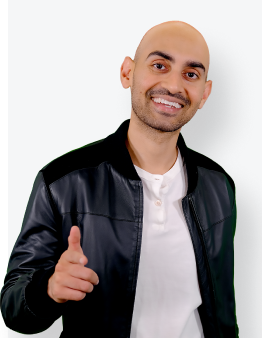 See How My Agency Can Drive More Traffic to Your Website
SEO - unlock more SEO traffic. See real results.
Content Marketing - our team creates epic content that will get shared, get links, and attract traffic.
Paid Media - effective paid strategies with clear ROI.
Are You Using Google Ads? Try Our FREE Ads Grader!
Stop wasting money and unlock the hidden potential of your advertising.
Discover the power of intentional advertising.
Reach your ideal target audience.
Maximize ad spend efficiency.