Ahh, millennials.
They are a group with as many supposed characteristics (lazy, narcissistic, open-minded, supportive) as potential birthdates.
Howe and Strauss said that millennials are anyone born between the years of 1982 and 2004. Newsweek claimed that those dates should be 1977 to 1994. Time Magazine said 1980 to 2000.
So how does one market to such a diverse and large group?
Well, it's tricky. In fact, it's one of the hardest groups to market products and services to.
And with such wide-ranging demographics, hobbies, and values, it's no wonder.
But millennials make up a large percentage of the U.S. population (and their children are Generation Alpha).
So ignoring them as customers and assuming that basic marketing tactics will be fine is a death wish.
You need to invest time and money into understanding how millennials work.
Focus on finding out how they respond to different marketing tactics.
Test the waters to see if they actually resonate with your brand.
Craft a brand image that aligns with their values.
Millennials are tricky to market to, but that doesn't mean it's impossible.
You need to understand them, not forget about them.
Thankfully, there are a few insights we can gather from the latest data on millennials to inform our marketing efforts.
Here is the ultimate guide to marketing to millennials.
What are millennials and why should you care?
The word "millennials" has become a buzzword in recent years.
And even with all the talk, coming up with a solid definition hasn't become much easier.
But let's try.
To get started, let's begin with basic definitions and then dive into the thoughts, desires, and mindsets of a typical millennial.
The dictionary definitions of "millennial" vary: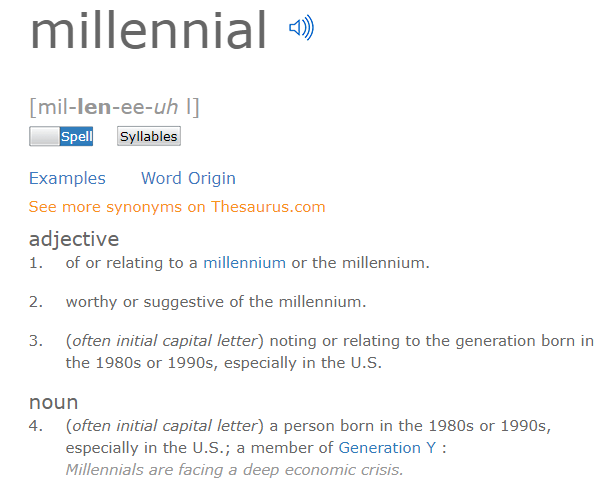 Not one source seems to have a single age range nailed down.
But, we can guess that most people born from the 1980s to 2000 are still millennials if we were to run our own meta-analysis comparing all of the sources.
That's a pretty wide range. We're talking 17-year-olds to 40-year-olds.
For example, did you know that I am a millennial?
It's true. I was born in 1985, making me a bonafide millennial!
And I'm not alone.
Millennials make up 25% of the United States population:

The millennial generation is larger than the baby boomer generation.
Millennials are already beginning to settle down and start families, too.
Today, 25% of millennials are parents, and 53% of millennial-run households have children living in them.

And they are smart.
Millennials are the best-educated group of young adults in U.S. history, with one-third of older millennials having earned at least a 4-year college degree.
Millennials are also go-getters.
Right now, 54% of millennials either want to start a business or have already started their own.
And in the last 5 years, 87% of millennials in the workforce took on management positions at their companies.
From this, I would suggest that millennials are intelligent and hungry for success.
They want to change the system.
They don't want the typical 9-to-5 job.
They wish to create their own companies, start new brands, and change the world.
But it goes beyond that.
They actually hold high levels of buying frequency and power.
Millennials are 2.5x more likely than other generations to be early adopters of technology.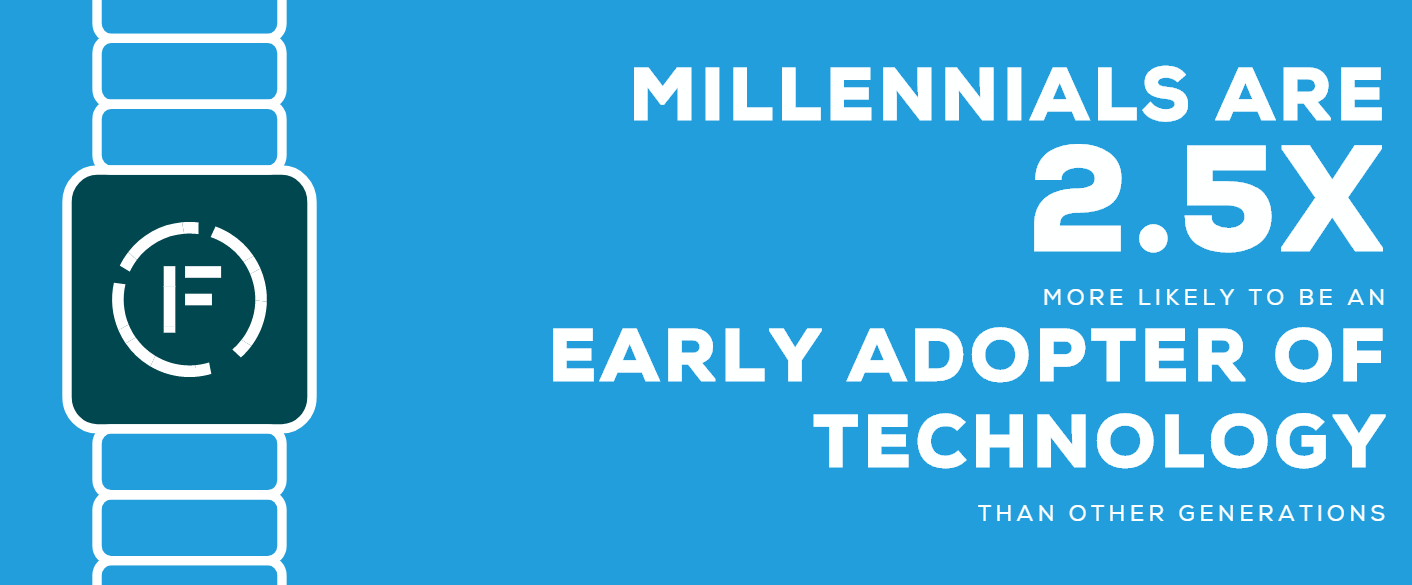 In addition, 56% of millennials report that they are usually one of the first of their social group to try and buy new technologies.
An Oracle study predicts that millennials will have a spending power of over $3.3 trillion by 2018.
If you want to captivate this powerful demographic, there are a few ways that you can market your products and services to them.
Here's what and what not to focus on when trying to develop a millennial-based marketing plan.
Support a cause
Millennials are a different kind of buyer.
Simply giving a great value proposition or offering an awesome product won't be enough to close the deal.
You need something extra.
They need a reason why they should purchase your product.
Why? Because thousands of products exist today and the options are almost limitless.
Providing them with an additional incentive can give you the edge that you need to drive more sales and grow your business.
So, what is that edge?
According to the latest research, millennials are more willing to make a purchase if your company supports some type of cause.

If your brand stands for something, there is a chance that millennials will love you.
If your brand is about more than landing customers, millennials will be more willing to purchase.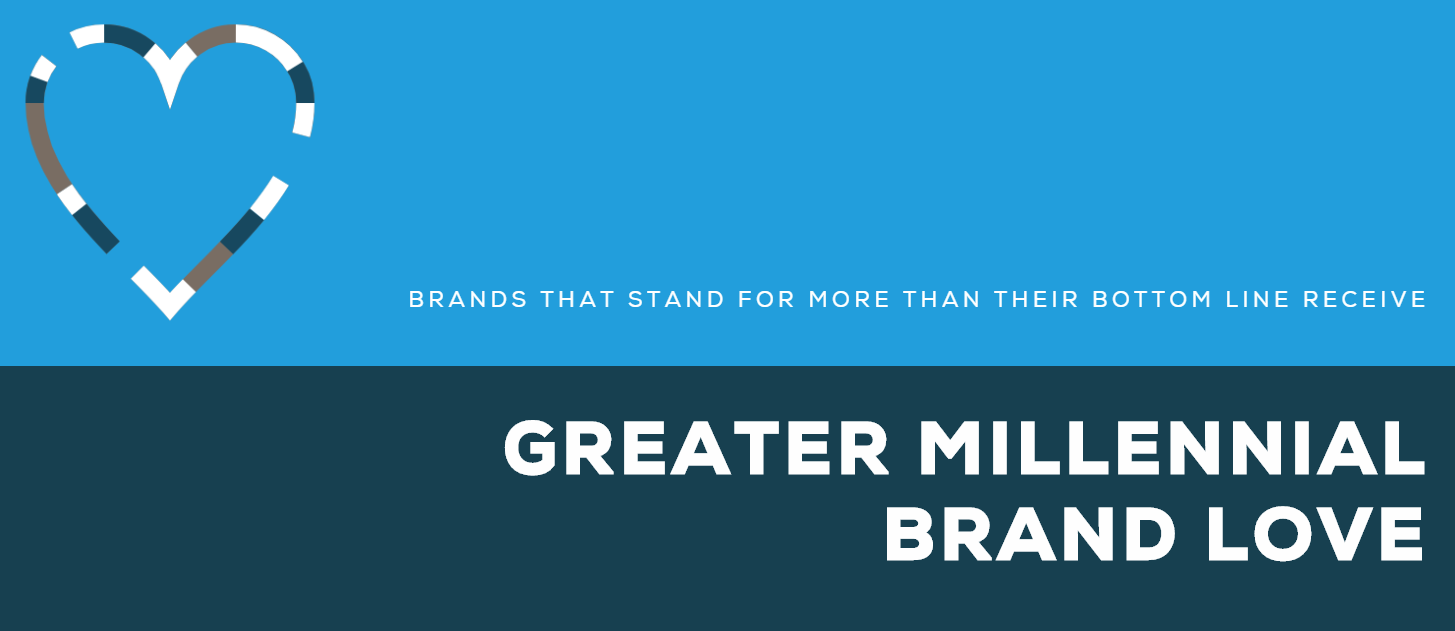 Plus, 37% of Millennials say that they are willing to purchase a product or service that supports a cause they believe in, even if it means paying extra.
If your product is more expensive than a competitor's, it may not matter, as long as you support a cause.
Research also shows that 75% of millennials want companies to give back to society with their profits.
Millennials can tell when companies are simply in it for the profit rather than caring about the end consumer or the society at large.
For example, check out how TOMS runs their business model to cater specifically to the tastes of millennials:
For every product that a person purchases on their website, TOMS will help a person in need by donating a shoe.
Every product you purchase on their site "has a purpose" that impacts the world, rather than just TOMS' bottom line.
That's a great example of how you can capture the attention of millennials to drive more sales.
One look at this headline and you can tell that TOMS' marketing strategy is working:
Nike spends billions of dollars every single year on marketing tactics, yet millennials are still choosing TOMS instead.
TOMS is valued at just $625 million, under 20% of Nike's annual marketing spend.
The reason why millennials choose TOMS over Nike even goes a little deeper.
Fast Company also found that despite the fact that people are more aware of Nike's mission,  there is more support for TOMS' mission.
Millennials believe that they are helping out the world much more when they purchase from TOMS over Nike.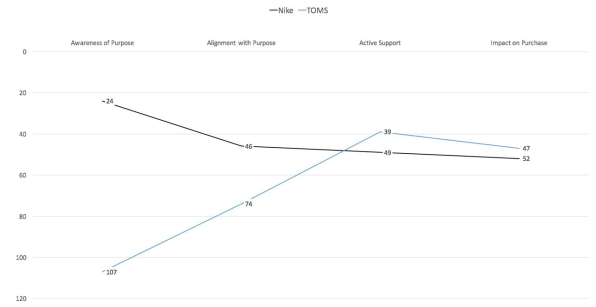 And TOMS is not the only company succeeding with this type of marketing.
Eyeglass company Warby Parker uses the same philosophy:

For every single pair purchased, they donate one to someone in need of glasses.
Love Your Melon also gives back. And they are selling tons of merchandise. In 2016, they brought in $22 million in revenue.

Every purchase you make goes to fighting childhood cancer.
The company was founded by two college-dropout millennials who wanted to make a difference in the world.
That's inspirational marketing at its finest.
Spend less money on ads and focus on social proof
Companies traditionally use advertising to sell their products and services.
They want to make fast sales, so they turn to platforms like Facebook Ads and AdWords.
And it makes sense because these platforms work…for some audiences.
Let me explain.
If you thought that increasing banner blindness was bad, millennials are even less receptive when it comes to typical advertising methods.
According to HubSpot, 84% of millennials do not trust traditional advertising.
SocialChorus data also shows that only 6% of millennials consider online advertising to be credible:
That's bad news for marketers who depend on millennial customers and spend thousands of dollars on advertising every year.
All of those Facebook Ads, AdWords ads, and outbound tactics aren't going to fly with millennials.
That same SocialChorus data also revealed that 95% of millennials say that friends are the most credible source for product information: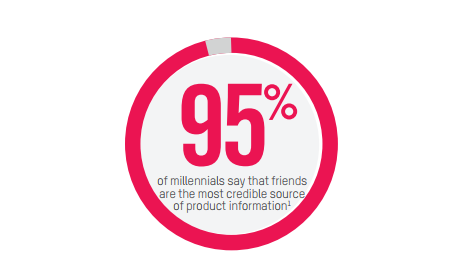 They follow what their friends are suggesting rather than what your ads say.
And that means one thing:
Social proof is critically important for driving sales to a millennial-based audience.
Instead of putting money into advertising that isn't going to work, you should focus on generating more social proof.
Millennials are more likely to purchase from you based on friend reviews or recommendations than they will from ads.
Take a look at how I use social proof on my website to increase conversions: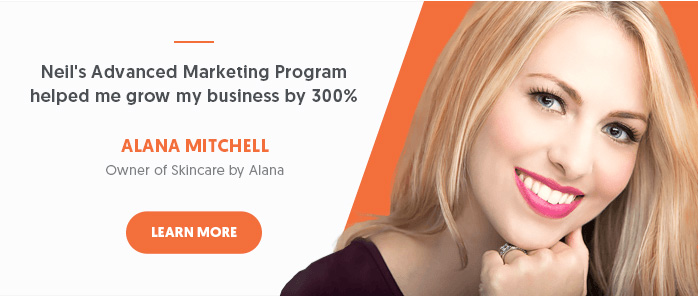 Social proof can come in many different forms.
The best way to use social proof with millennials is by putting a face to the review.
For example, rather than just stating numbers, show real results from real people.
Do you have a case study about how one person grew their business using your product?
Use that to your advantage when marketing to millennials.
But don't stop at case studies and website testimonials you gather yourself.
Think about other places you might find reviews. Are people reviewing your products or services on sites like Facebook, Google, or Yelp? Use them.
Millennials are going to trust good reviews over your ads any day of the week.
And that means it's critical that you have honest customer reviews that are easy for prospects to find online.
But not all customers leave reviews.
Usually, you see reviews for the good, bad, and ugly.
But how do you get the majority of customers to leave you a review?
It's simple: You just have to ask.
According to a recent survey, only 70% of customers have been asked to leave a review. Of those that were asked, 50% actually left a review.
So don't be afraid to ask.
But don't just ask one time and then drop it. Reviews need to be recent because 44% of prospects will only consider a review to be relevant if it is less than a month old.
Plus, 73% of potential customers will consider a review to be outdated if it is more than 3 months old.
In order to make sure that your reviews are recent, you need to consistently ask your customers to leave them.
It's not hard. You just need to be intentional.
You can ask for reviews in all kinds of ways: in person, at the bottom of physical receipts, on Facebook and Twitter, and in emails.
Just be sure that you leave a link to a review site whenever you ask. You want to make it quick and easy for them to leave a review.
Take this template for requesting a review via email, for example: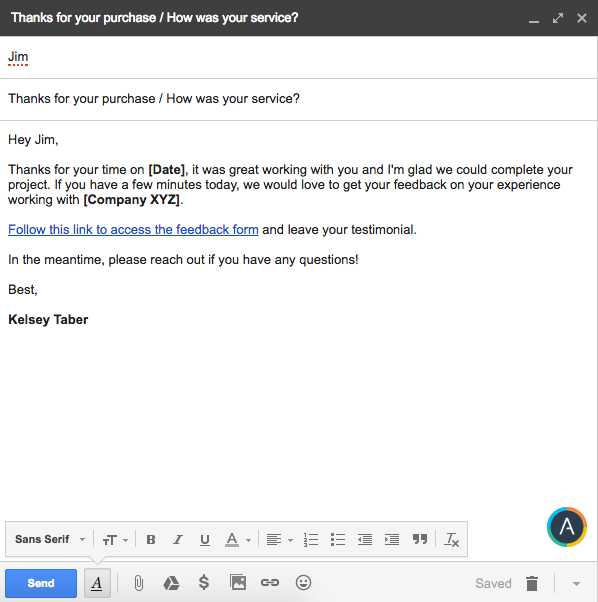 It gets straight to the point and offers a link to make it easy to leave a review.
If it's simple to do, you'll get reviews from the average Joe, and not just the unusually angry or the over-the-moon happy client.
Getting social proof and reviews is free. It just takes a little intentionality on your part.
So stop wasting money on advertising that's not getting through to millennials, and focus on gathering social proof and reviews that they'll actually pay attention to.
Get on social media
According to Nielsen's data, millennials use smartphones more often than any other age group:
Even more importantly, the top application used by millennials on a smartphone is Facebook:
Facebook's clearly the place to be. In fact, 87% of millennials are using the platform: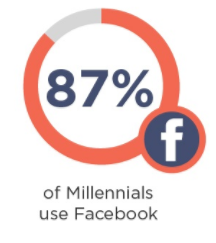 Facebook is not the only social network millennials use.
They are also on Instagram, YouTube, LinkedIn, Pinterest, Snapchat, and Twitter: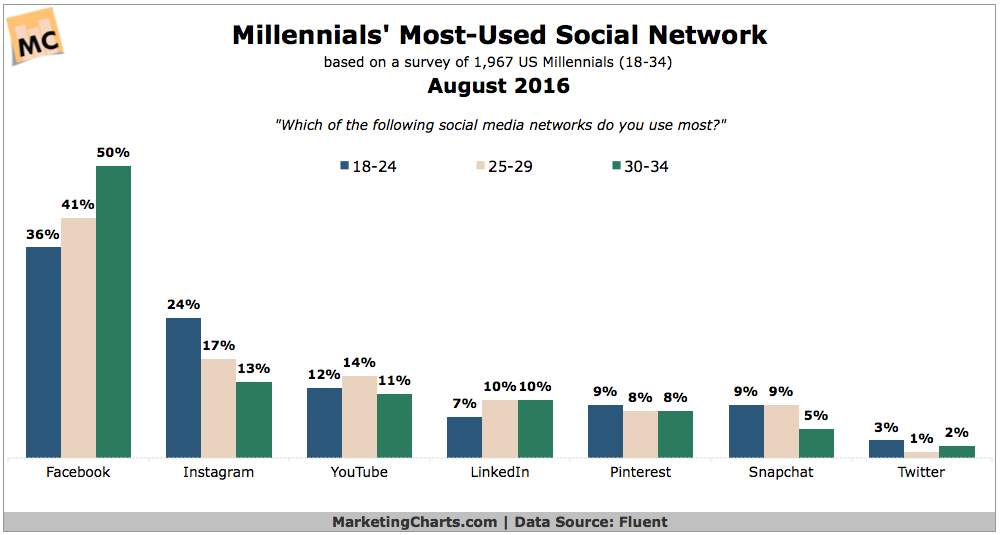 Millennials love social media.
It's becoming more important than ever for brand building, cultivating trust, and even driving sales.
In fact, 34% of Millennials say that social media helps them make a purchase decision: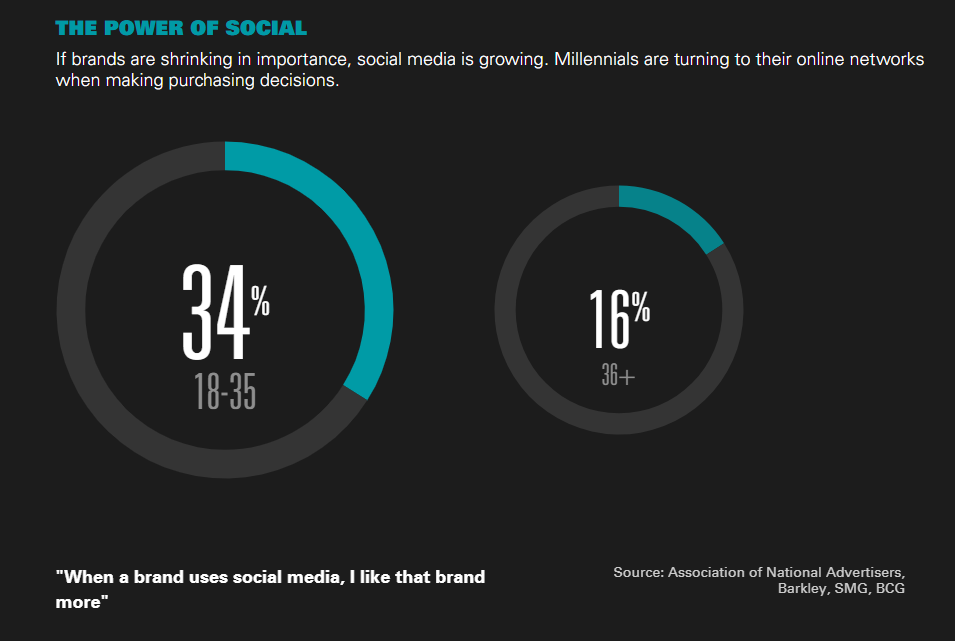 Millennials also say that when brands use social media, they resonate more with that brand.
So, how do you manage a social media account that caters to millennials?
According to Forbes, 62% say that they are more likely to become a customer if that brand interacts and engages with them personally on social media.
If you aren't putting the time and effort into social media marketing, you risk losing out on tons of sales.
And millennials are much more likely to buy from you if you interact with them.
The data would suggest that millennials value genuine conversation and interaction.
One of the best ways to generate brand involvement with millennials on your social media account is by producing engaging content.
For example, check out how Starbucks drives engagement using polls on Twitter: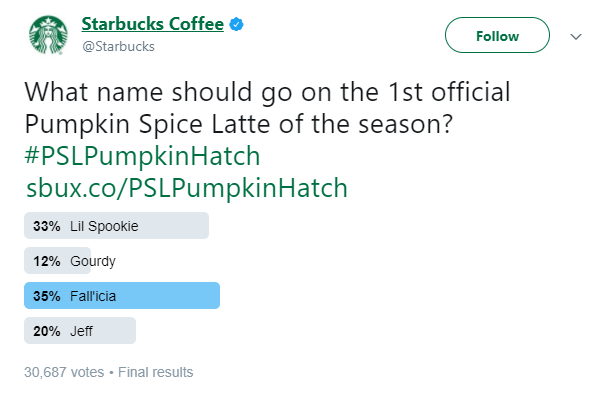 They generated more than 30,000 votes using a simple poll.
This is a great way to increase engagement with millennials. It allows them to take part in your business and have influence over the outcomes of decisions.
Another excellent way to encourage interaction with millennials is to share their user-generated content (UGC).
According to Millennial Marketing, millennials are content creators. 46% of them post original photos and video online.
In addition, 40% of millennials want to participate in the co-creation of products and brands:
And that's exactly what UGC seeks to accomplish.
UGC has the end goal of involving the user in your company journey and allowing them to take part in building your brand.
It also allows you to feature and showcase their content. Millennials will perceive this as support and appreciation from your brand.
User-generated content is powerful.
Millennials believe that UGC is 50% more trustworthy and 35% more memorable than branded content.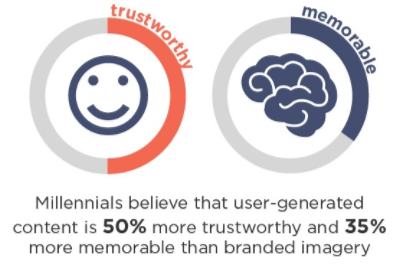 If you want to build more trust and credibility around your brand, UGC will do just that.
Check out how Buffer used UGC on Instagram: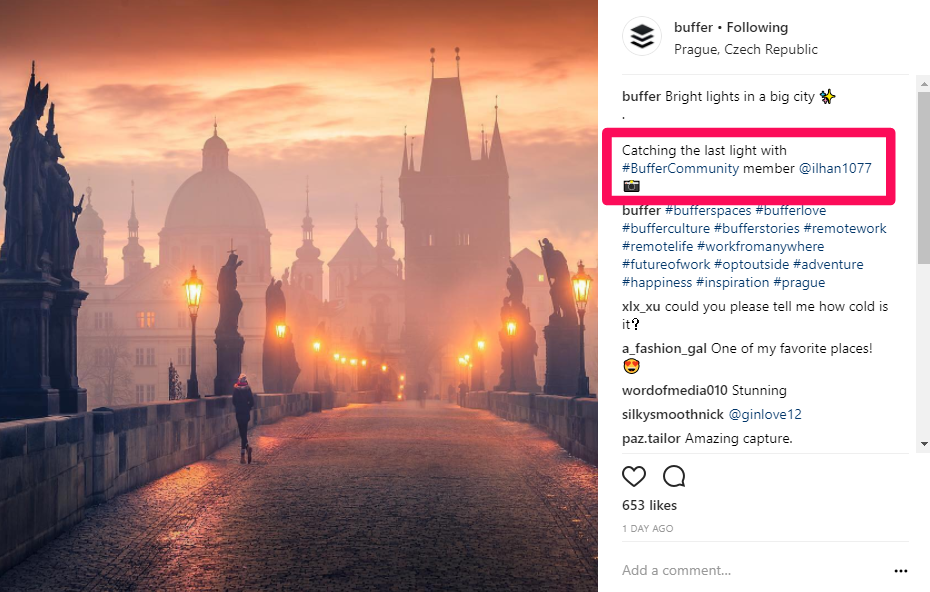 They utilized the hashtag "#BufferCommunity" to allow users and Buffer fans to post content and get featured on their Instagram profile.
It's an easy way to encourage involvement from fans and show your support by sharing their content in return.
Creating memorable content is tough these days.
There are millions of content marketing pieces published daily.
So if you want to stand out to the millennial crowd, you have to use UGC in your social media strategy.
Social media is the place to be when it comes to engaging and marketing to millennials.
Typical advertising outlets won't grab their attention.
Use social media to leverage a real, genuine connection with them. If you do this well, it can lead to better sales and brand impressions, as well as more trust.
Social media should be the cornerstone of your millennial marketing game plan.
Conclusion
Understanding what does and doesn't appeal to millennials is tough.
They are such a diverse group, which makes it hard to figure out a marketing strategy.
Since millennial demographics are so varied and the population size is so large, marketing products to them is a big challenge.
But with millennials being 25% of the U.S. population, you can't ignore them either.
If you want to be successful, you need to target them correctly.
Spend some time on understanding the millennial mind.
Thankfully, you won't be the first to do this.
There are already countless studies on millennials and the best ways to market to them.
Start by supporting a cause. Millennials are much more likely to purchase from a company that supports something relevant and impactful.
Spend less money on ads and start focusing more on social proof.
Typical PPC banner ads don't resonate with millennials anymore, and they trust reviews much more.
Always share user-generated content, too. Millennials are the biggest sharers of social content.
Lastly, make sure to stay active on social media if you want them to interact with your brand.
Marketing to millennials is a whole new ballgame. Throw out, or at least make a lot of changes, to your old playbook.
Appeal to their emotions and connect them to your brand to see massive increases in engagement and sales.
What are some of your best tips for marketing to millennials?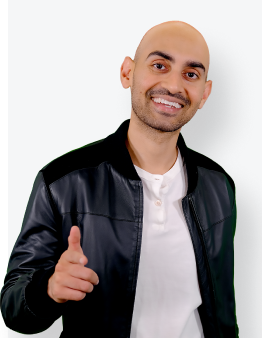 See How My Agency Can Drive More Traffic to Your Website
SEO - unlock more SEO traffic. See real results.
Content Marketing - our team creates epic content that will get shared, get links, and attract traffic.
Paid Media - effective paid strategies with clear ROI.
Are You Using Google Ads? Try Our FREE Ads Grader!
Stop wasting money and unlock the hidden potential of your advertising.
Discover the power of intentional advertising.
Reach your ideal target audience.
Maximize ad spend efficiency.