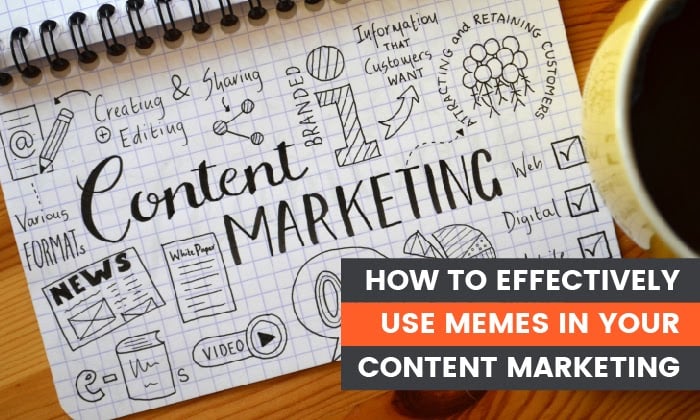 Did you know that archeologists have traced the origin of the meme back to the year 3 B.C.?
Memes, a term coined by evolutionary biologist Richard Dawkins in 1976 to describe how ideas replicate, mutate, and evolve, are a way to carry a shared idea or trend to engage a target group. Over time, different groups take memes and tweak them to make them their own.
Memes are all about creating engagement and community by communicating something that everyone in your circle understands. It's a way to develop a sense of belonging, something platforms like Facebook have been savvy to for years.
That's precisely why your brand should be including memes in your content marketing plan. If you can create and share on-target memes that engage your audience, you could create that same sense of community, develop brand loyalty, and even tap into new markets.
Why You Should Use Memes in Your Content Marketing
Some of the most recognizable brands in the world include memes in their content marketing strategy. Here's why:
Memes Increase Engagement
Memes are very shareable and help people connect through humor.
If done right, they make people feel part of an inside joke, and who doesn't like to be the one in the know?
Subscription service BarkBox has based their Instagram account on all those funny little quirks about dogs that only dog lovers know. One of their running jokes? The war between dogs and squirrels. They've created a series of mosaics with their Instagram posts, which is a pretty creative way to display their memes.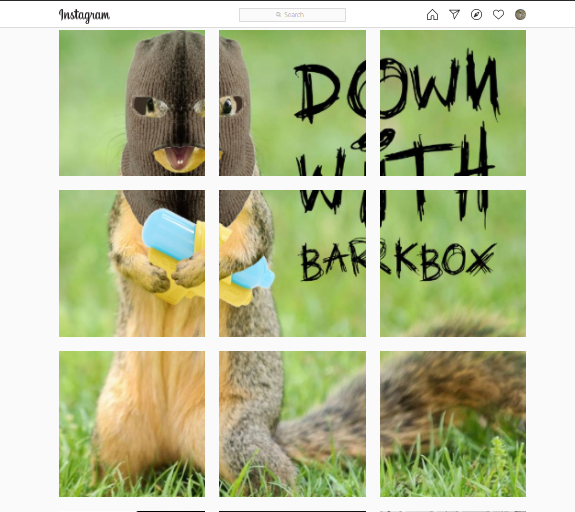 Not only does BarkBox keep their audience engaged, but they play off of themes that function as inside jokes between themselves and their 1.7 million followers. These are themes only dog lovers would understand, making them feel part of an exclusive group.
Memes Entertain Your Audience
Users are most engaged on social media when they're entertained. Study-help site SparkNotes gets that, and they also understand that students aren't always enthralled by their assigned reading.
So, SparkNotes uses pop-culture trends to liven up classic novel plots and plug their service at the same time.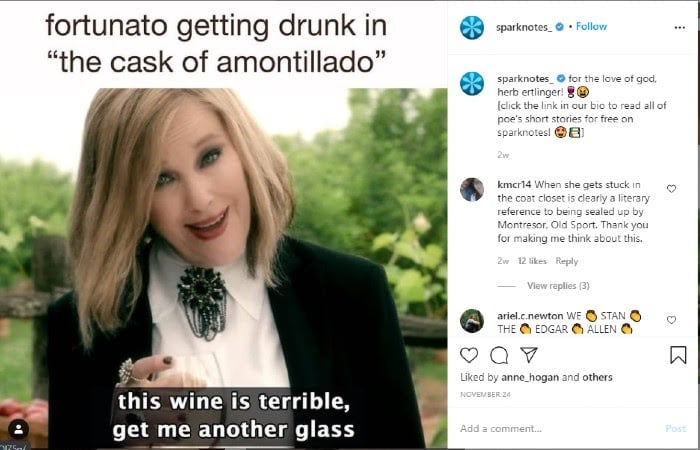 However, you don't necessarily have to create brand-related memes. You can make memes that simply entertain and relate somehow to your audience. In fact, in many cases, linking a meme to your brand can feel forced. Sometimes it's better to let the meme speak for itself.
Clothing retailer ASOS is great at creating memes that play off holidays, current events, and trending topics. Although many of their memes tie to their brand, they're not afraid to throw in a funny meme just to keep their audience entertained.
Here's a meme they released for Thanksgiving.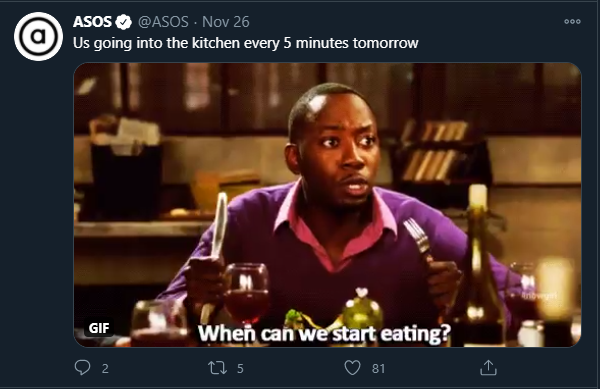 It has nothing to do with the brand but everything to do with the mood of the day. It got some shares and likes and kept their brand top-of-mind on a day when most people's minds were on their plates.
Memes Are Easy to Create
Memes like the ASOS example above are pretty easy to make, and they're inexpensive, too. You don't even need fancy image editing software, just a free meme generator, such as Imgur.
Meme generators let you search for images for your meme by filtering through popular memes or uploading your image.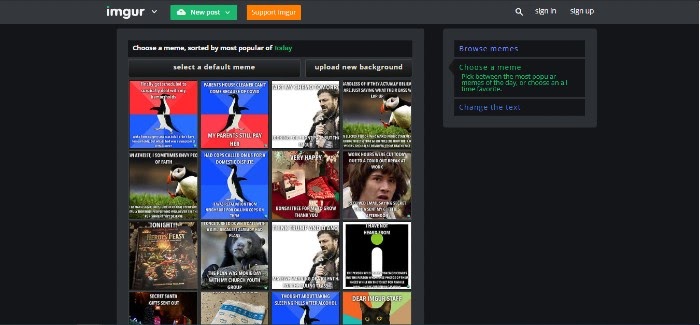 Once you choose an image (I chose Annoyed Picard), it lets you add text using that all-too-familiar meme font. They even give you suggestions from recently created memes with the same image. (Just keep in mind that not all of them are office-appropriate. I've blurred out some questionable ones in this example.)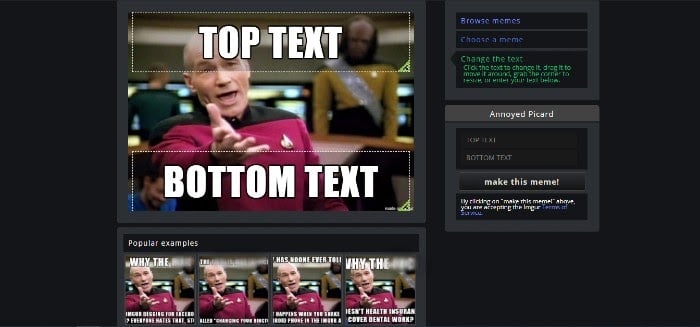 Once you add your text, you can download your meme and use it on your social platforms.
That's it. No expensive image creation. No keyword research. Pretty simple.
Memes Let You Be Creative
You don't necessarily have to piggyback on a popular meme that's already trending. Frankly, it can be tough to keep up-to-date on all the latest memes.
Once you have a good sense of what your audience responds to, you can try creating your own memes from scratch. Of course, this does require more effort and more money for original, quality images, but if your audience responds well and starts sharing, it could be worth it.
Doritos fills their Instagram account with original memes, many of them tapping into nostalgia for the 80s and 90s, no doubt addressing their target audience.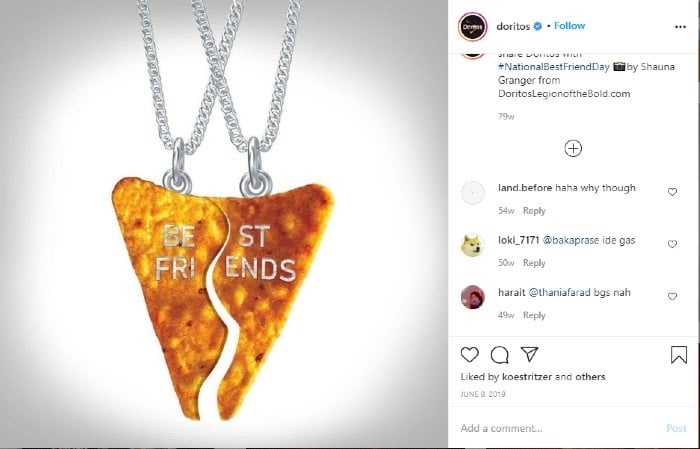 If you grew up in the 80s and 90s, you probably remember the popularity of friendship necklaces.
Memes Allow You to Show Your Brand's Personality
There are two things you can do with your social accounts. You can reinforce your current brand personality or use them to create a whole new one.
Many older brands have done the latter, using the more relaxed, casual tone on social media to shed their stuffy reputations and inject their products with a fresher (or even a snarkier) persona.
MoonPie is a great example. The original treat was invented in 1917, and the company that makes them started in 1902. However, to look at their Instagram account, you wouldn't take them for a 118-year-old company.
They've created a much younger, much funnier persona to cultivate a new following for the centenarian dessert.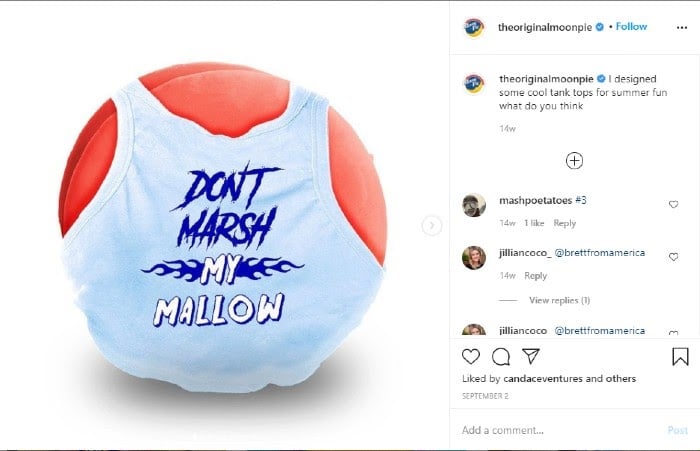 8 Ways to Effectively Use Memes In Your Content Marketing
So, now you're convinced you should include memes in your content marketing strategy, but before you jump in, there are some things to consider first. As easy as memes are to make, some planning is still involved, and some solid techniques to incorporate can make your memes relatable, shareable, and maybe even viral.
1. Know Your Audience
Have you ever seen a stand-up show where the comedian's jokes kept missing the mark? The audience didn't understand the jokes, or they just didn't think they were funny? More often than not, that happens when a comedian hasn't tailored their material for their audience.
A joke about the AARP, for instance, isn't going to fly with a Gen Z crowd. They're not even thinking about retirement. Meanwhile, a joke using terms like stan and salty with Gen X will most likely fall on deaf ears.
The same goes for memes.
Take Chase Bank's tweet ostensibly advising a Millennial. While not exactly a meme, it became one when Senator Elizabeth Warren slammed them for what many called a tone-deaf and condescending post.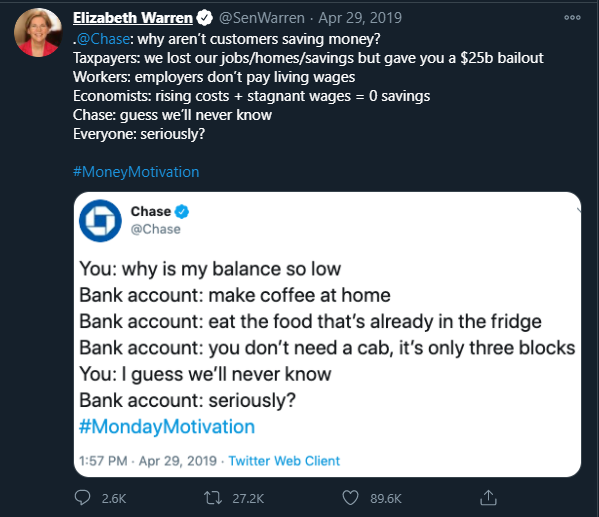 No doubt you already know your audience's age, cultural background, race, location, industry, and every other demographic. All that information you've collected for your other content marketing initiatives can help you make memes that hit the mark, too.
2. Create Original Memes
Even if you're using a popular meme image, your message should be original and somehow related to your audience or brand. Don't try to repurpose someone else's joke for your audience. It just won't work.
Some memes tap into the nostalgia factor. Whether it's about 90s dance music or 80s fashion, a good nostalgia meme, like the example from Doritos, makes your audience feel like part of something bigger. Memes are all about community building.
Other brands use sarcasm or satire to get their point across. Still, others inject their memes with a bit of humility. Don't be afraid to poke fun at yourself because it can make your brand seem more human and approachable. Chipotle, for instance, has attracted a million followers with their humorous and often self-deprecating tweets and memes.
This one riffed off a meme format that trended in 2020 during the COVID lockdowns.
No matter what, it has to be funny. Whether you're trying to make a point or get people to reminisce about the good ol' days, every meme does it with humor. If your meme isn't funny, it most likely won't be shared.
3. Do Your Take on a Popular Meme
One of the easiest pieces of content to create is a riff on an already viral meme. In 2018, Ruffles did a witty take on a stock photo that went viral a few years earlier.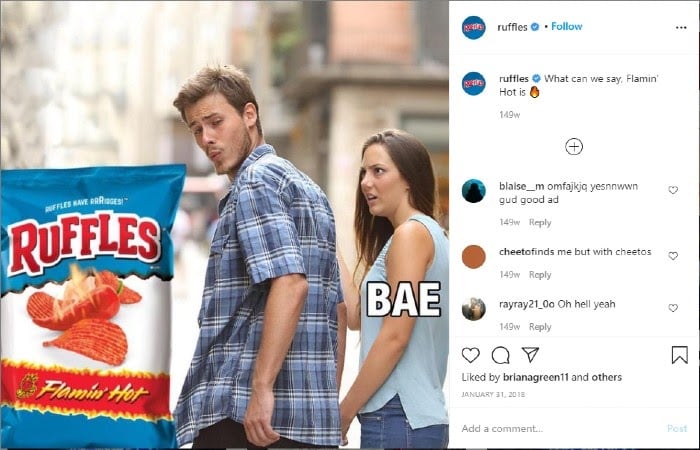 4. Stay Relevant With Memes
When a mysterious monolith appeared (and then disappeared) in the Utah desert in 2020, the memes weren't far behind. Amazon jumped on the opportunity to show its relevance and humor.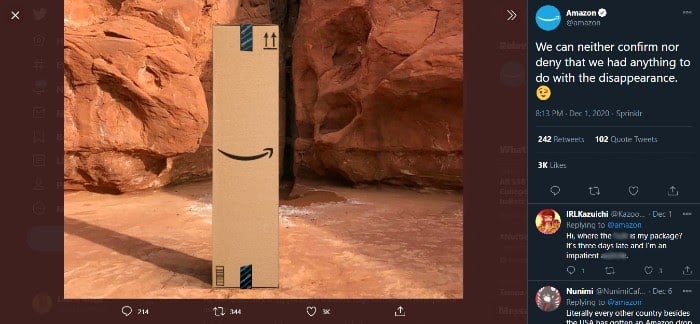 If you can seize on an opportunity to be on-trend and make it relevant to your brand, go for it! Just don't force it if it doesn't work for your brand voice or your audience.
Pro Tip: If a trend is a few days to a week into its life cycle, consider skipping it and moving on to the next trend. You may have missed the train on that one, and you risk your brand looking out of touch.
5. Develop Your Brand's Personality With Memes
Wendy's has one of the most identifiable brand personas on social. In 2017, the fast-food chain decided to take a risk and turn their sweet-looking mascot, Wendy, into a witty snarker who trolls other fast-food brands' accounts.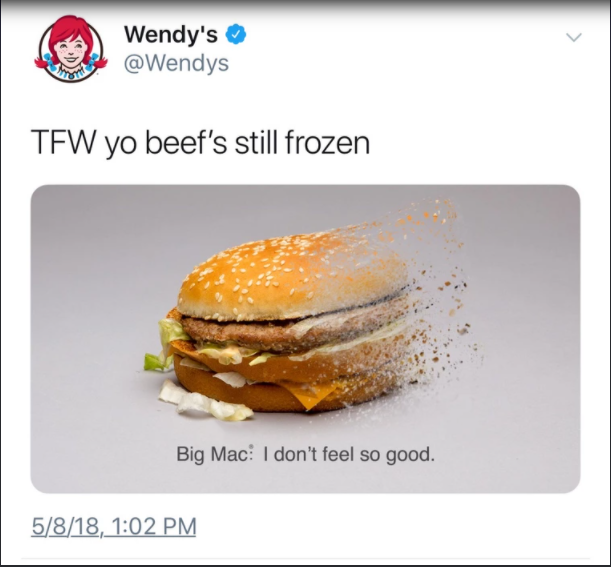 Sure, it could stop at its memes, but Wendy's takes it a step further, jumping on the memes of other fast-food chains to maintain their rep.
Take the Twitter war that erupted when Burger King tried to throw shade on Wendy's: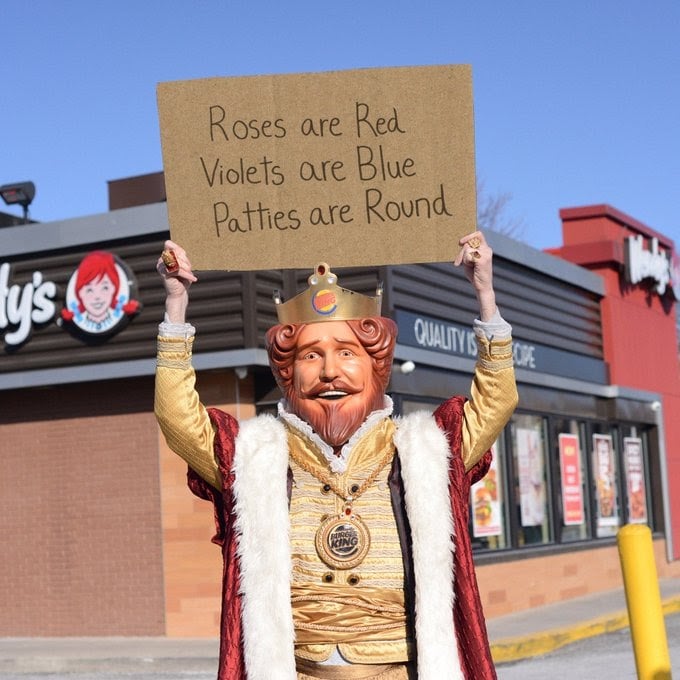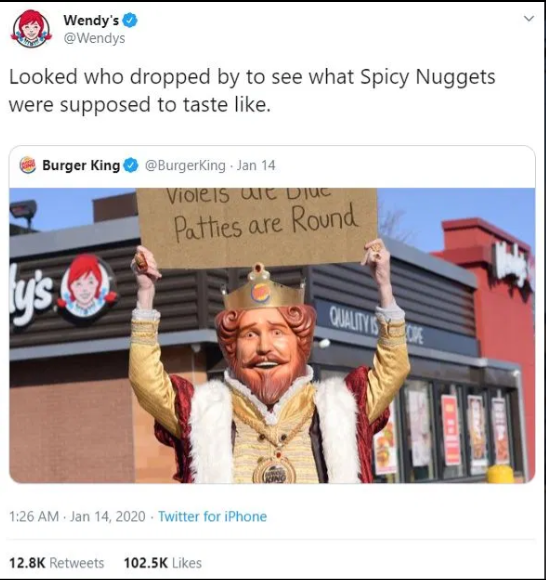 6. Don't Be Tacky
No self-respecting brand starts out thinking, "We're going to make an inappropriate meme that gets all the wrong kind of attention." Still, brands do occasionally stumble into a topic they shouldn't touch.
When you try to make a funny meme on a topic that's all wrong for your brand (or all wrong for any brand), you come off as tone-deaf at best.
I'm not sure that Dr. Suess would have appreciated this tweet from Charmin.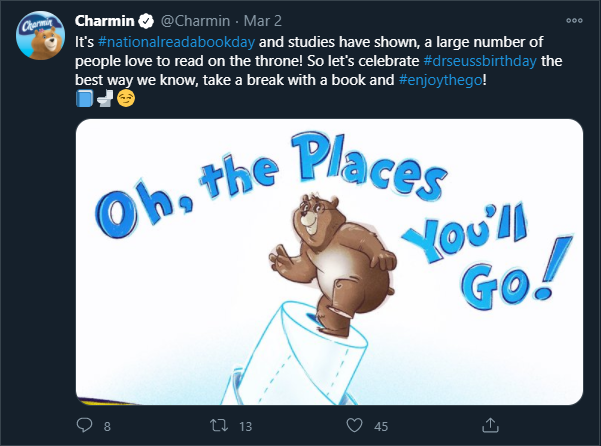 You can, however, turn someone else's tone-deaf moment into an opportunity. In October 2020, Kim Kardashian received major backlash after she posted pictures of herself and her closest friends partying on a private island, just as COVID cases began to surge once again. The caption read:
After 2 weeks of multiple health screens and asking everyone to quarantine, I surprised my closest inner circle with a trip to a private island where we could pretend things were normal just for a brief moment in time.
All kinds of brands, including the New-York Historical Society, leaped at the opportunity to throw their two cents in.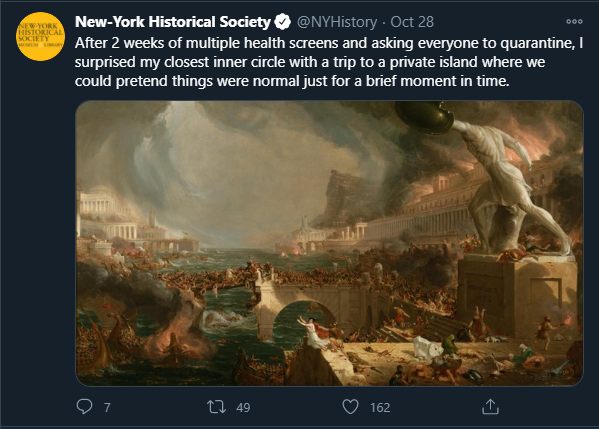 If you try to tackle a trending topic like this, tread carefully. You don't want to come off as insensitive or thoughtless yourself.
7. Research Your Memes
While Wendy's generally receives high praise for its social media content, even this master of the meme can take a wrong turn from time to time. On one occasion, Wendy's responded to a customer's tweet by posting a Pepe the Frog meme, a symbol that has been adopted by white nationalist groups.
Wendy's deleted the post as soon as they realized their mistake, and they eventually recovered from their gaffe. However, some damage was done, and a lesson had to be learned. Always research your memes before you post.
8. Stay on Brand
What do all of the brands highlighted in this article have in common? They've created a consistent brand persona and stuck with it.
No matter what you decide to do with your memes, keep it consistent. Otherwise, you risk confusing (and losing) your audience.
Conclusion
If done right, memes can become a pretty useful tool in your content marketing plan. They can help you reach new audiences and give your brand a human element through humor. Plus, they can help you connect with your audience without having to worry too much about keywords or content frameworks.
Memes can even help a brand reinvent itself. Their casual, funny tone lends a lighter, more contemporary voice to brands that may have previously been known for their serious demeanor.
Besides, memes are just fun.
What kinds of memes would be most effective for your brand?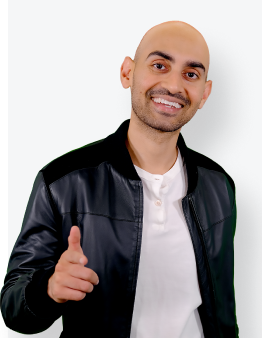 See How My Agency Can Drive More Traffic to Your Website
SEO - unlock more SEO traffic. See real results.
Content Marketing - our team creates epic content that will get shared, get links, and attract traffic.
Paid Media - effective paid strategies with clear ROI.
Are You Using Google Ads? Try Our FREE Ads Grader!
Stop wasting money and unlock the hidden potential of your advertising.
Discover the power of intentional advertising.
Reach your ideal target audience.
Maximize ad spend efficiency.