Millennial shoppers, those between the ages of 18 and 35, are the most valuable demographic right now (with Generation Z and Alpha right behind them).
Even though they don't comprise a majority of the overall population (30% of the voting age population), they have buying power. In fact, they possess a whopping $600 billion in annual buying power. By 2020, they will comprise nearly half of the U.S. workforce. By 2025, that number will swell to 75%.
Clearly, this is the market to target for e-commerce success. Every marketer will tell you to follow the money. Well, right now, the money is with millennials. Right now, only 50% of retailers are differentiating their marketing according to demographics, leaving you with a huge opportunity.
If you choose to focus on millennials, you are choosing an opportunity that is valuable and full of untapped potential.
Here's how to sell your stuff to the millennial powerhouse shopper.
1. Whatever you sell, sell it online.
Online is the right place to be. In surveys, 40% of male millennials admitted that they would buy everything online if they could. Fewer females said the same thing (33%), but overall, this is a group of people that has always been comfortable with online shopping.
So millennials like shopping online. What are retailers doing in response? Only 50.5% of them have an online presence, as indicated in Yahoo's infographic.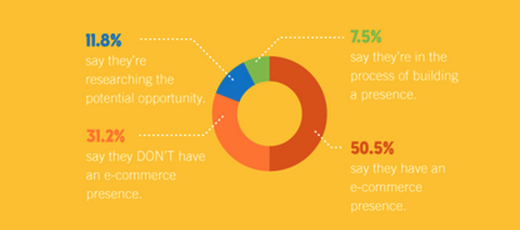 What is everyone else doing? "Researching," "building," or just not doing anything. If you have an e-commerce platform and presence, then you are already in the top half of retailers who know how to market to millennials.
E-commerce is where millennial shoppers spend their money. There are, however, some notable exceptions worth mentioning.
Millennials prefer to buy the following in brick-and-mortar establishments: drugstore purchases (91%) furniture (81%), shoes (76%), jewelry (62%), clothes (74%), and home goods (62%). Even if you do sell these items, you would still be strategic to have an e-commerce platform in addition to a brick-and-mortar presence.
2. Create a shopping experience that is optimized for any device.
Millennials shop on devices — lots of devices. According to research, 30% of millennials use four or more devices a day. Smartphones are the biggest category of device, of course. Most millennials will check their smartphones 34 times a day (and 25% say that they check up to 100 times per day).
Their preferred shopping method is via mobile, with 52% of millennials using smartphones for browsing and shopping.
There are some obvious takeaways.
Create a mobile optimized shopping experience.
Big images, easy-to-tap buttons, and seamless mobile loading need to be part of your e-commerce marketing power. Research indicates that at least 72% of people want mobile-friendly websites. You can test your website to see if it warrants this label.
Provide a mobile optimized checkout process.
The mobile-optimized checkout is just as important as the responsive website. The traditional long forms of a desktop checkout simply will not work for mobile-using millennial shoppers.
Smashing Magazine provides a side-by-side example of how a mobile optimized checkout look vs. a non-optimized one.
If your mobile checkout looks like the scary one on the right, then you're giving a rude shove to your millennial contingency. They won't shop from you.
Here is where I see the biggest opportunity. Most retailers, 88% according to Yahoo, do not have mobile payment options. If you are in the slim minority of e-commerce sellers that do have mobile payment, then you will score big with millennial shoppers.
3. Make social sharing a core component of your marketing efforts.
What's the best way to compel a millennial to buy?
It's a great question. The thing is, traditional persuasive methods aren't working anymore. For example, Yahoo reports that "68% [of millennials] are completely unfazed by celebrity endorsements or star-studded ads." There's no need to invest in that kind of marketing move. Here's what you do instead: Go social.
Millennials are influenced by social recommendations.
Millennials are people who conduct social interactions on social media. When preparing for a purchase decision, 66% of them ask for their friend's advice.
Don't let that statistic wash over you. That's 68%! If you line up ten millennials, seven of them (approximately) are going to ask a buddy for advice before they buy a bike, or a music album, or a smartphone. And they probably won't be just talking to that friend in person. They'll be chatting on Facebook Messenger or tweeting it.
True to form, 93% of millennials have made a purchase based on a recommendation from friends and family, and 89% of millennials trust these recommendations more than they do the claims of the brand itself.
Millennials, in turn, will make social recommendations.
What do millennials do when they make a purchase that they're pleased with? They go to the social channels to recommend it.
A full 59% of millennials use social to share their positive or negative experiences, and 41% of them use social media alone to make these recommendations.
4. Develop a content marketing effort aimed at millennials.
Content marketing is a primary way that millennials learn about companies and their products. The majority of millennials (85%) research before purchasing, and 60% of that research happens on the company's website.
Thus, the content that you publish is important. Millennials know how to research products and services, and they will find the content you produced if they are serious about a purchase.
Social content is just as important as static web content. Millennials will follow their preferred brands to hear about product releases, deals, sales, or coupons.
Millennials demand content that looks good. Images, online experiences, and the overall feel of a website's presence needs to be optimized across devices in order to reflect well on the brand.
Even though your content is important to them, millennials prefer to be in control of how they engage with you. Most millennials prefer easy opt-out email or text lists, and other on/off decision making for their purchasing.
By "content" I do not mean television or print advertising. By and large, millennials ignore these marketing channels, preferring to carry on all of their marketing intakes online.
5. Create a coupon and loyalty strategy for millennials.
Coupon clipping is part of a bygone era, but online couponing is alive and well. Loyalty programs are also a major consideration for millennial shoppers.
FierceRetail says that coupons drive 69% of sales to millennials. Millennials are often voracious users of coupons, and they look for deals before purchasing. These are people looking for a bargain.
Look at some of the statistics from Yahoo to get an idea for how much millennial shoppers love coupons.
63% of millennials would be more likely to "check in" to businesses on various social channels if it meant they'd receive a coupon or discount for doing so.
A 20% discount is enough to prompt almost 50% of respondents to visit a retail location.
23% said they would need coupons valued at least 50% off. 17% said they'd appreciate discounts at any price.
The same mentality extends to loyalty programs:
84% of consumers said they're more likely to visit websites of retailers with loyalty programs.
75% of consumers would switch to brands that deliver real time discounts and promotions to their smartphones while shopping.
73% of smartphone users are interested in using their mobile devices to interact with brands' loyalty programs.
Seize the opportunity. Not many e-commerce platforms are offering mobile coupons. If you offer loyalty rewards or mobile coupons, you'll begin to attract the shoppers who really matter.
Conclusion
It only makes sense to market to millennials. They have money. They have power.
And you? You've got the product, and you've got the sales savvy.
The opportunity is wide open. It's time to go for it.
What techniques will you adopt to win millennial shoppers?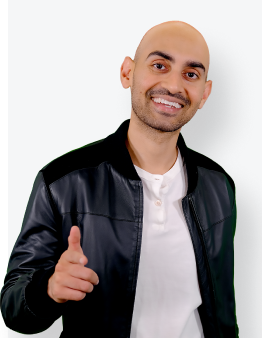 See How My Agency Can Drive More Traffic to Your Website
SEO - unlock more SEO traffic. See real results.
Content Marketing - our team creates epic content that will get shared, get links, and attract traffic.
Paid Media - effective paid strategies with clear ROI.
Are You Using Google Ads? Try Our FREE Ads Grader!
Stop wasting money and unlock the hidden potential of your advertising.
Discover the power of intentional advertising.
Reach your ideal target audience.
Maximize ad spend efficiency.