What is AnswerThePublic?
It's a question my team and I are asked a lot, especially after we acquired it last year.
My answer? If you're looking for content suggestion ideas and an easy way to see what questions people are asking online, it's an indispensable tool.
Whether you want blog post ideas or to increase your chances of grabbing a featured snippet, AnswerThePublic is an amazing online market research tool to have in your back pocket.
Like all marketing tools, you get out what you put in. By understanding the intent behind the data AnswerThePublic provides, you can provide content that targets your core audience.
Let's dive into what AnswerThePublic is, and how it can help you grow your business.
How Does AnswerThePublic Work?
AnswerThePublic uses autosuggest (also known as autocomplete) data to power its searches.
What is autosuggest? If you've ever started typing a keyword or search into Google, Google will bring up suggestions for things other people have been searching for.
Let's say you're looking for 'BBQ sauce recipes' on Google. You start typing the phrase, and Google suggests some ideas to provide additional context to your search.
In this case, terms including:
'BBQ sauce recipes for ribs'
'BBQ sauce recipes for brisket'
'BBQ sauce recipes from scratch'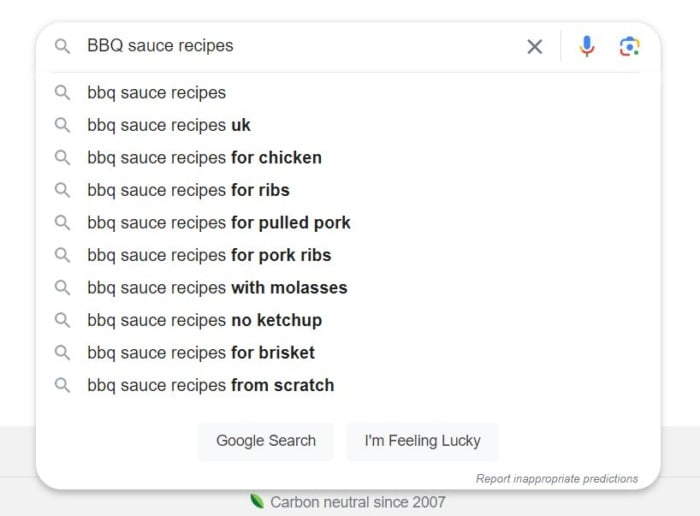 AnswerThePublic takes all the different autocomplete suggestions that could appear for your initial search term, known as a 'seed keyword.'
While you could do this yourself on Google, it would take several hours, and you wouldn't be able to capture every suggestion. In contrast, AnswerThePublic neatly collates this data for you in less than ten seconds!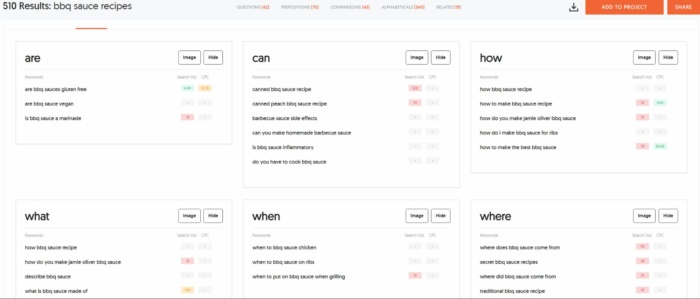 AnswerThePublic presents the data in an understandable format, which you can use to listen in to what people are talking about online.
The capabilities of AnswerThePublic don't end there, though. Here's a look at some of the additional information that you can pull using this wonderful tool:
Cost-per-click data: This data reveals the average amount that advertisers are willing to pay for each click on their ads targeting specific keywords. By understanding the cost-per-click, you can gain insights into the competitiveness of keywords and estimate the potential value of targeting them in your advertising campaigns.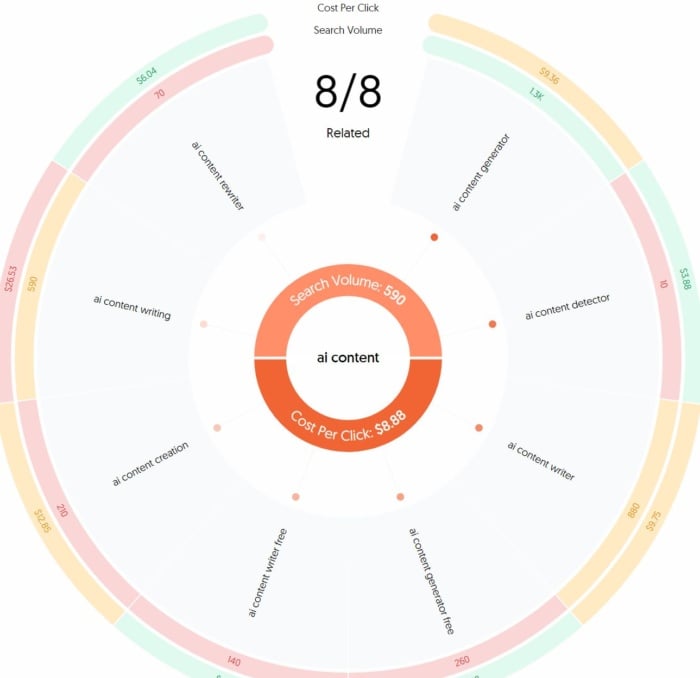 Suggestion comparisons: AnswerThePublic also allows you to compare suggestions, which is an incredibly valuable feature. It presents you with different variations and related keywords based on the original search query you input. This feature is fantastic for expanding your keyword research, discovering new content ideas, or exploring alternative ways to optimize your content and pages.
Search listening and email alerts: With these options, AnswerThePublic continuously monitors the web for mentions of your chosen keywords or phrases, providing you with real-time insights into what people are saying or searching for. This feature helps you stay on top of industry trends, track your brand's online reputation, and even find new business opportunities. Not to mention, you can set up email alerts to receive regular updates on the latest findings, ensuring you never miss out on important information.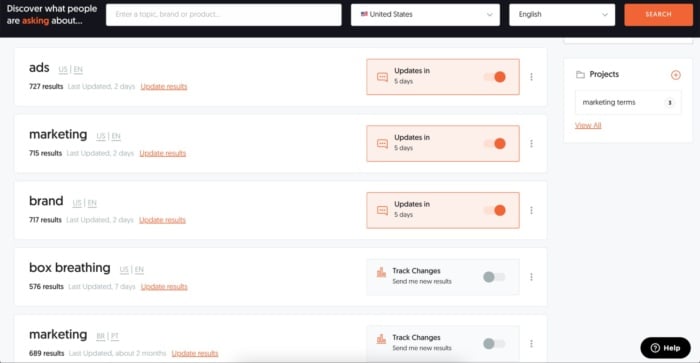 High-resolution images: This feature comes in handy when you're creating visually appealing content or presentations and need access to quality visuals related to your search queries. It saves you time and effort by providing ready-to-use images that align with your topic or keyword.
Education/support: Need more specific guidance or help? AnswerThePublic offers an education package and priority customer support. The education package provides access to additional resources, training materials, and features that your marketing team can use. Additionally, priority customer support ensures that you get prompt assistance and guidance whenever you encounter any issues or have specific inquiries.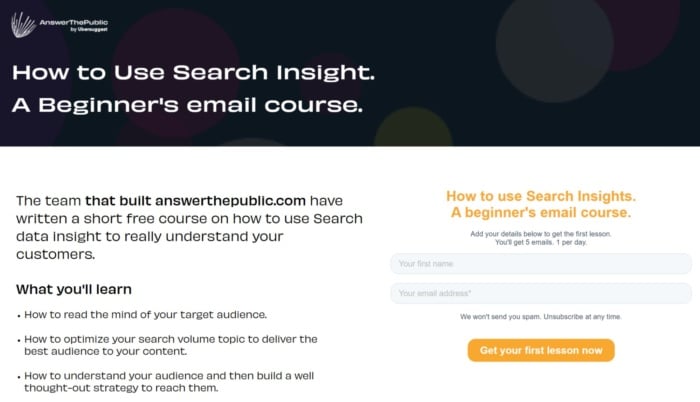 How to Leverage AnswerThePublic for Your Content
The thing I love most about AnswerThePublic is how easy it is to use. Enter your keyword, and you'll have a massive list of search terms to take advantage of.
However, when you use it with the right keywords, you see the most benefit.
Here are my top tips for getting the most out of AnswerThePublic, including how to use it to boost the chances of getting to the top of Google.
Uncovering Search Intent
It's essential not just to understand what people are searching for, but why they're searching.
This is called search intent, and it can help you customize AnswerThePublic content to meet your audience's needs.
Imagine you own a BBQ sauce company. Anna is searching for 'BBQ sauce recipes' while Betty is looking for 'best BBQ sauce to buy.'
Which one is most likely to buy from your business?
Well done if you said Betty. While Anna wants to make her own sauce, Betty is almost ready to purchase. All you need is the right content to gently nudge Betty towards your website.
Types of Search Intent
There are four different types of search intent:
Informational. Someone is looking for information on a certain topic and is at the beginning stage of their buying journey (e.g. 'How to clean golf clubs')
Navigational. Someone is searching specifically for your business or brand (e.g. 'Golfsupport blog')
Commercial. Someone is researching a product or service before they buy (e.g. 'Cobra golf bag reviews')
Transactional. Someone is actively looking to buy a product or service (e.g. buy Titleist golf hat')
You can use search intent to further power your results on AnswerThePublic. Take your keywords and sort them into four lists.
Which keywords and phrases align with people at the start of the buying journey, and which are being used by people ready to buy right now?
You can then create content that helps prospective customers wherever they are in the sales funnel.
Conducting Keyword Research
AnswerThePublic is great for getting a list of keywords together for your SEO optimization strategy.
You can use AnswerThePublic to generate a huge list of long-tail keywords. Over half of buyers use search terms of three or more words, so these keywords are great places to start if you're looking for sales and conversions.
When you've got your keywords, you can use my keyword research tool Ubersuggest to find additional data, including SEO difficulty. The lower the number, the better the chances of ranking on the first page of the search engines.
Identifying Content Gaps
Your website must answer all the questions that your target audience has. Otherwise, they'll get fed up and take their business elsewhere.
You can use AnswerThePublic to identify content gaps. This gives you the steer needed to create fresh new content that encourages customers to stay on your website. Look at what keywords people are asking around your niche, and then map those words and phrases to the pages on your website.
If any keywords and questions can't be applied to the existing information on your site, you've found a content gap.
Focusing on Answer Boxes
AnswerThePublic isn't just a fantastic way to create content your customers love. You can use the data it provides to increase the chances of appearing at the very top of the Google search results.
Often referred to as a featured snippet or result zero, an answer box is a piece of information that appears on the first page of Google above the first organic search result.
Let's say you're asking, 'what temperature should I BBQ at?' The answer box summarizes the information that answers the query, alongside a link to the webpage if the user wants to know more.
The answer box takes up a lot of space on the first page of Google, making it prime real estate for any business that wants to be seen.
The average click-through rate of an answer box is 8.6% meaning that if you can reach pole position, you've got a great chance of stealing organic traffic from your competitors.
Another bonus of claiming the answer box is that it is often used to answer voice search queries. With over half the US population using voice search at least once a day, this can be a fantastic way to open your business up to more prospective customers.
Here's how to increase the chances of getting the answer box for your search term of choice, and how AnswerThePublic can help.
Ask the Right Questions
The primary purpose of answer boxes is to provide fast and helpful responses to popular queries.
This means your content is more likely to feature as an answer box if it's in the form of a question.
Think of the game show Jeopardy!, but in Google instead!
The brilliant thing about AnswerThePublic is that it automatically pulls together a list of questions people are asking about your seed keyword of choice.
Let's go back to our BBQ sauce search. AnswerThePublic has an entire section where you can see what questions are popular with search engine users.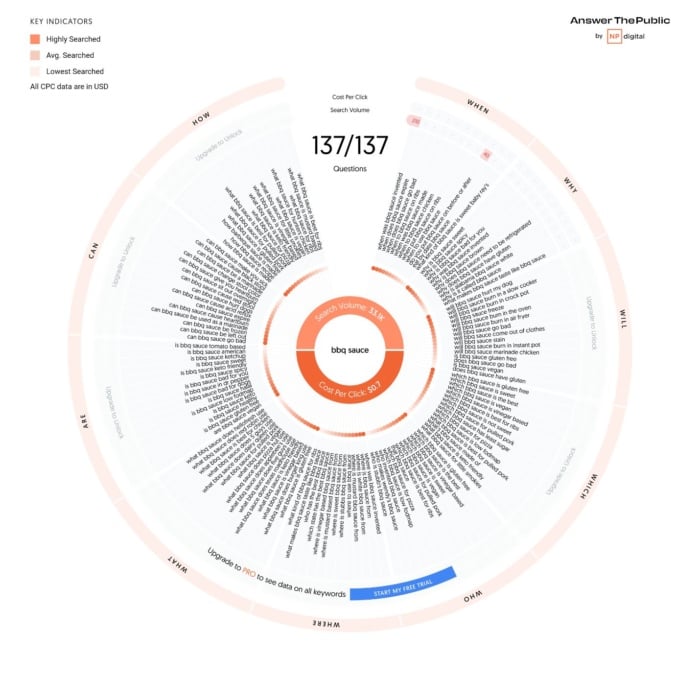 Once you've got a list of questions appropriate to your business, enter them into Google to see if there is an answer box. Alternatively, you can click on individual questions in the visualization (also known as a 'word cloud') to be taken straight to the relevant Google Search result.
Let's take the question: 'what BBQ sauce is best for chicken?' This search doesn't have an answer box, meaning you've got a good chance of appearing there if you optimize your content just right.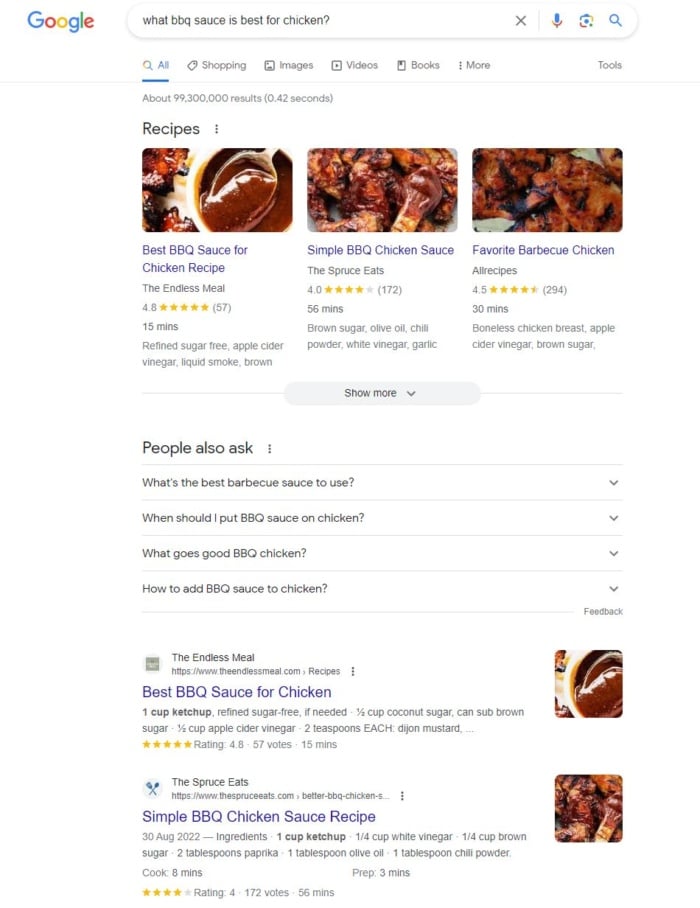 It might be that you've already got the answer box for the relevant question – if so, mission accomplished!
If a competitor has the answer box, don't panic. You can easily steal the answer box away from them by providing information that offers readers more value.
Optimize Content
Whether you're creating brand new content or optimizing your existing web pages, there are ways you can increase the chances of landing that all-important answer box.
Use bullet points, numbered lists, and tables to make your content easier to read
Make your content concise and easy to understand – the average answer box is between 40 to 50 words
Use headings or subheadings to structure your content, and use question keywords in your headings
The good news is that if you're already ranking on the first page of Google, you're more likely to be chosen for the answer box. According to Ahrefs, positions one, two, and three have a 70% chance of getting the answer box.
Regularly check to see where you are in the search engine results. If you're still not appearing in the answer box, keep tweaking your content until you hit that sweet spot.
Include Media With Your Answers
Another way to boost the chances of owning an answer box is with high-quality images, photos, and videos. This provides additional context and offers extra value to search engine users.
Media can also appear in the answer box, enticing people to click through to your web pages. As a bonus, images and videos mean your answer box takes up even more space in the search engine results!

It's important that any media you use is unique, eye-catching, and helps answer any questions the searcher has. Data charts, visualizations, and infographics are all excellent choices.
Don't forget to add contextual alt text to any images you use to provide Google with extra information about your media choices.
Don't Forget FAQs
A FAQ section on your page can be an excellent opportunity to get an answer box result. FAQ sections naturally lend themselves to short, punchy responses to questions, which the Google search algorithm loves.
You can use AnswerThePublic to identify the questions people are asking the most. Look at the orange dot next to each result. The darker the dot, the more popular the search term.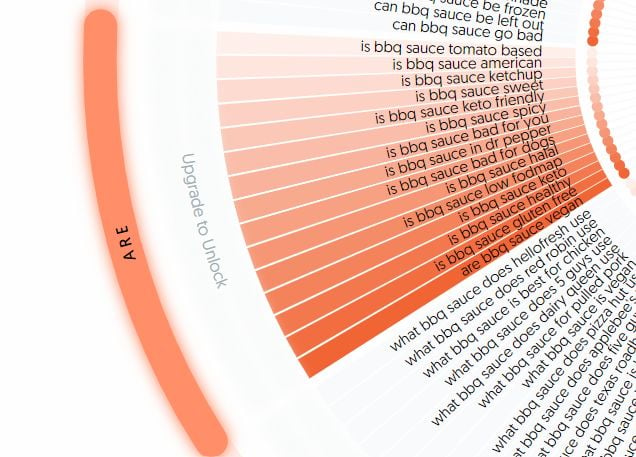 Use the question as one of your FAQ subheaders and then answer the question succinctly within the first two sentences for optimum results. Using FAQ schema can also give Google additional context about your FAQ section, meaning it's more likely to be chosen for relevant search queries.
Analyzing Your Results
It's great having a keyword research and social listening tool that's simple to use, but you want the data it provides to be easy to understand too.
AnswerThePublic does both!
You can download your data as a CSV file, making copying, pasting, and sorting your information easy.
The word clouds make it easy to see all your keywords in one place, as well as which words and phrases people are talking about the most. You can also see which keywords relate to each other and can be used in similar keyword clusters.
Plus, you can save your searches, letting you go back for new ideas whenever your copy needs a refresh.
FAQs
What is AnswerThePublic?
AnswerThePublic is a free social listening tool to see what keywords and phrases people use on search engines like Google and Bing.
It uses autosuggest to uncover this related information, providing additional data, including search popularity, search volume, and predicted cost-per-click. 
How do I use AnswerThePublic?
AnswerThePublic is easy to use. Enter a one or two-word seed keyword, select your search engine location, and choose your language. 
Once you hit search, you'll get hundreds of keyword ideas you can download as a spreadsheet or a word cloud. 
Conclusion
Thorough keyword research is the foundation of all good digital marketing strategies.
When you know what searches people are asking about your industry, you can create content that answers their questions and provides them the information needed.
By understanding what AnswerThePublic is and how it works, you're one step closer to developing content that drives visitors to your website.
Why not give AnswerThePublic a try? Check out how it can help you generate powerful content ideas to give you the edge over your competitors. As an added bonus, we currently have an option for you to try it for free for 7 days.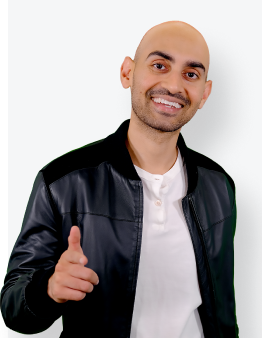 See How My Agency Can Drive More Traffic to Your Website
SEO - unlock more SEO traffic. See real results.
Content Marketing - our team creates epic content that will get shared, get links, and attract traffic.
Paid Media - effective paid strategies with clear ROI.
Are You Using Google Ads? Try Our FREE Ads Grader!
Stop wasting money and unlock the hidden potential of your advertising.
Discover the power of intentional advertising.
Reach your ideal target audience.
Maximize ad spend efficiency.