The organic promotion party on all social networks continues to be disappointing.
Social media marketing experts with even hundreds of thousands of followers don't see more than a few hundred click-through rates to their web site from an average update. This doesn't inspire a lot of drive for ramping up your marketing efforts.
There are many reasons for this decline in the social channels. But, the biggest one probably is the increasing competition, with numerous businesses creating social media accounts, sharing their content marketing, and employing pay-per-click advertising strategies.
If you're serious about reaching your target audience and extending your business on the popular social network sites, then great content and blog posts are not enough – you need to buy ppc ads. And, the sooner you get started with paid marketing and pay per clicks, the better it will be for your digital marketing strategy- so that you can get a better ROI from your content and improve your conversion rate.
I've experimented with paid marketing on most social networks and got a good ROI. I don't promise that each one of you will achieve the same results for your conversion rates by investing a little time and effort into PPC ads.
But, PPC ads on the social networks like Facebook, Google, Twitter, and even Instagram accounts are worth experimenting with, for every type of small business, because target audiences for most business types hang out on these popular social networks.
So, in this post, I want to show you 4 marketing effort principles that will help you succeed on these 3 big platforms. As always, I'll break down every element with specific examples, a case study, and actionable strategies.
Ready to rock on with paid ads, PPC advertising?
Then let's begin looking at pay per click tactics.
1. Respect the platform and their ad policies
So obvious, right?
Yet many marketing institutes burn dollars without spending some time understanding the social channels platform's guidelines.
For example, you might get carried away and try to use sex as a marketing campaign tool in your ad creatives. But, Facebook has clearly laid down, on its advertising policies page, that it's against overly sexual and sexually aggressive images regardless of who your target audience is.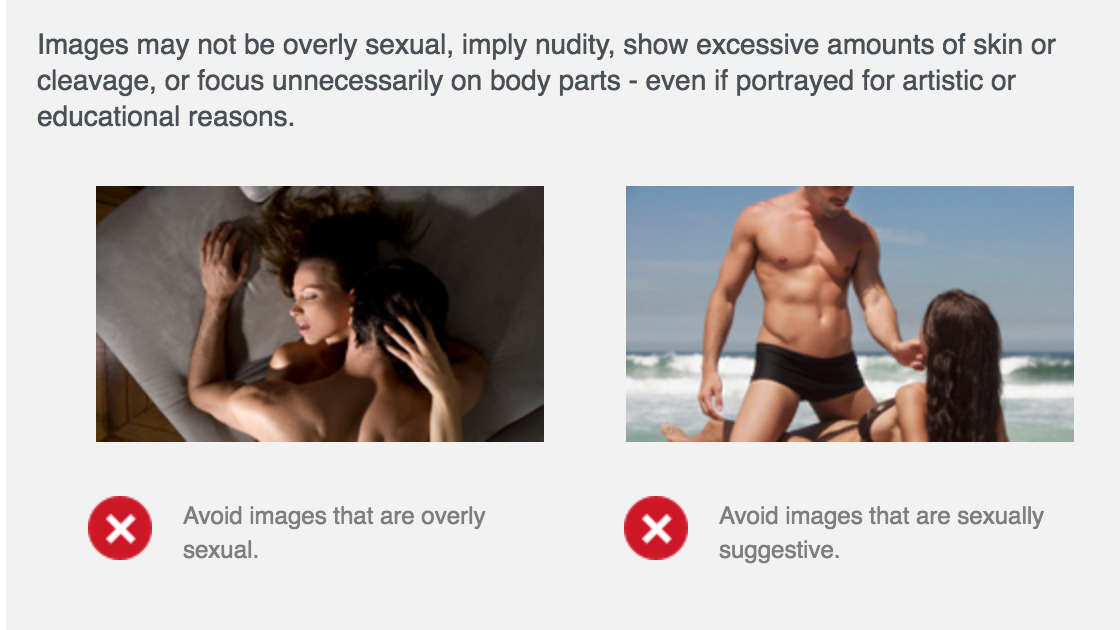 Similarly, all of the 3 platforms (even Instagram accounts)  are against racist and violent content when it comes to social media marketing. Here's an example excerpt, from the Google advertising guidelines. You can read more about prohibited content on Facebook at this link.

Generally, the 3 platforms also don't want you to use photos and material that refers to age-restricted content, like alcohol. If you're targeting countries where alcohol laws are strict, then you need to be even more careful hen it comes to your content marketing ideas. Read about Twitter's take on alcohol content here.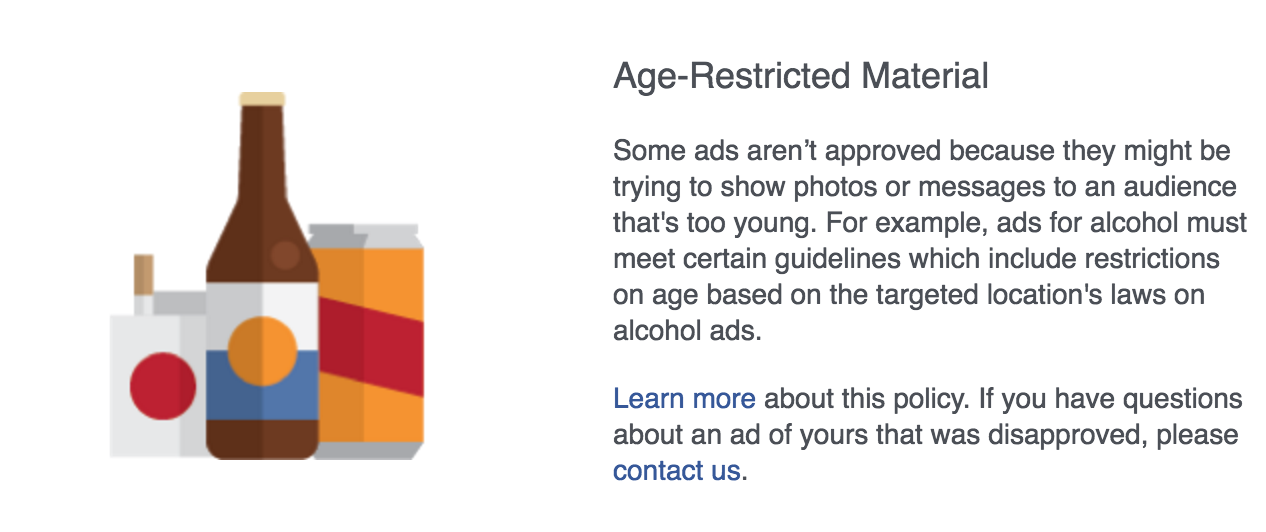 The platforms also have specific guidelines that you need to keep in mind when it comes to your marketing efforts. For instance, if you ever mention 'Facebook' in your ad on Facebook, then you need to use a capital 'F.' And, you aren't allowed to use the Facebook logo. Indeed, violating this rule is one of the two most common reasons that pay per click ads don't pass Facebook review.
All of the 3 platforms also want to ensure the security of user data. So, if you're collecting data, like name, email, phone number, date of birth and the like, then you need to take extra care in handling it. And, don't collect sensitive data, like credit card information, user's sexual orientation and the like on a non-secure server.
You can access Google's data collection policy here and Twitter's data collection policy here.
I've only covered a few basic advertising policies. I recommend that you read the policies document in full, at the link for each platform below if you want to succeed in social media marketing:
If you've got specific questions, then you can directly use the search bar and jump to the most relevant section.
2. The user gets a clear picture of what you offer behind the walls of the ad
How do you feel when a business exaggerates the value of their product ?
If you end up buying it, then I am sure you'll get frustrated when you see that the product doesn't meet your expectations.
Digital marketing has gained a bad name, because of those few shady promotions that oversell and dodge the consumers. I would recommend that you always stay ethical in your marketing efforts. I've already shown you that you don't need to push it, even when you address the pain of your customers.
In your ads whether they are ppc ads or not, you need to ensure that you don't oversell your product's effects and results. Facebook Ad Policies even shows an example and expects that you won't use before-and-after images.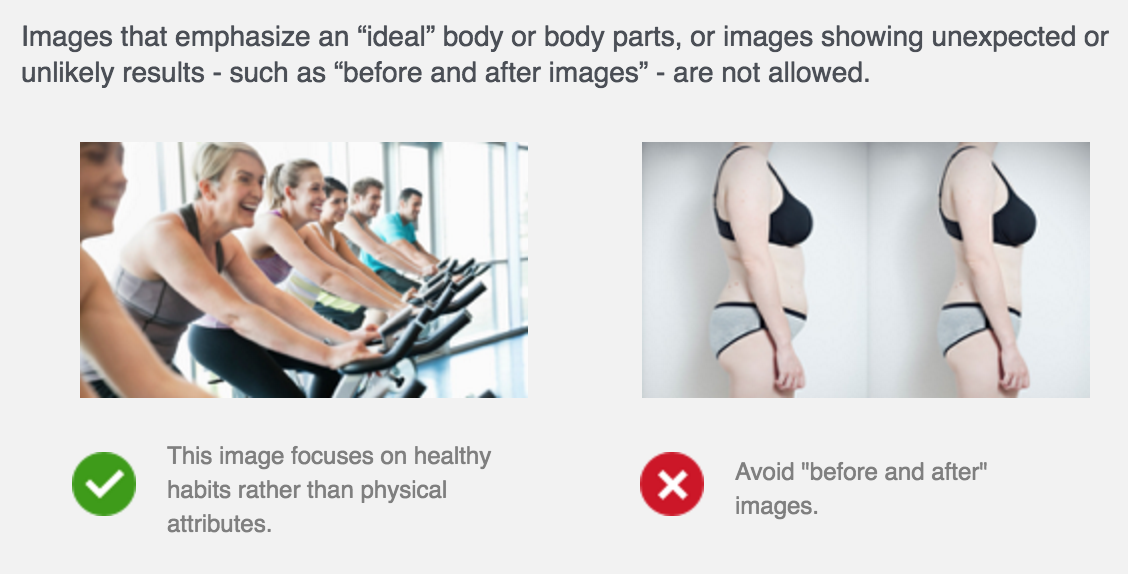 Facebook also advocates that you not show a non-existent functionality on your images, since it tricks a prospect.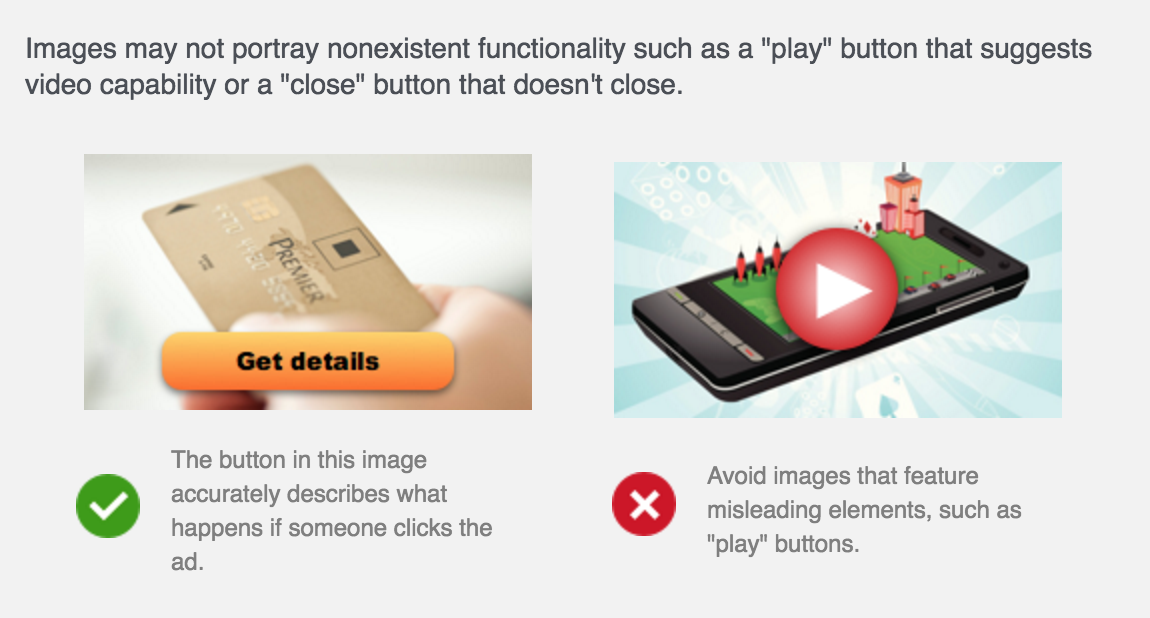 The great content, copy and creatives on your ad must perfectly match that on the landing page. Let's evaluate an ad that popped up in my news feed.
Branch looks to generate leads by getting people to sign up for their webinar. The first word in the caption of the update and the CTA is simple, direct and clear.  The caption in itself is compelling, telling me that as a business owner I might be losing $40k in top line revenue. This all hits the mark when it comes to effective content marketing.
But, the webinar landing page is titled 'Best practices for deep linked emails.' Unless I know what is deep linking inside email, I might get confused and not click on the ad. A clearer value proposition might help raise their ad CTR.
Now, if I visit their landing page, here's what is visible to me above the fold.
The headline doesn't match the ad. If you look closely at the ad, again, you'll see that it promised a webinar on mobile marketing strategy. Unless Branch's target audience is advanced marketers that know about deep linking and its association with mobile email marketing, the pay per click ad doesn't do justice to the offer inside and won't encourage a good click-through rate.
Now, look at the ad by LinuxAcademy.com below. It isn't the most compelling, but it shows a clear picture of what's in store for a user after clicking the ad. You get AWS CSA, SysOps and other professional training at $29/month. And, they encourage you to 'learn more' on their website.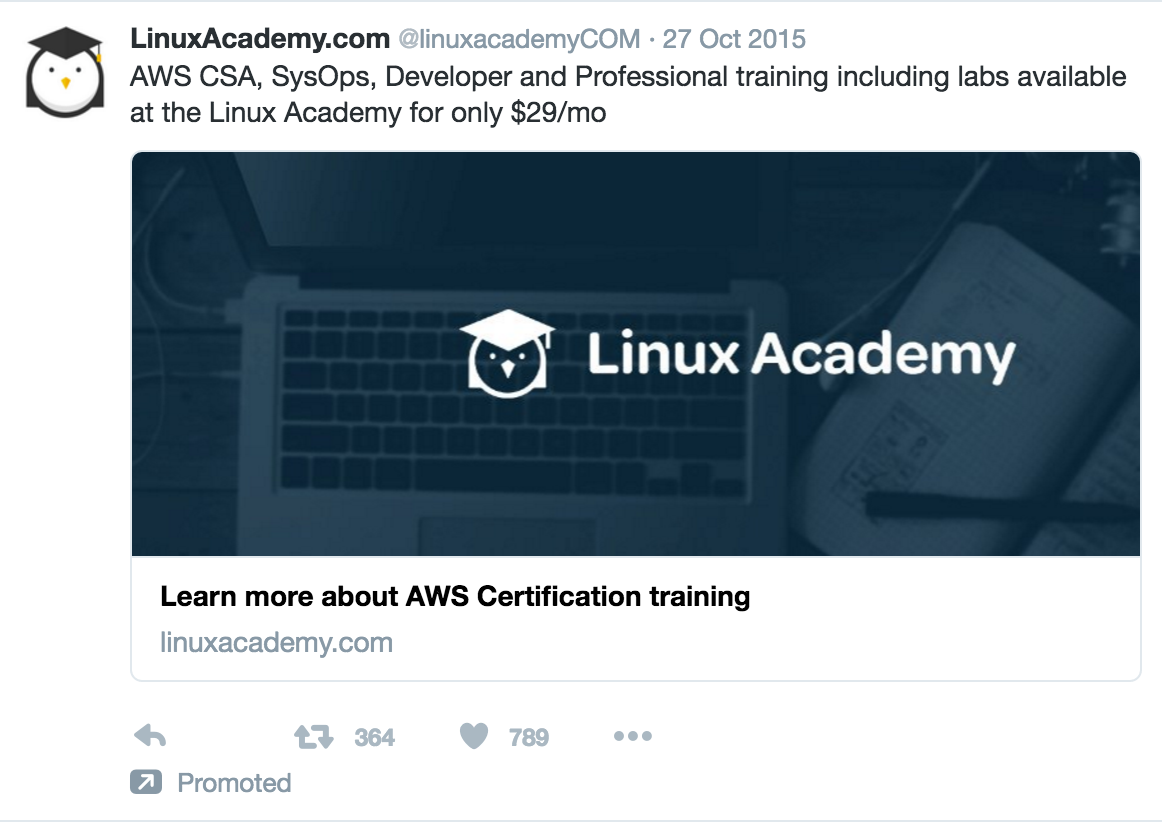 Finally, look at the WeBuyCars.com ad for the keyword and search term 'sell your car,' below. They remove the friction and objections in the prospect's mind, by telling him that it will only take 2 hours to buy their car. The description below the headline further explains that they will buy all kinds of cars (new, wrecked, not running). And, they'll even come to the seller's home/office.
Can the offer get any clearer?
Johnathan Dane ran a headline test for a car buyer. He unleashed the headline "Need To Sell Your Car?" (control) against "We'll Buy Your Car Today" (variation).
The first headline only reinforces what the user wants to do – "sell his car." It doesn't drive the conversation forward or do much to the click-through rate.
But, the second one will probably be of more interest to a prospect interested in selling his car. Not surprisingly, the variation ended up getting 30% higher conversions.
If you're directly selling a product, then the customer must get a clear understanding of the pricing of your product, along with their limitations (in the form of disclaimers).
For example, The New York Times ad below clearly states that their digital subscription costs 49 Rs/week in India.
Twitter also found that mobile app ads that show specific prices in the ad copy are the more cost effective to Twitter users.
Your ad copy and creatives must stand out from the competitors when it comes to social media marketing especially if you want to up that conversion rate. I would recommend that you read tips by Facebook for designing your ad creatives and crafting compelling copy. I've also previously written ad copy strategies to improve your marketing efforts for these 3 platforms.
3. Grab the reader's attention with a magnetic headline
Cute babies. Cats. Memes. And, hilarious short videos. That's what you're going to compete with inside an average user's Instagram account and social media feeds. If you don't impress the passive scroller with your brand offering immediately, then your ppc campaign ad is mostly going to get ignored.
In the Facebook ad below, David Siteman Garland does a great job. He promises a 7 proven steps cheat sheet to people interested in building a profitable online course. Later, he also establishes credibility in the ad copy, stating that his students have built courses in diverse niches. And, he has himself sold over 1 million worth of online courses in 24 months.
If you're interested in selling a course online, you'd feel intrigued by the ad. And, you'll most probably click the 'Learn More' CTA button and thus improving the companies conversion rate.
Now, let's look at a compelling ad on Twitter. Start a Fire intrigued me, by asking if I use Buffer to schedule my posts? (Yes, I do).
Then, you're hooked by seeing their graph and the link text that says 'expand your content reach.' Any content marketer would love to try out a tool that helps in expanding the reach and building their brand awareness, right?
On Twitter, users like ads that are real-time, promise a new product, are succinct and offer special discounts. I recommend reading the 7 tips for writing Twitter ad copy on the official Twitter blog.
Generally, while writing a headline for social media marketing, you can experiment with the following strategies:
state the benefits of your offer,
give exclusive discounts,
tell how your product is unique,
create urgency,
If you need more help, then read my blog posts on writing powerful headlines and crafting compelling social media headlines.
Next, let's talk about crafting a compelling headline in AdWords. Even when a user browses through search engines and other marketing channels, they scan the results. As per the latest research by ConversionXL, it isn't a strict F-shaped pattern. Instead, smartphones have trained us to scan vertically.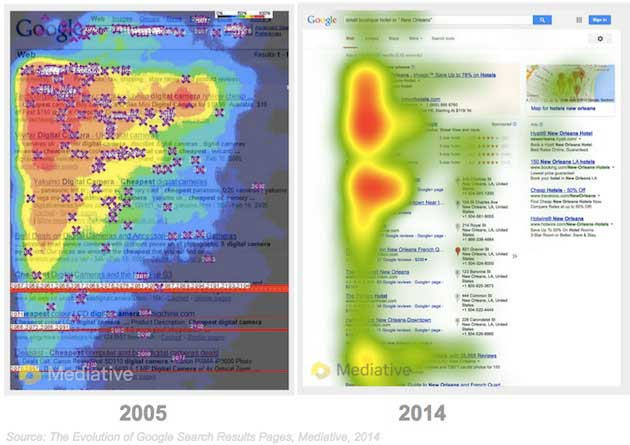 A great way to attract the attention of the user who's browsing through search engines is by leveraging SERP enhancements. Here's a heatmap, showing the user behavior in organic search.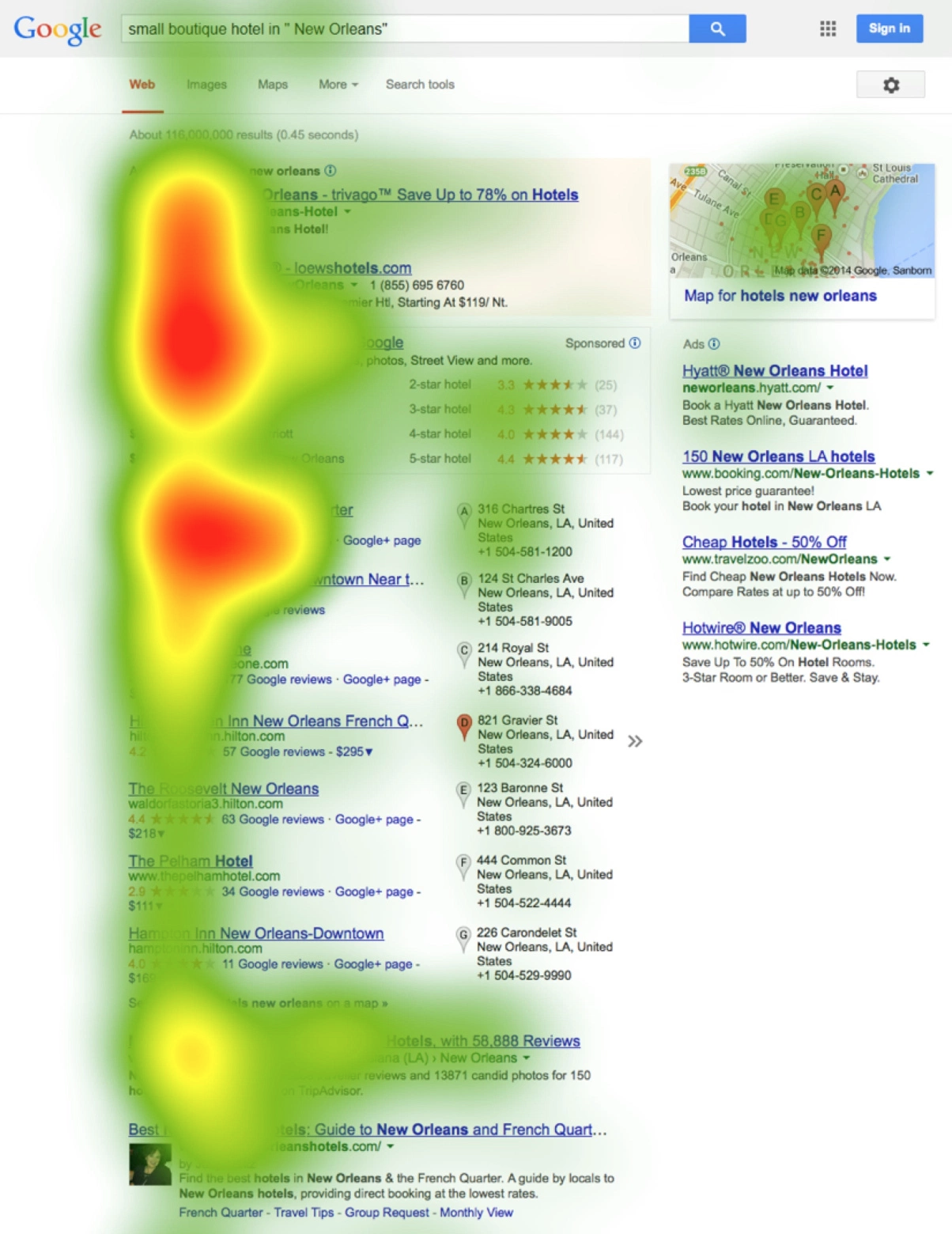 In an ad, search engines now allow you to leverage ad extensions like 'click to call' and 'star ratings.' For example, look at the ad results below, for the keyword 'buy a watch'.
The first ad, by authenticwatches.com, is the most compelling. It has the highest probability to impress a prospect interested in buying a watch.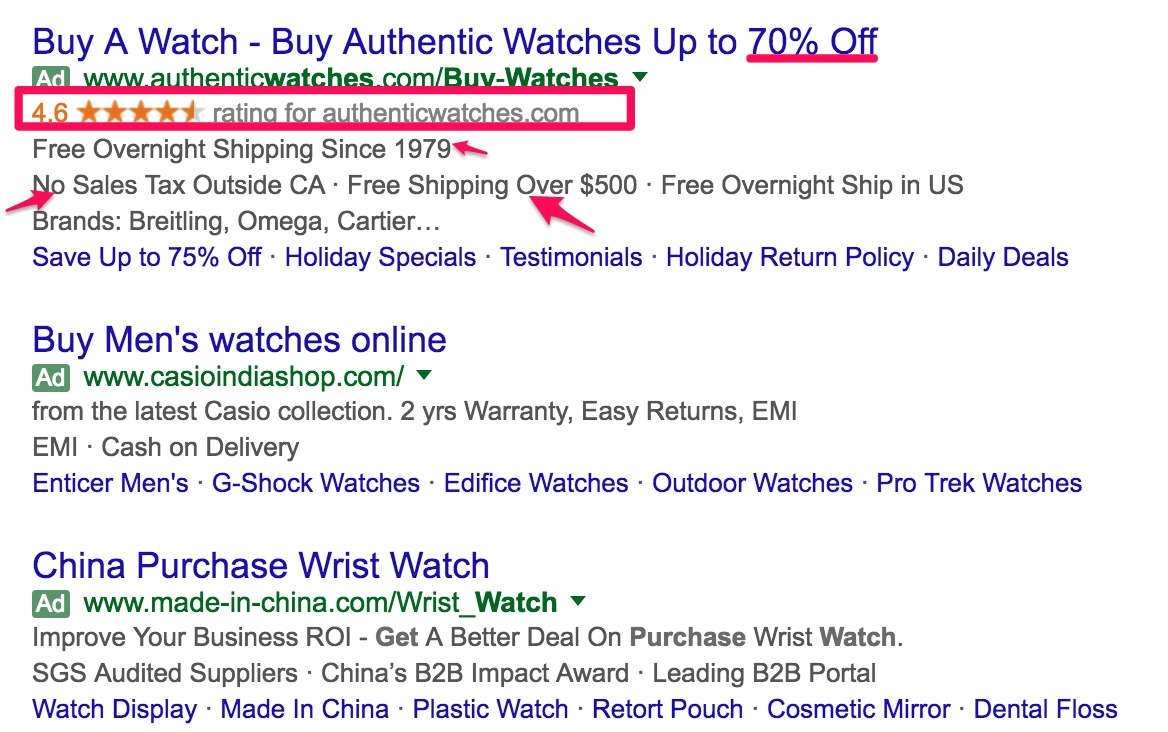 Let me breakdown why authenticwatches.com nailed it, with the headline and the overall ad:
The headline tempts me with a 70% discount,
The ad contains the exact keyword I searched for, so it quickly establishes relevance,
The ad shows a 4.6 star rating for authenticwatches.com,
I'll get free overnight shipping, if I spend over $500,
I don't have to pay sales tax, outside CA.
The third ad, by Made-in-china.com, is a great example of "how to not create an ad." The headline and the description are confusing and contain grammatical errors, they have probably targeted a wrong keyword and they show their own awards and features.
As a consumer, I am not interested to know that they are 'SGS audited suppliers' or are a 'leading B2B portal.' They don't have great content even in the smallest ad and I'm not tempted to drive up their click-through rate.
Here's another example of a persuasive ad, by Sendinblue. Their headline is benefit oriented. I get a sweet deal at $0. And, the word 'Start,' encourages me to take action. In their supporting copy, Sendinblue emphasizes how emails sent through them won't reach the customers' junk box. The 4.4 star rating also stands out, in the pool of other ads that don't leverage ad extensions.

I recommend that you watch this video that shares 5 tips for writing text ads, from Google themselves.
4. Ultimately A/B testing will help you find the winner
There's no way around it. You've got to profusely keep experimenting with creatives and copy in your ads. That's the only way to find your unicorn. Paid marketing and PPC ads don't come down to a set of laws that will always deliver the best results. It's an iterative cycle to test, learn, optimize, forget and test again.
MECLABS performed a live ad experiment, at their Web Optimization Summit. The following ads were selected for live testing, from submissions by 300+ marketers.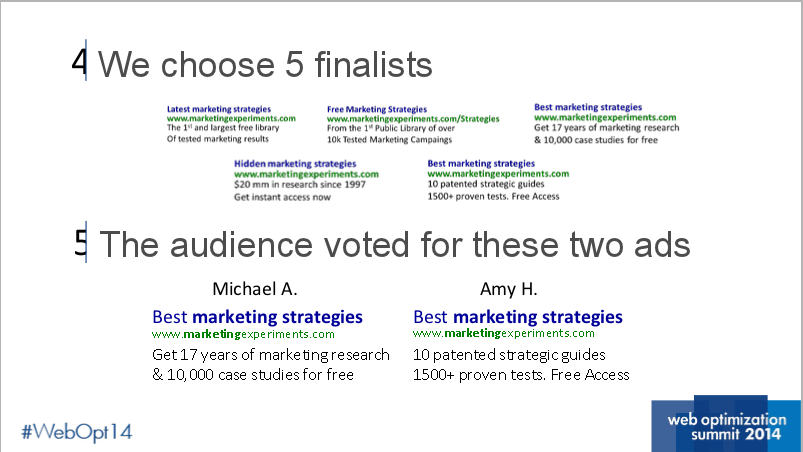 And, Amy's paid search ad beat the control by 88%.
In this case, the specificity of the ad copy integrating data probably helped.
On Facebook and Twitter, you've also got a variety of variables that you can test, ranging from your headline, creatives, CTA, ad copy and targeting. Instagram accounts are a whole new ballgame – you need to get good at hashtags.
Larry Kim tripled his engagement, when he experimented with location-based targeting.

HubSpot also ran a series of A/B tests. And, at the end of their campaign, they were able to increase their sales by 71% and get 39% more website visitors from Facebook.
I've already shown you how to create similar Facebook ads for testing. So, don't stop after creating your first ad. And, for Twitter, I recommend reading this A/B testing guide, by Adparlor.
Conclusion
Facebook, Twitter and Google are all terrific channels for driving targeted visitors to your website if you get your social media marketing right. They aren't difficult to set up. And, by following a few basic guidelines, you can expect a great ROI from your marketing efforts on these platforms.
I demonstrated 4 elements of successful ads to you today.  I encourage you to apply them, when you run your next ad campaign, especially if you want to improve your click-through rate.
If you've had success implementing any of these principles, then please share them in the comments below.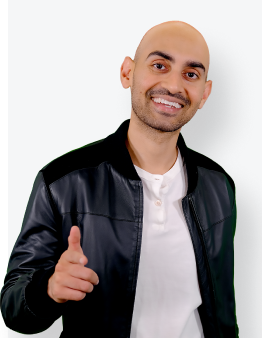 See How My Agency Can Drive More Traffic to Your Website
SEO - unlock more SEO traffic. See real results.
Content Marketing - our team creates epic content that will get shared, get links, and attract traffic.
Paid Media - effective paid strategies with clear ROI.