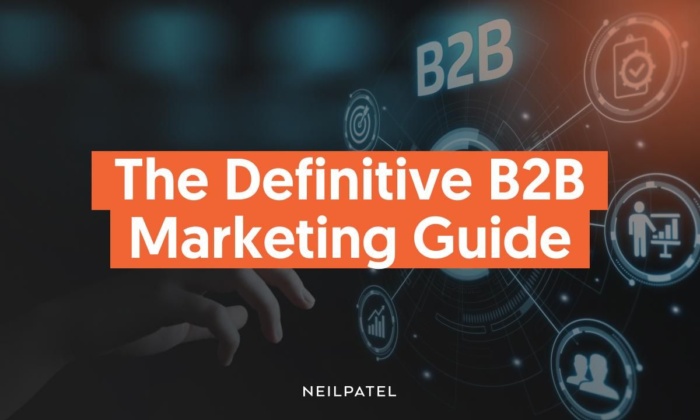 Did you know that 77 percent of B2B buyers say their latest purchase was complex or difficult?
That's a big opportunity for marketers like you. Make that journey a little easier and reap the rewards of connecting with your target audience and driving conversions.
A winning business-to-business (B2B) marketing strategy makes all the difference in landing loyal customers. I'm here to help you take your B2B game to the next level with this definitive B2B marketing guide.
By the time you've finished reading, you'll understand how B2B marketing works and how to use different B2B marketing strategies. I'll review some B2B marketing best practices so you can hit the ground running.
Get ready to win at B2B.
What Is B2B Marketing?
B2B marketing is where a business sells products or services to other companies. It could be marketing something like software, web hosting services, or cloud computing packages.
In practice, this means reaching out to other businesses, developing relationships, and selling your products or services to them.
To position themselves as the best solution, B2B businesses might write post blogs, white papers, case studies, or display ads to appeal to their ideal clients.
Additionally, research from LinkedIn shows B2B marketing leaders are increasingly turning to in-person events (60 percent), video (59 percent), and thought leadership content (57 percent) to generate leads and grow their businesses.
Embracing B2B marketing can help you:
Boost exposure: B2B tactics help businesses build brand awareness and build a strong brand reputation by sharing valuable expertise and insights on products and services.
Build loyalty and trust: Developing targeted content is a great way to build enduring relationships with current and potential customers alike. Win them over by addressing their pain points and providing them solutions to those problems. This allows you to position your brand as their go-to for anything in your niche—and there's a lot of long-lasting value to that.
Target your marketing efforts: B2B marketing allows businesses to focus their efforts on a specific target audience, ideally decision-makers within companies. This helps businesses key in on the right people with their messaging and strategies.
Examples of B2B companies that nail B2B marketing include HubSpot, Dropbox, and Stripe. I'll tell you more about what each does well—and how you can learn from their success—later in this piece.
B2C vs. B2B Marketing
As you might expect, B2B and B2C marketing have different approaches to reaching customers.
B2C businesses usually aim to connect with their customers emotionally by addressing their needs, desires, and pain points. B2B marketing focuses more on practical needs like cost-cutting, improving efficiency, and security, though focusing on a prospective client's pain points does pay off.
The way you build relationships with customers is also different in learning how to market B2B. B2C businesses are more transactional, while B2B businesses focus on building relationships, networking, and direct outreach.
The B2B and B2B sales cycles also vary. B2C sales cycles are usually shorter, as they rely on customers making quick decisions rooted in emotion. B2B sales, on the other hand, take longer since the decision-making process is more complex—filled with pitches, product demos, and relationship-building.
Developing Your B2B Marketing Strategy
Creating the right B2B marketing strategies can be a major challenge. Whether you're learning how to market B2B products or how to market B2B services, it's especially important to identify the best tactics and techniques to reach your target audience.
In this section, I'll explain how to approach your B2B content marketing strategy so it resonates with your customers and helps you achieve your business goals.
Define Clear Objectives
If you want a solid guide for your digital marketing strategy, it all begins with setting clear objectives. If you don't know what you're hoping to achieve, you'll have no idea if you're on the way to achieving it.
Is your company just starting out and looking to build brand awareness around your products and services? Are you somewhat established and looking to pick up the pace of growth? Each scenario will call for different objectives.
Be specific and realistic with your goals, and make sure they make sense for your business. For instance, don't shoot for crazy growth numbers like increasing leads by 60% in a quarter or tripling your social media following in a month.
Those goals might make perfect sense for your business, but they'll be all but impossible to achieve. In marketing, we talk a lot about SMART goals (specific, measurable, attainable, relevant, and time-bound).
For instance, following the SMART method, your B2B marketing goals might look like this:
Specific: Increase the number of memberships you sell by 20 percent.
Measurable: To ensure you're on track, you can monitor your progress using monthly sales figures.
Attainable: Based on historical data, a 20 percent increase is realistic and would help you meet your overall goal of increasing revenue.
Relevant: Selling more memberships fits with the larger objective of increasing revenue.
Time-bound: To stay on target, you plan to achieve this 20 percent increase within the next six months.
This SMART goal is a great tool for keeping your efforts focused and effective while providing clear criteria for measuring your progress along the way.
Create Multiple Buyer Personas for Effective Targeting
To make sure you're pursuing the right potential customers, it pays to create customer personas. After all, the most important part of any B2B marketing approach is understanding whom you're targeting.
In a B2B sense, a buyer persona is a fictional prospect within a company whose traits match those of your ideal buyer. Think everything from their title to the level of autonomy they have to make decisions on behalf of their company. I like to think of personas kind of like characters in a book.
How do you work them into your B2B marketing strategy? By developing multiple buyer personas according to where your customers are in your B2B marketing funnel—in other words, whether they're just becoming aware of your product or service, considering it, or ready to make a decision.
Doing so allows you to identify the unique needs and pain points of your different customer segments. With that comes a better customer journey. In fact, a successful personalization program boosts customer satisfaction by 20 percent and sales conversion rates by as much as 15 percent.
With these detailed profiles, you can personalize your B2B marketing strategies to resonate with each customer group, craft more compelling messages, and better position your products and services.
Key traits to work into your buyer personas include:
Age
Gender
Income
Occupation
Marital status
Education
Geographical location
Challenges
Hobbies and interests
Goals
Fears
Pain points
Values
Ready to start crafting your personas? HubSpot has some free templates to help get your project off the ground.
Identify Your Buyer's Journey
What steps does a potential customer go through during the decision-making process? Once you answer that question, you can use that as a definitive B2B marketing guide and create content around it.
Your sales reps get only 5 percent of a customer's time during the B2B buyer's journey. That's why developing content that speaks to them at every stage of the journey is essential.
Much like the B2B marketing funnel, the buyer's journey starts with awareness, moves on to consideration, and finishes with a buyer pulling the trigger on a purchase.
To personalize your B2B marketing strategies to each stage of the buyer's journey, create a customer journey map. This is a visual representation of the steps and touchpoints customers go through when interacting with a company.
You'll use this map to inform your B2B marketing campaigns. Some questions to keep in mind as you strategize include:
What channels will best reach your ideal customer at each stage of their journey?
What platforms will best reach them?
What questions will they have during each stage of their journey? Pro tip: Use keyword research and social listening tools to help.
What does all this look like in action? Let's analyze it through the lens of a hypothetical customer journey:
Awareness stage: Let's say an e-commerce store owner wants to expand their sales reach and decides developing an app is the way to go. The problem is, while they're tech-savvy, they have no experience in app development and no idea where to start. So they start researching to wrap their head around what's out there in terms of app development solutions. In other words, they're becoming aware of possible solutions to the challenge at hand.

What this means for your marketing strategy: Create campaigns that speak to questions your potential customers will have during the awareness stage. For our example, this might mean creating a video or blog post touting 10 ways to get your e-commerce app off the ground.
Consideration stage: After a lot of research, our store owner decides there are two possible paths forward—hire a third-party app developer or use a no-code app development platform. They're now considering their options, researching specific companies and platforms, and about to enter the final stage of their journey.

What this means for your marketing strategy: Here, you'll want to produce marketing materials that guide your reader toward the best solution for them (while subtly funneling them in the direction of your services). For our examples, that might be a guide on the pros and cons of DIY app development or a blog post highlighting five great app development partners.
Decision: With a clear idea of their options, our store owner's ready to make their decision. They're going the third-party developer route. So they research specific companies, check out reviews, hop on a few calls with providers, and boom—make their final purchase decision.

What this means for your marketing strategy: Create campaigns that demonstrate why your product or service is the go-to solution for our store owner's challenge. This might be a product demo, user-generated content demonstrating social proof, or a compelling case study.
B2B Marketing Tactics
Do you want to get more from your outreach efforts? Then you need to stick to some of the best B2B marketing tactics.
Below are four powerful methods to reach fresh audiences.
Account-based Marketing (ABM)
Take your B2B approach to the next level with account-based marketing. ABM strategies involve tactics and messaging explicitly tailored to high-value clients within your industry or niche.
All ABM messaging is geared toward the needs, challenges, and opportunities of those specific companies. This allows you to focus on the clients that'll deliver the most value to your bottom line.
This method can also help you secure more contracts because you provide solutions for your prospects' particular problems. The specificity of the messaging—highly personalized to resonate with an organization's primary decision-makers—can also help speed up the sales cycle.
Marketing and sales teams implementing an ABM strategy work together to identify ideal prospects and customize campaigns to reach those prospects. Those campaigns look a lot like other traditional marketing methods (but with more personalization) and might involve:
Email campaigns with prospect-specific messaging
Paid advertising via social platforms that reach prospects directly
Personalized website experiences that show specific messaging to prospects
In-person events, such as VIP dinners or webinars, with personalized invitations for target accounts
Content Marketing
Content marketing is a tried and true way of attracting new clients.
With content marketing, you publish helpful and informative content helps position you as an expert and builds trust among prospects. That might come in the form of blogs, videos, case studies, or white papers.
You're basically selling a potential audience on your products and services—but not in an overly aggressive way. Your goal is to create enough value with your content that when a prospective customer is ready to make a purchase, they view you as a trusted authority and, ultimately, purchase from you.
There's an art to choosing the right content types for your B2B marketing strategy. Let's look at use cases for some of the most popular content types:
Blogs: Not only can blogs drive organic traffic with their SEO value, but they're effective for reaching prospective customers at all stages of the funnel.
Case studies: A bottom-funnel MVP, a case study can help B2B companies close a deal by demonstrating how their products or services helped other clients achieve success.
White papers: A powerful tool in the B2B content arsenal, white papers can help you build your credibility within a given industry. These deep dives into industry-specific topics ideally contain charts, graphs, and tables built on proprietary data. White papers are a fantastic way to demonstrate thought leadership and position your brand as an authoritative voice in your industry.
Podcasts: An increasingly popular form of content among B2B companies, podcasts, and webinars are great for demonstrating subject matter expertise, building brand awareness, and educating potential buyers.
Email Marketing
Some say email marketing is dead. That couldn't be further from the truth.
Think about it. Email is still very much a staple in our lives. Hands up. Who doesn't use email?
It's one of the most effective ways to attract your audience's attention. It's got an incredible return on investment (ROI), too. According to Omnisend, businesses earn an average of $40 for every $1 spent.
Through targeted email campaigns that provide value to your subscribers, you build meaningful connections over time.
Ways to implement email for B2B marketing include:
Newsletters providing industry insights and trends
Product updates
Promotional offers, such as free trials or discounts
Event promotions (webinars, in-person events, etc.)
Curated content (white papers, case studies, tips, and tricks)
Social Media Marketing
From promoting your content to demonstrating industry expertise, social media is invaluable in increasing your B2B reach.
Best of all, you can reach highly targeted audiences depending on the platform. For example, you might use LinkedIn for direct outreach or Twitter for sharing industry news. Either way, B2B social media marketing helps you build brand awareness, drive website traffic, and generate leads.
Done right, social media marketing pays off by:
Increasing brand awareness
Engaging customers and potential customers alike
Generating qualified leads by reaching platforms where your ideal customers spend time
Mailchimp is a B2B company that does this well. From its consistent and distinct yellow and black branding to the fun, lighthearted tone of its content, Mailchimp connects with social audiences by clearly showcasing how its marketing automation tools make their lives easier.
No matter the platform, they fill everything they put out with personality. Some of the ways Mailchimp is smart at B2B social media marketing include:
Clear calls to action (CTAs) that provide the audience with an actionable next step
A distinctly unique brand voice that builds loyalty
Peeks behind the curtains of the brand
Use of popular culture themes (memes, current events, etc.) to increase engagement,
Eye-catching visuals, content, and consistent branding
Smart content promotion
Interactions with the audience to boost engagement and further establish loyalty
Smart repurposing of content across different platforms
B2B Marketing Best Practices
Like any other sector, B2B marketing is constantly evolving. Keeping up with the best B2B marketing tactics is one way to stay ahead of competitors and gain new clients.
In this B2B marketing guide, I've already covered defining your target audience, setting clear goals, and the tactics you can use.
Now, here are some top B2B marketing best practices that you can start implementing today.
Leverage your data. Use data and analytics tools to better understand your customers' behavior, preferences, and motivations. When you do this, you can develop more effective marketing campaigns and enhance your ROI.
Create a content strategy. A well-defined plan builds trust and credibility while nurturing and educating leads and aiding lead generation.
Highlight your expertise and how it helps customers. Demonstrating how your product or service can make the lives of those in your target audience easier is the heart of B2B marketing. Whether it's a case study showing how you helped another client succeed or a podcast educating your audience on topics relevant to your industry, don't miss a chance to show you know your stuff.
Personalize your messaging. It's the same with any type of marketing. The more your tailor your products/services to B2B buyers' specific needs, the more likely you are to secure a client.
Focus on quality over quantity. Whereas B2C marketing plays on emotion to get buyers to make quick decisions, the B2B conversion cycle is a drawn-out process targeted to a highly specific audience with highly specific needs. That means taking time to build relationships with prospects rather than generating large volumes of leads that might not convert.
Use a multi-channel approach. People consume information in different ways, so ensure you use a combination of marketing channels like email and content marketing, social media, and video.
Focus on the customer experience (CX). An exceptional CX can set you apart from your rivals and gain repeat business and loyalty. It can also enhance customer lifetime value and brand reputation.
By implementing these B2B marketing best practices, you can improve your strategy, reach your target audience more effectively, and generate better results. Remember to regularly review and analyze your performance and adjust as needed to stay ahead of the curve.
B2B Marketing Examples
You have to learn from the best to be the best. So, let's close out this B2B marketing guide with a look at how some of the biggest players in B2B crush their strategies. Implement some of their best practices into your campaigns and transform your brand into a B2B beast.
HubSpot
B2B content marketing doesn't get much better than HubSpot. It uses multiple B2B marketing strategies to ensure businesses become familiar with their products and understand their value.
It has established itself as a trusted source and brand authority by publishing content that inspires, educates, and highlights the benefits of using HubSpot.
HubSpot also uses email and social media marketing to connect with prospects and nurture leads.
Other B2B marketing tactics include providing value resources like eBooks, webinars, and white papers. It also gives leads tailored content according to their stage in the buying journey to help convert them into long-term customers.
Dropbox
The flexible workspace company has a simple but effective way of gaining customer trust.
How does it market its B2B marketing services? By providing hundreds of case studies from satisfied customers.
Just look on its website, and you'll find page after page of inspiring stories. For instance, one case study explains how three stand-out Sundance Shorts came together with help from Dropbox.
Another article tells how Dropbox helps a construction firm save money, collaborate better, and boost efficiency.
A further example explains how one lady made her dream career possible with the help of Dropbox's tools.
Stripe
Payments company Stripe targets developers, and focusing on a specific niche has given Stripe huge dividends.
The company has 47 million backlinks and a recent valuation of $36 billion.
What's the secret to its success? Content.
It speaks to its audience using developer-friendly language on its website and throughout its other marketing materials.
By understanding its audience, Stripe creates content that appeals to ready-to-convert leads.
For example, its blog content talks to B2B customers, detailing new features and educational content.
Additionally, Stripe has a page packed full of guides and another page featuring customer success stories.
FAQs
What is B2B marketing?
B2B marketing means the strategies and tactics businesses use to promote products or services to other companies. Whereas B2C marketing targets individual consumers with its messaging, B2B marketing targets specific stakeholders within a business—usually a key decision-maker such as an executive. B2B marketing campaigns tend to have longer sales cycles, as buyers perform exhaustive research and evaluate numerous products or services before making a purchase decision.
How to create a B2B marketing strategy?
Drawing up an effective strategy needn't be difficult. Just break it down into steps like this:
Set clear goals and identify your target audience; use research and analytics to understand their pain points and needs. 
Develop a messaging strategy that speaks directly to their needs and positions your solution as the best option. 
Identify the channels and tactics that appeal to your target audience. This could include email marketing, content marketing, social media, webinars, and more. 
Establish metrics for measuring success and regularly track and analyze your results to refine and improve your approach over time. 
By following these steps, you can create a B2B marketing strategy that effectively reaches your target audience, builds relationships, and drives growth for your business.
Conclusion
Whether you're looking to up your B2B marketing game or just starting out, this B2B marketing guide has you covered. Use my best practices and examples of B2B marketing done right to jump-start your B2B marketing strategy.
Remember: What works with B2C marketing won't necessarily work with B2B marketing. B2B is all about cultivating relationships, connecting with companies' key decision-makers, and demonstrating your authority and expertise at every turn.
It all starts with setting clear goals, identifying your ideal customer, and building personas to cater your marketing efforts specifically to that customer.
This guide has all you need to know to get your B2B marketing model off the ground. Now it's time to put these B2B content marketing tactics into action.
Did you find this B2B marketing guide helpful? Which B2B marketing do you use?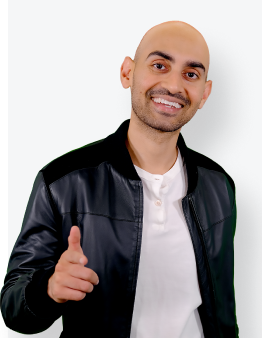 See How My Agency Can Drive More Traffic to Your Website
SEO - unlock more SEO traffic. See real results.
Content Marketing - our team creates epic content that will get shared, get links, and attract traffic.
Paid Media - effective paid strategies with clear ROI.
Are You Using Google Ads? Try Our FREE Ads Grader!
Stop wasting money and unlock the hidden potential of your advertising.
Discover the power of intentional advertising.
Reach your ideal target audience.
Maximize ad spend efficiency.