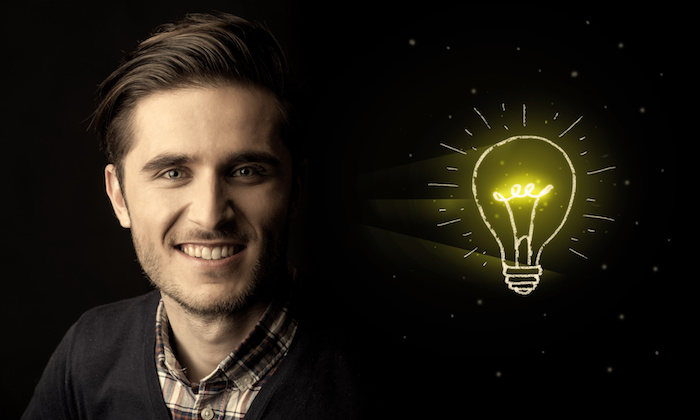 People obsess over keyword rankings.
They're not satisfied until their brand reigns supreme at the top.
But what if I were to tell you that your ranking doesn't matter (as much) anymore?
What if I told you there was a better, faster, and easier way to dominate search engine result pages (SERPs) without directly trying to increase your position?
Would you believe me?
Over the last few months, new data has emerged that suggests this is not just possible but it's also probably occurring as you read this.
And best of all, it might only take a few minutes to start seeing the new results pour in.
I'm going to give you five simple tips to start using to instantly increase the number of visits you're getting from search engines.
But first, you need to understand how this new hack works.
How click-through rate affects your ranking
There are over 200 ranking factors that determine where you show up on search engine result pages (SERPs).
You know most of the big ones, like high-quality backlinks, long-tail keywords, and on-page optimization like your title tags and meta tags. All of these are very specific and have a direct effect on your Google rankings.
However, in recent years, Google has started to expand on the factors it takes into consideration. It now considers things like page speed, on-site user behavior, and possibly even your SERP click-through rate (CTR).
What does that mean exactly?
Let's say you currently rank in the fourth position on Google. But for some reason (which we'll dive into later), your CTR is higher than the websites ranking above you.
Over the past few months, many online marketers have noticed that this might have the power to actually reshuffle the rankings to place you above them.
That's not how it worked historically.
For example, this graph has seemingly been around forever in one form or another. It describes the CTR you can expect based on your SERP rank or position.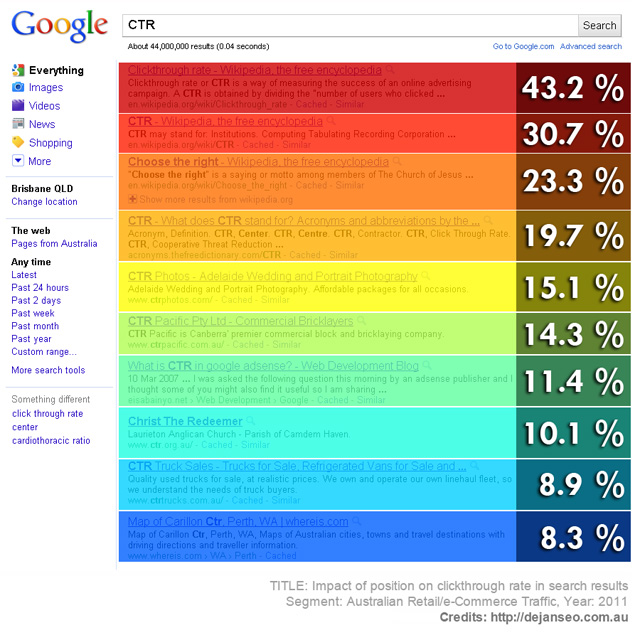 Unsurprisingly, the top few get the most clicks. The first position dominates everyone, while those toward the bottom of the page have to split the scraps.
Now, if that looks like an old screenshot above, that's because it is old. This graph and concept date back over the past 5 to 10 years.
Today, things aren't so simple and clean-cut, even though the same trend line appears (with click-through rate heavily weighted toward the first few positions).
The latest evolution, where CTR is starting to influence rank, has been noted and confirmed (at least as a correlating factor) by several different people.
For starters, here's Danny Sullivan picking up the fact that Google even admitted to using click data to help quantify and refine the results you see show up in the first few positions.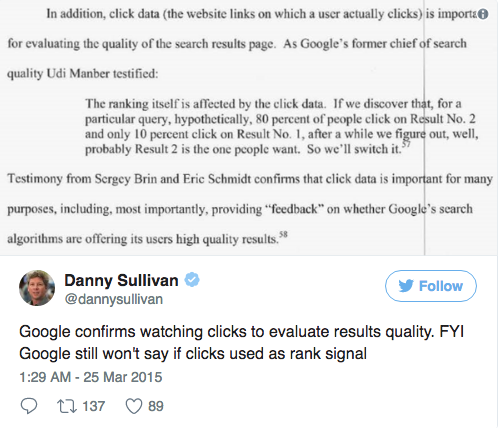 Then late last year, AJ Kohn put together the most convincing argument that all but confirmed his own theory on the subject:
"The evidence suggests that Google does use click-through rate as a ranking signal. Or, more specifically, Google uses click data as an implicit form of feedback to re-rank and improve search results."
He even quoted a former Google Engineer, Edmond Lau, who corroborated these findings.
Basically, Edmond all but admitted that popular stuff (which received more clicks) would naturally rise over the boring stuff (that received fewer clicks).
The idea is to create a feedback loop that helps Google learn and iterate on the fly.
Now, whether your rank is tied directly to CTR isn't the point here. It seems like everyone can agree that it does play some role. There's just no consensus (as of yet) on how much of a determining factor it is.
However, that's not the important point.
Instead, the key thing here is that cold-hard data is saying you can influence your CTR to outperform those ranking above you.
Here's how it works.
How to get more search traffic in fewer than 5 minutes (without moving positions)
RankBrain is Google's latest algorithm evolution, and it introduces artificial intelligence into the mix.
It essentially learns on the fly, teaching itself new things based on the patterns and trends playing out in front of it.
Many times, it will be forced to rate and rank pages that might have little to no other quality signals (like no backlinks). So how is it supposed to properly rank those?
According to Larry Kim from WordStream, your CTR is the best predictor of engagement and relevance (because it shows exactly what people are and aren't interested in).
To confirm this theory, he pulled 1,000 keywords from his own WordStream.com Google Search Console account and found the following click-through rate averages by rank: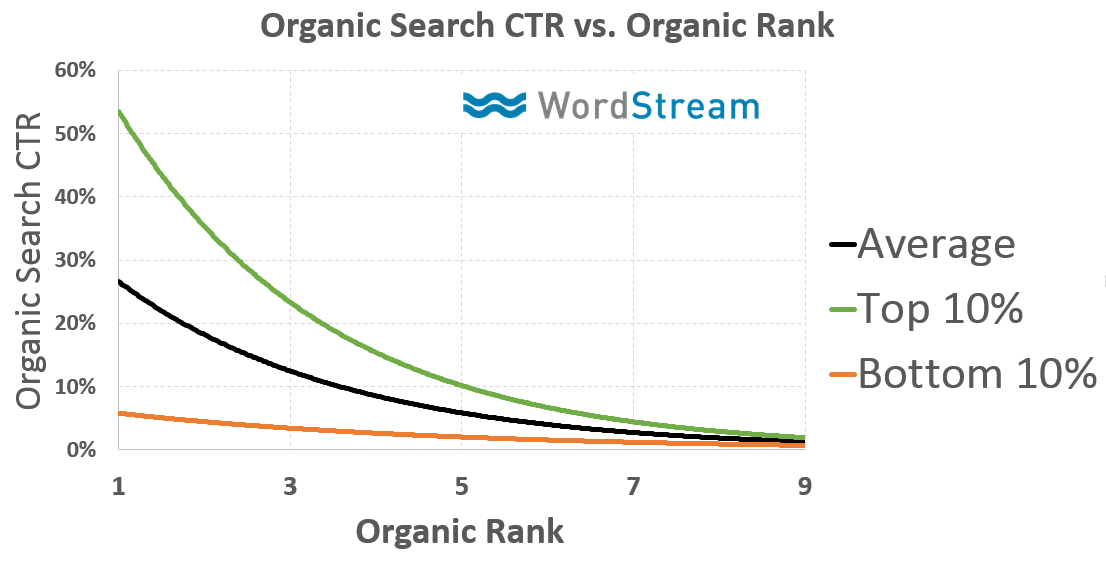 Basically, this graph is saying that some first-position results might have a ~55% CTR while others will only hit ~7% CTR.
Think about that for a moment.
The sites enjoy the same exact position on Google, and yet one result might be getting the vast majority of clicks, while the other is barely getting any at all!
This means that, if you're not getting those clicks in the first position, people are skipping down for some reason to use other results, instead.
Crazy, right?!
The data essentially says that "You can increase clicks by as much as 5x or even 6x by identifying your crappiest keyword donkeys and making them better."
Here's why that's important.
Take a look at this SERP analysis and tell me what jumps out at you:
Check out PolicyGenius in the sixth position. Now, it's an awesome site.
But there's no way it's ever going to beat out the stiff competition it faces:
State Farm
Liberty Mutual
Geico
MetLife
Progressive
Each one of those is a multi-hundred million (or billion?) dollar company. They spend more on offline ads than PolicyGenius can ever dream of.
Not to mention, PolicyGenius' Page and Domain Authority is about half that of those behemoths.
So just get rid of the idea now. They'll never, ever, ever outrank them.
But this new data suggests they don't have to.
If they were able to focus on increasing their SERP CTR, instead, they could literally steal market share from right under the competition's nose.
One might take you months (if not years) of hard work to do, while the other will set you back anywhere from five minutes to half a day.
Sounds like a good bet, right?
Here are five tips to get started with that can provide an instant SERP CTR boost.
5 tips to increase your SERP click-through rates
You don't have that much space on a SERP to work with. For example, there's a short headline and a description area that's a tiny bit longer.
So that means there are only a few things you can realistically change to improve your SERP CTR.
Here are five of my favorite tactics you should try out first.
Tip #1. Title tags
Historically, this is what an 'optimized' title tag might look something like:
Long-Tail Keywords | NeilPatel.com
NeilPatel.com – Long-Tail Keywords
Or some other variation of the primary keyword and your brand name.
Instead of that, Directive Consulting recommends you start by ditching your brand name and using parenthesis to insert a more "clickable title."
For example, you'll notice that its new headline now sticks out from the other two on this page, which still clings to the old 'optimized' tactic.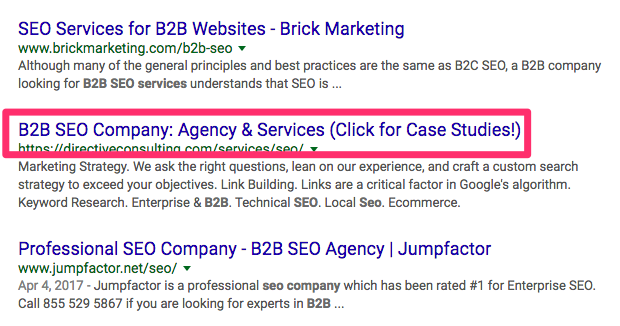 This means you should include benefits or elements of your value proposition within a headline (exactly like you'd do with an AdWords ad, for example).
Here's another example when you search for "how to write a resume."

The key here is to understand what people are specifically looking for (e.g. the intent behind each query) and then see if you can answer it the best.
Easy enough, right?!
All you're doing is changing a single word or two, and it can already have a huge impact.
But you can also double down by writing better headlines that force people to click on them. Here's how.
Tip #2. Write better headlines.
You just saw the power that a one or two-word fix can make. Now imagine that you restructure the entire headline to focus on clicks specifically (and not just classic keyword stuffing).
For example, the Directive Consulting example referenced "case studies" on a page about SEO services. But why?
The company is overcoming a potential rejection right off the bat. It's appealing to the emotional side of people that ultimately sways what happens.
For example, we (humans) are still largely controlled by the 'old brain' according to Neuromarketing. This is the same brain that's motivated by fight or flight.
The best way to attack this old brain head-on is through power words, which are evocative, punchy, and persuading.
One of the power words to lead with in your title, according to an in-depth analysis from Buffer, is the word "New." It's like the shiny thing that catches our attention.
Check out this example to see the effect:
If you were to Google this very topic,  the phrase [New Data] suggests that the page might confirm or deny everything you know about the topic. It's sure to captivate your attention first.
This example also gets extra credit for the question-based headline. A MarketingExperiments.com study showed that headlines that contain questions have the power to increase CTR by as much as 36%.
Otherwise, if that doesn't work, you can always go negative.
Outbrain ran its own study, finding that negative headlines have the power to outperform positive ones with a 69% CTR lift.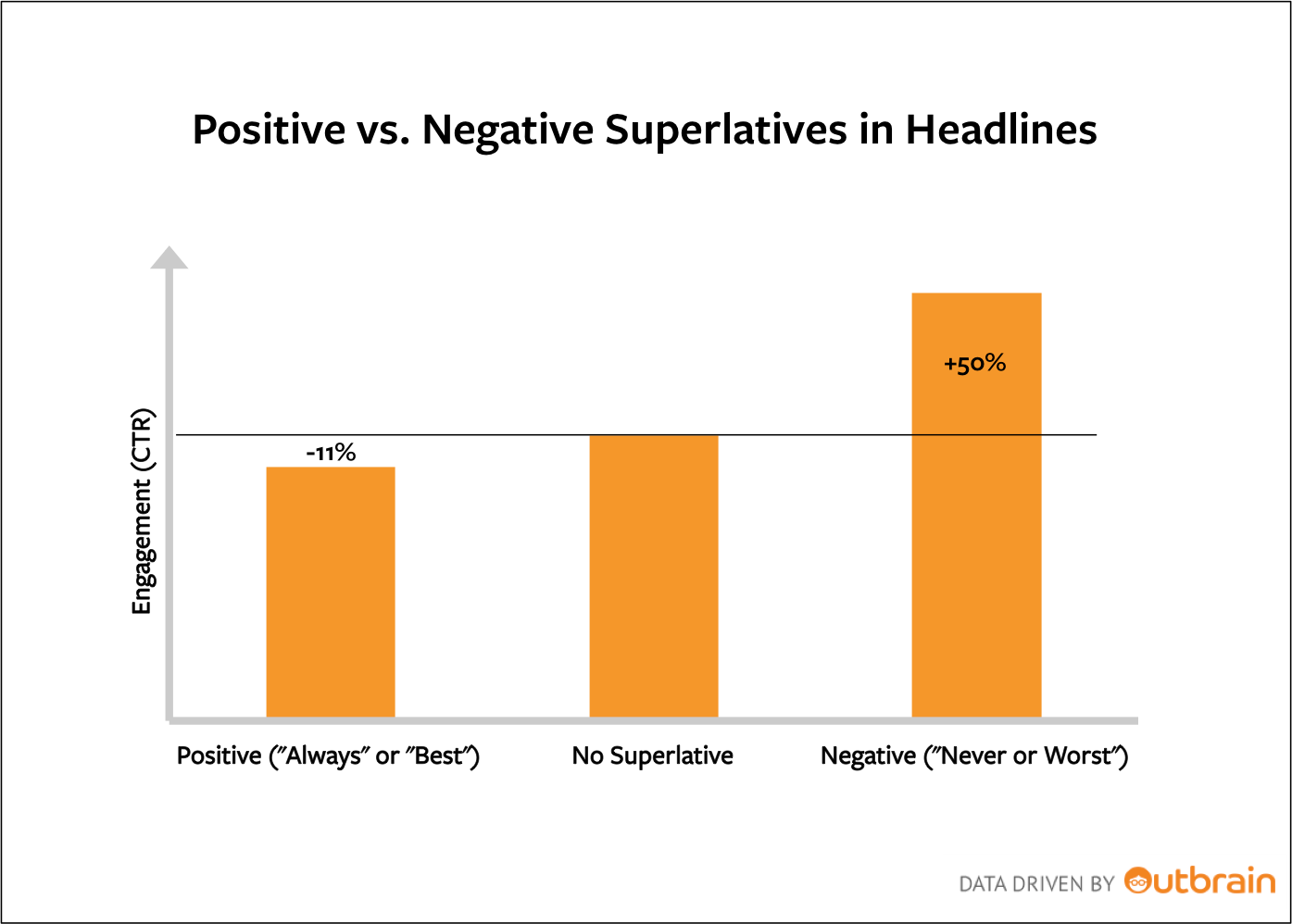 For example, let's say you want to know whether all rice is gluten-free or not. You run a quick search and see that, while the first two positions are decent, the harsh language in the third one catches your eye first.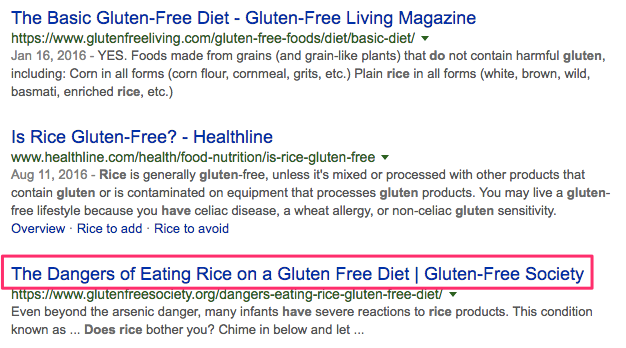 "Dangers? What dangers?!" you ask. And then you click.
Tip #3. Make yourself (appear) hyper local.
Here's another PPC tactic that still works on the organic side, too.
A test from Engine Ready showed that phone numbers with local area codes outperform toll-free ones when it comes to increasing conversions.
In other words, just by making your business or web presence seem local (even if you aren't), you have the power to drastically improve someone's perception (and apparently, attention).
This finding was also backed up by client data from KlientBoost, that showed that the probability of a phone call will double (or more) if you use a local area code.
So yes, you can add phone numbers to your title tag or description (if you're trying to drive more phone leads). But otherwise, think about how you can capitalize on the same idea.
Here's what I mean.
When consumers search for "CPAs" around tax time, who do most of them want?  Someone local!
First, this person needs to know the unique tax issues in that state. But otherwise, people want to do business with people close to them.
So adding city names and addresses to your title tags and descriptions is an easy hack to piggyback on the conversion tests shown above.

Tip #4. Improve the user engagement metrics on each page.
We already touched on how user-engagement metrics (like time on site, bounce rate, etc.) can influence search results.
Basically, when a searcher spends more time on your web page, Google infers that the user is interested in your content (and that the content does a good job of answering that person's search query).
Conversely, a page with a high exit or bounce rate communicates the opposite conclusion. Google assumes that searchers aren't finding what they're looking for, so they leave to pull up another result.
The reasons can vary. You might need to serve up personalized landing pages, for instance, that help the user feel more connected to the content.
For example, Larry Kim showed an example from his site that has a 52.17% CTR from SERPs. Even more importantly, visitors spend an average of 24 minutes on this page!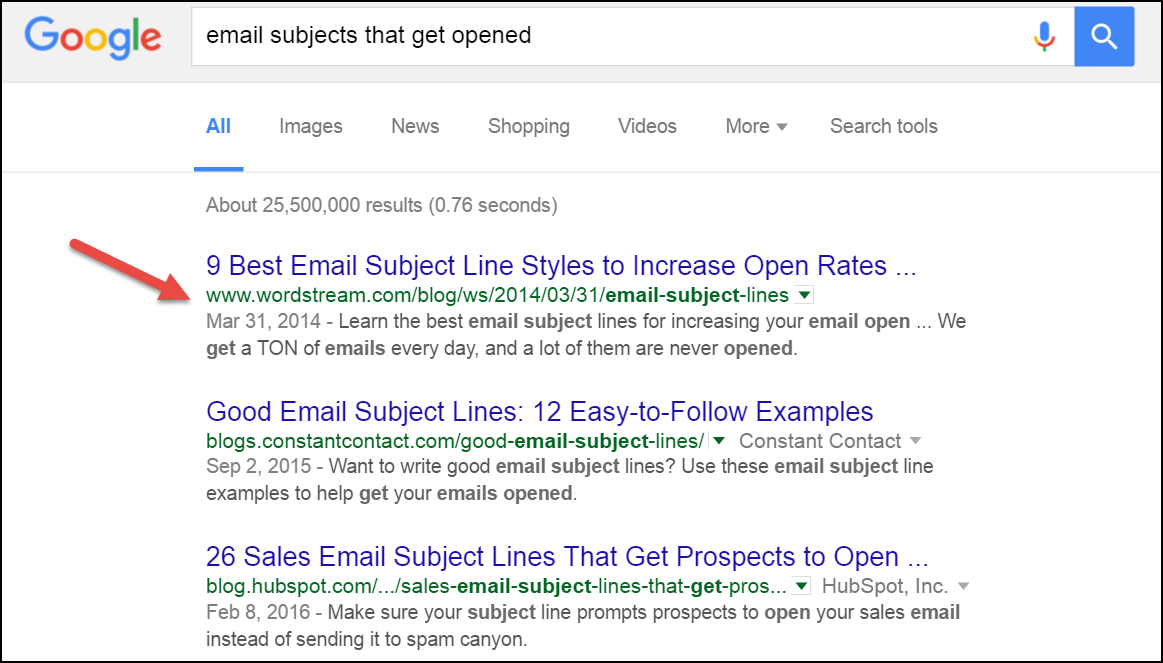 This page doesn't even reportedly have an exact keyword match, and yet it's completely dominating the SERP by monopolizing people's clicks.
In other words, optimizing your titles and descriptions are just one side of the coin. Improving the page content to keep people around longer and better answer their queries can also help you slowly creep up in the rankings.
Otherwise, you risk running into this common problem.
As we saw earlier, ranking #1 for a keyword doesn't matter if everyone's passing over you to click on other results further down the page. Similarly, pulling in a ton of search traffic and visitors is fruitless if the vast majority of those people are 'pogo sticking' back to Google to find something else.
Slowly but surely, you will get dropped down the SERPs.
So here's how to find which pages on your website are performing well (and which aren't).
Log in to Google Analytics and click on "Behavior" in the left-hand side menu. Then click the "Site Content" drop-down menu and go to "All Pages."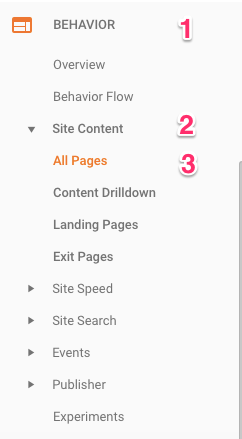 This will help you pull up the top content on your site (usually sorted by Pageviews by default).
Now, look over to the right-hand side of your screen for the Bounce Rate and % Exit to see which pages are losing visitors almost as quickly as they're bringing them in.
Once again, go back to user intent. What is someone looking for on this page, and how can you improve it to provide them with an answer that's easier to understand or more thorough?
Tip #5. 'Seed' your brand to increase search visibility and CTR.
This final tip can be used in combination with all of the tips above.
"People who are familiar with your brand are 2x more likely to click through and to convert," according to WordStream's data.
Running ad campaigns to increase brand exposure can help increase the number of people who know or recognize who you are, giving your brand a head start when it comes time to transform that brand awareness into a higher SERP CTR.
Retargeting ads are also relatively inexpensive compared to other ad types. You can consistently run campaigns through Remarketing Lists for Search Ads (RLSA) or custom audiences, knowing that you'll be able to reap the rewards down the road.
You can even combine these tactics with content distribution platforms like Outbrain. For example, you might be able to boost site visits for less than a dollar.
It sounds great until you realize that the vast majority of those people are going to leave your site without ever giving your logo a second glance.
But that's OK if you already plan on following up with retargeting campaigns.
This way you can slowly nurture leads across multiple channels so that, when the time comes for them to start searching for competitive, long-tail keywords about your products or services, your name will stick out above the rest.
Conclusion
Everyone wants to rank #1 for their product and service keywords.
Unfortunately, the vast majority of businesses never will for various reasons.
Maybe the keyword is too competitive, and you're going up against the top competitors in your space. Maybe your site's relatively new, so it might take years to be recognized as an industry leader.
All of that sounds disheartening. Perk up, though, because new data and research suggest that your position on the page has less to do with what percentage of clicks you'll get than you might think.
Today, you can optimize your SERP CTR with a few simple tweaks to the headline and description areas. Then you can combine those strategies with other tactics, such as optimizing site behavior or creating strategic ad campaigns to build brand awareness.
So, while there might be a few other competitors ranking above you, it doesn't matter if you're getting all of their clicks!
What tips do you use to increase the number of people who're clicking on your website instead of your competitors'?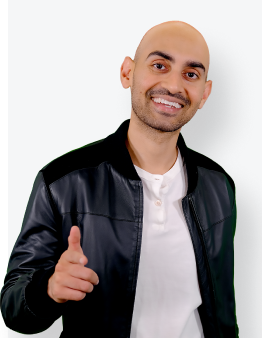 See How My Agency Can Drive More Traffic to Your Website
SEO - unlock more SEO traffic. See real results.
Content Marketing - our team creates epic content that will get shared, get links, and attract traffic.
Paid Media - effective paid strategies with clear ROI.
Are You Using Google Ads? Try Our FREE Ads Grader!
Stop wasting money and unlock the hidden potential of your advertising.
Discover the power of intentional advertising.
Reach your ideal target audience.
Maximize ad spend efficiency.