I've learned so many valuable lessons from the entrepreneurs I've talked to.
Whether it's a veteran who started over 20 businesses or a first-time startup owner, everyone I meet teaches me something.
When I was starting out, the people I met and the conversations I had helped me get to where I am today.
I remember having some life-changing discussions and thinking it would be awesome if I could make them permanent.
That's why I love podcasts so much.
I was in business for a long time before the podcasting boom happened a few years ago, so when that erupted, I was elated.
Podcasts do a great job of distilling years of experience into a short format that's easy to digest.
You can listen to them anytime, anywhere. I often listen to podcasts while I'm exercising or taking a cab or Uber somewhere.
Podcasts have been popular for a while now.
The statistics are pretty incredible. Of the total number of podcast listeners, 22% listen to three per week, and 21% listen to four a week.
That means most podcast listeners are enjoying 144 podcasts per year, and almost as many are listening to anywhere from 192 to 240 podcasts every year.
When it comes to business podcasts, there are a lot of great options out there.
But which ones are the best?
To me, the best podcasts are the ones that share experiences and provide insights from seasoned entrepreneurs.
I don't like fluff or useless advice. I want practical information and memorable stories from the podcasts I listen to.
I've curated a list of my favorite podcasts for you, and there's something for everyone.
No matter where you are in your entrepreneurship journey, you can learn a ton from these podcasts and apply what you learn to your own startup.
Marketing School
This is an awesome podcast.
But I have to admit, I'm a little biased.
Mainly because I'm one of the hosts.
But wait, hear me out.
I wanted to share this one with you because it's a podcast I wish I had earlier on in my career.
I co-host "Marketing School" with Eric Siu from Single Grain, and we have a blast talking about all sorts of topics related to business and entrepreneurship.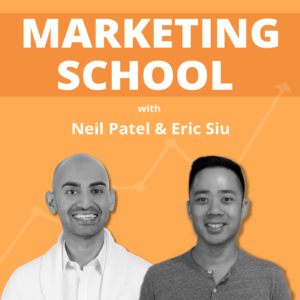 We've talked about everything from infomercials to automating SEO tasks.
Eric and I share lots of our experiences, especially the ones that have shaped us as entrepreneurs and people.
We're not fans of podcasts that beat around the bush or provide pointless information, so this podcast is us doing just the opposite of that.
We currently have 396 episodes, and we're adding more regularly.
You might notice that each podcast is pretty short, around six minutes.
There's a reason for that.
I'll be honest: most of the longer podcasts I've listened to are useless chit chat.
You're lucky to get two good minutes out of an hour. Does that sound familiar?
Eric and I wanted to prevent that with our podcast.
So we cut out all the excess and we only focus on the nuggets of wisdom that will help you become a better entrepreneur.
Even though the episodes aren't long, they're full of real talk about all things entrepreneurship.
Plus, we always link to several resources in the show notes.
We also summarize each podcast into three key points.
Even though it's my podcast, I don't have a hidden agenda.
Eric and I just want to share with you all the information we've learned over the years. This podcast is our way of doing that.
The Tim Ferriss Show
You probably knew I'd be mentioning this podcast.
It's one of the biggest business-related podcasts in the world, but I have to mention it because it's so good.
Tim is one of the biggest names in business. He's the author of bestselling books like "The 4-Hour Workweek," "The 4-Hour Body," and "Tools of Titans."
On top of all that, he has an amazing podcast.
He's interviewed some of the most elite influencers in almost every industry, like Tony Robbins, Arnold Schwarzenegger, Seth Godin, and Daymond John.
Tim's podcasts are longer conversations with entrepreneurs. He picks their brains and gets unique stories and advice to share.
While his podcast isn't always about business, there are some awesome lessons to be learned from the episodes.
It's super interesting to hear how some of the wealthiest people today think about entrepreneurship.
These aren't your everyday podcast discussions. They're jam packed with value.
Some of my favorite episodes feature James Altucher, Ramit Sethi of "I Will Teach You To Be Rich," and WordPress founder Matt Mullenweg.
Tim also includes lots of show notes and resources so you can research the topics on your own if you want.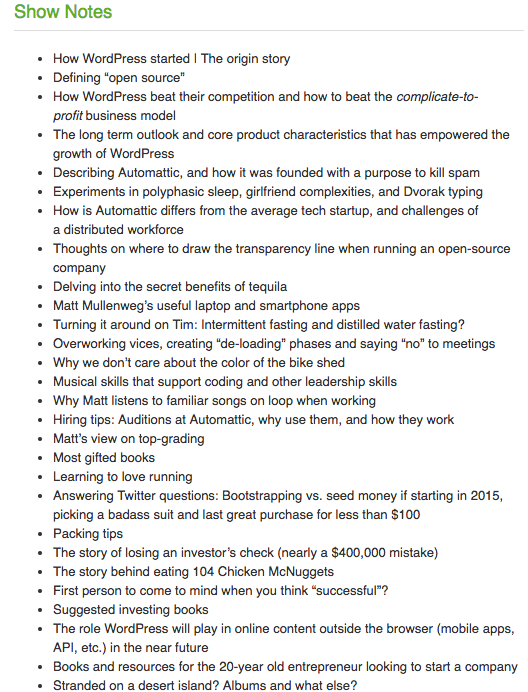 If you like longer, informative podcasts, give Tim's show a listen.
Mixergy
In my opinion, "Mixergy" is one of the definitive business podcasts.
There are tens of thousands (if not hundreds of thousands) of podcasts that talk about businesses, but "Mixergy" stands out from the rest.
There are a few reasons why.
First, host Andrew Warner doesn't mess around. He's interviewed over 1,129 founders.
That means there are a lot of "Mixergy" episodes.
Second, Andrew has interviewed many of the best entrepreneurs in the world.
He's talked with people like Wikipedia co-founder Jimmy Wales, Guy Kawasaki, and even Tim Ferriss.
These aren't your ordinary entrepreneurs. These people have made billions from their companies, and Andrew brings their knowledge directly to you.
But he also interviews smaller startup owners.
Andrew doesn't just want business celebrities on his podcast. He wants to interview anyone who has something great to share.
Well known or not, these entrepreneurs all share stories from the trenches of startup life.
Investing mistakes, marketing mishaps, legendary achievements. You name it, "Mixergy" covers it.
I also love the variety of topics Andrew and his guests talk about. They discuss startup origin stories, million-dollar mistakes, breakthroughs, and much more.
Andrew himself has been around the block. He grew a business to 38.5 million dollars, and he started at only 21 years old.
So he knows what questions to ask to get the best information from his guests.
I've even been on a few times: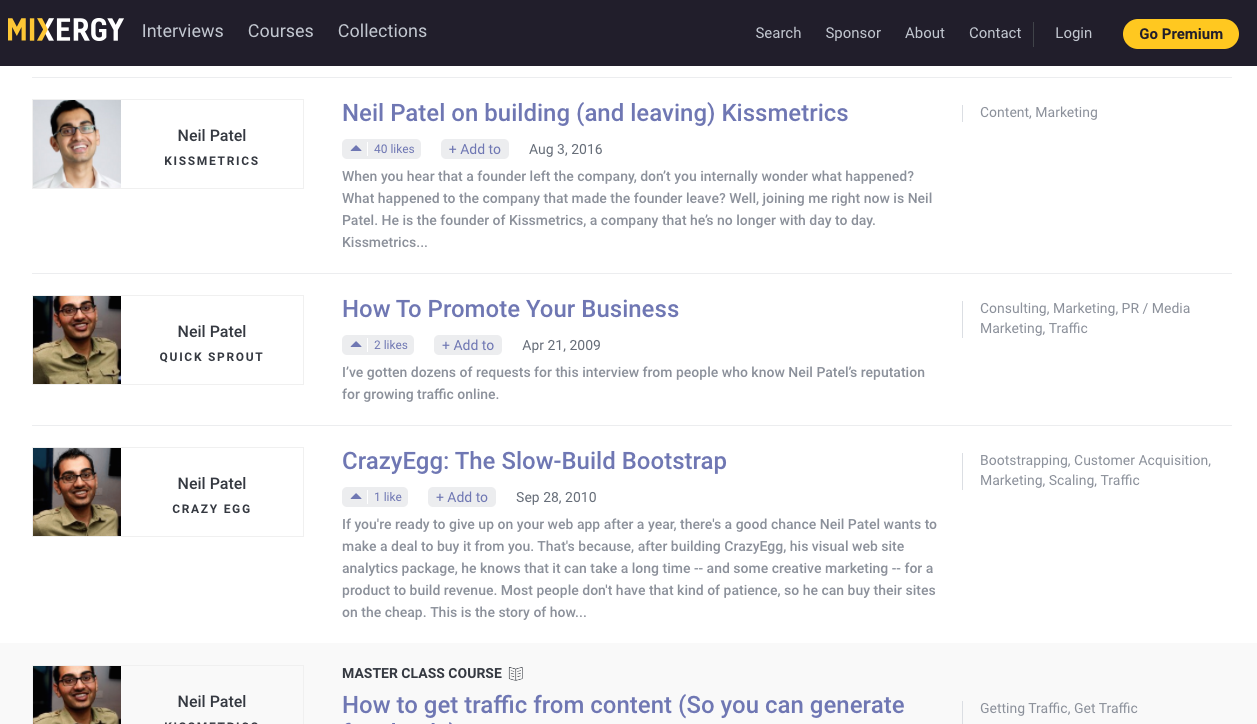 Andrew's a great host, and I really enjoy listening to the interviews.
If you want to invest in yourself, listen to some "Mixergy" episodes.
Entrepreneurs On Fire
"Mixergy" isn't the only podcast that has interviewed million-dollar entrepreneurs.
"Entrepreneurs On Fire," hosted by John Lee Dumas, is another top-rated podcast that's all about entrepreneurship.
There's a new podcast episode every single day, so there's no shortage of amazing content.
Each episode is 20-to-30 minutes long, so you can listen to them on your lunch break or commute without having to pause and pick up where you left off.
John has interviewed legends like Gary Vaynerchuk, Barbara Corcoran, and Michael Hyatt.
Like Andrew of "Mixergy," John is a great host who knows all the right questions to ask. He brings out the best in his guests.
If you've ever wanted to learn from experienced entrepreneurs, this podcast will be your new best friend.
The episodes are high energy and a lot of fun. You feel like you're right in the room with John and his guest, having a casual talk about startup life and culture.
And if you're interested in listening to it, here's my interview. I talk about losing a million dollars. If you haven't already heard that story, you're in for a treat.
The Startup Chat
OK, I'm a little biased toward this podcast as well.
That's because it's co-hosted by Hiten Shah, whom I've co-founded tons of businesses with, including Kissmetrics, Crazy Egg, and Quick Sprout.
He hosts the podcast with Steli Efti, the founder and CEO of Close.io.

Both Hiten and Steli have extensive experience with startups, and they don't hold anything back.
They're super focused on providing actionable advice to their listeners.
So you won't just get stories or experiences. You'll get tips and tricks that will help your startup succeed.
They're candid about everything and they don't sugarcoat the bad stuff. If they've experienced something bad or if they need to be brutally honest about something, they'll be real with you.
There's a new podcast episode every Tuesday and Friday, and they currently have 236 episodes for you to enjoy.
They also provide the most detailed show notes I've ever seen.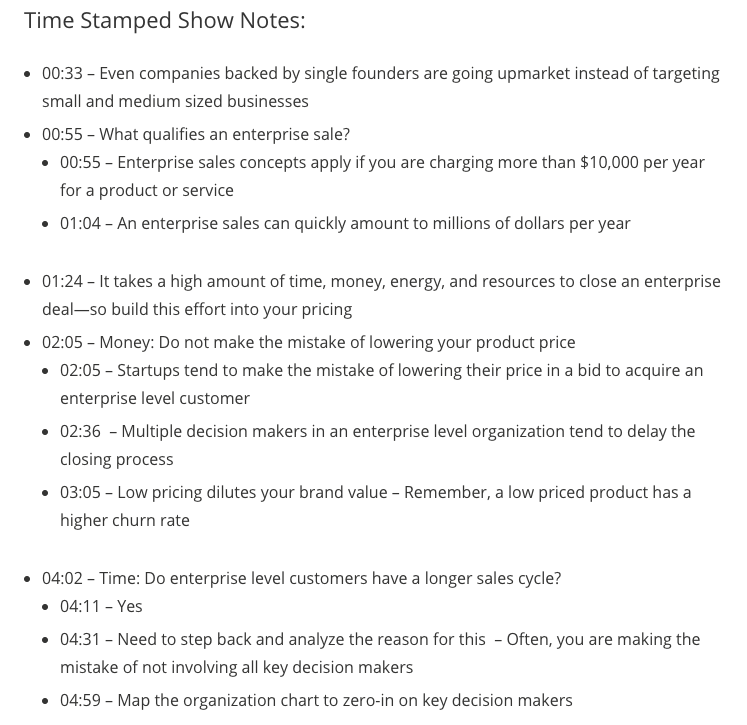 Plus, they even have a full transcript in case you'd rather read than listen.
Hiten has helped me grow as an entrepreneur, and he shares the same advice on "The Startup Chat" that he's shared with me.
And Steli is just as good. He's not afraid to be blunt, which means you get his honest opinion all the time.
"The Startup Chat" gives you a look at what it's like to bootstrap a business and fail a lot. You get to learn all the valuable lessons without having to make any of the mistakes.
Smart Passive Income
Pat Flynn is one of the people who has inspired me throughout my career.
I often mention him in articles because he does so many things well, from digital marketing to copywriting, and beyond.
And his podcast "Smart Passive Income" is still one of my all-time favorites to this day.
As the name suggests, "Smart Passive Income" is all about helping you create passive income streams that last.
There are no lame strategies here. Pat only shares the best advice that actually works.
He knows what he's talking about, too. He made $3 million in passive income alone, and he wants to show you how you can do the same.
If you're building a startup online, Pat's podcast will answer a lot of your questions and give you a shortcut to the finish line.
His questions are always on point, and he's had some great guests, too.
"Smart Passive Income" has over 33-million downloads, and there are nearly 300 episodes for you to go through.
Do you want to learn about YouTube success? Or maybe SEO audits? Pat has your back.
Whenever I want to listen to a podcast, I check out "Smart Passive Income" first.
I always get new ideas and a fresh perspective after I listen to an episode.
Although this isn't directly related to the podcast, I have to mention the Ask Pat feature.
You can record a question for Pat about anything related to making money online. If he answers, you'll get a personalized response and a free T-shirt.
The tee is cool, but getting advice directly from Pat is even cooler.
How to find your new favorite podcast
If you're hungry for more, I have just the thing for you.
I'm going to show you the best ways to find podcasts.
You won't have to comb through page after page of results, either. You can get straight to the podcast categories you're looking for.
One of my favorite places to check for podcasts is the iTunes Store.
The Podcast app comes in handy for this.
You can just open it and go straight to browsing podcasts.
You can look at the different types of podcasts by clicking on the "Categories" option.
You should also look at the "New & Noteworthy" section.
This is the home for up-and-coming podcasts. You might have to browse a little to find podcasts on business topics, but I've discovered some really cool content this way.
If you want to get serious about finding podcasts, I recommend using Stitcher.
It's a site that hosts thousands of podcasts, and it's completely free to join.
All you have to do is go to Stitcher.com and click the "Sign Up" button in the top right corner.
In the window that pops up, enter your information and click "Sign Up."
Once you've signed up, you can browse podcasts by going to this page and choosing a category.
Pick the "Business and Industry" category in the sidebar, and you'll see all kinds of podcasts you might be interested in.
There's also a dedicated Stitcher app you can download to your mobile device that makes browsing a little easier.
Stitcher is a breeze to use, so don't be scared to make an account today and explore the wide world of podcasts.
Conclusion
I'll be completely honest with you. I used to think podcasts were a total waste of time.
I didn't get them. Why would I want to listen to someone drone on for an hour straight? Or even half an hour, for that matter?
What's more, podcasts have hundreds of episodes. What benefit would I get from listening to people talk for hundreds of hours?
Still, I tried listening to a few. I tried to enjoy them, but I couldn't.
The first podcasts I listened to weren't very helpful. They felt more like pointless conversations. I'm sure you've listened to podcasts that were like that, too.
So I came to the conclusion that I wasn't a podcast fan.
A couple years later, however, I found some new podcasts. ("Smart Passive Income" was one of them.)
I figured, why not give podcasts another chance? All my friends and colleagues were listening to them and singing their praises.
I listened to a few at first. Then a few more. Then a few more, until I found myself listening to podcasts on a daily basis.
It turned out that I actually loved them.
I just disliked the crummy ones, the ones that didn't provide any value or substance. I couldn't stand those, and frankly, they wasted my time.
But good podcasts are hard to beat.
Even ten years ago, you would have had to pay hundreds or even thousands of dollars to get the guidance you can get for free today via podcasts.
You have access to industry giants and expert entrepreneurs who have been through it all.
You don't have to fly all over the world to expensive summits or try to get into exclusive presentations. You have all of this information at your fingertips, and it doesn't cost a penny.
You get to learn about their biggest challenges and how they overcame them. You get to hear the inspiring stories of how tiny startups became household names.
To me, that's priceless. (And thankfully, it's all completely free.)
I can safely say that podcasts have changed my life for the better.
Podcasts like "Smart Passive Income" and "Mixergy" have inspired me to start my own podcast to provide tons of value to people for free.
That's why I started "Marketing School" with Eric, and that's why I'm still podcasting today.
I'm also listening to podcasts more, and I'm learning new things every day. Not to mention that my marketing has improved a ton since I started listening.
If you haven't tried podcasts yet, check out some of the ones I mentioned in this article. I guarantee you'll find new and interesting ideas that will help you become a better entrepreneur.
What helpful marketing and entrepreneurship podcasts do you listen to?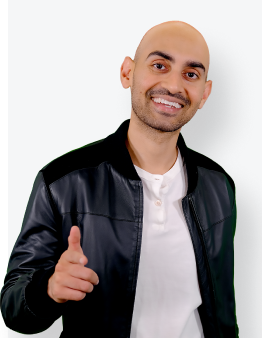 See How My Agency Can Drive More Traffic to Your Website
SEO - unlock more SEO traffic. See real results.
Content Marketing - our team creates epic content that will get shared, get links, and attract traffic.
Paid Media - effective paid strategies with clear ROI.